Choosing the best AI image upscaler is crucial to make your images look great when changing their size. With the right type of AI image upscaler, you can improve your image resolution by 800%!
This is a comprehensive guide to choosing the best AI image upscaler.
This article is supported by viewers. If you choose to make a purchase through the links below, I might earn a commission at no cost to you.
What Are We Looking at?
This is a comprehensive guide to choosing the best image upscaler. Here are links to the reviews of the individual tools on this list. Feel free to jump into the review of a particular tool if you don't want to read all the reviews.
Anyway, let's get started with the upscalers!
Start a FREE Trial with This Link!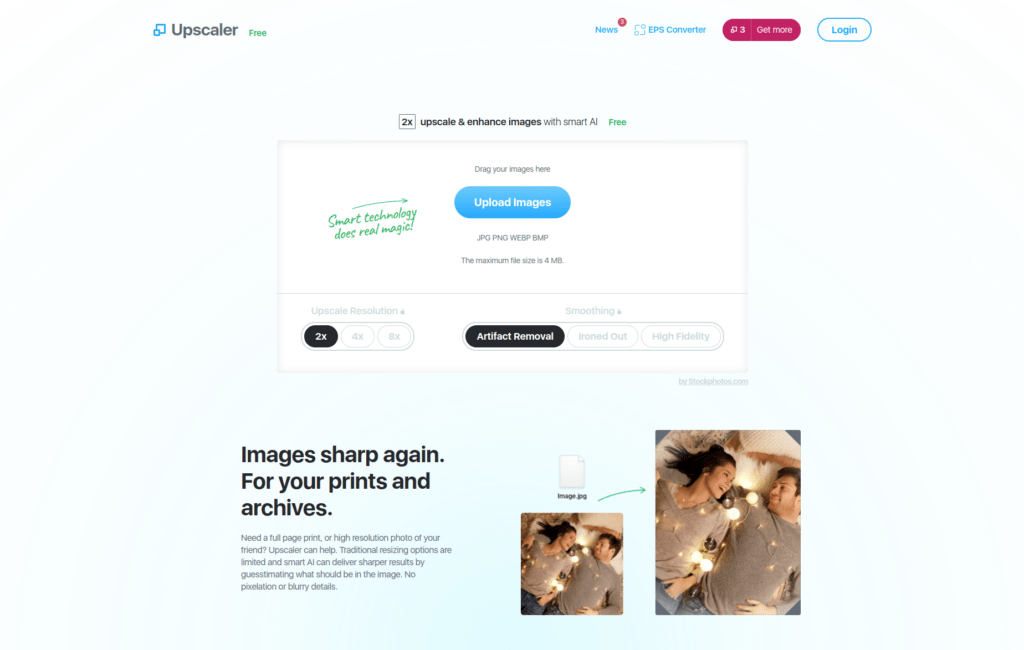 StockPhotos Upscaler is the best overall solution for enhancing and upscaling images.
This web-based application charges you $0.1 per upscale. Of course, you can try the tool for free if you want to be sure about the quality of work before.
For instance, I tried it with blurry images and figured it does not do that great job. But once I tried the tool with low-res images, it performed perfectly.
StockPhoto Upscaler is easy to use. There are great features you can use besides upscaling the imagery. For instance, you can choose to scale between 2x, 4x, and 8x.
Then you can also define smoothing elements to optimize the upscaled output. The AI that powers the upscaler detects low resolution, noise, and blur from images. This means you might have to tweak the settings to make the right type of enhancement.
You can choose between these three image-enhancement options:
High-fidelity
Artifact removal
Ironed out
This is just to prevent removing artifacts from images with no artifacts, for instance.
Now that you know what the tool is all about, let's give it a try or two.
Here is an example. The upper image below is a low-quality image. The bottom image is an upscaled version by 200%.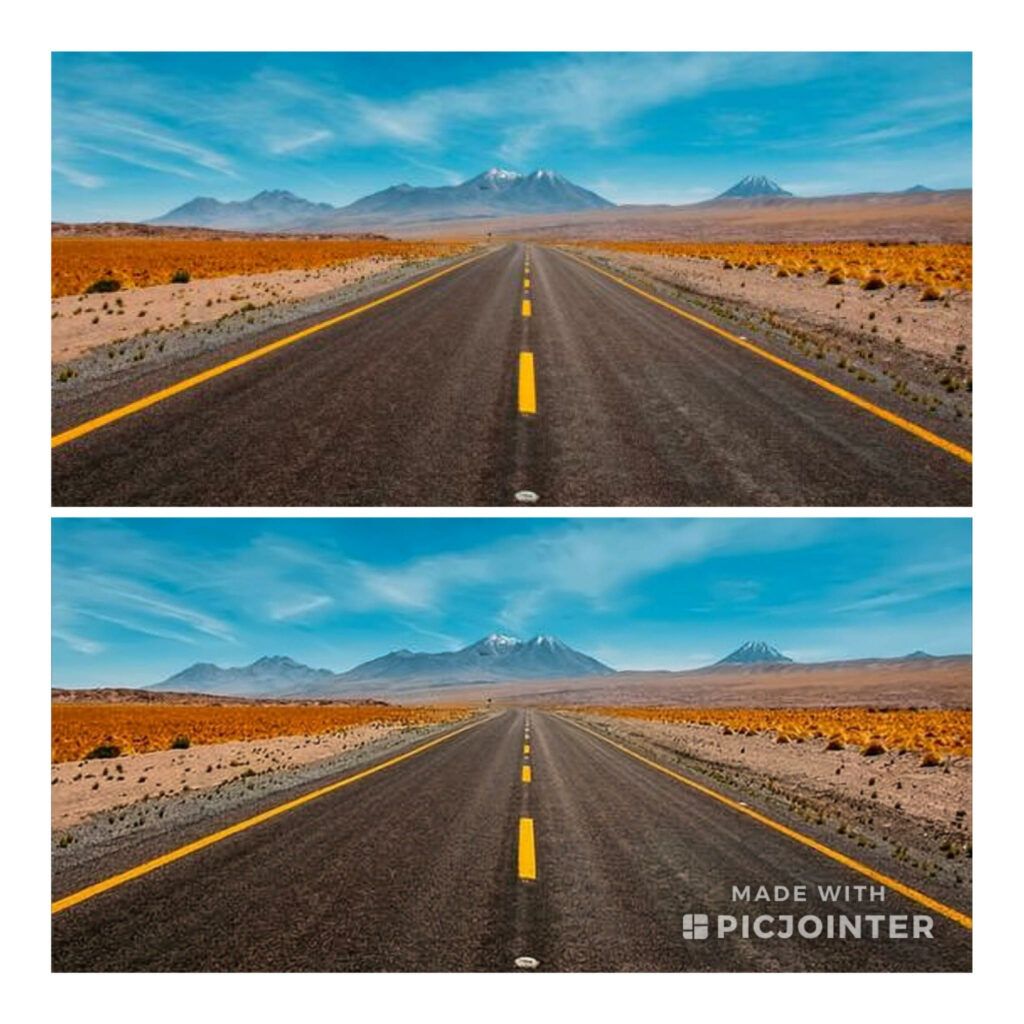 If you look closely, you can see that the bottom image is indeed sharper than the above image.
But let's see another example.
If you have a low enough image resolution, here is what happens when upscaling: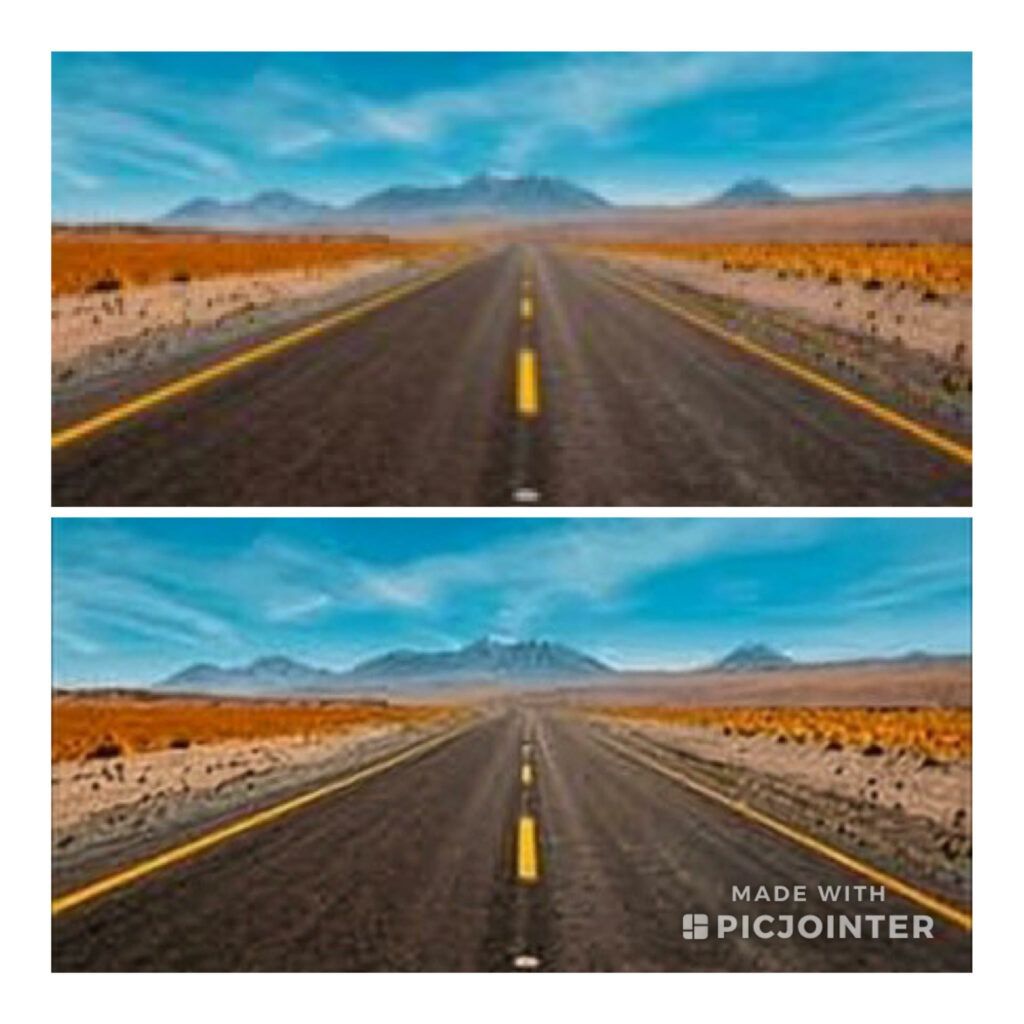 As you can tell, the image quality went up but it definitely doesn't still look magical, does it?
Unfortunately, this issue is still present in all the image upscalers. If the quality is low enough, the tools cannot do wonders with it. This is the state of the art in AI image enhancement.
At the moment, the tools are impressive, but not magical (yet). Although you can only expect these tools to get better over time.
Key Features
Upscale images up to 800% of the original size.
Remove noise and other artifacts from images.
3 smoothing options:

Artifact removal
High fidelity
Ironing out

Upscale images in bulk to save time and manual labor.
There is live chat support available if you have questions.
Pros
There is a free trial you can use to upscale up to three images.
Scaling up to 800% of the original size looks great and really does wonders for images with low detail.
The purchased upscales are usable for up to 12 months.
The pricing is simple. You pay for a batch of upscales.
Cons
Stockphoto upscaler is impressive but if the image quality is low enough, there's not much you can do about it. Also, if the images are blurry, this tool won't be able to resolve them well.
This tool doesn't do wonders when it comes to removing blur from images.
Pricing
You can try the tool with 3 free upscales!
Besides that, there are two paid plans you can choose between:
Standard: 20 upscales for $7.
Premium: 100 upscales for $15.
Both plans are a one-time fee and the upscales expire after 12 months.
2. Gigapixel AI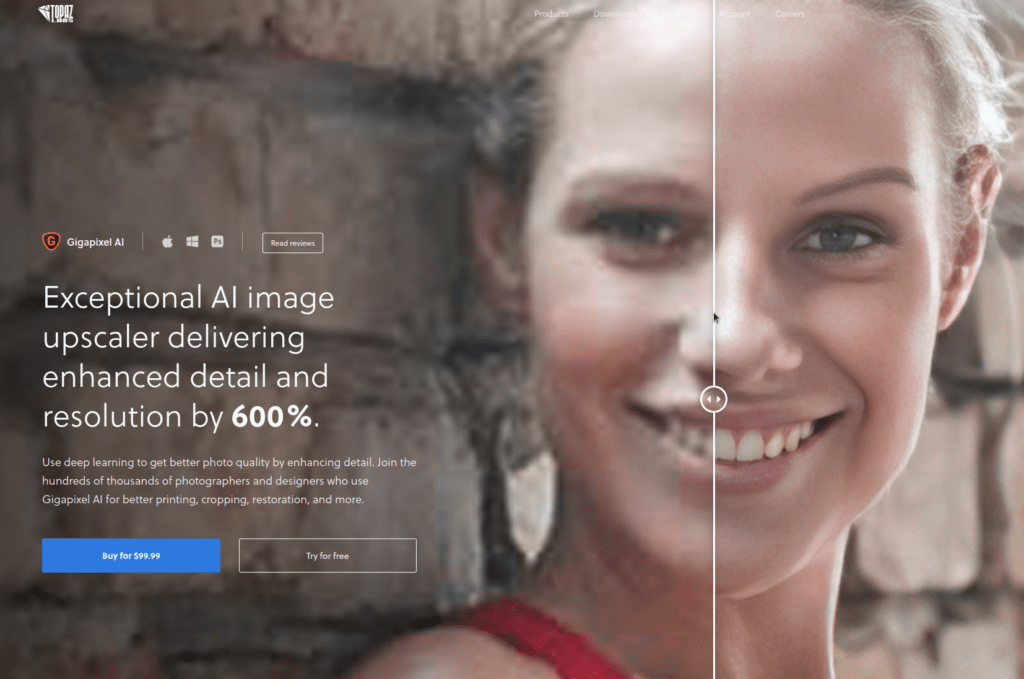 Topaz Gigapixel AI is a complete package for AI image enhancement. Not only does this software upscale images for you but it also does noise and shake-reduction. You can also use it to resolve images with blur in them.
The tool is powered by the latest advancements in AI image processing and the results are accurate.
Gigapixel's image processing AI has trained itself with an array of millions of images. This way it has learned the concepts such as noise and blur. More importantly, thanks to the vast training experience, this tool knows how to handle those artifacts.
With Gigapixel, you can quite literally make hand-held photos look like professional images captured on a tripod.
The main reason Gigapixel is on this list is the ability to upscale images. The detail you have lost in the image-capturing process can be intelligently added back to the image using Gigapixel's AI.
Notice that the pixel information that is lost cannot be revived per se, but the AI can predict what it would look like.
Anyway, here is an example of improving the detail of an image: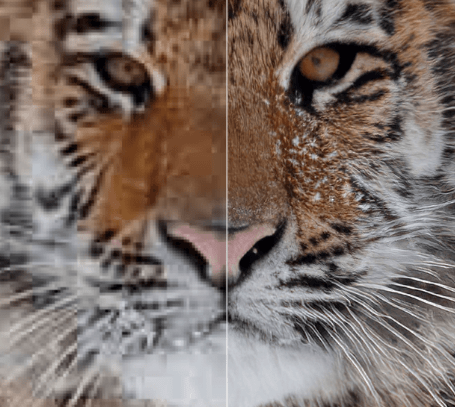 As you can tell, the difference is quite awesome.
Notice that even though Gigapixel is a great tool, it doesn't always succeed. If an image is too small, too blurry, or too noisy, there is not much you can do about it.
Key Features
Shake reduction
Noise reduction
Upscaling up to 600% of the original size
A downloadable tool for Mac and Windows
Easy to use
Bulk enhancing/upscaling capabilities
Pros
Very precise enhancing and upscaling capabilities to revive your old and low-quality photos.
The shake reduction tools make shaky photos look more stable.
Upscaling is possible up to 600% of the original image size.
You can upscale images in bulk mode. This way you don't have to upscale images individually by hand which saves a lot of time.
Cons
The app is downloadable, not an online editor like many other photo enhancers are.
Doesn't work on Linux.
There is a free trial but you need to sign up to use the service. This is annoying as most of the best AI upscalers have a no-signup free trial.
Pricing
The pricing model of this tool is simple:
Free trial: Try the tool for free. All you need to do to activate the trial is to sign up with your mail address.
$99.99 one-time payment: Get full access to the software and its updates.
3. Vance AI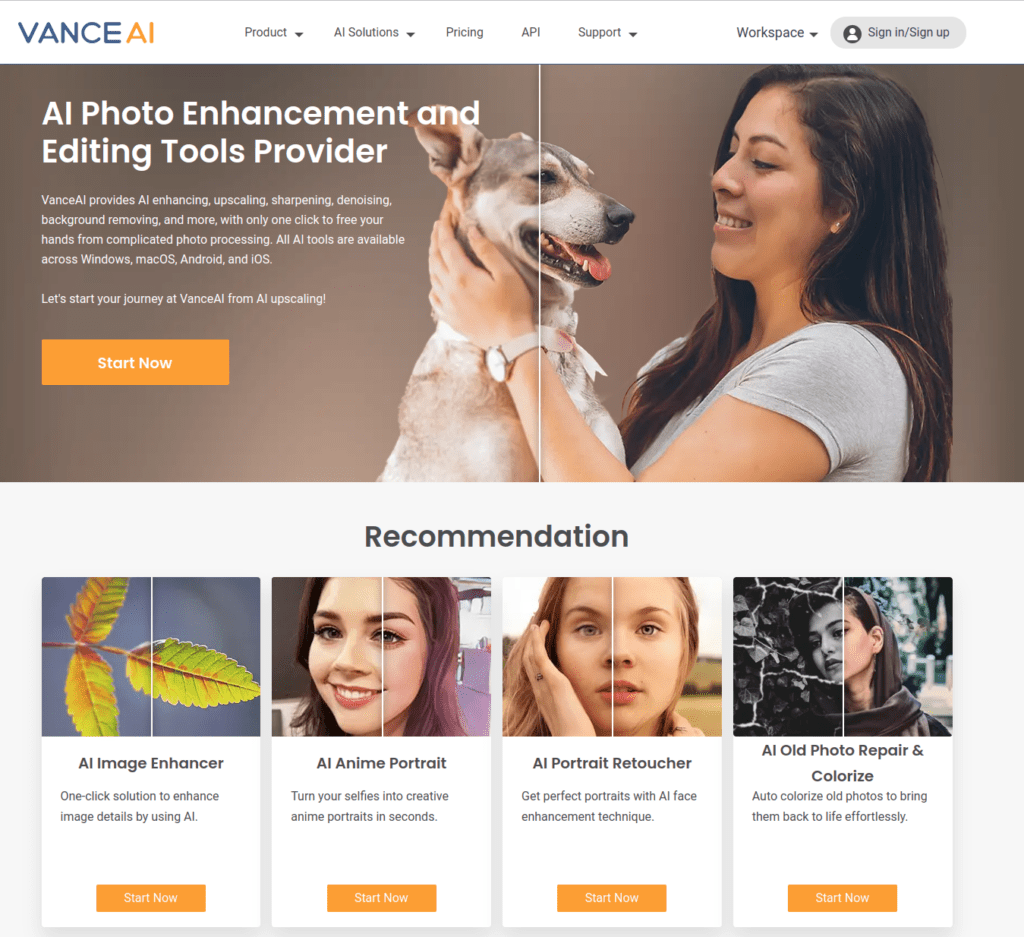 Vance AI is a one-of-a-kind image upscaler tool that lets you scale your image up by 800%. This makes low-resolution images look great again.
Here is an example of using Vance to upscale a low-res stock photo.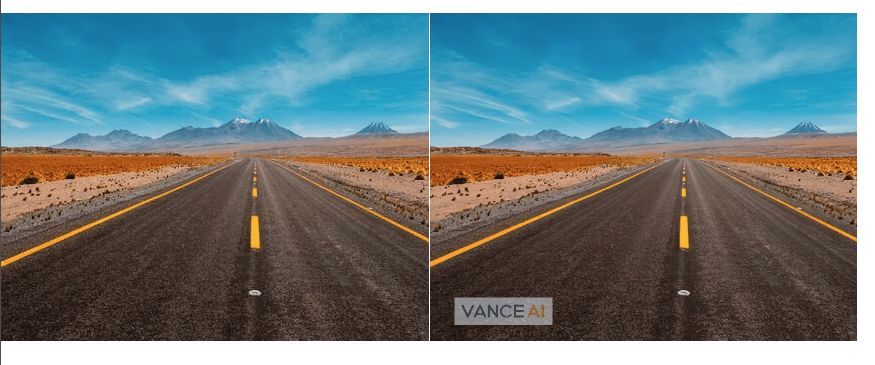 Vance is not only a great image upscaler but it also comes with anime-upscaling capabilities. This tool is one of the best tools to upscale small anime images. It can scale anime images up to 16 times. With this feature, you can easily upscale small anime images to wallpapers.
Overall, you can use Vance's AI to upscale:
Landscape images
Product photos
Anime
Old photos
And more.
You can choose the scaling factors between 2x, 4x, 6x, and even 8x (with anime 16x).
Vance can also get rid of random noise and unwanted blur.
To use Vance, all you need to do is:
Open up the Vance AI website.
Drop an image to the upscaler.
Choose a scaling factor.
Wait for the upscaled image to be generated.
Key Features
AI-based upscaling up to 8x.
Anime upscaling up to 16x of the original size.
Free trial without signup.
Pros
There is a free no-signup trial available. You can test image upscaling with this trial version. The only downside to this is the watermark that is added to the upscaled image.
Vance uses state-of-the-art AI algorithms to produce upscaled images. This makes the results look great.
If you are an anime fan, you will love the fact that this tool can 16x your small anime imagery.
Cons
Vance has no built-in editing capabilities. Thus, it's only suitable for upscaling images but not making small handy edits.
There are watermarks on the upscaled images when using a free version.
Pricing
There are three plans available to Vance AI:
Free: $0/month
Basic: $9.90/month
Pro: $19.90/month
The free plan gives you a great idea of the product. If you are looking for top-level upscaling or are a more rigorous user, you might want to club up to a paid plan.
4. UpScale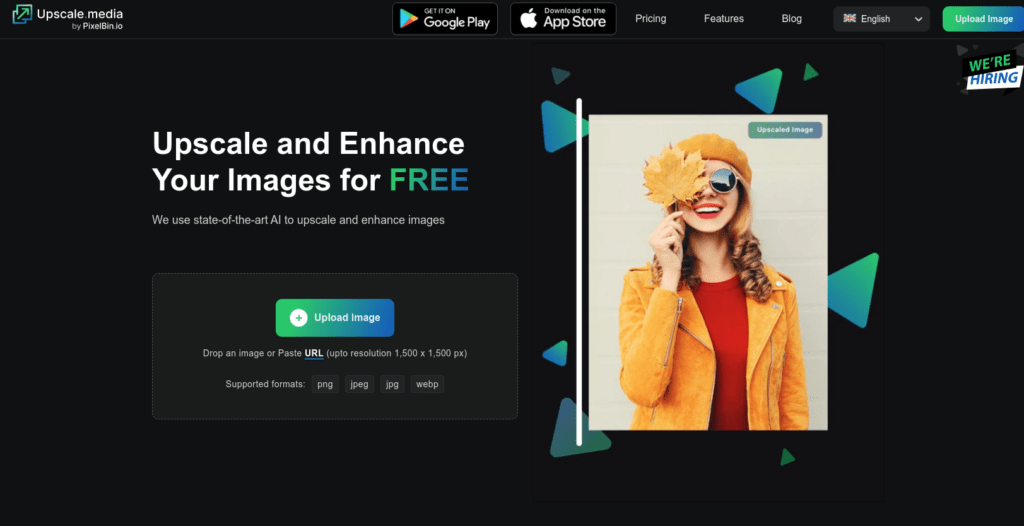 UpScale is a great image upscaling tool offered by PixlBin. This tool lets you upscale and enhances images for free on a web-based application.
Needless to say, this tool is easy to use and access. You don't need to sign up to use the tool and its great features.
The maximum image size for upscaling is 1500×1500!
Let's take a look at three examples. Here I've converted an image from the desert on three different occasions, each time using a smaller and less-detailed image.
Here is the first try: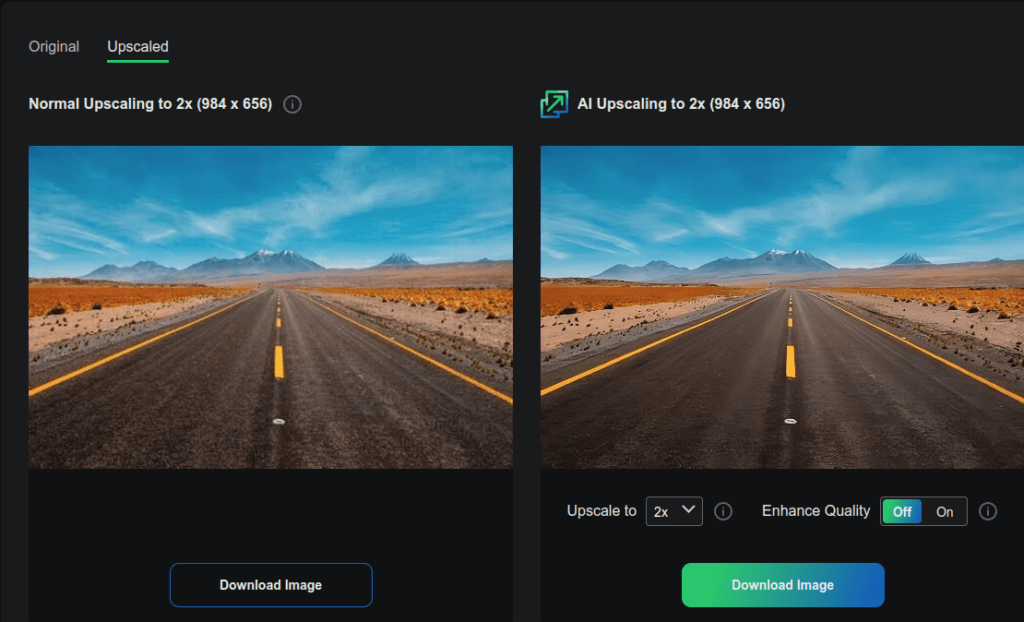 As you can tell, the tool does really great job of making the image appear smoother and of higher detail.
Let's take a look at the next round with a smaller starting image:
Wow! The tool makes great work again. The resulting image is much smoother and appears to have more detail once again.
Now let's try to upscale an even smaller and less-detailed image: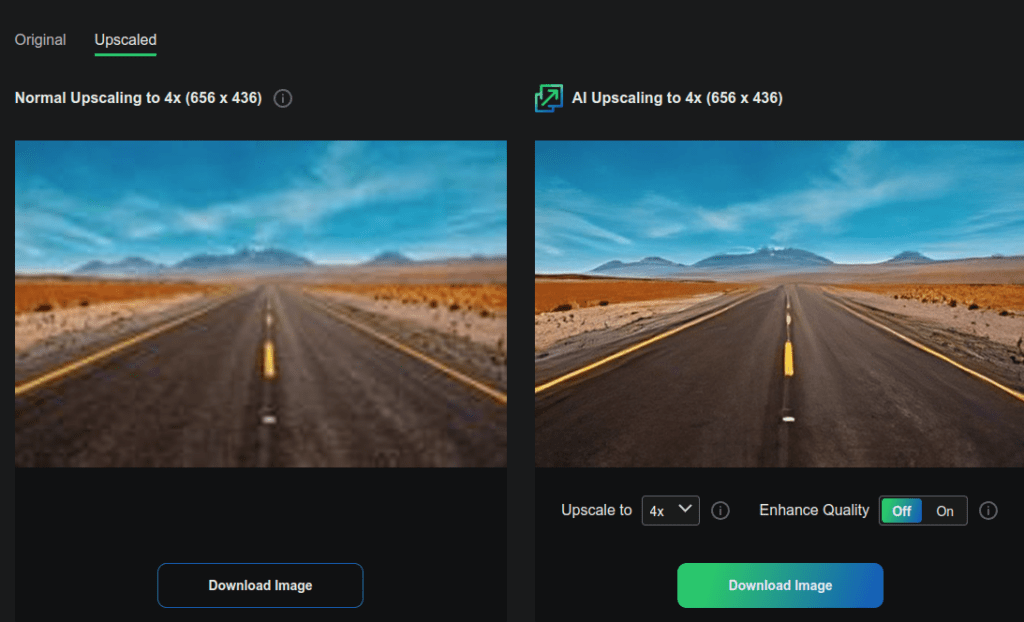 Here the problem starts to arise. The resulting image looks much better but it starts to have cartoon or painting-like features so it doesn't look like a photo anymore.
As stated earlier, this is no surprise. The AI models aren't yet clever enough to fully understand what's going on in the less detailed images even though the human eye can. But it will only get better as time passes.
In 10 years it might be that image upscalers can do magical upscaling compared to state-of-the-art upscaling.
Key Features
Image upscaling up to 4x of the original size.
Easy-to-use interface and workflow.
Email support for questions.
Third-party integrations, webhooks, and SDKs for different programming languages.
Bulk upscaling for saving manual work.
Pros
You can upscale your images for free for up to 50 images. This is a great deal most upscalers don't offer.
You can pay for the bulk mode for saving manual labor when it comes to upscaling multiple images.
Upscale has other cool solutions, such as a background eraser, a watermark eraser, and a media shrink tool.
Cons
There are sometimes unexpected errors when scaling images. For instance, if your image scales up too big, it causes a problem even if the original image was the right size.
The upscaling is only possible for 4x of the original images. Some tools offer 8x or even up to 16x.
Pricing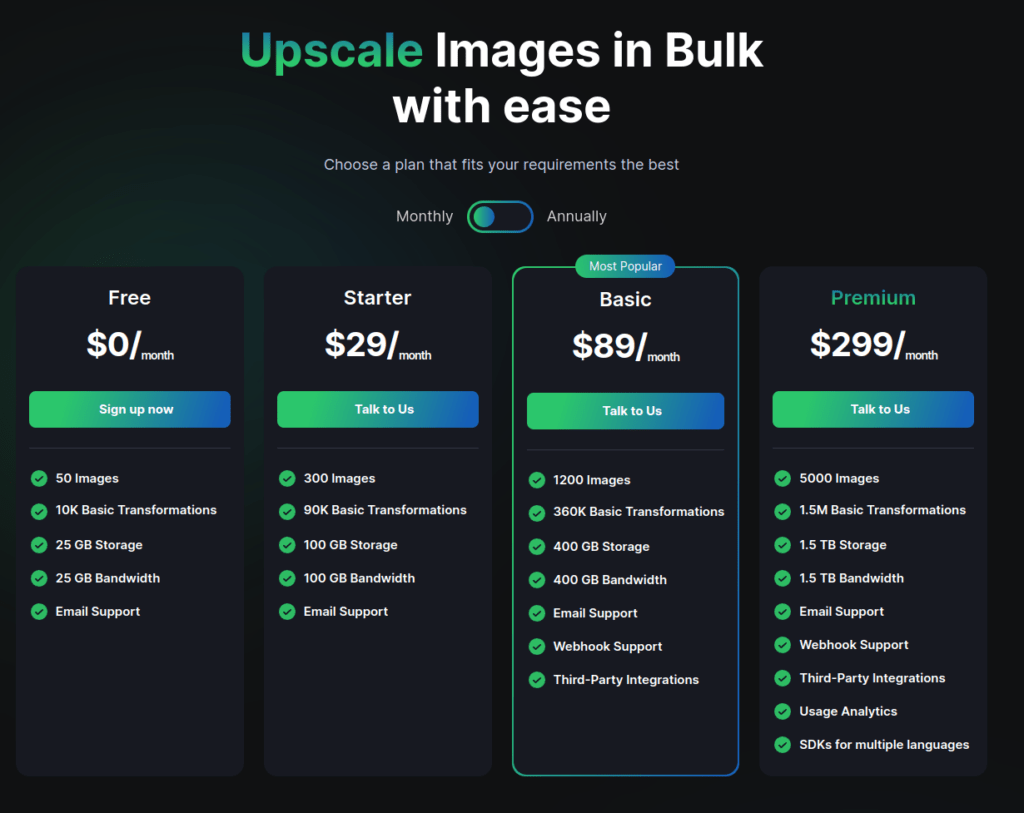 The UpScale plans are:
Free: $0/month
Starter: $29/month
Basic: $89/month
Premium: $299/month
The free plan includes upscaling up to 50 images which are more than most tools offer!
5. Let's Enhance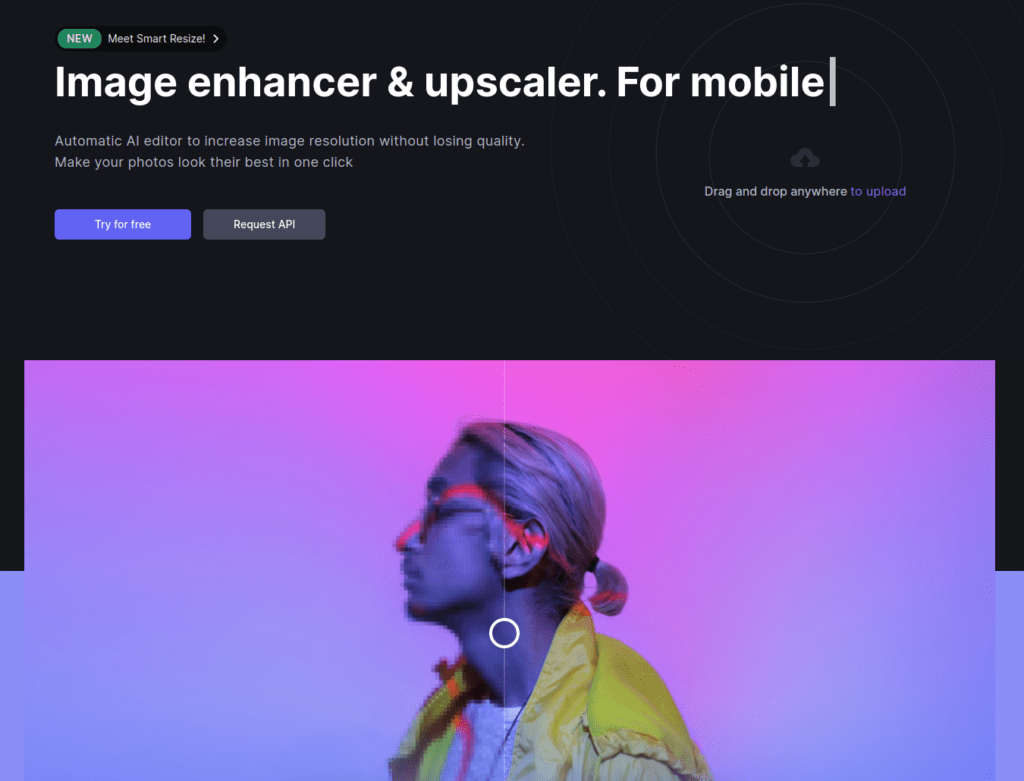 Let's Enhance is an image-enhancing and upscaling tool that improves your image resolution without losing quality.
You can use the tool for free, all you need to do is go to their website and drop an image on the page. This starts the upscaling process. Notice that you need to create an account to start upscaling. But no worries, the sign-up is free and you can try the software without paying!
Here is an example of an image upscaled using Let's Enhance: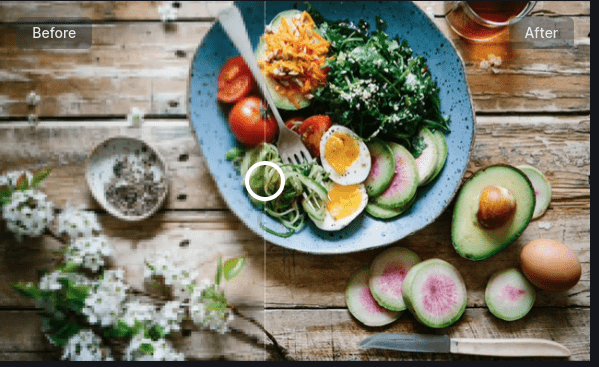 Let's Enhance uses AI to make images look better. Thanks to the neural networks that power this solution, you can end up having 4k-quality images. The AI processes the images by:
Improving colors
Recovering details and textures
Removing compressions
A combination of these techniques can increase image quality by up to 1600%.
Key Features
Noise reduction and image enhancement capabilities take place automatically.
Image upscaling features that can scale images up by 16x.
Free trial (by signing up).
4k image upscaling features.
Pros
The tool is easy to use. Just sign up and drag and drop an image to the online editor to upscale.
Let's Enhance takes good care of reducing noise and other similar artifacts from the images with AI technology. This makes the results look professional and high in detail.
In some cases, you can scale an image up to 16x of the original size.
Cons
There is no free trial without signup. This can be annoying if you're someone who upscales an image every now and then. Most of the AI image scaler tools allow for a free trial without signup.
The free trial version is limited as you cannot use the full power of the tool. To upscale to 16x, you need to subscribe to the somewhat pricey premium plan.
Pricing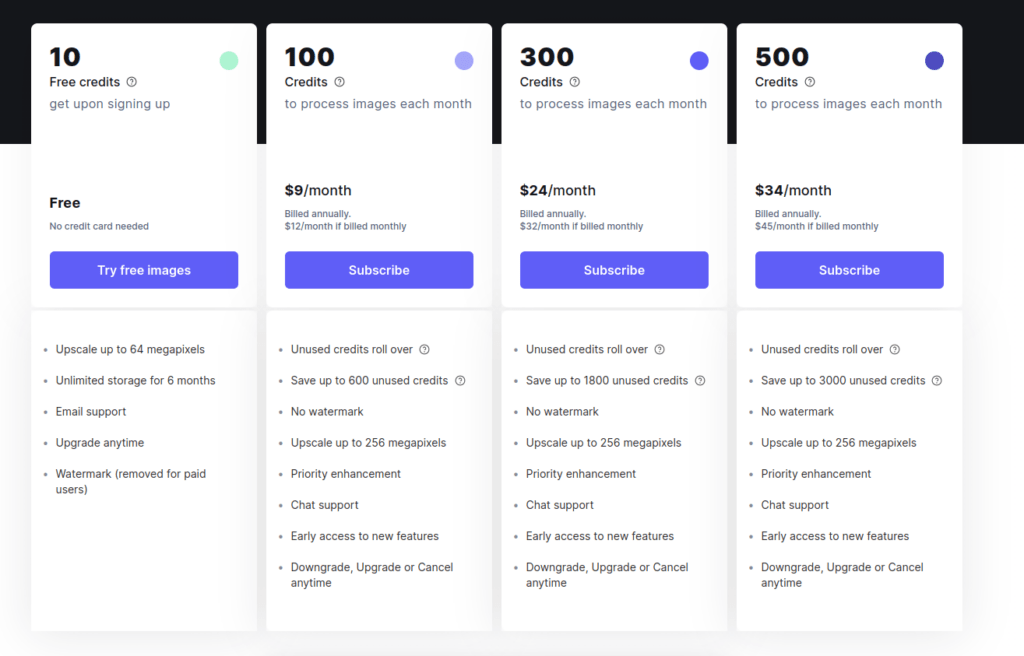 There are four plans in Let's Enhance.
10 Credits: Free to use once!
100 Monthly Credits: $9/month
300 Monthly Credits: $24/month
500 Monthly Credits: $34/month
6. Deep Image AI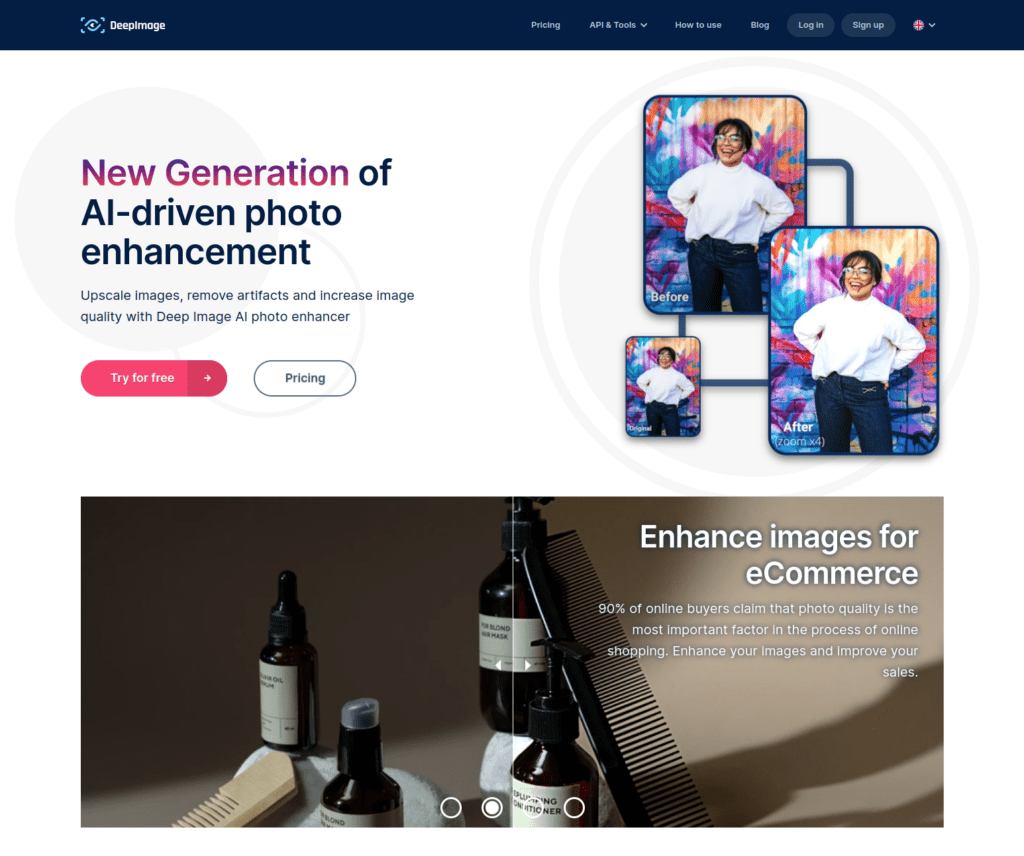 Deep Image is a great upscaling tool that is ideal for those looking to scale images up in bulk.
Here is an example image before and after upscaling.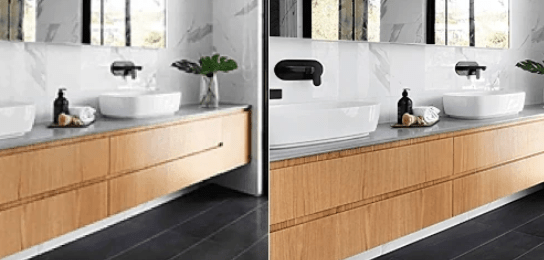 As you can tell, the difference is clear. The leftmost image looks blurry and low-quality. The right-most image looks fresh and detailed as if it was taken on a high-resolution camera.
Thanks to the AI algorithms behind the scenes, the image upscaling ends up looking natural.
The size limit of an upscaled image is 5000 x 5000 pixels (or 25 megapixels). This applies to both registered and unregistered users.
Key Features
API support for developers.
Enables bulk editing mode in which one can upscale multiple images at the same time.
Uses AI to generate predictions as to how the low-resolution image would look in high detail.
Pros
The tool is easy to use and set up because all you need to do is go to their website and start upscaling.
This software uses advanced AI algorithms to power the upscaling features. This makes the upscaling look natural.
If you're a developer, you might find the API useful. This lets you integrate the upscaling tool into your own code projects.
Cons
You cannot try the tool without signing up first. This is inconvenient if you're looking for a quick image upscaling solution.
The free trial is also limited which doesn't give you a complete understanding of the power of this tool.
Pricing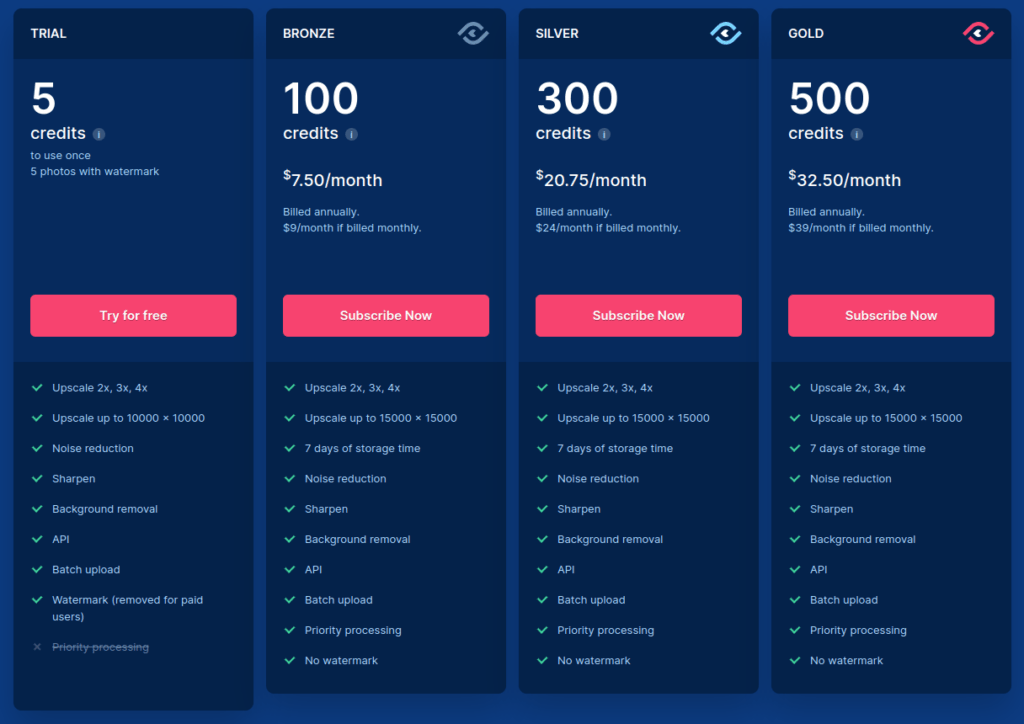 There are four individual paid plans for Deep Image AI:
Trial: 5 credits for free (to use once)
Bronze: 100 monthly credits for $7.50/month
Silver: 300 monthly credits for $20.75/month
Gold: 500 monthly credits for $32.50/month
Besides, there are plans for businesses as well as a pay-to-go pricing model. Then there is a custom plan too!
7. Icons8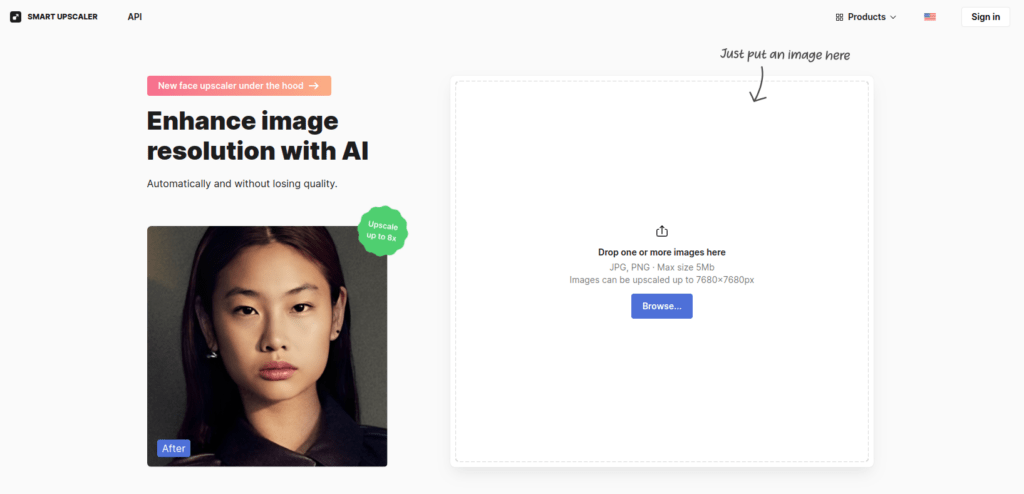 Icons8 is an AI image upscaler that is driven by intelligent AI algorithms.Icons8 is an AI image upscaler that is driven by intelligent AI algorithms.
You can use this tool to upscale images for free, but with this option, there will be water makes as shown below: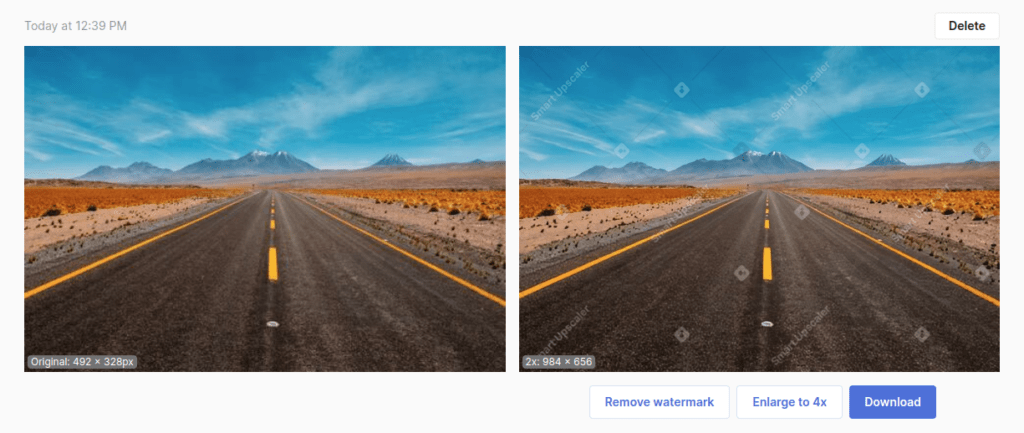 From the above image, you can clearly see how well the AI performs, though. Look at the mountains in the background. Those look so blurred on the left-hand side. On the right-hand side, the upscaling has made the image much higher in detail.
To upscale an image with icons8, follow these three steps:
Drag and drop an image to the upload box on their website.
Wait for a couple of seconds.
Download the 2x upscaled version of your image.
Key Features
Free upscaling.
Upscale to up to 4x in size.
Free download of the upscaled images.
Pros
There is a free trial version you can access without signup. Although this version will add watermarks to the images.
The tool is extremely easy to use and access. Just enter the website and upscale an image. It will only take seconds.
Cons
Watermarks in the freely generated images.
The upscaling factor is 4 at most. This means you can only 4x your images, while other tools let you do up to 8x.
Pricing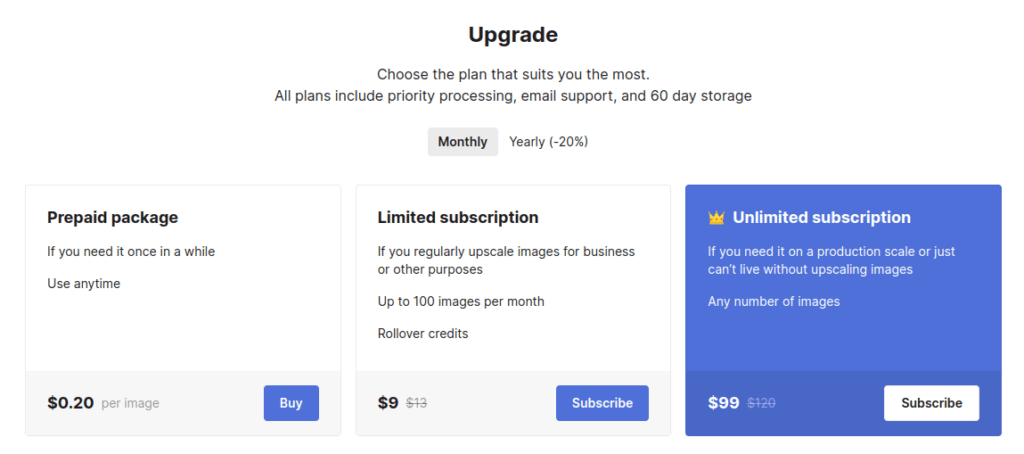 There are three plans for icons8:
Prepaid package: $0.20/image
Limited subscription: $9/month for 100 images/month
Unlimited subscription: $99/month for upscaling any number of images.
8. Waifu2x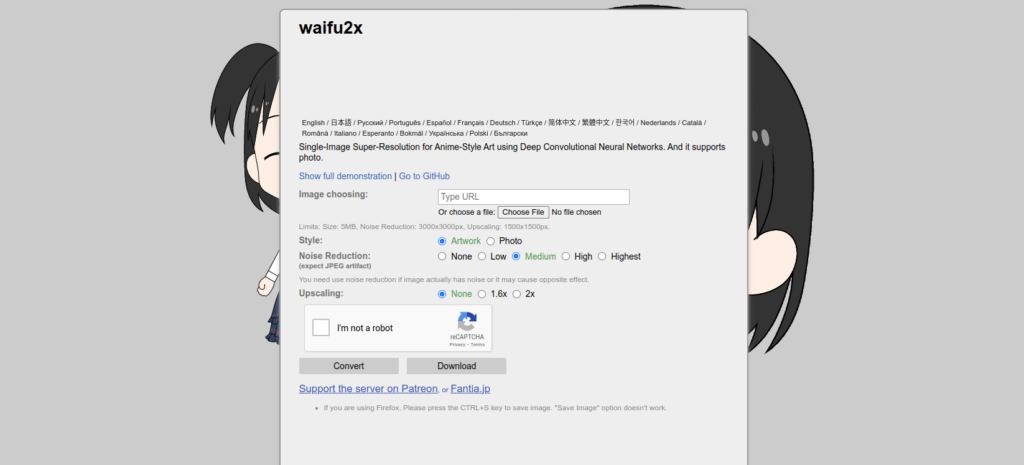 Waifu2x is an anime-focused image upscaler. Despite its vintage looks, the tool uses neural networks to scale images up. The results are surprisingly great when you consider the old look and clunky UI of the tool.
Even though the tool is geared toward anime consumers, this tool can also upscale any type of photo.
Waifu2x also takes care of removing noise from the images it upscales. Besides, you can simply enter the URL of the image you want to compress. This means you don't need to download and drag and drop the file into the tool. Instead, the tool fetches the image behind the URL and upscales it for you.
Here is an example of an image I upscaled with Waifu2x. On the left, you see the original image and on the right, you can see the upscaled version. Although the difference is not big, it's still there.

Key Features
Let's take a look at the key features of Waifu2x
2x upscaling specialized in anime.
2x upscaling in all types of photos.
Noise reduction capabilities.
Upscale images behind a URL.
Waifu2x is an open-source project.
Pros
The tool is free to use. Even though it targets anime images, it works really well for regular photos too. It even has a photo section dedicated to upscaling photos!
Great noise reduction capabilities for basic use.
It's nice you can upscale images directly behind a URL instead of downloading the images to your device and then uploading them to the tool.
Cons
The upscaling is limited to only 2x, which is very little compared to other upscalers on this list.
Old UI. I believe the tool doesn't get frequent updates anymore. For instance, their website is missing an SSL certificate and looks old. Nonetheless, the tool works really well, although limited to 2x scaling.
Pricing
Waifu2x is free to use!
9. BigJPG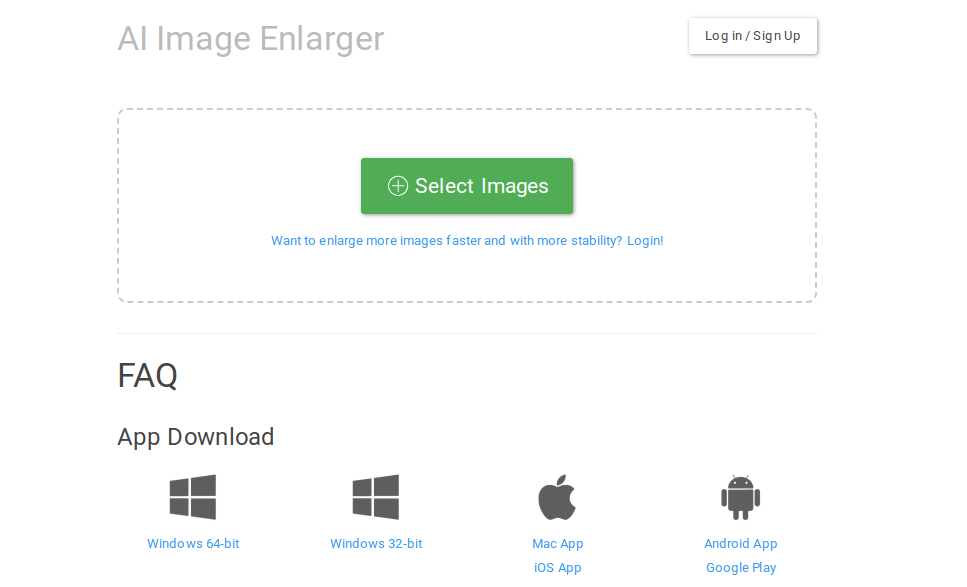 Do you have some low-resolution images, illustrations, or anime pictures you want to enhance or upscale?
BigJPG is a great solution for these types of imagery.
This tool is one of the most popular anime image upscalers that is known to produce great results in scaling up low-resolution anime images and illustrations.
Even though the tool is geared toward anime, you can use it on any other picture or illustration as well.
Here is an example of a low-res image I upscaled using the tool. The left-hand side is the original image and the right-hand side is the upscaled version:

BigJPG is also a great option for developers because there is an API available.
BigJPG does great during the upscaling process. It fills colors, details, and edges in a professional way leaving you with quality images with no data loss.
Notice that the tool limits the scaling only to 3000×3000 images which is more than most tools on this list do.
Key Features
Here are some of the most notable features of the BigJPG image upscaler solution:
AI-based image upscaling uses a neural network to predict how the image looks in better detail.
Bulk image upscaling and enhancing to save manual work uploading the images.
Windows, Mac, and Android support.
The easy-to-use interface takes no time to try and use.
10MB image support.
Pros
This tool is free to use. It lives on a browser so you don't have to install any additional software. All you need to do is go to their website and upscale images.
Supports upscaling in batches which saves a lot of manual work.
Does 4k upscaling without loss of quality.
Upload images up to 3000×3000 in size. This is more than your typical AI upscaler does.
Cons
I think the results of this tool are great but not that impressive on regular images, as you can see from the example above.
Pricing
The tool is free to use!
How Do AI Image Upscalers Work?
A low-resolution image has fewer pixels than a high-resolution one. This makes low-res images look blurry or low-quality.
To improve the image quality, upscaling needs to take place.
To accurately upscale an image, one would need to add information to the image in the form of pixels. Naturally, this is impossible without taking a new picture.
The second best alternative is to use some image upscaling techniques.
Regular upscaling refers to increasing the resolution of a low-resolution image to make its visual quality better.
But an AI-based upscaling takes a completely different approach. Instead of trying to increase the quality of an image by boosting the resolution, AI uses deep learning models to make a prediction about the missing pixels.
More specifically an AI image upscaler takes a low-resolution image as input. It then uses a neural network to generate an image that would downscale to look like the original input image.
To make this happen, the AI upscaler must have been trained with millions of images to accurately predict the high-resolution appearance of the image.
The Future of Image Upscaling
AI upscaling is making its way. You can expect the solutions to only improve over time. This is thanks to the rapid developments in AI and image creation.
The AI image upscaling works based on a prediction made by the AI model. The better the AI can recognize what's going on in the images, the better it can predict what it would look like in higher resolution.
Summary
That's it for the reviews! Today you learned about the best AI upscaling tools for making your low-res images look better.
These days AI makes it possible to upscale images to improve the quality when making them bigger. In short, the AI predicts how the image would look in a high-detail version. This is unlike the traditional upscaling which just tweaks contrast or sharpness.
To make an image upscaler work, companies have developed AI algorithms that are trained with millions of images. The idea of an image upscaler is that it recognizes what happens in the image and predicts how it would look in more detail.
To choose the best AI image upscaler, make sure the solution has:
Free trial
Supports up to 800% scale-up
Supports bulk upscaling
Corrects noise, blur, and other artifacts
The best solutions that meet these requirements are StockPhoto Upscaler, Gigapixel AI, and Vance AI.
Thanks for reading. I hope you found a suitable upscaling tool for making the images look greater.
Read Also