Choosing the right type of AI logo generator is important if you want to create a nice outlook for your business. A well-designed logo communicates the brand values and builds trust among the target audience and customers.
These days, creating a logo doesn't require a professional graphic designer. As a matter of fact, the latest developments in AI have made it possible to design outstanding logos in a matter of seconds.
The idea is simple: describe your business to an AI logo maker and it will suggest logos. Not only can you choose between one or two drafts, but you can generate endless amounts of logos to choose from.
This is a comprehensive guide to choosing the best AI logo generator. The tools on this list are powered by the latest advancements in AI. This list includes free tools, paid tools, and tools that represent the new wave of AI art generators.
This article is viewer-supported. If you choose to make a purchase through one of the links below, I might earn a small commission.
What Are We Looking at?
This is a detailed guide to the best AI logo generator tools. Before taking a closer look at the AI logo makers, feel free to take a quick overview of the tools you are about to see. With the links below, you can jump into the review of a particular tool if you don't want to read all of them.
Anyway, let's jump into the reviews!
Try for FREE with This Link!
Get 30% off from purchases with coupon code "CODINGEM"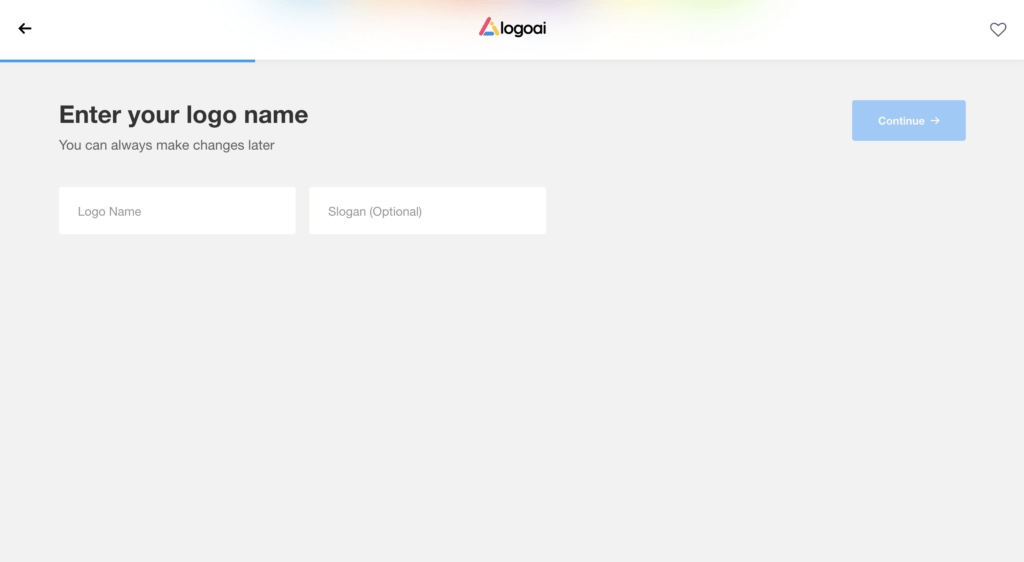 LogoAI is an all-rounder for creating logos with the best design practices in mind.
This tool uses AI to produce logos for businesses of all sizes.
You can try this tool for free, which is great because it gives you a great idea of what the tool is capable of before making an investment.
Logo AI has coded the underlying AI algorithms such that the results are professional and communicate your brand values.
Logo AI has helped tens of thousands of businesses create logos. The solution is great for bloggers, small online stores, as well as bigger enterprises looking to stand out with designs.
I find the tool particularly easy to use and the results are amazing. Some of the logos that it generates really look like they've been put together by real artists or designers, which is exactly what I want.
Features
Here are some of the key features of LogoAI.
AI-based design capabilities.
A quick quiz you need to complete to produce a logo that your business needs.
Keep all your branded materials in the same place.
Free trial.
Online-based software. No need to download or sign up to try!
Pricing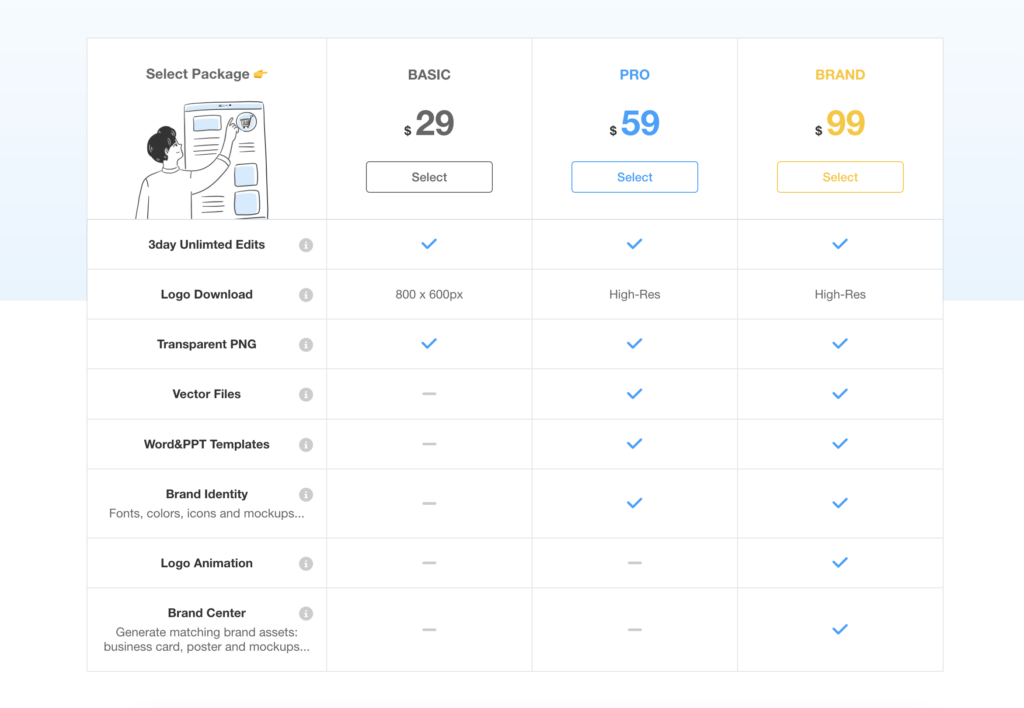 You can design for free with Logo AI. But to use your designs, you should consider paying for a premium plan.
There are three plans for Logo AI.
Basic: $29/month
Pro: $59/month
Brand: $99/month
Example Use
Here are some example logos I generated for my online business, codingem.com.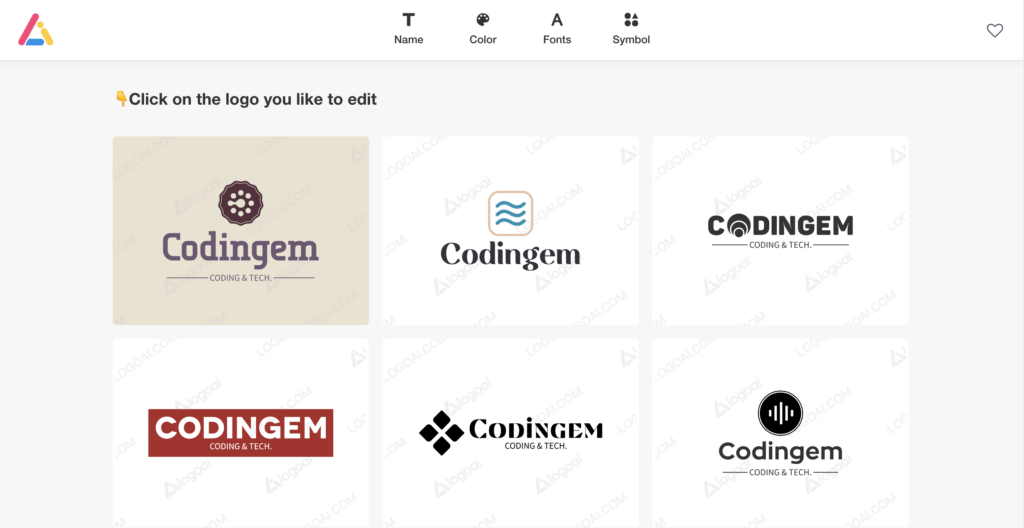 As you can see, the quality is awesome. I was able to create these logos in minutes by answering a couple of questions and choosing some colors/icons that looked appealing to me. If I didn't already have a logo and theme, these could easily be something worth using!
Get a 20% discount with this link.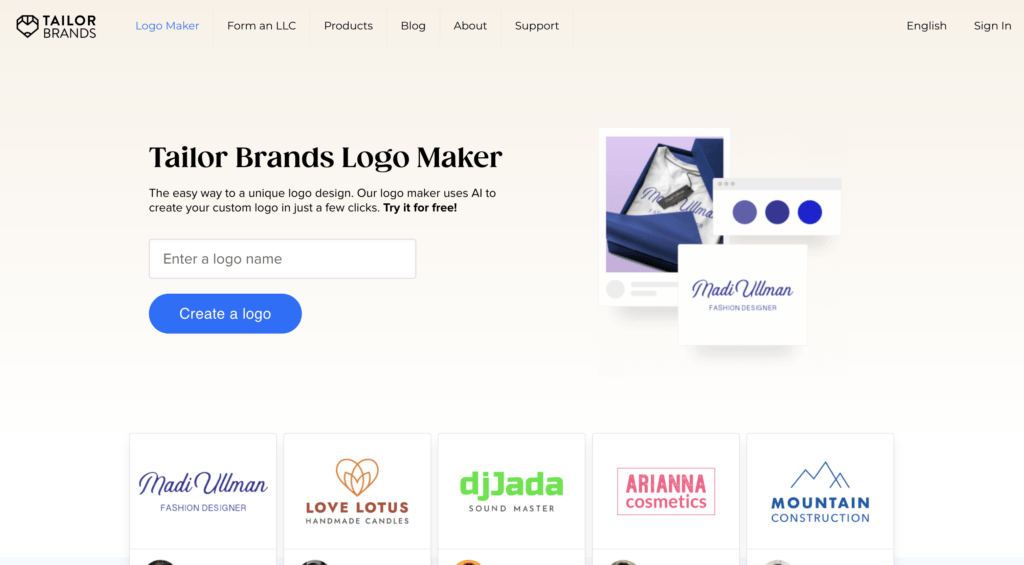 Tailor Brands is a complete package for creating logos and designs for your company.
The easy-to-use interface makes the tool seamless to get started with. You can get a logo and designs in front of you in less than two minutes.
The tool is powered by AI algorithms. The way the logo generator works is it asks you for some input, such as company name, favorite styles, icons, and such. Based on this information, the logo generator generates a whole bunch of logos to choose from.
Features
AI-powered logo generation capabilities
Social media adaptation to make your logo look great on social media platforms for improved social media presence
Hundreds of colors, icons, and design styles to choose from
Customer support for pro plans
Free trial
Additional business tools such as legal services and branding services for other aspects of your business
Pricing
Generating a logo with Tailor Brands is 100% free.
To see the designs you have to sign up.
Once you have selected the best logo and designs, you can purchase that from the service.
Example Use
When creating a logo for your business, the tool asks you a couple of questions. It takes literally 30 seconds to answer these questions.
After giving the input, the tool generates the designs for you. It takes 30 seconds at most.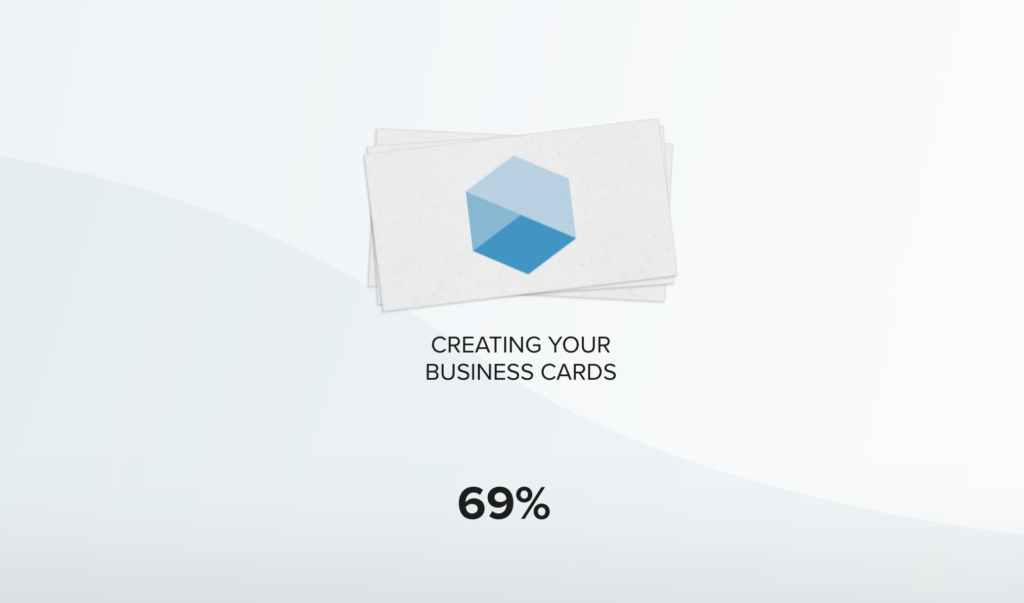 After the AI has put together some designs, it's time to review those. Here are the designs it created for me: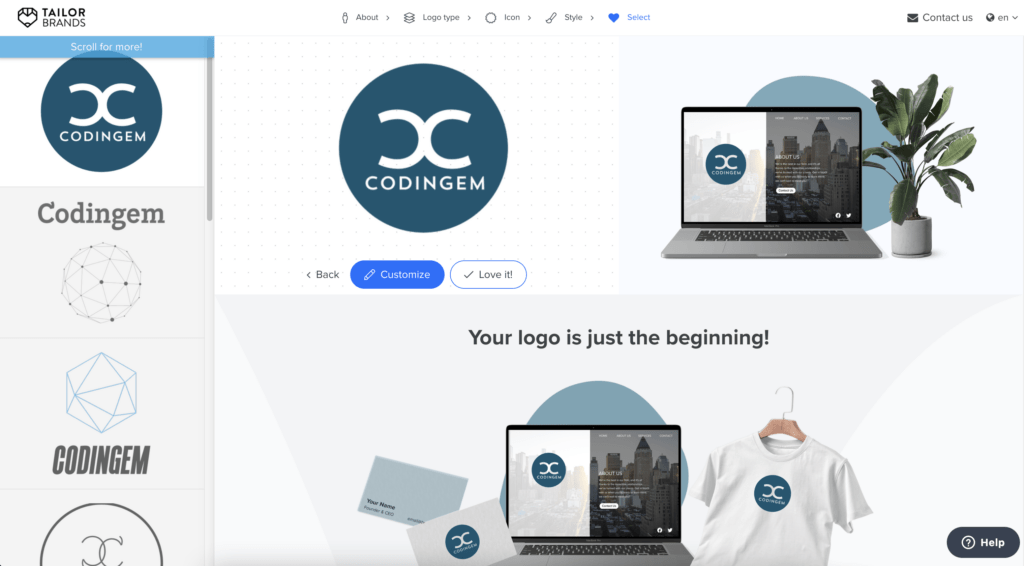 I think these look awesome and I could easily use these types of logos and designs for my brand.
The only thing I don't like about the tool is it requires signup to see the results. But this is not a big problem because you don't have to pay for the service to see the designs. Only if you want to use the designs, you should consider paying for them.
3. Looka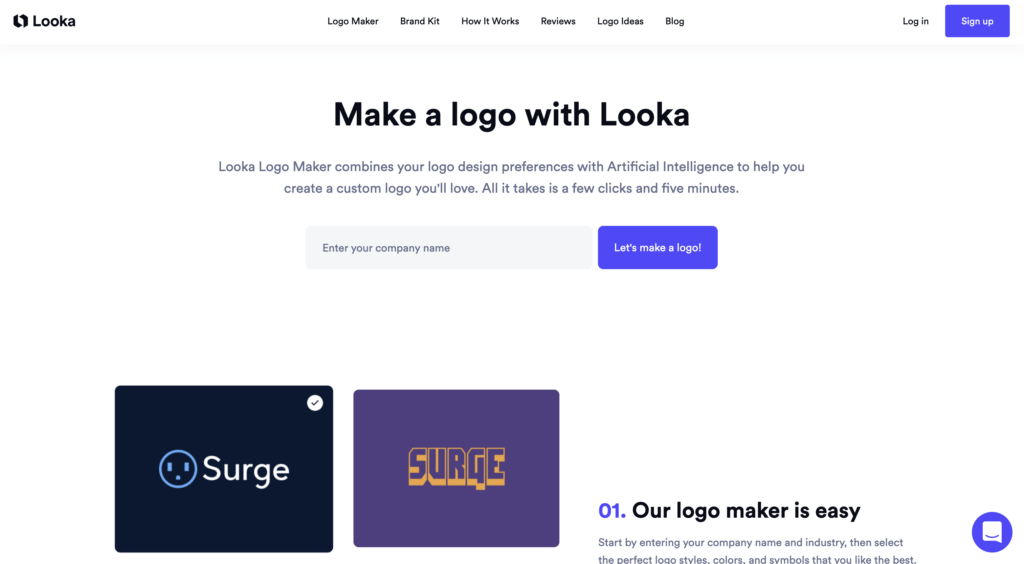 Looka is modern-logo design software that is a rich combination of AI and creativity. This tool is ideal for generating logos that match your preferences and the company's needs.
If it didn't become clear yet, you don't need any design experience to create with Looka (or any other tools in this list). Instead, all you need to do is answer the quiz in the tool and it will produce a logo that matches your brand and company's values.
The tool is simple to use. As a first-timer, it only took me around 45 seconds from the start to have a set of professional and unique logos in front of me!
Looka supports vector logo files. This means you can export the logos in a mathematical and editable format for further customization.
If you are looking to create a professional logo in no time with minimal costs, you should consider Looka.
By the way, you can try the tool for free. This way you don't end up investing in something that doesn't work for your needs.
Features
Easy quiz to fill in to generate the logo for your business needs.
High-resolution logos in vector format for ensuring quality on any screen size or setting.
Versatile file formats.
There is a great color variation at your disposal. You can choose between different colors and color palettes.
Social media templates ensure the logo looks good on all social platforms there are.
You can do some edits to the logo after you have purchased it. This gives you more creative freedom and customizability.
Pricing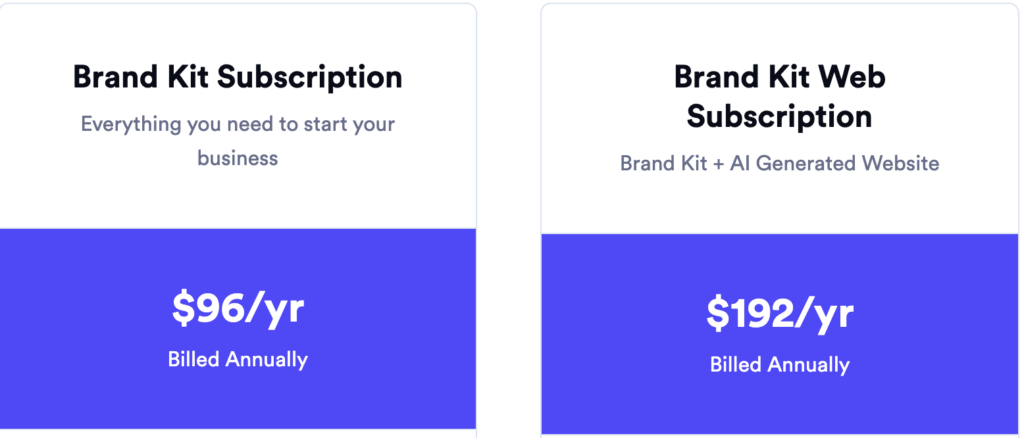 You can try and preview logos for free! To use a logo, download the created brand kit. There are two plans for the software:
Brand Kit Subscription: $96/year
Brand Kit Web Subscription: $192/year
Example Use
Here are some logos I generated for my online business just for fun with the free version of the tool.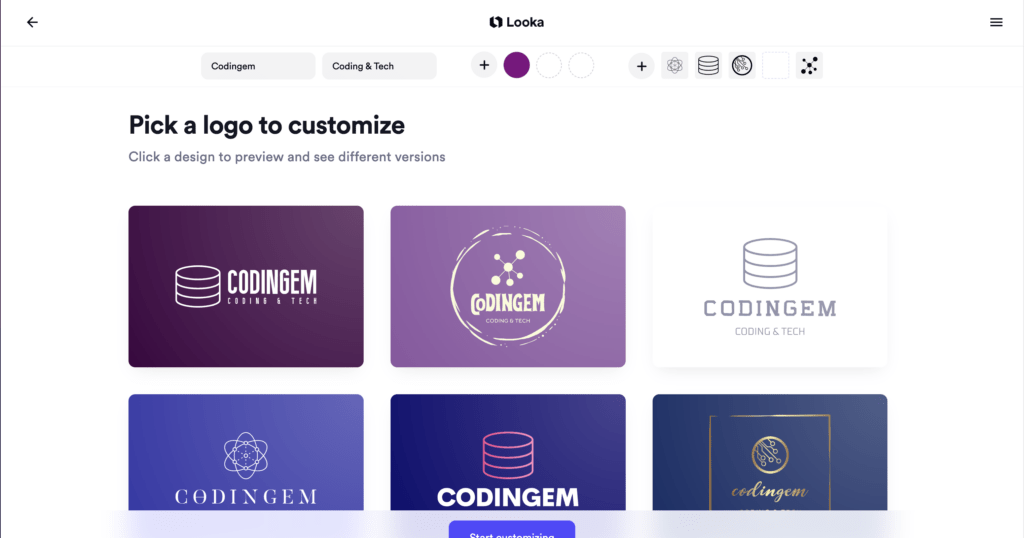 As you can tell, these logos look awesome and are something I could easily use. I'm surprised how great these logos match my intent and brand, especially the middle one at the bottom!
What I like about the tool is that it asked me a lot of questions before spitting out the logos. For example, I told the tool:
I like purple
I like minimal and simple logos
I like the neutron icon and database icons
And such.
4. Logomaster AI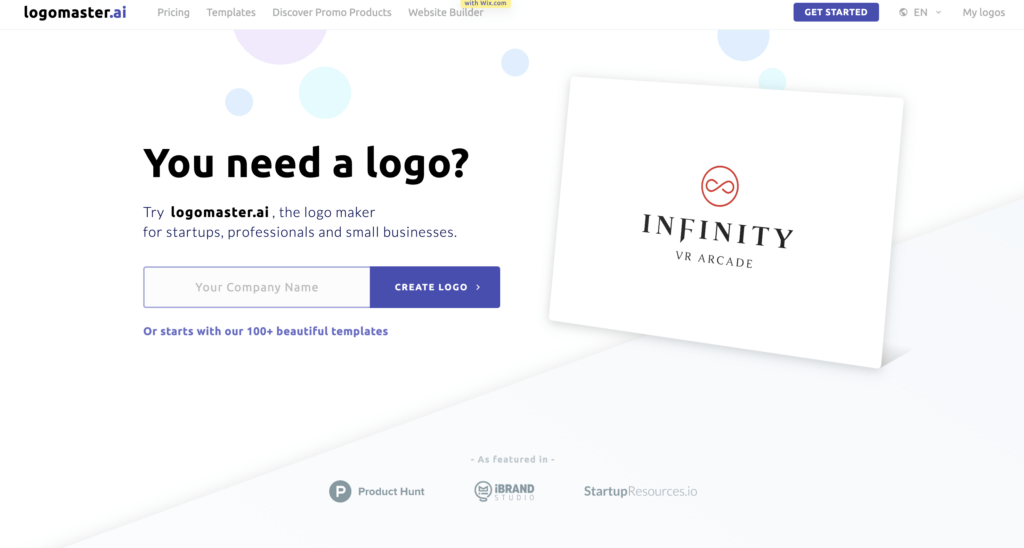 Logomaster AI is a logo maker that is ideal for startups, small businesses, freelancers, and similar.
With Logomaster, you can start creating logos for free!
This tool uses AI to generate logos. The software starts by asking you a couple of business questions and personal preferences. It takes about 30 seconds to fill in the form. Then the tool spends a second or two generating logos for you.
After the tool is done, you can have a look at the logos and choose the one you like the most. To use the logo, you have to subscribe to a paid plan. But no worries. If you don't like the results, you can always leave it alone and try another solution.
Features
Use AI to generate brand-matching logos that stand out and look professional.
Answer a quick quiz to give input to the AI logo creator.
Alternatively, choose a logo or theme from the 100+ templates.
Create a logo with minimal cost and wait.
Pricing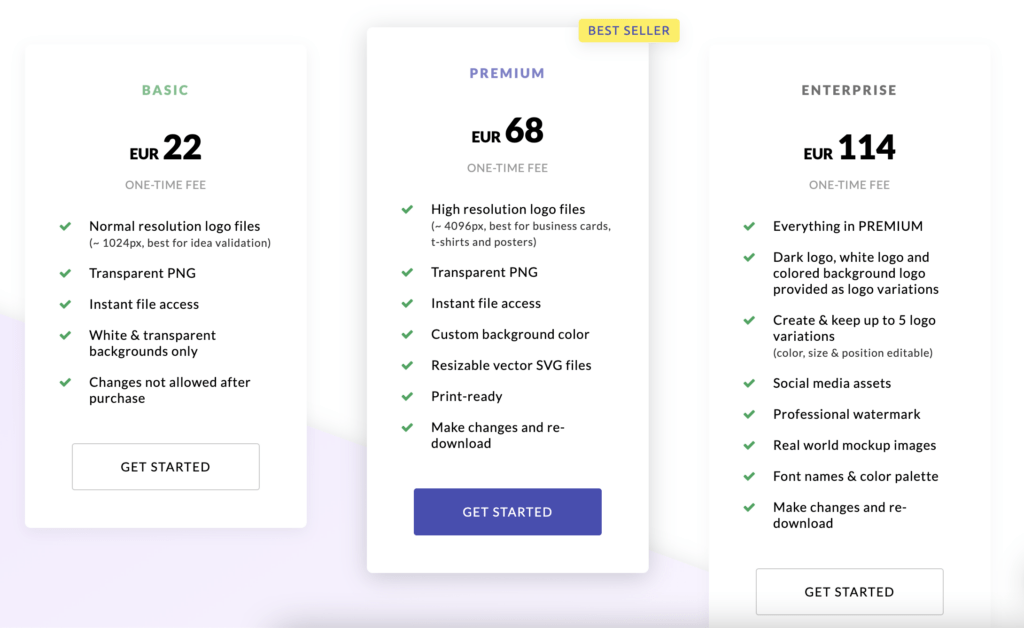 Similar to other tools on this list, you can use Logomaster for free to generate the logos. You only need to pay for using the logo.
This tool comes with three plans:
Basic: $22/month
Premium: $68/month
Enterprise: $114/month
Example Use
For example, here is a bunch of logos I designed with this tool in under a minute for my website: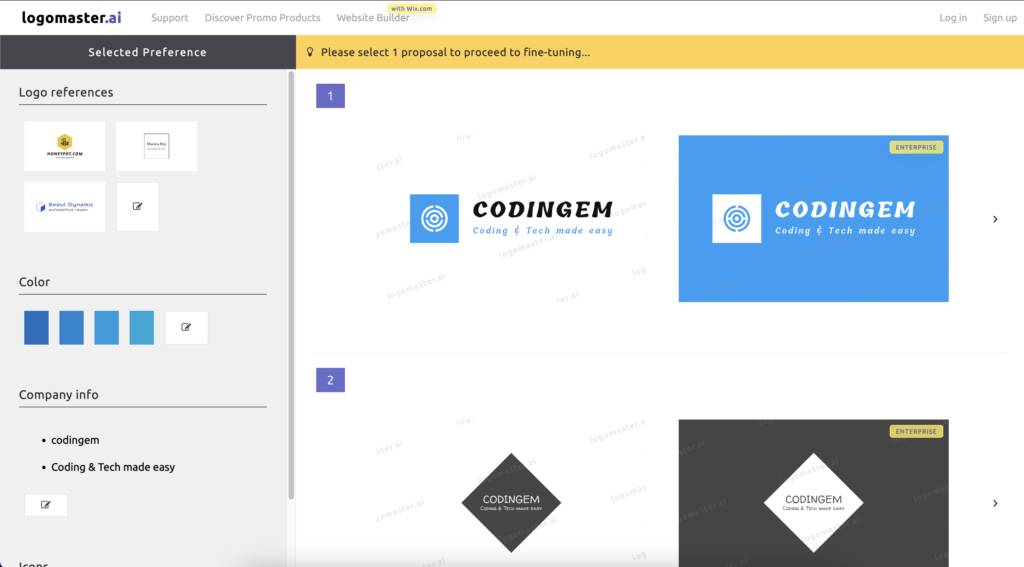 These logos look professional and are definitely something I could consider if I didn't have a great logo already.
I love the fact that these tools all let you explore the logos for free. You really get a nice overview of the capabilities of the tools before spending money.
5. Brandmark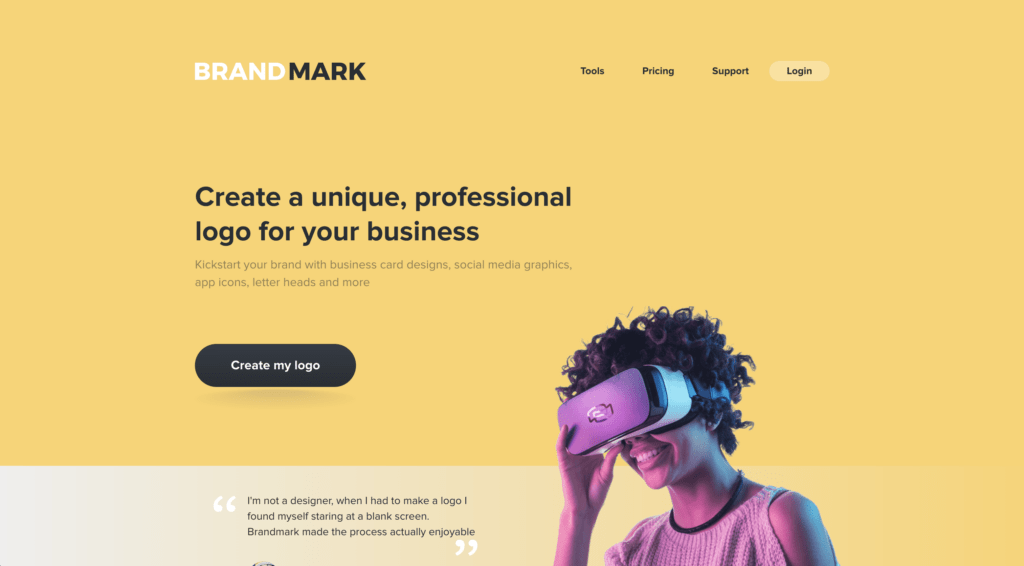 Brandmark is a great logo generator for users with no experience in brand design or logo-making. This tool lets you create unique and professional-looking logos in a matter of seconds. Brandmark uses AI to generate logos based on your preference input.
To use the tool:
Head over to the website and start creating the logo.
Answer the quiz (give your company name, slogan, and some preferences).
Wait for 5-10 seconds for the AI to generate logos for you.
Choose a logo.
Pay for the logo if you want to use it for your business.
This is how simple it is to create with Brandmark.
Brandmark is not only a logo-maker. It also designs your business cards, social media graphs, app icons, letterheads, and other similar designs.
You can try Brandmark for free to generate and preview your logos and designs. The paid plan kicks in only if you choose to use the designs.
Features
AI-powered logo generation.
Easy quiz to fill in to let the AI know about your business.
Quick logo generation with a bunch of options.
Free to use for generating and previewing.
Pricing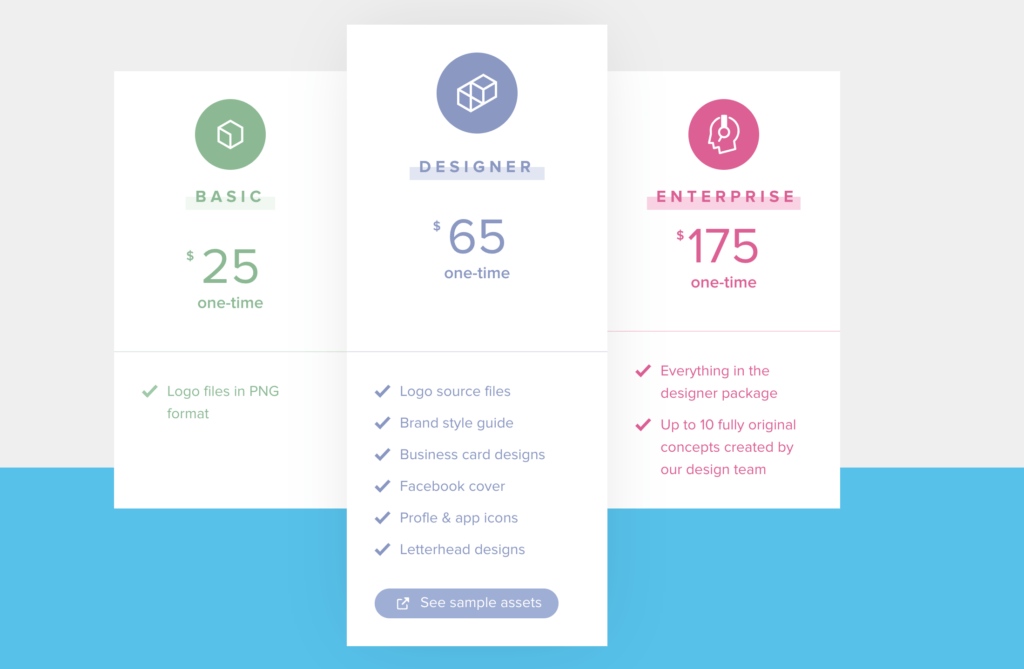 You can try Brandmark for free. It allows you to use AI to generate and preview a bunch of logos.
To use the logos, there are three plans to consider:
Basic: $25/month
Designer: $65/month
Enterprise: $175/month
Example Use
Let me show you a funny little logo I generated with Brandmark: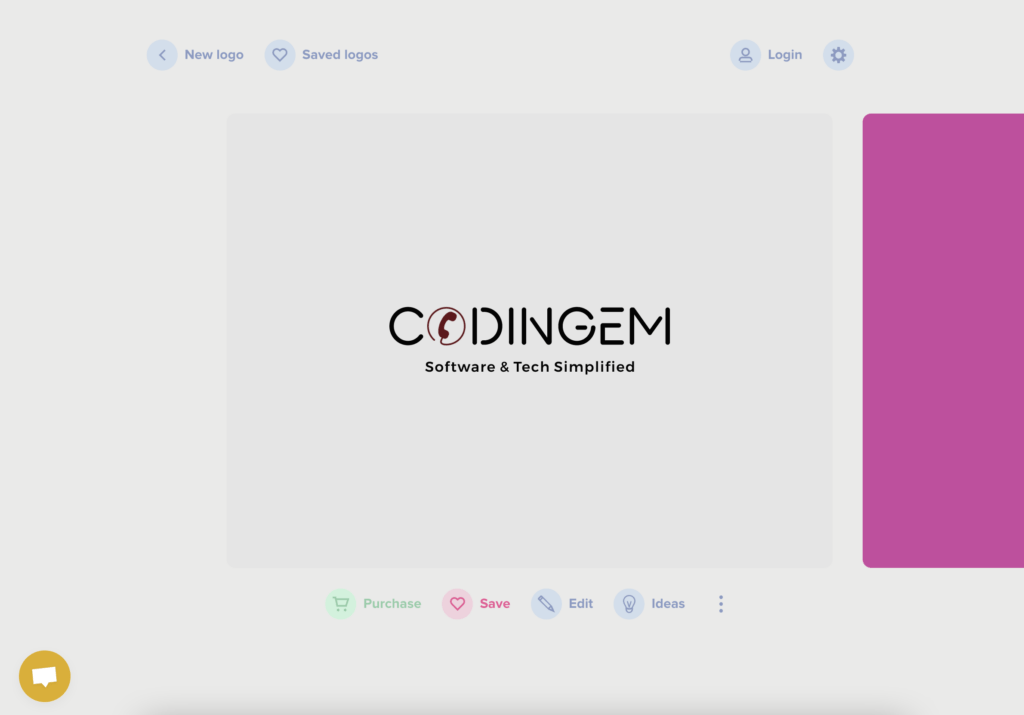 It only took 30-60 seconds to run through the quiz to describe my business to the software. As a result, this tool spits out a nice logo that I think looks professional and usable.
Next, let's explore some newer AI-based design tools you might not directly be able to use in logo creation, but from which you can draw inspiration.
6. Stable Diffusion
Stable Diffusion is a brand-new AI art generator that turns text into images.
You can use this tool for creating all sorts of imagery, such as logos, cartoons, anime, scenery images, and more.
Notice that stable diffusion is not solely focused on AI logo generation. It's an experimental tool for any kind of image-making, brand design, and such. As a matter of fact, Stable Diffusion is an algorithm that turns text into images.
That being said, if you use SD to generate a logo, you cannot export it in a vector format. The tool merely focuses on mapping imaginations into reality and thus doesn't focus on file formats, editing capabilities, or such.
The tool is a free algorithm you can use forever! To run the algorithm, there are lots of demo versions available of the Stable Diffusion AI. If you have some technical skill and patience, you can also set up your own stable diffusion server because the technology is open-source.
Example Use
Here is an example logo I generated for an imaginary ice cream business.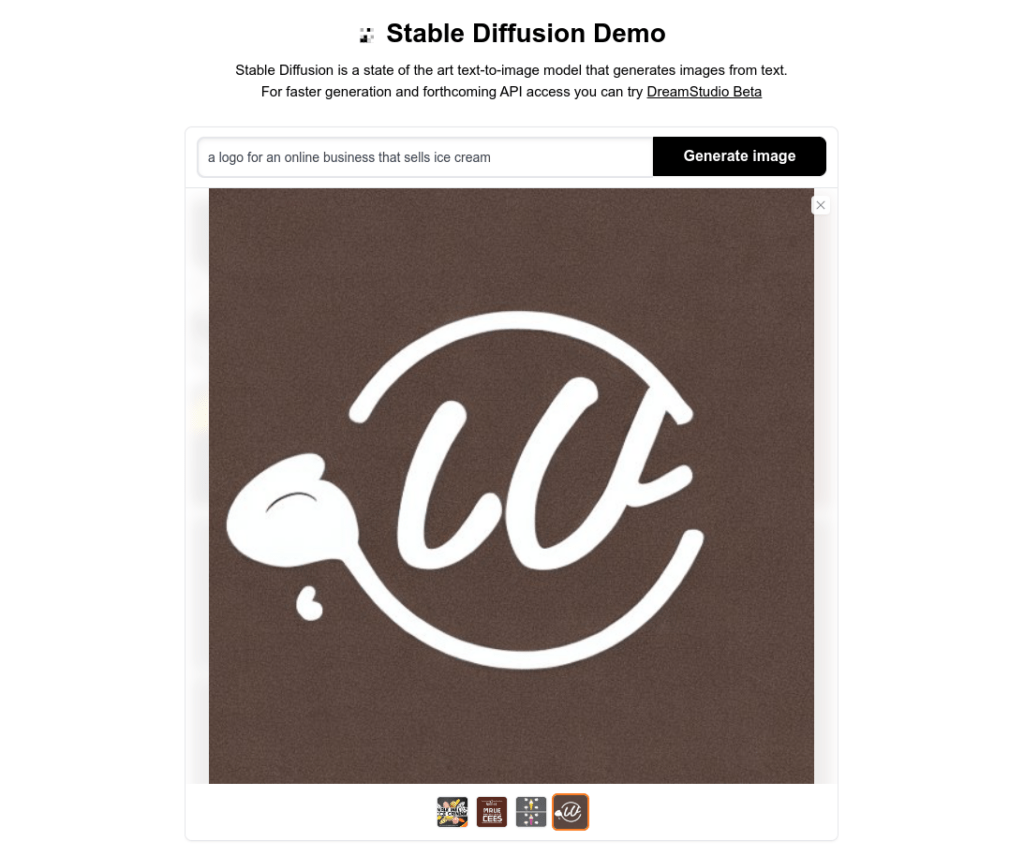 As you can tell, this logo is much more abstract than the ones I created with tools that solely focus on logo creation.
I think you can use Stable Diffusion to come up with logo ideas and inspiration instead of having a 100% ready-made logo in your hands.
So I'd say this tool is great for those who want to create logos by themselves but to get some inspiration to fight the blank canvas syndrome.
7. DALL-E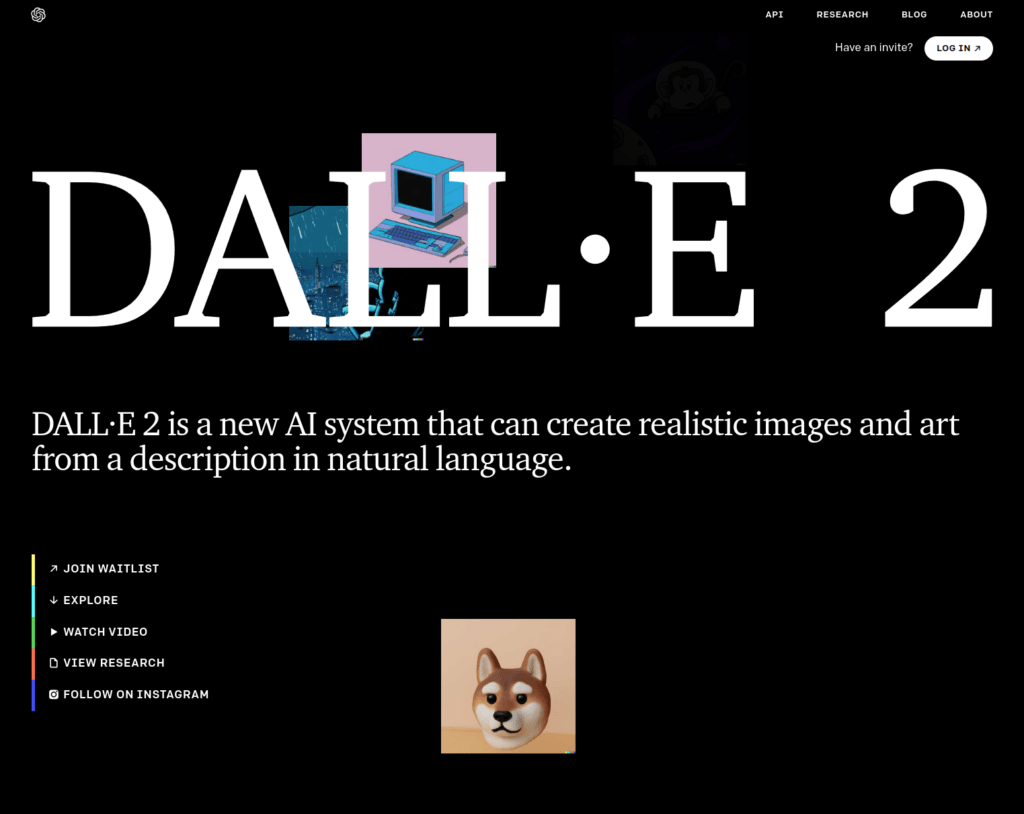 DALL-E is another state-of-the-art AI algorithm for generating images from text. DALL-E's creator, OpenAI is a well-funded research lab and company that seems to be on the path to revolutionizing the AI space.
This tool focuses on turning your deepest imaginations into realistic images. You can use this tool to generate paintings, cartoons, logos, and other graphic designs with a simple text prompt.
The idea of DALL-E is very similar to the previously mentioned Stable Diffusion. It's an algorithm that maps text into images. In other words, this is not solely an AI logo generator with all the bells and whistles for exporting vectors and such. Instead, it's an AI art generator for multiple purposes.
To use DALL-E, you need to be accepted by OpenAI's team. There is a waiting list you can join. It can take from days to weeks to get accepted!
Similar to Stable Diffusion, I recommend using DALL-E to get inspiration for your logos. So this tool is ideal for someone who is looking to:
Create a logo themselves with the help of AI.
Explore the new wave of AI-based design tools.
Looking for an affordable solution for generating logos, stock photos, paintings, merch, and so on.
Pricing
You can use DALL-E for free for 50 credits. After using the free credits, you get 15 monthly credits for free. You can also contact the OpenAI team for more rigorous use. The pricing might vary so I'm not listing it here.
Example Use
Here are some logos I generated for an imaginary computer hardware business.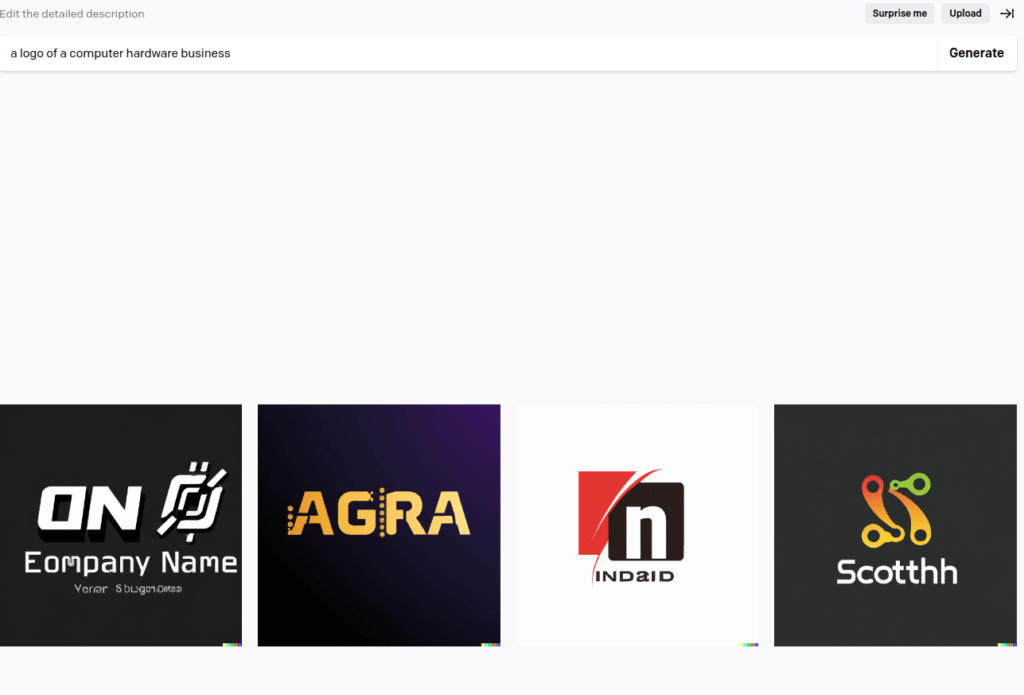 One of the main drawbacks of AI image generation is the inconsistency in the text. If an AI generates text for the images, the text is nonsense.
If you use AI art generators to generate logos, you should treat them as ideas and get inspiration from them. But chances are you won't be able to use those logos as-is just yet.
Why Is a Logo Important?
A logo is usually the first attention-grabbing element your customers or potential customers in the target audience see. If a logo doesn't look great, it's not going to give a trustworthy or professional image of your business.
In a sense, the logo is the face of your company.
This is why it's crucial to have a logo that is designed with care and that accurately communicates your brand values.
It doesn't really matter what type of business you are looking to build. You will need to pay attention to the logo and design at some point. This applies to blogging, coaching, eCommerce, and other types of businesses.
Creating a logo isn't easy. This is because it takes time to craft a logo that encapsulates the message of your company. Hiring a logo designer is an expensive task. It takes hours to create drafts and finalize the best version of the logo. This also takes a long time.
Thankfully, these days AI can help you. With the latest advancements in AI, you can generate logos in no time. All you need to do is find the right type of AI logo generator, give it some text input, and wait for a second or two.
Typically AI logo makers are free to try or even completely free services. Naturally, the best ones are the ones that aren't free. But even those usually include a free trial for you to be sure about the quality.
Another key aspect of AI logo makers is volume. Meanwhile, a designer might bring you 5-10 scratch versions of the logos, you can use AI to generate an endless number of logos to choose from. Once you have aced through all the drafts, you can choose the one that meets your eye the most.
But how about capturing the company values?
The AI logo generators use intelligent algorithms to reflect your company's values in the designs of the logos it generates. Remember, you need to give the tool some textual input, such as keywords, values, or such. The AI then uses this input to come up with the perfect logo for your business.
Last but not least, the logo generators are quick. You only have to wait for a couple of seconds to get a table full of logos to choose from.
Are AI Logo Generators Really That Good?
I'd say AI logo makers are awesome. Thanks to the developments in the field of AI, these tools can do wonders already. When I look at the logos generated with AI, I'm always impressed by the quality. Most AI-generated logos look like something made by a professional logo designer.
The major drawback of AI generators is that the field is still in its infancy. Even though the results are great, sometimes they lack professionalism and quality. That is to say, some of the generated logos end up looking a lot like other logos or companies. But if you don't mind a slightly generic logo, then these tools are awesome.
If you can afford to hire a professional logo maker, then you might want to do that. A professional logo designer can also generate the brand and themes you might need besides building a logo. The designs will then match the logo.
This is because the AI logo generators aren't good enough to capture the design of your webpage and take it into account when creating a logo. This is why professional help might be a good idea. But if you only want a logo quickly, then an AI logo generator is definitely something you should go for!
LogoAI Coupon Code
Use the coupon code codingem in LogoAI to get 30% off.
To activate the code, click the coupon/promo code button when making a purchase.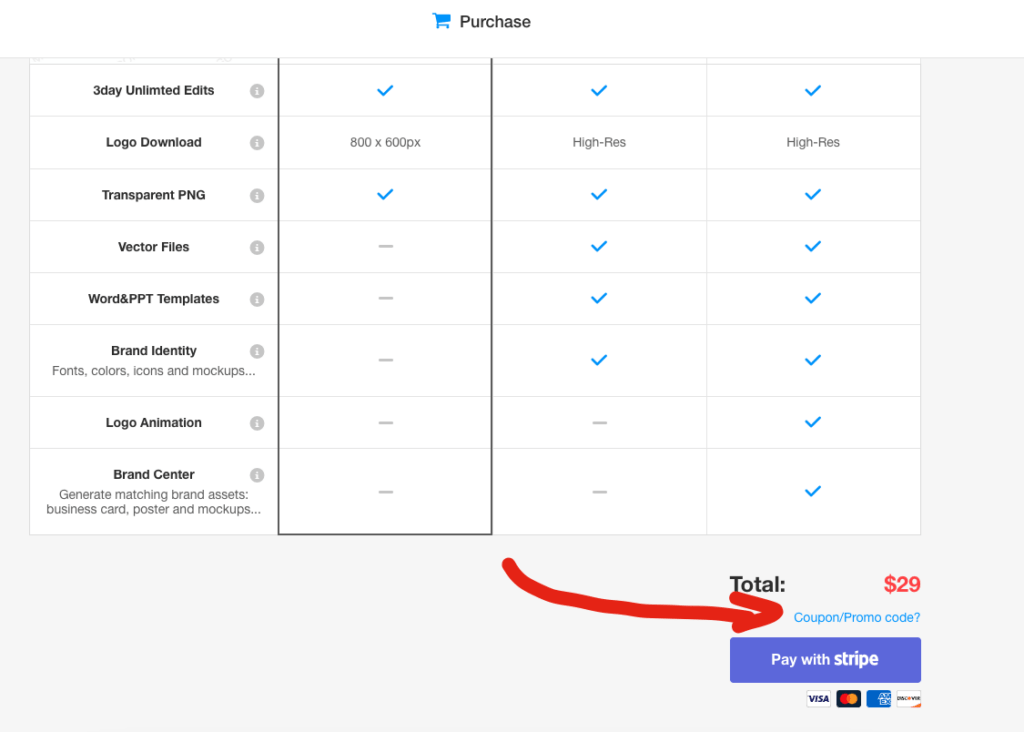 Wrap Up
That's it for the reviews!
To take home, these days you can use quick AI solutions in generating logos for your business. There are great paid tools, free alternatives, and a bunch of promising technologies that will become mainstream soon.
Thanks for reading. I hope I was able to help you go in the right direction when it comes to using AI to generate awesome logos.
Read Also