Talent acquisition is a multi-dimensional and complicated process. Finding the right type of talent for your business is crucial to keeping up with the competition.
These days, there are lots of tools companies use to streamline the recruiting process. The main goal of recruiting software is to make the list of job candidates shorter by using automation.
Thanks to the latest developments in the field of artificial intelligence (AI), there are AI tools that can speed up the recruiting process even more.
With AI recruiting software, a business can find the right candidate for an open position. But as you know, it's not about filling a position. A successful hire is someone who an addon to the company's cultures and values. They must get together with other teammates, for example. Finding this type of employee is much trickier.
This is where AI can help. With a combination of data mining, natural language processing, and logical reasoning, AI recruiting tools find truly awesome candidates quickly.
An AI recruiting tool first analyzes your company among its values and other relevant factors. Then it starts seeking talent that matches what it learned about your business and personnel.
This is a comprehensive list of AI recruiting software to streamline the recruitment process.
Disclaimer: This article has affiliate links at no cost to you.
The Best AI Recruiting Tools: Overview
Here is a quick look at the software shown in this guide.
Without further ado, let's jump into the reviews.
1. Paradox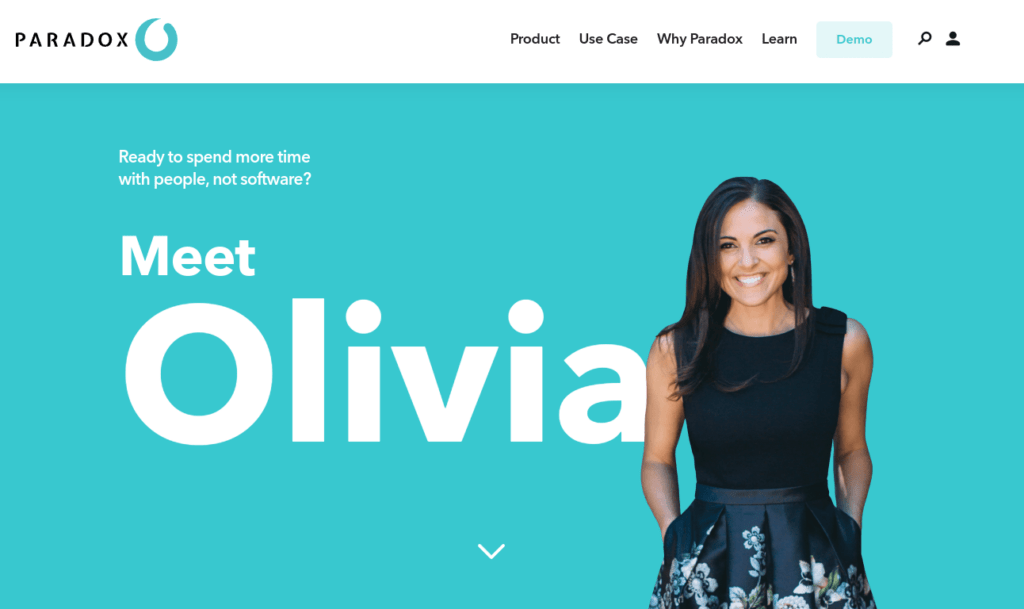 Paradox is an AI-based recruitment assistant.
The company has developed an AI assistant, Olivia. She is an intelligent virtual person in the recruitment pipeline that takes care of the important, yet highly repetitive and low-value tasks, such as interview scheduling.
This tool automates interview scheduling, reminders, and cancellations. All you need to do is connect your interview calendar to it and let Olivia take care of the rest.
Features
Interview scheduling
Virtual events
Conversational AI that doesn't feel robotic
Text message recruiting
Pricing
Contact the Paradox sales team to get a quote. They will tailor you a perfect plan to get the best value for money based on your company's needs.
2. Arya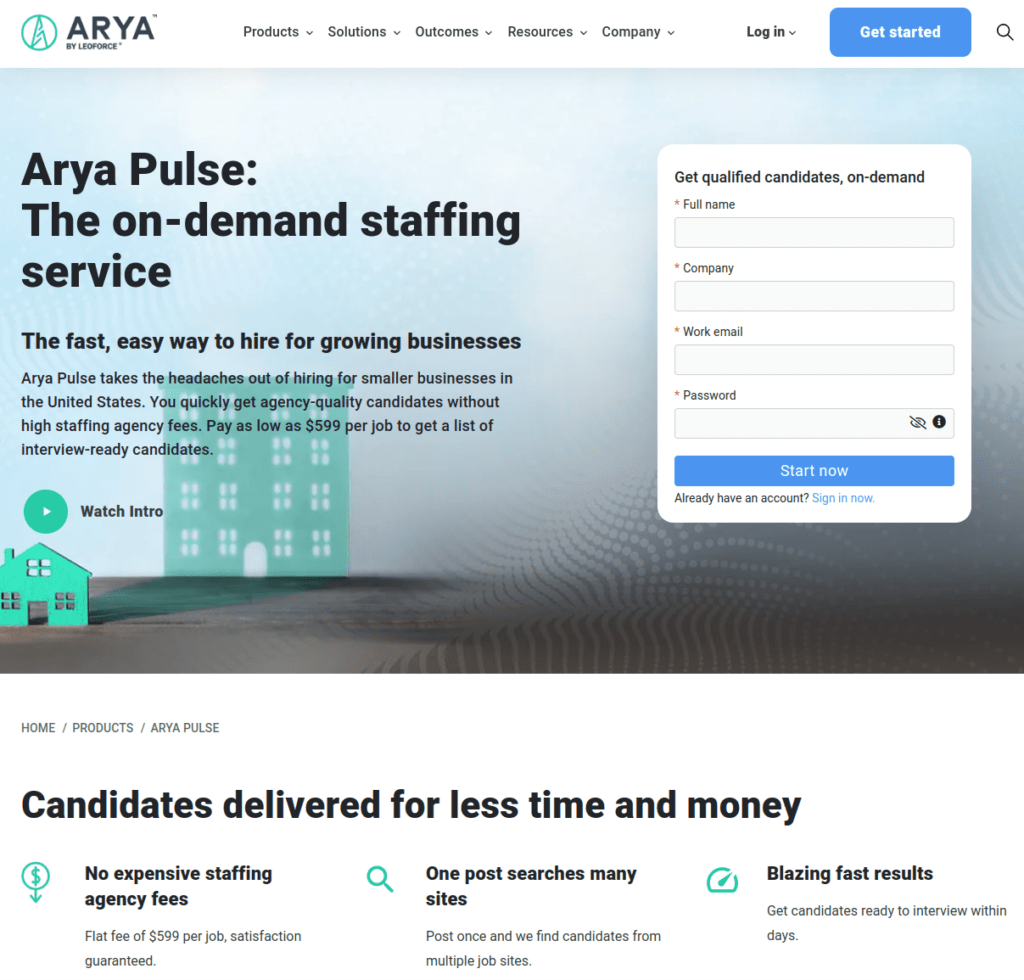 Arya is an AI-driven talent acquisition platform. This software streamlines your recruiting process by delivering quality hires much quicker than traditional approaches.
The tool uses state-of-the-art AI algorithms AI to connect businesses to job candidates.
When you use Arya, your recruiters can spend less time going through resumes. Instead, they can put more effort into the interview processes to make sure the applicants possess the required skill level and talent for the team.
Although AI recruiting sounds like a fancy concept, in the end, it's just a way to reduce manual low-value work.
Arya is a great tool to try if you want to hire quicker than before. It solves the problem of having to do hours of manual work in searching for potential candidates.
Features
Here are some of the most notable features of Arya.
Find talent quickly and hire fast!
Spend less time sifting through resumes and let Arya do the work.
Arya identifies top talent for you and allows you to put more effort into the rigorous interview process.
Find people that are actually a good match for your team.
Helps you build high-quality candidate pipelines.
Pricing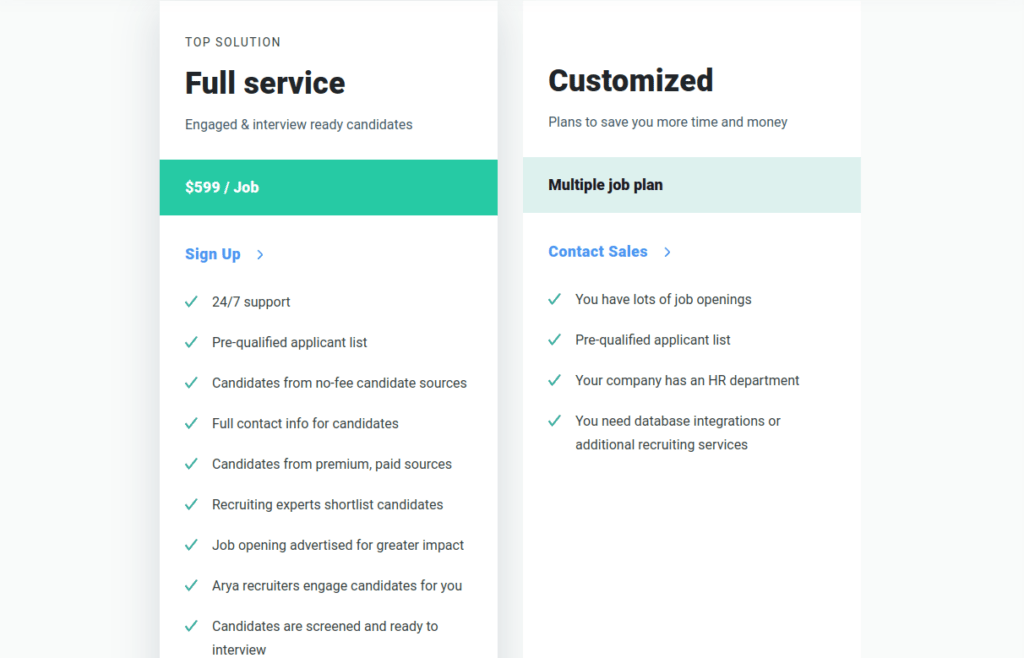 Arya Pulse is the product for AI recruiting. There are two plans available:
Full service: $599/job
Customized: Contact Sales
3. TurboHire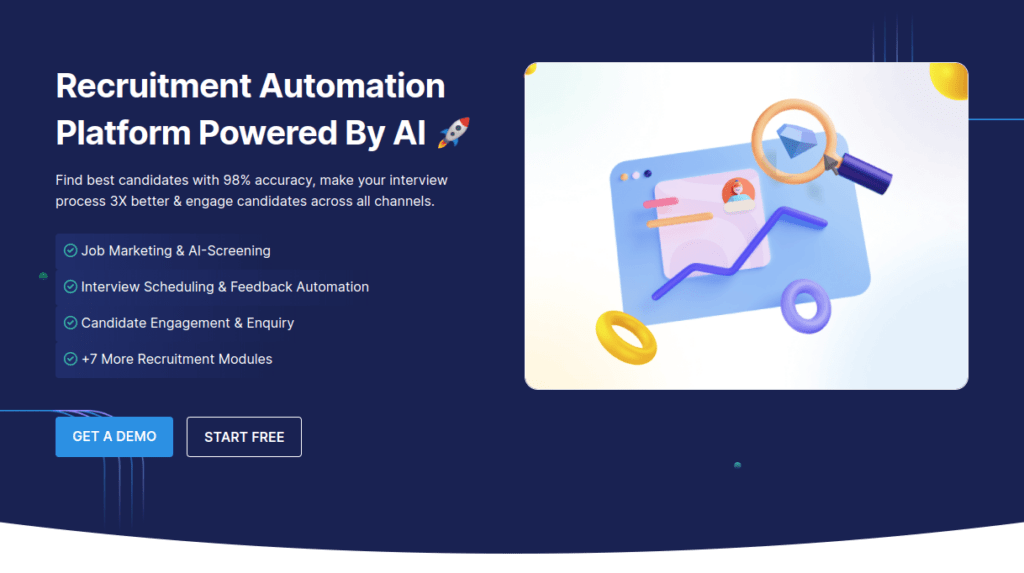 TurboHire uses AI to find the best candidates for your business. The tool lets you spend 78% less time in hiring and save 65% of the hiring costs!
One of the great features of TurboHire is it integrates well with the CRM tools you already use. Besides, it can be integrated with your website as well as many other tools you may be using.
This platform reduces the time spent on low-value resume sifting work. Instead, you can put more time into the interview process to verify the well-picked candidates yourself. This cuts the costs and frees up resources in the recruitment process.
TurboHire uses AI to find job applicants from the masses. The algorithm is clever enough to identify and match candidates with a recruiting company based on:
Skills
Education
Interests
Availability
All this happens without interviews. The tool knows how to obtain this data outside the resume.
TurboHire is not all about automation. The tool creates a nice hiring pipeline that gives candidates room for expression too.
Features
Build talent pipelines for your open positions.
Create a wonderful interview experience on candidates' terms from any place in the world.
Produce great hiring metrics and reports and get an overall look at the recruiting process.
Pricing
There is a great 14-day free trial of the tool. This offers a great chance to put TurboHire to a test before paying for the service.
After exhausting the free trial, you have four options for a paid plan.
Basic: $40/month
Pro: $177/month
Premium: $450/month
Enterprise: $1340/month
4. Loxo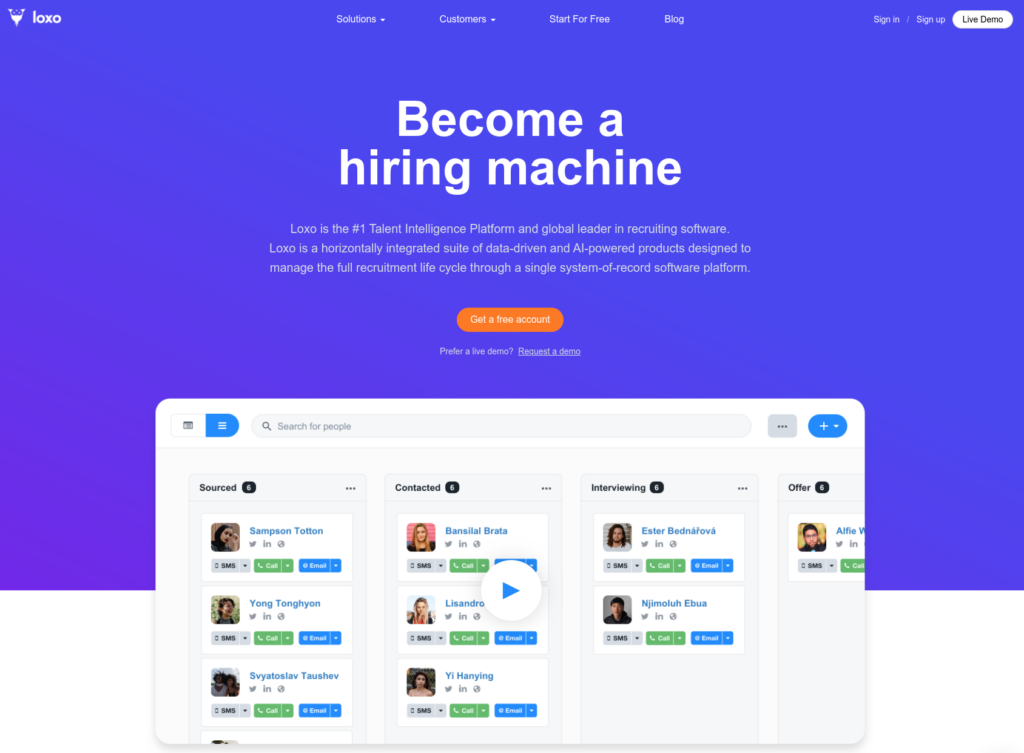 Loxo is an AI-driven recruitment tool to help you find the best talent your team needs!
The tool helps you streamline the entire talent acquisition pipeline. This is one of the distinguishable properties of Loxo over other similar tools.
Loxo has a huge talent database of 530 million people. Besides great features such as Smart Grids and Task Management, the intelligent AI algorithms help recruiters to speed up every process in the hiring process.
Features
Large talent database
Task management
Smart grids
Sourcing, screening, interview scheduling
Great metrics and data analytics
Pricing
There is a free version you can try. This is a great chance to get your hands dirty with the tool if you aren't ready to invest yet.
But if you want to use the tool for a more rigorous recruiting process, you need to pay for the premium plan.
The price of the tool isn't disclosed up front, but don't worry! The sales team will come up with the best plan to fit to grow your company in a cost-effective manner.
5. Fetcher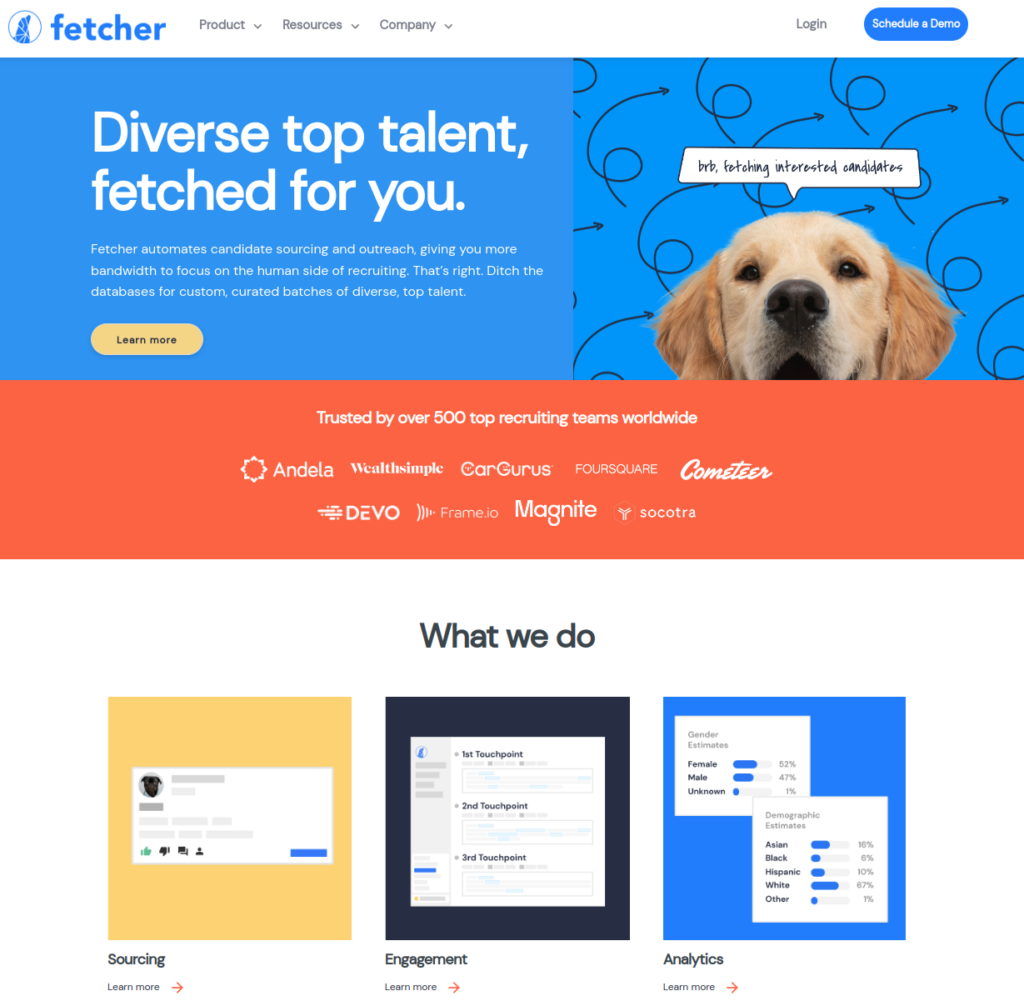 Fetcher is an intelligent recruiting automation tool for making better hires quicker.
This tool automates the mundane tasks in the recruitment process. No, the tool doesn't obviously take care of the entire pipeline, but it lets you focus more on interviews and less on sourcing.
Without a groomed talent pipeline, you need to read through more random resumes. This also leads to less qualified applicants making it to the interview process, which eats up even more resources.
With Fetcher, you can streamline and improve the talent pipeline. This helps you get rid of manual work and have interviews with qualified candidates that actually match your company's goals and values.
Features
Automate sourcing and say bye to traditional sourcing tools. You don't need to go through numerous resumes for figuring out whom to interview. This lets you spend more time on high-value work, such as interviewing the candidates.
Send automated emails that are personalized and professional.
Track recruiting metrics and analytics with ease.
Pricing
There is no one-price-fits-all model for Fetcher. Instead, they will tailor you a plan based on your company's needs. Feel free to book a call with their sales team to learn more!
6. Xor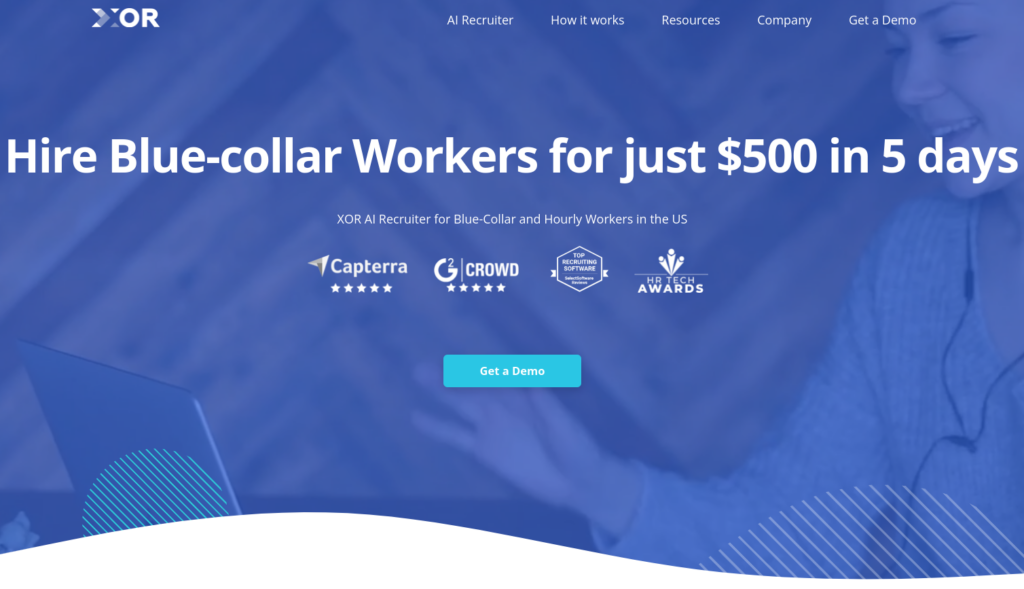 Xor is a talent acquisition platform that uses AI to automate parts of the recruitment funnel.
When using Xor, all you need to care about is the actual people. Xor will do the heavy lifting for you, so you don't have to focus on manual and repetitive sifting of resumes. Xor handles pre-screening candidates as well as scheduling the interviews.
When using Xor in your recruitment process, you can put 100% of your work into speaking with the talent.
Features
Improve candidate interaction with faster chats, emails, and phone calls.
Focus only on talking to the talent, not seeking it.
Let no candidate slip through the cracks by using the right recruitment processes.
Serve your customers better by spending less time and money on the recruitment process.
Pricing
There is no established price for the service. You get a plan tailored for your company to best match your needs. To do that, contact the sales team and book a 30-minute demo call. This way you get a far better picture of the platform as well.
The demo call gives you insight into how you can maximize talent acquisition with the platform while saving resources and cutting costs. They also provide you with a roadmap for your hiring process to meet your goals.
7. Skillate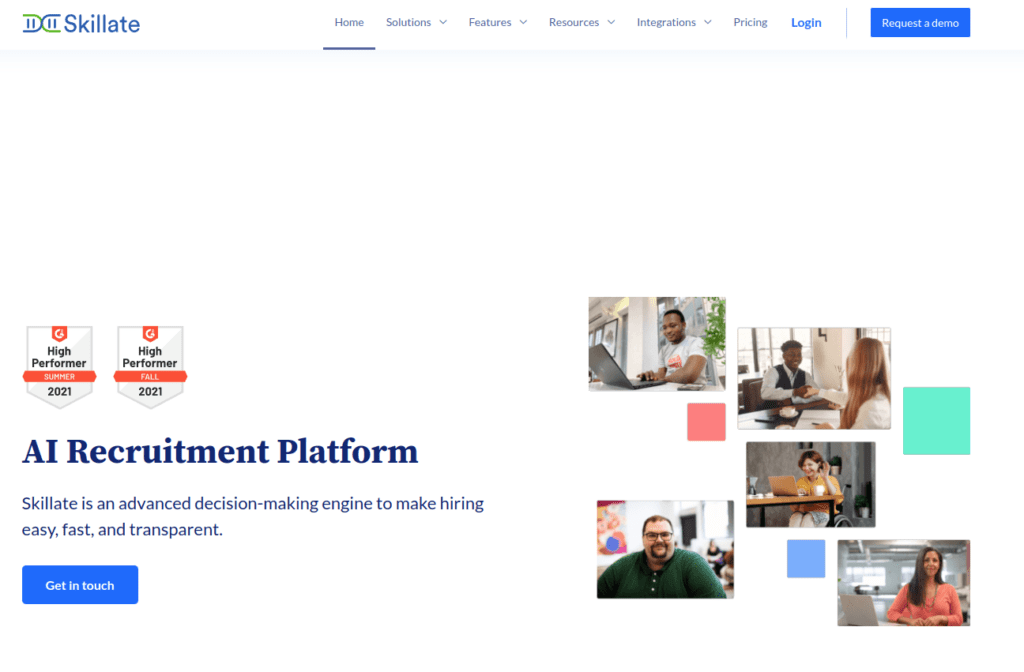 Skillate is among the best tools for AI-based recruiting. The tool acts as a sophisticated decision-making engine that streamlines your talent acquisition process. The tool comes with intelligent hiring services powered by the latest advancements in AI. Besides, you get great candidate analytics and improved experience for the job applicants.
One benefit of a tool like Skillate is it helps make more diverse and unbiased decisions.
Skillate uses AI to analyze resumes and try to find perfect matches for your company.
By the way, you can also use Skillate to generate a compelling job description with AI.
Features
Uses the latest advancements in AI to analyze resumes
AI-based job description writer
Job interview scheduler
Great insights and analytics
Pricing
Skillate has flexible pricing. To get the best value for money, you need to contact their sales team and request a demo.
8. HireVue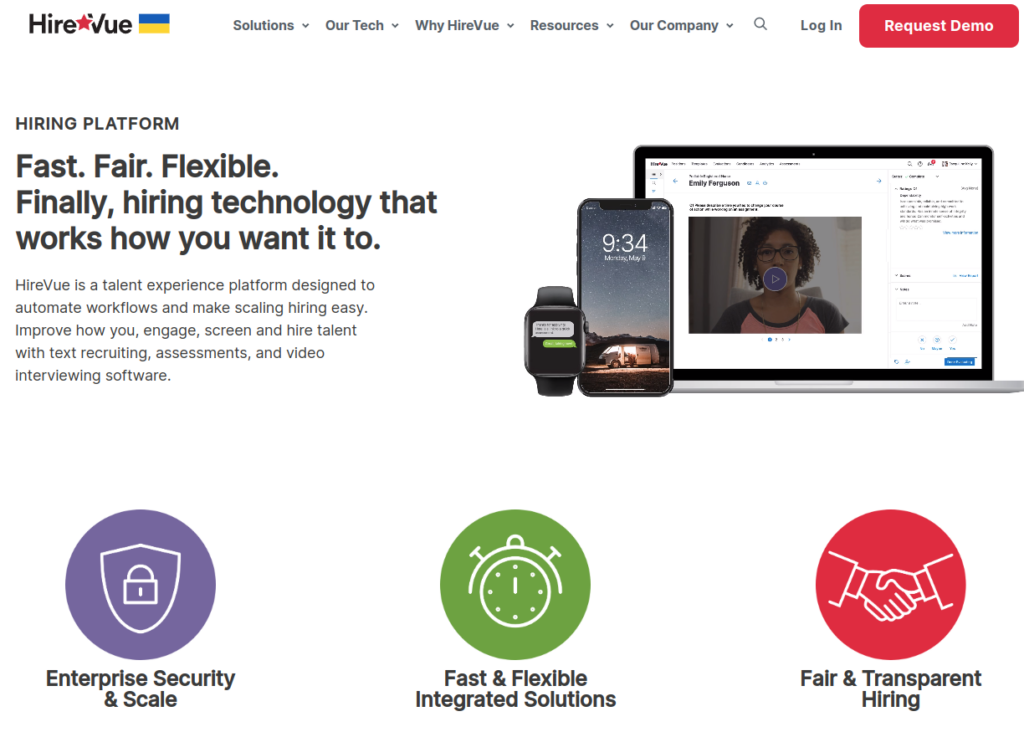 Hirevue is an AI-based HR chatbot. This tool helps you make the recruitment process quicker by automating key tasks, such as sourcing, screening, and interview scheduling. This results in great time savings and cuts the costs of the expensive yet valuable hiring process.
Hirevue has great end-to-end assistance services too. Both job-seekers and employees get support whenever they need it.
Features
Chatbot features
Automate sourcing, screening, and interview scheduling
Automate talent acquisition workflows
Pricing
Contact the sales team to request a demo and come up with a perfect plan for you.
9. Humanly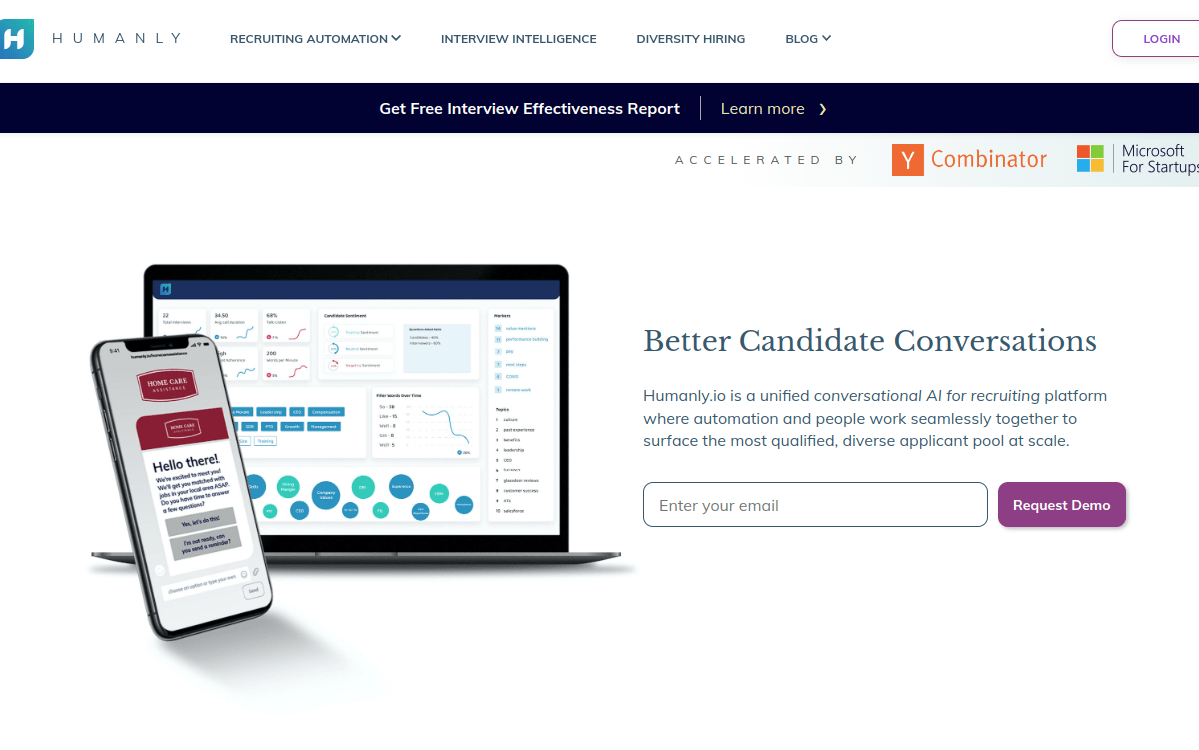 Humanly is an AI tool for better conversations with job candidates.
This tool makes the recruitment process a breeze, thanks to intelligent automation features for screening and scheduling interviews.
Besides, this tool can make decisions based on the candidate's experience and availability without you having to do it manually.
As a result, you have a short list of diverse and qualified applicants at the top of your recruiting funnel.
Features
Here are some of the most notable features in Humanly.
Humanly makes hiring more diverse. Instead of spending time on manual work, that is, going through resumes and sourcing candidates, you can focus on your company's needs. Let Humanly take care of this part.
Create a diverse candidate pool with the best talent across the world.
Get insights into how your candidates use the online applications.
See your recruitment process from a bird's eye perspective with insightful metrics.
Pricing
There is no settled price for Humanly. Instead, you can request a demo from their sales team. After the demo, you have tailored the best value-for-money plan to meet your company's hiring needs.
10. Platina Software: TalentureRS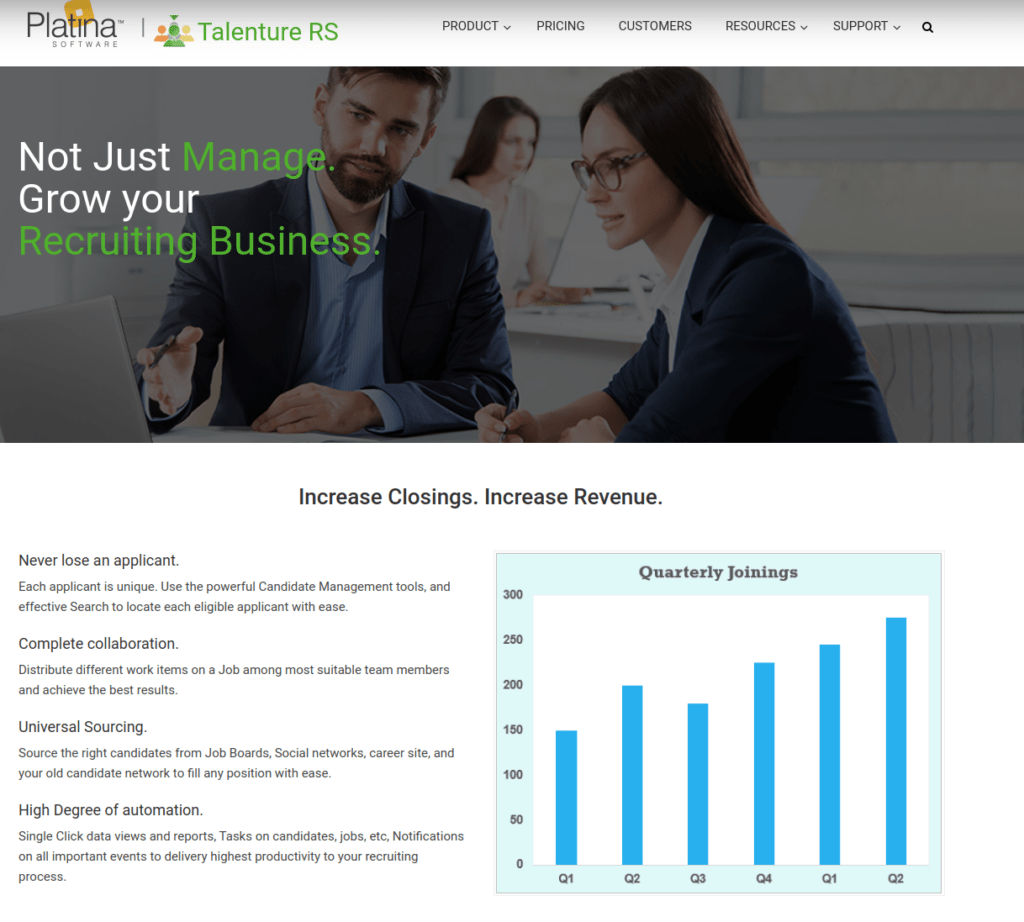 TalentureRS is an AI recruiting tool that uses machine learning and artificial intelligence insights in the recruiting process.
The virtual recruitment expert helps your company to monitor the job application process. The tool intelligently ranks candidates based on clever parameters, such as availability and employability.
TalentureRS offers you candidate sourcing services from:
Social media sites
Job boards
Career sites
And much more.
Talenture has also a great mobile app version. This means you can easily monitor the recruitment process wherever you are.
Features
Interview management
Recruitment workflow management
Interview scheduler
Tracking candidates
Resume searching capabilities
Pricing
Talk to the sales team to get the best value-for-money plan to suit your company's needs.
11. SeekOut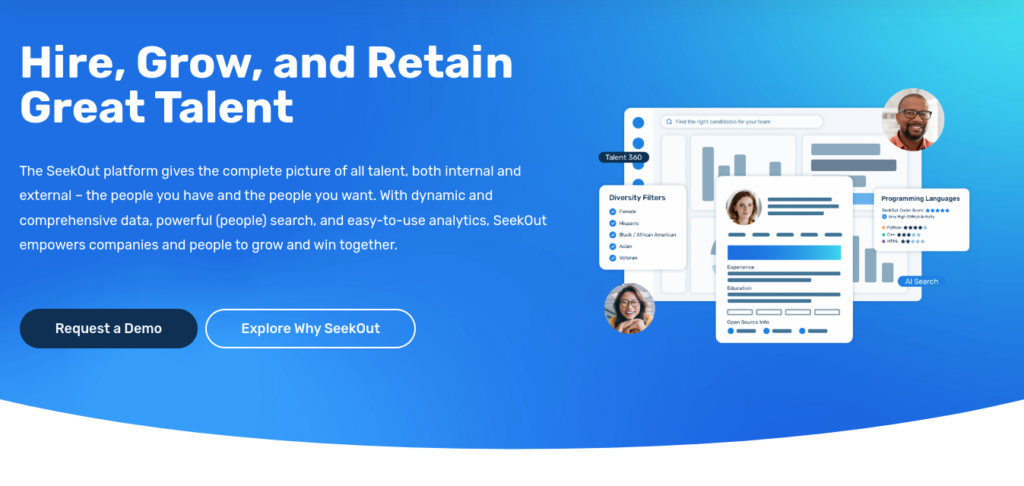 SeekOut is a talent sourcing engine that is powered by the latest advancements in AI.
The tool allows you to build short lists of candidates based on your job description.
But where does this shortlist come from?
There is a database of 500 million talent profiles. The AI analyzes your company and job description and then runs through the database of talent to find the best matches. This happens super quickly.
Besides the talent matching, you can use this tool to outreach candidates and potential future employees using nice automated sequences. And no, this is not your typical robotic outreach system. Instead, the messages are well-crafted and flow naturally. This improves the candidate experience and makes the outreach feel more personalized.
SeekOut is a great tool to automate your recruitment and sourcing process to save time and cut costs.
Features
AI-based sourcing services
A huge database of 500M+ talent profiles
Matches companies with candidates using AI
Easy-to-use analytics
Pricing
To get the best value for money, request a demo from the SeekOut sales team.
12. AmazingHiring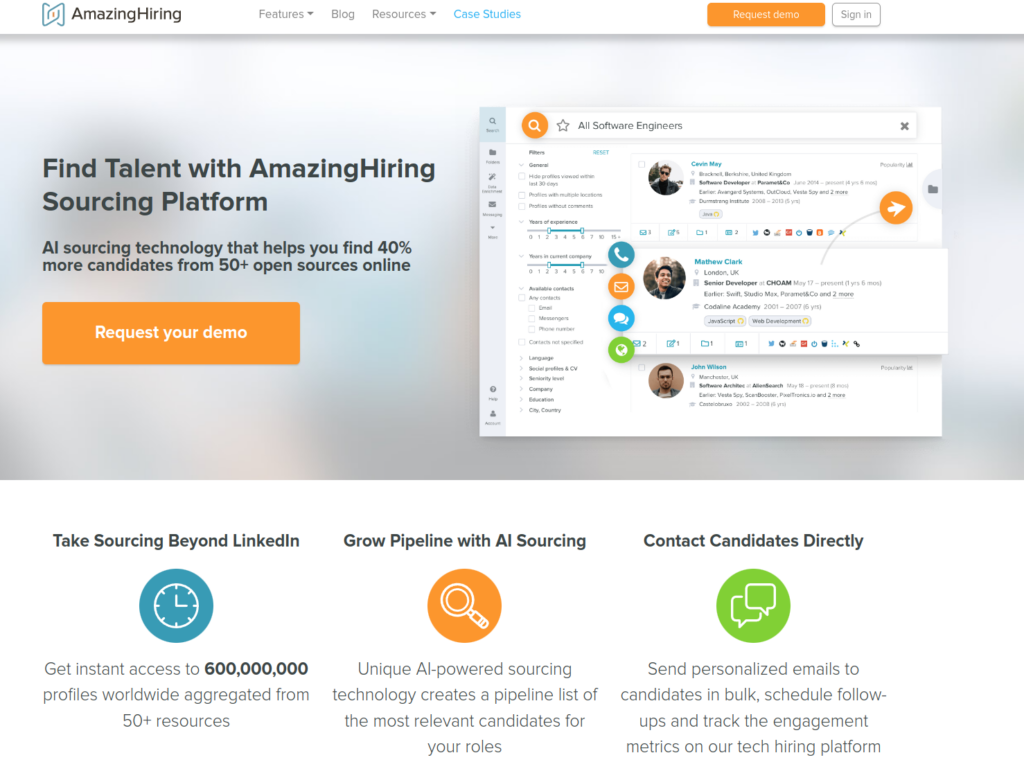 AmazingHiring is a great AI-powered recruiting tool for hiring technical talent for your team.
AmazingHiring mines data from 50+ resources on the internet. These resources include GitHub and Stack profiles.
The tool piles up the professional backgrounds of technical job candidates from these resources. This results in a huge database of technical talent.
When you use AmazingHiring, the tool sorts the list of technical talent based on your criteria. Besides automating the sourcing process, you can do it manually too with boolean searches.
This tool gives you the ability to filter candidates based on the amount of experience, seniority level, past job titles, and so on. Besides you can exclude some particular sources, such as LinkedIn. You might want to exclude LinkedIn because this gives you a greater chance to find hidden talent most acquisition teams don't know about.
AmazingHiring streamlines the talent outreach process. Instead of manually going through the list of candidates, you can auto-reach out to people with personalized emails.
Most importantly, you can use the data and metrics to see how your recruitment process is going.
Features
AI sourcing capabilities
Great candidate experience
Personalized candidate outreach system
Access to 600M+ talent profiles worldwide
Talent mined from 50+ resources
Pricing
To find out more about pricing, request a demo from the sales team. They will tailor you a plan that best fits your needs.
13. hireEZ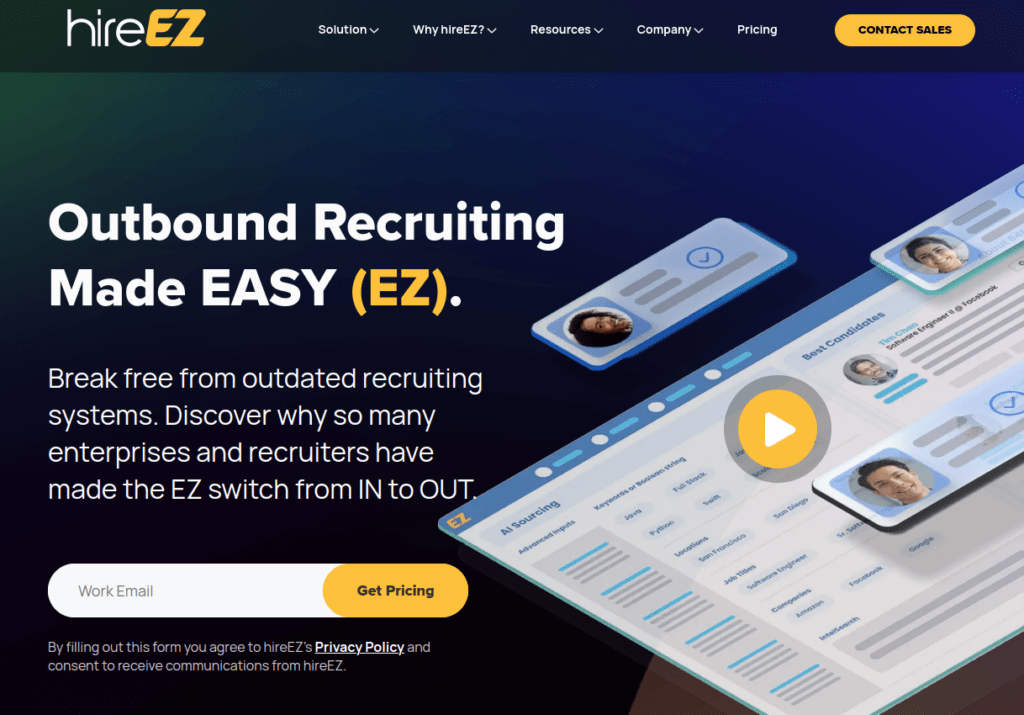 HireEZ is a search engine for jobs. Its main function is to connect recruiters with talent across all industries.
HireEZ has helped thousands of recruiting teams to streamline the hiring process with great results.
The tool operates on a large network of 50M+ resumes and profiles.
HireEZ uses machine learning and artificial intelligence to match the resumes with jobs. Although, this is not your traditional resume-recruiter matching tool. Thanks to the AI features, this tool can do much more than just analyze the skill of the person. It can take into account other factors, such as experience, location, education, and more. Thus, the matches are truly great for your team.
Because AI mimics the way we humans think, you can think of the tool as if it was a real recruiter.
Features
Here are some key features and use highlights of hireEZ:
The success rate of 85% to find contact information. This means the tool can mine the information of potential employees using the internet. It returns personal emails, phone numbers, and social media handles.
Access the latest data of your candidates across all the platforms you use.
Great candidate experience with no unwanted surprises.
Great data protection features for customer trust.
Pricing
There are four different pricing plans available:
Starter: Free
Standard: $40/month
Professional: $99/month
Enterprise: A custom plan based on your company's needs
FAQ
What Is AI?
AI stands for artificial intelligence. It is a technology used by computers to mimic human intelligence.
Artificial Intelligence is nothing but a fancy word for computer programs that use linear algebra to analyze data and make predictions.
The idea of an AI program is that it can learn from large amounts of labeled data. Then when it receives an input, it can make a prediction based on the data it has studied.
Meanwhile, AI is not a new concept, it has become a 21st-century buzzword.
During the past couple of years, the use of AI has increased and more impressive tools and software have arisen.
For example, natural language processing, which is a subfield of AI has made it possible to develop powerful AI writing tools.
AI can also be useful in talent acquisition. It can streamline the process of finding the right candidates.
What Is AI Recruiting Software?
AI recruiting tools use the latest advancements in AI to analyze job candidates.
AI Writing tools work by using:
Data mining techniques
Natural language processing
Semantic reasoning
The tools use the aforementioned strategies to analyze your company and predict the types of employees you need.
Once the tool knows your company well enough, it finds the best job candidates for your open positions.
Sounds impressive? Make sure to give one of the tools in this list a try.
Just remember that the field of AI is developing constantly, and no tool is perfect. This not only applies to AI recruiting, but other common AI tools, like chatbots, writing tools, and image generation.
On the other hand, these tools will only improve with time. It could be that in 10 years, most of the recruitment is done using AI.
How AI Is Used in Recruitment?
These days, AI is capable of doing a lot of business-automation tasks, such as streamlining the recruitment process.
Basically, you can use AI in every process of the talent acquisition pipeline.
Screening. You can use AI-based chatbots to answer questions for applicants' questions. The AI chatbots are not robotic, the way they used to be in the past. Instead, the answers are impossible to distinguish from the actual person's writing.
Video interviews. You can use AI to analyze video interview responses to determine how well they fit the role based on your company's hiring criteria.
Tech screening. Find out the level of knowledge and quality of your candidate's answers.
Sourcing. AI can collect huge databases of talent profiles. These databases usually have hundreds of millions of people across the globe. With a database like this, you can make the AI go through the best talent for your roles.
Scheduling. Automate the repetitive interview scheduling process with AI.
ATS. Track your candidates during the hiring process.
And much more.
What Is Boolean Search?
Boolean search is a way to logically combine multiple search criteria into a single search.
The word boolean refers to the boolean operators AND, OR, and NOT that you can insert into the search phrase.
An example of a boolean search could be: "Hotels" AND "California". The idea of a boolean search is to limit the search results to only containing these keywords.
Some AI recruiting tools to support boolean searching for manual job applicant screening.
For example, given a database of talent profiles, you can do a boolean search: "Python" AND "Available for hire" to find only the people with Python coding skills that are available for hire.
Bottom Line
That is a whole bunch of AI talent acquisition software.
To recap, AI recruiting tools allow you to automate the repetitive and boring stuff when it comes to talent acquisition. These tasks include screening, sourcing, and scheduling interviews.
Instead of manually collecting data on the internet, you can use an AI-based recruiting tool. Typically, these tools come with a huge database of hundreds of millions of talent profiles.
You can use the tools to match your company with the best available talent. You can automate the outreach and interview scheduling processes to save time and cut costs.
All in all, an AI recruitment tool allows for a streamlined recruitment process. The war of talent is a real thing, and adding talent to your team is super expensive these days. To keep up with the competition, you need to make the hiring process as streamlined and lightweight as possible.
Not impressed by these tools? Expect these tools only to improve over time. AI is a rapidly developing field of computer science. While the concept of AI has been around for decades, employing AI in businesses is expanding quickly. Sooner or later, AI will be capable of doing low-value repetitive work and replacing entire teams of employees.
In the future, talent acquisition might be very tricky or even infeasible without the help of AI. If all your competitors use these tools, they can reach out to your potential candidates before you.
Thanks for reading. I hope one of these tools is able to streamline your talent acquisition process!
Read Also
About the Author
I'm an entrepreneur and a blogger from Finland. My goal is to make coding and tech easier for you with comprehensive guides and reviews.