Choosing the right type of AI story generator can help you streamline the process of writing novels and short stories.
This is a comprehensive review of the best AI story generators. Most of these tools come with a free trial version you can use before investing. The AI story generator tools of this list are powered by the latest advancements in AI.
A typical story generator works such that you give it a short text input and it gives you back a story, outline, or a plot based on the input.
This article is reader-supported. If you purchase using the links below, I may earn a small commission at no cost to you.
The best overall AI story generator tool is Jasper.
What Are We Looking at?
This is a comprehensive guide to choosing the best AI story writer. The reviews are thorough. If you don't want to read all the reviews, feel free to skip to a particular review using the links below:
Also, feel free to jump to the end of this article to read reasons why/why not use AI story generators.
By the way, don't be fooled by the target audience of these tools. Most of the story generators on this list are marketed toward bloggers and marketers. In reality, you can use these tools for fictional writing. As a matter of fact, AI makes factual mistakes quite often, which is not an issue when writing fiction. In this sense, AI writers suit fictional writing even better than blogging and marketing.
Anyway, let's jump into the reviews.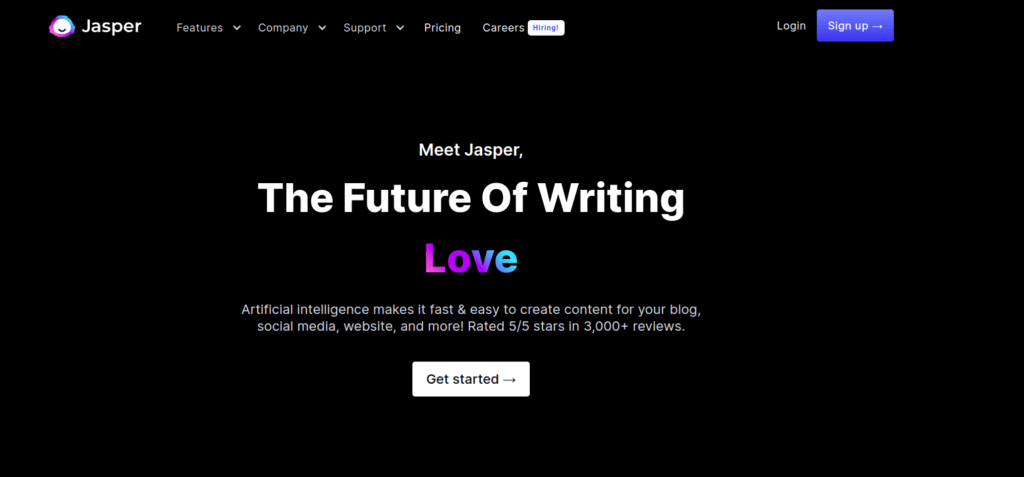 Jasper AI is the most popular and best overall story generator that uses the latest advancements in AI to come up with the text.
Jasper AI uses the GPT-3 language model to generate unique stories in a matter of seconds.
Notice that you should treat Jasper as an AI writing assistant instead of a fully automated AI writer. In my personal experience, Jasper can help write 2-3 times faster than you would normally do. But it definitely can't do all the writing on its own.
One of the main benefits of Jasper is the ability to overcome writer's block and blank page syndrome. All you need to do is give Jasper some input and it will come up with a unique piece of text.
Can You Write an Entier Book with Jasper?
Unfortunately (and fortunately at the same), you cannot write an entire book with an AI tool like Jasper. This applies to all the other AI tools too!
At the moment, the AI writers are impressive, but they can only know so much at a time. For instance, Jasper can only look back at a couple of pages of text. After that, it doesn't recall what it has written. Thus, you cannot use it to write an entire book in one go.
Key Features
Jasper is a feature-packed AI writer. Here are the most notable features that are relevant to story writers and novelists:
Use AI to generate unique and 100% original content in a matter of minutes.
Adjust the tone of voice to match your unique writing style. This is a must-have feature for writing stories.
There are other writing tools and solutions in Jasper too! You can write blog posts, emails, advertisements, and more. Thus, it's a well-rounded overall solution for generating content.
Pricing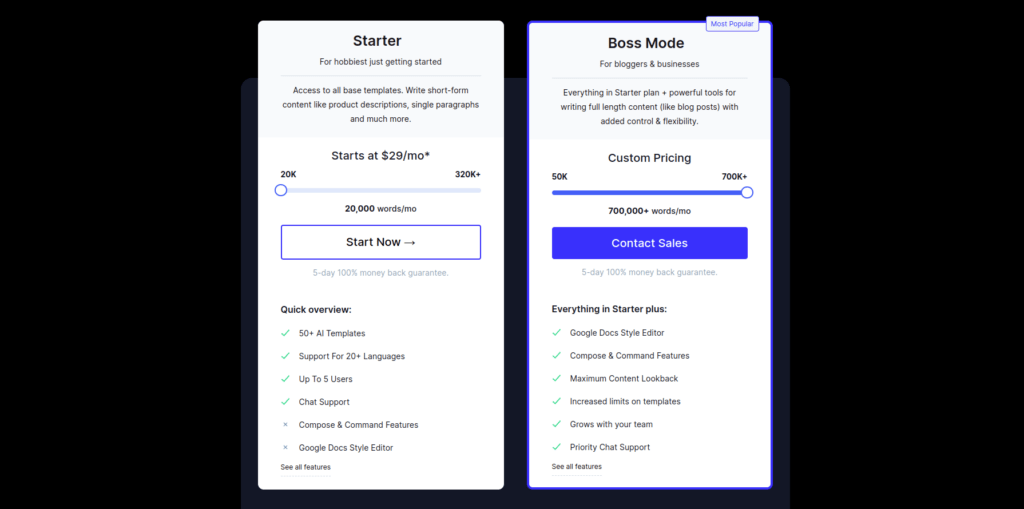 There are three options when using Jasper:
Starter Plan: $40/month
Boss Mode: $82/month
Business: Contact the Sales Team
Choosing the right type of plan is easy for you. If you want to generate stories, you should choose the Boss Mode plan because it comes with a long-form content creator.
With the link below, you can try Jasper Boss Mode for free so as not to waste money before you're guaranteed you like the product, as I'm sure you do!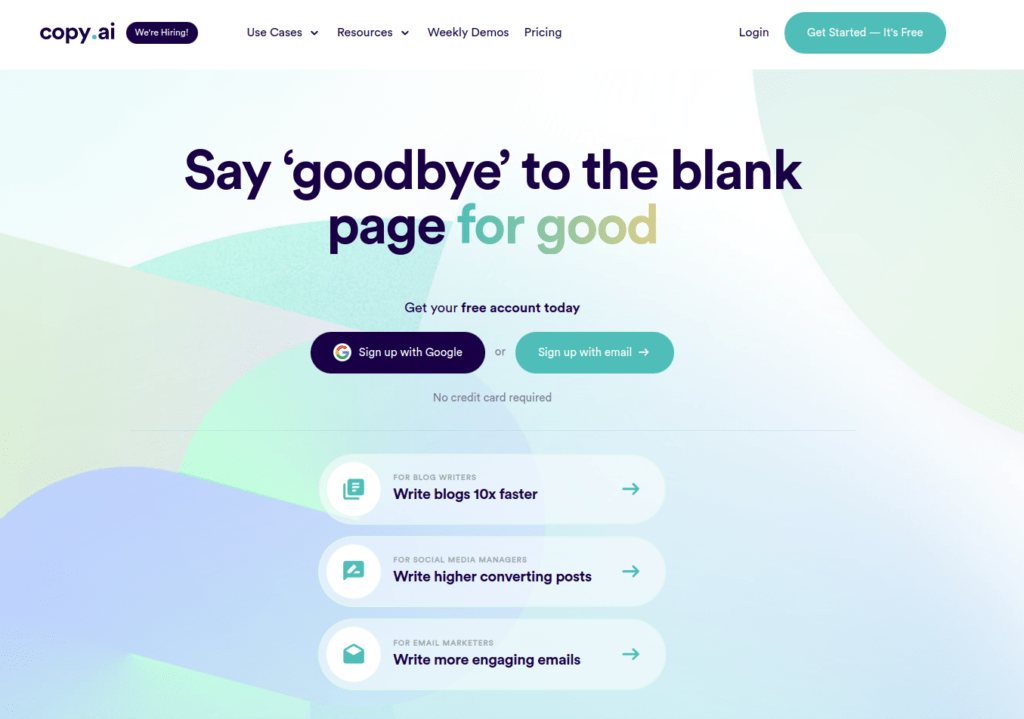 Copy AI helps you fight the blank page syndrome. It's an advanced AI tool that generates unique stories with original content in no time.
Similar to other AI tools on the list, you should use Copy AI as an AI assistant.
As you can already see from the product descriptions, Copy AI can help write blog posts, emails, and other content. The AI used behind the scenes can be creative. Thanks to this, you can ask the tool to spit out lyrics, poems, short stories, or similar.
Unlike many other AI writing tools, Copy AI comes with a forever-free plan you can use. This is great because it gives you an idea of the power of the tool without you having to pay for the service. Then if you like the tool, you can club up to a paid yet affordable story generation plan.
Key Features
Some of the integral features of Copy AI include:
Generate both factual and fictional content around any niche.
Create lyrics, short stories, poems, social media posts, and so on.
Let the AI take care of creativity while preserving your unique writing style.
An easy-to-use interface that can be learned without a technical background.
Pricing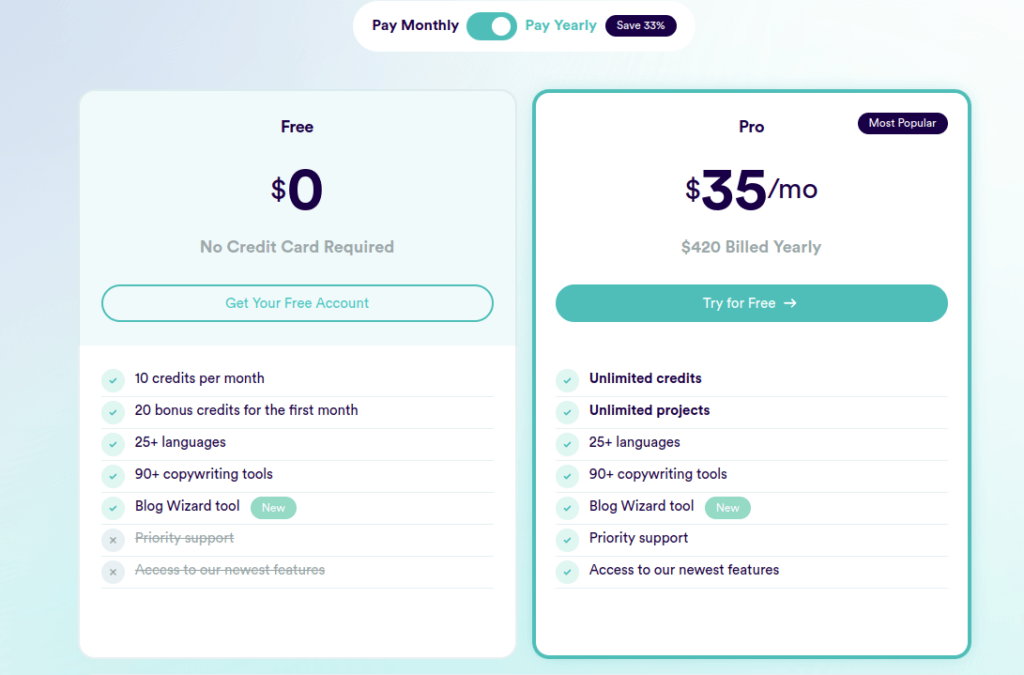 There are two plans in Copy AI:
Free: $0/month
Pro: $35/month
I recommend starting with the free plan! It's forever free and you can easily get the sense of using AI in writing. Then if you like the tool, you can always upgrade to a more rigorous yet affordable plan.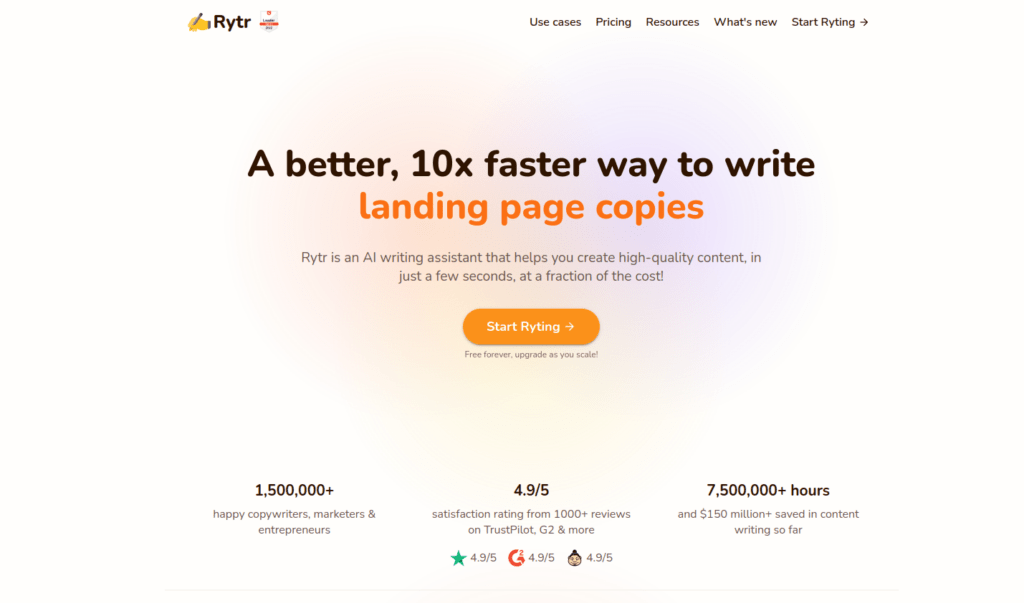 Rytr is an AI story generator that promises you'll write 10x faster than you would write without it.
You can use Rytr to generate original content using state-of-the-art AI algorithms behind the scenes. This tool can help you prevent writer's block when writing:
Story plots
Novels
Lyrics
Reviews
Profile bios
And much more. So even though Rytr is a great short story and novel generator, you can use it for so much more.
In case you're wondering, Rytr also uses GPT-3 technology to generate the content.
Unlike the previously mentioned tools in this list, Rytr excels in providing you with short-form content. This makes the tool awesome for writing short text, such as plots, outlines, or song lyrics.
However, due to the prompt limits, Rytr is not the best tool for creating long-form stories.
If you don't know where to start, you can use Rytr's writing templates. This can help you get started with the story-creation process.
Key Features
Pre-built templates that you can use to start generating text for your stories and novels.
Easy user interface and user experience that make it handy to use.
Great short-form content creation capabilities.
You can generate an unlimited number of characters every month (although there are some time limitations set by the GPT-3 technology to avoid spam generation)
A forever-free plan!
Pricing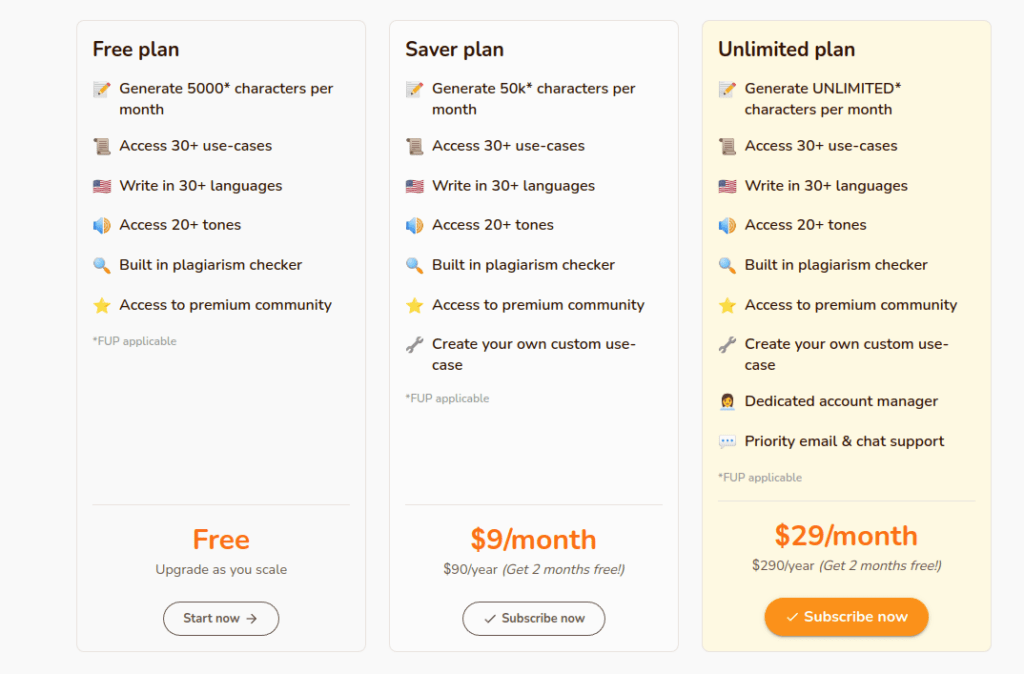 Rytr has three plans to choose from:
Free plan: $0/month forever
Saver plan: $9/month
Unlimited plan: $29/month
4. Shortly AI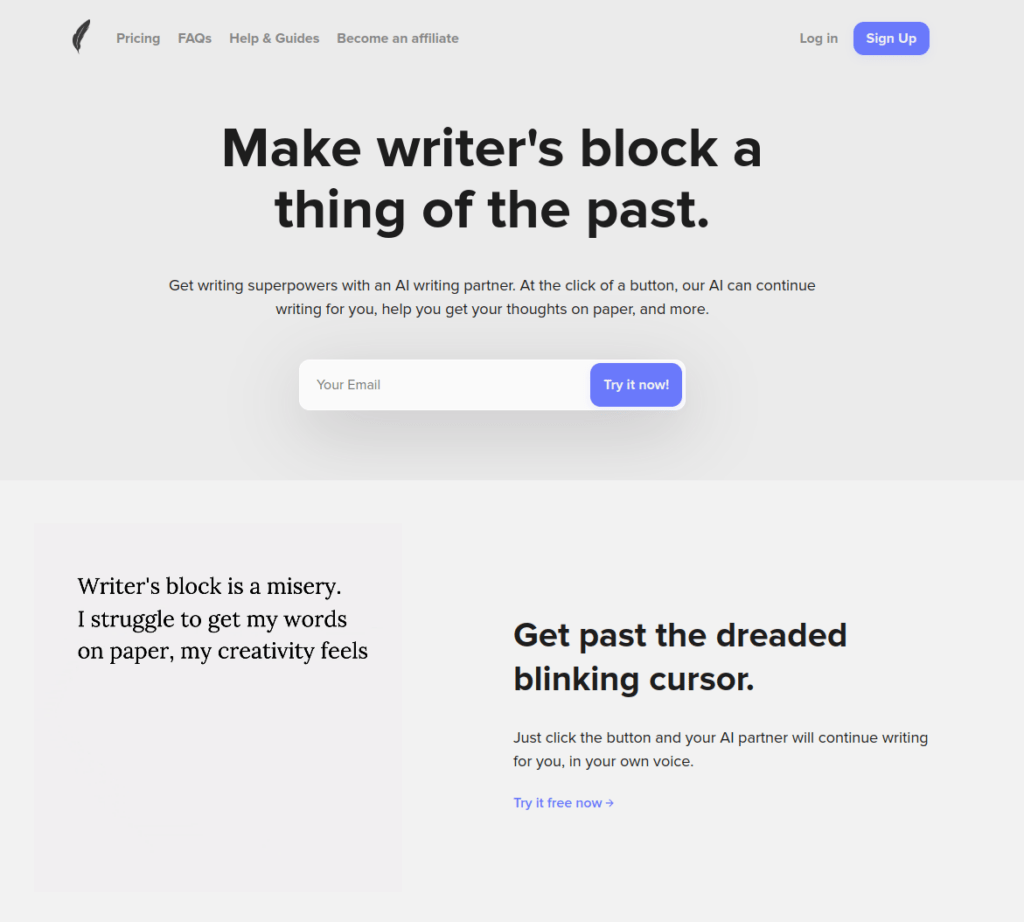 Shortly AI is a great AI-based story-writing tool you can use to generate text for your stories and novels.
This software uses the GPT-3 language model to generate unique and original text content for your stories.
The main difference between ShortlyAI and other similar writing tools is the simplicity of the UI. I love the fact that it's intuitive and easy to get started with. The UX is great and makes it pleasant to prepare long-form text content.
The only main downside to ShortlyAI is that it was acquired by Jasper AI, so they are not focusing on updating this tool that much anymore. If you are worried about this, I recommend using Jasper instead!
Of course, similar to any other writing tool in this list, ShortlyAI can make grammar mistakes as well as factual mistakes. However, the factual errors don't matter that much if you're writing fiction-based stories or novels.
Key Features
Intuitive user interface and a pleasant UX that is easy to use and to get started with.
Generate text using AI to write much quicker than without it.
Competitive pricing model against other similar tools.
ShortlyAI has a long-form content editor with which you can generate, edit, and write stories more easily.
Pricing
There are two pricing models in ShortlyAI:
Annual Plan: $65/month
Monthly Plan: $79/month
5. ClosersCopy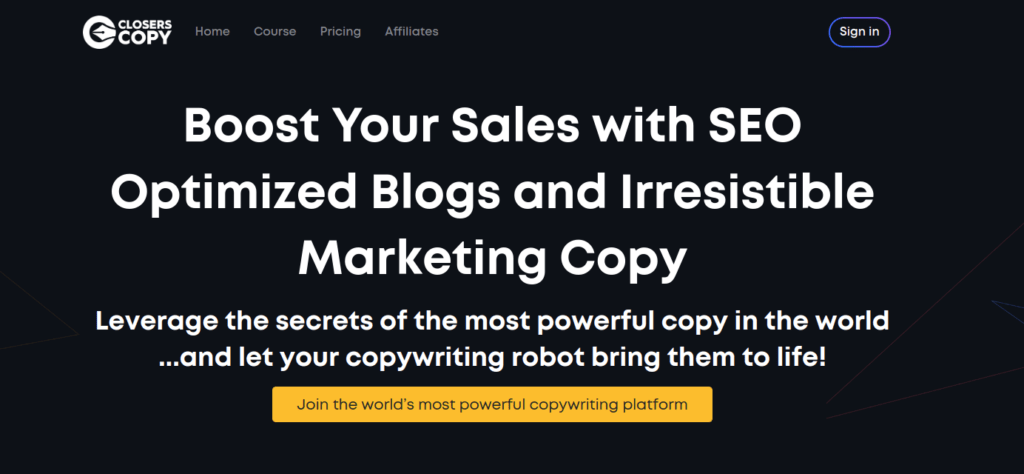 Coming up with an original idea is a crucial skill for a fictional writer. Because humans aren't robots, this can sometimes be a lot to ask. Occasionally one simply can't come up with an original and interesting idea.
Let me introduce you to ClosersCopy.
ClosersCopy makes it possible to use AI to generate stories, blog posts, marketing copies, and a lot more. ClosersCopy is an ideal tool for fictional writers as it allows for generating story ideas and outlines in a matter of seconds.
The underlying technology is complicated, but to put it short, the tool uses a neural network to generate stories. All you need to do is provide input to the tool.
For example, your text input might be something like: "Write an outline for a short story about a cat named Luna and the owner Jack, and how they found one another in the dark."
Similarly, you can generate paragraphs or even entire sections of your story with this same idea.
Key Features
Use the neural network to generate stories with a unique tone and original ideas from text input.
Pick the genre, length, style, and creativity level for your stories.
Come up with compelling outlines.
Share your creations with others and get feedback.
New improvements come in on a regular basis.
Pricing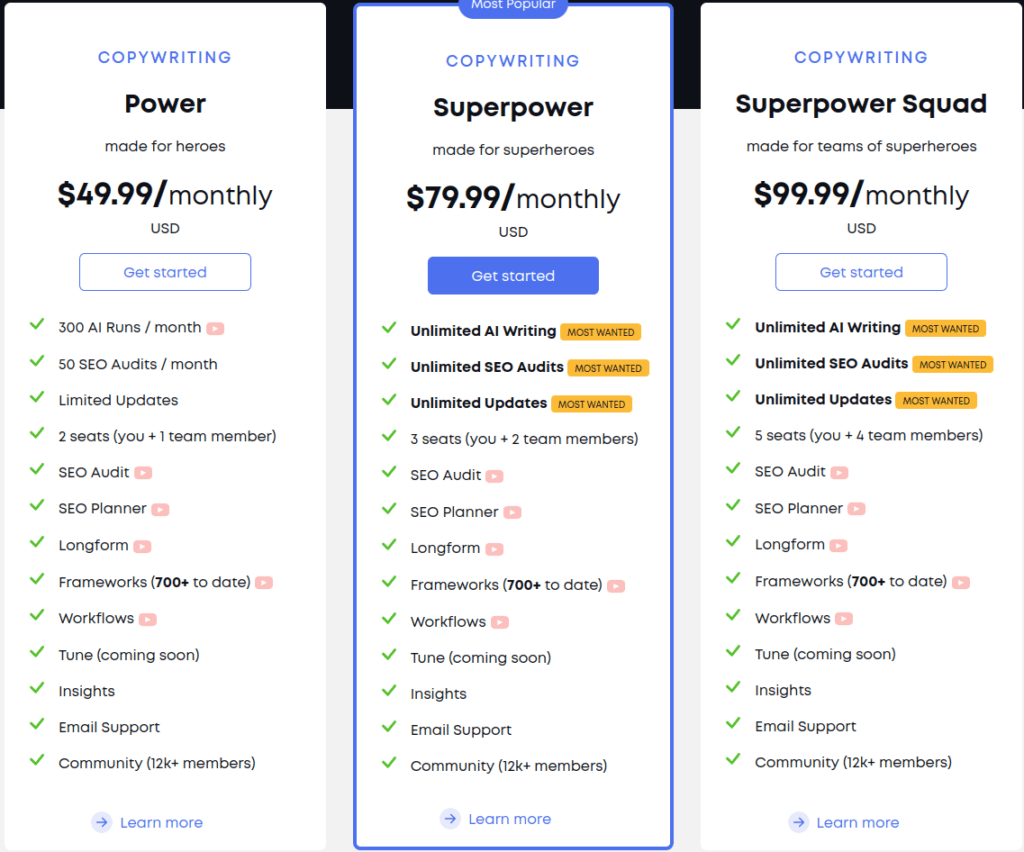 There are three paid plans to ClosersCopy:
Power: $49.99/month
Superpower: $79.99/month
Superpower Squad: $99.99/month
Although there is no free trial, you get to enjoy the 14-day money-back guarantee.
6. StoryLab AI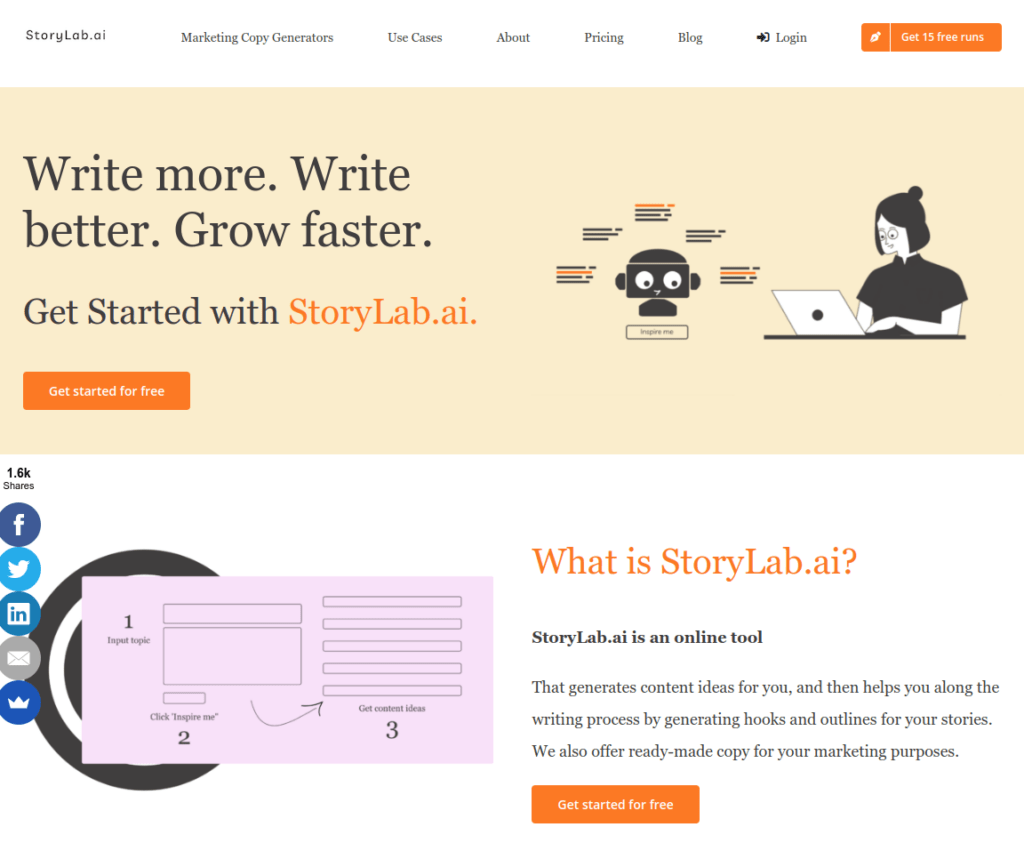 StoryLab is a story generator that runs on state-of-the-art AI algorithms. This tool helps you come up with outlines, ideas, and for example character profiles for your stories.
This tool is geared toward fiction authors to give superpowers to be more productive and write faster while maintaining uniqueness, originality, and a personal tone.
StoryLab generates text based on a text input you give to it. This happens behind the scenes with the help of a neural network that tries to predict the best possible output based on your input.
When it comes to pricing, StoryLab is one of the most affordable AI story generators on this list. The priciest plan costs less than the cheapest plan on Jasper. Besides, there is a forever-free plan!
If you're not ready to invest, I recommend giving StoryLab a try.
Key Features
Generate stories with neural networks based on text input.
Pick a genre, style, length, and characters for your stories.
Let the AI come up with an interesting plot for your story.
New features and improvements are added all the time.
Pricing
Unlike some other tools on this list, StoryLab includes a free version!
Besides, there are three paid plans:
Starter: $7/month
Pro: $20/month
Unlimited: $27/month
The unlimited version gives you access to an unlimited number of AI generations. This can be the best option if you are planning to write a lot.
7. Novel AI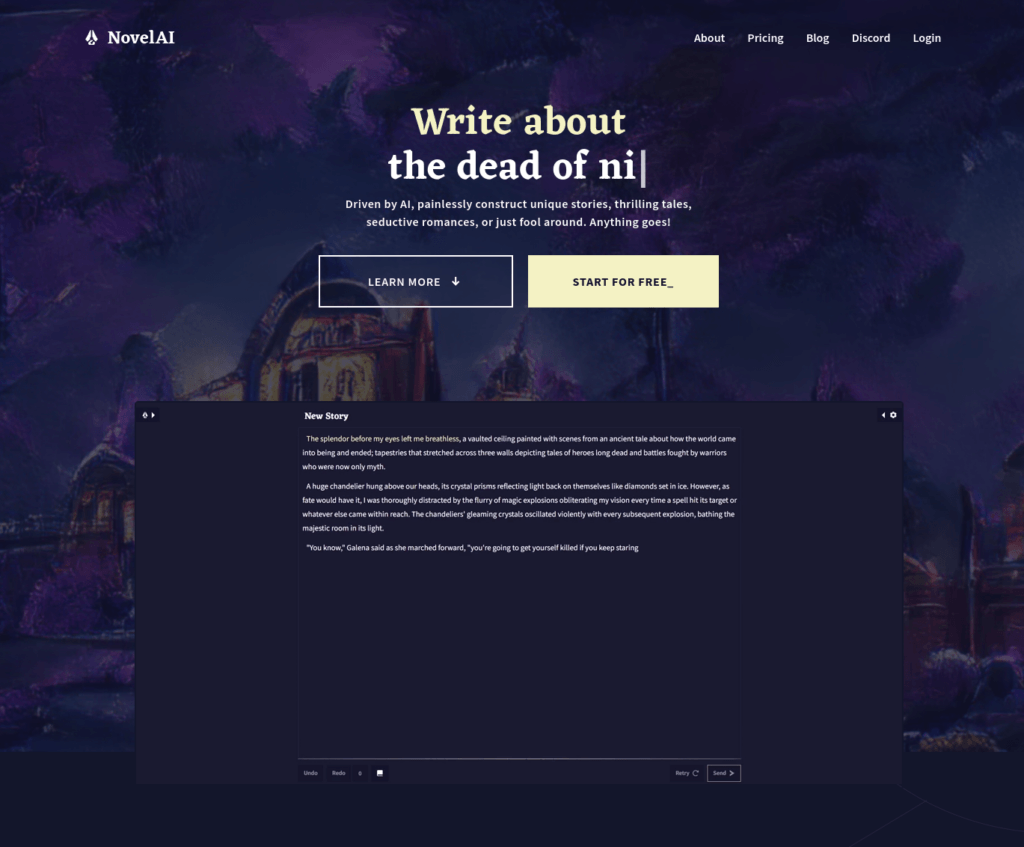 Novel AI is an AI story writer that focuses on producing original content for novelists. By opening the homepage of their site, you can already see what the tool does.
Basically, it allows you to create a unique story or tale with simple text input. The AI algorithm that runs under the hood produces creative and thrilling stories with a simple text input.
In this generator, you can choose between different genres. You can even tweak the settings to make your writing style remind your favorite author's tone of voice. Besides, you can create plots, outlines, and character profiles.
There is a free trial version of this tool. Make sure to try it before making a purchase!
Key Features
Novel AI uses AI to generate content based on simple text input.
You can also tweak the AI parameters easily (without any technical background) to produce different types of content.
NovelAI has a text editor where you can work on your stories besides generating them.
Pricing
There are four options when it comes to pricing:
Free Trial: $0/month
Tablet: $10/month
Scroll: $15/month
Opus: $25/month
Make sure to check the free trial!
Make sure to read my complete guide on Best AI Writers.
6 Reasons to Use AI Writing Services
Last but not least, let's go through some of the reasons I think AI writing tools are awesome.
1. Write Quicker
AI writing makes it possible to write more quickly. Most AI writing services claim to increase your writing speed by up to a factor of 10!
This is because AI generates the content for you. It takes seconds for the AI to convert your text input to a full-on text chapter or story.
2. Generate New Ideas
You can use AI to generate ideas. For instance, you can create outlines for your stories, come up with an idea or ideas for your stories, and more.
In case you aren't feeling too productive, this can help you get started. For example, in school essays or stories, this kind of tool might be a perfect match for you.
3. Fight the Writer's Block
Every writer has those moments or days of feeling less productive. Sometimes you just cannot come up with a great topic. Also, getting stuck while writing is also common. Coming up with content for the next chapter might feel impossible.
This is where AI shines. It can help you get over writer's block and blank page syndrome. Better yet, there are different levels of creativity you can use in the AI writers. If you want to come up with a really creative plot for your story, AI has no problem coming up with one.
4. Improve Your Writing Skills
AI writing can also teach you about writing. Especially those AI tools that correct grammatical mistakes can be useful to improve your grammar skills.
Also, the AI generators have read a big chunk of the internet to train themselves. Thus, they can express themselves in a way you might not have thought of.
I strongly believe that AI writing is the future. Thus, learning how to work with AI to produce unique, readable, and original content is important for any content creators, be it bloggers, novelists, poets, and so on.
5. Increase Productivity
What could be more motivating and productive than being able to write content much faster? Thanks to the rapid output generation of AI story generators, you can allocate more space for being productive.
6. Cut the Costs
If you are paying for a writer to produce your content, this is good news for you! Thanks to the quick text generation capabilities of AI, you can make your employees work much faster. This cuts costs, increases writing motivation and productivity, and is anyway mutually beneficial.
Reasons to Avoid AI Writing
For the sake of transparency, I think it's crucial to also mention reasons why you should not use AI writing tools.
1. Requires Fact-Checking
If you're writing stories, novels, or other fictional texts, then facts are not something you need to worry about.
But if you're writing factual stories, you must do fact-checking before going live. This is because AI is still in its infancy. Even though the AI writer tools are impressive and persuasive, you must check that the facts they claim are true.
For example, I used Jasper to write a short explanation for why the sky turns red in the evenings. Jasper claimed it happens because of the Doppler effect as the sun moves so fast. But as a science-oriented person, I could instantly tell this is not true. But someone with no background in science would have bought that all day. So be careful if you are producing factual content!
2. Word Limits
Some AI story generators come with word limits. For example, you cannot look back more than a thousand or two words. This means the story generators aren't great at connecting the red dots for longer stories.
Also, depending on the tool and the plan you're subscribing to, there might be monthly word-generation limitations in place. This means you cannot produce arbitrarily long stories.
Usually, the word limits aren't problematic, but you must keep in mind they exist.
3. No Full-Auto
AI story generators are not autopilots. You cannot solely rely on them to produce the next best-seller story. Instead, always treat the story generators like AI writing assistants. They can boost your efficiency and content quality, but they cannot do it alone yet.
This might change in the very near future as the field of AI is developing so quickly.
4. Pricey
Some writers might consider AI writing tools pricey. If you're using AI in your writing every now and then, maybe paying $50/mo for a tool is a bit overkill. At the moment, using state-of-the-art AI algorithms is a bit pricey. This means that AI writing tools are also expensive. But this might change in the future.
Luckily, there are free plans for most of the story generators too. This way you don't have to spend a buck before being asserted you will benefit from those tools.
What Is the Best AI Story Generator?
I find Jasper AI to be the best overall solution for story generation. This tool has all the bells and whistles for productive, creative, and efficient fictional writing.
But I must admit there are lots of very similar tools.
Thanks to the free plans, free trials, and money-back guarantees, you can try multiple solutions to learn what works best for you.
One thing in common across all these tools is their easiness to use. You don't need any technical background or writing skills to get started.
Summary
AI writing is taking over. Thanks to the latest advancements in natural language processing, AI language models have become capable of producing text indistinguishable from human writing.
In this article, you read a bunch of reviews of the best AI story-generation tools. Most of these tools use the GPT-3 language model behind the scenes. This NLP model is operated by OpenAI. Basically, GPT-3 is a function that maps an input text to an informative or creative output.
Notice that none of the tools on this list are enough to produce a complete story on their own. Instead, you should treat these tools as AI writing assistants that make your job easier. Of course, these tools will only get better in the future, so one day they might be able to generate entire books on their own.
Thanks for reading. I hope you were able to find the right type of tools to increase your productivity in story-writing.
Happy writing!
Read Also