Choosing the best AI voice generator is crucial for producing a natural and seamless voice. You can use an AI voice generator to create voiceovers for your videos, turn blog posts into videos or podcasts, and more.
This is a comprehensive guide to choosing the best AI voice generator. These text-to-speech tools help you save time and allow you to spend no time in front of the microphone. Thanks to the latest advancements in AI, the voice generation landscape has changed drastically. These days, it can be hard to tell the difference between an AI voice and a real human voice.
Here are the Top 5 picks for your convenience:
| AI Voice Generator Tool | Usage |
| --- | --- |
| 1. Murf | The best overall solution for AI-generated studio-quality voiceovers |
| 2. Lovo | Best for using AI to generate voiceovers for animations |
| 3. Listnr | Ideal for creating a human-like voice with AI |
| 4. Speechelo | Best for converting text to speech in multiple languages |
| 5. Play.ht | Best text-to-speech solution for embedding and distributing audio |
At the end of this guide, you will also find answers to some frequently asked questions related to AI and text-to-speech tools and technology.
Disclosure: This post is reader-supported. This means there might be affiliate links at no cost to you.
What Are We Looking at?
This is a complete guide to choosing the best AI voice generator. If you don't want to read all the reviews, feel free to use the links below to jump into a particular tool's review.
Let's jump into the reviews!
Murf is a text-to-speech voice generator for creating studio-quality voiceovers.
You can use this tool to generate a voice for videos, podcasts, and professional presentations.
This voice-generating software comes with 100+ distinct voices and supports 20 languages. The list of supported languages and distinct voices grows constantly.
Murf uses state-of-the-art AI algorithms to generate voice. Due to clever AI algorithms, the tool can regenerate your speech in the right tone with punctuations like question marks and exclamation points in mind.
Murf has a great audio editor that is easy to use and beginner-friendly. In addition, the audio editor allows you to sync up nicely with video, music, or images.
As a user, you have the control to change the pitch, punctuation, and emphasis. This helps you further communicate your message in a customized way you want to.
As a great additional feature, Murf has a grammar assistant. This makes it easier for you to create grammatically correct scripts. This leads to an improved voice-over experience for your audience.
Murf has 5 cool AI voice-based products:
Text to Speech
Voice Cloning
Voice over Video
Voiceover Google Slides add-on
Voice Changer
The enterprise plan also comes with a great collaboration tool. This makes it possible to generate voiceovers at scale among your team.
Pricing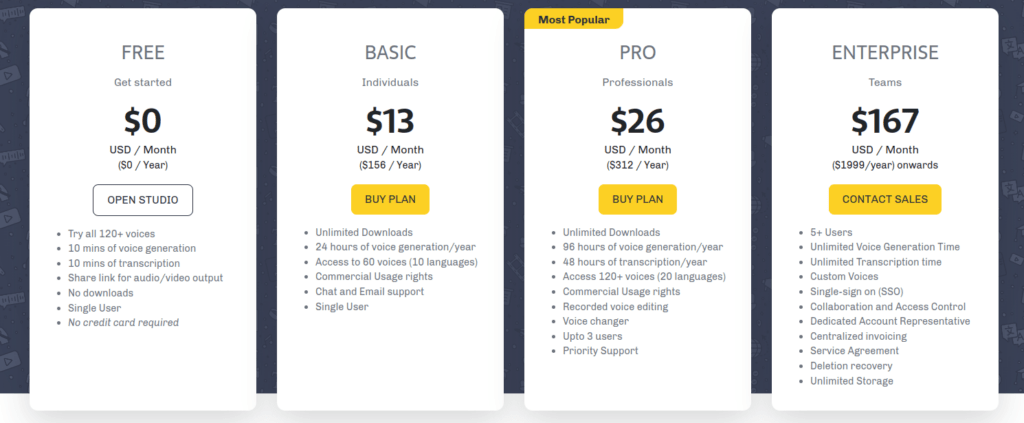 There are four separate plans for using Murf AI voice-generating tools:
Free: $0
Basic: $13/month
Pro: $26/month
Enterprise: $167/month
What I like
A great number of voices are available
Full customization on the voices
Extra effects
Includes a great Google Slides add-on
Robust Data Protection System
What I dislike
Pricey for individual creators
Limited music gallery for background tunes
Voice generation limits
My Take
Murf is a great AI voice-generating tool that works for any use case.
With a number of great features, distinct voices, and multiple supported languages, this tool is all you need for adding a professional voice to your videos or presentations.
You don't need to go bankrupt for purchasing expensive recording devices. Also, you don't need to spend hours or days creating voiceovers. Instead, you can get the job done in minutes with clever AI algorithms.
For those looking to create voiceovers every now and then, there is a great free plan available. And for more serious creators, you can upgrade to one of the paid plans depending on your needs.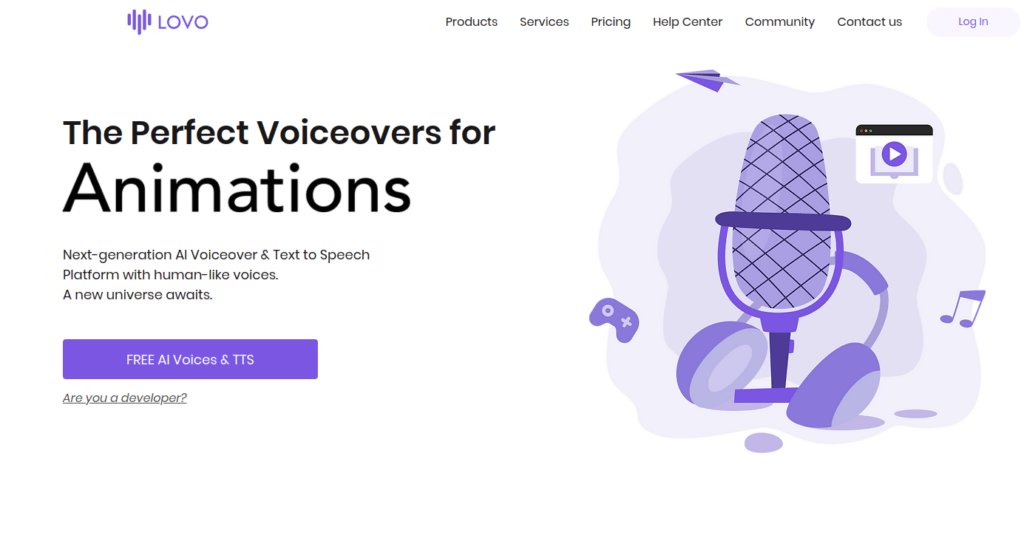 Lovo.ai is a great text-to-speech voice generator.
This tool uses the latest advancements in AI to produce human-like voices from text.
Lovo is a particularly useful tool for audio ads, e-learning, audiobooks, and video games.
If you are an individual who does not want to record your own voice, Lovo is a great tool to try. You can save both time and effort when using AI to generate voice from text.
You can test Lovo really easily without signing up for the service. There is a free 180-character limit text-to-speech window on their front page.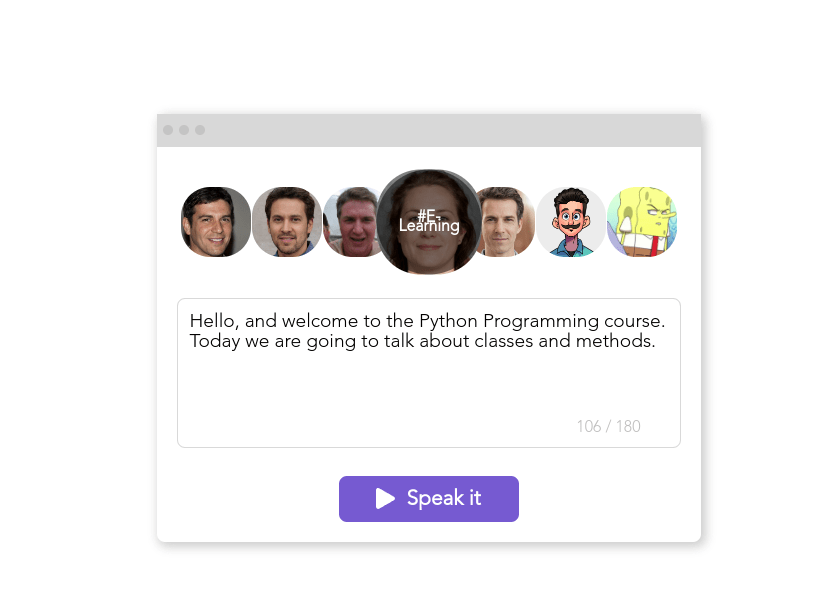 There is a whole bunch of Lovo users across the globe, and you can find a great number of guides on the Internet.
Features
Lovo is an all-around voice generator with a variety of great features. Some of the highlight features include:
180 Voice Skins
33 Languages
Custom Voices
Human Emotions in the Voices
Voice Cloning
Pricing
There is a 3-day free trial of the software with access to the pro features.
After using the trial, you can choose to upgrade to a paid plan.
Free: $0
Personal: $34.99/month
Freelancer: $99.99/month
What I like
Free trial
Easy to use and get started with
Supports multiple languages
What I dislike
Pricey for irregular users
Some voice skins are simply not there yet. For example, some non-English languages sound robotic.
3. Listnr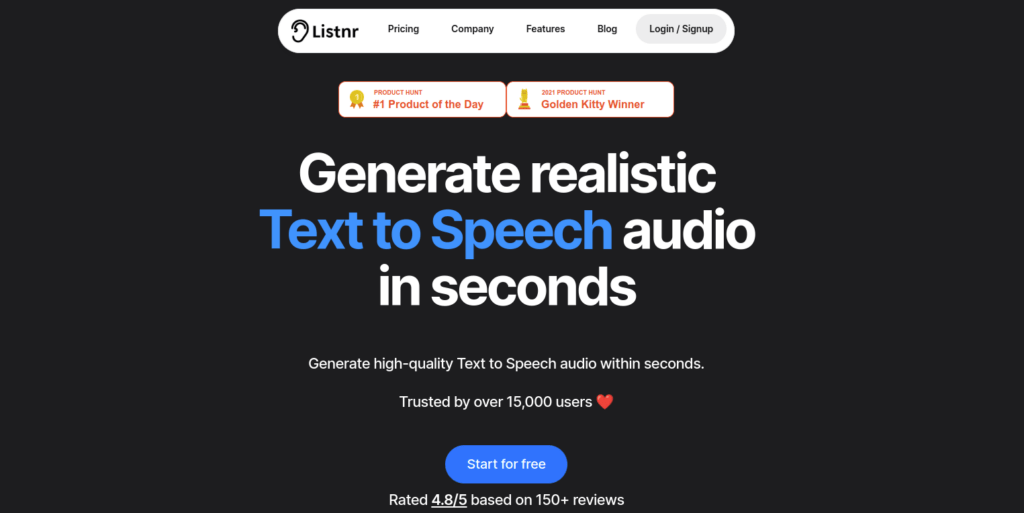 Listnr is a text-to-speech converter that uses AI to produce unbelievably human-like voices.
Listnr works by using clever AI algorithms to produce audio from the text in a matter of seconds.
Listnr has also a really handy audio player embed feature. This makes it possible to add an AI-generated voiceover to your blog posts with ease.
Of course, you can use Listnr for other voice applications, such as creating a voiceover for Youtube videos, podcasts, or audiobooks.
This tool has no free plan. However, you can very easily try it out on their web page where there is an embedded text-to-speech converter.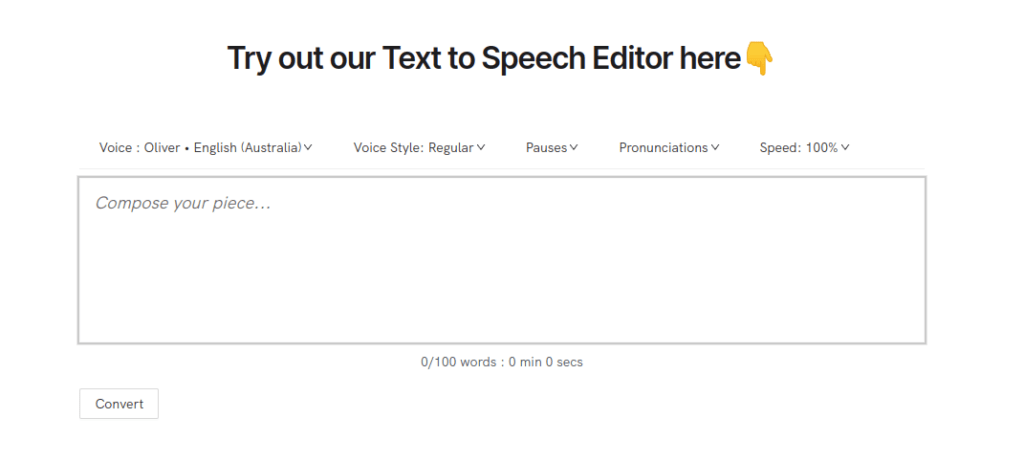 This tool works easily. To create voiceovers, all you need to do is:
Paste written content or a URL to the content to the Text to Speech Converter and press Submit.
Let Listnr's Speech Synthesis Engines convert the content to speech.
Use the synthesized speech as a voiceover on your video.
Alternatively, embed the speech as an audio player on your blog post.
Features
There is a whole bunch of great AI voice features in Listnr. Some of the most notable ones include:
570+ Distinct Voices
75 Different Languages
Human-Sounding Voices
Embeddable Audio Player
Pricing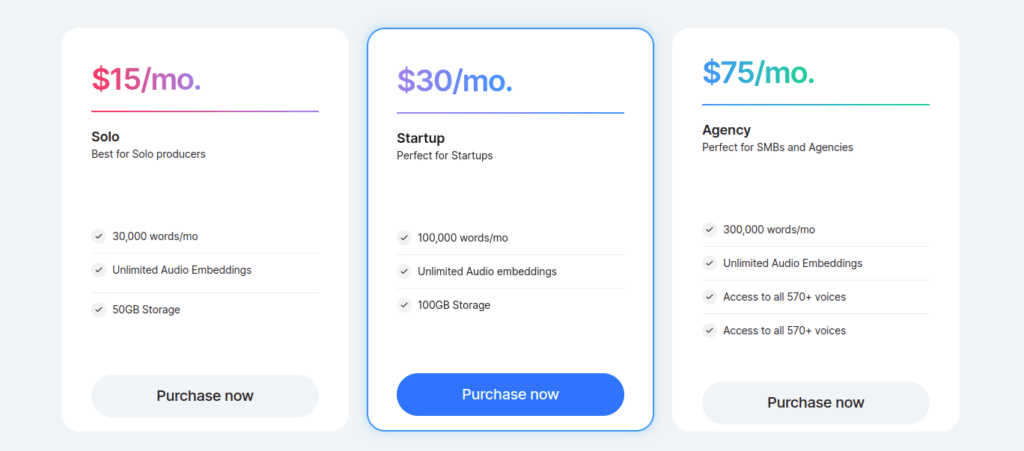 There are three pricing models:
Solo: $15/month
Startup: $30/month
Agency: $75/month
I know, it's a bit pricey. However, you can always get your first impression for free on Listnr's website. If you scroll down the homepage a bit, you'll find the free trial version.
What I like
Supports multiple languages
Free trial
Easy to work with
What I dislike
No free version
Limits to the amount of voice you can generate
My Take
Listnr is another awesome text-to-speech converter.
This tool supports 75 languages and has over 570 unique voices.
If you are looking to create international voice content that stands out, you should give Listnr a try.
Even though there is no free version available, you can always try their free trial.
To add voiceovers to your blog posts, Listnr is one of the greatest options you have. With their audio player embed feature you can easily convert a blog post to spoken text for your audience to vibe with!
4. Speechelo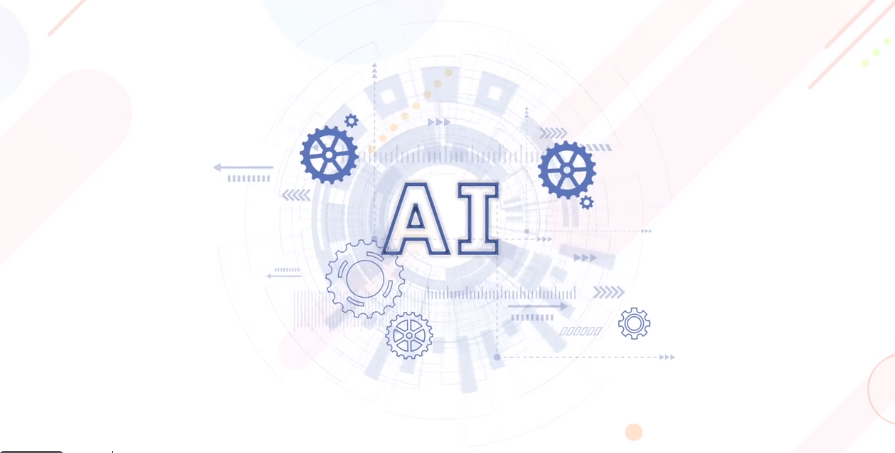 Speechelo converts any type of text to naturally spoken language. The voiceover this tool produces sounds a lot like a human.
Speecheflo has both male and female voices in the library.
You can use the sophisticated text-to-speech engine to add inflections to the generated voice.
The English skill of this tool is awesome. But it also supports more than 20 other languages. This makes the tool great for international creators who want to personalize content for the most popular languages.
Also, this is not just a bot that talks in a dull tone of voice. Instead, you can choose the tone for reading the text and add emotions and add nuances to it. This makes the content more engaging and less robotic, to say the least.
Features
Three Text-to-Speech Modes

Normal Tone
Joyful Tone
Serious Tone

30+ Natural Voices
Speed and Pitch Modifier
Online Text Editor
Pricing
This tool has a $47 one-time fee. No recurring payments.
Also, there is a 60-day money-back guarantee.
What I like
Fast and easy to use
Great voice customizability
Video creation features are outstanding
No recurring fees, just a lifetime plan
What I dislike
Standard Speechelo is limited to 700 words only
Some of the voices have an ever so slight robotic vibe to them
5. Play.ht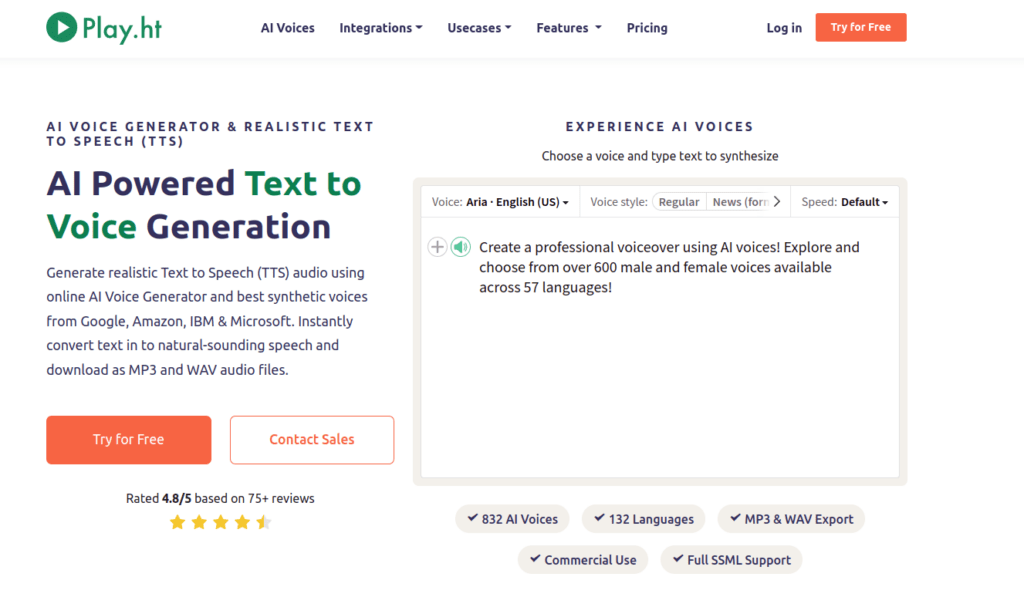 Play.ht is an online voice generator.
Play.ht provides you with tools and features to generate outstanding and natural voiceover content with ease.
The user interface of this tool is simple and intuitive. This makes it a great option when it comes to voice-generating tools.
The workflow of using this tool is simple.
Open the web browser and head over to play.ht text editor
Copy-paste your written content to the editor
Pick a language
Choose the gender of the AI voice actor
Select a tone of voice
Wait for a minute and enjoy your voiceover!
Play.ht has a whole bunch of voice actors, almost 600 to be precise. It also supports 60 languages, which is more than most AI voiceover tools.
Also, there is a great preview feature. This allows you to preview a small part of the text before actually converting it to a sound file.
You can use Play.ht for business or personal use. No matter how you use it, it saves you time. You don't need to spend time in front of the mic if you don't have the time or desire to do that. Instead, you can let the audience enjoy just as great a voice experience.
The tool is powered by a state-of-the-art AI algorithm by Google, IBM, and Microsoft.
Features
Blog Post to Audio Converter
Real-Time Voice Synthesis
830+ Voices
132 Languages
Pricing
There are five plans available:
Free: $0/month
Personal: $19/month
Professional: $39/month
Growth: $99/month
Business: $199/month
What I like
An overall great tool that is easy to use and generates realistic voice
Channing the voice options are made easy
Good free trial version
There is a whole bunch of great voices to choose from
Great drag-and-drop timeline
What I dislike
No image or video pairing options with the voiceovers
Some foreign languages sound robotic
6. ReadSpeaker Speechmaker

ReadSpeaker's speechMaker is a great alternative for text-to-speech conversions.
This tool allows you to convert any written content into a natural voice.
Using the tool is easy. Just place your written content into the speechMaker text editor and let the tool do the hard work.
Here is an example of using the tool:

Although the demo of the tool looks bare-bones, it is all but that! The result of the speechMaker is very realistic-sounding audio. If you don't pay attention to it, it is hard to tell whether it is a real person or not.
Features
User-Friendly User Interface
50+ High-Quality Voices
20+ Languages
Auto-Save Feature to Save Your Work
Natural Human-Like Voices
Pricing
The pricing is based on the number of spoken words or the minutes of voice generated.
There are four standard packages corresponding to:
200 (or 1 minute)
1000 (or 5 minutes)
2000 (or 10 minutes)
20,000 (or 100 minutes)
To get a more accurate pricing table, you need to contact support for your specific use case.
What I like
There is a free trial
Human-like voices
Easy to use and understand
What I dislike
Unclear pricing model
Pricey for beginners
7. Streams Speak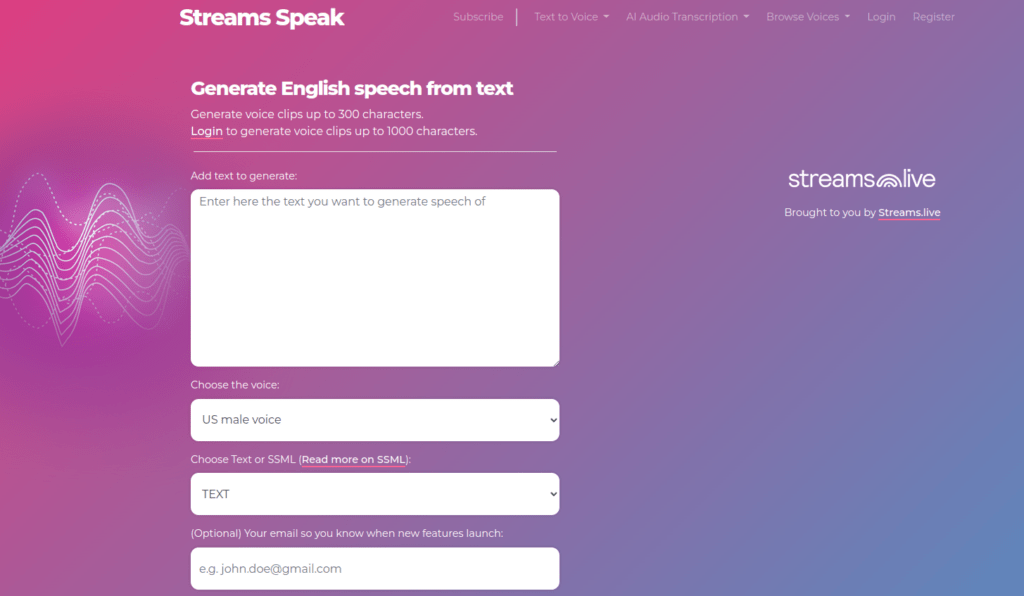 Stream Speak is a machine-learning-based voice-generating tool.
This online program knows how to produce natural-sounding text-to-speech content. The tool is intuitive and easy to use especially for beginners.
This tool allows you to generate voiceovers of up to 1000 characters of text at a time.
Compared to other tools in this list, Stream Speak is a much more limited tool. At the moment it only supports five languages in addition to English.
Stream Speak has three separate English-speaking styles to choose from. This allows you to further customize the voiceover to be generated.
It is easy to get your hands dirty with this tool. All you need to do is go to their website and use the text-to-speech editor.
Features
Three English-Speaking Styles
Supports Speech Synthesis Markup Language (SSML)
Three-Step Speech Generation
Free Sign-Up and Free-to-Use Version
Pricing
There is a free version available! This comes with a limit of 10,000 characters to voice per month.
Alternatively, there is a paid plan of 100,000 characters per month. The paid plan costs $19/month.
What I like
A great free plan and free trial versions
Great customizability in the voices
Multiple speaking styles
What I dislike
Only supports five languages in addition to English
Character limit (although it's high to be fair)
8. Sonantic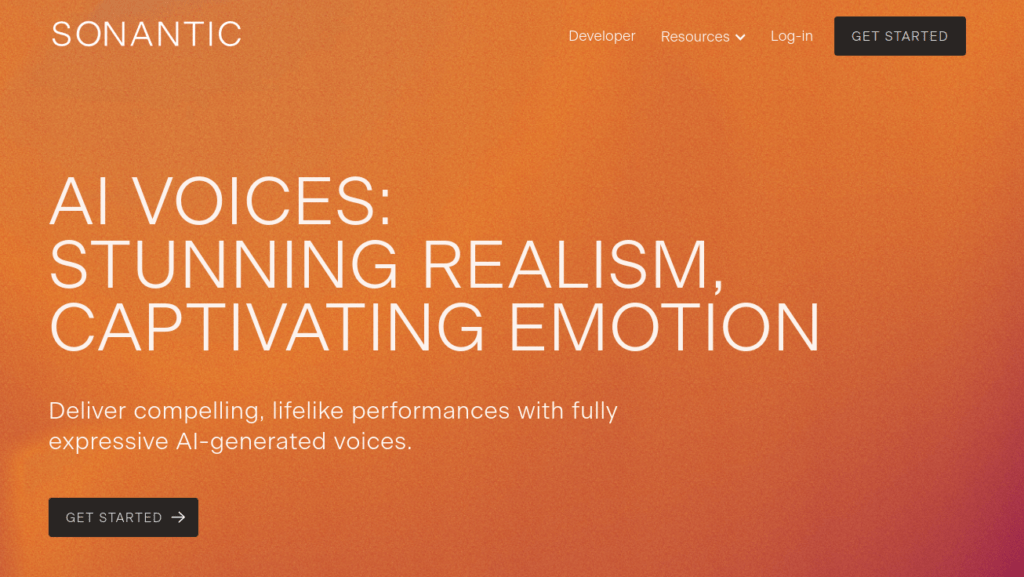 Sonantic is an easy-to-use AI voice generator.
This tool is a popular choice in the entertainment industry as it allows you to create lively voice expressions.
Sonantic makes it easy for you to change the tone of the speech generated. For example, you can choose a voice that is happy, sad, angry, and so on. Furthermore, you can customize the level of these emotions by tweaking the knobs related to them.
Sonantic works intuitively and it is easy to get started with. You can simply copy-paste a written text into the Sonantic editor and wait for it to be converted to audio.
Sonantic is a versatile text-to-speech tool. Some of the main use cases for Sonantic include voiceovers for animations, films, and games. By tweaking the pitch and changing emotions, you can provide a rich and entertaining voiceover to your audience.
Features
Human-Like Voice Generation
Emotion Integration
Control the Voice Parameters with the Director Mode
Voice Projections like Shouts, Sadness, or Fear
Pricing
Sonantic has a custom pricing plan. You can contact their sales support for more information.
What I like
Great voice editor
A number of realistic voices
Great language support
What I dislike
No clear pricing model
Character limits
A bit of a steep learning curve
9. Resemble.ai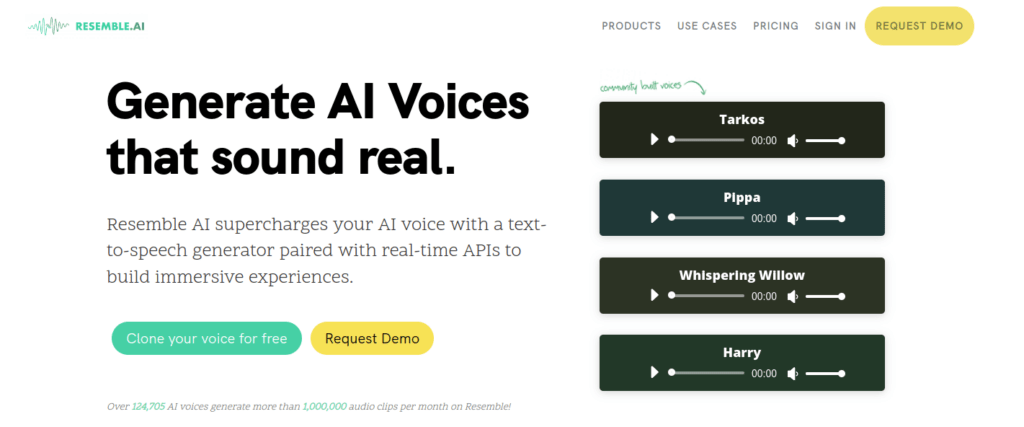 Resemble.ai is a flexible text-to-speech generator powered by the latest advancements in AI.
You can use Resemble for many purposes, such as generating a voice for your ads.
As a unique addition, Resemble can also generate short pieces of text using AI. So not only do you get a professional voice but also some compelling pieces of text to ads.
Speaking of AI-based text generation, check the Best AI Writing Tools to automatize both text and voice generation.
In addition to ads, you can use Resemble for many more purposes. The quality of the voice generated is enough to be a voice assistant or a voice of a call center.
In total, you have four synthetic voice options to choose from. In addition, there is a broad range of AI voice actors to choose from.
For the technically oriented, Resemble also has an API you can use to request voiceovers over the internet.
Features
Four Synthetic Voice-Generating Options
A Huge Library of Voice Actors
Language Dubbing
One-Click Text Generation for Ads
Pricing
There are three main pricing models for Resemble.ai:
Entry: $24/month
Professional: $449/month
Enterprise: Custom
There is a free trial version available as well!
What I like
A variety of voices
Short learning curve
GPT integration
What I dislike
The UI is sluggish sometimes
A bit more voices are needed to make the tool more versatile
10. Synthesys.io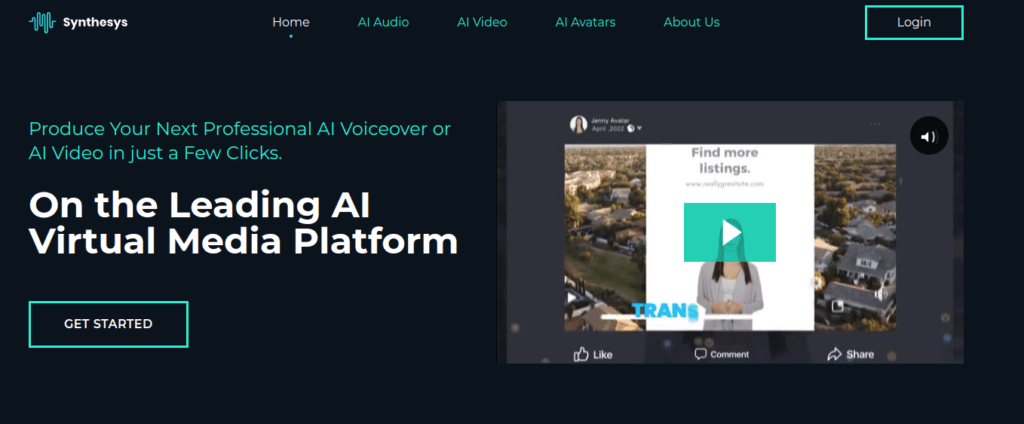 Synthesys is a text-to-speech tool that uses AI to generate professional voiceovers.
You can use Synthesys for both personal and commercial projects. For example, you can generate a voiceover for your video. This tool supports different tones, accents, and languages.
One of the great features of Synthesys is there is no limit to how much you can use it. Many other tools have character limits based on the plan. But Synthesys has no limits. You can generate any amount of voiceovers you like.
Features
Cloud-Based App
35 Female Voices
30 Male Voices
Voice Controls (Volume, Tone, Pitch)
Demo Options
Pricing
Audio Synthesys: $29/month
Human Studio Synthesys: $39/month
Audio and Human Studio Synthesys: $59/month
What I like
No technical skills are needed
The tool is beginner-friendly
3-day money-back guarantee
Creates realistic-sounding voices
Supports multiple languages
What I dislike
Pricey for beginners
No free version to play with
11. Replica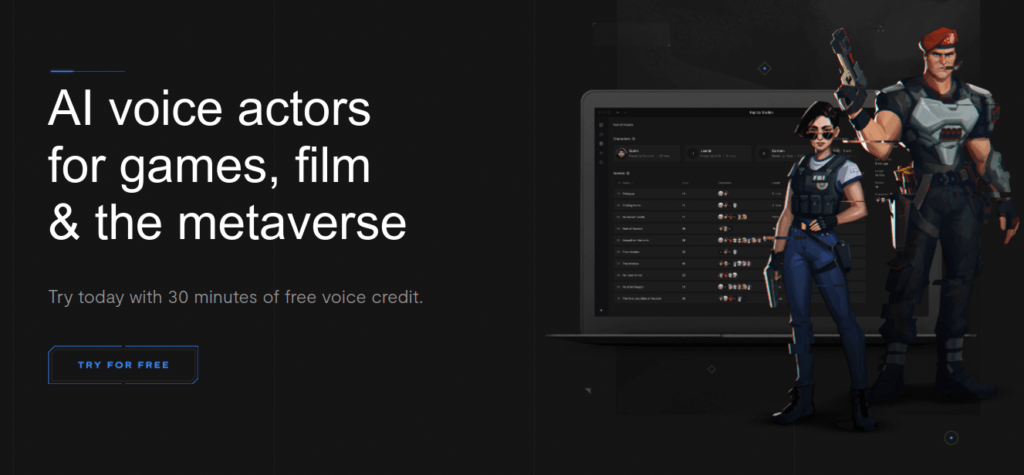 If you are a game developer or animator, Replica might be the best choice as an AI voice actor.
This tool converts your script to spoken language in no time. Replica has a big number of AI voices trained by professional voice actors in the field.
You can also tweak the emotions and the pitch of the voice to meet your demand. For example, you can make the voice happy, sad, or angry. When you are ready, you can download the voiceover in one of the popular sound formats.
Feel free to give try the demo voices before subscribing. Replica has a trial of 30 minutes of AI-generated voice. This is a great chance to explore all the options and voices before making a purchase.
Features
Studio Tools for AI Voice Generation
AI-Based Text-to-Speech
Commercial Use
Unreal Engine Plugin
Voice Cloning
Customer Support
Pricing
There is a free trial version available. After using the trial, there are three plans to go with:
For creatives: $24 for 4 hours of AI voice
For business: $300 for 100 hours of AI voice
For enterprise: Contact Replica.ai sales support
What I like
Realistic voices
Easy to use
Support different languages
Great for in-game voice acting
What I dislike
Pricey
Sometimes glitches in the voice
12. Woord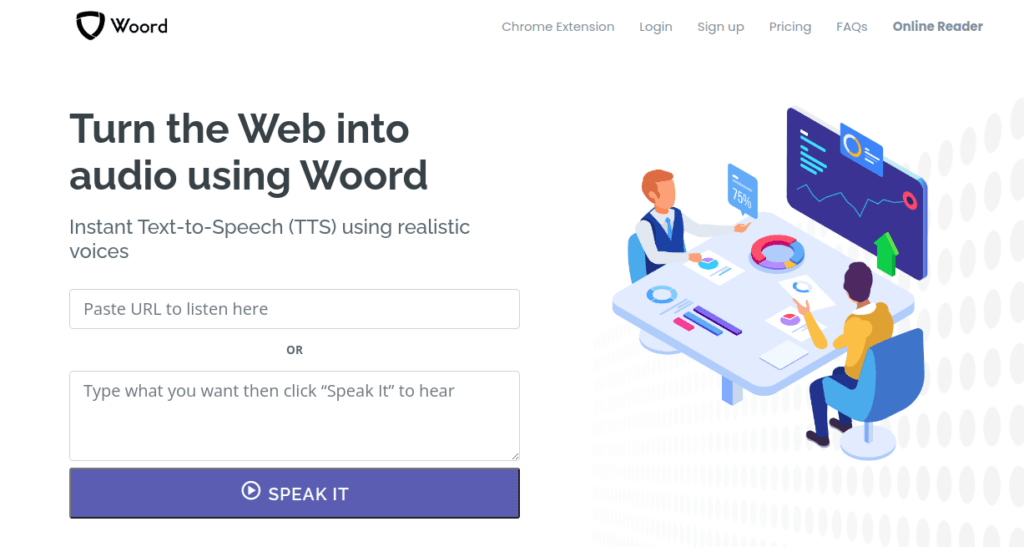 Are you looking for a quick solution to convert a blog post or a web page to a spoken language?
Woord is an AI-based voice generator you can use as a Chrome Extension.
There are two options to generate voice:
Paste a URL to a web page you want to turn into voice.
Copy-paste text content into the Woord editor.
This tool has a huge gallery of different voices to choose from. In addition, you can control emotion, volume, speed, and more. In addition, Woord can speak up to 10 different languages.
Woord has no character limits. In other words, you can freely generate voice as much as you want. This is a great feature that most of the tools in this list don't have.
As a convenience boost, there is a Chrome Extension to Woord, which further simplifies its usage.
Features
Text-to-Speech Synthesis with 50 Voices
28 Different Languages
Male, Female, and Neutral Voices
Website Reader
Document to Voice Converter
SSML Editor
API
Third-Party Plugins
Pricing
There are three pricing plans for Woord:
Free: $0/month
Basic: $24.99/month
Pro: $99.99/month
What I like
Great for reading documents like PDFs or MS Word files out loud
Reads blog posts out loud
Natural voices and a lot of languages supported
API and third-party plugins
Free version
What I dislike
Limited free version
Pricey for occasional users
13. Voicera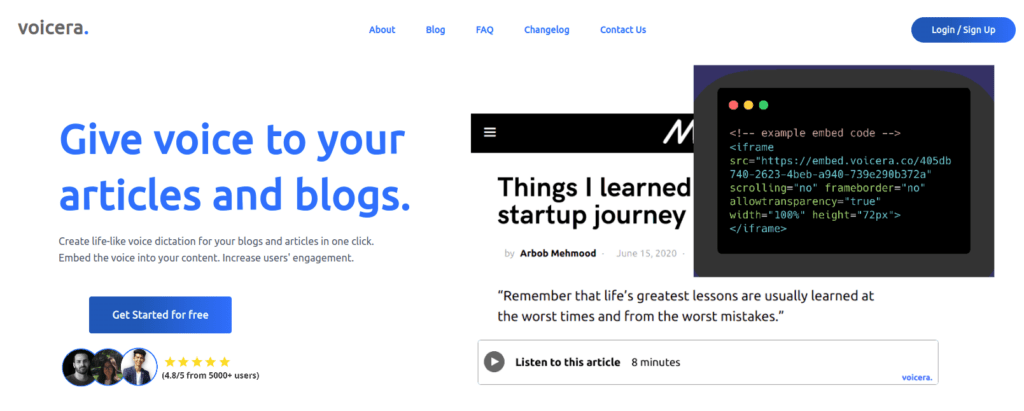 Voicera is a great choice for generating voiceovers to blog posts and web pages.
With this tool, you can convert your blog post to a voiceover with a single click of a button.
This is great because some people like to listen to written content instead of reading it through. Adding a voiceover to your blog posts is a great way to increase engagement and make your blog feel more dynamic.
Voicera uses a state-of-the-art AI algorithm to generate realistic voices that sound like real human. Voicera supports over 10 languages, with more to come in the future. In addition to plain language, the tool has a different accent selection for an even more interactive experience.
The best part is there is a completely free version of this software. If you choose to subscribe to a paid plan, you get an unlimited number of voiceovers to be generated. This way you don't need to worry about running out of credits.
Features
Lightweight Tool
One-Click AI Text-to-Speech Generation
Human-Like Voice
Multi-Language Support
Pricing
There is a free trial available!
In addition, you can choose a plan:
Pro: starts at $9/user/month
Enterprise: Custom
What I like
The tool is intelligently designed to be easy to use for beginners
You have full control to customize the voices
Voicera misses a lot fewer transcript interpretations than most of its competitors
Free trial available
What I dislike
Responsive customer support is only available for Enterprise plans
14. Natural Reader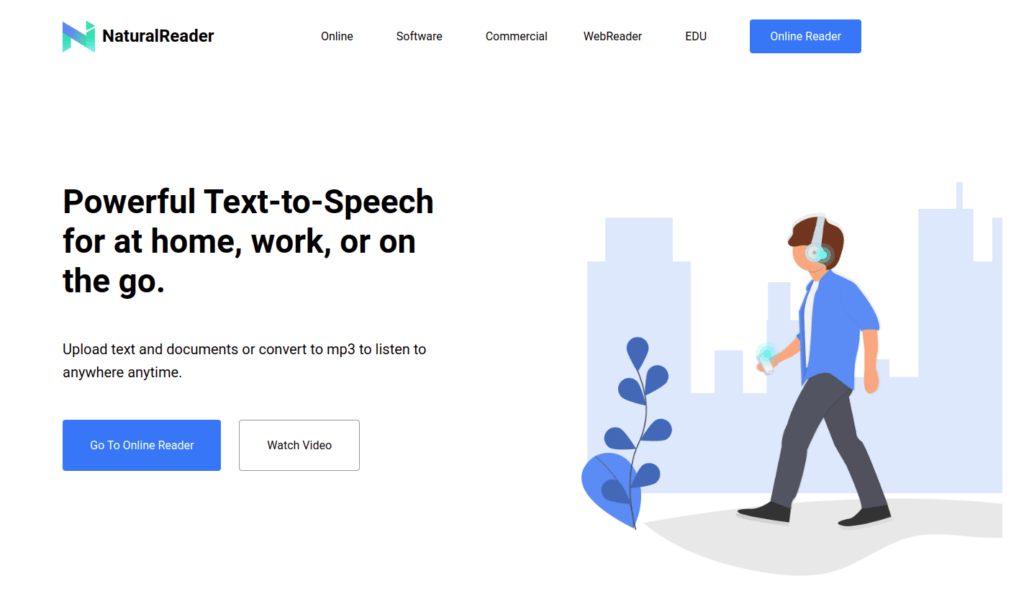 Natural Reader is a free text-to-speech converter.
This is a great tool for you if you want to listen to your documents instead of surfing them through. For example, you can drop a PDF into the tool and go for a walk or run while listening to the content.
And no, you are not going to fall asleep because the voiceovers generated are rich and engaging, and less robotic.
But what if the content is not text? No problem, this tool uses OCR to detect characters from images and PDF documents.
As the icing on the cake, this tool has a Chrome Extension that makes it even a step more convenient to use.
The free version is already great, but it has a bunch of limitations.
If you are looking for more advanced features, you can consider subscribing to a paid plan as well. For example, with the Ultimate plan, you get to scan 5000 text-based images to voice every year.
Features
Online Editor
Document to Voice Generator
Chrome Extension
Human-Like Voices
Multi-Language Support
Free Version
Pricing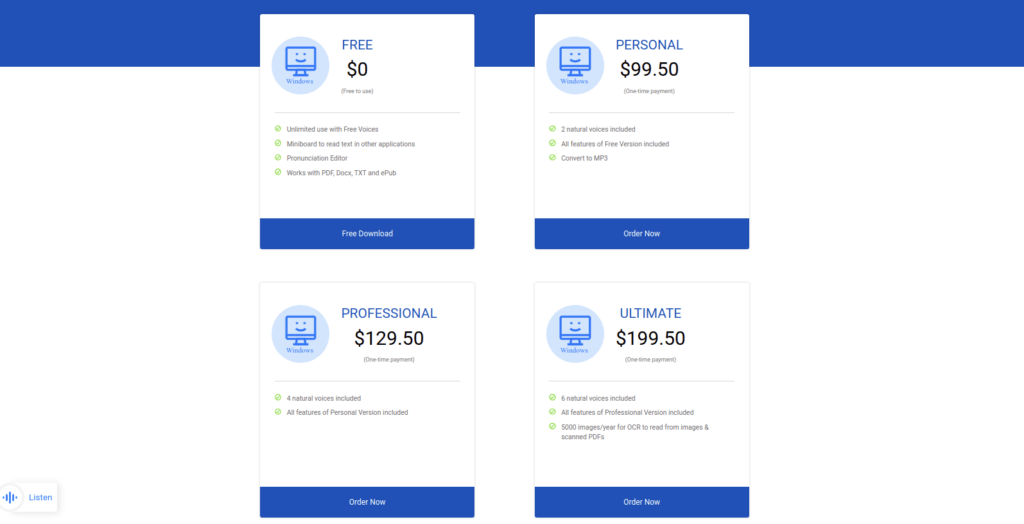 The tool has a free plan! In addition to the limited plan, you have got three paid plans with more advanced features:
Personal: $99.50 One-time payment
Professional: $129.50 One-time payment
Ultimate: $199.50 One-time payment
What I like
Free for generating 20 minutes of voice every day
Supports Mac, and Windows, and has an online editor too
Is great for reading websites and blog posts out loud
One-time payment for lifetime access with all the updates
What I dislike
This tool is so popular it is commonly used on Youtube. Thus, it might sound a bit generic to you as you may have heard a ton of videos using this tool
The generated voice may sound a bit strained from time to time
15. Notevibes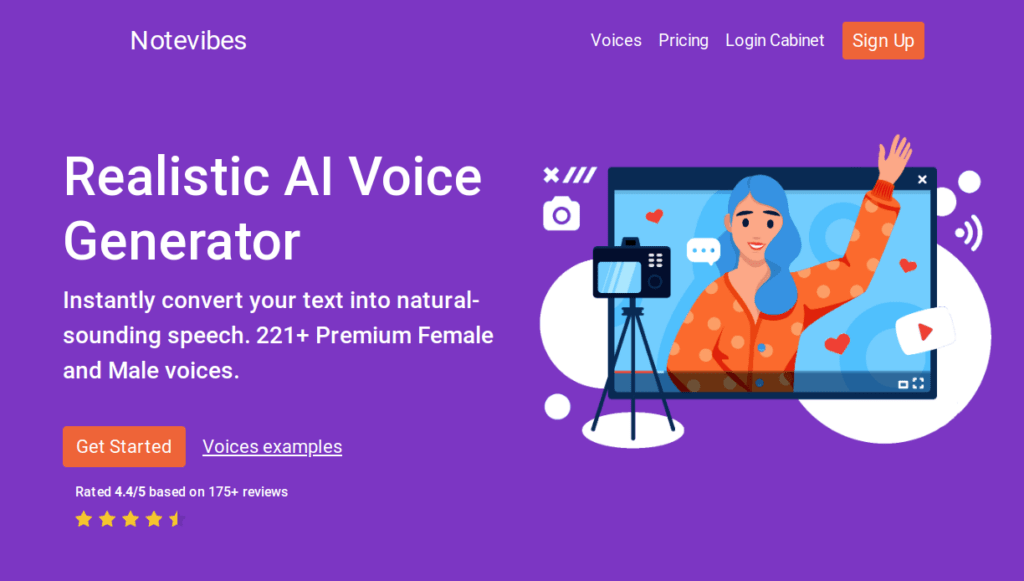 Notevibes is a plain and simple text-to-speech generator. It uses AI to enhance the spoken language to make it sound more humane.
There are 221+ male and female voices at your disposal. Also, the tool supports more than 25 languages, so generating international content is also easy.
This tool comes with all the controls for the voices being generated. You can adjust the pitch, tempo, and loudness.
As an example use case, you can use Notevibes to create engaging and realistic voicemail greetings in different languages and tones. Of course, you can also generate voice content for your e-books, courses, or advertisements.
Features
221+ Voices
25+ Supported Languages
AI Voice-Generating Capabilities
Advanced Audio Editor
Audio Control Features
Pricing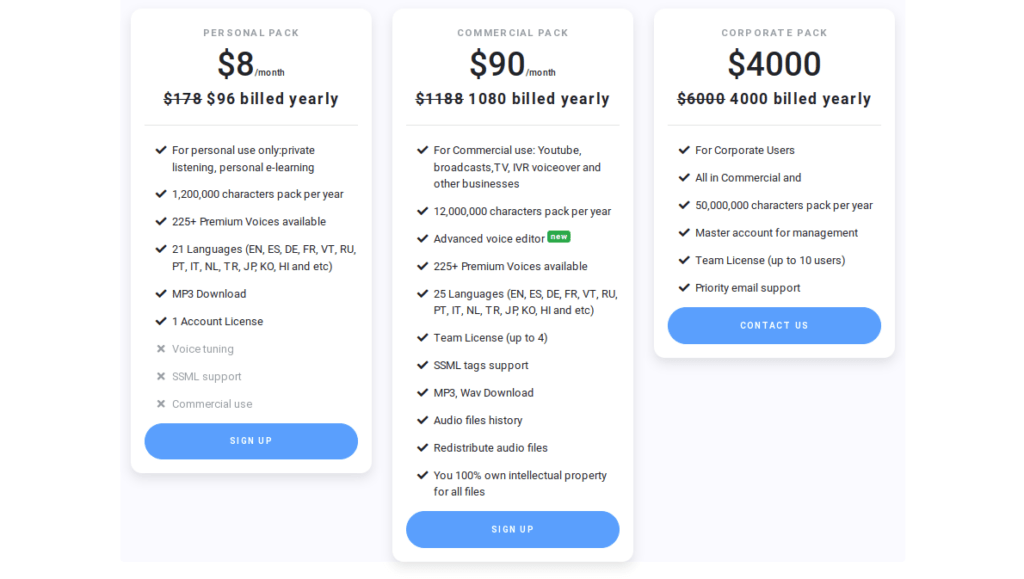 There are three paid plans in Notevibes:
Personal Pack: $8/month
Commercial Pack: $90/month
Corporate Pack: $6000/year
Also, you can sign up for free. However, the features are heavily limited to free users.
What I like
A big selection of both male and female voices
Supports a great variety of the most popular languages for international use
An advanced editor that is better than most similar tools
What I dislike
No audio previews are available. You need to generate the audio and spend credits right away.
No audio merging capabilities
16. Clipchamp
Clipchamp is an all-around video editor that comes with a powerful AI voice generator.
This tool allows you to turn text into spoken language that sounds like a human.
If you are someone who is constantly working with videos and want to create amazing voiceovers in addition to great videos, you should try Clipchamp.
The Clipchamp voice generator works quite easily. All you need to do is:
Choose a language
Pick a tone
Copy-paste your text
Let the tool do the work
Download your amazing AI voiceover
Thanks to its intuitive user interface and easiness to get started, Clipchamp is a great voiceover tool for beginners.
Features
170+ Unique Voices
Emotional Speaking Styles
Voice Modifications (Fine-Tuning, Emphasis, Tones)
Easy-to-Use User Interface
Pricing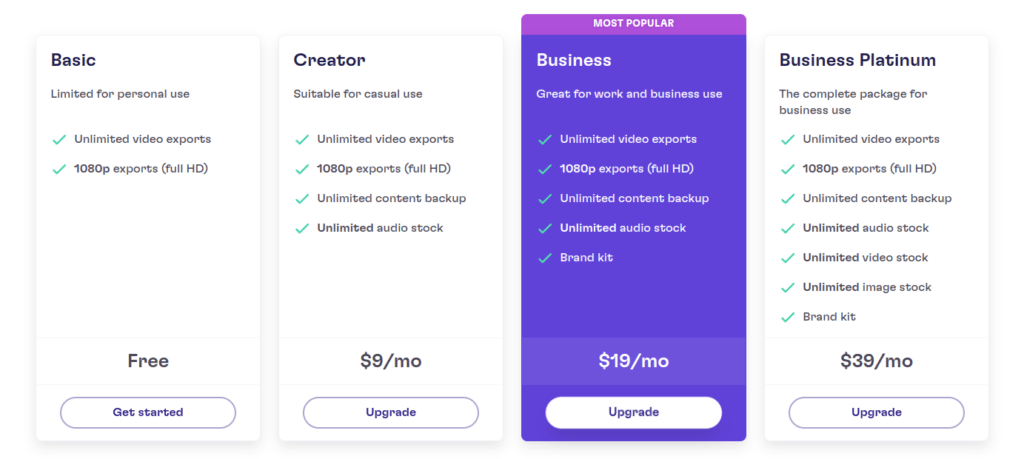 There are four pricing plans available to Clipchamp:
Basic: $0/month
Creator: $9/month
Business: $19/month
Business Platinum: $39/month
17. Nuance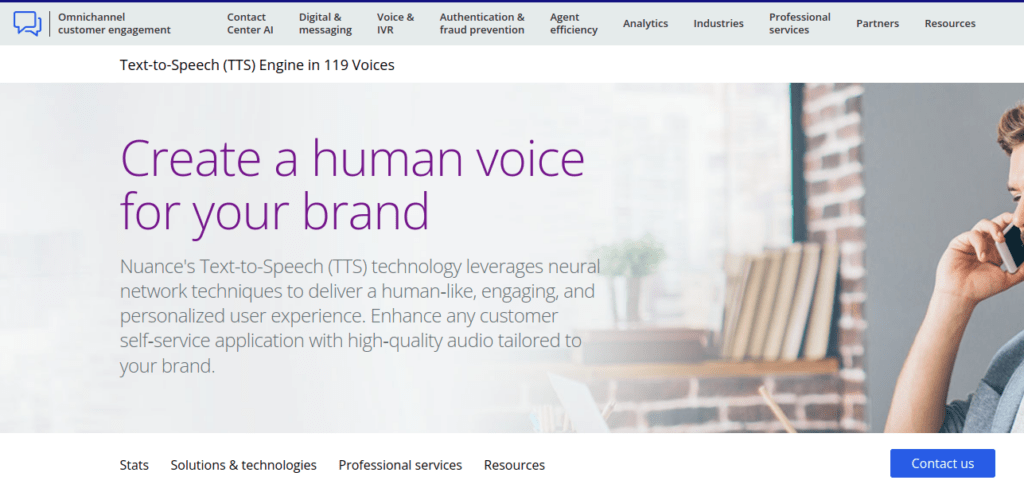 Nuance is an all-in-one AI voice generator.
You can use Nuance to provide a voice to IVR, and voiceovers, and embed the audio as well.
One of the key tools is the Vocalizer Studio (part of the enterprise plan). You can use this tool to prototype and optimize speech output for any application.
All in all, Nuance is a great solution for enterprises as well as individuals looking to automatize the voice-generating process. As an enterprise, you can use Nuance to give a voice to your brand. Furthermore, you can use it to do the speaking on mobile channels and IVRs.
You can easily try Nuance for free without signing up. Just head over to their website and scroll down a bit to see the Text-to-Speech tool.
Here is an example of a small voice clip I generated: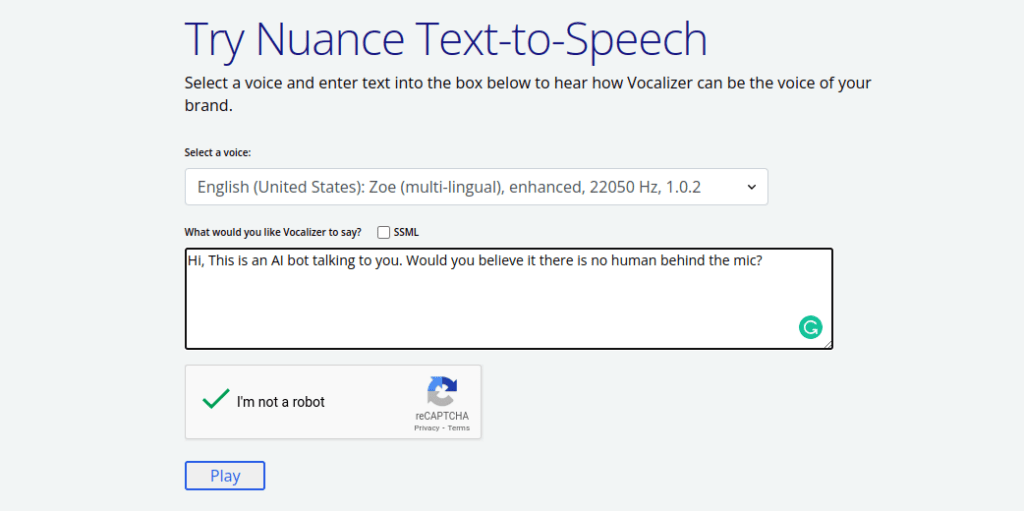 Nuance also supports SSML. If you know SSML you can make your audio sound enriched and even more engaging by inputting SSML instead of plain text.
Nuance offers a bunch of AI-based voice solutions depending on your use case.
FAQ
Here are a bunch of questions and answers related to AI voice generation and the tools shown in this list.
What Is AI?
AI stands for Artificial Intelligence.
To put it short, AI is all about making a computer mimic the human intelligence process.
AI has built a lot of hype recently, and it has turned into one of the buzzwords of the 21st century.
The salient applications of artificial intelligence include:
Natural Language Processing (NLP)
Speech Recognition
Computer Vision
Voice Generation
In reality, AI is a funky word to describe a program that works with data. AI uses code, algorithms, and mathematics to process data. The main goal of an AI Program is to learn patterns and features to teach itself.
Make sure to read the complete guide on What Is Artificial Intelligence.
How Does an AI Voice Generator Work?
AI-based voice generation works by using clever machine-learning models. These models process thousands of hours of voice recordings from real voiceover artists. These models do this to learn how to speak based on the recordings.
These days, the most sophisticated machine learning models are able to produce really human-like voices. Especially English-speaking voice bots are becoming increasingly better over the years.
Why Use AI Voice-Generating Software?
You can use an AI-based voice generator to turn text into speech in no time.
If you are uncomfortable in front of the mic or just want to convert a script into a professional voice, you should try an AI voice generator.
Most of these tools are really easy to use. All you need to do is copy-paste text into the editor, choose the language, and let the tool do the conversion.
What Is the Best AI Voice Generator for Your Business?
The overall best AI voice generator is Murf.ai.
This tool allows you to seamlessly create really human-like voiceovers for videos, e-books, courses, advertisements, and a lot more.
Can You Tell the Difference Between a Voice Generator and a Real Voice?
This depends on the software.
But with today's state-of-art AI algorithms it is possible to generate a voice that is nearly impossible to tell apart from a real voice actor.
These days, it is possible to generate AI voices like never before. Especially if you don't pay close attention, it can sound like a real human being.
This is because these days AI voice generators use advanced AI algorithms to power the tools. These algorithms learn from actual voice actors to sound like them.
Today's most advanced AI voiceover tools, such as Murf.io, can express emotions, such as sadness, happiness, or anger.
What Is SSML?
You may have seen the word SSML multiple times in this article. Some of the tools in this list support SSML, which stands for Speech Synthesis Markup Language.
It is for the more technically oriented creators to further control the speech. With SSML you have better control over the generated audience.
Here is an example SSML document from Wikipedia:
<?xml version="1.0"?>
<speak xmlns="http://www.w3.org/2001/10/synthesis"
       xmlns:dc="http://purl.org/dc/elements/1.1/"
       version="1.0">
  <metadata>
    <dc:title xml:lang="en">Telephone Menu: Level 1</dc:title>
  </metadata>

  <p>
    <s xml:lang="en-US">
      <voice name="David" gender="male" age="25">
        For English, press <emphasis>one</emphasis>.
      </voice>
    </s>
    <s xml:lang="es-MX">
      <voice name="Miguel" gender="male" age="25">
        Para español, oprima el <emphasis>dos</emphasis>.
      </voice>
    </s>
  </p>

</speak>
Before you look away, it might seem like an impossible task to learn SSML. However, SSML is not a programming language. It is a markup language with a couple of rules you need to learn before using it. You can get a hang of it in a couple of hours and some practice.
SSML is overkill for small personal projects. But if you want to customize the audio to different languages, different tones, and speeds, you need to learn SSML. To put it short, with SSML you have the ability to control:
Pitch
Rate
Duration
Volume
Contour
Is There a Usage Limit for Voice Generation?
Most voice-generating tools have limits to how many spoken minutes can be generated.
Before purchasing software, consider your use case. If you are someone who seldomly does voiceovers, then even a strict character limit doesn't matter. But if you are a serious user, you need to make sure the limits won't hinder your process.
How to Build a Voice Generator in Python?
If you are a technically oriented person, you may consider creating a text-to-speech tool yourself without having to pay for it.
In Python, there is a module called gTTS API you can use to convert text to speech.
Of course, the voice is not nearly as good as the ones you can find in the tools in this article. But if you are looking for a cheap alternative and a challenge yourself, you can code your own voice generator.
Here is a complete guide on how to convert text to speech in Python.
Just remember, if you don't have a programming background or are less familiar with Python, the above article won't make sense to you.
Wrap Up
That is a whole bunch of AI voice-generating software.
To take home, these days it is possible to use the latest advancements in AI to generate realistic voices. Not only does the AI read your text out loud. Instead, it puts emotions, tonality, and natural breaks into the text.
The AI voiceover tools are computer programs that analyze spoken language and text. They learn from actual voice actors to replicate their voice and overall tone.
Better yet, you can only expect these tools to improve over time.
At the moment, the tools are best for reading English. However, most of the tools support multiple languages. From my personal experience, the less popular the language, the more robotic the AI voice generator makes it sound. This is natural because there is less training data in non-English languages.
With AI voice-generating tools, you can create voiceovers for videos, convert blog posts to podcasts, set up IVRs and mobile greetings, and much more.
I hope you enjoyed the list and found something to take home!
Thanks for reading 🙂
You May Also Like