Choosing the right type of banner-making software is important for creating professional ad banners.
This is a comprehensive list of the best banner-making software for designing outstanding banners for your business. In this list, you find both professional tools with a steeper learning curve as well as easy-to-use tools for beginners. Some of the tools can even use AI to generate the banners for you!
Disclaimer: This article contains affiliate links at no cost to you.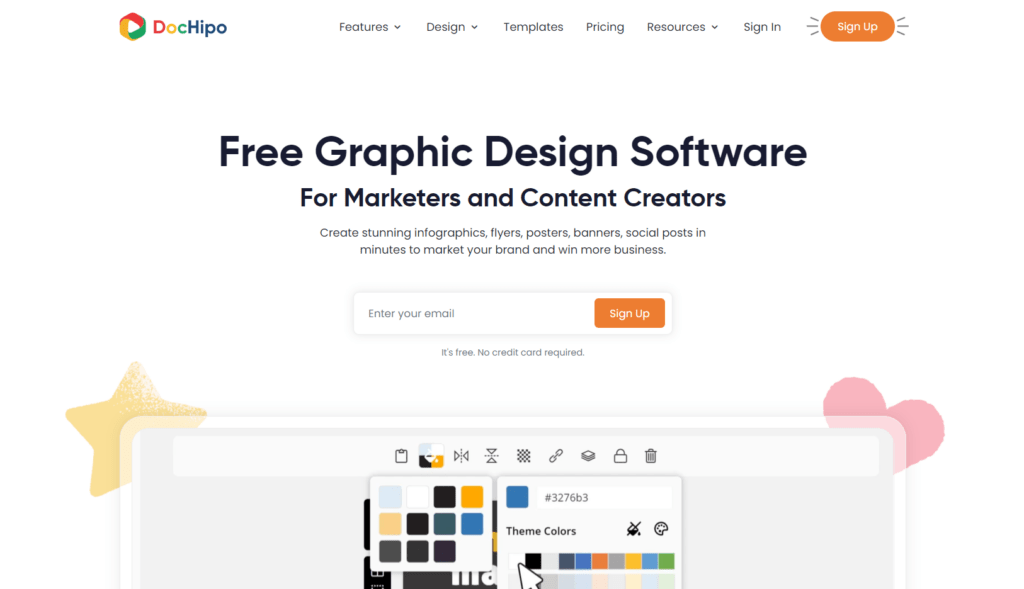 DocHipo is an excellent choice as banner-making software. The intuitive interface of DocHipo makes it quick to learn and use this tool for designing a wide variety of stunning banners without any prior design experience.
Creating a banner in DocHipo is as easy as 1-2-3.
Step 1. Select a template
The beautifully designed templates cover various industries and occasions and are fully customizable. Get started by selecting a premade template or choosing a blank template.
Step 2. Customize the banner
After you provide a name and description of your banner, you're all set to customize it. Choose from a massive library of design assets, such as illustrations, animations, stickers, icons, etc., to make your banner design stand out. The good news is that all the graphic elements are vector-based, so they won't lose their quality when resized. You can add and edit text, leverage the stock photo library, or upload your own. Also, the built-in photo-editing features help you enhance your banners further.
Step 3. Download the banner
A great benefit of using DocHipo is downloading your designs without any watermark, even in the free version. Its free plan allows you to download designs only in JPG and PNG. But the pro plan supports multiple file formats such as JPG, PNG, PNG Transparent, PDF, GIF, and MP4.
DocHipo provides one-click image background removal, smart-resizing, real-time team collaboration, and multi-company capability. It doesn't take much time to master the tool because of its intuitive interface. The free plan allows you to create up to five designs. So, you may need to upgrade to the Pro plan to unlock the ability to create unlimited designs, access to premium templates, and other advanced capabilities.
If you're looking for beginner-friendly banner-making software for creating cool banner designs in minutes, DocHipo is your go-to software.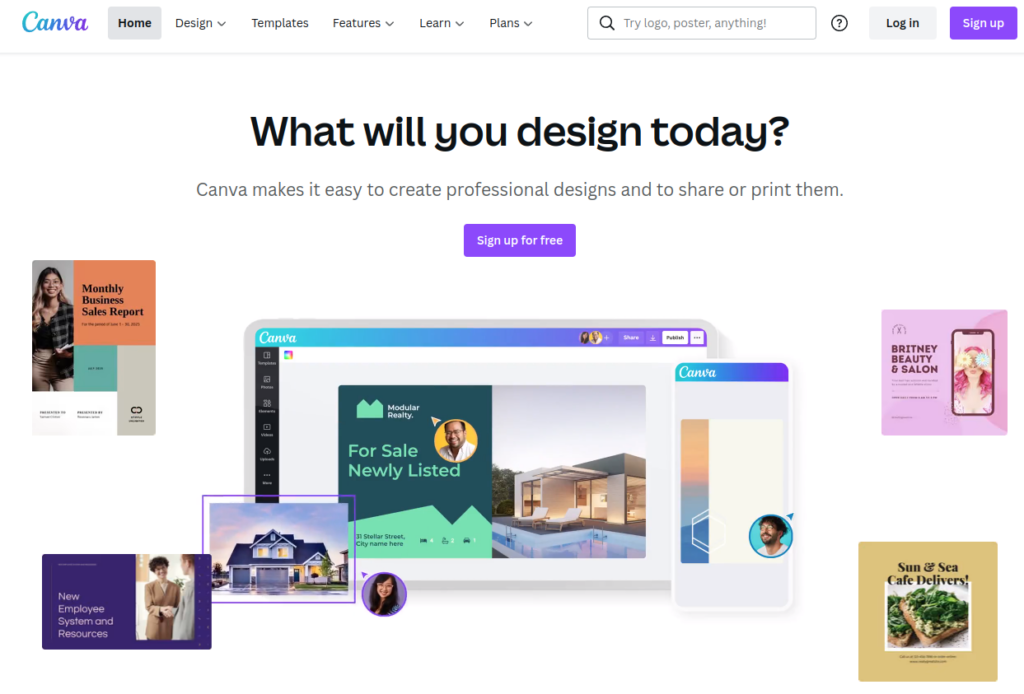 Canva is a popular and modern graphic design software. You can easily create click-worthy banner ads without having experience in graphic design or ad creation.
But what makes Canva stand out?
Canva has a huge library of pre-built templates and assets that are ready to use! You don't need to have any experience in design to create something beautiful.
In Canva, there is a template for pretty much anything you can imagine. This includes ads and more specifically banner ads. With a couple of clicks, you have a professional-looking banner at your disposal.
There is a free version of Canva. Besides, there are some paid plans for more extensive use. One cool feature of Canva is you can pay for a particular template as well. So if you fell in love with one particular template, you don't have to spend money for a paid plan.
As the icing on the cake, Canva makes it possible to animate any design. Furthermore, you can export the animation as a GIF for free!
Canva is easy to learn and thus a beginner-friendly banner-making software. And remember, you can use Canva for much more than banners. As a matter of fact, banners are just a small subset of all of the versatile features.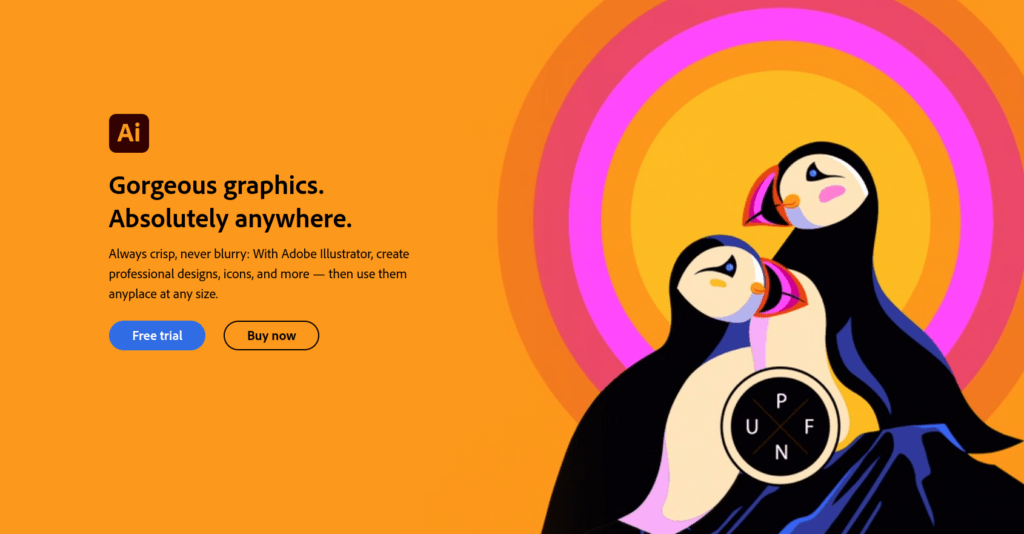 Adobe Illustrator is a well-rounded graphic design tool for professional creators.
You can do any type of graphic design or image-making activities with Illustrator.
If you are designing banner ads or ads in general, you can find Adobe Illustrator to be of great use.
Adobe Illustrator comes with amazing typography features. There are loads of fonts to choose from to make your banners stand out.
Illustrator allows for the creation of vector graphics. This means graphics that can be scaled without loss of detail. This makes it easy to design for different screen sizes and contexts.
Also, you can experiment with a variety of colors and shapes, and save the graphic in a format ideal for you.
The major drawback to Adobe Illustrator is the steep learning curve. It takes a long time before you master the tool. If you are a more serious creator working with graphics in the future, Adobe Illustrator is a must-have skill set.
But if you are a beginner looking to create banners less frequently, perhaps try some of the banner-focused tools later on in this list.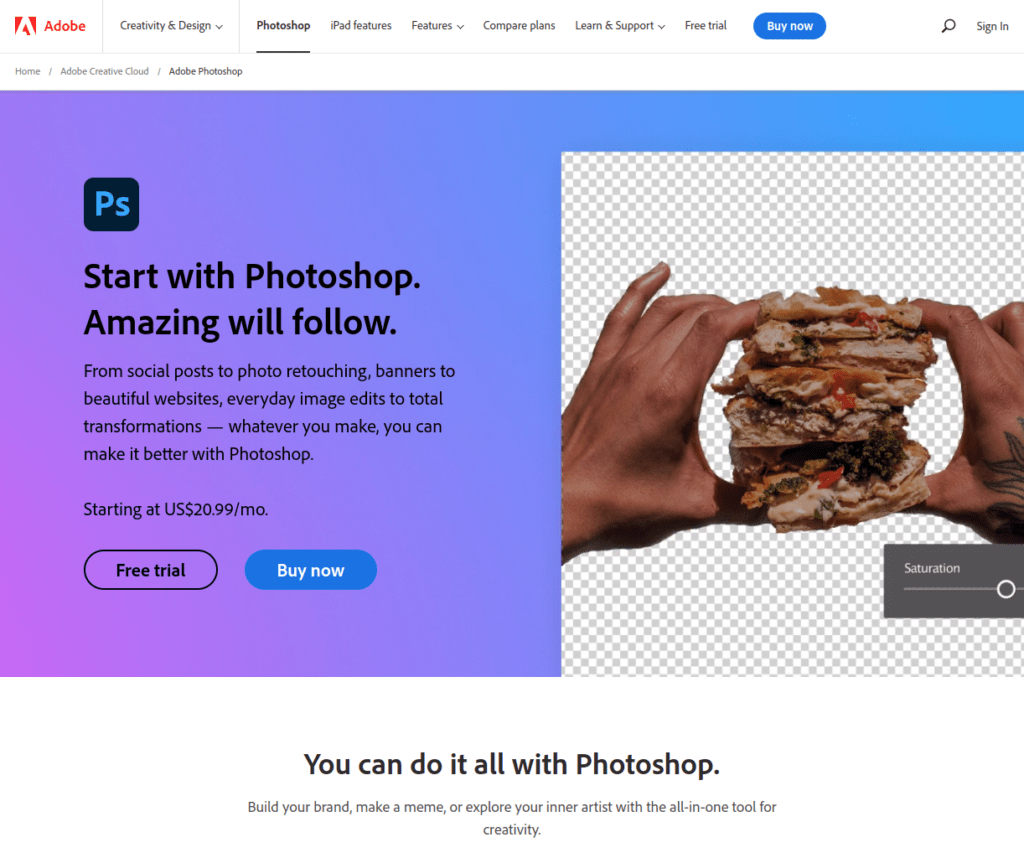 Adobe Photoshop is another go-to photo editing tool in the market.
Not only can you edit stunning photos but apply them to creating outstanding banner ads. With Photoshop, you can even create 3D graphics.
Some of the key features of Photoshop include:
Advanced Layers
Selection Tools
Pen Tool
Shapes
Vector Mask
Retouching Tools
3D Photoshop
Smart Objects
And much more.
Using Photoshop can be funny with drawing pads. Adobe Photoshop is known for its great drawing pad support for more realistic design processes.
The major drawback to Photoshop is that it takes a while to learn. There are so many bells and whistles that it's not possible to master the tool in a day or two.
So if you are looking for a quick solution for creating banner ad graphics, I suggest trying Canva or scrolling down. There is a bunch of banner-only tools in this list.
5. Abyssale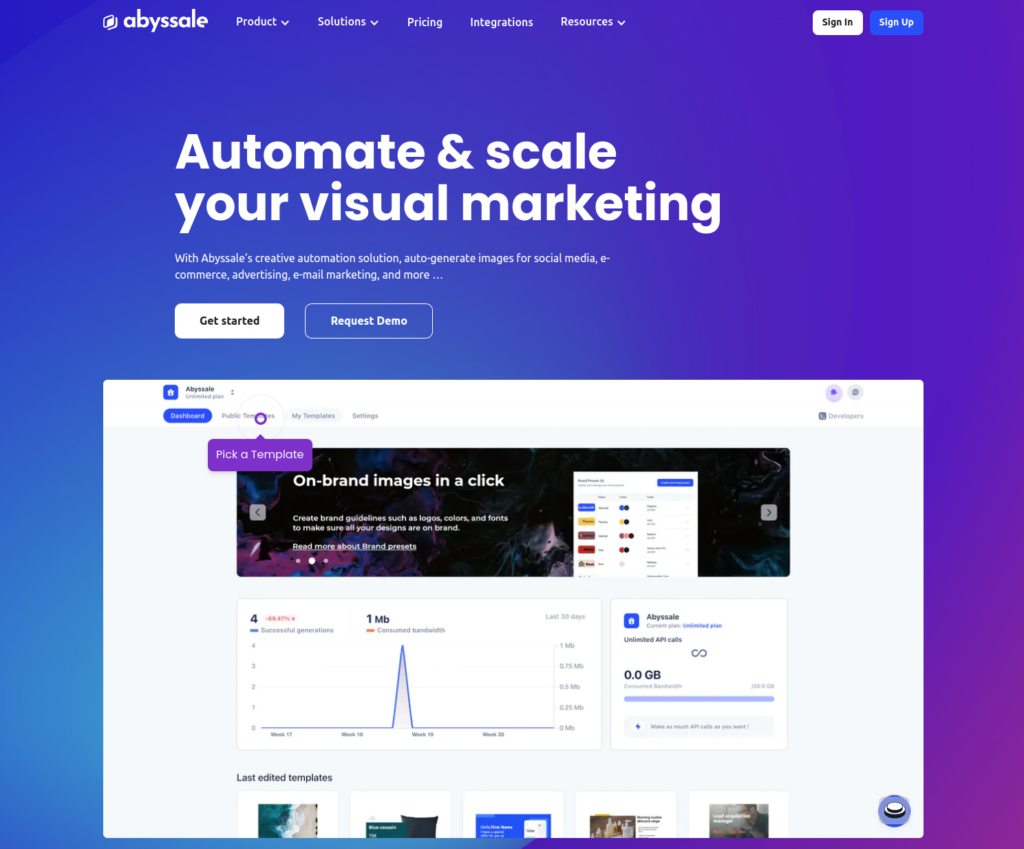 Abyssale is an easy-to-use banner creator. You can use this tool with little to no experience to creating outstanding ads.
The tool is quite unique because it uses the latest advancements in AI to generate images and banners.
Of course, even though it's possible to auto-generate ads, you can fully customize them too.
The workflow of Abyssale is easy and intuitive. To create a new banner ad:
Choose a template.
Upload the text as an Excel sheet.
Let the tool do the work.
As a drawback to this tool, it has no good design capabilities. The main function of this tool is to use AI to generate banners. If you need more customizability or want to be more creative, use a professional tool like Illustrator or Photoshop.
But the best part of this tool is it makes creating large ad campaigns a breeze. This is largely due to the great automation capabilities of the tool. With Abyssal, you can optimize your time and money spent on creating ads at scale.
6. Placeit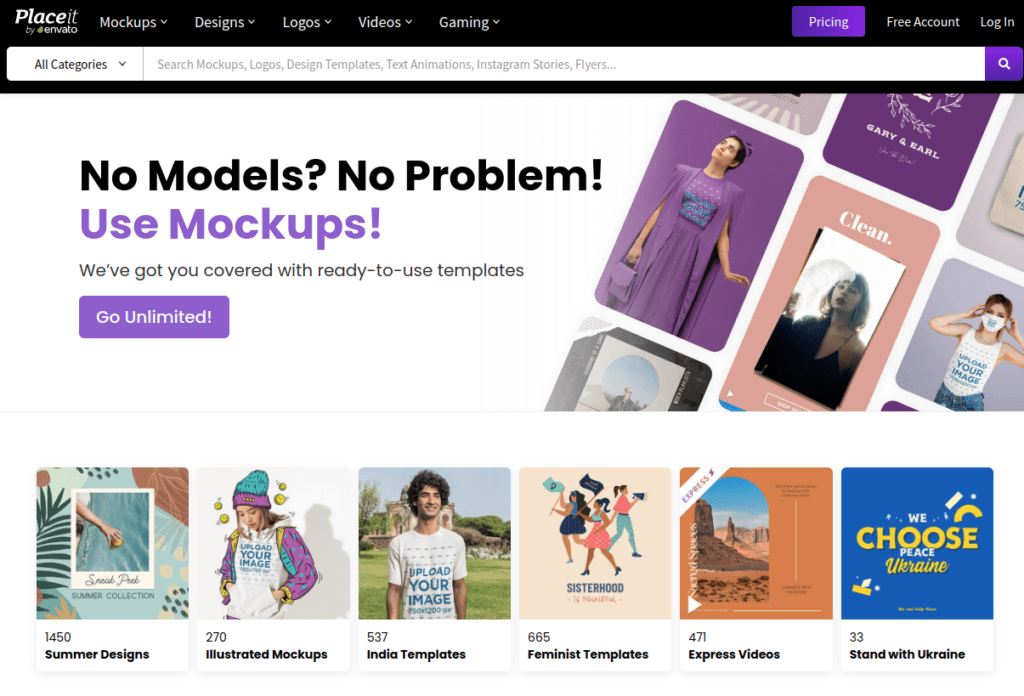 Placeit is another great template-based banner-creating software. This tool makes a great alternative to Canva.
Besides being able to create banners, you can create any type of design and graphics for any type of business.
Using the tool is seamless:
Select a template from the big library of templates. By the way, the number of templates is big. There are more than 1,000 banner templates to choose from. Needless to mention all the other templates there are for other designs than banners.
Customize the banner. This is super easy to do! There is a built-in drag-and-drop editor in Placeit. Without any experience, you can use this editor to create cool banner designs in minutes.
Download the banners. Placeit auto-generates your banners in multiple dimensions. You can download all of them at once.
Unfortunately, there are no free downloads available. You have to either:
Buy a single design.
Subscribe to a monthly plan.
As a downside, the platform might be clunky to use. Besides, it has no collaboration features for teams to work on the same designs together.
7. Visme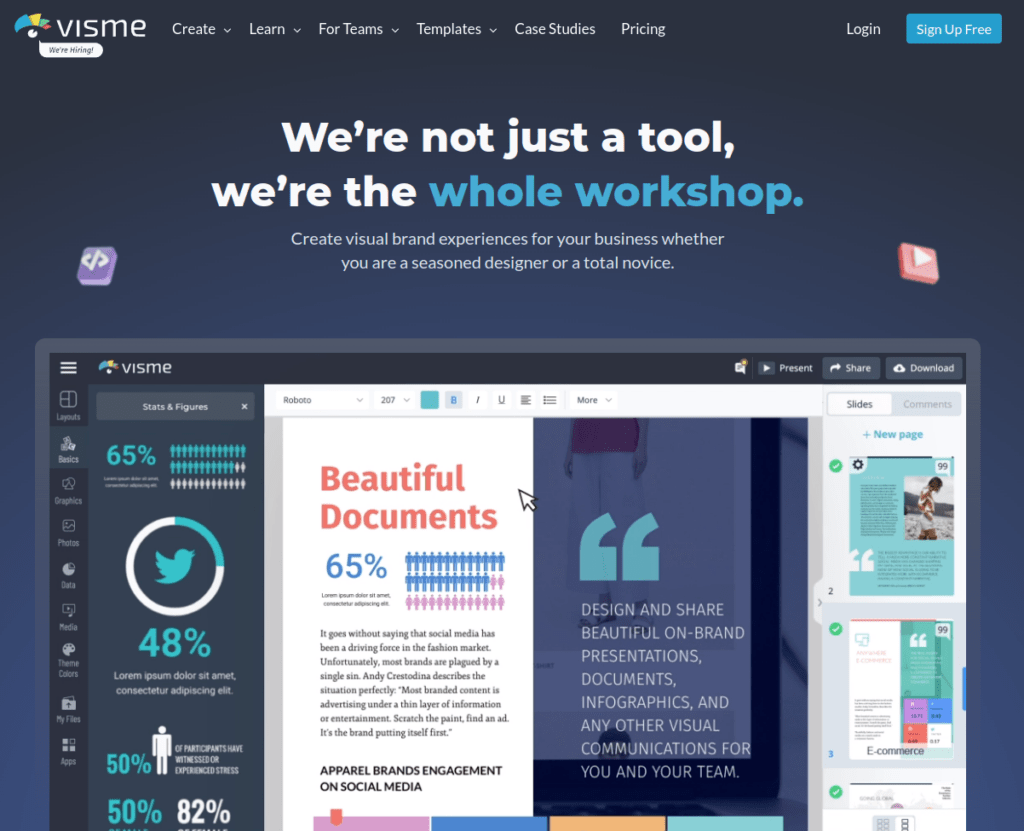 Visme is an overall great graphic design tool for your consideration.
This tool has a variety of useful features. You can use these features to generate amazing banners for your ad campaigns.
The workflow of Visme is similar to Placeit:
Choose a template. There are 250+ templates to choose from. There are also some animated templates to consider. As described later, banner blindness can be fixed with non-conventional animated banners.
Customize the template. There is an easy-to-use editor which makes editing the banners a breeze. Add, replace, or remove elements until you're good with the result. By the way, you can add cool charts and visual effects to further enhance your banners.
Download the banners. With a free version, you can only download JPG files with watermarks! Thus, it makes sense to subscribe to a paid plan to get the most out of it.
Although there is a free version and download, you should also consider the paid plans. For example, one of the great benefits of the paid plan is the 2M+ free-to-use images and thousands of premium templates. Besides, there are other great graphical resources to choose from.
One of the benefits of Visme is the easiness to use it. It has an overall great UI and cool banners with animated templates.
The drawback to Visme is that the free version is very limited. It doesn't really give you a great picture of the tool. Furthermore, the paid plans are expensive as opposed to other similar tools. Also, the graphic library is smaller than other similar tools.
8. Snappa

Snappa is an online graphic design tool that has gained some popularity recently.
If you have been searching for an intuitive and effective graphic design tool, Snappa is definitely worth considering.
The name Snap describes how easy it is to create designs. You can create cool online graphics "in a snap".
Similar to most of the other graphic design templates, you should start by choosing a template. In Snappa, there are 6,000 templates. This is a great number, but it's much less than Canva and Placeit, to put it in perspective.
Anyways, the templates are professional-looking and ready to be customized by you.
After picking a template, you need to customize the banner. One of the great little features that can boost your workflow is the one-click resizing feature. With this tool, it's easy to create the same banner in different dimensions. As you know, ads come usually in different sizes, so this feature is definitely of great use!
The tool is overall easy to use. I think it makes sense to have all the features laid out in front of your eyes, rather than hiding them. This is what Snappa does. All the powerful features are visible all the time. You can just one-click one of them to activate it, instead of searching for it in the abyss.
To put it short, Snappa is a modern and easy-to-use platform for creating designs. For example, you can use it to create banner ads in a matter of minutes.
Snappa has a great free version with 3 downloads per month. Of course, this is not enough for any extensive use. Subscribe to a paid plan if you plan to do anything more than one or two designs every now and then.
The downside of Snappa is the limitations in the graphic library. Also, the tool doesn't support that many file types.
9. GIMP

GIMP is a popular free photo-editing and image-making software. You can use this free tool to design your banners as well. Although, the main function of this tool is not to design banners. Instead, it's an overall great design tool for any purpose.
GIMP is available for both macOS and Windows. You can expand GIMP with third-party add-ons. The add-ons are a great feature as they let you customize the tool to better match your needs. There are add-ons to pretty much anything.
You can use GIMP for any type of image manipulation, such as:
Retouching and enhancing
Drawing
Image processing
Image conversions
Creating cool-looking banners
GIMP has all the features you need for creating basic designs or drawings. These features include:
Pencils
Airbrushes
Gradients
Blending tools
Cloning
And much more.
There is also an advanced path tool that supports transformable paths. You can use the path tool to perform bezier and polygonal-basis selections. To zoom in on your work, make sure to activate the full-screen mode. This makes it easier for you to work with more detailed graphics.
What makes working with GIMP really cool is the ability to perform an "endless undo". The version control system stores every move you make and is only limited by your disk space.
GIMP also supports the most common file formats, such as BMP, JPEG, GIF, PDF, PNG, SVG, and so on.
GIMP is completely free of charge.
10. Bannerbear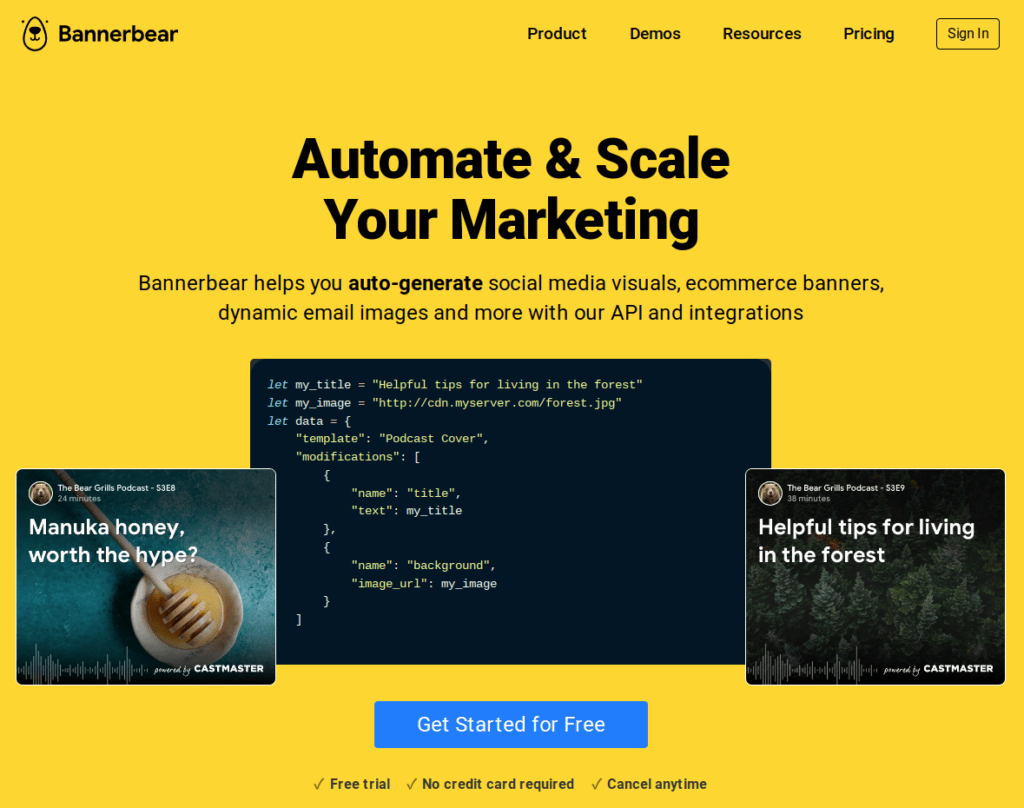 Bannerbear is a banner-focused tool to create outstanding banners. Its specialty is the image creation API which helps you auto-generate banners that:
Contains videos
Has animated GIFs
Are overall engaging and outstanding
There are loads of built-in assets and graphics for your marketing campaigns as well. So you won't have to start empty-handed.
Usability is the main concern here. I mean, the tool is definitely powerful, but it takes a while to learn how to use it. If you have no technical background, an API makes absolutely no sense to you. Due to the technical complexity, most users cannot make the most of the tool.
On the other hand, if you are someone with coding knowledge, integrating the API can offer superpowers to your graphic design tools.
If you are looking for easier solutions, feel free to take a look at the last two banner creation software. Also, feel free to scroll back. There are lots of great tools without technical prerequisites.
11. Bannernow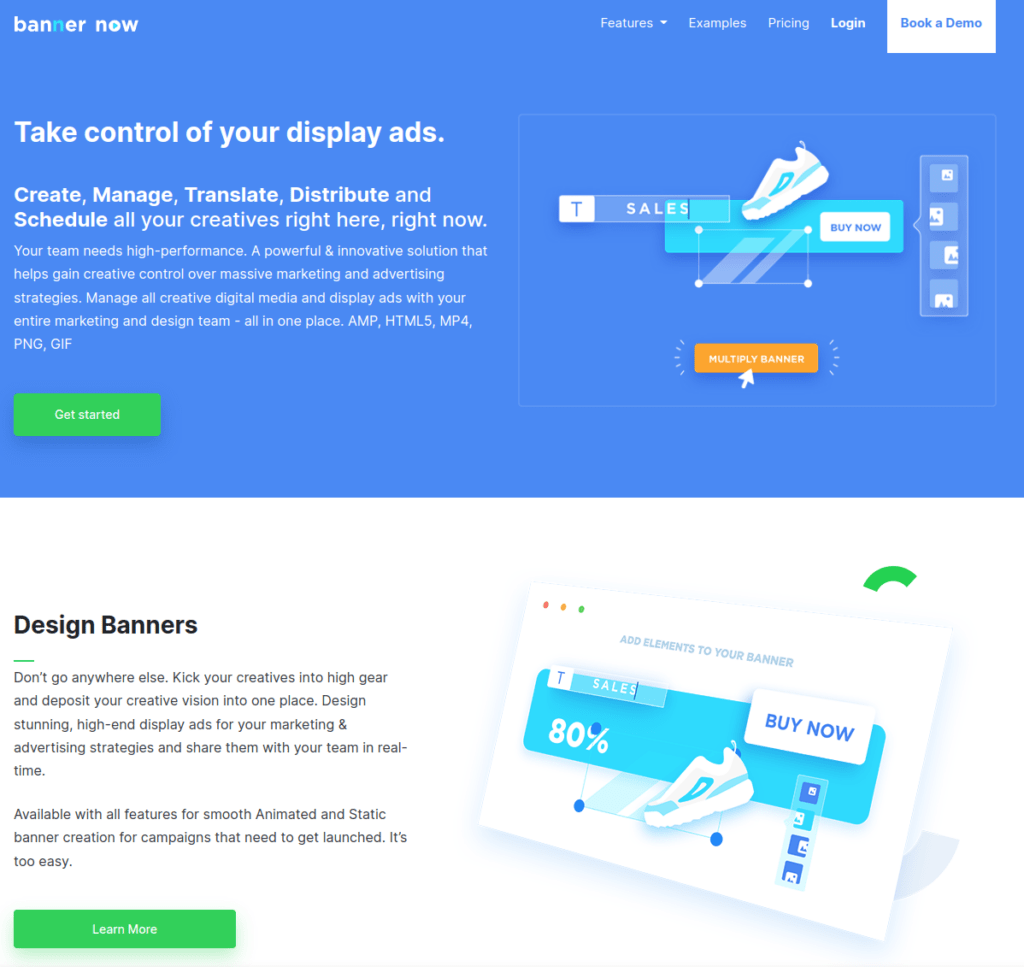 Bannernow is an online ad banner editor.
This tool comes with a bunch of useful features for creating ad banners with ease. Yet the results are outstanding and look professional all the way.
To use this tool, you don't need to have any experience in ad design. The editor is easy-to-use and it makes building banners a breeze for beginner designers.
The workflow is as follows:
Choose the banner size among the common banner sizes laid down on the table. Alternatively, you can build a custom-sized banner.
Enter the editing window of the tool.
Customize your ad in the editor. You can add colors, backgrounds, effects, icons, fonts, buttons, slides, and much more. There is a big library of pre-built templates and assets. Alternatively, you can use your own artwork.
Download the final version of your banner(s).
12. My Banner Maker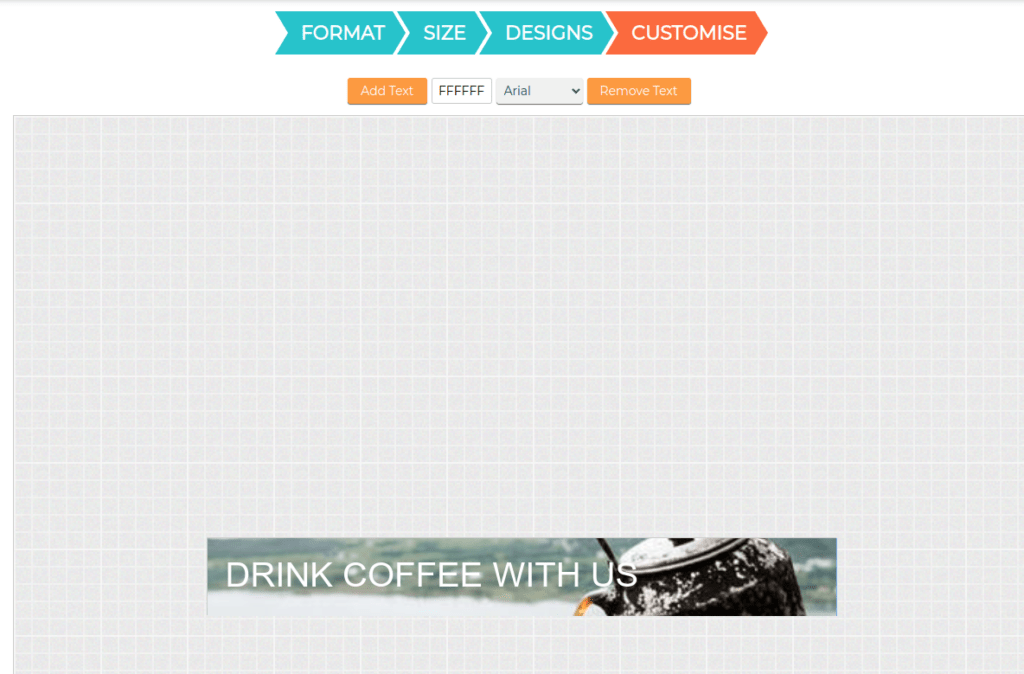 If you are looking for a very basic solution for creating a simple banner, try out My Banner Maker.
As you can tell from the name, this tool specializes in banners, unlike some other tools on this list.
You can start creating banners for free.
The workflow is simple:
Choose the type of banner to make. This can be social media, banners, games, or custom-size ads.
Choose between a template, a photo from their library, or add your own image.
Choose one of the free banner editors to work in.
Add text, adjust, resize, and change colors.
Your ad banner is ready!
Although this tool is super intuitive and easy to use, it looks a bit old. Also, there are quite some limitations to the features. For example, there are not many fonts to choose from.
On the other hand, this tool covers all types of ads as well as social platforms. This makes it easy to design an ad for any purpose or platform in a matter of minutes.
If you are looking for more customization, such as better fonts, pick another tool from this list. My Banner Maker is by no means a professional tool. Instead, it's a quick solution for someone unfamiliar with designing banners!
13. EximiousSoft Banner Maker Pro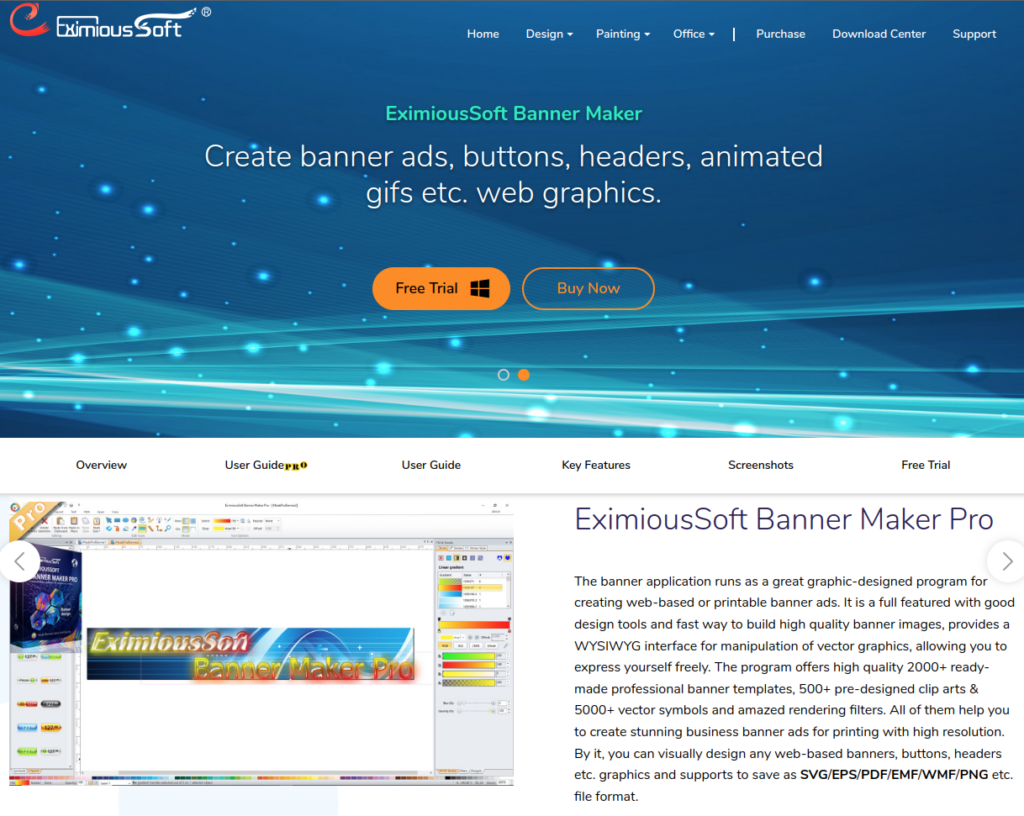 EximiousSoft Banner Maker has a UI reminiscent of MS office users.
With this graphic design tool, you can do:
GIF banner ads
Buttons
Headers
Other types of web graphics
There are 200 templates to choose from. Besides, there are thousands of icons, symbols, and cool-looking gradients.
The tool does both vector and image-based painting. There are also basic layer-editing capabilities for drawing on your own.
This tool comes with a free trial but this saves your banners with watermarks. You have to download the tool to your device to use it.
This tool is great for someone who likes to use an old-school image editor similar to Windows.
As a major drawback, this tool is really old (as you can probably tell from the image above). So if you are looking for modern solutions, this is definitely not the tool for you.
Interesting Questions & Facts about Banners
Which Software to Use for Banners?
Basically, you can use any graphic design software, such as Canva, Photoshop, Illustrator, or similar.
Let's be a bit more specific.
If you are a one-timer looking to design a banner every now and then, use a banner-focused tool, such as Canva or Bannernow.
If you are a professional designer, use a pro tool like Illustrator or Photoshop. These allow for more customization and the results become less generic.
The benefit of an easy-to-use banner tool like Bannernow is you can get nice results really quickly. The drawback is the limitations in customizability.
The benefit of a professional tool like Illustrator or Photoshop is that the sky is the limit. You can get really creative and design any type of ad you want. As a downside, it takes a long time to learn how to use these tools.
By the way, if you are looking to create wonderful designs for a living, make sure to check the best graphic design courses.
Do Banner Ads Even Work Anymore?
Yes, they definitely do. I run banner ads on this very site, and they're performing really well.
However, as time goes by, readers' eyes become more tolerant of ads. Researches show that "banner blindness" is a real thing. This means a reader subconsciously avoids paying attention to anything they perceive as ads.
20 years ago, everyone would click a banner ad that says "Click me and you'll be surprised!" These days literally no one would do that.
So even though banner ads still work, they definitely don't work like they used to.
To fight banner blindness, there are several key things to keep in mind when designing and placing the ads:
Use unconventional placing.
Make sure the banner content is relevant.
Place uncommon colors and sizes on the banners.
Optimize the ads for mobile devices.
Create a catchy CTA.
Separate banners from the content.
Insert native ads within online feed content.
Don't make the ad banners look old.
Build interactive 3D photo banners.
Change the banner ads every now and then.
With these strategies, you can reduce banner blindness and increase the number of clicks.
What Should a Banner Ad Consist of?
Banner ads shouldn't be complicated. A reader should immediately be able to tell what the ad is all about.
A good banner ad has:
An outstanding design
Engaging yet easy-to-read text
Clear CTA
What File Formats Are Used for Banners?
The most popular banner format is the good old JPEG. But of course, this is not the only format used. For example, you can create banner ads with HTML. You may also render them as GIFs.
Static ads typically are PNG files.
What Is the Standard Banner Ad Size?
The most widely used banner sizes are:
300 x 250 pixels
728 x 90 pixels
336 x 280 pixels
These are examples of common banner ad sizes.
Of course, these are not the only "standard sizes". There are many more banner sizes to choose from.
Besides, as mentioned earlier, banner blindness is a real thing. One way to fight it is by implementing non-standard banner sizes.
Wrap Up
There you have it! A comprehensive list of different types of tools for creating banners.
Some of the tools in this list are dedicated to creating banners. Others are professional image-editing tools for more serious creators.
If you are looking to create a couple of banners here and there, you can use some of the banner-specialized tools in this list with a pre-built template.
But if you are looking for more customizability and creativity, use a tool like Photoshop or Illustrator. By using those, only the sky is the limit. Unlike with some of the banner tools, you have quite limited options and generic templates to choose from.
Thanks for reading. I hope you can create an amazing banner with one of the tools on this list.
Read Also