Do you have a big company with a lot of customers? CRM is an important practice to manage customer relationships and keep potential customers interested.
This is a comprehensive guide to choosing the best enterprise-tier CRM software for big companies. This guide teaches:
What is CRM (customer relationship management)
What are the key features in enterprise-level CRM software
Complete review of the best CRM tools on the market
And much more.
Make sure to choose the best CRM for your business to maximize growth and cut costs.
Disclaimer: This article has affiliate links at no cost to you!
What Are We Looking at in This Guide?
This is a comprehensive guide on how to find the best CRM for big businesses. After reading this guide, you understand how to streamline your sales processes and keep customer relationships healthy. Because this is an in-depth guide, you might want to jump ahead to a particular tool. Here is a list of the tools covered in this list. Feel free to click any of the links below. These will take you directly to that particular tool's review.
Without further ado, let's get into the list of comprehensive reviews!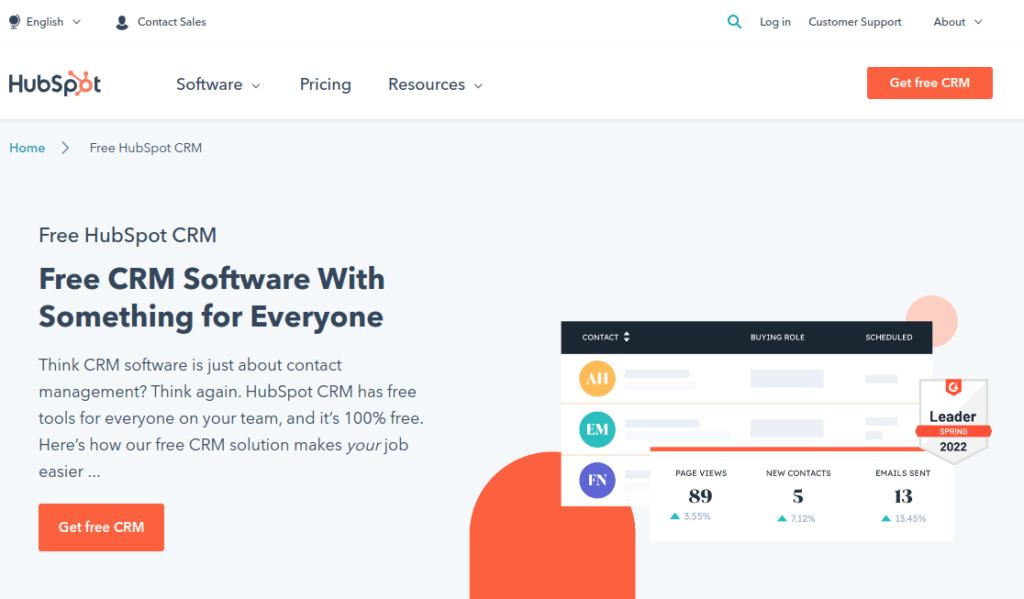 HubSpot is one of the leading CRM software and has been that way for years. As a whole, HubSpot offers you an entire business solution. The HubSpot CRM is not only a great CRM for big companies but also a viable option for smaller businesses. The tool and the plans are flexible and suit any industry.
This is the most comprehensive and well-rounded tool on the list! HubSpot CRM offers more features and automation than any other tool on the list. Another tool that comes close to HubSpot is ActiveCampaign (later on in this list). It has approximately 90% of the same features as the enterprise plan.
When compared to its closest competitor ActiveCampaign, HubSpot offers you extra features for inbound marketing, advanced social media features, and paid ads tools. Besides, the HubSpot CRM tool is a bit more customizable than ActiveCampaign.
All in all, there are four products that HubSpot offers for CRM:
Marketing Hub
Sales Hub
Service Hub
CMS Hub
When combined, these four products make up a strong and unmatchable solution for CRM, sales, and marketing.
HubSpot has a free trial. This way you can try the software without spending a dime and only make a purchase if you are happy with the results.
Pricing
Here is the pricing breakdown for enterprises:
Marketing Hub. $3,200/month for 10,000 marketing contacts + $6,000 onboarding fee.
Sales Hub. $1,200/month for 10 users + $3,000 onboarding fee
Service Hub. $1,200/month for 10 users + $3,000 onboarding fee
CMS Hub. Starts at $900/month
HubSpot is the most expensive tool on this list. The question is is it worth the price?
Let's start by taking a closer look at HubSpot features.
Features
Deal Pipeline. With the deal pipeline, you can manage leads and deals at any stage throughout your sales funnel.
Sales automation. The sales automation features allow for automating the tasks and workflows to drive more leads with less manual input.
Marketing automation. Autopilot the marketing part of your campaigns and let HubSpot nurture your leads on your behalf.
Lead scoring. Prioritize your sales efforts by calculating a predictive score for your leads. The lead scoring system helps you estimate the value of a lead to your company.
Website Activity. Gain valuable insights as to what your prospects are doing on your website. For example, you can track page views, sales activity, or form submissions.
Prospecting. Inspect the companies visiting your website and pull all the available insights out of them too!
Email marketing. Create and track email marketing campaign performance. Get notified of opened emails. Use extensive templates to build visually pleasing email campaigns.
Landing pages. Capture leads' attention by creating outstanding landing pages that drive sales
A/B testing. Make sure to test the landing page performance by A/B testing the pages. This can help you maximize conversions.
Forms. Use professional-looking forms to capture leads on your page.
Tasks and activities. This feature lets you manage the sales activities of your customers.
Customer support. To make sure to keep the customers happy, you need to excel in customer support. Using the Service Hub, you get the full arsenal of tools to make your customer service the best of quality.
Usability and extensibility
A great feature of the HubSpot products is the extensibility. If you are using other popular tools, such as WordPress, Shopify, or Microsoft Dynamics, you can combine them with your HubSpot tools. HubSpot works where you work. There are great mobile app versions for both iOS and Android consumers. This way your mobile teams can seamlessly collaborate and interact with the CRM platform.
What makes HubSpot products especially great is their usability and intuitiveness. The entire HubSpot platform is highly intuitive even though it has all the bells and whistles almost no other platform has. As you learned, the platform consists of four separate products. This is the first step in making the tool easier and more intuitive. Instead of throwing all the features in one mix, there is a clear distinction between the different parts of marketing and CRM.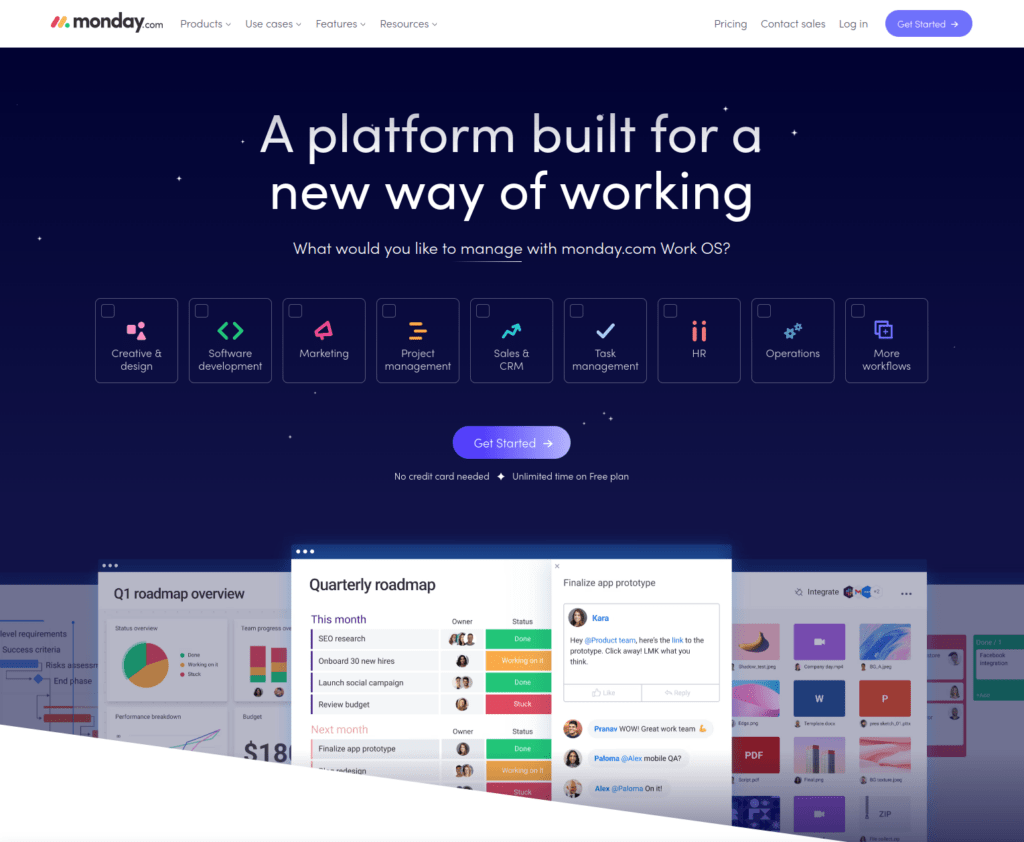 Monday.com is one of the most flexible CRM tools for businesses of any size. The tool works across all industries and is great for both smaller businesses and enterprise-level CRM.
One of the highlights of Monday.com is easy customizability. When you start using Monday.com, it takes little to no time to modify the tool to work with your business. Customizability is made possible by using the business rules and if-then-else logic (without having to know how to code).
Features
The key features of Monday.com include:
Deal management
Client tracking
Prospect tracking
Open API
Lead management
Pipeline management
Mobile Optimization
And many more useful features.
Similar to most of the other tools in this list, Monday.com doesn't forget about integrations. The tool can be bundled together with Slack, Google Drive, Zapier, and many more.
Monday.com has a free trial version. This way you can give it a try before making an investment.
The pricing of Monday.com starts at $8/user/month.
3. Salesforce CRM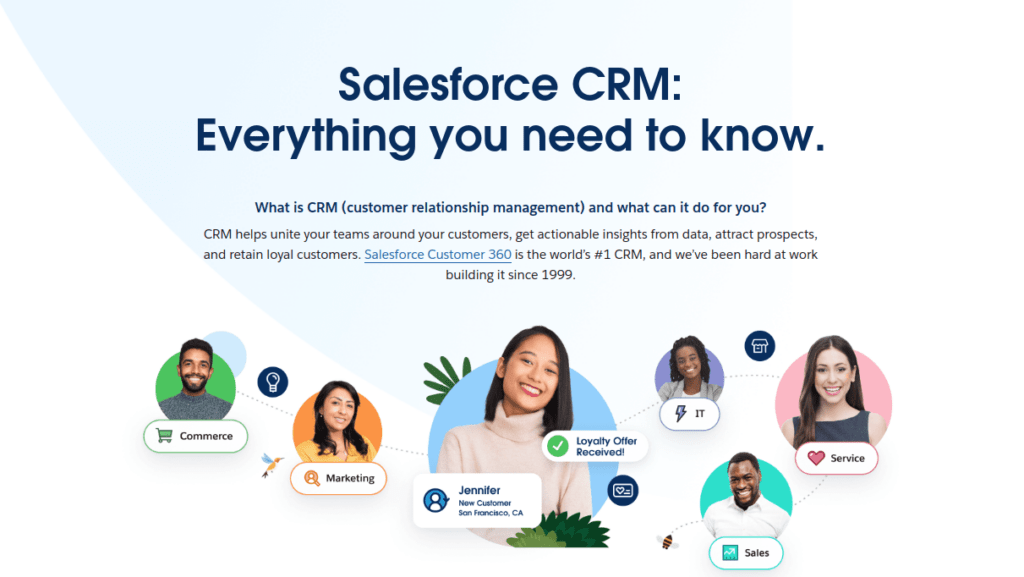 Salesforce CRM is the market leader in cloud-based CRM solutions. You may have heard of Salesforce before. It is a massive company that offers a complete suite of business products. Salesforce is a powerful suite of software for big businesses.
The Salesforce CRM platform makes it easy for you to track customer relationships and interactions. All this happens in a centralized location which means you can easily follow the leads.
Features
To nurture your leads, you can utilize the built-in:
Sales data features
Partner management capabilities
Marketing automation tools
Lead management features
Salesforce CRM works where you work. Whether your team is in the office or not, the great iOS and Android native apps let the team easily access your CRM processes. With real-time data and great reports/metrics, you can quickly get a 360-view of the sales processes and customer relationship healthiness.
One of the cool features in Salesforce CRM is the Feed First tool. This feature lets you add weight to the most important information you want to see first. Using this feature, you can customize the CRM feed on your app.
By the way, there are other similar features available in the AppExchange app store.
By using Salesforce CRM, big companies get actionable advice from customer data. This helps the teams cut costs and grow faster by keeping the customers satisfied and relationships healthy. With Salesforce CRM, one can create comprehensive sales forecasts, vital reports, and territory models.
Needless to mention, Salesforce integrates well with other popular apps and tools. For example, you can bundle Salesforce together with Zendesk, Ambassador, Desk.com, and more.
The pricing of Salesforce starts at $25.00/user/month.
4. ActiveCampaign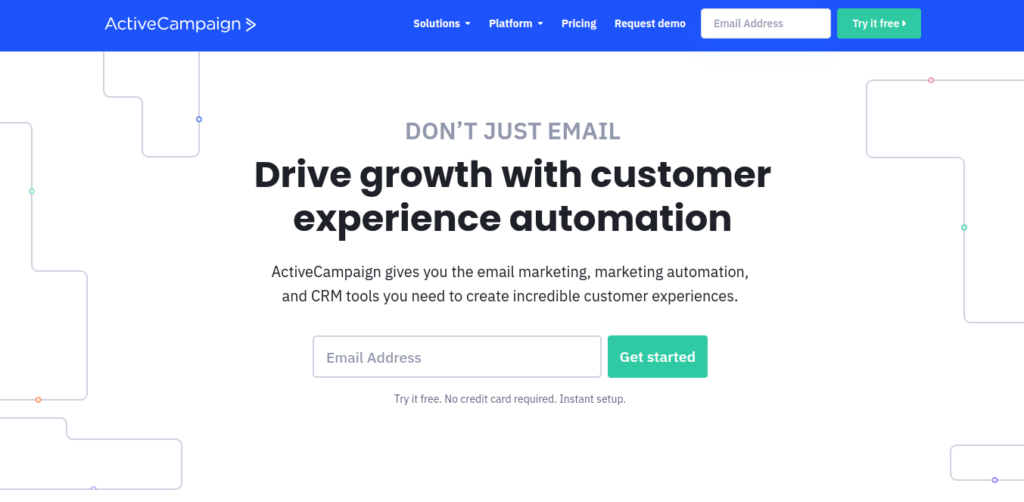 ActiveCampaign is the best CRM solution for sales, marketing, and automation.
This tool is the complete package for those looking for an all-in-one solution to CRM.
Besides HubSpot CRM, ActiveCampaign is the only tool that comes with the full suite of marketing, sales, and support features.
By the way, if you are looking for the best automation features, it has to be ActiveCampaign.
Even though ActiveCampaign is a great solution for businesses of any size, the enterprise-level features are what stand out. Thus, it doesn't matter whether you are a small business or a big enterprise with a ton of customers, ActiveCampaign has got your back!
Features
Let's go through the key features of ActiveCampaign.
CRM. With the versatile CRM features of ActiveCampaign, you can manage your contacts and update details without involving any manual input to the tool!
Email marketing. The email marketing features allow you to build campaigns that include triggered emails and targeted emails.
Unlimited emails. With every single plan, you get to send any number of emails to your contacts. (But notice that the number of contacts is limited!)
Email building features. There is a great drag-and-drop email builder that lets you quickly design great-looking emails from scratch.
Templates for emails. In ActiveCampaign, you have a library of email templates. With these templates, you don't have to fight the blank page syndrome. Instead, you can design an efficient and market-proof email within minutes.
Automatic response system. You can send automated email responses to your customers or potential ones. You can schedule the automated responses to happen instantly or after a while.
Automate sales. With the sales automation features, you get to cut the time spent on low-value manual tasks. This is made possible by features like automated tasks, notifications, and reminders.
Lead scoring. With lead scoring, you can focus on the leads that are most important to your company.
Customer support automation. You can build a reliable customer support system for your business that works via email and chat.
Customer retention. You can create a robust customer identification system to incentivize the best customers to make more purchases in the future.
These are some of the key features of ActiveCampaign to give you some idea of the versatility of the tool. Besides these great features, there are lots of other outstanding features not mentioned in this list. These are bells and whistles that can even further streamline the CRM processes.
ActiveCampaign's main goal is to be the only CRM platform you ever need. With ActiveCampaign and its great built-in features, chances are you will never need to change the platform. This is thanks to all the marketing, sales, and customer support tools that come along with it.
As you might expect, this tool is among the most expensive ones on this list. The enterprise-level plan starts at $229/month. However, this price grants you access to an unlimited number of users! Notice that the number of contacts is what affects the price of the plan. With the $229/month plan, you are limited to 2,500 contacts. To add more contacts, expect to pay more!
5. Microsoft Dynamics 365 CRM
Microsoft Dynamics CRM is among the best CRM systems for big companies. The initial release of the software dates back to 2003. This version was called Microsoft CRM 1.0. Ever since the first release, the platform has been renamed on a couple of occasions.
These days, the tool is known as Microsoft Dynamics 365 or D365.
D365 is a great and flexible CRM solution for big businesses with enterprise-level needs. The tool is customizable and integrates well with other related tools. D365 is also accessible everywhere from mobile to desktop. One can take a quick 360-view of the CRM using the cloud-based app or a mobile app. Thus, the tool works where you work.
Features
The key features of MS Dynamics 365 include:
Business Central and Business Intelligence integrations. These help you gain better insight into sales, marketing, and financial data.
Useful Outlook integrations. This way you can use Dynamics 365 with the ever-so-popular Outlook app.
State-of-the-art AI features by Azure and Cortana.
Cloud-based application.
Mobile applications for accessing client data everywhere.
The pricing of D365 is based on demand. There is no one fixed price. Instead, you have to talk to the sales team. They will tailor the best plan to meet your business needs and goals.
6. OnePageCRM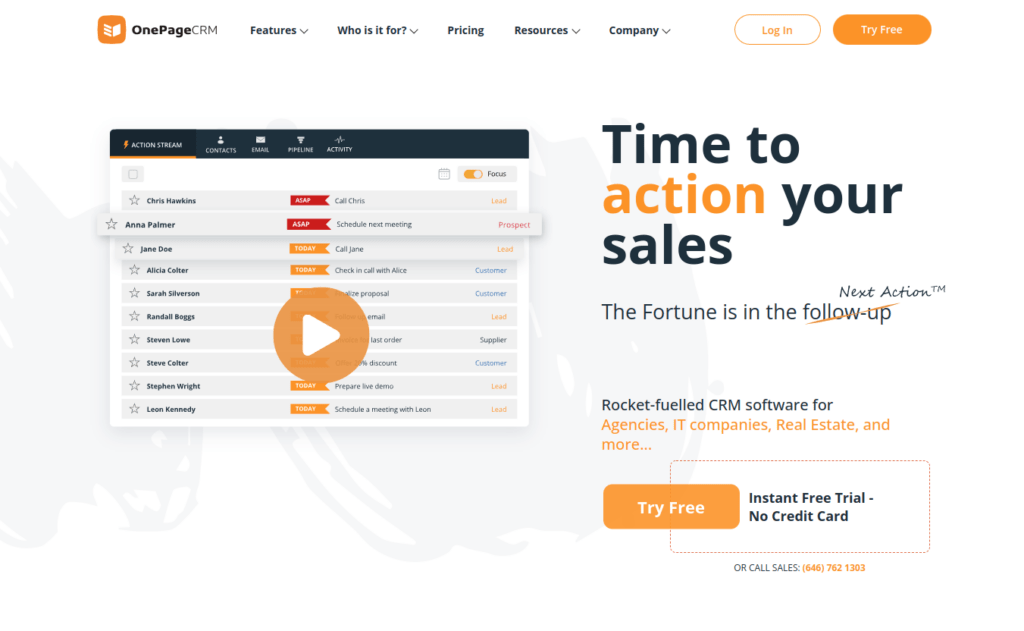 Some of the tools in this list are all-in-one solutions for big businesses' CRM needs.
However, OnePageCRM focuses on creating a strong CRM system without other features that would make the platform more complex. In other words, with OnePageCRM you get "only" one thing: A super efficient and powerful CRM tool.
Features
The key features of OnePageCRM include:
Email marketing with personalized and automated email strategies.
Bulk emails allow you to send 450 emails a day.
Open-rate tracking capabilities to see how effective your emails are based on how people open and interact with them.
Call integrations. This feature allows you to call directly from the CRM software using a bunch of syntaxes and protocols.
Sales automation for maximizing your sales and reducing the amount of manual workload.
Drag-and-drop management features simplify the sales cycle with a simple editor.
Unlimited contact for managing any number of contacts, notes, and deals.
Based on the features and CRM focus, you might imagine that this tool is only for small businesses. But this is not the case. OnePageCRM is a great option for larger businesses with big goals.
OnePageCRM's enterprise plan costs $59/user/month. In the enterprise plan, you get reliable support features, such as:
An account manager
Personalized onboarding/training
Screenshare support
And more.
Besides, you get the maximum number of emails and storage space.
7. Pipedrive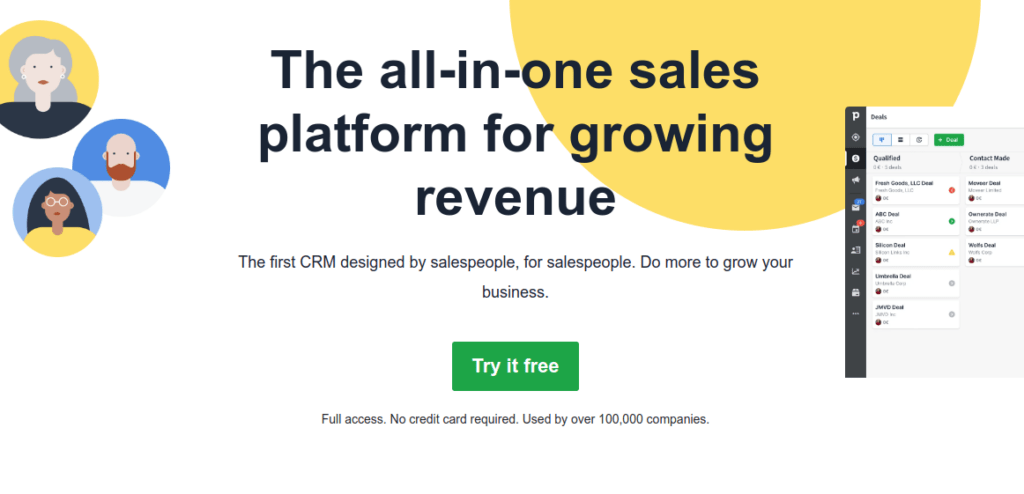 Pipedrive is a top-notch sales and CRM platform for big companies. Although the tool is popular among freelancers, it has high scalability and works for enterprise-level businesses too.
Pipedrive is a complete package that works across different industries.
Pipedrive comes with a free trial version. This way you can test the tool and features without spending a dime. It's wise to only make a purchase once you have verified the capabilities of the tool yourself.
Features
The key features of Pipedrive include:
Sales pipeline features
Lead generation tools
Workflow automation
Contact history
Built-in caller services
Contact history
And more.
Pipedrive is fully customizable. The technical users (developers) can use the Pipedrive API for further customization and automation.
Speaking of customization, the tool integrates with more than 300 apps. This means Pipedrive works where you work. The apps that Pipedrive works with include the important Google apps and the Google Maps app.
Pipedrive is great for international markets. The tool supports deployment in multiple languages. It also supports transactions in different currencies.
Pipedrive has a comprehensive reporting and metrics system. This way, you get a full 360-view of your business's CRM and sales operations.
The pricing of Pipedrive is as follows:
There is a free trial with the best features available.
Paid plans start at $12.50/user/month.
8. Salesflare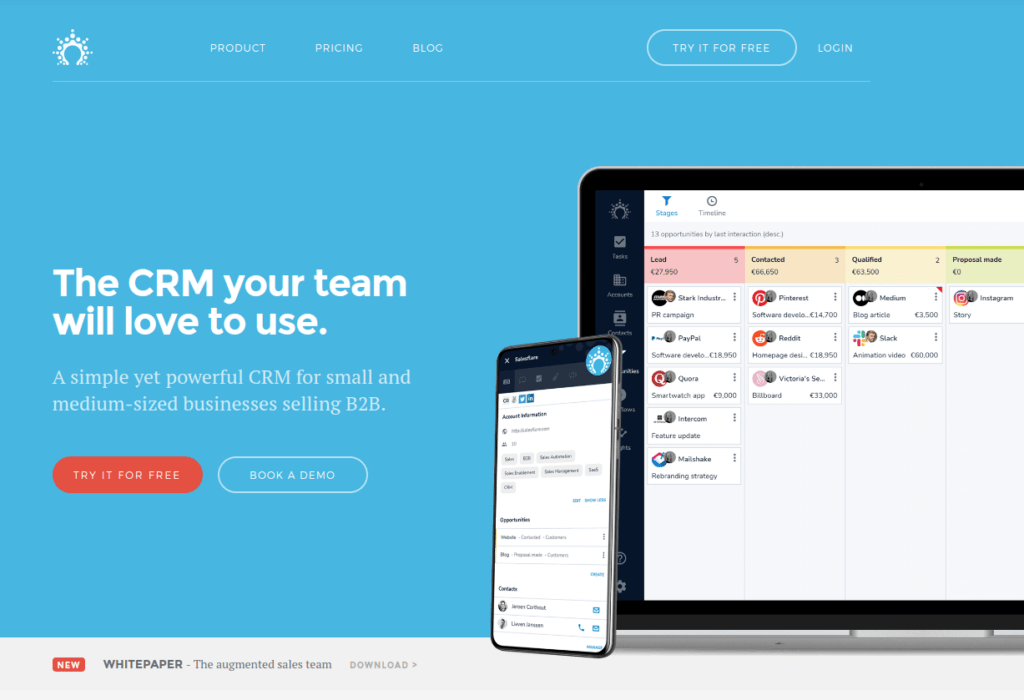 Salesflare is the best CRM software for automated data entry.
One of the key challenges in CRM is data entry. This process requires a lot of hours, consistency, and patience. Doing the data entry without any kind of automation would be a waste of time, especially when there are great professional tools that specialize in it.
Salesflare is a well-rounded CRM tool that promises to cut the workload of data entry by 70%.
Even though the data entry automation process is one of the most notable selling points in Salesflare, this tool offers much more than that! Salesflare is a versatile CRM package for businesses of all sizes. You can use Salesflare to satisfy a big company's customer management needs as well as to please a smaller business looking to take it to the next level.
The enterprise plan of Salesflare is an affordable $99/user/month.
Features
Let's dive deeper into the key features of Salesflare.
Data entry automation. This tool makes it easy to store customer data. The data entry features work intelligently by collecting contact and company data from emails, signatures, social media profiles, and much more.
Automatic logging. This feature lets you connect the calendar and mobile device to register meetings and phone calls with your customers.
Opportunity management. There is a centralized dashboard of opportunities in the tool. This feature lets you take a quick look at all the business opportunities. Salesflare also highlights the most notable deals that they think require your attention.
Website activity tracking capabilities. The tool lets you easily monitor the actions visitors take on your website. The clever algorithms can map user interactions to campaign success. This gives you a great idea of how the website and campaigns perform in the field.
Email tracking. This feature makes it possible to track your email campaigns and the email interactions, such as open rates and engagement. You can also track leads based on email responses.
Email campaigns. The email campaigns feature lets you generate personalized emails from any mail provider you connect to the tool.
Automated emails. Sending emails is repetitive manual work. A successful email campaign has to follow up with the recipients on a regular. Otherwise, the campaign is less effective. The email automation features in Salesflare make it easy to automate the bulk send to improve engagement.
Email templates. There are lots of useful mailing templates drafted by email marketing specialists. Thus, you don't have to deal with the blank page syndrome. Instead, you have working and effective emails at your disposal right away.
Lead scoring. Not all leads are equally valuable to your business. With the lead quality check, you can focus on the leads that matter the most, when it comes to your business.
These are the most notable features of Salesflare to give you an idea of the capabilities of the tool. Besides, there are lots of other bells and whistles that make your CRM even more effective.
9. Oracle NetSuite CRM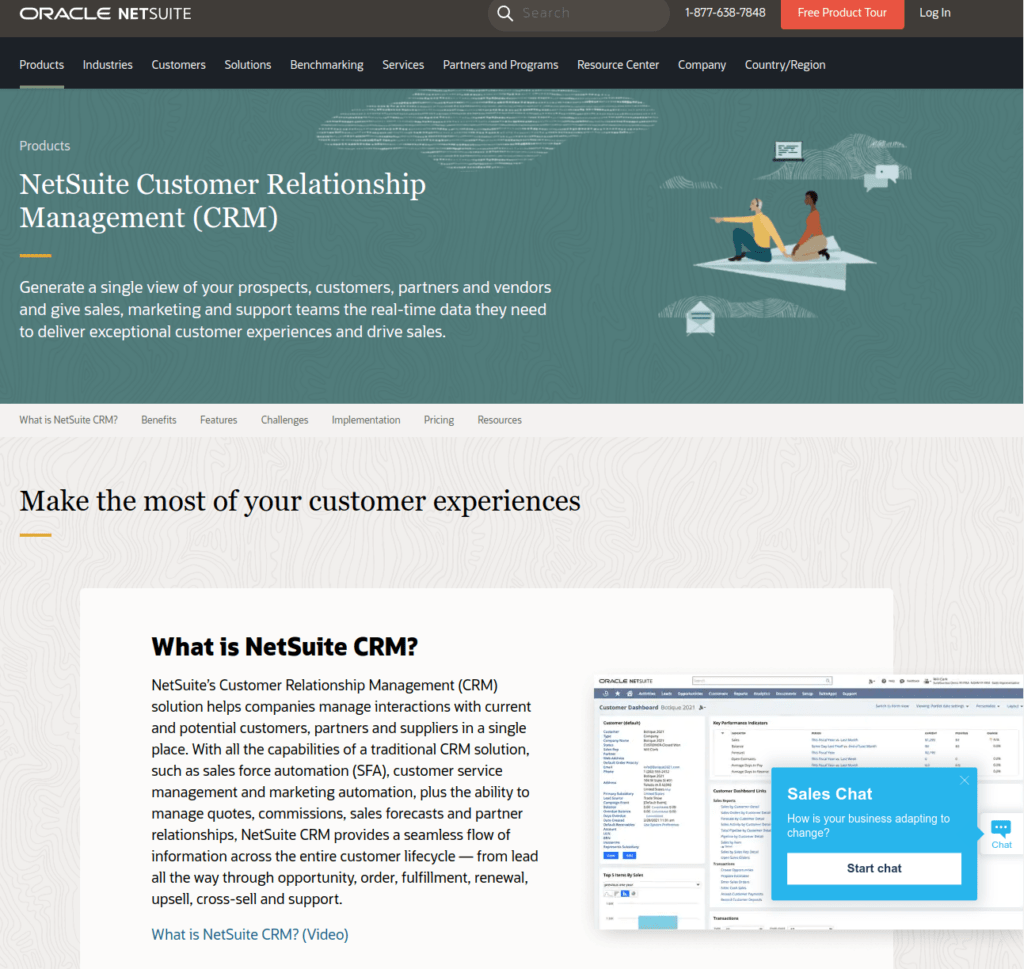 Oracle NetSuite CRM offers a complete CRM package for bigger businesses and enterprises. This tool works great for enterprises, but it's also good for smaller companies.
NetSuite makes it seamless to manage relationships with customers as well as suppliers. The real-time business tracking and reporting features give you a nice overview of the CRM processes. The visualizations are designed to be easy to digest and draw conclusions from.
Features
The highlight CRM features of NetSuite include:
Knowledge base
Customer service
Lead generation
Campaigns
Self-service transactions
Time tracking
Sales automation
Marketing automation
And much more.
These days, there are so many tools businesses use that adding a new tool without integrations would be impossible. Luckily, NetSuite comes with a well-rounded and easy-to-use set of integrations.
For example, you can couple your NetSuite with MailChimp, G-Suite, or Pardot. This way you can form unique and powerful combinations of the best business tools out there.
NetSuite CRM works everywhere. There are great native iOS and Android apps for those who happen not to be on their desktops. For example, when you are traveling or otherwise without a computer, mobile apps can help you.
The NetSuite CRM has no single pricing model. Instead, the team will tailor the best value-for-money plan based on your company's needs. To start using the tool, request a quote from the NetSuite sales team!
10. Salesmate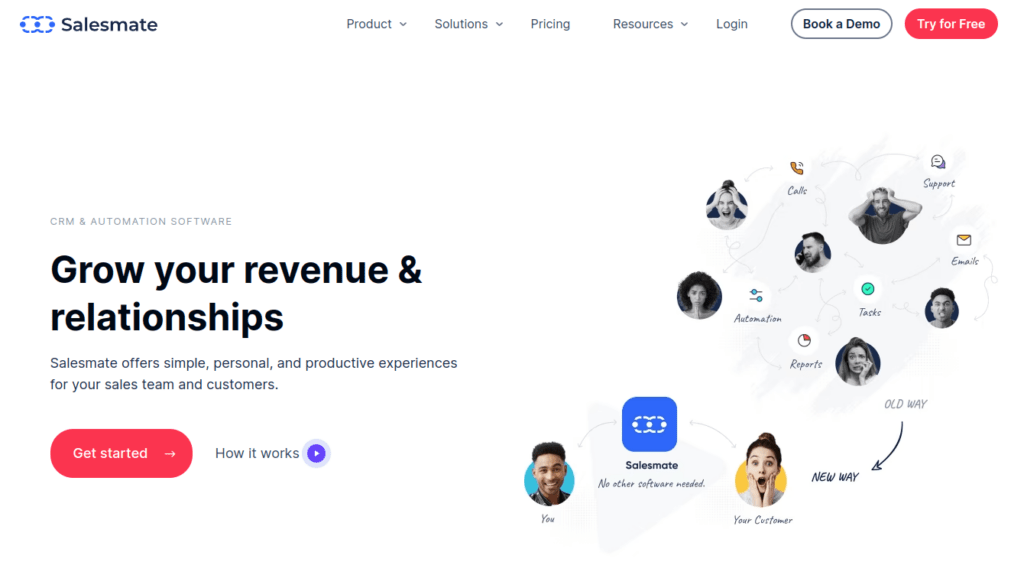 Salesmate is designated for mobile sales teams that want to close deals while keeping the customers satisfied. One of the main benefits of Salesmate is its high customizability. The tool comes with all sorts of productivity features. Also, its collaboration tools make the tool a great fit for remote sales teams and mobile sales teams.
Salesmate has no free trial available.
The prices start at $12/user/month. The Boost plan, which is the most expensive plan on the list, is $40/user/month. These plans are great and there are no too strict feature restrictions between them.
The starter plan gives you a nice and well-rounded solution for CRM. The features include:
Multi-pipeline management
Email marketing and automation
Voice and text tools
Reporting
Native mobile apps for both iOS and Android
Speaking of features, let's take a closer look at the individual features that make up the Salesmate app.
Features
Some of the most notable features include:
Sales management for managing contacts and deals throughout the customer journey
Unlimited contacts for storing any number of contacts, deals, campaigns, and more
Email marketing to manage campaigns, automate personalized messages, send emails in bulk, and create sequence campaigns
Sales automation for streamlining workflows and email campaigns
Comprehensive reports, dashboards, and metrics to get a 360-view of the campaigns and performance of your CRM
Integrations with popular and related tools, such as Zapier, Gmail, and other similar platforms
Good mobile support for making the tool easy to use for remote sales teams
Awesome voice and text features for campaigns
If you are looking to purchase an enterprise plan for Salesmate, you need to request a quote from their sales team. There is no specific pricing for enterprises. Instead, the team tailors the best plan possible to get the best value for money while maximizing growth. The negotiated price depends on things like the number of:
And other similar usages.
FAQ
Here is a list of questions related to CRM for big businesses. Make sure to read these questions as they might clarify your concerns when it comes to CRM.
What Is CRM for Big Companies?
CRM is a shorthand for Customer Relationship Management.
These days, CRM is done with the help of systems or software. CRM software automates the CRM process which saves time and cuts costs. Furthermore, an automated CRM is a more reliable way to manage customers, especially if there are thousands of them.
CRM means managing interactions with:
CRM software uses a database to store your company's customer information and interaction history with your company or products. The tool performs data analysis on this data. Based on the data analysis, the CRM tools can provide useful and practical insights into the customers. With this information, you can understand the customer base better and grow your business.
When it comes to using CRMs as a big company, you should use an enterprise CRM instead of a basic CRM. An enterprise CRM is a more well-rounded CRM tool than the basic CRM tools out there.
To make a distinction, consider this example.
A basic CRM solution knows your customer's purchase history.
An enterprise CRM tool can track the marketing campaigns that nurtured a lead to become a customer.
With an enterprise-level CRM, you can track customer acquisition costs. This can help you adjust the marketing strategies and decrease the operating expenses.
Is HubSpot Only for Large Enterprises?
No! HubSpot is a well-rounded CRM tool that offers plans for both small businesses as well as larger enterprises.
So even if you are a smaller business, make sure to give HubSpot a try!
But the reason HubSpot is #1 on this list is it's the greatest enterprise-level CRM tool hands down.
Wrap Up: What Is the Best CRM?
Today you learned about the best CRM tools for big businesses.
If you are looking to take your marketing, sales, and CRM to the next level, you should definitely choose either HubSpot or ActiveCampaign. These two tools are better by a mile as opposed to other similar tools. One thing to keep in mind is that the best solution, HubSpot is very pricey. Yet it only has 10% more features than its cheaper competitor, ActiveCampaign.
Make sure to run the numbers, pay close attention to the features, and evaluate your company's needs before spending a dime!
If you are looking for a superb solution with a bit more relaxed pricing (and slightly fewer features), then ActiveCampaign is the tool to go with. The tool costs a fraction of HubSpot and has 90% of the useful CRM features.
Besides ActiveCampaign and HubSpot, there are lots of other great tools that come close to these two. But these are more niche tools. For example, Salesforce, Pipedrive, and Salesflare.
For instance, Salesmate is a great tool for international/remote sales teams.
All in all, the tools reviewed in this list are great tools altogether. But the use cases vary based on what you are trying to accomplish and what you are ready to invest in.
I hope you were able to find the best CRM for your big company!
Thanks for reading!
Read Also
About the Author
I'm an entrepreneur and a blogger from Finland. My goal is to make coding and tech easier for you with comprehensive guides and reviews.