Choosing the right type of email deliverability tool is crucial to make emails reach your customers instead of ending up in the spam folder.
If your business is heavily dependent on email communications and campaigns, you must make sure to maximize the reach. If your emails end up in the potential customers' spam folder, there is a big chance no one will ever read them.
One of the best and easiest ways to maximize your email reach is by using an email deliverability tool to improve the chances of landing in the inbox instead of spam. With the right type of email deliverability tool, you can get valuable data and actionable insights as to how your email campaigns are performing and what to do better.
This is a comprehensive guide to choosing the best email deliverability tools.
Disclaimer: This article has affiliate links.
What Are We Looking at in This Guide?
This is a comprehensive guide to choosing the best tool for improving email deliverability. Because the guide thoroughly reviews each tool, it's a bit of a long one.
Feel free to use the links below to jump into the review of a particular tool.
Before diving into the reviews, let's take a quick look at email deliverability tools and how they can benefit your email campaigns.
Do You Need an Email Deliverability Tool?
If you are sending emails for marketing or sales purposes, you have to monitor email deliverability. There is just no way around it. To know how your email campaigns are doing, one of the key insights is how the email is delivered and how your prospects react to it.
To make a potentially successful email campaign, the important first step is to ensure your emails land in the main inbox instead of spam.
Even if you send professional and high-quality emails, you are not guaranteed to be safe!
Prospect engagement is hard to achieve. This is especially true if you are sending cold emails to a list of potential customers that don't know you in advance.
Unfortunately, low email engagement can lead to trouble. One of the most notable problems is being blocked by email service providers. You could end up having to regularly purchase a new domain to send your emails. This is not what you want.
To avoid catastrophes, you should use an email deliverability tool to monitor your mailing campaigns. With the right type of email deliverability tool, you can tell where your emails land. If there are deliverability issues, you get notified early enough to avoid problems.
The email deliverability tools introduced and reviewed in this list are easy to use and set up. Before jumping into the reviews, let's take a quick look at what email deliverability tools can and cannot do.
What Email Deliverability Tools Can Do?
Here are three key things you can do with an email deliverability tool:
Know where your emails are landing in the recipient's inbox (spam or not).
Offer insights into your email placement in the recipient's inbox.
Highlight potentially bad factors that can negatively impact your email campaign performance.
In other words, the email deliverability tools offer you actionable insights about your email campaigns.
Obviously, the deliverability tools don't operate on magic. These tools cannot guarantee to deliver all your mails or make your prospects read them. Let's have a look at what you cannot do with an email deliverability tool.
What Email Deliverability Tools Cannot Do?
There are some obvious and not-so-obvious things you cannot accomplish with an email deliverability tool. Here are a couple of things worth mentioning you cannot do with an email deliverability tool:
Prevent recipients from deleting your emails (obviously).
Stop recipients marking your emails as spam.
Gain insights into the mailing list quality.
Now that you have a better understanding of email deliverability, let's jump into the reviews of the email deliverability tools.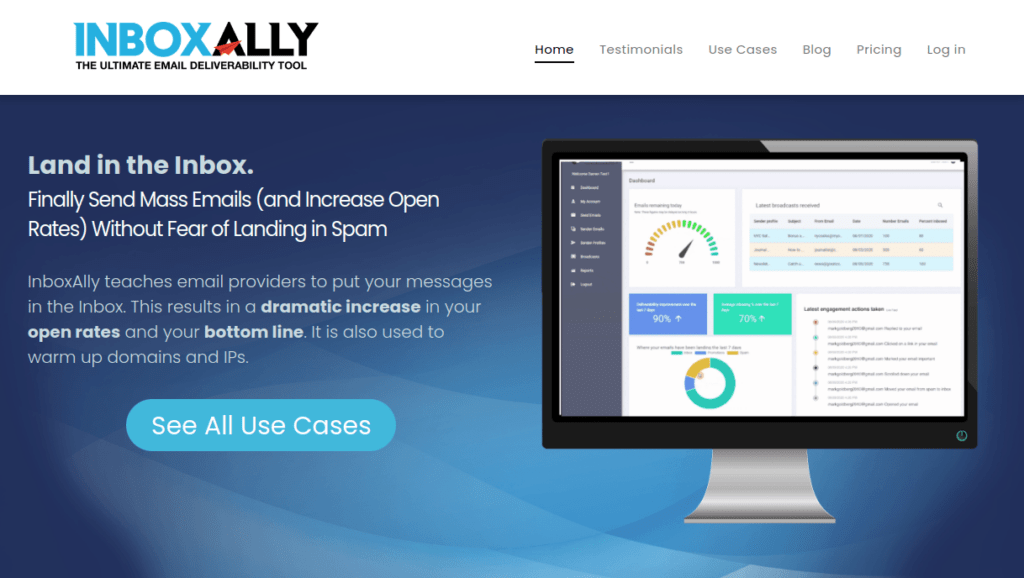 InboxAlly is the best email deliverability tool for getting out of the inbox and improving open rates.
With InboxAlly, you can send bulk emails without having the fear of landing them in the spam folder. Besides, the tool boosts your open rates. As a matter of fact, some of the InboxAlly clients have reported that their open rates have doubled in under 2 weeks of using the tool.
InboxAlly quite literally teaches email service providers to not place their emails into the spam folder.
There are multiple use cases for InboxAlly:
Get out of the spam
Warm up domain/IP address
Fix a damaged sender domain
Boost your sender's reputation
Moving to the new ESP
Sending emails that belong to an important email campaigns
Fix self-hosted email platform deliverability damaged by spammers
These and many more use cases help you get towards that 100% deliverability.
InboxAlly is a great tool for mailing list owners, agencies, deliverability experts, and email service providers.
Key Features
Real-time engagement monitoring
Track the progress of getting out of the spam folder
Overview of all the broadcasts sent
Works with any email service
Improve deliverability and reputation of any IP/domain on any platform
Schedule mails
Select timezones
Warm up your mailing domain
Works well with bigger email lists
Enterprise-level plans are available

Mail-Tester is a great email deliverability tool for testing whether your email looks spam or not.
This tool is completely free to use and easy to access. No sign-ups are required!
The idea is simple. An email service provider (ESP) tries to identify whether an email is spammy or not. Based on the classification, it then puts the mail into the main inbox or spam folder.
To make sure the latter doesn't happen, you must make sure the email doesn't look spammy. While this sounds like an easy task, you'd have to see the emails in the eyes of an ESP. This is why you can try a tool like Mail-Tester.
The Mail-Tester analyzes your emails or email templates before you send them to make sure the quality is good enough.
Mail-Tester also gives you a test email address to send emails to. The idea is you can send an email from your own inbox to this test address to see what happens. This is a great way to verify the email doesn't land in the spam folder.
Once you have sent the test mail, you get access to a score associated with the quality of the mail. Check the score and address all the potential spam-box-leading issues before using the template for actual prospects.
These four factors affect the Mail-Tester score of your email:
Content of the email (text, links, images, and so on)
DKIM, SPF, and DMARC record validity
Is your email listed in email blocklists
The number of broken links in the email
You can test your emails for free!
For example, here is an email I sent to the test address of Mail-Sender: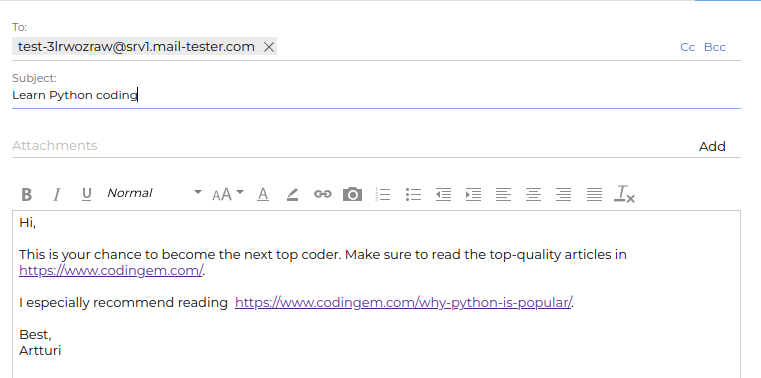 And here is the score it gave: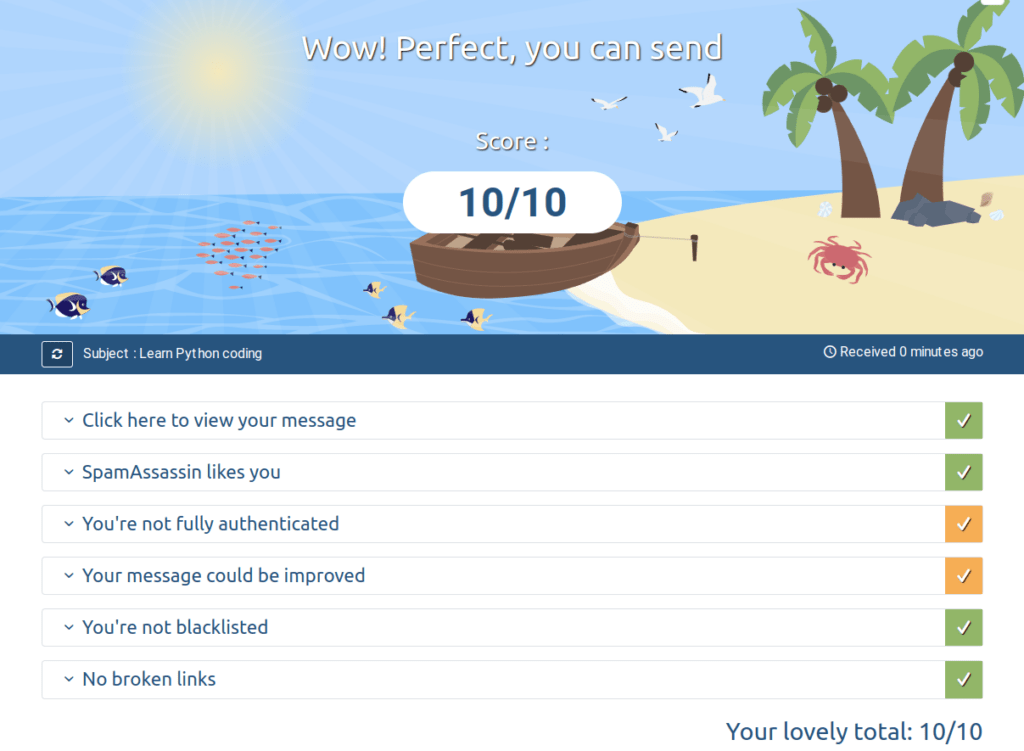 Make sure to review the factors that affect your score. Once you have made the requested changes, re-try sending the email to the test address to see if it gets a better score. Once the score is close to perfect, you can start sending emails to your prospects.
Notice that Mail-Tester Doesn't necessarily improve your email deliverability. Instead, it only highlights what you can do to improve it!
Key Features
Here are some of the key features of Mail-Tester:
The tool is entirely free!
Review the key factors that affect email deliverability
Review the technical aspects of why your emails might land in the spam
Helps you to avoid spam trigger words.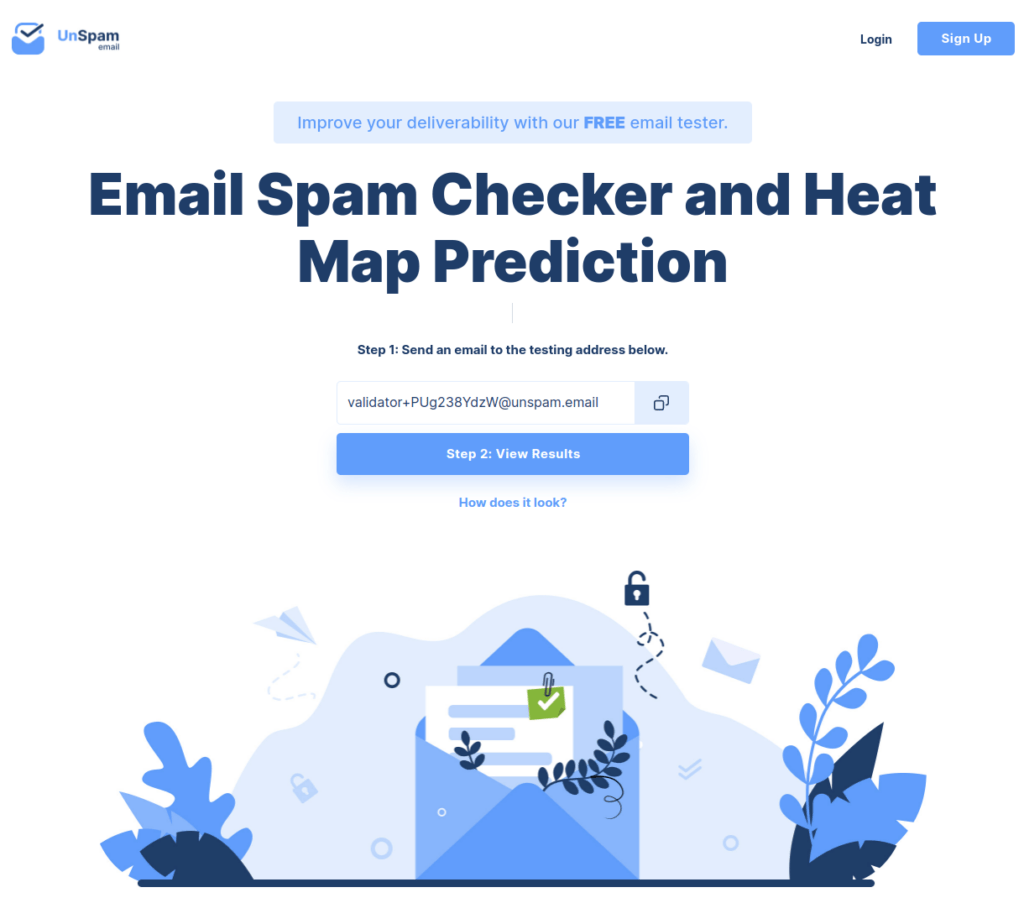 Unspam checks emails to ensure it's unlikely going to end up in the spam box.
This tool analyzes your email content and creates a detailed report about it. It takes into account factors like:
Subject line
Broken links
HTML best practices
Blacklistings
This tool is similar to the Mail-Tester introduced earlier. The tool gives you a test email address where you can send your email. After sending the email, you get access to the comprehensive report about the email.
Besides being a great tool for analyzing emails for spam characteristics, it also helps you create more powerful email campaigns. This is thanks to the eye-tracking prediction heat map. This heatmap shows you what are the most and least engaging parts of the designs. It also gives you a clarity score for telling what are the cluttered parts of your email.
This tool is free to use for 10 emails per month. For a more rigorous use, there is a paid plan that starts at $14/month.
Key Features
Email clarity score
Eye-tracking prediction heatmap for understanding engagement
IP, Domain, or email address blacklist checking
Comprehensive clarity and spam report
4. MxToolBox

MXToolBox fixes half of your deliverability issues in a blink of an eye!
This tool focuses on delivering your emails with DMARC, DKIM, SPF, and other real-time monitoring features. This tool helps you improve your domain's reputation and build trust in front of the ESPs. With MXToolBox, you gain access to valuable information, such as:
How SPF, DKIM, and DMARC are performing
What is your domain's mailing reputation
Also, you get to know whether your domain has blacklisted by ESPs, what is your email health status, and much more.
There is a free plan available. You can use it to monitor your email deliverability and blacklist monitoring. The free plan has one monitor only. Then there are two paid plans:
$129/month with 64 monitors.
$399/month with 256 monitors.
Here are the main features of MXToolBox.
Key Features
Bulk lookups that become handy when you want to access data quickly on a big email dataset.
Configurable alerts and statistics for giving access to the data in the past to make better analyses and decisions.
Keep up with the email deliverability trend. This is a constantly evolving field and the landscape changes quickly.
5. QuickMail Auto Warmer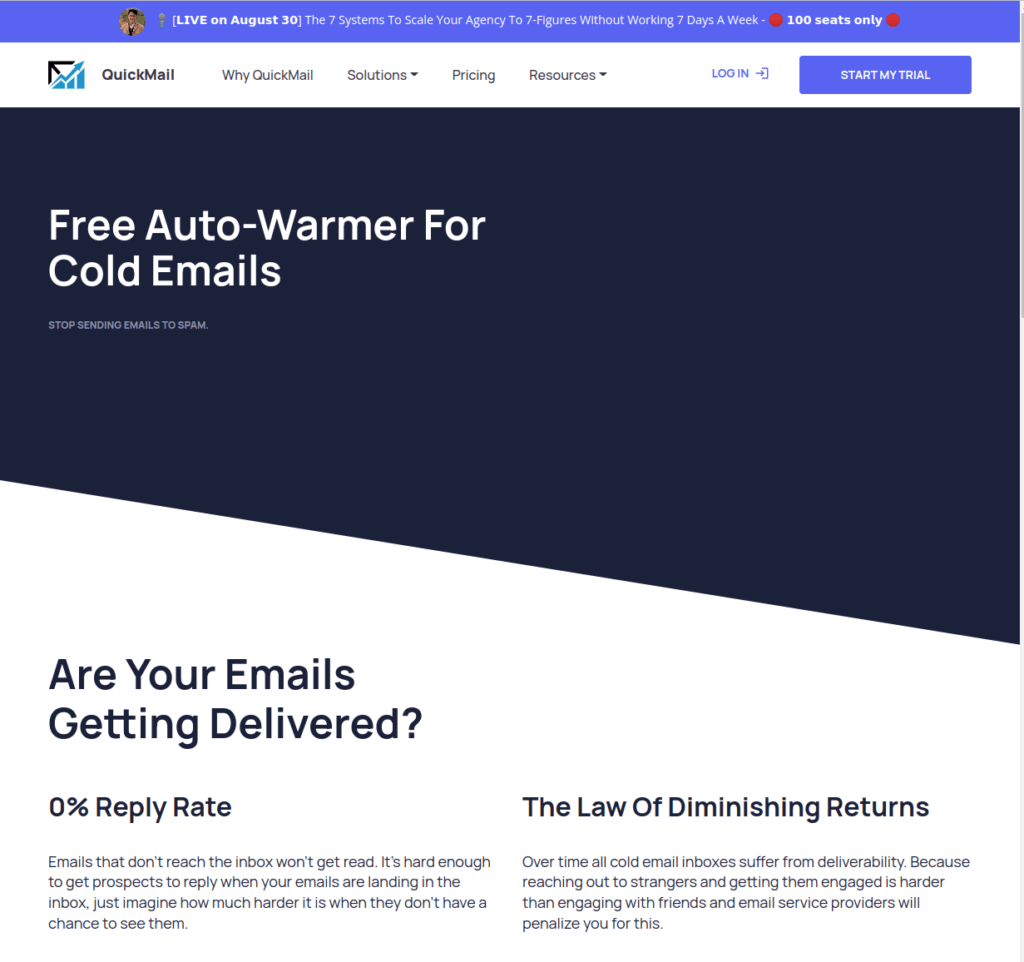 QuickMail Autom Warmer is an email deliverability tool that warms up the email inbox. This tool helps you remain out of spam and see in-depth reports and analytics related to where your emails are landing.
This tool offers you a great way to see where your emails land to improve their deliverability. The Auto Warmer is the only free email warmup tool on this list. Yet it's nearly as capable as some of the more costly options.
So if you are looking for a cheap alternative to email deliverability, perhaps you should give QuickMail Auto Warmer a try.
Let's take a look at how Auto Warmer can help you.
As stated earlier, email service providers need to trust you to land emails in the inbox instead of the spam folder. The best way to build trust in the eyes of email service providers is to show engagement. In other words, if people open and reply to your emails, it's a sign of things to come.
The Auto Warmer tool forms a network of other people using the Auto Warmer tool. It sends emails to this network and automatically opens/responds to these emails. This way your domain is seen as more trustworthy in the eyes of ESPs.
Besides building trust, the Auto Warmer tool crafts detailed reports as to where your emails land. Before starting your real email campaign, you should make sure your deliverability reports show a green flag go.
Key Features
Here are some of the most notable features in Auto Warmer:
Warm up your inbox by opening and replying to emails
Get insightful reports about where your emails land
Auto Warmer is a part of a cold email platform for strong email campaigns.
6. Spamhaus
Spamhaus is an email deliverability tool that lets you check if you are on any:
Email blocklist
IP blocklist
Domain blocklist
This tool is completely free!
Knowing this information is cool, but taking the right actions is what makes the difference. The Spamhaus tool not only warns you about being on a blocklist but also gives detailed instructions as to how you can remove yourself from one.
It's important to realize that the domain you are using may have been someone else's in the past. Even if you have never sent a single email from the domain, chances are the previous owner has. If they managed to land the domain on a blocklist, this affects you unbeknownst to you. This is why it's a great idea to use a tool like Spamhaus to make sure your domain is not blocked.
Notice that getting out of a blocklist might be tricky if you were the one who caused the domain to land there. If the previous owner of the domain was the reason for this, then it can be easier.
Anyway, Spamhaus will give you a free detailed report as to how to get rid of the blocklisting.
Key Features
Scan your domain in blocklists
Get insights as to why you are on a blocklist
Get a detailed guide on how to get removed from the blocklist
7. GlockApps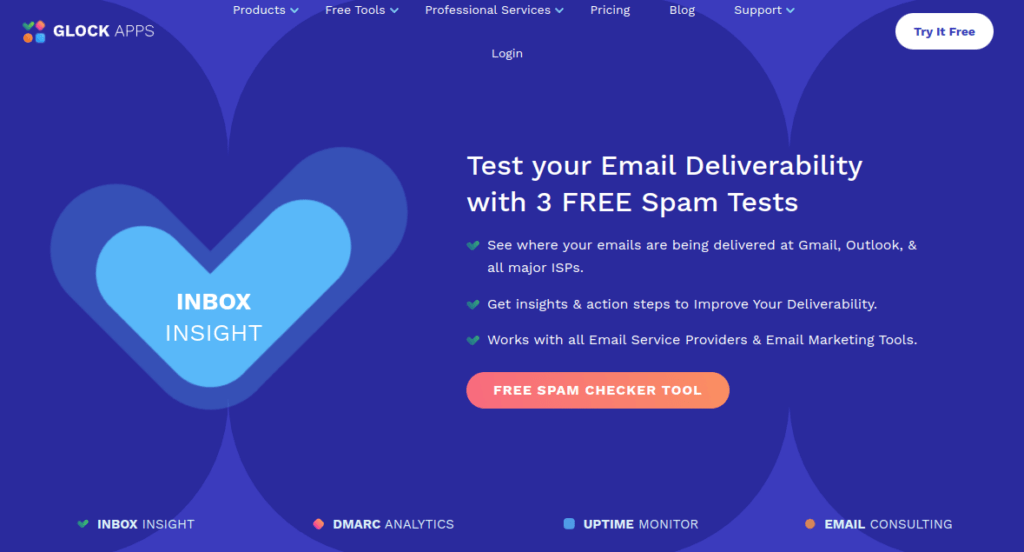 GlockApps is another email spam checking tool that helps you get your emails to where they belong, that is, the main inbox.
This tool runs your email through spam filters. The tool points out the issues that could potentially make your emails end up in the spam box.
Similar to some other tools in this list, this one works such that you send your message to a test email address. Then you receive a comprehensive report as to what's going on in your emails. With GlockApps, you also get a nice DMARC analyzer that helps you protect your domain from being spoofed or phished by malicious users.
You can use this tool for free 3 times per month. But to use it more extensively, you must pay for it. The premium plan starts at $59/month.
8. Sender Score
Sender Score is a tool whose name tells everything. This tool gives an email sender a score of the email sent. This score describes the creditability of the sender domain.
With the Sender Score, you can analyze the emails and make changes and decisions to improve the email deliverability.
The score runs from 0 to 100. The closer you are from 100 the unlikelier your emails will end up in the spam folder. The score is split as follows:
0-70: Your sender creditability requires improvements. There is a big chance of landing in the spam folder.
70-80: This is a good score. Meanwhile, your emails probably land in the main inbox, there are still some improvements to make just to be safe.
80+: Excellent score. With this reputation level, there are not really that many improvements you can do to increase the chances of landing on the main inbox.
This tool is completely free to use!
9. NeverBounce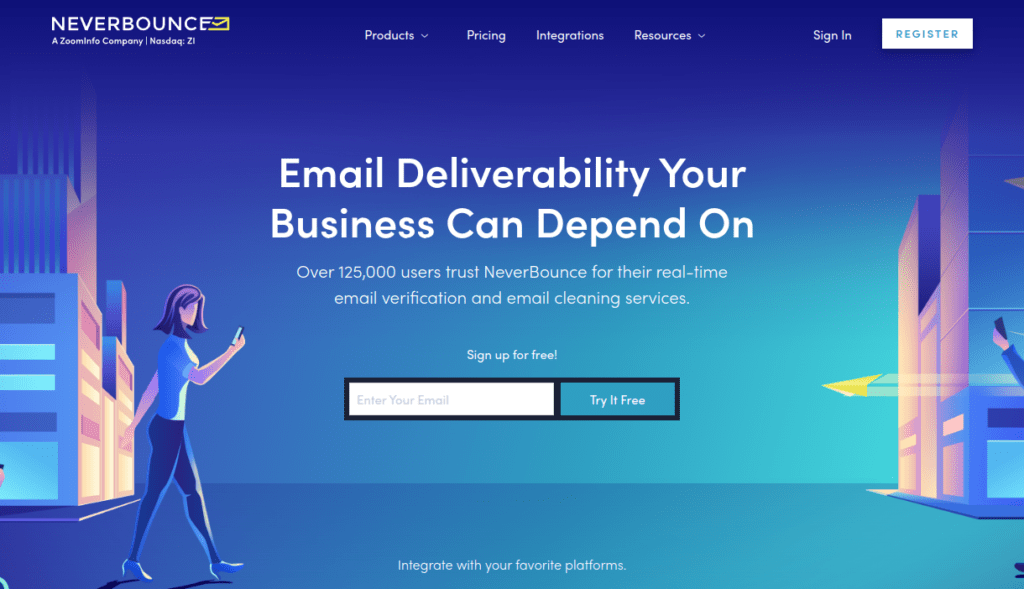 NeverBounce is a bit different email deliverability tool in this list. This list focuses on sending emails to the right addresses.
If you are using a poorly curated list of emails, there is a chance of having some wrong email addresses on the list. Sending emails to invalid addresses is obviously not a great idea because no one will ever read those.
This is where NeverBounce helps! This tool cleans up your bulky mailing lists. NeverBounce removes invalid and suspicious email addresses from the list. Besides the tool removes duplicates from the lists too! This way you don't end up sending emails twice to the same address.
NeverBounce provides you with a great instant bounce analysis. This report helps you understand the performance of your mail campaigns no matter how big of a list of recipients you are sending emails to.
Also, the tool integrates well with other platforms. There are 80+ supported integrations. This makes it easy to clean the mailing lists right the moment when you add them to the CRM system.
Summary
That's a whole lot of email deliverability software!
To take home, email deliverability is crucial in making your mailing campaigns successful. If your emails land in the spam folder, there is a 0% chance to make your campaigns effective.
The reason why emails land in the spam folder is up to the email service providers (ESPs). Some common factors are:
Trigger words that appear spammy
Broken links
Blacklisted email address
Invalid technical aspects like DMARC settings
To avoid landing in the spam folder, you can use an email deliverability tool. There are many types of deliverability tools.
The simplest ones are free and super easy to use. For example, the Mail-Tester is a simple online email deliverability tool for testing the appearance of the email as well as the technical factors. But this tool doesn't necessarily improve the deliverability. You still have to do the changes yourself. Also, you will gain no insight as to where the email lands in the recipient's mailbox.
To take a step further, there are advanced paid deliverability tools that can do more. For example, InboxAlly is a complete email deliverability solution for more rigorous mailers. This solution works for big email lists. The tool provides you with actionable insights, blacklist information, warmups, and much more to make your emails deliver.
If you are sending emails on a regular, I suggest trying a paid tool like InboxAlly. Not only does it improve your emails but also allows for collecting valuable engagement data. For example, you can check if your emails are opened, and responded to, and where they land in the recipient's mailbox.
Thanks for reading! I hope your emails don't land in the spam folder anymore!
Read Also
About the Author
I'm an entrepreneur and a blogger from Finland. My goal is to make coding and tech easier for you with comprehensive guides and reviews.