Choosing the best NFT art generating tool can be a great way to boost your productivity and creativity when building your NFT art collection.
Although not mandatory, these tools can help you get started with creating art regardless of whether you are a professional or beginner creator. NFT generating tools use AI and other technologies to generate the NFT art on your behalf.
More importantly, by using NFT-generating tools, you don't have to learn coding to create and publish NFTs.
Disclaimer: This post has affiliate links at no cost to you.
What Are We Looking at in This Guide?
This is a comprehensive guide to choosing the best NFT art-generating tool.
You may want to use these tools if you are:
Looking to create beautiful NFT imagery without design experience.
Looking to build big NFT collections and doesn't know how to code.
Looking to launch your NFT collection to an NFT marketplace without having to write code.
This guide introduces you to tools that do the hard work for you. The NFT art generators in this guide use AI and art templates for generating images. And to build the NFT collections, the tools use pre-coded algorithms to randomize the NFT image layers for you. This means you don't need to learn how to code to create and launch NFTs.
For some, using AI to generate NFT art can feel limited. You have little to no control as to what the art ends up looking like. To create NFTs from scratch with full customizability, then you have to manually do the design process.
But you'll still benefit from using NFT-generating tools because they let you skip the coding phase when creating and publishing NFTs. So even if you have the NFT image layers, you should check these tools for combining the layers to form NFT collections.
The Tools Introduced in This List
This is a comprehensive guide to choosing the best NFT art-generating tool. Because the guide is a lengthy one, you can use the links below to jump into the review of a particular tool.
Let's get into it!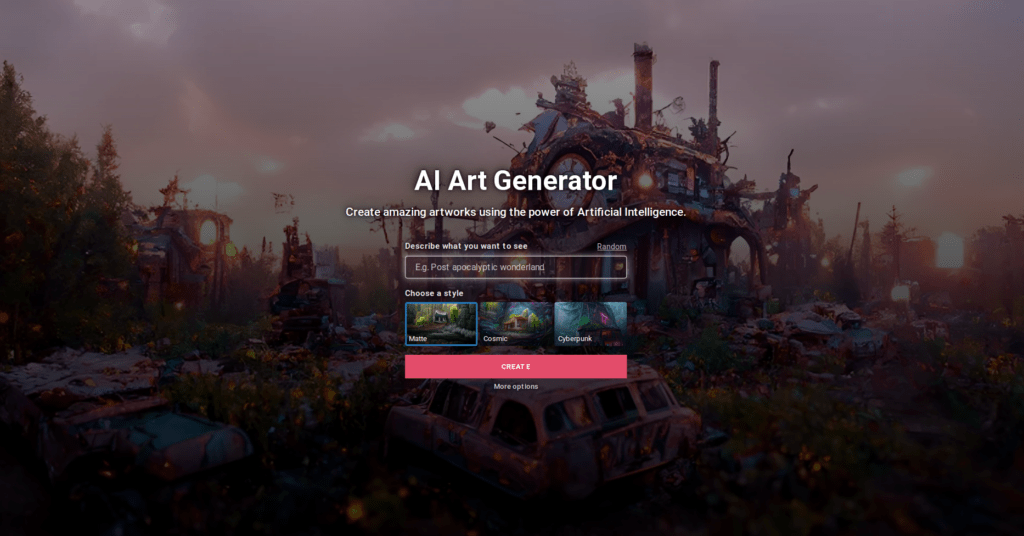 NightCafe Studio is one of the best NFT-generating tools for creating wonderful NFT imagery from text input. This tool represents the new wave of AI art generation tools that are taking over the art space.
You can create NFT images in two ways.
Here is the first method:
Enter a text prompt into the tool from your deepest imagination (e.g. "Post-apocalyptic wonderland")
Let the tool generate an image for you
Mint the image as an NFT on an NFT marketplace.
And here's the second one:
Upload an image to the software.
Give it a text prompt.
Let the tool generate an output image based on your input image and text.
Mint the image as an NFT on an NFT marketplace.
Notice that this tool doesn't allow to directly mint NFTs. You have to export the imagery and use a separate solution.
The best part is you can try this tool for free. Also, if you purchase credits with my links, you get a 5% discount!
NightCafe Creator specializes in creating bulk NFT art. With this tool, it's easy to take a whole bunch of images and convert them into NFT art in a blink of an eye.
Key Features
Let's take a look at the standout features of NightCafe
Easy-to-use interface
AI NFT art generation capabilities
High-detail results
Bulk art mode
There is a free edit option available
Works for both desktop and mobile devices
Pros
The tool is easy to use. Besides, there is a great free trial you can use without signing up or entering credit card info!
You can use the latest state-of-art AI algorithms to generate art from the text.
The images are generated to look like something a real artist might have created. Also, the art is unique and creative.
Cons
You have to purchase credits to create more images.
The tool isn't good for creating NFT collections of dozens of images. For this niche, you should check the next tools on this list.
Pricing
You can try the tool for free. To continue creating NFT art, you need to pay for credits.
Best for generating and deploying unlimited NFT collections.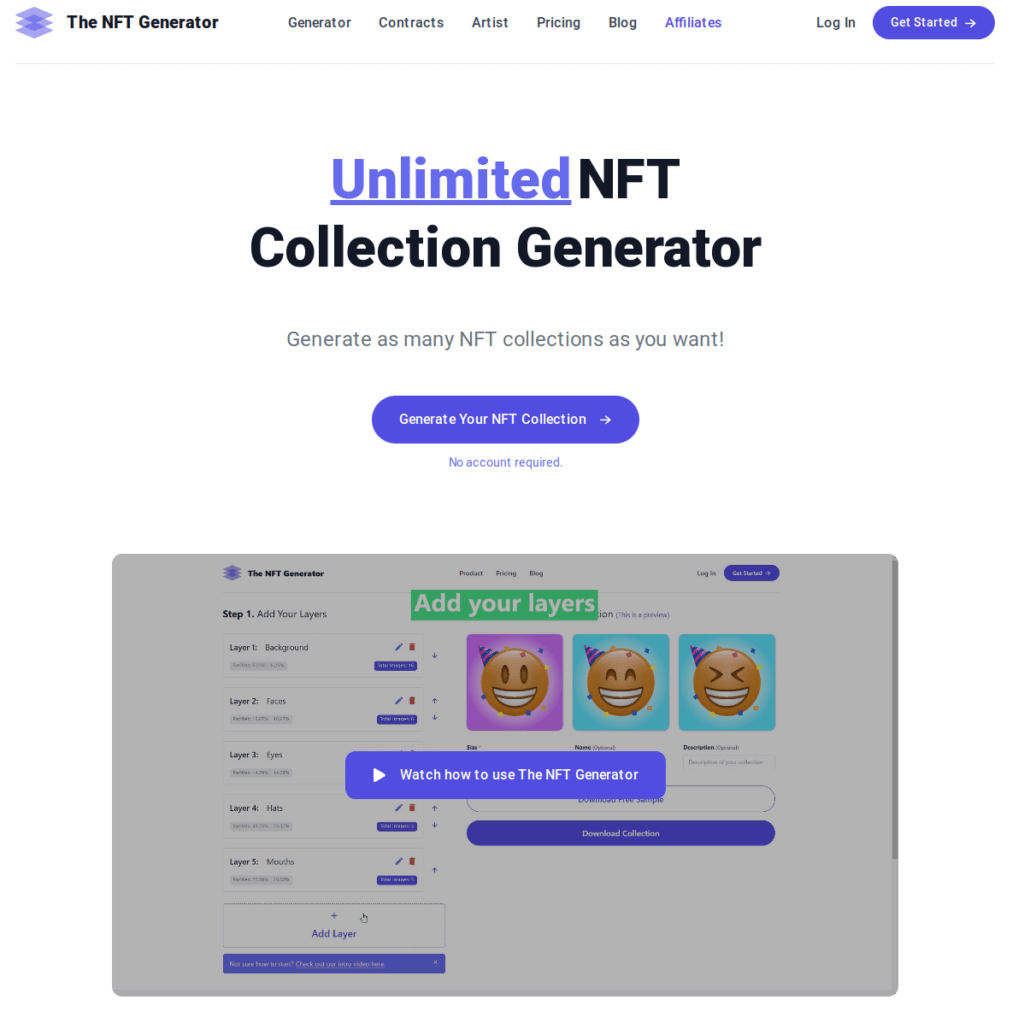 The NFT Generator is the top solution for easily generating NFT collections. This tool specializes in creating NFT collections, which is one of the most popular types of NFTs today.
As you may already know, NFT collection figures are made up of layers that are randomly shuffled and placed on top of one another.
Your typical NFT collection has thousands of NFTs. To randomize such a big number of images would take weeks of manual labor. Furthermore, you'd need to make sure the metadata is accurate and valid. Last but not least, you would also need to deploy your collection to a blockchain by writing some tricky lines of code.
But there is an easier way.
The NFT Generator is the #1 tool that automatizes the NFT art generation process. It requires absolutely no coding skills for you to work with.
The NFT Generator is easy to use. All you need is the layers of your NFTs. You can let the tool take care of the rest.
All you need to do is:
Add your NFT collection layers to the tool. By the way, you can try this without even signing up for the tool!
Let the tool randomize a huge collection of NFT art.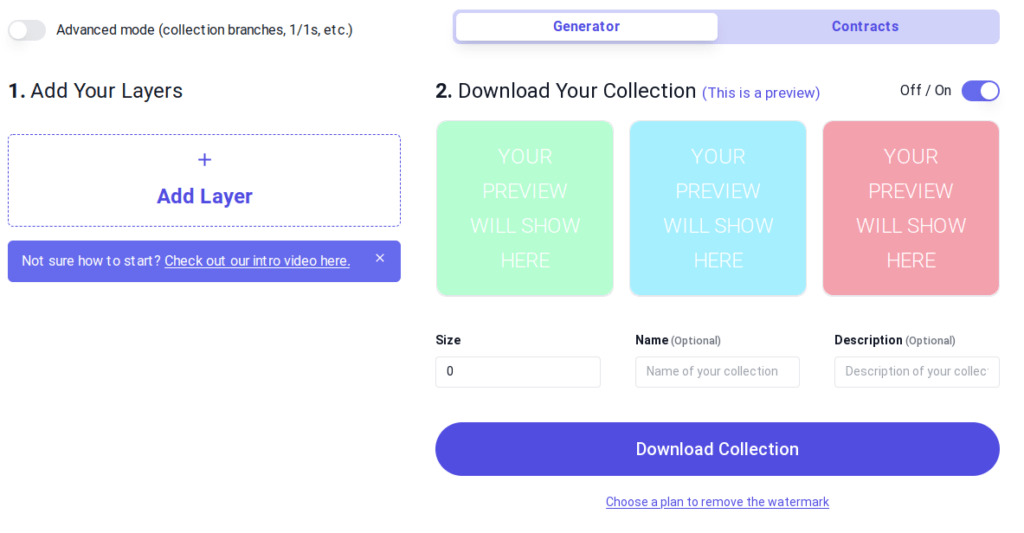 By the way, if you haven't designed your NFT layers yet, it's good to understand you cannot do it in this tool. You need to use a separate solution to create the layers. Further down this list, you find tools for generating NFT imagery. Also, you can read the best NFT design tools.
But how about publishing NFTs? The NFT Generator has got your back!
To go live with your NFT collection, you need to deploy it to a blockchain as a smart contract. To do this, you need to connect your crypto wallet to The NFT Generator.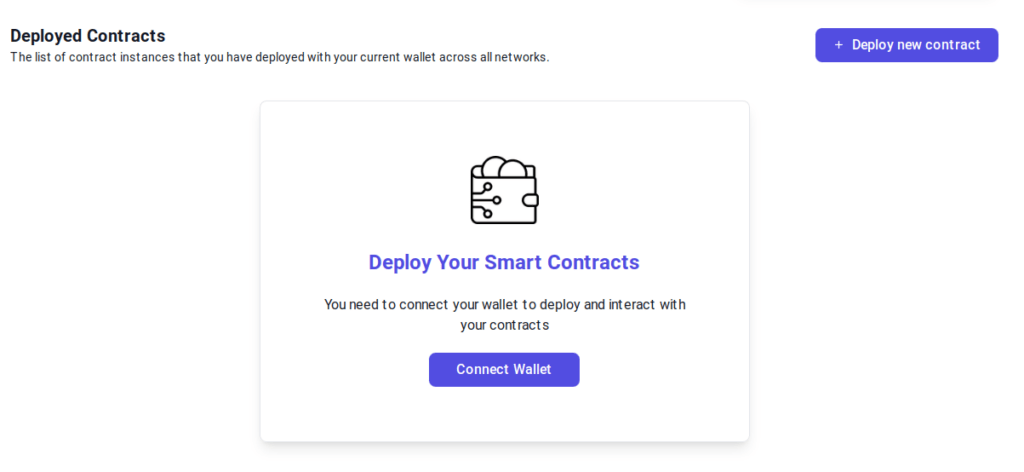 Overall, The NFT Generator is a great tool for taking care of the technical aspects of generating NFT collections. The tool generates up to 10,000 NFT collection figures based on the layers you give it. It also lets you deploy the NFTs to a blockchain to go live with the collection.
Key Features
Here are the most notable features of The NFT Generator.
Rarity configurations
Metadata generation
Preview collections
Customer support
No sign-up required
Unlimited NFT collections
Free trial
Deploy NFTs to blockchain
Pricing
You can try The NFT Generator for free.
To create an unlimited number of NFT collections, you need to subscribe to a paid plan.
The pricing of The NFT Generator is based on the billing period. The annual billing is the cheapest and the monthly plan is the most expensive as time goes on.
Annual: $49/month
Quarterly: $79/month
Monthly: $99/month
3. Appy Pie NFT Generator
Best all-in-one solution for designing, generating, and deploying NFTs.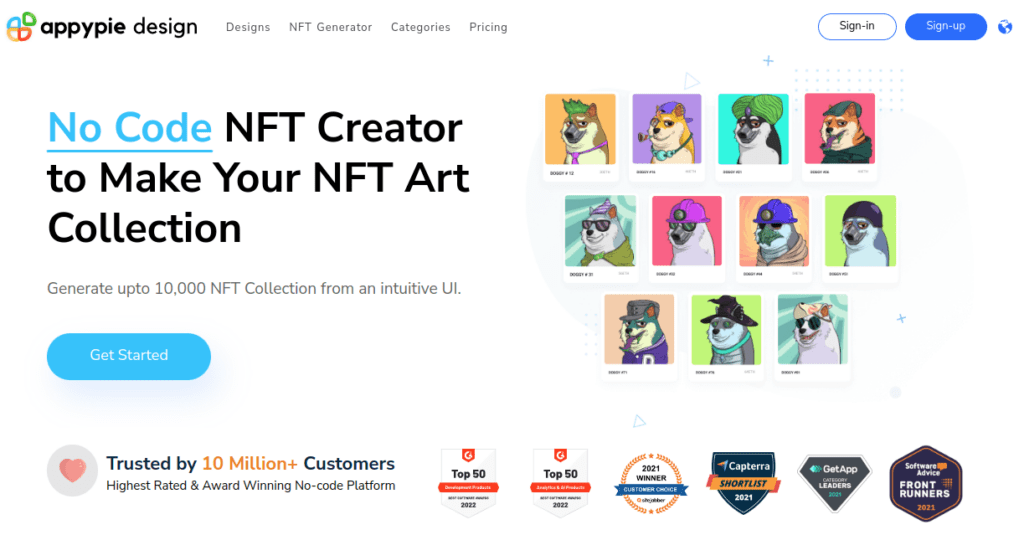 Appy Pie NFT generator is an all-in-one NFT art generator from start to finish. This tool is easy to use and suits well beginners with no coding, design, or any other NFT experience.
The best part is you can use the tool for free to generate the NFT art. You can turn your images to NFTs in a matter of a couple of mouse clicks. Besides, you can use the NFT collection templates to generate NFTs from complete scratch.
To launch the NFT collection, you need to subscribe to the paid plan, which is very affordable.
The Appy Pie NFT Generator is a great tool for someone who is looking to go through the entire NFT creation process from designs to launch.
There are also some great collaboration features built into Appy Pie. This makes it easy for you to work with the NFTs as a team.
Key Features
Free NFT generation (Basic Plan)
7-day free trial for the Pro plan
Simple and easy-to-use interface
Integrations for launching NFTs on different blockchains
Collaboration features
A well-known brand
Pricing
Basic Plan: Free!
Like A Pro: $6/month (7-day free trial)
4. Hotpot.ai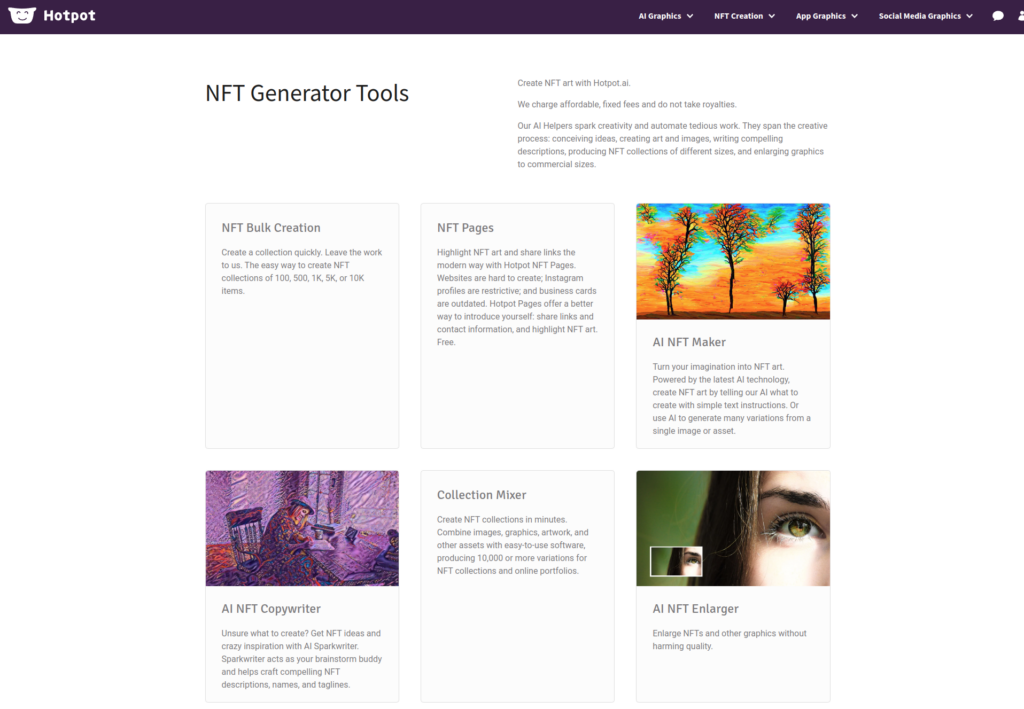 Hotpot.ai is a graphic design tool that has great NFT art capabilities.
This tool uses the latest advancements in AI technology to turn your imaginations into NFTs. You can use Hotpot.ai to generate single NFT art images or mass-produce NFTs in bulk mode. The latter option is great for those looking to generate NFT collections.
With Hotpot, you cannot launch your NFTs. To do this, you need to use another tool like The NFT Generator we introduced earlier.
Key Features
NFT collection generator
NFT art generator
NFT sharpening features
NFT collection tools
Pricing
To access the full features and generate NFTs, you need to purchase credits. The pricing is $1/generated graphic.
5. SketchAR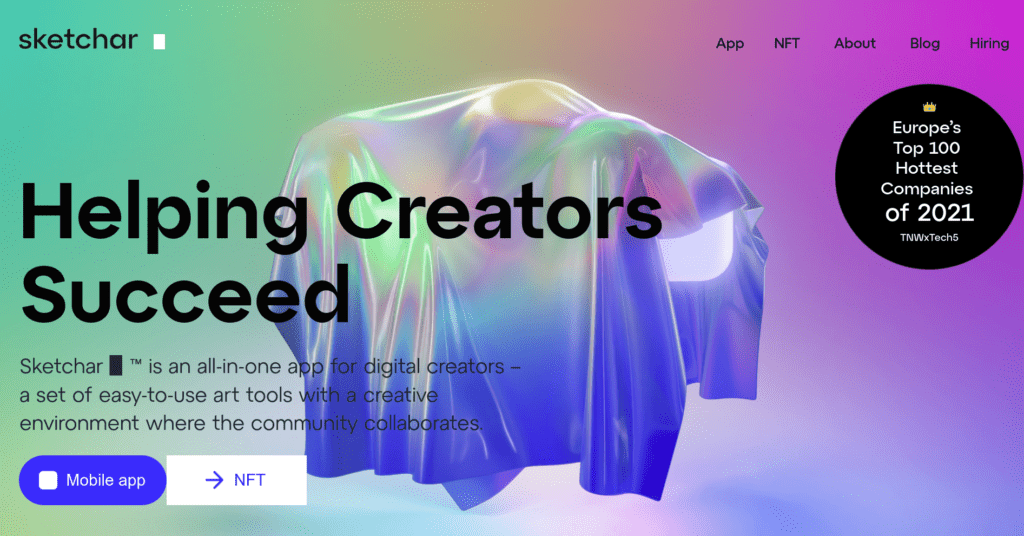 SketchAR is a mobile app for generating NFTs. This AI-powered tool is great for creators who are looking to convert digital images to NFT art. The tool uses the latest advancements in AI to turn your images into fancy NFT art.
What makes this tool unique is that it lets you add images to augmented reality art. Besides, there is an easy-to-use hand drawing tool for creating digital art. Then there is also a great online community where you can share your ideas and work and get inspired by other creators.
One of the limitations of SketchAR is that there are not that many art templates to choose from.
Key Features
Mobile app only
AR and AI capabilities for adding cool art to your NFT art
Submit NFTs to popular NFT marketplaces
Great and mature community
Pricing
SketchAR is free to use. (If you choose to launch your NFTs, you naturally need to pay, but this is the same for every tool.)
6. Fotor

Fotor is one of the best NFT art-generating tools out there. This tool makes it easy to enter into the NFT art space as it's easy to use and try.
Fotor uses state-of-the-art AI algorithms to create digital NFT art in a matter of a couple of mouse clicks.
Practically, there is no learning curve to using this tool. This is thanks to the AI that powers the entire digital art creation process.
Similar to NightCafe, and some other tools in this list, the Fotor NFT art generator follows a simple workflow:
Upload an image to the server.
Choose the style of art you want to convert the image to.
Let the AI create and render the images.
Meanwhile, the customization capabilities are limited due to AI doing the work, you can do some simple effects, such as brushing and adding personal touches.
Unlike many other NFT tools, Fotor doesn't require you to sign up to use the tool. This makes it even easier to get started with NFT arts.
Key Features
No learning curve
Easy to use UI
Free use without registration
Add basic final touches
Pre-built art templates
Pricing
The NFT creator is free to use!
What Makes a Good NFT Art Generator?
Assuming you have never created, launched, or designed NFTs, pay attention to these features when choosing an NFT art generator.
1. User Friendliness
If you are new to the NFT art design process, make sure the tool you choose is easy to use and try.
You don't want to start with a professional design tool that takes weeks to learn. This is because if you end up not liking the NFT creation process, you haven't wasted too much time on it.
The best tools in this list use AI to generate NFTs. These tools are super easy to use. It literally takes a minute or two to generate unique and great-looking art for your NFT collections.
2. Mobile-Friendliness
If you want to build NFT art wherever you are, make sure the tool is available as a mobile app. Or at least make sure you can use the web app nicely on a mobile device.
But if you want to do the design solely by using a desktop, then mobile friendliness is not that important an aspect.
3. Editing Capabilities
Let's face it. Using an art generator that relies on an AI algorithm or art templates doesn't reflect your unique style and vision.
To build art that stands out, it needs to be unique. If you use a tool that thousands of others are using, there is a chance your art ends up looking like others. This is not what you want.
Make sure the NFT generating tool has at least some basic editing capabilities. This way you can add your unique tone to the generated imagery.
4. Pre-Built Templates
To make the NFT art generation process streamlined, make sure the tool you use has pre-built templates and assets. This way, you don't need to start from scratch. Instead, you can get a head start by using already-made art.
The problem with this approach is your art ends up looking a lot like other creators'. But this is the drawback of using an NFT art generator you have to accept. As stated earlier, if the tool has some editing options, it's less likely your art ends up looking too generic
5. Get Rid of Watermarks
Some NFT generating tools let you export your art for free. But there is a watermark in the images. Before spending time on a free NFT generator, make sure it doesn't include watermarks. At least, make sure the watermark isn't expensive to get rid of!
6. Pricing
Speaking of pricing, make sure not to overpay for generated NFT art.
Yes, it's cool to be able to generate NFT art in a matter of minutes but it's not something you should invest too heavily in.
As stated earlier, NFT art can be anything digital such as an image, video, or song. Even though the AI-powered NFT art generators are impressive, you can create NFT art images for free by spending some time. Thus, it makes no sense to pay too much for generated NFTs.
Luckily, the tools in this list are either free or very affordable.
FAQ
What Is NFT?
NFT stands for Non-Fungible Token. NFT can be anything digital or non-digital, such as an image, video, or song.
NFT is like a digital one-of-a-kind playing card. It's a token that lives on the internet.
To understand the word non-fungible, let's start with the word fungible. If something is fungible, it means it's exchangeable. For example, a dollar bill is an example of something fungible. If I give you a dollar bill and you give me a different dollar bill, the value is still the same for both of us.
The word non-fungible means something that cannot be replaced. A close real-world analogy for non-fungible tokens would a pet such as a dog. Even though there are many similar-looking dogs out there, your own dog is unique. It cannot be replaced by another same-looking one.
This is the idea of a non-fungible token or NFT. But instead of being something physical, an NFT is a digital piece of art. An NFT has a unique identifier that is acknowledged by an entire blockchain network. This makes the ownership unbreakable.
When you purchase an NFT, you become the true owner of that piece verified by the whole network.
If someone takes a screenshot of your NFT and turns it into their own NFT, it is going to have a different unique identifier. This means the copied NFT is a different NFT than the piece you have.
By the way, if you are not familiar with NFTs or want to recap the whole crypto thing, make sure to read What Is NFT.
What Is NFT Art?
Anything digital can be an NFT. It can be a video, image, song, signature, or anything similar.
But one of the most popular types of NFT art is images. More specifically, NFT collections are trendy.
In an NFT collection, there are typically hundreds or thousands of cartoon characters. Each character looks similar but they have different traits, such as hats, eyewear, and other clothing.
The value of NFT collections lies in the rarity level of the characters. If there is a popular NFT collection of 10,000 cartoon dogs, and only one of them has a cigarette, that one might cost a fortune thanks to its rarity.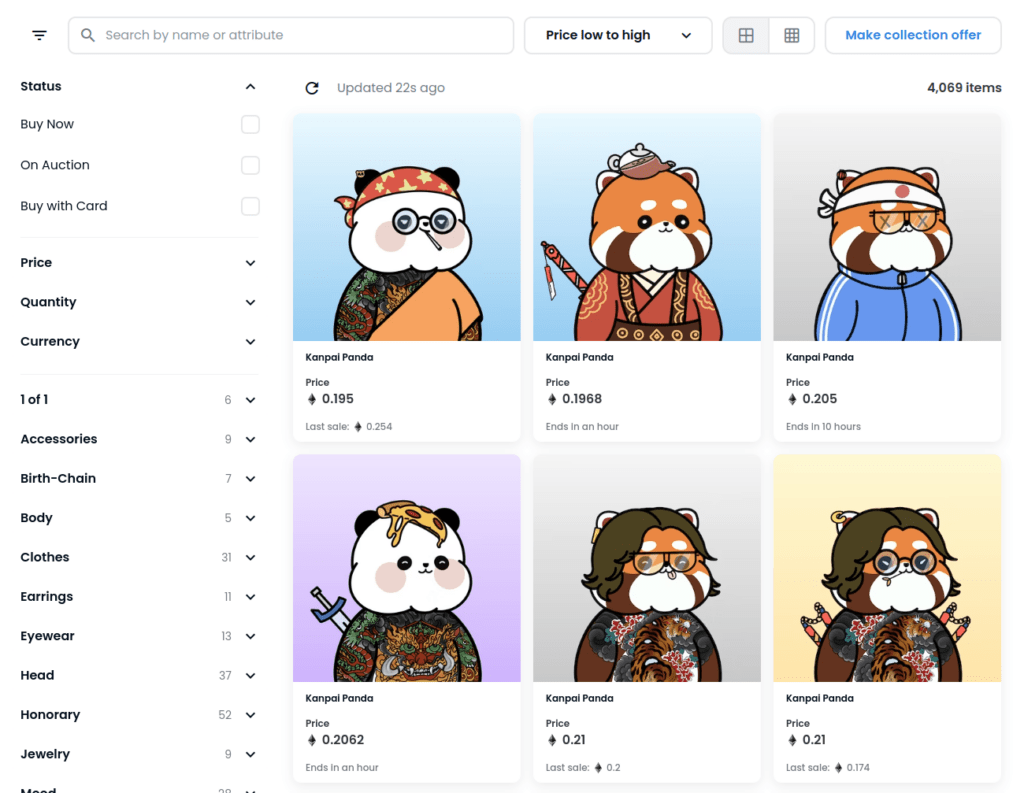 How Do NFT Art Generation Tools Work?
To generate an NFT image, you can use any photo-editing or generating tools, such as Photoshop or Illustrator. This is because an NFT is nothing but a piece of digital art, such as a regular image, video, or song.
But why use an NFT generating tool then?
First of all, the NFT generating tools use AI to generate cool-looking art images. This helps you design great-looking art in a matter of minutes without any background in design.
But using AI to generate images has nothing to do with NFTs. An AI-generated image is nothing but a regular image.
But to turn an image into NFT, you need to launch it into a blockchain like Ethereum. This requires technical skills and is daunting for the less technically oriented.
This is where NFT generating tools help.
NFT art generating tools prepare the generated art to "NFT format". In other words, the tools assign all the necessary metadata to the images. Without an NFT generating tool, this part would require a lot of manual work or coding skills.
Also, if you are looking to build NFT collections, an NFT art generation can be of great use. The tools randomize the image layers to form huge collections of 10,000 NFT characters. This would also require coding skills or manual work if no tool was used.
Do You Need Coding Skills to Create NFTs?
If you are not using an NFT art generating tool, then you need some coding skills.
For example, to create an NFT collection, you need to:
Design the image layers (body parts and clothing of the NFT characters).
Code the randomization algorithm to form thousands of randomized images based on the layers.
Code the NFT collection into the blockchain to make a launch.
But with a proper NFT art generation tool, you don't need to pay attention to any of these, or at least the last two phases that involve coding.
Wrap Up
That is a whole bunch of NFT generation software!
To recap, NFT stands for non-fungible token. It's like a one-of-a-kind playing card.
An NFT can be anything digital, such as music, videos, or images. You can for example take your last photo on your camera roll and turn it into an NFT. However, that would probably not create the buzz you dreamed of.
Even though anything digital can be turned into NFTs, at the moment it is the NFT images that are trendy.
To design NFT art, you need to possess some basic design skills. OR you can use NFT art generators with absolutely no design experience.
This guide showed you some of the best NFT generating tools for creating unique and outstanding NFT images.
The best overall solution to easily create and release NFTs is by using a tool called The NFT Generator. This tool makes it easy to generate NFT art with little to no experience required.
Besides, there are lots of great free tools for generating NFT art using AI. For example, the NightCafe Creator lets you generate NFT art with a couple of mouse clicks.
Thanks for reading!
Read Also
About the Author
I'm an entrepreneur and a blogger from Finland. My goal is to make coding and tech easier for you with comprehensive guides and reviews.