One of the main steps in the NFT business is designing compelling NFTs to attract digital art enthusiasts.
This is a comprehensive list of the best NFT design software.
These tools help you create professional-looking digital art at scale.
Disclosure: I may receive affiliate compensation for some of the links below at no cost to you.
10 Best NFT Design & Creation Tools
Here is a quick look at the tools introduced in this article. You will find reviews of each tool below.
What Is an NFT?
NFT stands for Non-Fungible Token. It is like a one-of-a-kind playing card that cannot be replaced.
In recent years, NFTs have become a popular form of digital art.
The idea is to add digital art, such as an image, to the Ethereum blockchain. This piece of art is assigned a unique ID in the blockchain that the whole blockchain acknowledges.
You can exchange NFTs in marketplaces such as opensea.io.
If you buy a piece of NFT, you become the one and only owner of it.
The ownership of something is what makes the entire NFT thing gain so much traction. Just like owning a unique piece of regular art, owning a unique digital piece of art can be of interest to someone.
Although NFTs can be anything like music, videos, animations, or images, the most popular types of NFTs involve images and collections of cool-looking designs.
To create an attractive piece of NFT, you need to know how to design one. Luckily, there are lots of tools that can help you in the process.
Best NFT Art Design Software
Here are the best NFT design tools in the market. Some of the tools are paid, some have a free trial and some are completely free.
Without further ado, let's get to the list and reviews.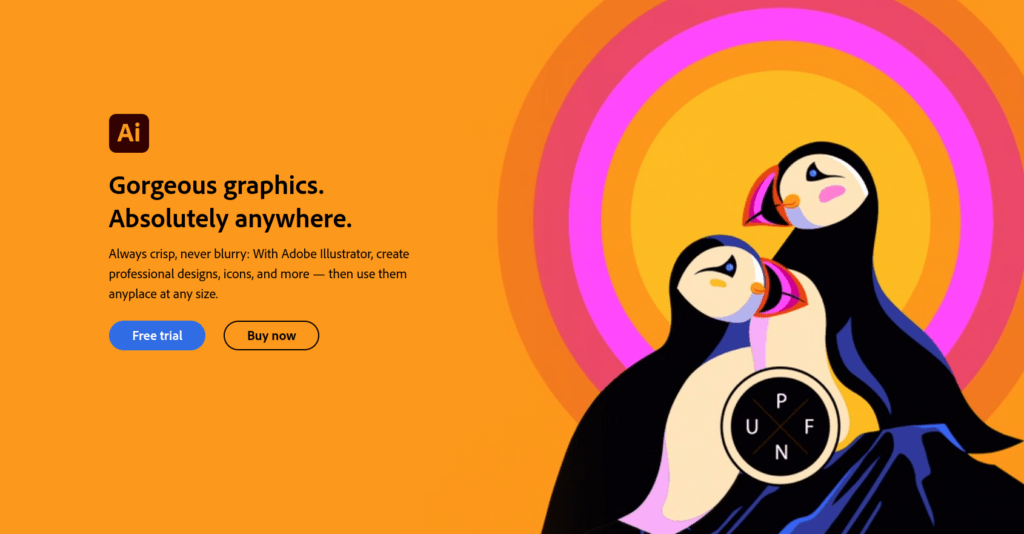 Adobe Illustrator is the graphic designer's go-to software that has been an industry leader for years.
Illustrator is a tool for design professionals. It comes with a ton of useful features you can use to make your design stand out from the masses.
For example, you can create icons, logos, web graphics, and more.
Illustrator is the overall greatest option to design any kind of digital art. This includes NFTs.
As you learned, NFT can be anything digital, such as an image, song, video, or animation. When it comes to the design process of NFTs, you need to make sure the artwork has a unique tone and style to it. In addition, it must look professional. Otherwise, no one will be interested in purchasing the artwork in the future.
This is why you should learn how to use Illustrator.
You can then use it for much more than designing NFTs too!
Pros
Illustrator is a professional tool for outstanding designs
Great 3D effects
Great tutorials and an in-app learning panel
Knowing how to use Illustrator is an in-demand skill in the design job market
Cons
Steep learning curve
Takes up space in your system
My Take
Adobe Illustrator is the go-to software for any kind of digital design, be it NFTs, websites, logos, or anything similar.
Learning how to use Illustrator like a pro takes a long time. However, if you are serious about the design process, you need to learn how to use a professional tool like Illustrator.
Knowing how to use Illustrator is a valuable skill in the job market as well. Even if you ended up not designing NFTs, you can still greatly benefit from Illustrator.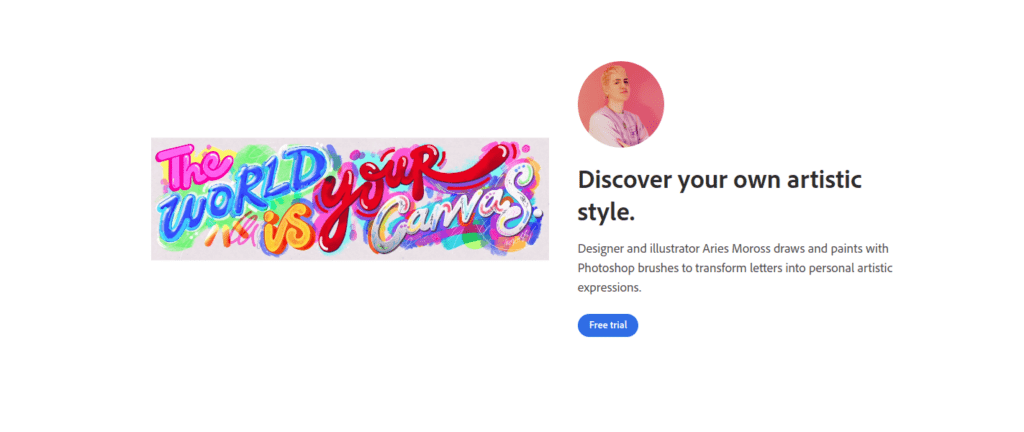 Adobe Photoshop is the de-facto photo editing software today.
You can use its well-known features to produce awesome graphics and rich art for your images.
Because NFTs are usually artistic images, it is a great time to start learning how to use Photoshop.
As you learned, NFT can be an image, video, animation, or anything digital. If you want to create an image NFT, you can use Photoshop to edit the image before minting them into a blockchain as NFT.
Similar to Illustrator, Photoshop is a professional tool, and using it is a valuable skill in the job market too.
Pros
Great image-editing capabilities
Big community and lots of tutorials
Understanding Photoshop is a high-demand skill
Cons
A steep learning curve
Takes up space on your device
My Take
Using Photoshop to edit NFT images is a great way to give them a unique look.
Although learning Photoshop takes a while, it is worth it if you are serious about NFT design. Even if you didn't publish your NFTs, you will still vastly benefit from using Photoshop as a designer or artist.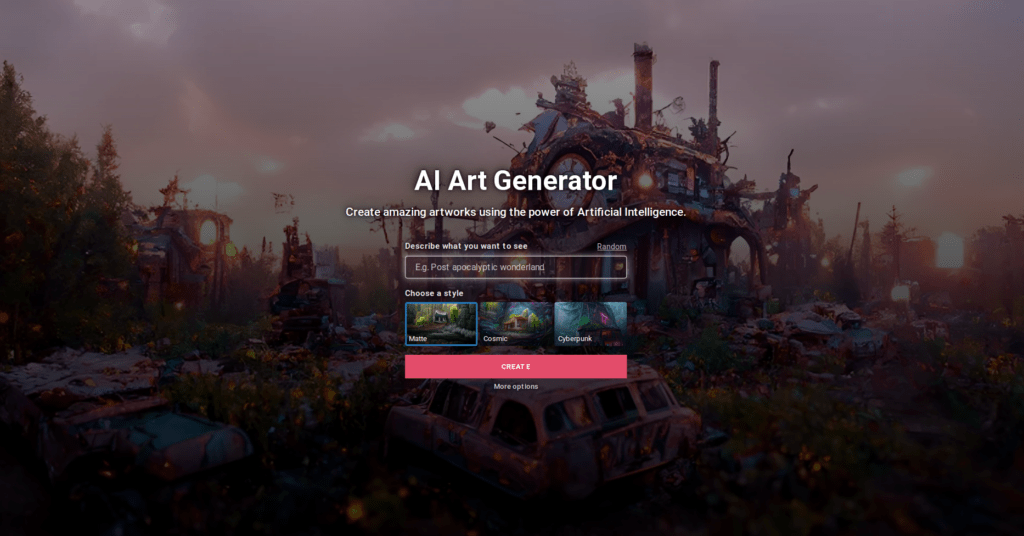 NightCafe is NFT design software that makes it possible to create NFTs as bulk creatives efficiently. This tool is powered by the latest advancements in AI.
With NightCafe, you have two options:
Create an image by giving it a text input
Turn your images into digital art masterpieces
After using the tool, you can decide to release your artwork as an NFT for sale.
For example, I told the tool to generate an image of a "Forest fire". 2 minutes in and it produced a unique and original image like this: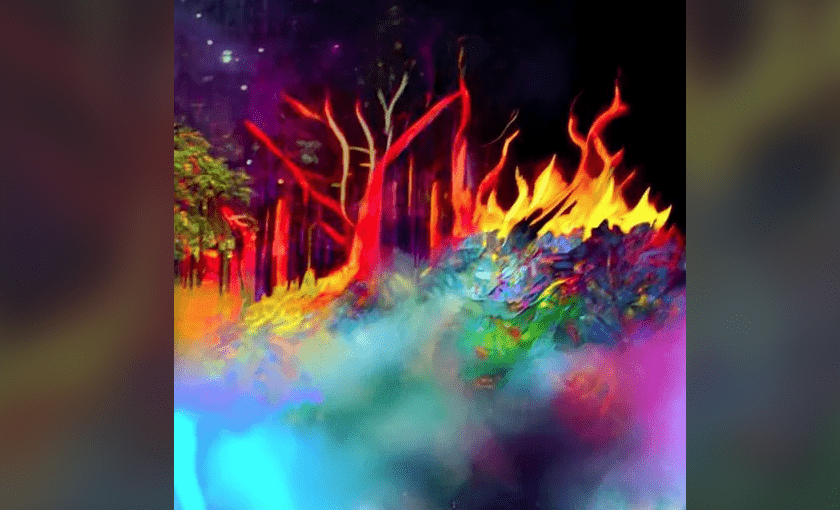 Even if you didn't use NightCafe for NFT art, you can still use its AI art generation capabilities to create amazing images from scratch.
Let's have a closer look at the pros and cons of this tool.
Pros
Easy to use
Bulk creation of digital artwork
Multiple features that allow you to mix different styles to create digital art
You can try it for free (once)
Cons
You have to buy (or earn) credits to keep on generating the art
My Take
NightCafe is a tool for you if you want to outsource the NFT design process to AI. The tool uses AI algorithms to generate completely original images and designs you can then turn into NFTs on a blockchain.
If you are looking for an extremely simple solution, this is the tool for you.
However, if you are looking for control and customizability, you might find Photoshop or Illustrator a better option.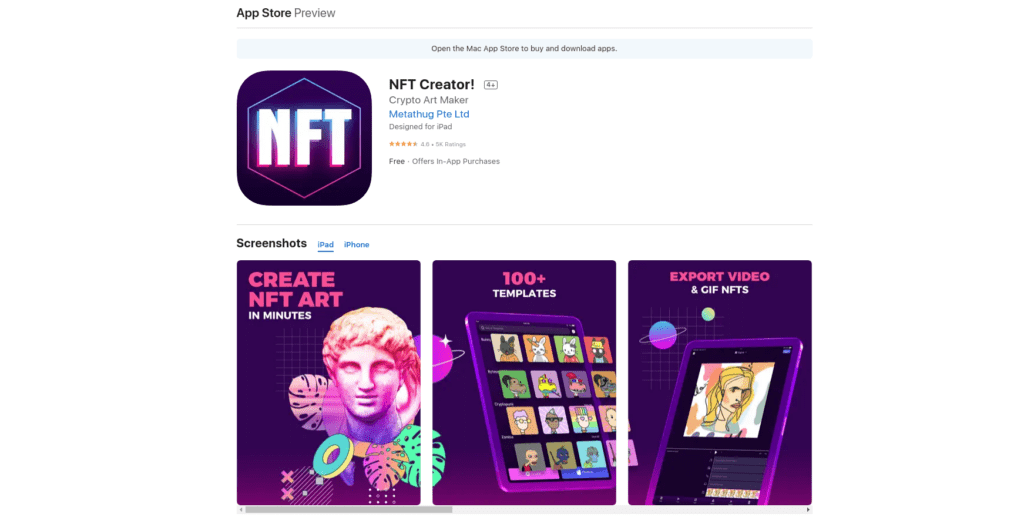 NFT Creator is an effortless NFT art design tool for iOS devices.
This tool has a simple workflow. All you need to do is to upload images to the app and turn them into NFT-artistic form in a matter of minutes.
This app lets you share and sell your NFT artwork on the most popular NFT marketplaces including:
Axie Infinity
Nifty Gateway
Superrare
One thing I like about this app is it's beginner-friendly. You don't need to be a Crypto or NFT Specialist. You also don't need to know how to write a single line of code. Last but not least, you don't even need to have any graphic design background either.
To work with this app, all you need is creativity, imagination, and some spare time.
NFT Creato has features including:
Turn a picture into a digital collectible
Dozens of art filters make starting the design process even easier
1000+ fonts to ensure great typography
1000+ pre-built art graphics library you can add to the NFT
1000+ awesome backgrounds for your NFTs
You can download this app to your iOS device and try it for free for 3 days.
After the trial period is over, the tool costs $3.99/week or alternatively $49.99/year.
Pros
Fast to get started with
Beginner-friendly
Lots of pre-built utilities, like fonts, backgrounds, and images
Photo support
Cons
iOS-only app
Less customizability
My Take
NFT Creator is an overall great tool for designing NFTs.
The beginner-friendliness of the app is what stands out. With a bunch of templates and ready-made designs, you can create professional NFTs in a matter of minutes.
A major drawback is this tool is iOS-only. If you don't have an iOS device, you should look for an alternative solution.
To create unique-looking NFTs with your own personal style behind them, you should not use templates or pre-built assets. In this case, learning how to use tools like Illustrator or Photoshop can be more beneficial.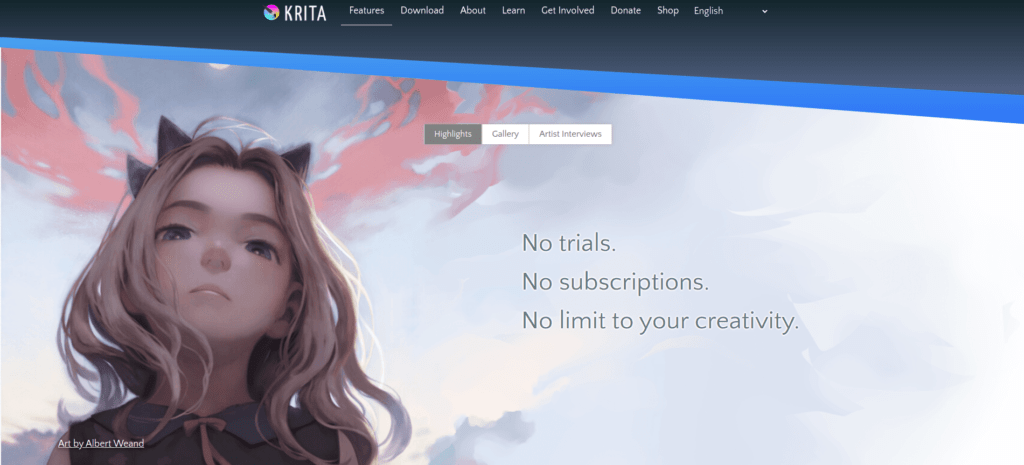 Krita is graphic design software that suits NFT creators.
It has a bunch of features that help you as a digital artist in the design and image-making process.
This tool lets you create illustrations, animations, storyboards, and more.
Here are the most notable features of Krita:
Beginner-Friendly User Interface
Drawing Aids
Brush Stabilizers
Vector Tools
HDR Painting Support
Pros
Free-to-Use
Great Color Management Systems
Training Materials
Works with macOS, Linux, and Windows
Cons
Steeper learning curve
No great photo-editing support
My Take
Krita is a great illustration tool for more professional and unique NFT design.
This tool already has a steeper learning curve than NFT Creator for example. However, to produce unique NFT art, this is what it takes.
The best part about Krita is it's completely free.
One drawback is that Krita is more of a digital art tool than photo-editing software. If you are looking to work with photos in your NFT art, pick another tool like Photoshop.

Fotor is a popular online photo editor and illustrator tool. You can use Fotor to:
Edit a photo
Create a design
Make a collage
And much more. For example, I love Fotor's Youtube Thumbnail Generator and Article Header Generator.
In addition to being a versatile online editor, you can create NFTs with Fotor as well. This tool uses AI (Artificial Intelligence) to turn your images into professional-looking NFT art in a matter of seconds.
Because this tool is AI-based, most of the work is done on your behalf. This makes it really easy to learn Fotor as there is no real learning curve.
Pros
Creating NFTs is super easy
Uses AI to automate the NFT creation process
Shallow learning curve
A bunch of editing and filtering features that help your art stand out
The online editor does not eat up your computer's resources
Cons
Lacks proper autosave and file management
Less customizable due to AI doing the work for you
My Take
Fotor is an all-around photo editing and illustration tool with a bunch of great features to make your work easy.
The NFT feature is AI-based and you can learn how to use it in a matter of minutes.
You should try Fotor if you want to get started quickly but have less control over the NFT designs.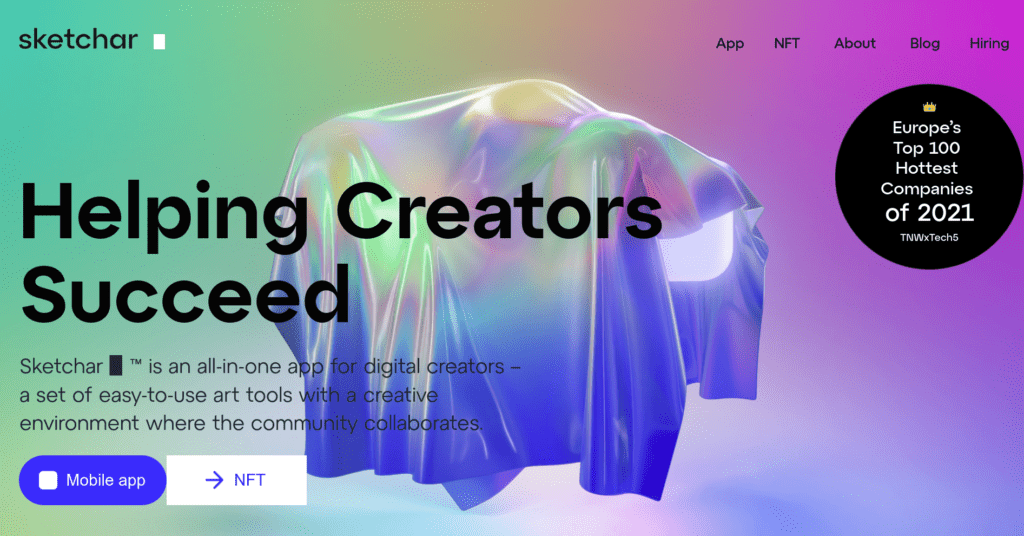 SketchAR is an all-in-one solution for a mobile app where you can create, sell, and explore NFT art.
The main benefit of SketchAR is you can convert your digital art into an NFT directly at no cost.
Another key feature is the ability for artists to submit their artwork for other artists to appreciate. As icing to the cake, SketchAR picks the best piece of digital art and features it on their feed. This offers nice exposure to the artist in question.
Pros
Easy conversion to NFTs
Great guidelines
Uses AI to turn your art into NFT art
Frequent updates to the app
Cons
Fewer templates to choose from
The tool is in its early stages, and there are some UX issues and slowness in the app
My Take
SketchAR is a popular NFT design software that uses AI to automate the NFT creation process.
If you are looking for an easy solution to design, share, and sell NFTs, you should try SketchAR.
But if you are looking to design unique NFTs yourself, I'd definitely go with a tool like Illustrator or Photoshop. Even though the learning curve is much steeper, the customization and uniqueness are on another level.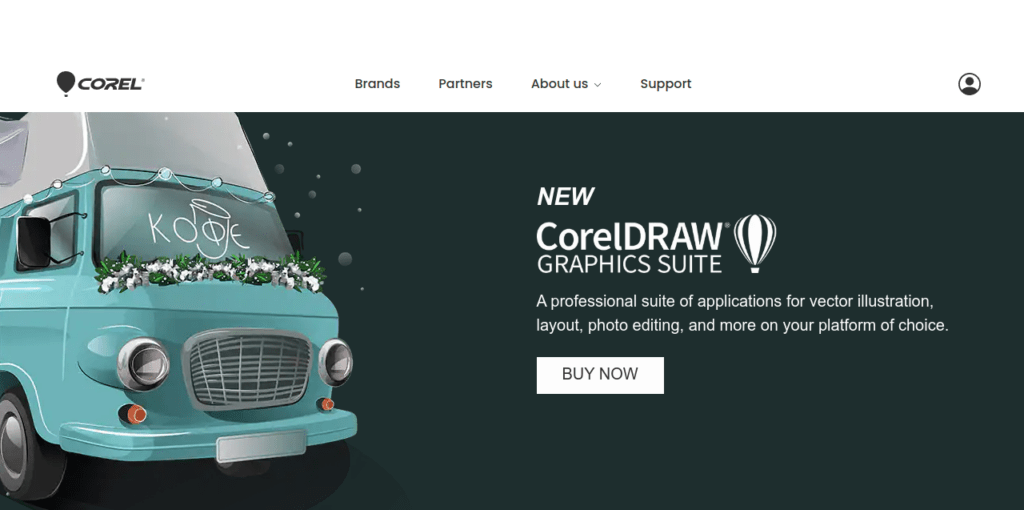 Corel is a cool NFT creator tool.
This tool comes with a bunch of brush tools to choose from. You can use these brushes to design and draw NFT art with a unique look. In addition, there is a bunch of useful templates that can streamline your design process, especially if you have difficulties starting up.
You can use the Corel Painter with Windows and macOS devices.
The tool uses AI to boost performance and to make things overall easier for you as an artist.
This tool is updated frequently and you can only expect it to improve over time.
Pros
Professional and unique features
Customizable interface
As a professional design tool, Corel is easier to learn than Illustrator
Cons
Inconvenient for someone accustomed to Adobe
Some easy-to-use issues
Expensive
My Take
Corel is a professional design tool that you can use to create a unique design for your NFTs.
The tool is easier to get started with than Illustrator, which is not typical for a professional-level tool.
Although a bit pricy, you should try Corel if you are more serious about the design process.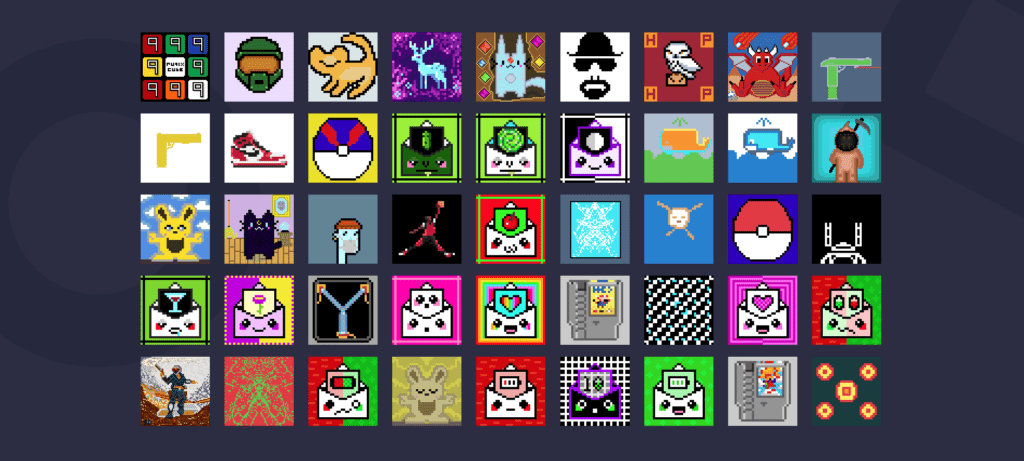 PixelChain is a decentralized app that lets you create 32×32 pixel art on-chain.
PixelChain is the first-ever crypto project that lets collectors, artists, and users create pixel artwork and save the work into a blockchain.
The tool has an easy-to-use UI. It allows you to efficiently create pixel art even if you have never used the tool or created pixel art. Also, you don't need any technical knowledge to work with the tool.
Pros
Easy to use as a beginner
No technical knowledge required
Stores the artwork into a blockchain and creates NFTs for you
Cons
A relatively limited number of features and customizability
Supports only pixel art
My Take
If you are an NFT beginner and looking for a way to both design and deploy an NFT to the market, PixelChain is your best friend.
Without any technical knowledge or design background, you can easily generate pixel art NFTs, which by the way are really popular types of NFTs in the market at the moment.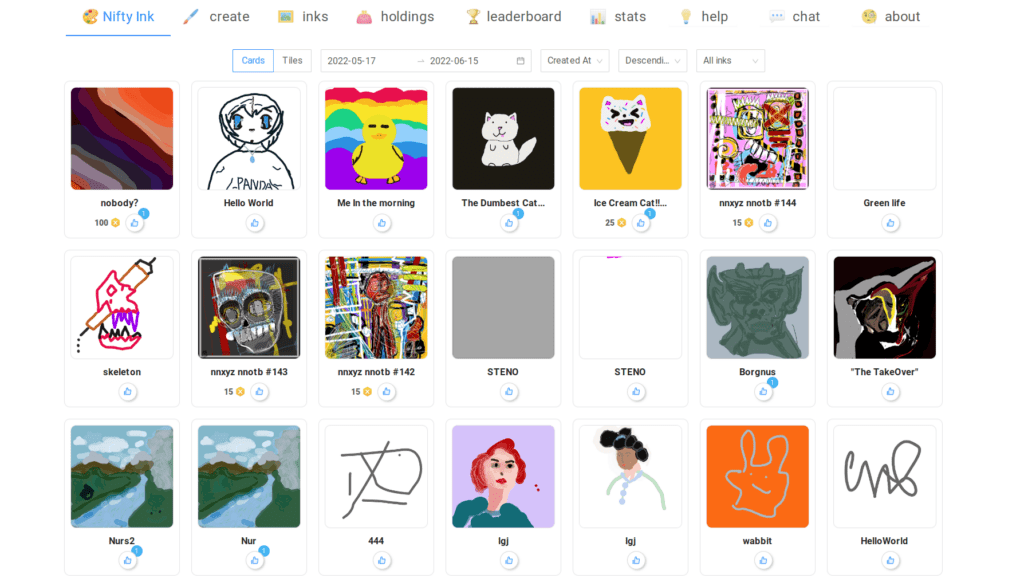 Nifty Ink is a beginner-friendly all-in-one solution for creating NFTs from design to launch.
You can use the intuitive UI to generate NFT art without having any experience in design.
You can then launch your NFTs into the blockchain without having any knowledge of blockchain technology or coding.
Pros
Easy to use
Free to use
Takes you all the way from the NFT design to launch
Cons
The tool doesn't have the best framework
My Take
If you are looking for an extremely simple solution to creating and releasing NFTs, give Nifty Ink a try!
This tool has got your back when it comes to the design process as well as taking care of the technical side of NFTs.
The platform is easy enough for kids to learn.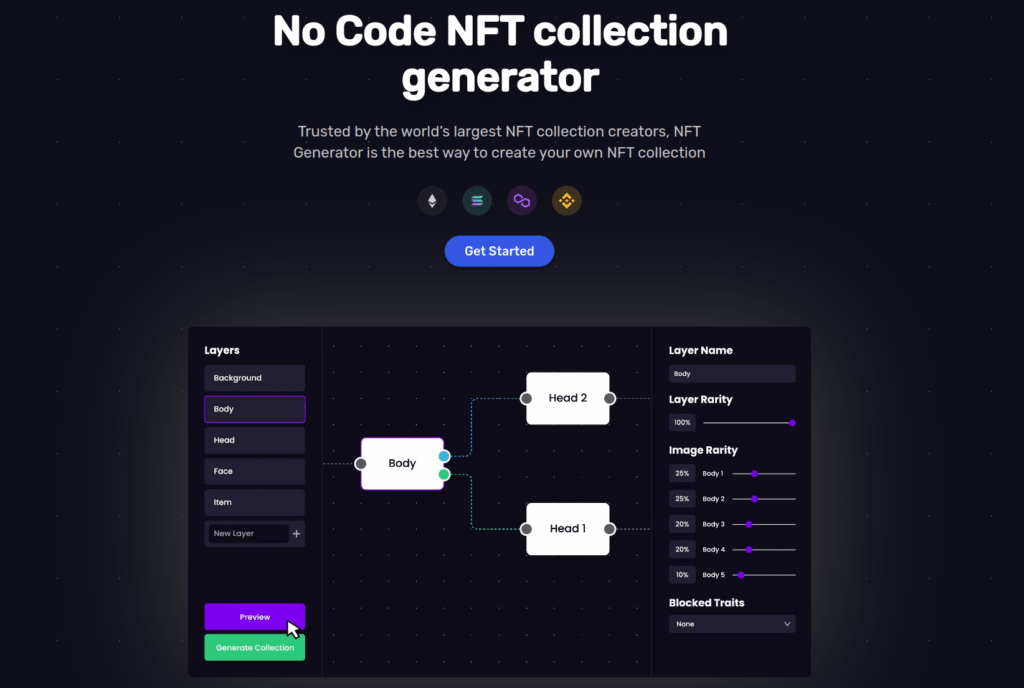 NFT-Art Generator is a web-based NFT design tool.
The fact that the app lives on the web means it does not eat up your computer's resources.
This tool is a beginner-friendly NFT art generator that you can get a hang of in a matter of minutes. Due to the shallow learning curve, it is really easy to start creating apps.
This tool also makes it possible to export your digital art in the most commonly used data formats, such as GIF, PNG, or MP4.
You can use a limited version of this tool for free. To unlock the full potential of the tool, there is a paid version you can purchase.
The paid version starts from $199 per NFT collection. The paid version best suits someone who is launching a large NFT collection and doesn't know how to code.
The key features and highlights of the NFT-Art Generator include:
No login or signup is required
Free version
Multi-layer support
NFT export
Shallow learning curve
Pros
Easy to get started
Great guides
Great user experience
Free version
No need to understand NFT-generating code
Cons
Is not really an NFT design tool. Instead, it uses your existing designs to generate NFT collections.
My Take
If you have the NFT components, you can use the NFT-Art Generator to randomize your NFT collection characters.
However, this is not necessarily a design tool but rather a tool that takes care of generating the NFTs based on your designs.
NFT FAQ
Here are some common questions related to NFTs and their design. I recommend skimming through them!
What Does NFT Stand For?
NFT stands for Non-Fungible Token.
What Can Be an NFT?
Anything digital can be an NFT.
For example, you can take a picture of your house, and turn it into an NFT.
In the NFT marketplaces, your typical NFT is an image or an illustration.
What Is the Best NFT Design Software?
The best NFT design software depends on your use case and is:
Illustrator for creating NFT illustrations, such as characters, shapes, or 3D art.
Photoshop for creating NFT images.
How to Create NFTs with Photoshop?
Technically, you cannot create an NFT in Photoshop. Instead, you create an image file that you, later on, turn into an NFT on an NFT platform.
This is because NFT is a digital piece of art that lives in a blockchain. You cannot save an NFT on your computer as you do with files.
So there is no "Export to NFT" option in Photoshop or Illustrator.
How to Publish NFTs?
There are many platforms you can use to publish NFTs. As a matter of fact, you cannot call your digital piece of art NFT before it is published on a blockchain.
The high-level overlook of the step-by-step process for publishing NFTs is as follows:
Purchase some cryptocurrency

to fund the NFT publication.
Create a digital wallet with which you pay for publishing the NFT.
Transfer the cryptocurrency to your digital wallet.
Connect your digital wallet to an NFT platform.
Upload your image or art you want to turn into NFT.
Set up an auction for your NFT.
Add a description to your NFTs.
Pay for the listing fee.
As you can see, it is a somewhat lengthy process to release your first NFT. However, there are great comprehensive guides on how to do it. Also, most platforms make it easy for non-technical artists to mint the NFTs.
Do I Need Design Skills to Create NFTs?
No, you don't!
You can turn anything digital into an NFT.
Money-wise, some of the NFT projects sell purely because of the outstanding design. But most of them don't. People tend to buy NFTs because of the ownership, not because of the art.
For example, take a look at one of the most popular and highly-traded NFT collections, CryptoPunks.
CryptoPunk NFTs are nothing but pixel art images that anyone could create. However, the team behind has managed to build a massive hype behind the project.
But keep in mind that the design process is the easy part in NFTs.
To build a successful NFT these days, you need more than just luck and great-looking NFTs. In addition, you need to build a real project that gains traction.
For example, your NFTs could be part of a game in the Metaverse. Anyway, you need a big following on social media and a lot of hype to create a valuable NFT collection.
Wrap Up
That is a lot of NFT design tools!
I hope you found the one you were searching for.
Think about your use case before choosing a tool from this list.
If you want to explore creating NFTs, choose a tool with a shallow learning curve. For example, try out NFT Creator (iOS) or SketchAR.
If you want to use an AI-based solution that quickly turns your photographs into NFTs, use Fotor or SketchAR.
To generate an NFT collection of hundreds or thousands of NFT avatars, use NFT-Art Generator with your pre-built layers. (To create the layers, use Photoshop or Illustrator).
To maximize the originality of your NFTs, use professional design/photo editing software like Illustrator or Photoshop. It takes significantly longer to master these tools but it is worth it.
Overall, I would learn how to use Illustrator or Photoshop. Aside from creating NFTs, if you have an interest in design, understanding these tools will come in handy in the future.
The quick design tools in this list are great if you want to take a shortcut, but at the end of the day, hard work pays off!
Also, keep in mind design is just one part of a successful NFT. If you are serious about the NFT business, you need to treat it like a company. You need to build much more than just the NFTs. For example, you need to have a mission and plan, roadmap, website, social media presence, a lot of hype, a marketing strategy, and much more.
All I'm trying to say is buying one of these design tools does not make you the next NFT star such as Bored Ape Yacht Club.
If you only came here for design, then you will certainly find a tool that will get you going.
Read Also
Also, feel free to read my comprehensive review of the Best Illustration Tools.
About the Author
I'm an entrepreneur and a blogger from Finland. My goal is to make coding and tech easier for you with comprehensive guides and reviews.