Choosing the right type of OCR software for invoice processing is a crucial step in streamlining the way payable teams pay bills.
This is a complete guide on choosing the best OCR software for processing invoices.
There are invoice-focused tools as well as more general OCR tools in this list. The OCR tool you need depends on your use case. To scan a random invoice here and there, you should choose a free solution or use a free trial. To revolutionize the way your paying team works, you have to make an investment to a professional OCR invoice scanning tool.
Disclaimer: This article has affiliate links at no cost to you.
What We Are Looking for in This Guide?
This is a comprehensive guide on how to choose the best OCR tool for processing invoices. The guide is long, so if you want to skip some parts, feel free to use the links below to jump into the review of a particular tool.
Let's jump into the list of OCR invoice tools and reviews.
1. Tipalti
Tipalti is the best overall solution for processing invoices with OCR.
This tool helps you automate the entire AP process. With Tipalti, you can seamlessly validate payments, collect tax forms, and much more.
Based on their research, Tipalti reduces the workload in payables by 80%. Besides, it makes transactions 25% quicker and reduces the number of payment errors by 66%.
Here are some of the key features of Tipalti:
OCR invoice scanning
Works for any ERPs you are currently using
26,000 payment validation rules
Currency conversions
6 payment methods in 196 countries and 120 currencies
24/7 support
Tax form validator
1,000 tax validation rules
Unfortunately, there is no free version or trial.
The pricing starts at $149/month.
2. Adobe Acrobat Pro DC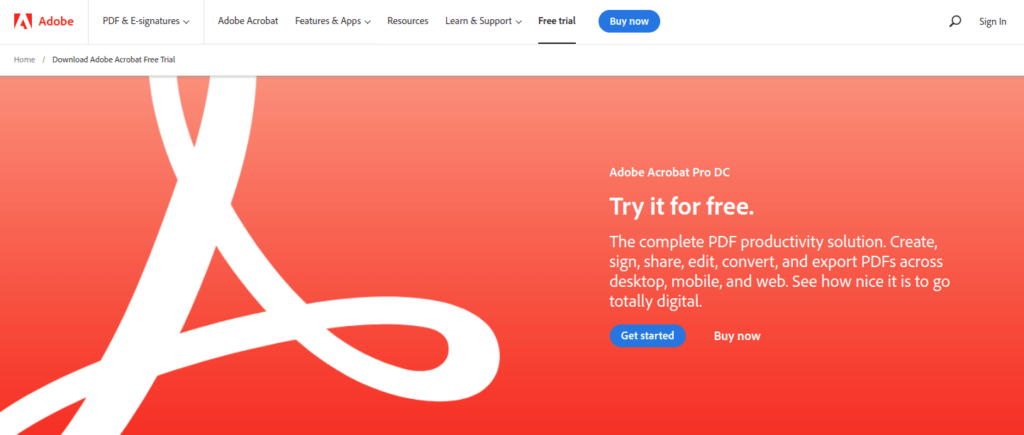 Adobe Acrobat Pro DC is a PDF-oriented OCR tool that you can use for processing invoices and other documents.
This tool is a great option if you are looking for other OCR capabilities besides the invoice processing ones.
One of the main benefits of Adobe Acrobat Pro DC is it lets you streamline the document management phase. Besides extracting information from a physical document, the tool preserves formatting and style. This means the scanned document ends up looking like its physical origin.
With Adobe Acrobat Pro DC turns the OCR-scanned documents into searchable files. This way you can easily search and access your files in the cloud of dozens of scanned files.
The tool has a great desktop version, but there is also a mobile app version. This means you can scan your invoices and other documents easily with your smart device. Besides, there are some great editing capabilities too!
There is a free 7-day trial to Adobe Acrobat Pro DC. Here is the complete pricing model:
Adobe Acrobat Standard DC: $12.99/month
Adobe Acrobat Pro DC: $14.99/month
Trial: 7-day free trial
This is a much cheaper alternative to Tipalti. However, Adobe Acrobat Pro DC is not nearly as well-rounded an invoice management tool as Tipalti. But if you are only looking to scan invoices and other documents, then this might be the tool for you!
3. Klippa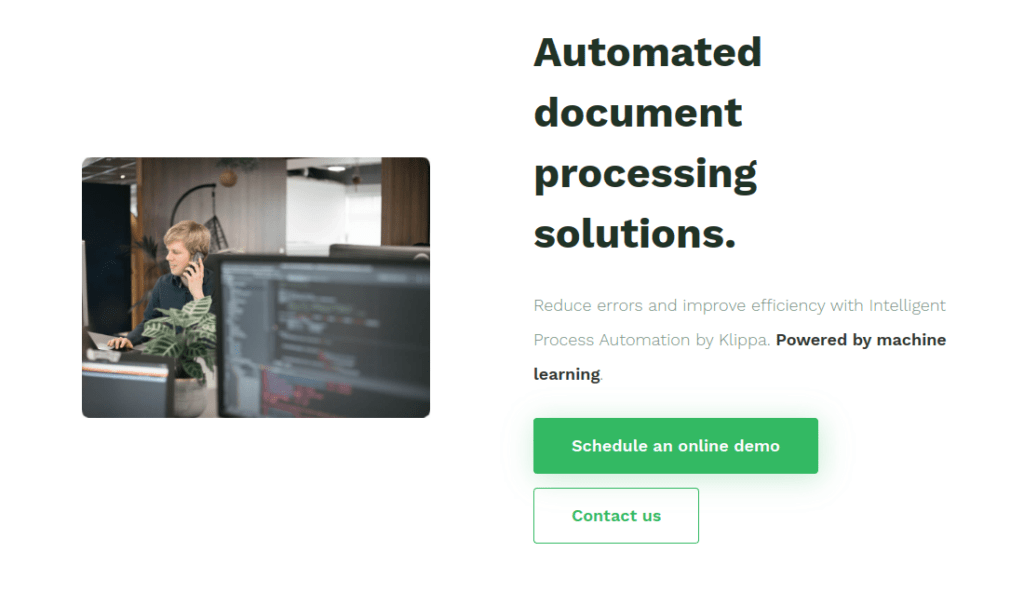 Klippa is a great tool for processing receipts and invoices. Unlike Adobe Acrobat Pro DC, Klippa specializes in receipts and invoices.
Besides the AI-powered OCR capabilities, Klippa has an invoice management system. This way you not only get a great OCR to scan your invoices with, but a complete package of great tools for faster invoicing and payments.
With Klippa, you can easily collect, record, and process invoices. These invoices can originate from anywhere, such as email, apps, or the web. Klippa doesn't have a problem reading and extracting data from these.
To make the accounting process quicker, Klippa allows you to build a streamlined approval flow for your invoices.
This tool makes a great fit for freelancers too. With the expense management feature, you can manage expenses and annual tax returns.
Klippa is a well-rounded app that works where you work. There is a desktop app, iOS app, and Android app available. With the mobile versions, you can conveniently take a picture of an invoice or receipt and scan it into the Klippa invoice management system. This saves you even more time.
There are two pricing models for Klippa:
Klippa Basic: Free via OCR mobile app
Klippa Pro: $3.99/month (free 30-day trial for all features)
4. Rossum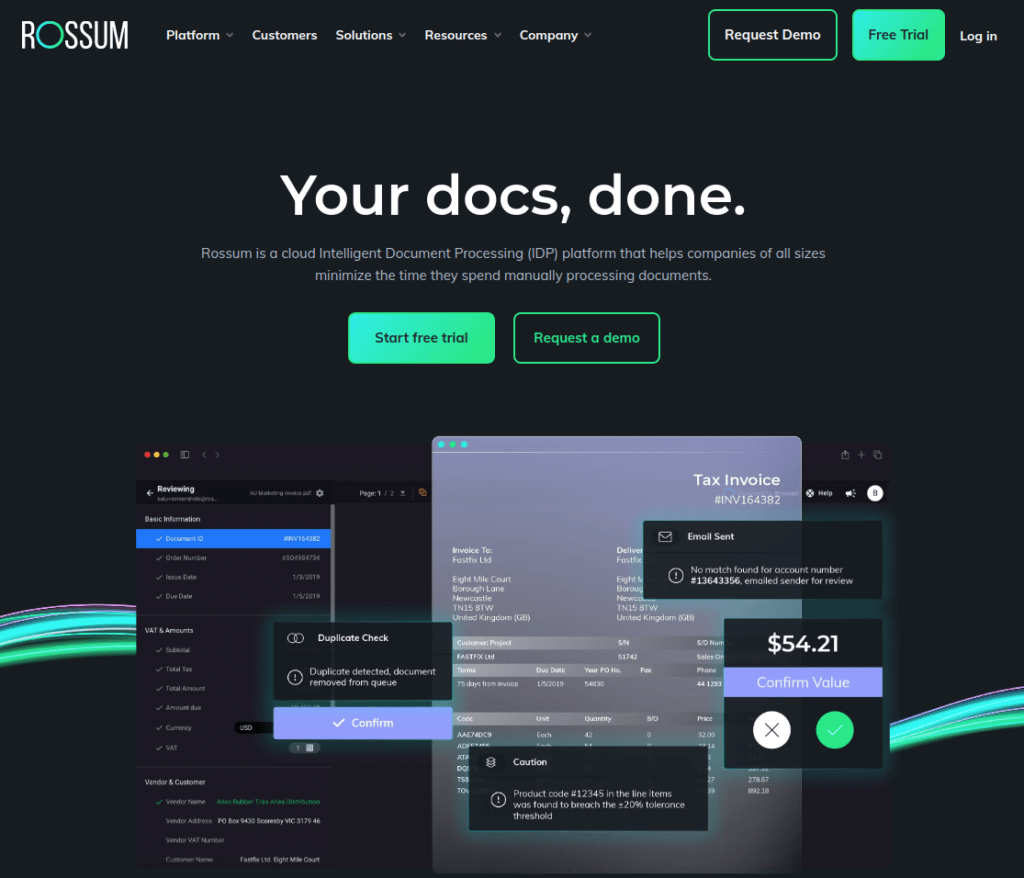 Rossum is an AI-powered OCR solution for invoice processing and scanning other types of documents.
With Rossum, you don't have to spend time manually processing your invoices. Instead, you can let the tool with its state-of-the-art AI algorithm take care of that business.
A tool like Rossum lets you spend less time on repetitive low-value work and focus on important matters.
The tool extracts 98% of the data accurately from any kind of document. With this level of accuracy, the tool is much less likely to make a mistake than a human.
Rossum's AI algorithm is clever when it comes to OCR. No matter how your document or invoice is formatted, Rossum can get the job done. If you scan documents and there happens to be an error, there is an editor you can use to fix it. Thus, you will never have to leave this tool when working with documents.
The tool uses AI to perform. It's been coded in such a way that the AI algorithm is capable of learning from mistakes and document types. The more documents you scan, the more data the tool has to learn from. After a while, it can perform even with the more complex document formats and types.
The pricing is quote-based. You need to request a demo and let the sales team tailor the best plan for your use case.
5. ABBYY FlexiCapture for Invoices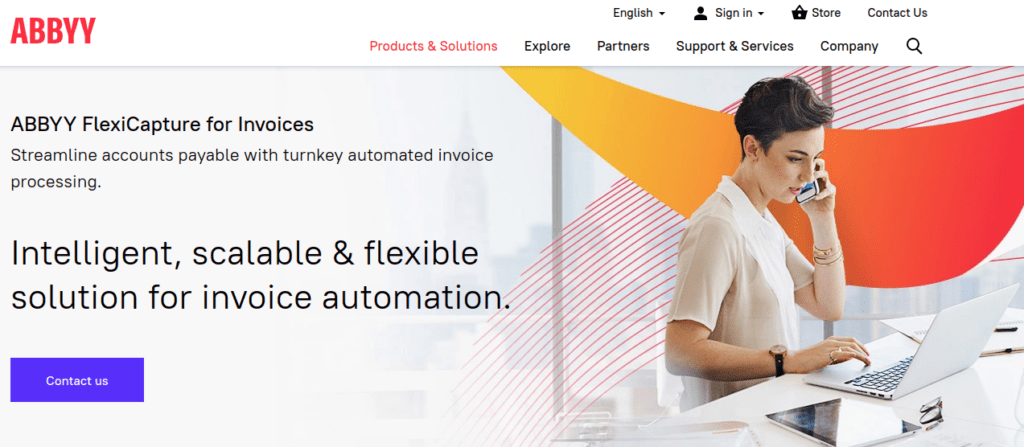 ABBYY FlexiCapture for Invoices is an automated invoice processing tool. With this tool, you reduce the likelihood of a human error. Besides you cut the costs and reduce the amount of physical work it takes to handle the invoices.
Flexicapture for Invoices automates the following phases of invoices and payments:
Capturing
Recognition
Field extraction
Data validation
This tool makes it possible to create straight-through processing automation for PO-based invoices.
With Flexicapture for Invoices, you get:
Faster processing times
Greater data extraction accuracy
Save costs
Improve the AP workflow
Let's take a behind-to-scenes look at FlexiCapture on how it processes your invoices.
Input an invoice to the system. This works for multiple channels, such as email, web-based scanning, MFP, FTP, mobile device capturing, fax, and more. The document processing is independent of the document format.
Classification phase. During this process, the tool makes it possible to sort and group the invoices by subcategories and types. The tool learns as it goes. This makes the processing accuracies high and deployment quick.
Data recognition, extraction, and validation. The invoicing tool extracts data from necessary fields in the invoice document. This tool can work with country-specific validation rules. Also, the tool can match invoices against master data as well as PO data.
Invoice data review and approval. FlexiCapture uses an intelligent approval workflow that comes with automated invoice processing. Even though this phase is automated, you or your accountant can always manually verify the data to rule out missing data. Posting the PO-matched documents is instantly available.
Export and archive. FlexiCapture for Invoices is a tool that you can integrate with other ERP systems and financial apps. The exported invoices are indexed by key fields. This makes it easy to retrieve the invoices once exported.
The pricing of the tool varies from $29.90 – $299.00 based on your requirements. You can request further information from the sales team if necessary.
FAQ
Here are some common questions related to invoice processing with OCR. I recommend reading them as they can give you a more clear picture of the whole OCR business.
What Is OCR?
OCR or Optical Character Recognition is a technology that automates data extraction from image documents.
One of the most typical use cases for OCR is when dealing with invoices. Traditionally, one must manually scan the document to extract information from the invoice. But if one wants to automate the invoice processing, they must be able to extract the information another way. This is where OCR helps.
OCR uses machine learning algorithms to recognize characters with other features from physical text documents. OCR is commonly called text recognition. This is because it "recognizes" text from images.
Your typical OCR tool pulls data from non-editable image-based documents, like PDFs or other types of invoices. The typical OCR workflow is as follows:
Recognize and extract letters from an image
Combine the letters to form words
Turn the words into sentences
An OCR tool automates the manual and boring document scanning phase. Instead of spending hours converting a pile of physical documents into digital ones, you can let the OCR do the job. All you need to do is feed the tool with some images and it returns the output document in a second.
The OCR uses artificial intelligence to extract information from a physical document. The character recognition algorithms are called ICR or Intelligent Character Recognition.
With sophisticated ICR, your OCR invoice processing software can recognize invoices of multiple languages or different handwriting styles.
Should You Pay for OCR?
The answer to this question depends on what you are looking for.
If you want to scan one invoice every now and then, you will find free trials or even free OCR tools do the job decently.
But if you are looking to make a change and cut costs in invoice processing, then you should be ready to make an investment.
Luckily, there are free trials of professional tools. This way you can give the tools a free trial before investing. Furthermore, the OCR for invoice processing is relatively cheap, so it's not going to be a big investment.
How to Create Your Own OCR Software?
If you are technically oriented, you might want to challenge yourself to create your own OCR software.
For example, you can use the Tesseract library to create a small OCR program with Python. But if you have no programming background, then this option is likely not going to benefit you. Also, if you are a business person, you should probably not spend time writing an OCR program, especially as there are free versions and cheap ones readily available.
Wrap Up
Today you learned about the best OCR software for processing invoices.
To recap, OCR is a technique for automatically extracting information from image files. OCR is also called text recognition because it extracts text from an image of a physical document.
OCR can be used to process invoices. This makes scraping the information from physical documents a breeze. Instead of manually going through all your invoices, you can make the tool scan the photos to convert them to digital format.
Thanks for reading!
Read Also
Find the complete guide of 20+ best OCR software for converting images to text. This includes invoices, PDFs, and much more. You can find the article here.