Choosing the right type of pixel art software is important to creating outstanding pixel art.
This is a comprehensive guide on how to choose the best pixel art software. In this article, you will find tools that are:
Only for pixel art.
General-purpose digital art tools like Photoshop or Illustrator.
Beginner-friendly tools for easy use.
In this guide, you will find solutions for all platforms, such as Windows, Linux, iOS, and Android. The tools allow for creating pixel art images, pixel art animations, and sprite sheets for games.
Disclaimer: This post contains affiliate links at no cost to you.
Top 19 Pixel Art Software
Here is a quick look at the tools reviewed in this article. Feel free to jump in on a particular tool if you wish to!
Try for FREE with This Link!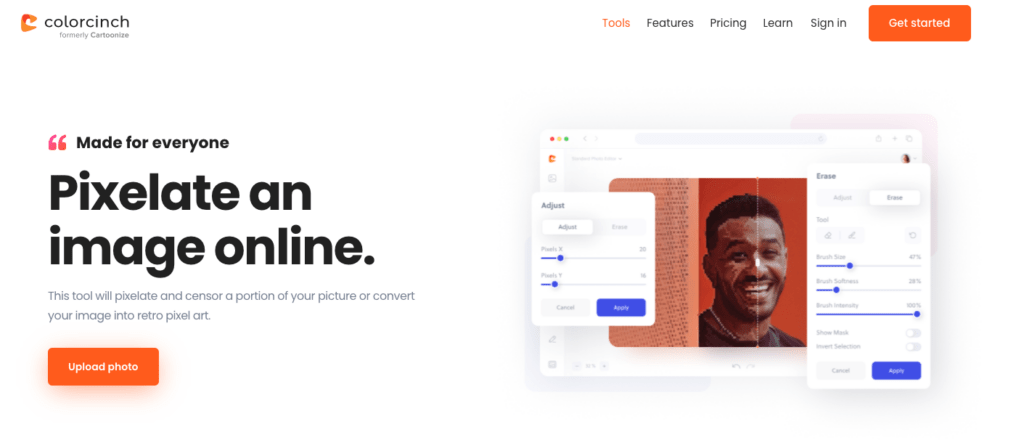 Cartoonize Pixelate Image is an easy-to-use pixel art software that turns your images into pixel art.
The workflow of this tool is super simple.
Upload an image to the web editor.
Add a pixel effect to the image.
Download the image.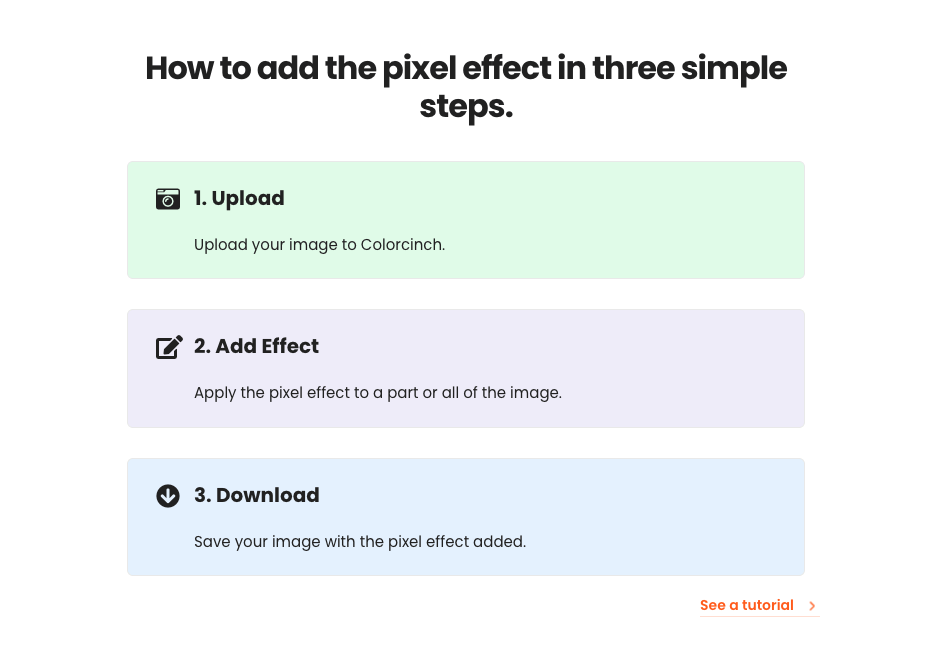 It takes no longer than 15-30 seconds to turn your image into wonderful pixel art.
The cool part is that you can pixelate parts of the image as well as control other aspects of the pixelated image, such as the mask, brush size, and so on. So this is definitely a well-rounded pixel art software.
By the way, there are other solutions to Cartoonize too. You may find these useful if you're working with images a lot.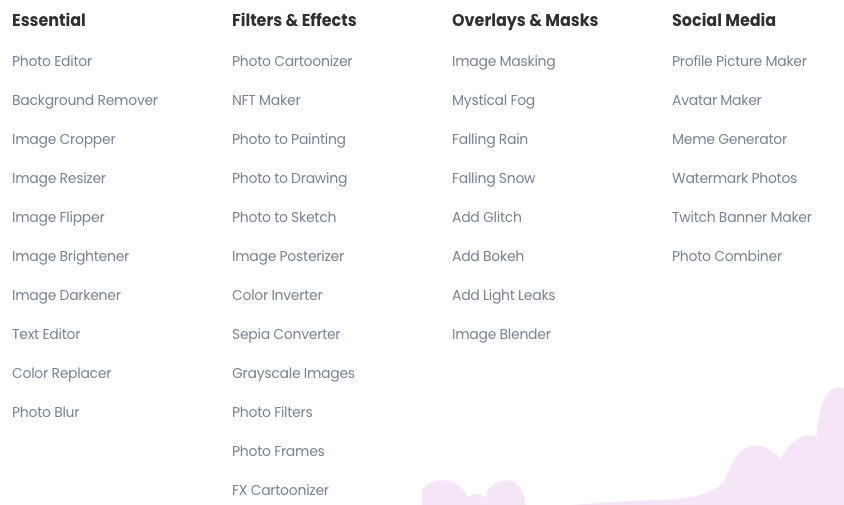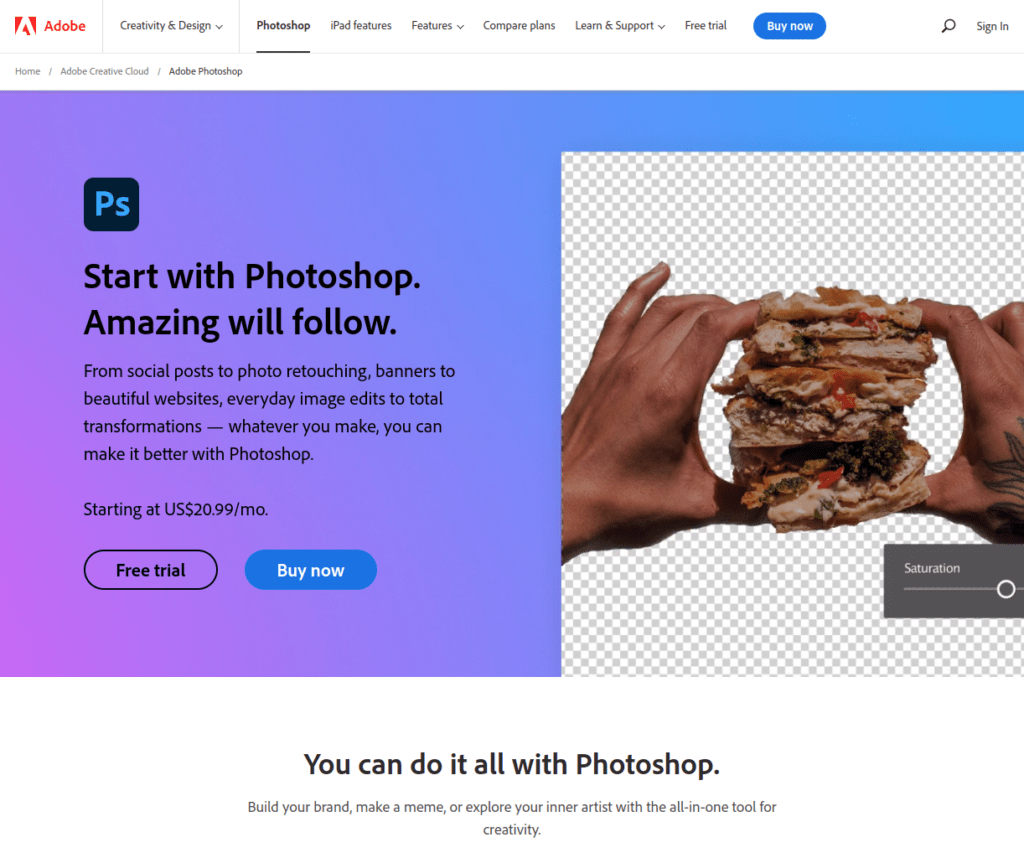 Adobe Photoshop is the go-to photo editing and graphic design tool.
This tool is the #1 pick because of its versatility.
You can use Photoshop to create any kind of digital art, including pixel art. For instance, you can design nice pixel art sprites for a mobile app game, or create cool-looking pixel art animation.
Here is a great video of how to create pixel art in Photoshop.
But if this is your first time doing art or animations, be cautious! It takes a long time to learn how to use Photoshop efficiently. There are so many tools and bells and whistles that it can throw beginners off.
But because Photoshop is a professional graphic design tool, it is beneficial for you to learn how to use it early on.
So if you are a beginner, you can either:
Start learning Photoshop with great online tutorials.
Pick a more beginner-friendly tool from this list.
If you scroll down a bit further, you can find tools that specialize in pixel art. These tools have much fewer features and much less to worry about as a beginner.
But remember, Photoshop is almost like a one-size-fits-all solution to graphic design. If you choose to learn Photoshop, you don't need to jump between different tools. At the end of the day, this will save time and money.
Also, thanks to the popularity of Photoshop, there are thousands of great tutorials on every feature and style of digital art. Photoshop also supports plugins and scripts, which let you add even more customizability to the tool.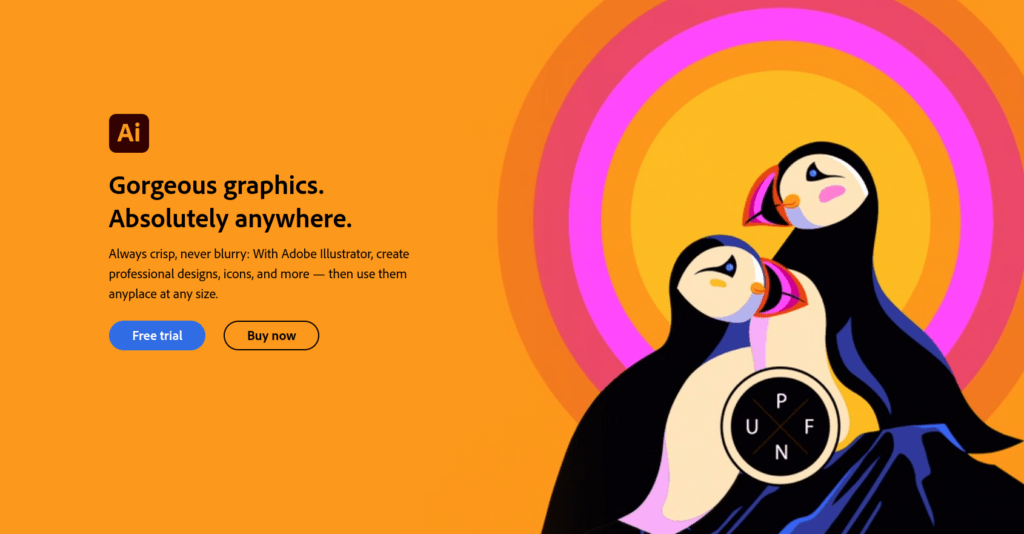 Adobe Illustrator is popular graphic design software.
With Illustrator, you can create all sorts of digital art. This also includes pixel art.
Illustrator is characterized by vector art features. This allows for creating designs of any size. Vector graphics can be zoomed in and out indefinitely without losing the detail.
If you are looking to create pixel art or pixel art animations, chances are you are going to do other design-related things too. Thus, it might be worth it to invest time in learning Illustrator.
Here is a great video that shows you how to create pixel art in Illustrator:
Adobe tools like Photoshop and Illustrator are well-rounded and popular graphic design and photo editing tools. Knowing how to use these tools is a valuable skill in the job market. If you choose to learn how to use one of these tools, chances are you'll never have to learn or pay for another tool.
Adobe software has a versatile feature set. The sky is the limit as to what you can do with one of the Adobe tools. This is also the reason why Adobe is mentioned on every digital art creation tool list.
But if you are a complete beginner who wants to try pixel art for the first time, Photoshop or Illustrator is overkill! Even though you can try Adobe for free, I don't think it's worth spending your time learning how to use these tools. Instead, keep on scrolling through this list. There are tools that are dedicated entirely to creating pixel art.
4. Aseprite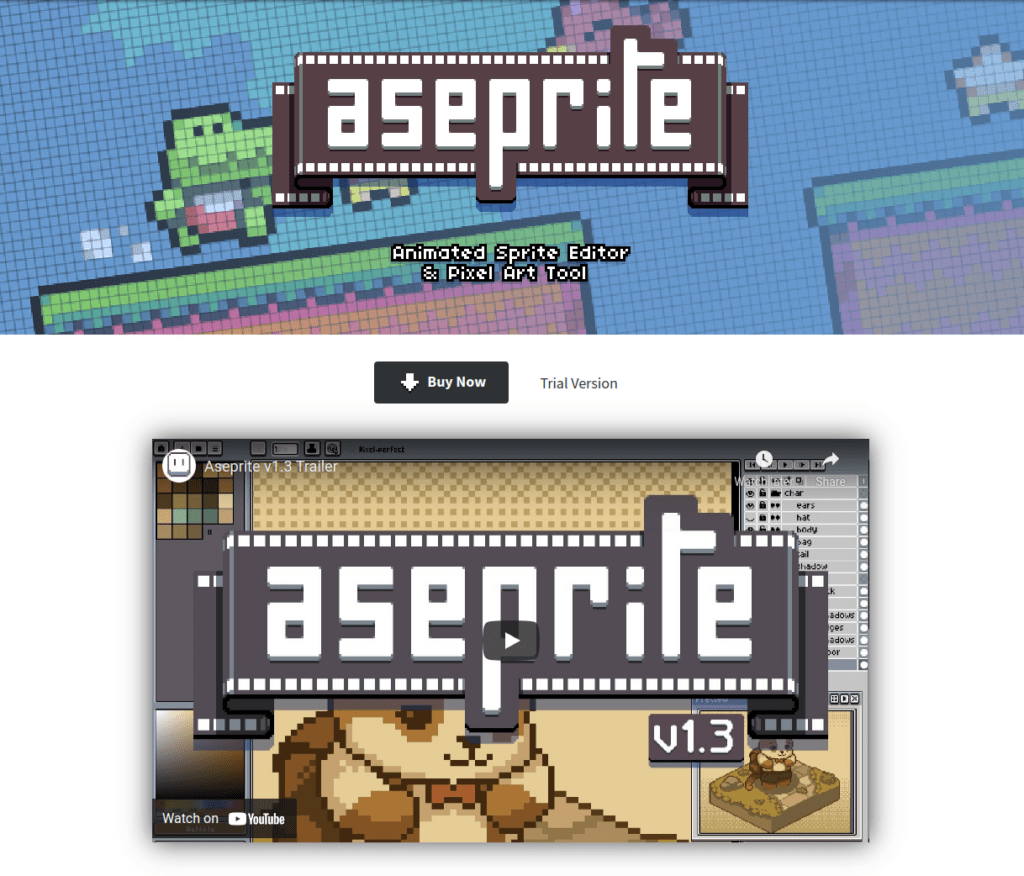 Aseprite is a popular software dedicated entirely to creating pixel art. So if you are looking for a solution to focus on pixel arts solely, then maybe paying for Illustrator or Photoshop isn't the best value for money.
Aseprite has a lot of great modern features for pixel arts.
The tool is easy to use. So if you have no previous experience with pixel arts, you'll quickly get a hang of it. The tool can perform computationally heavy tasks to bring your pixel art alive.
One of the prominent features of Aseprite is the onion skinning feature. Onion skinning allows you to add your current frame above the previous one. This makes it easier for artists to create a realistic movement for the characters because it's possible to see the last frame while drawing the new one.
Aseprite is also an excellent tool for game developers. Thanks to the sprite sheet export features, this tool makes it easy to design game characters and export them into your game or app. Another reason why Aseprite is favored among developers is that you can convert fonts to pixel art.
The Aseprite costs $15. There is a free trial version you can try out first. This way you don't have to pay for a tool if it turned out not to be a good fit for you.
Psst! If you are technically oriented, there is a completely free version of Aseprite available. But this means you have to compile the software yourself, which might cause headaches for non-technical users.
5. GIMP

GIMP (GNU Image Manipulation Program) is a free graphic design tool.
It is commonly said that GIMP is the best free Photoshop alternative. GIMP is thus not only a pixel art software, but a full-on graphic design and photo editing tool with great capabilities.
GIMP stands out thanks to its great image editing and painting features.
The tool is easy to use. The user interface is highly customizable to meet the demand of your workflow.
But you came here for pixel art tools, so what's the point of mentioning GIMP here?
GIMP makes a great pixel art creation tool thanks to its versatile features. For example, there is a built-in timeline and animation player. Besides, there are great free resources for mastering pixel art with GIMP.
GIMP is a great tool for graphic design, such as pixel art. Learning how to use this free tool is a great addition to your skill set.
If you are not ready to pay for a professional tool but are interested in a great alternative, then GIMP should be the way to go. Once you have learned some graphic design skills with GIMP, you can move on to more professional tools like Photoshop or Illustrator.
GIMP has a big community too! You can find a whole bunch of great tutorials online. For example, you can search for "GIMP pixel art tutorial", and you'll come across tons of great guides and tutorials. These will certainly be helpful if you've never done pixel art before.
6. Piskel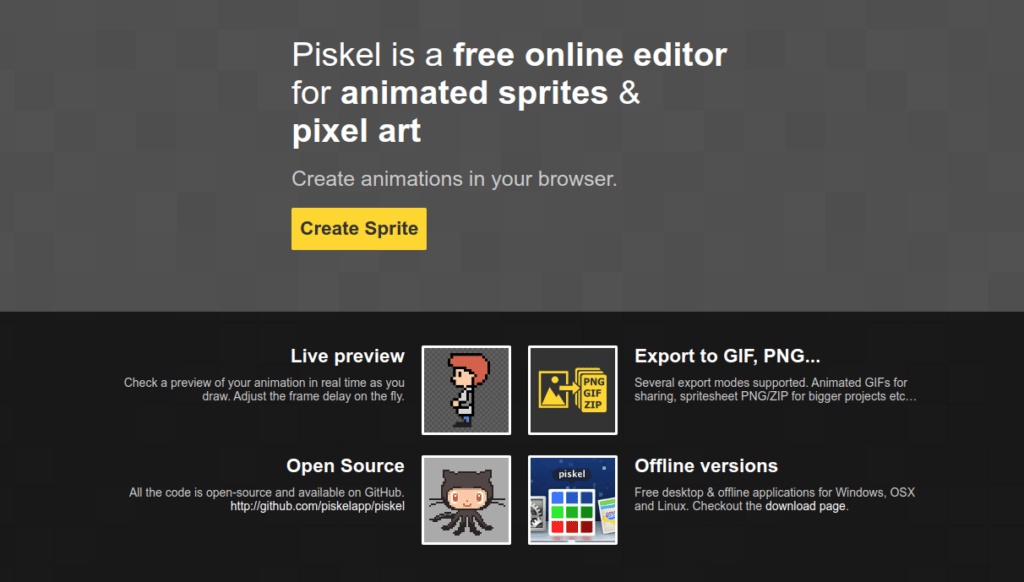 Piskel is pixel art animation software. Unlike other tools in this list, Piskel solely focuses on creating animations with pixel art assets.
There is an online version of the tool. Besides, there is a downloadable version. This makes it easy to access both online and offline. Thus, you can use the tool no matter what platform you are on. Although, using a desktop makes it the easiest!
The tool is completely free!
The user interface of this tool is super intuitive. It's easy even for beginners to get started.
Piskel allows you to export your assets as sprite sheets, GIF animations, or images.
The tool doesn't come with a bunch of bells and whistles. Instead, it's a fairly minimal software that focuses on making animating pixel art easy. Each feature of the tool contributes to animating. Thus, there are not so many features to not overwhelm animation creators!
If you are a beginner looking to create pixel art animations or sprite sheets for your games, this is the way to go!
7. Pixilart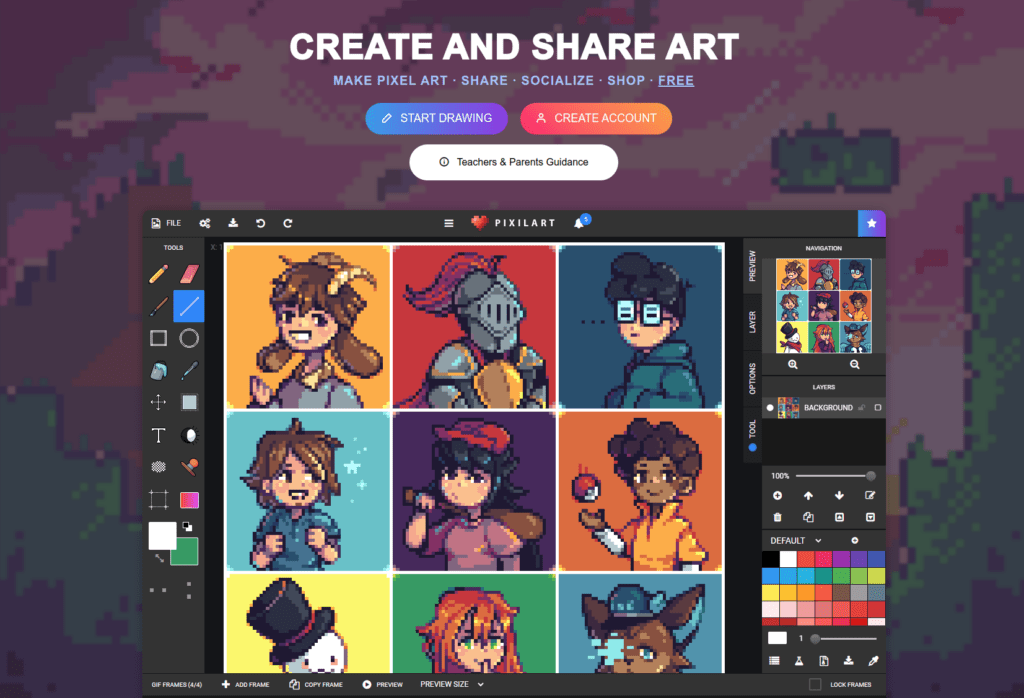 Pixilart is another very simple yet powerful tool for creating pixel art for free!
Some of the cool features of this tool are:
Pixel drawing
Frame design
Pixel text animations
Autosave
Dithering
And more.
There is also a big community you can connect with.
The platform hosts animation contests and brings together creators across the globe. You can share your pixel art with other pixel artists across the globe.
If you're just getting started, you find a bunch of great tutorials and free resources on how to use the software.
All in all, if you are looking for a free and easy-to-use tool, Pixlart is a great choice. It's great for beginners but also the more experienced pixel art creators will find it useful.
8. Piko Pixel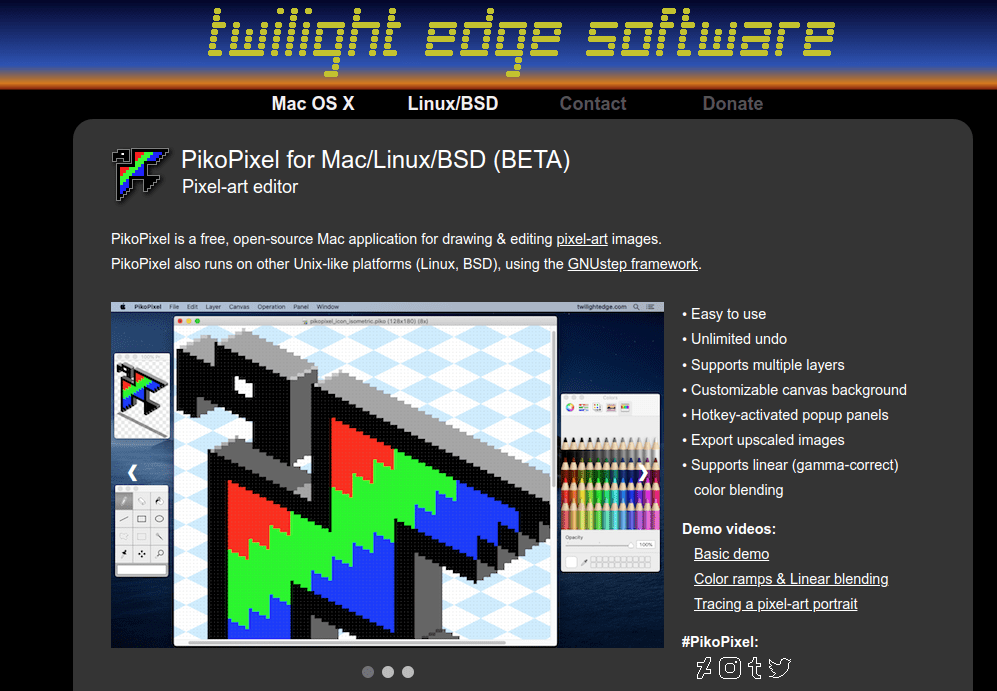 Piko Pixel is a free pixel art tool for Linux and Mac users.
This tool is super easy to use. You can draw and edit pixel-art images with it.
One of the cool features is the unlimited undo, which means you can undo as long as there is memory on your system.
To get started with the tool, you can watch three demo videos on Piko Pixel's site.
Piko Pixel is a great choice if you are looking to create basic pixel arts with ease. Besides, it's a great tool for a more experienced pixel art artist.
9. Pixie Engine Editor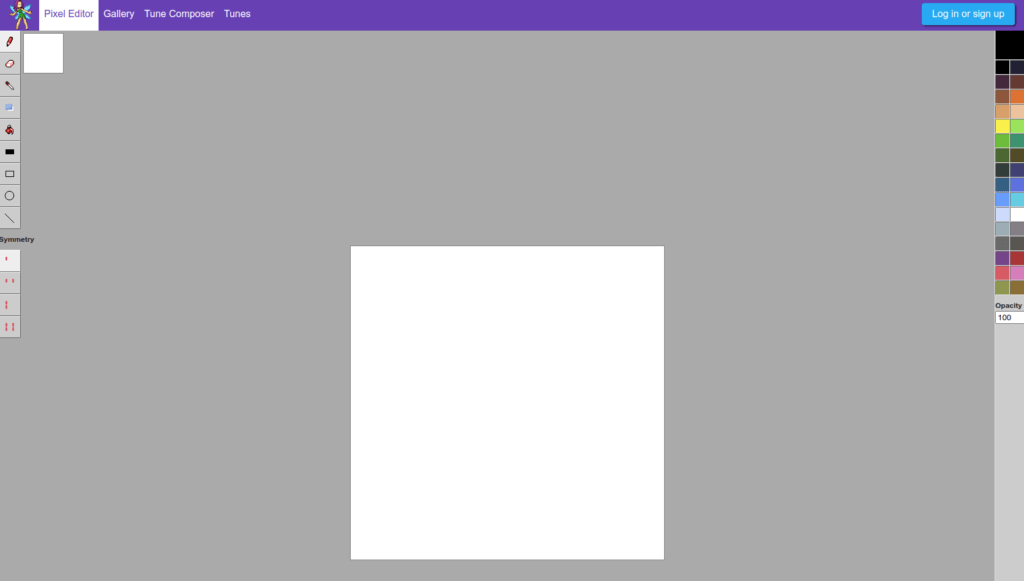 Pixie Engine Editor is a fundamental pixel art creation tool. This tool is free to use and is a great choice for someone looking for a fast way to create something beautiful.
This tool is definitely not a pro tool, like Photoshop. The feature set is somewhat limited and there are not that many great resources for how to use the tool.
But as a beginner who doesn't want to pay for the tool, this is a great place to start. All you need to do is head over to Pixie Engine Editor and start drawing!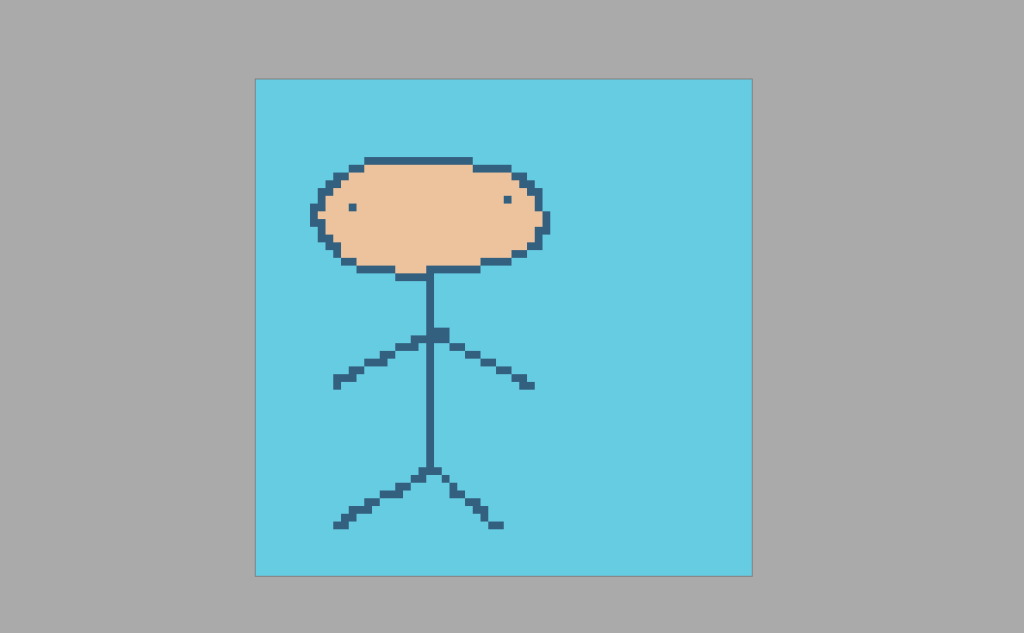 By the way, you can get a better idea of what types of projects people have built by going through the gallery. There you can see what other users have created and shared with the world.
Pixie Engine Editor is an open-source project. If you own some coding background, you can customize the tool even further.
10. Tile Studio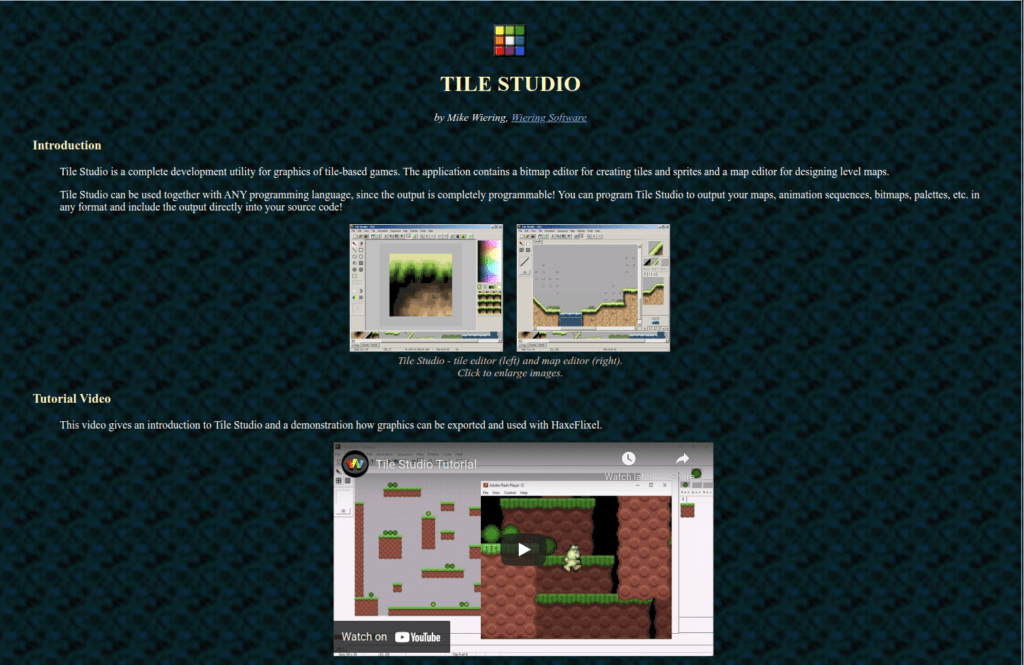 Tile Studio, as the name suggests, is a graphic design tool that you can use to create tiles and other pixel-based sprites for your games.
This makes it a great fit for game developers looking to create pixel arts and tile-based games.
You can use the bitmap feature to create tiles and sprites for your games. Then there is a level editor you can use to design maps for different levels in your game.
The output of the Tile Studio is programmable. Thus, you can use the Tile Studio designs in any programming language. When you have completed your designs, you can export them as tile sequences or sprite sheets.
To get started with Tile Studio here is a great introductory video.
Tile Studio is a completely free piece of software. The only drawback is that it's only available for Windows. So if you are not a Windows user, you might have to choose another tool in the list.
11. Lospec Pixel Editor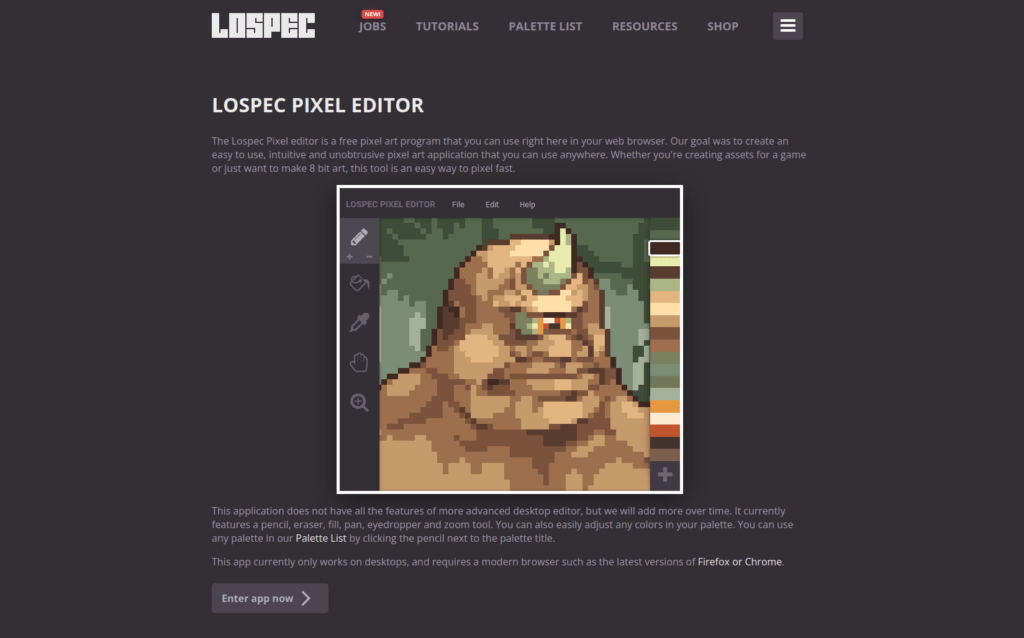 Lospec Pixel Editor is an online pixel art editor. The main goal of this tool is to make creating and editing pixel arts as easy and lightweight as possible.
There is no mandatory software to download. Instead, the tool runs on the internet. The tool only works for desktop devices. Besides, it needs a modern browser like Firefox or Chrome.
Lospec Pixel Editor is an open-source tool. It is entirely free to use.
Lospec has a great resources page, where you can find information and theory about pixel arts. This is great if you are completely new to the game.
If you own some technical background, you can customize the tool or become a contributor.
12. GrafX2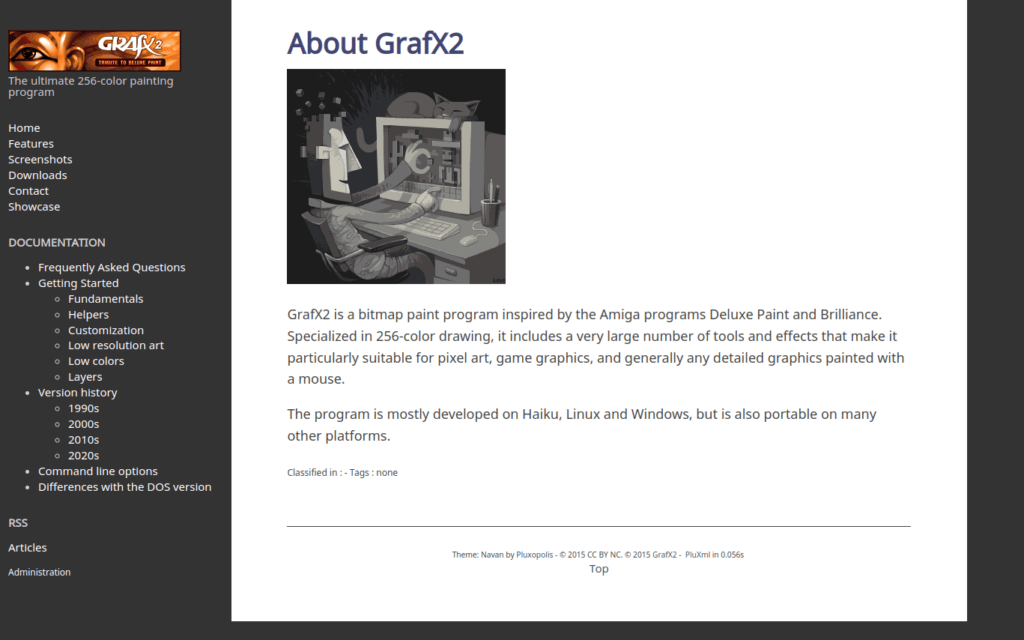 GrafX2 is a bitmap image editor. This tool lets you create fabulous pixel art images with relative ease.
This tool is free to use and it is an open-source project.
The tool has a variety of great features that make pixel art creation possible. For example, there is a pixel palette and an overall great user interface. With the merge feature, you can combine colors based on their average shade. And with the repeat feature, you can repeat tiles to streamline the scene creation process.
Even though pixel art is not typically associated with smooth lines, there is a spline feature that lets you create smooth curves too.
This tool is old. It's been around for 20+ years. It's also pretty popular, so you will surely find a lot of great tutorials and resources on how to get the most out of it!
The tool has a vintage outlook. But don't let that confuse you. The tool is one of the best pixel art tools to date. You don't need to have any background in pixel art or design to start using the tool.
13. Paint.NET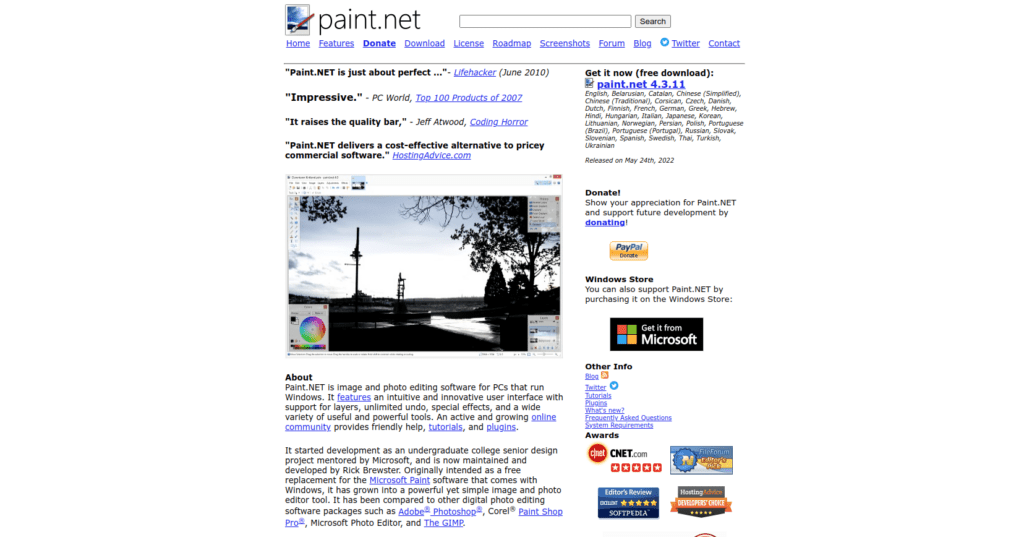 Paint.NET is a Windows-only solution for creating designs and editing photos. It is commonly treated as a good alternative to Photoshop or GIMP.
Paint.NET is a lightweight tool. Thanks to its versatile features, you can use Paint.NET to create pixel arts.
Besides, there is a big community and a lot of great learning resources, such as video tutorials and blog posts.
As a major drawback, paint.NET is not as feature-rich as GIMP or Photoshop. For instance, you can edit only one image at a time.
However, fewer features make the tool easier to get started with. So even if you are a beginner in graphic design or pixel arts, you can find paint.NET an easy overall solution to get started with.
14. Pyxel Edit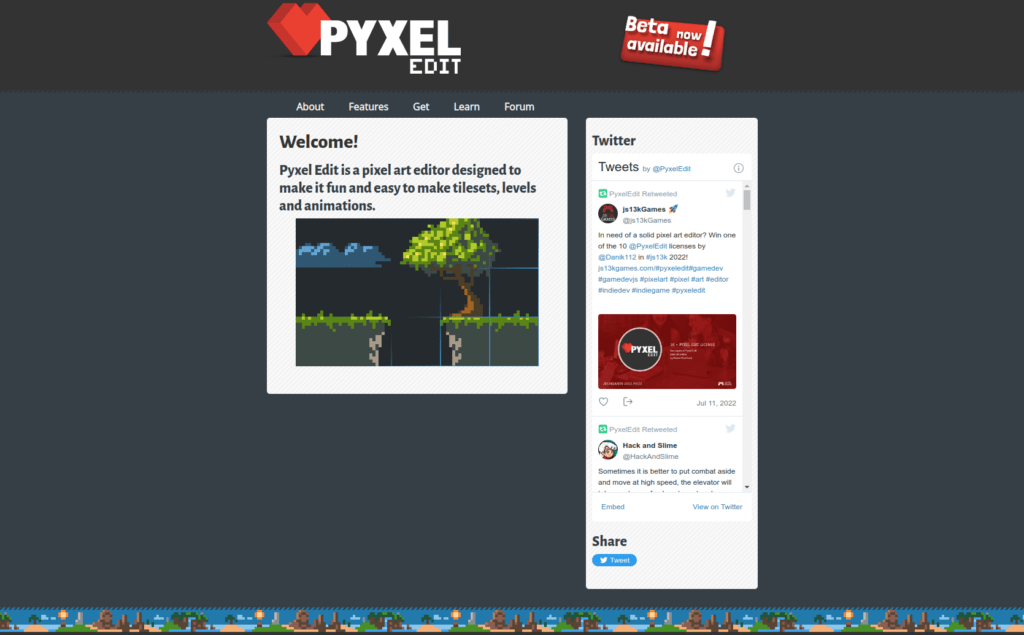 Pyxel Edit is a great pixel art software for game developers and game designers.
With this tool, it's super easy and intuitive to create tilesets, levels, and animations for your games.
There is a 100% free version available. But this is a limited version of the tool. To get the most of it, you need to pay $9 for the paid version of the tool. The paid version has a much broader feature set, while it's not too costly for beginner artists.
One of the key benefits of Pyxel Edit is the intuitive and simple user interface. Besides, this tool has all the necessary tools and features to make animating pixel arts possible. For example, the onion skinning feature lets you work such that you see the previous frame. This helps you create a more natural animation.
Pyxel Edit is great for designing assets for your pixel art games. You can use the tiling features to quickly create maps for your games. You can convert the output to JSON or XML formats. If you are a programmer, you know how useful this is…
15. GraphicsGale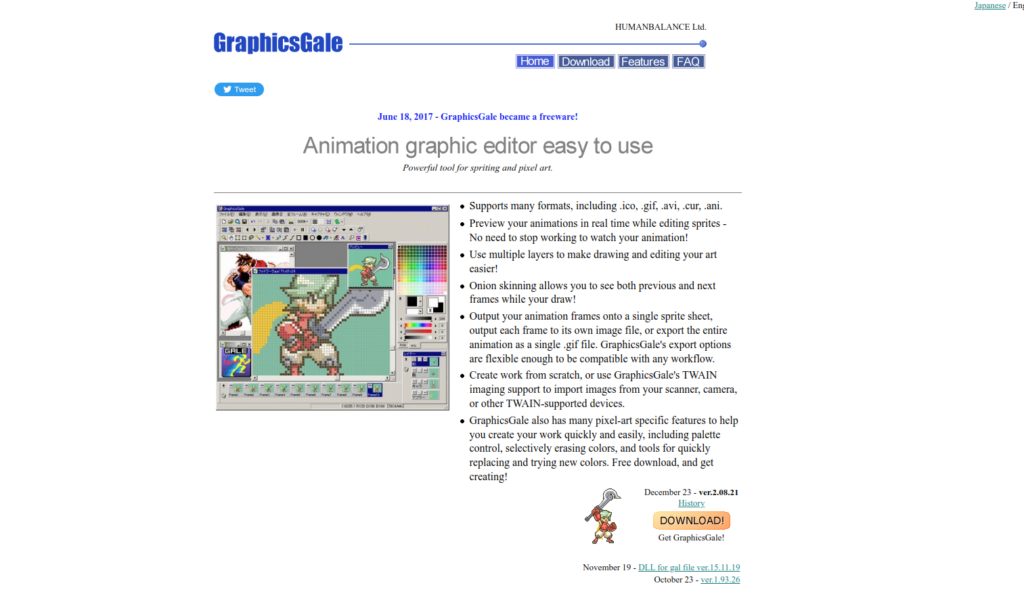 GraphicsGale is a retro-themed pixel art editor. This tool is also free and it has a variety of great features for pixel artists.
Some of the primary features of this tool include:
Palette control
Animation features
Drawing
Layering
And much more.
(By the way, GrpahicsGale supports TWAIN imaging, so you can import images directly from a camera or scanner.)
The tool supports creating both sprite sheets and GIF animations. You can then export these files and continue working on them in a game development environment, for example.
The major drawback to GraphicsGale is the Windows-only support. If you're a macOS or Linux user, you must choose another tool from this list.
16. Krita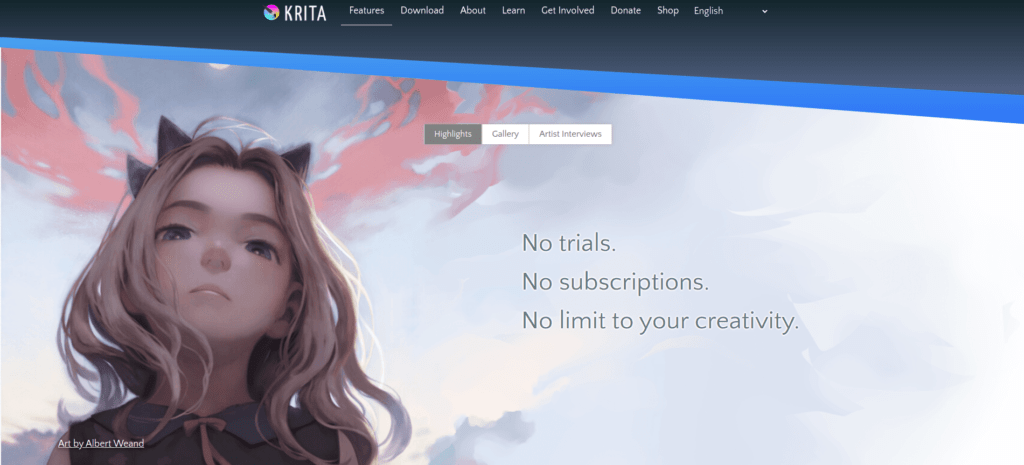 Krita is a completely free graphic design software that can be used to:
Concept art
Cartoons
Illustrations
Digital painting
Pixel arts
And much more.
Krita is not as feature-rich as a tool like Photoshop or GIMP. But this doesn't mean you couldn't do something awesome with it.
For example, you can add motion to your pixel art assets with ease.
With Krita, you can easily create high-quality animations and pixel arts.
Krita is also a popular tool, so there is a whole bunch of great resources on the internet as to how to use it in different contexts.
For example, here is a great free tutorial:
17. Pro Motion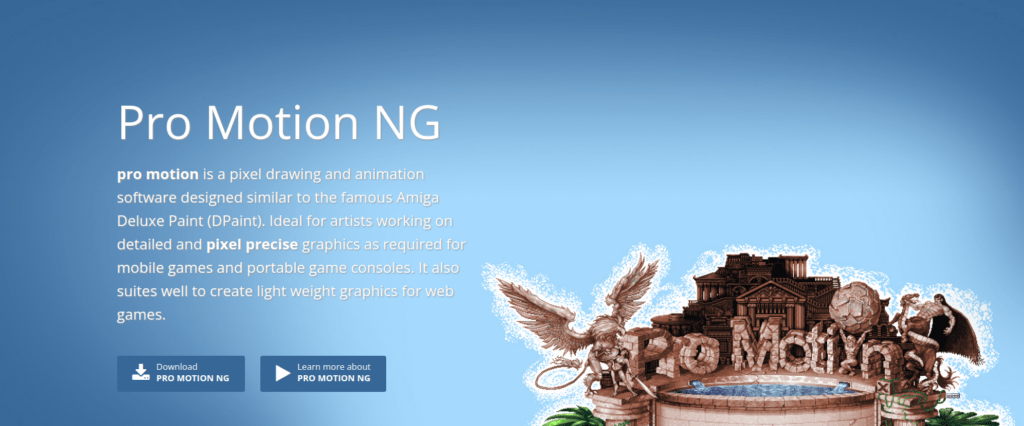 Pro Motion is a pixel art tool for creating still images, animations, and even tiles.
Pro Motion is a great tool for game design and game developers to create cool-looking pixel arts for their games.
Some of the great features of this tool include:
Maps
Bitmaps
Sprite sheet design
The output of the tool is compatible with popular game engines. Thus, you can export your assets from Pro Motion and start using them in your game development environment right away.
For example, if you create a sprite sheet, you can export it and easily animate the sheet in your game program, such as an iOS app.
18. Dotpict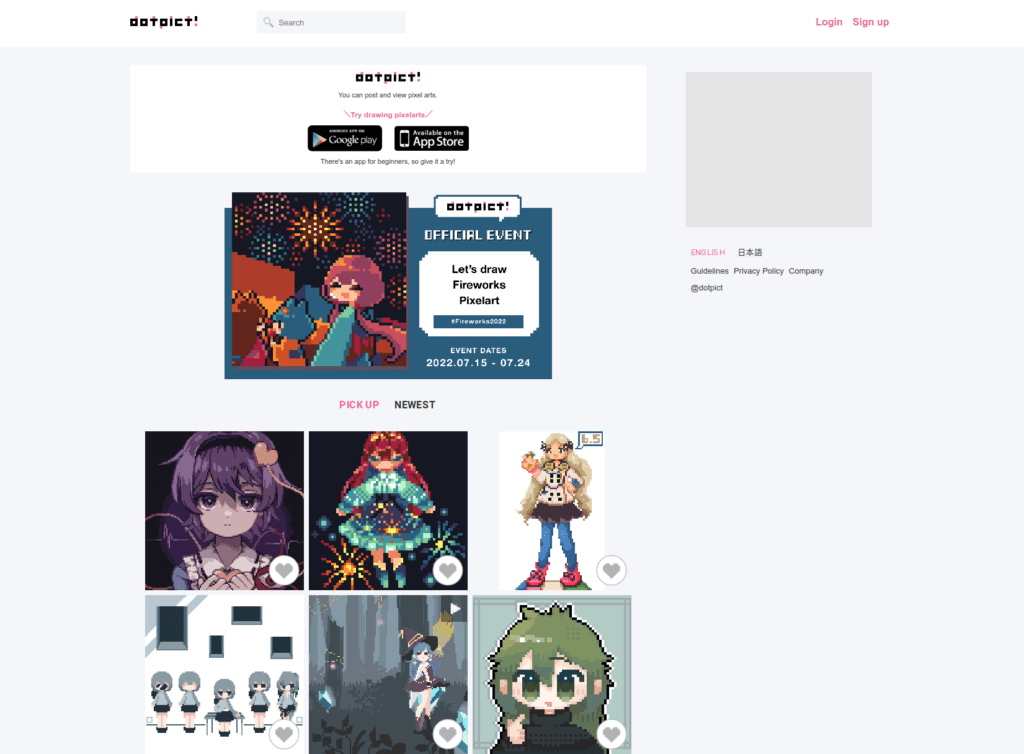 Thus far you have seen pixel art tools that are mainly desktop software or online editors found on the internet.
Dotpict is an iOS and Android app for creating digital pixel art.
In the Apple App Store only, Dotpict has already more than 4 million downloads! The tool is popular and has a lot of free resources and tutorials that help you learn how to use it.
The community function makes it possible to share pixel art with other community members. This feature lets you share art generated outside Dotpict too!
You should choose Dotpict if you are someone who:
Wants to create pixel art.
Needs a mobile app for creating pixel arts.
Want to share your artwork among other creators.
Dotpict supports animations too! Most of the great features are free but you must pay for some premium features.
19. Pixaki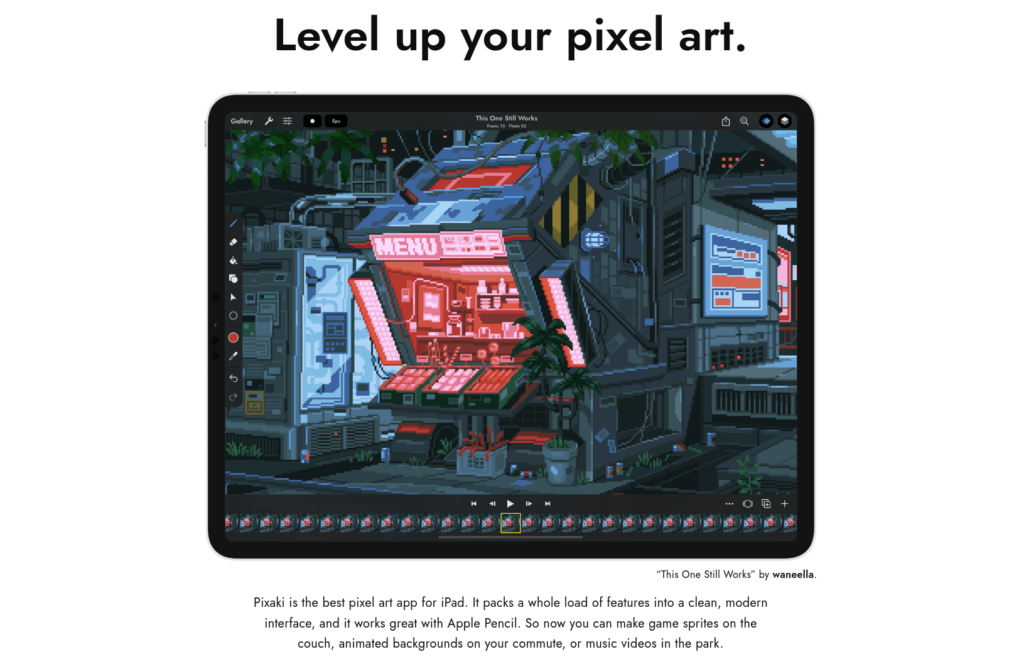 Now that you have seen a tool that works for iOS and Android, let's take a look at an iPad-only pixel art editor.
Pixaki is the best pixel art creation app for iPad users.
The user interface is clean and easy to understand. Even beginners will quickly get the gist of this tool. One of the main benefits of Pixaki is it works with iPad combined with Apple Pencil.
So no matter where you are, you have a digital piece of paper on which you can create professional pixel arts.
You can create sprites, animated backgrounds, and even music videos with the tool!
Some of the great features of Pixaki include:
Pixel correction to automatically erase double pixels
Dither brush for painting in different patterns
Shapes to create straight lines for isometric arts
Pixaki is a versatile tool that lets you create cool pixel arts and animations.
There is a free version of the software, but to use all the features, you need to pay for it! The price is a one-time payment of $26.99 in the App Store.
20. Procreate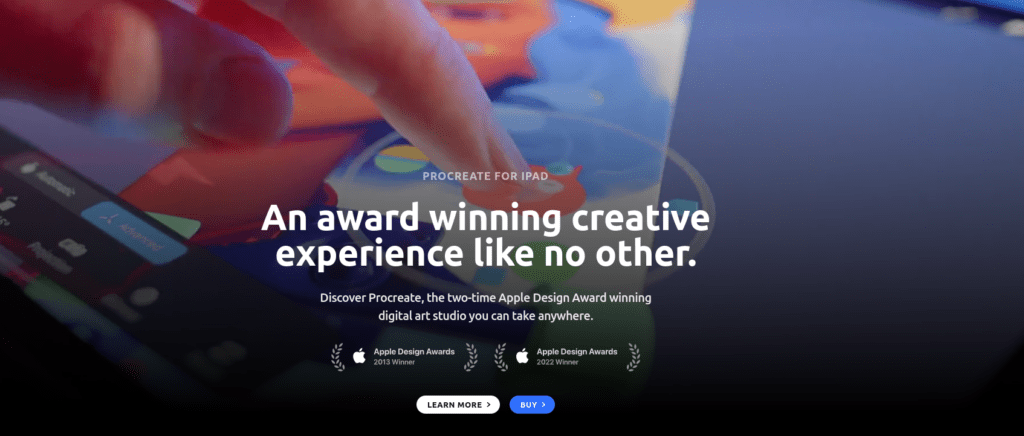 As another iPad and iPhone-only tool, there is an app called ProCreate.
This piece of illustration software has gained some attention in the past.
This tool is not a pixel art-only solution. Instead, it's a versatile tool for photo editing, design, and animations.
Pixel art is only one of the things you can do with the app.
The greatest part of Procreate is it supports Apple Pen. This makes it easy to work on your designs and artwork on the move.
Also, the tool is easy to learn even for beginners. So you don't have to be a digital art expert to start using ProCreate.
This app is not free. You can get it for a $9.99 one-time payment.
So if you are looking for a great overall graphics design solution that works where you work, consider ProCreate. However, if you are specifically interested in pixel art, perhaps think about Pixaki.
FAQ
What Is Pixel Art?
Pixel art is one type of digital art. In pixel art, images are created by graphic design software. The images are edited on a pixel level. This creates a unique visual appearance for pixel art images. Instead of being smooth lines, the edges are "pixelated" intentionally.
Pixel art originates from the times when there was no modern-day computational power accessible. Back in the day when resources were limited, the imagery needed to be lightweight. Smooth curves and sharp edges were possible. Instead, a developer would need to work with individual pixels to make sure the image made sense.
And by the way, at that time, this was not considered "pixel art". Instead, it was digital art or game development at its finest.
These days, the computational power issue doesn't persist anymore. Thanks to the latest advancements in technology and algorithms, digital creators can construct high-definition images that don't look pixelated.
But thanks to the unique look and nostalgic vibe of pixel art, it has become an art form that is still broadly used across digital art industries. There are lots of new games every day that use pixel art as a foundation.
What Is the Best Pixel Art Tool for Games?
To create pixel art and sprite sheets for games, consider Aseprite or Pyxel Edit.
These tools are mainly designed for game developers and game designers to work on pixel art assets.
What Is the Best Pixel Art Software for iOS?
For iPhones, use Dotpict.
For iPads (with Apple Pens), use Pixaki.
What Is the Best Pixel Art Software for Android?
The best pixel art creation tool for Android is Dotpict.
Wrap Up
Thanks for reading!
Today you learned about the best pixel art tools for creating those unique pieces of art, animations, and games.
If you are serious about digital arts, such as illustration, design, and photo editing, besides pixel art, consider Adobe. With Adobe tools, you will likely never have to pay and learn how to use another tool.
However, if you are a beginner, don't go to Adobe instantly. Adobe tools take time to learn and they are pricey for someone who is just looking to create one or two-pixel artworks. Instead, choose a free tool from this list, such as GIMP, Pixilart, or Aseprite.
If you want a solution that works for iOS or Android devices, consider Dotpict. If you are an iOS-only user, make sure to try Pixaki with iPad and Apple Pencil combo.
I hope you were able to find a tool or two to test out.
Read Also