A VPN offers an easy and reliable way to protect your online security and privacy. Anyone who uses the internet can greatly benefit from using a VPN.
As a software developer, a VPN can be even more crucial as you can protect your team and your customer's data with one.
In this article, you learn what is a VPN and why should a software developer use a VPN. More importantly, you are going to see a list of the 10 best VPNs you can use as a software developer.
Disclaimer: This post has affiliate links at no cost to you.
10 Best VPNs for Software Developers
This is a comprehensive guide to choosing the best VPN for a software developer. Here is a quick look at the 10 best VPNs for software developers. Feel free to jump into a particular tool's review using the links below.
Below, you find a more thorough description of each VPN in the list.
What Is a VPN?
A VPN or Virtual Private Network is a service that makes your online presence private and secure.
A VPN encrypts your IP address and hides your online activity from third parties, such as hackers, the government, or the ISP.
A great VPN is a service that has a big number of servers across the globe.
A VPN is easy to use. You can change your IP address with a single click of a button. When you do this, the VPN creates an encrypted tunnel that acts as an intermediary between you and your ISP. If someone were to intercept this connection, all they would be able to get is your VPN server's IP address, not yours.
This is great news for several types of people:
People generally use VPNs to avoid being spied on or hacked. This could happen anywhere in an unsafe wireless connection, such as any public WI-FI you have ever connected to.
Sometimes journalists use VPNs while working with sensitive data or some particular online resources.
Software developers can use VPNs to protect their customers' data in addition to protecting themselves and their work.
You might also need VPN for entertainment purposes. A VPN can help you access geo-restricted content, such as Netflix or BBC iPlay.
VPNs Are Not Only for Security
VPNs are also used by individual users to bypass regional restrictions on websites encountered with streaming sites like Netflix, YouTube, Hulu, and BBC iPlayer.
These services block access based on your IP address.
The IP address is easy for them to determine. This is because all data passing between their servers and your browser has to pass through their servers first.
So they can easily check where you are when you connect and block you if necessary.
But using a VPN server in another location will hide your true IP address. This allows you to access blocked content or use online streaming services anywhere in the world.
This is useful if traveling outside the US where it is difficult or impossible to access services like NBC and Hulu.
Why Does a Software Developer Need a VPN?
Just like anyone else, a software developer should use a VPN to generally improve online security and privacy.
However, if you work as a software developer, there is a bunch of really good reasons why you should use a VPN.
Protect your customer data from being compromised.
Protect your intellectual property from hackers.
Prevent data leaks related to things like:

Product announcements
Advertising campaigns
Acquisitions

Research your competitors' websites without their notice. (They cannot see it is you because of the different IP address).
Ensure remote team members can access the necessary resources and references.
Connect to public Wi-Fi hotspots securely.
Ensure your site works globally by connecting to servers in other countries.
Prevent hackers from stealing the login details to your server when accessing the server outside of the office. It also prevents hackers from intercepting the data you retrieve from the server.
Many VPNs come with anti-malware software. It protects you and your team from phishing attacks and other common threats with nasty consequences.
With all these benefits in mind, let's dive into the list of the 10 best VPNs for developers.
10 Best VPNs for Developers
Here is a list of the 10 best VPNs for software developers.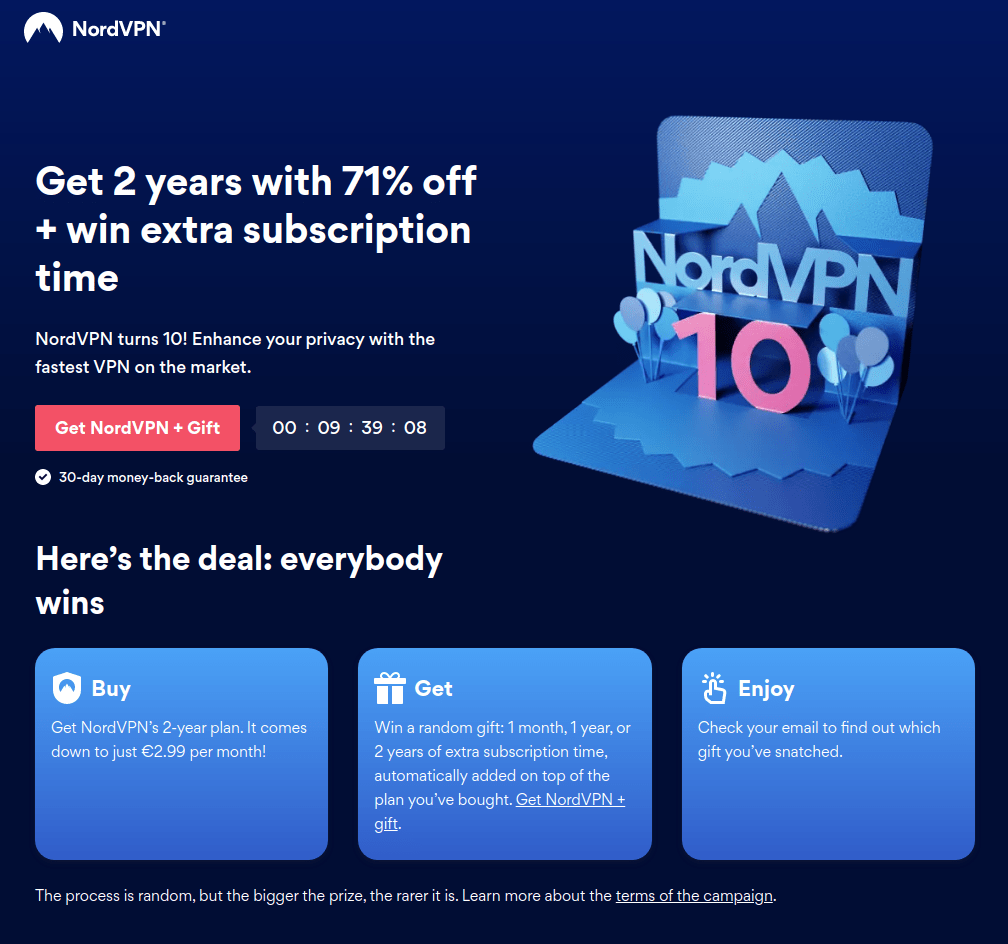 NordVPN is a VPN service that allows you to securely browse the internet without worrying about security.
A special feature most VPN providers do not offer is social media tunneling. This allows social media users to surf anonymously.
NordVPN is committed to keeping your privacy safe while also providing great customer support and easy-to-use software.
The client connects to the VPN server, encrypting your traffic. The encrypted data is sent through the VPN tunnel to the VPN server where it is decrypted and forwarded to its original destination.
All of this happens in a matter of seconds.
Your ISP only sees a garbled mess when trying to look at your internet activity. In addition, websites can't see who you are or what you're up to because all they see is the IP address from the VPN server.
NordVPN Is Best For Someone Who Is:
Looking for a variety of useful VPN features, such as:

Kill switch
Torrenting capability
24/7 Customer service

In the need of a dedicated IP address.
Wants to scroll social media privately
NordVPN Is Not for You If:
You are looking for more than 6 simultaneous VPN connections.
You want to get a VPN for a low price.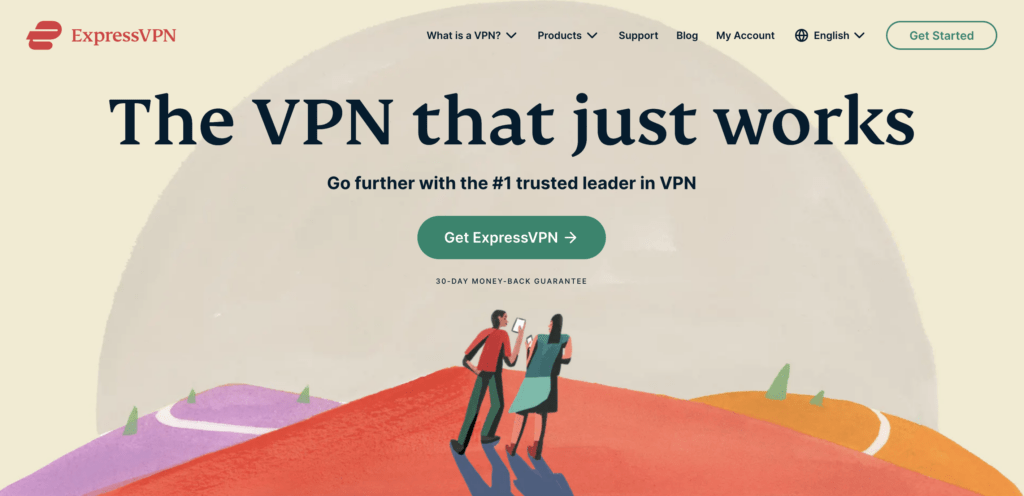 ExpressVPN is one of the most trusted VPN providers on the market.
Here's why you should consider using them:
High speed for streaming and downloading.
ExpressVPN has 2000+ servers in 94 countries. This is more than any other VPN provider.
Unlimited bandwidth without throttling or cap.
DNS-leak protection.
Kill-switch to protect your identity if your connection suddenly drops.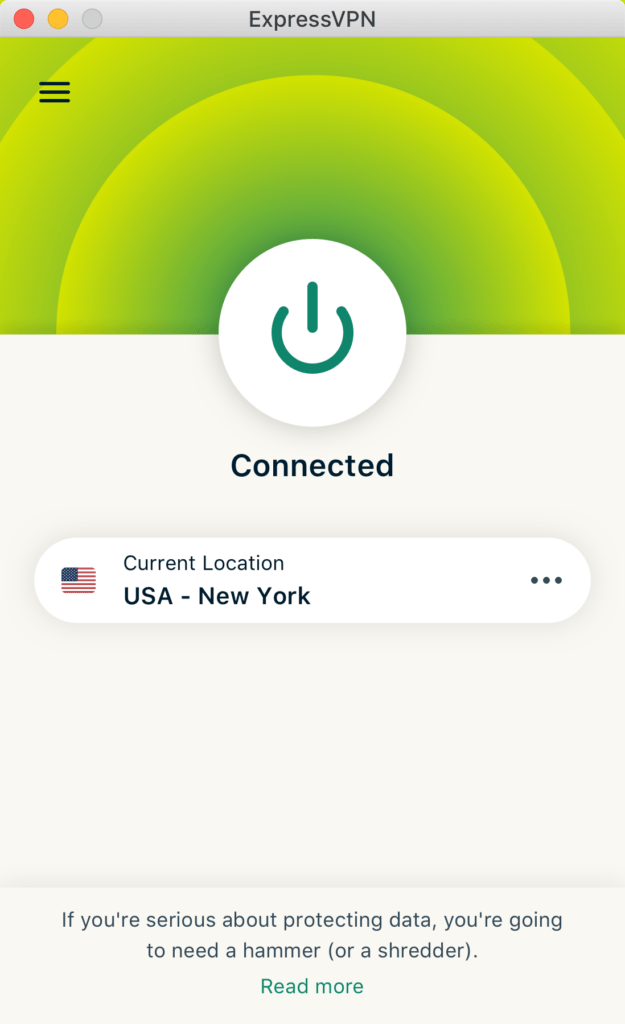 ExpressVPN offers you a nice 30-day money-back guarantee. It also offers you a monthly plan if you do not want to sign up for a longer plan.
ExpressVPN Is Best for Someone Who Is:
Looking for strict no-logging policies.
Seeking leak-free protection.
Using torrenting applications and P2P.
ExpressVPN Is Not for You If:
Have a VPN for more than 5 devices.
Low on budget.
Have a static IP address.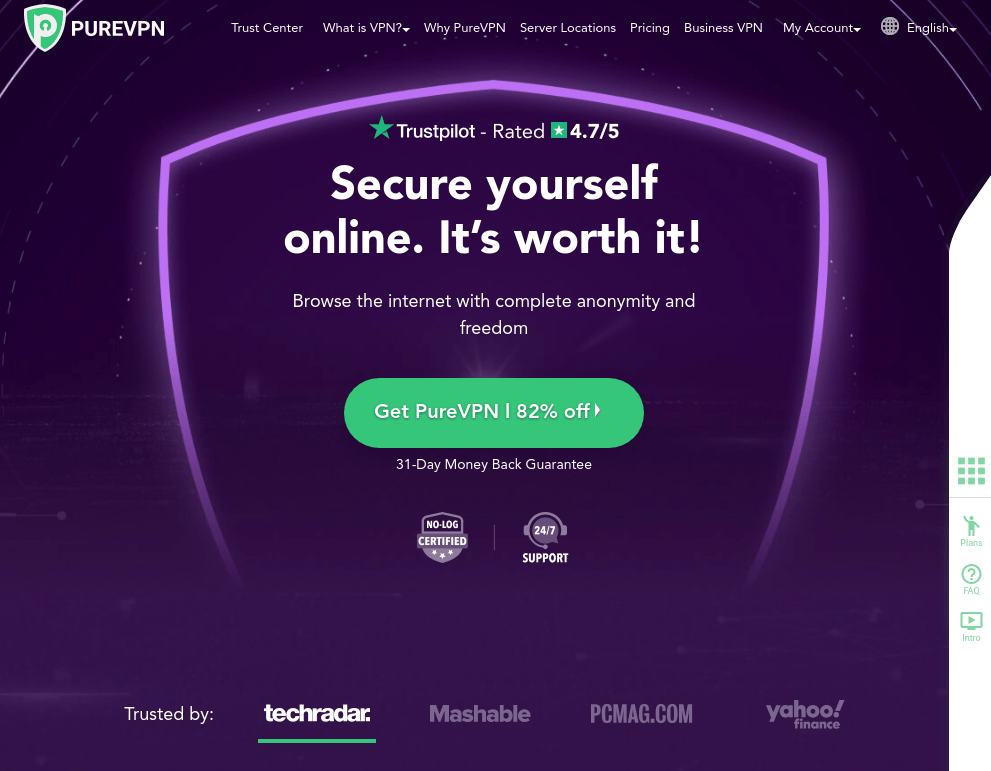 PureVPN is an elite VPN service that will allow users to browse the internet freely and securely. PureVPN has over 6500 Servers in 78+ Countries.
With PureVPN, you can access some of the most popular streaming services, including:
Netflix
BBC iPlayer
Youtube
DAZN
These services are commonly geo-restricted.
With a quality VPN like PureVPN, you can bypass these restrictions by connecting to a server in a country without the restrictions.
PureVPN Is Recommended For Someone Who Is:
Looking to unlock geo-blocked streaming content.
Seeking to use torrenting applications.
Looking for 24/7 VPN support.
ProtonVPN Is Not for You If:
You are using Linux because the Linux app is somewhat limited.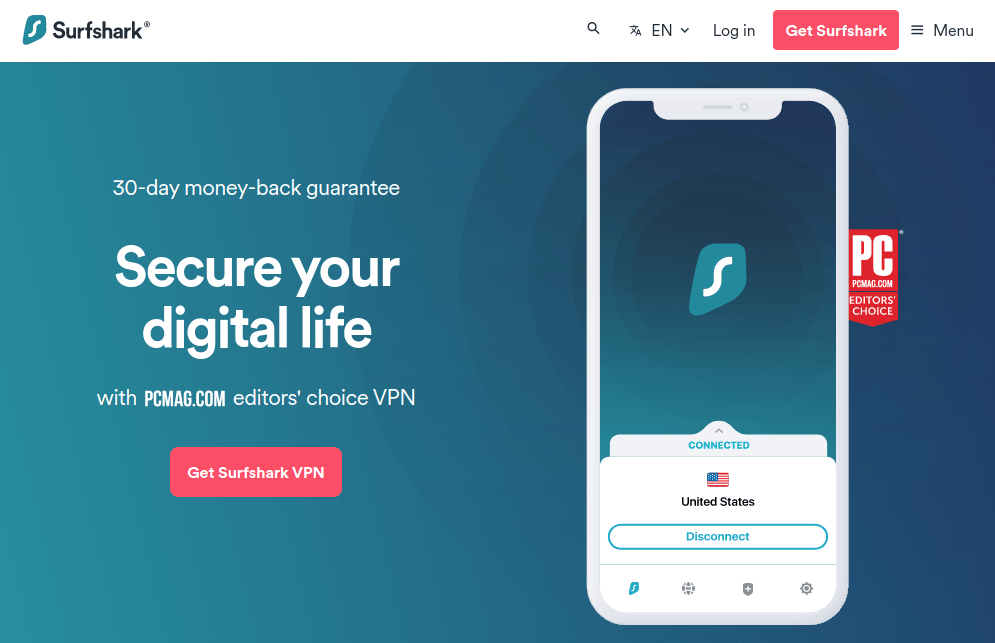 Surfshark is a VPN that provides online security and privacy to its users.
Surfshark VPN hides its users' browsing activity using end-to-end encryption.
The main feature of Surfshark is a VPN service that focuses on privacy.
However, it also includes a broad variety of other types of security features other than just encrypting your data.
As an example, you can use the Whitelister tool to split tunnel your traffic. This means you can send most of your traffic through the VPN tunnel, while direct traffic comes outside of the VPN servers.
You will find clear instructions on how to use these features in the app.
Surfshark also has a strict no-logs policy, so the user's online activities are completely secure from surveillance or data collection.
Surfshark VPN can also unblock geo-restricted websites like Netflix US, Hulu, BBC iPlayer, etc., in countries where these services are not allowed by geographic restrictions.
The VPN service by Surfshark is available on all popular platforms like Windows, Mac, Android, and iOS.
Surfshark provides unlimited server switches across 1700 servers in 63 different countries. The subscription plans are fairly cheap as compared to the features they provide.
Surfshark Is Best For Someone Who Is:
Seeking to protect multiple devices in one go.
Looking for an optional static IP address.
Interested in the extra features and paying for them.
Surfshark Is Not for You If:
You are looking for a cheaper VPN.
You want a higher number of available servers.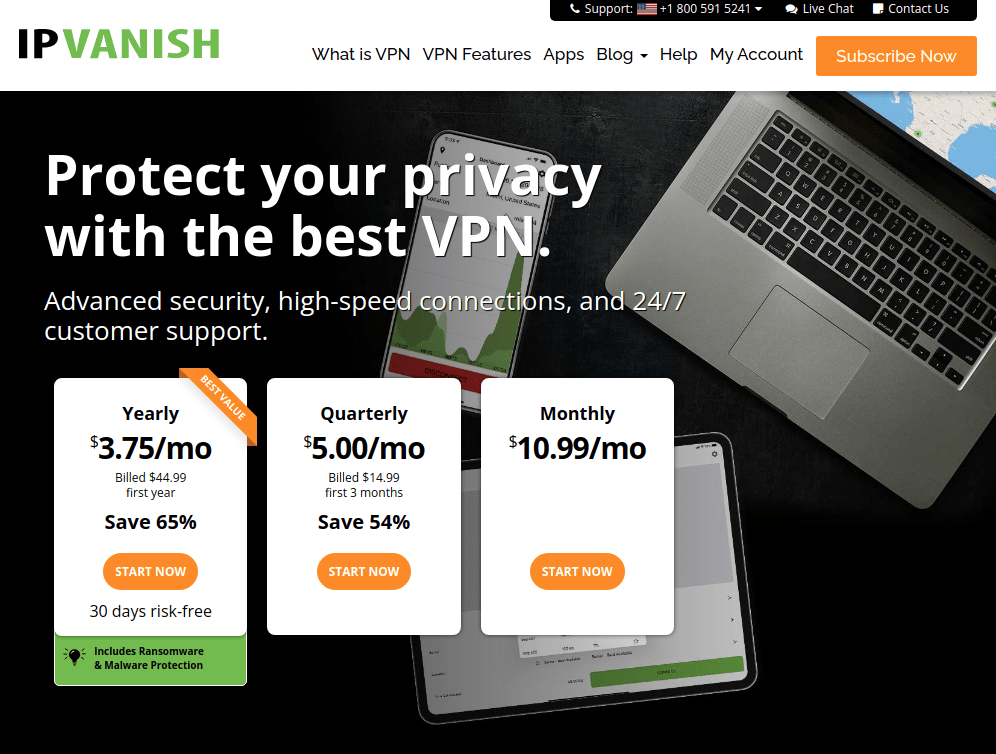 IPVanish is a VPN service that has over 1600 servers in over 75 locations.
IPVanish makes it possible for you to connect to VPN servers across the US and worldwide to access geo-restricted content and to access P2P servers.
Their software works on every major operating system and provides a large number of exit nodes in various countries around the world.
The IPVanish VPN works on Windows, macOS, Android, iOS, Linux, Chromebook, and routers. IPVanish's VPN service is its primary service, but each subscription includes online storage through SugarSync.
You can protect an unlimited number of devices using IPVanish.
IPVanish is Recommended For Someone Who Is:
Keen to watch sports competitions at the national/international level.
Looking to protect several devices.
In a need to transfer big chunks of data.
Seeking a variety of VPN protocols.
IPVanish Is Not For You If:
You want to watch Netflix using a VPN.
You want to have a static IP address.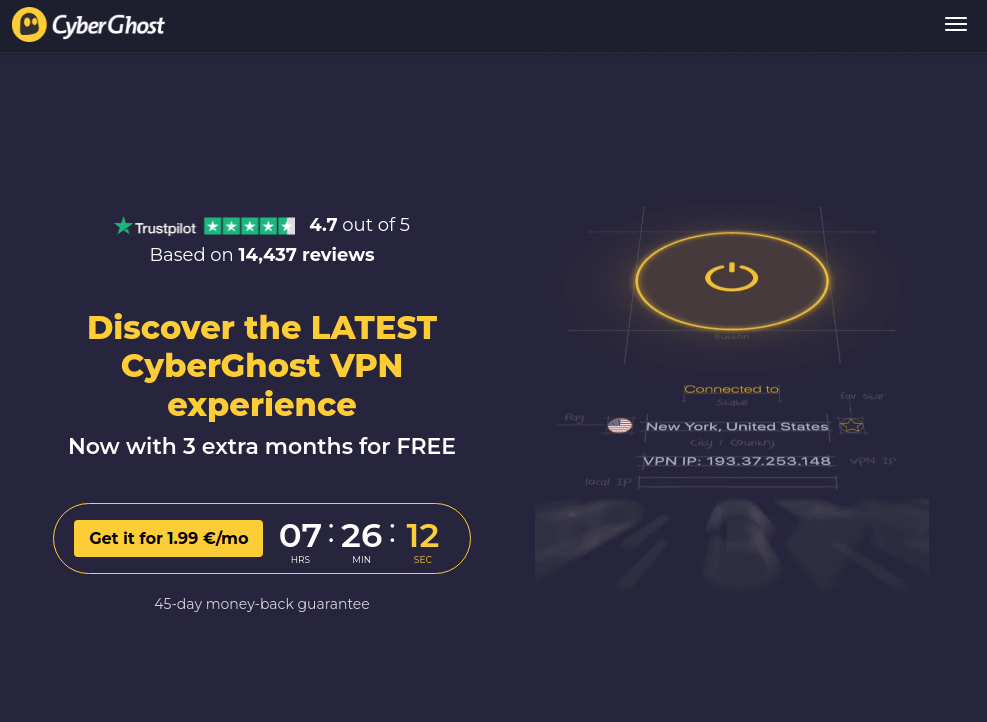 CyberGhost is a popular VPN service that offers strong encryption and a large network.
CyberGhost has 6100+ VPN servers in 88 countries. It uses several different VPN protocols to operate.
As a CyberGhost user, you can connect to a VPN server and access region-locked content, and use torrenting apps.
You can access some of the most popular streaming services, such as BBC iPlayer, HBO Now, and much more.
CyberGhost offers additional NoSpy servers for an extra fee.
These servers are outside of the reach of government surveillance agencies. These extra servers are good for someone who is worried about the government seeing what you do on the internet.
CyberGhost Is Recommended For Someone Who Is:
Looking for a VPN with a dedicated IP address.
Spending a bunch of time streaming content.
Looking for antivirus software and a VPN from the same company.
CyberGhost Is Not for You If:
You want a low-budget VPN.
You need a big number of simultaneous connections.
ProtonVPN is a VPN service developed by the same people that developed ProtonMail, an encrypted email service based in Switzerland.
ProtonVPN provides fast access with lots of configurable servers at low price points. It has 1080 servers across the globe in 54 different countries.
In my opinion, their best feature is the Secure Core, ProtonVPN's own set of carefully protected VPN servers. It creates an extra layer of encryption through multiple servers. This way if a hacker wanted to hack your connection somewhere along the line it would be very difficult as they would have to hack encryptions for multiple data packets.
ProtonVPN Is Recommended For Someone Who Is:
Prioritizing privacy and security.
Looking for ways to connect to more servers located in Africa/South America.
ProtonVPN Is Not for You If:
You want your VPN provider to have 24/7 support.
Dedicated IP address.
You prefer monthly billing rather than an annual one.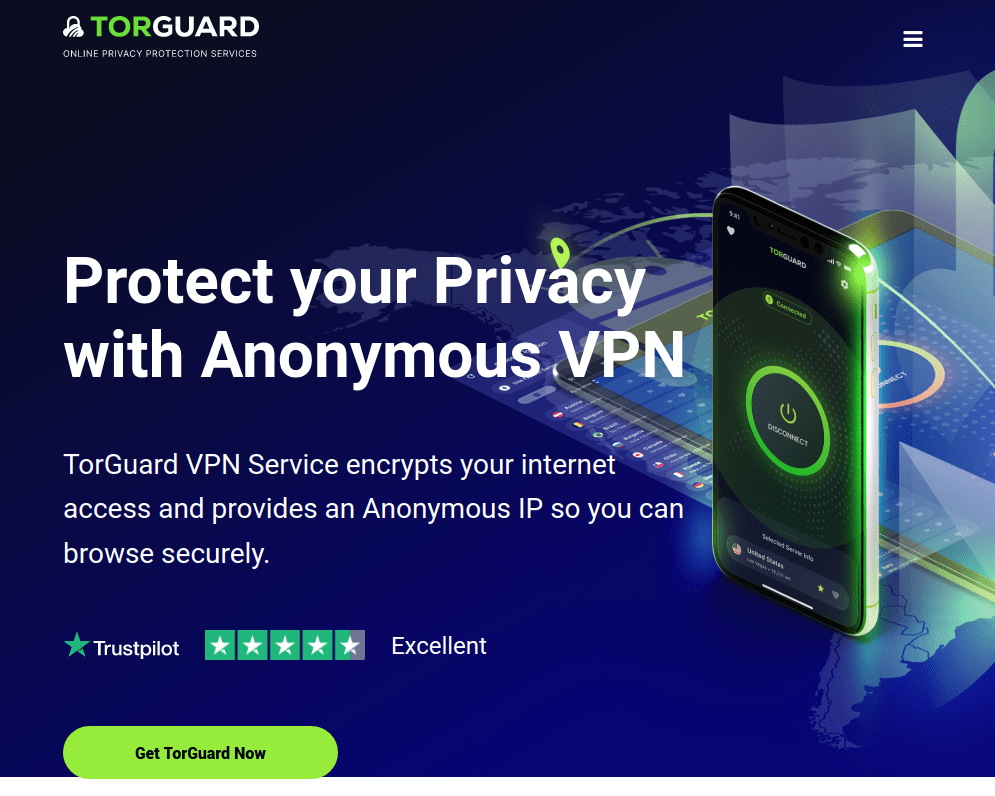 TorGuard is a high-quality VPN service. TorGuard has a strict no-log policy, and 30-day money-back guarantees.
TorGuard has 3000+ servers in more than 50 countries.
Torguard's VPN service is a powerful product. It comes with the implementation of a bunch of different security options.
For instance:
WireGuard tunneling protocol
Prevents IPv6 leaks
Has a Stealth proxy
TorGuard, as the name suggests, is a great VPN for torrenting. Sometimes it might even work in very restricted countries, such as China.
TorGuard Is Recommended for Someone Who Is:
Seeking really strong security features.
Looking to use torrenting apps.
Picky when it comes to the speed of a VPN.
TorGuard Is Not for You If:
Want to watch Netflix.
You want an easy and intuitive UI.
AtlasVPN is a Virtual Private Network service that aims to provide a simple and affordable way of protecting your privacy when browsing the internet.
AtlasVPN has clients for Windows, macOS, Android, iOS & Linux. They have 700 servers in 31 countries.
AtlasVPN is a great VPN service for streaming content. For example, AtlasVPN handles Netflix really well. AtlasVPN also supports other popular geo-restricted streaming services like BBC iPlayer and Youtube.
A really great option when using AtlasVPN is to use the SafeBrowse feature. It blocks malicious websites with the potential of infecting your device with malware.
Better yet, there is also a data breach checker to detect if your data has been compromised.
There is also a SafeSwap feature that rotates your IP addresses while connected to the VPN.
AtlasVPN Is Recommended for Someone Who Is:
Looking for a free version of a VPN.
Using torrenting applications.
Streaming content.
AtlasVPN Is Not for You If:
Want to use a VPN on Linux?
Do not want the VPN to be based in the US.
Norton is popular for its antivirus software.
However, Norton also offers a highly reliable VPN that allows you to protect your online privacy and security even more. It uses military-grade encryption technology to protect your online presence as well as possible.
Norton VPN includes an ad blocker to get rid of pushy banners, popups, or redirects that could expose you to malware and other unwanted programs.
The WI-FI security mechanism keeps your devices always protected in public WI-FI for example.
Last but not least, the split tunneling feature allows you to customize which traffic flows through the VPN and which does not.
Norton VPN can run 10 simultaneous connections. The VPN apps are available for the main platforms, that is, iOS, macOS, Windows, and Android.
Norton VPN Is Recommended for Someone Who Is:
Looking for 24/7 support.
Strict about downloading/uploading speeds.
Into an affordable solution bundled with antivirus software.
Norton VPN Is Not for You If:
You want to access streaming content on popular geo-blocked services.
You are not using the main platforms.
Conclusion
Today you learned why it is important for a software developer to use a VPN.
To recap, a software developer can benefit from having a VPN for many reasons in addition to improving general online security and privacy. A really good reason for a software developer to use a VPN is to protect their business data or customer data.
In addition, I showed you a list of popular and trusted VPNs out there in the market.
Thanks for reading. I hope it helps.
Happy secure surfing!
Further Reading