Choosing the right type of website builder as a freelancer is important. With the right tools, you can create an outstanding website for your clients in no time. This benefits both you and the customer. The delivery is quick, the costs are low, and the overall productivity increases.
Besides you can design a great website, blog, or portfolio for yourself to promote your freelancing gigs.
This is a comprehensive guide to choosing the best website builder for a freelancer.
Using the tools reviewed in this list allows for streamlined website creation with an intuitive and simple workflow. More importantly, the tools in this list are affordable and great value for money.
Disclaimer: This post has affiliate links at no cost to you!
What Are We Looking at In This Guide?
This guide provides you with the best tools for freelancers to create awesome websites in no time. Thanks to the comprehensive reviews and other information, this article is a bit long. If you don't feel like reading everything, feel free to use the links below to jump to a particular tool.
What Is a Website Builder?
Back in the day, creating a website was a big challenge. To put together an outstanding website, one had to code it using the markup languages HTML and CSS. To add interaction to the sites, the web creator also had to use the JavaScript programming language.
As you might imagine, this is a lengthy process. It takes a long time to learn how to code. And even when you are proficient in coding, it takes a long time to build website projects at scale. This is because of all the technical aspects, maintainability, customizability, and more.
These days, creating websites is different.
Instead of manually coding a website, anyone can build a site with a website builder, such as Strikingly or Wix. Using a website builder requires absolutely no coding skills. As a matter of fact, building a website with a web builder is as easy as setting up a Facebook Page.
With a website builder, roughly all you need to do is:
Choose a domain name
Select an appropriate theme
Change the default texts and images of the theme
Publish the website
Start creating content
This can literally take a couple of minutes.
As a freelancer, this is great news for you. Not only do you build a professional portfolio in a matter of minutes, but you can also make outstanding sites for your customers.
How Does a Website Builder Work?
Now you may be wondering why no code is needed to build a website. How does a website builder skip the coding phase?
The fact that you don't need to write code doesn't mean there is no code under the hood. A website builder is a piece of software that codes the website for you behind the scenes.
Your typical website builder, such as Wix or Strikingly, is a big team of clever software developers. Their main goal is to write software that automates the coding phase of the website creation process. This makes it possible for beginners to create professional websites with easy and intuitive workflows.
Instead of writing HTML to create a web component, you can use a drag-and-drop editor to easily add functionality to your site.
Instead of designing the theme of your site, you can ace through a library of templates made by professional web designers. Choosing a theme for your site merely requires a couple of mouse clicks.
Reasons to Use a Website Builder
Thanks to the customizability and easiness to use, using a website builder is a must for creating websites at scale.
These days, almost every blog or small business website can be created with a website builder. With a web builder, you can create web stores, reservation systems, blogs, and other common types of websites without any coding knowledge.
Here are some reasons to use a website builder instead of coding the site yourself:
No coding skills are needed.
Website builders are user-friendly solutions.
The costs of using a website builder are much less than hiring a developer.
Maintaining the site is easy and intuitive.
Updating the site takes no time with the pre-built solutions.
The technical SEO aspects are done on your behalf.
A quality web builder takes care of making your site secure.
Reasons Not to Use a Website Builder
Even though website builders are great for freelancers and small businesses, a big enterprise might need a custom-coded website.
When coding a website, only the sky is the limit. To build a complex web app, using a website builder won't get you far. This is because web builders are limited to only basic features, such as web stores, blogging, and reservation systems. But to build web software with complex business logic, you have to hire a team of software developers.
Another big problem with website builders is that you have less control over the site. If you are using a theme that slows the site down, there is nothing you can do about it. Also, you have no control over the other technical aspects, such as the technical SEO. Usually, the SEO aspects are well-implemented. But if they're not, there is nothing you can do about it.
Last but not least, website builders typically don't have great customer support. This means if you face a problem, you are all on your own. Of course, there are communities that can help, but the response time varies from days to weeks if any.
Now that you understand the basics of website builders, let's jump into the list of website building tools that are best for freelancers.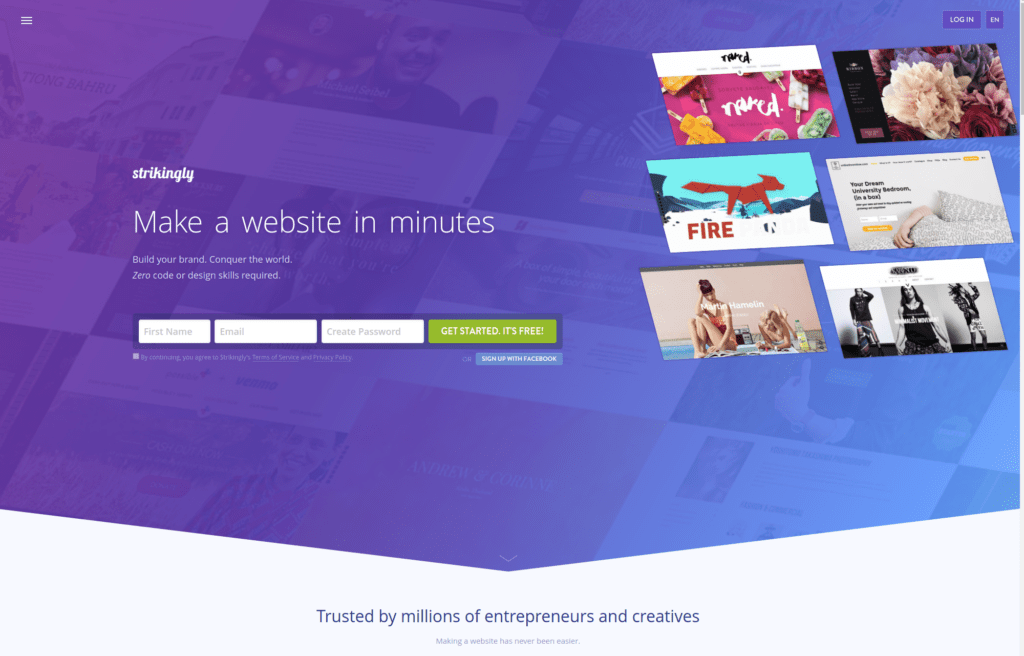 Strikingly is a professional website builder for freelancers and small businesses.
Strikingly focuses on building one-pager websites with ease. It literally takes minutes to get your brand-new site up and running.
The results look professional. This is because the templates that you are going to use are designed by professionals.
As you may know, building a website or a landing page can time consuming. If you have never done it before, it can take some time to get the site up and running, even with a modern website builder. This is because you have to learn how to use the builder's features. This is where Strikingly helps.
Strikingly focuses on making a website in a matter of minutes even as a complete beginner. This tool is a great choice for:
Freelancers to build a portfolio or a simple website for clients.
Small businesses create a stunning landing page that drives leads.
Strikingly offers affordable solutions.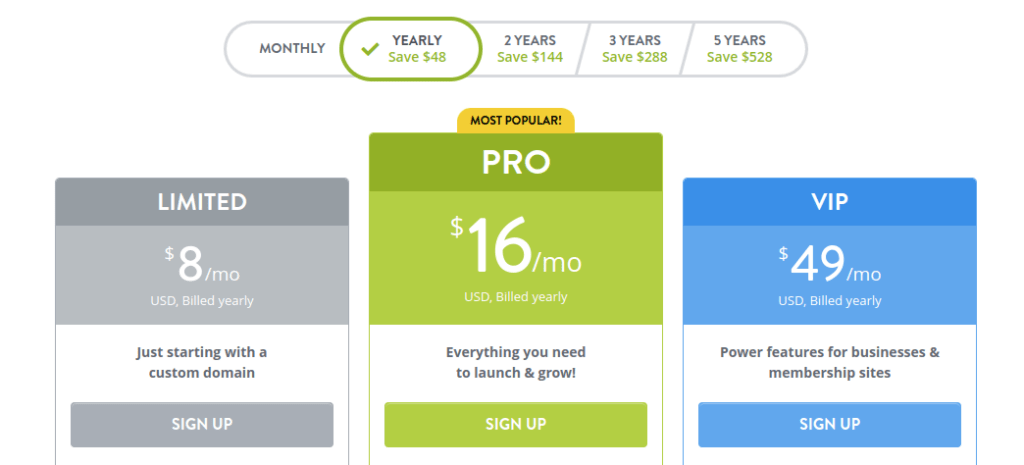 Limited: $8/month
Pro: $16/month
VIP: $49/month
Notice that Strikingly excels in creating basic websites to introduce web presence.
If you are looking for a more sophisticated site, then Strikingly might not be your best bet. For example, to create an e-commerce integration or to obtain detailed analytics, you should use some other platform.
2. Wix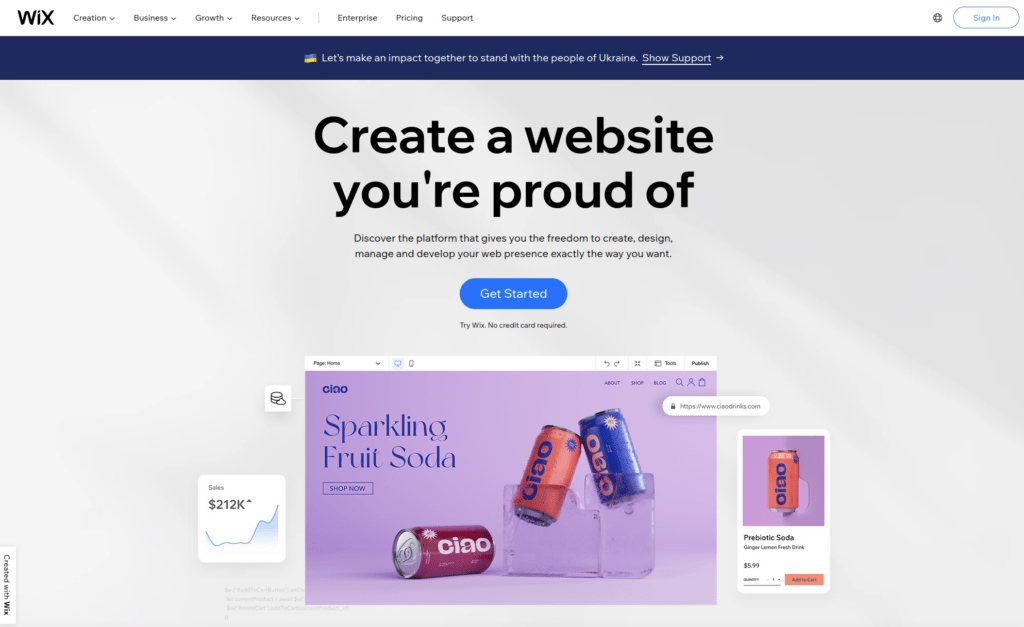 Wix is among the most popular beginner-friendly website builders. This tool offers a great website solution for beginners, freelancers, and small businesses.
But this tool is not a bad option for experienced web creators either. With Wix, you can create a professional website that is up and running in a matter of minutes.
The Wix webpage builder is a drag-and-drop editor. Instead of coding the web components, you can drag and drop them into the view. This makes it really easy to develop websites for beginners and experts.
Even though Wix is geared toward beginners looking to create simple sites, such as portfolios, landing pages, or small business sites for clients, there are some advanced features too!
For example, you can create an online store using Wix. With optimized checkout pages, inventory management features, and coupons/discounts, the stores will be capable of doing wonders.
One of the main benefits of Wix is that there is a completely free plan available. With the free plan, you get to build professional websites for free for a lifetime. The catch is that the domain name is going to be a subdomain of Wix. For example, mysite.wixsite.com. To get rid of the .wixsite.com and replace it with .com, you need to subscribe to a paid plan.
Besides the free plan, Wix has four paid plans.
VIP: $45/month
Pro: $27/month
Unlimited: $22/month
Combo: $16/month
3. PageCloud Pros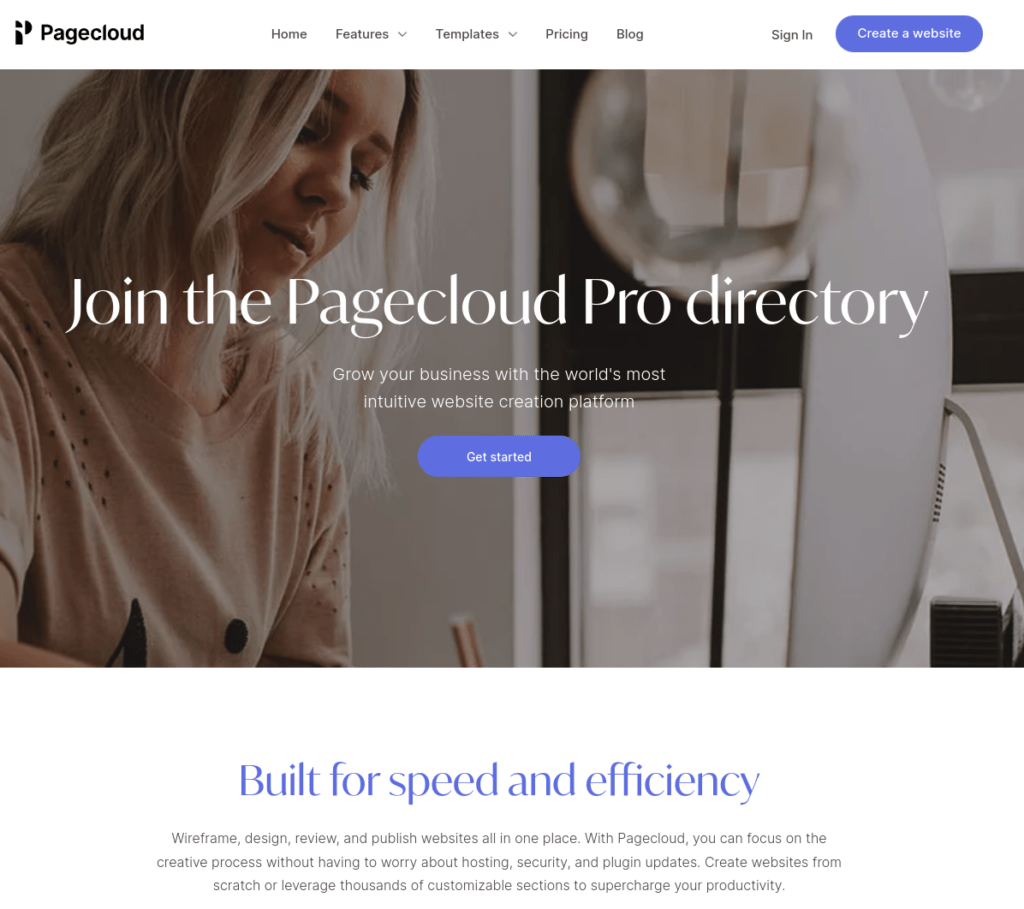 PageCloud Pros is a professional website builder geared towards freelancers and small businesses.
Besides being an easy-to-use web builder, this tool comes with a bunch of freelancer and agency-specific perks for creating multiple sites on the platform.
PageCloud Pros has an intuitive section-based page builder. This allows for the easy and quick creation of custom websites for yourself and your clients.
In some cases, PageCloud Pros might not have all the features you need that other tools in this list do. But this tool focuses on being able to create a site in a record time, rather than focusing on all the bells and whistles. More importantly, the sites end up looking professional and well-organized.
To create a web page with PageCloud Pros, you are going to use the section-based page builder feature. With this feature, you are given a bunch of pre-built website sections, such as hero, features, team, contact, and so on. These pre-built sections help you create the site in record time.
Besides using presets, you can also customize sections and copy-paste them to your pages or even across different sites. This also saves you time when building similar sites for your clients.
The PageCloud Pros is an affordable solution that has the following plans:
1-year free trial!
Single websites for $20/month (billed annually)
Website bundles starting at $10/month/site (billed annually)
4. Webflow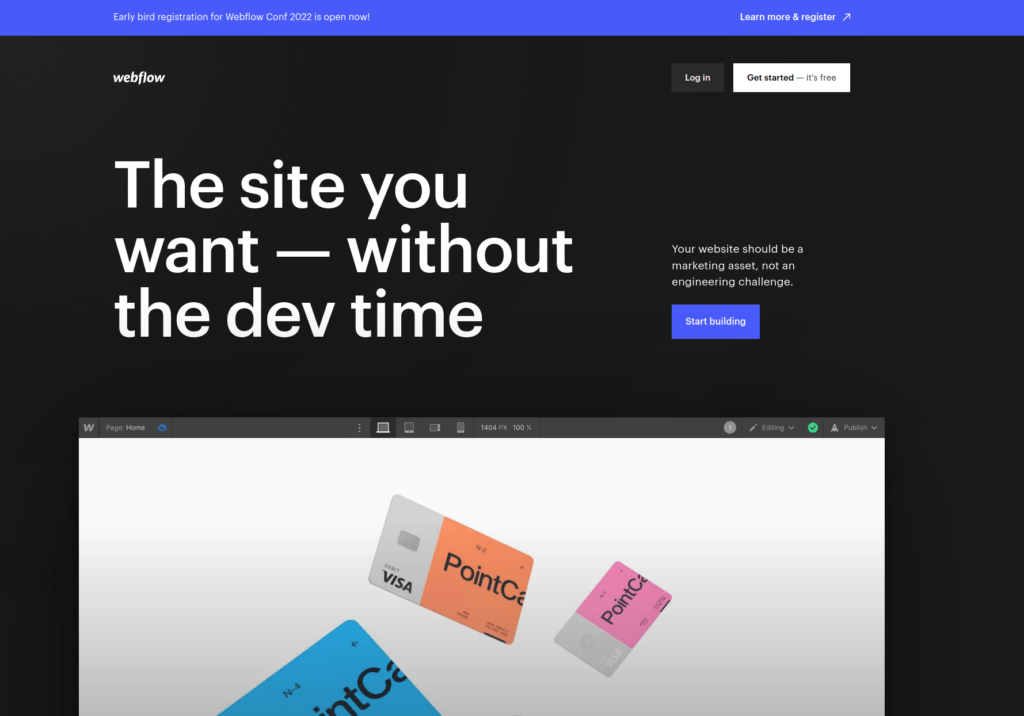 Webflow is one of the most powerful website builders on this list. The sophisticated web technology of this tool makes it possible for web designers and developers to fully customize websites. Besides, the tool generates web code that you can host on Webflow or on a third-party content management system.
The responsive editor of Webflow allows for unlimited customization for any type of website project. This tool is thus not only great for freelancers and small businesses but for pretty much any other website project.
Unlike some of the other tools on this list, Webflow comes with more detailed features. While this is great for the customizability standpoint, this also implies the learning curve is a bit steeper. If you have never used a website builder, be prepared to spend a while learning how Webflow works.
Of course, there are pre-built templates similar to the other tools in this list. With these, creating a site can be really quick. But to make further customizations or create your own themes, be prepared to spend some time!
But once you get the hang of it, chances are you will never need to choose another website builder.
The Webflow has following four pricing models:
Unlimited free trial for 2 website projects
Individual business sites start at $12/month
Individual e-commerce sites start at $29/month
Freelancer and agency plans start at $16/month
5. WordPress.com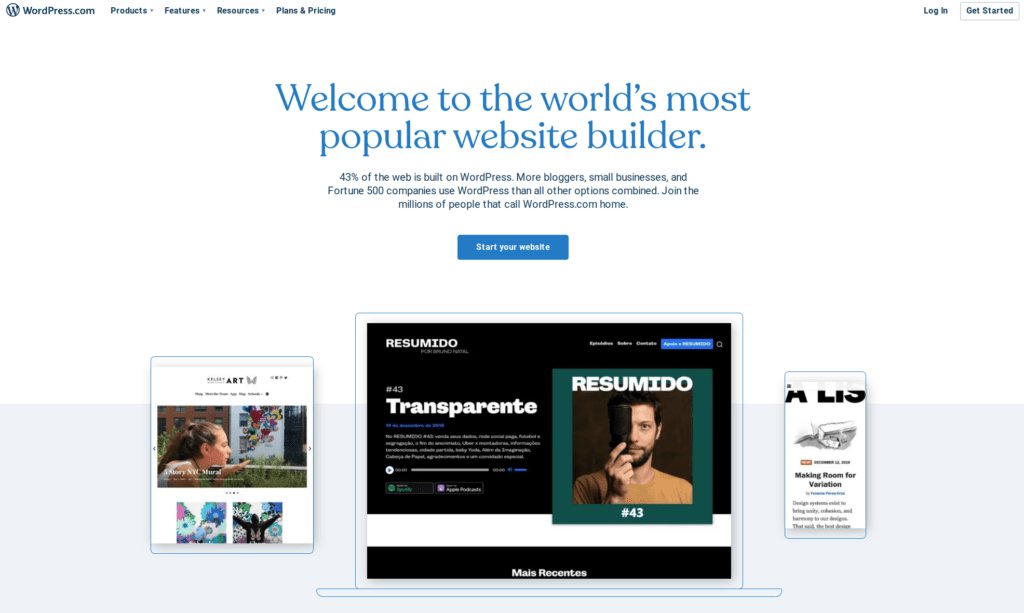 This list wouldn't be completed without mentioning the WordPress website builder, WordPress.com.
WordPress.com a great tool for building websites for freelancers, bloggers, and small businesses. You can build a basic blog with WordPress. But you can also create a full-on online business like an online store or a booking system.
This platform is the most popular on the market. Almost half of the websites on the internet are powered either by WordPress.com or WordPress.org.
WordPress.com is a beginner-friendly solution for freelancers and bloggers looking to create a professional and highly customizable website. The paid plans come with great features, such as Google Analytics, SEO tools, and thousands of other plugins.
WordPress is a big website building system. This can be a little overwhelming for beginners. There are lots of plugins you need to keep up to date. Also, some of these plugins cost you extra whereas others don't. With plugins, you need to spend time learning how to work with them.
The great part about the plugins is that they make your site highly customizable. For example, you can install an online store plugin or a newsletter plugin.
If you are after maximum customizability and flexibility, then building a site with WordPress is a great option. But be prepared to spend some extra bucks on it! Also, don't get frustrated if you don't learn it right away. If you spend some time building a WordPress time, you will surely get the hang of how it works. Be patient!
The pricing of WordPress is split as follows:
Free: $0/month
Personal: $7/month
Premium: $14/month
Business: $33/month
eCommerce: $59/month
6. GoDaddy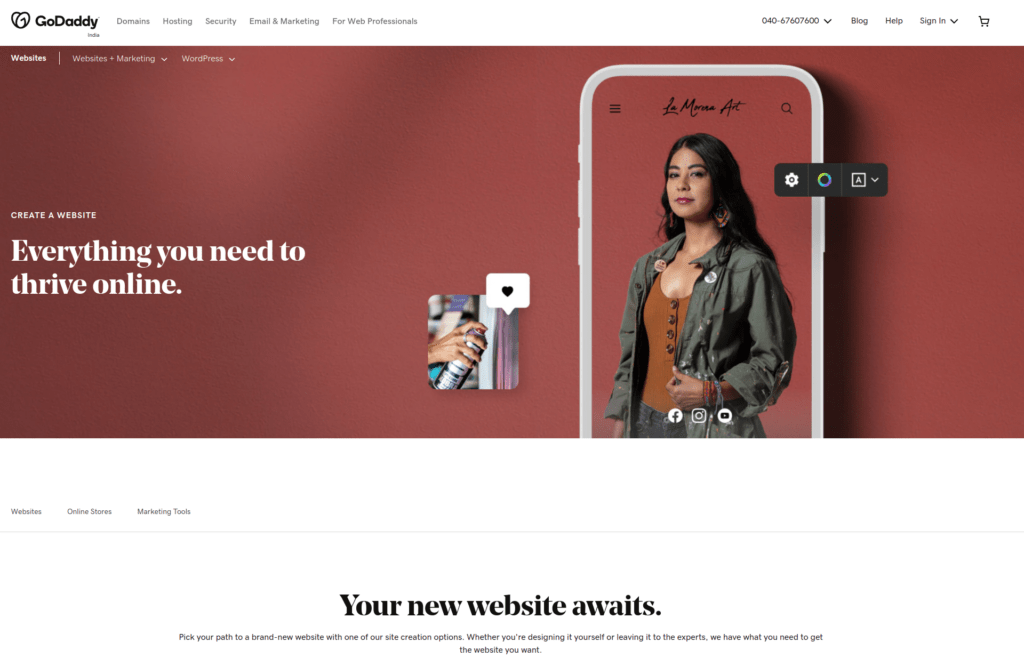 GoDaddy is an ideal website builder for freelancers that are looking to create outstanding websites quickly.
You may have heard of GoDaddy before. This is because they are best known for domain and web hosting services. But chances are you didn't know they also offer a website builder.
The GoDaddy website builder is geared toward beginner web creators. The tool is easy and intuitive to use. It only takes a matter of minutes to get the hang of the tool. This is a great platform for freelancers and small businesses that are looking to get a website or landing page up and running quickly.
Even though there are templates and pre-built assets you can use, there is also a lot of room for customization. This is what makes GoDaddy so great when compared to other tools.
Even though it's easy to use, you can customize and personalize the sites freely. This way your clients' websites don't end up looking the same. Instead, each page you create has a unique look and tone to it that represents the company's values and brand.
Even though the looks can be customized nicely, the GoDaddy page builder allows for creating basic websites. If you are looking to create full-on online businesses, then GoDaddy might not be the best choice.
The GoDaddy pricing is split into four different options:
Basic: $6.99/month
Standard: $10.49/month
Premium: $11.99/month
Ecommerce: $15.99/month
7. Divi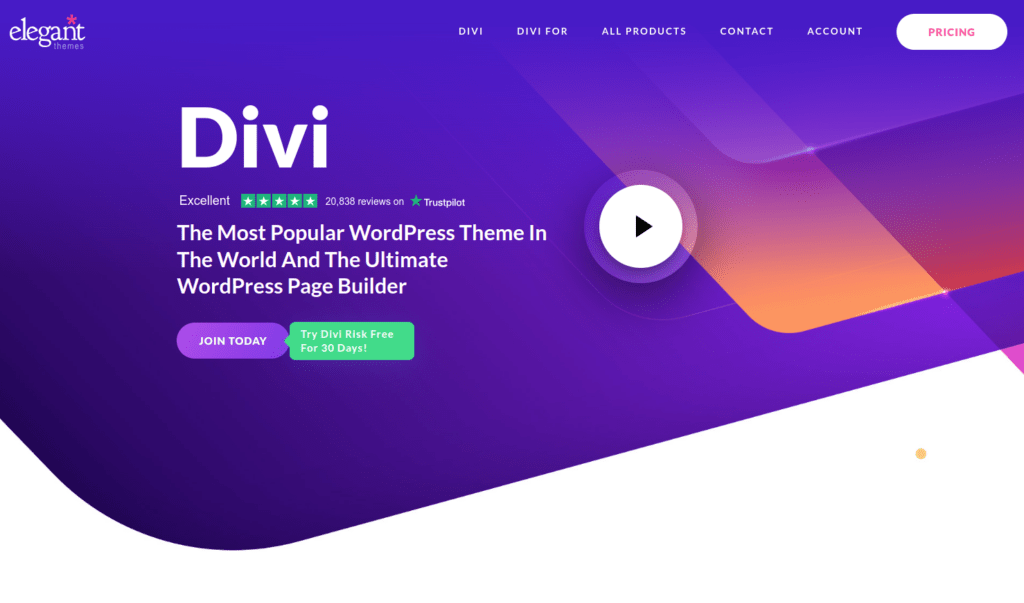 Divi is the most popular WordPress.org theme and a notable page builder for WordPress-based websites.
Notice that Divi is not available on wordpress.com (introduced earlier in this list). Divi only works for the self-hosted version of WordPress, that is, wordpress.org.
This page builder works a bit differently than the other page builders. Instead of being a standalone website builder, it lives inside a WordPress blog.
This is a great option if you are running websites with WordPress or have past experience using WordPress.
Divi comes with a minimalistic editor for building pages. It closely follows the WYSIWYG ideology (What You See Is What You Get).
With Divi, you get a real-time look at what your page looks like in different aspect ratios, such as mobile, desktop, or tablet.
Because Divi is powered by WordPress, you get a ton of templates, plugins, and a mature community at the same. This makes a unique combo you will most likely not want to get rid of. Once you have learned how to use Divi and WordPress, you will unlikely change to any other platform.
Notice that thanks to all the bells and whistles in Divi, it takes a while to learn. If you are using Divi for the first time, make sure to watch some great tutorials and work with concrete examples before building your client's sites.
Divi is a great option for any type of web project. This tool works great for freelancers, agencies, and small businesses!
The pricing of Divi is split into three plans:
30-day free trial with a money-back guarantee
$89/year (+ web hosting price, typically $10-$100 annually)
$249 one-time fee (+ web hosting price, typically $10-$100 annually)
Remember that Divi is a WordPress theme. It's not a standalone website builder. To use Divi, you have to first create a WordPress site to which you activate the Divi plugin. Even if you decided to purchase the one-time fee for lifetime access to Divi, you still have to pay for the domain hosting every month or year depending on your plan.
8. Jimdo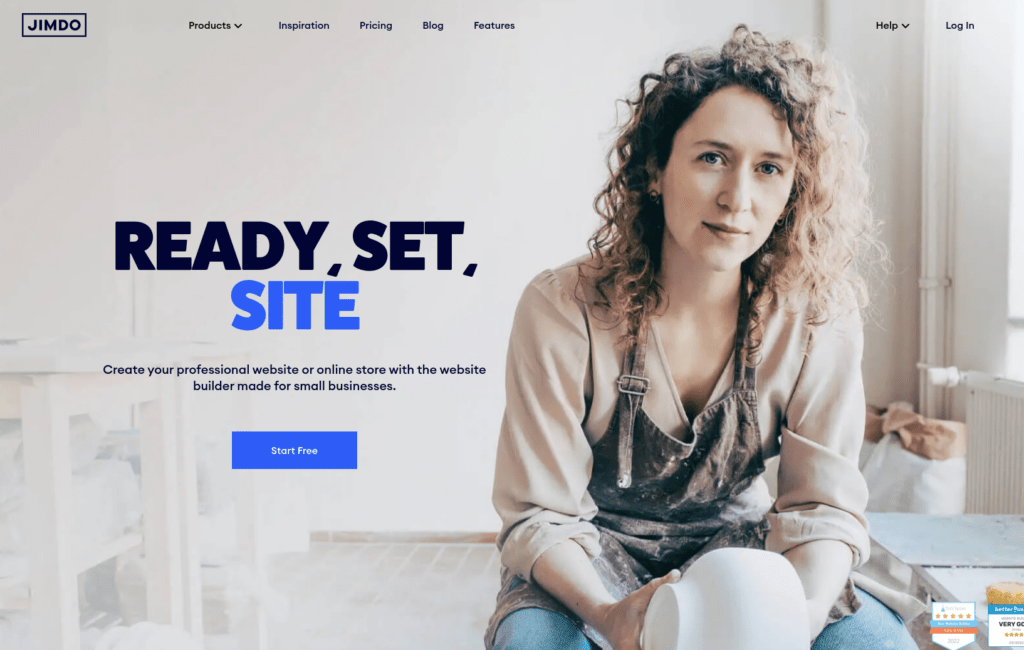 Jimdo is a website builder solution geared toward small local businesses as well as freelancers.
This solution is a user-friendly tool that is easy to understand and get a hang of. There are great tools and features in Jimdo. But most of the time, this tool is considered to be a middle-of-the-road solution. The features are not the most impressive ones, but they definitely get the job done.
With Jimdo, you get a professional-looking website that loads fast and has a nice all-around UX.
Jimdo specializes in local businesses. The page builder comes with features that let you mine information from the web of small local businesses. You can use sources like Google Maps and Instagram to pull the data. Furthermore, you set up an online store on Jimdo to sell products.
Notice that Jimdo is not the greatest platform for creating blogs. This is because the blogging features are quite limited. Also, if you are an SEO freak, there are not too many great SEO features in Jimdo either. Whether you need to pay for SEO or not is up for debate. But it's good to know those features are limited or completely lacking.
Here is the pricing of Jimdo.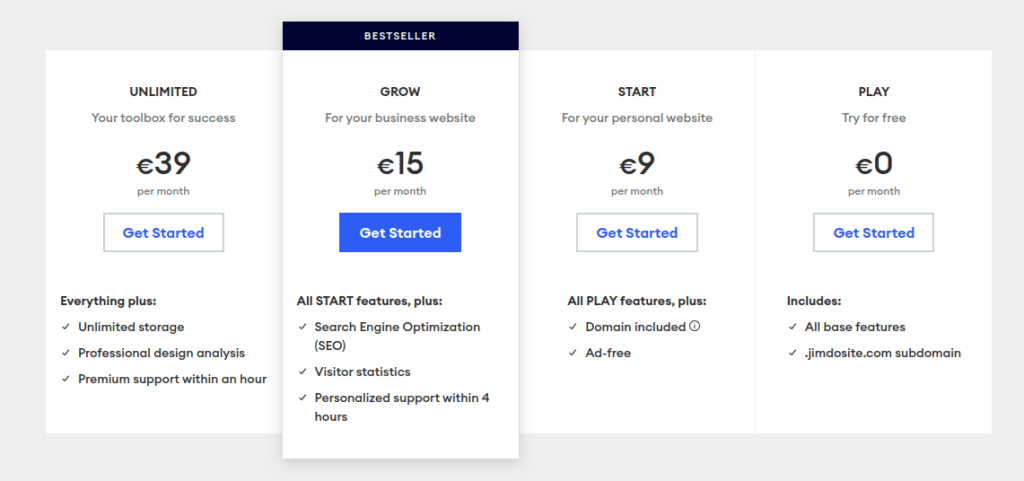 Play: $0/month
Start: $9/month
Grow: $15/month
Unlimited: $39/month
9. Duda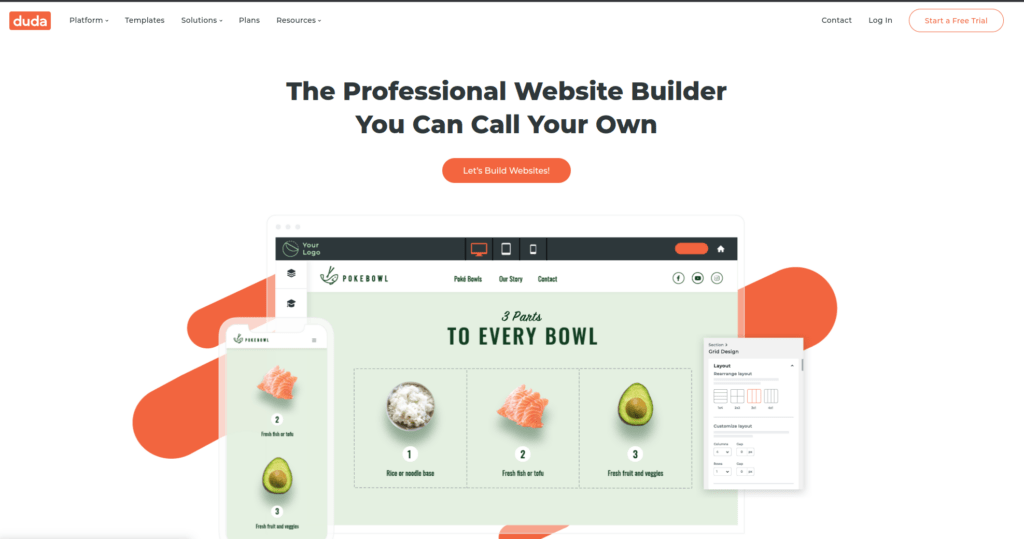 Duda is a great website builder for freelancers and agencies of small to medium size. Duda's page editor is much simpler than for example Webflow's editor. On the other hand, it's not as intuitive as the one in PageCloud Pros, for example.
Duda is a great platform because it allows you to create websites fast and at scale. Duda has a broad variety of sections that helps you build websites easily in no time. Thanks to the global design features, your site will end up looking solid and connected when it comes to colors, themes, and fonts.
With Duda, you can also work with sites that are hosted by other platforms. The exporting features make it easy for you to migrate an existing site to the platform.
Regardless of whether you are new to creating websites or a seasoned vet, Duda has an intuitive and good design interface. This allows you to intuitively put together professional-looking sites that your customers love.
The pricing of Duda is split into four plans:
14-day free trial
Basic: $14/month for 1 team member
Team: $22/month for 4 team members
Agency: $74/month for 10 team members with 8 sites
Summary
That is a lot of website-building tools. I'm sure you were able to find a suitable solution for your freelancing business.
To recap, website builders are tools that make creating websites a breeze. Instead of writing code, one can purchase a cheap plan from a website builder and create a professional site in minutes.
One of the easiest ways to build a website is by using Strikingly. This platform allows for creating easy sites for both to yourself as well as your customers. As a freelancer, you want to move fast with your gigs. If your customer needs a simple site fast, then Strikingly is the way to go.
If you are looking for more customization, such as online stores, booking systems, or blogging capabilities, make sure to try Wix. Wix is a beginner-friendly tool that lets you create a well-rounded website and introduce some business logic to it too.
Another great option is to try Webflow. The tool allows for great customization and unique looks. This is great for freelancers because you don't want to have your sites look the same across different clients.
The most complete package on the list is WordPress. Even though it takes a while to learn how to use WordPress, it is the best option if you are looking to build an online business with lots of business logic. For example, you can build an online store, run sales, do bookings, and much more on WordPress. The customization possibilities are endless thanks to the 50,000+ plugins you can add/purchase.
Thanks for reading! I hope you found this information useful and found the best tool for your freelance business.
Read Also
How to Start a Programming Blog
About the Author
I'm an entrepreneur and a blogger from Finland. My goal is to make coding and tech easier for you with comprehensive guides and reviews.