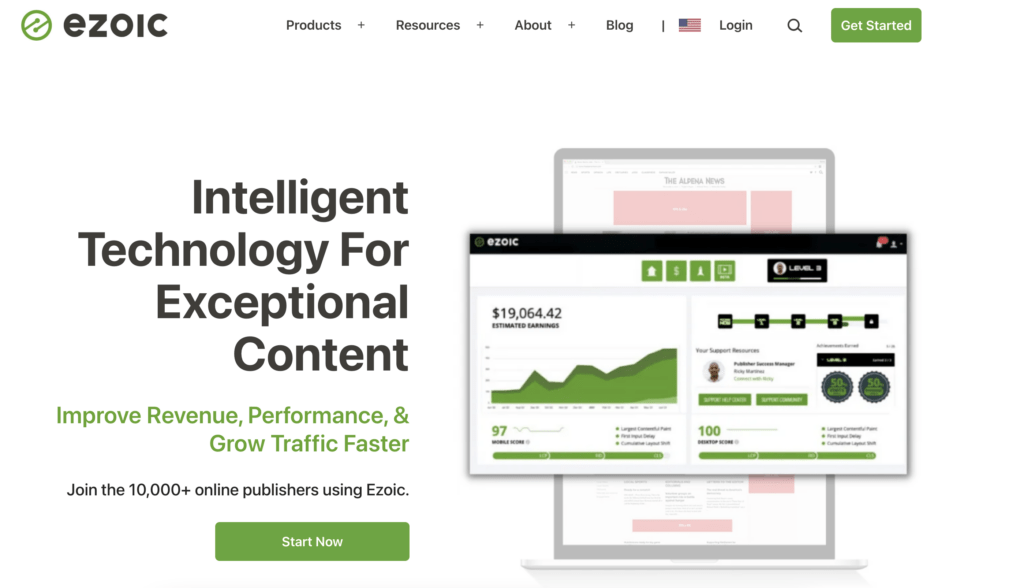 Ezoic is one of the most popular ad technology platforms for publishers looking to make money through ads. Ezoic is an official Google advertisement partner and it uses AI to deliver meaningful ads to your audience while keeping the user experience great.
Typically, blogs earn much more on Ezoic than on other publisher platforms.
😺 TLDR; I love Ezoic.

📅 I joined mid-Sept 2022. I've made a total of $23,173.91 in ~3 months.

💸 Sept: $8.75 per 1,000 visitors -> $1,822.10
💸 Oct: $14.17 per 1,000 visitors -> $7,420.81
💸 Nov: $13.81 per 1,000 visitors -> $7,738.81
💸 Dec: $11.69 per 1,000 visitors -> $6,192.49 (at Dec 21nd)

ℹ️ Site: codingem.com
🖥️ Niche: Coding & Tech
🌎 Visits: 500-600k/mo
This is a complete and honest review of my experience on Ezoic. You will learn how Ezoic works, why the ad revenue is typically high, and my own experience with Ezoic thus far.
TO JOIN EZOIC TODAY: Contact Laura at lmcnamara@ezoic.com. She answers all your questions and gets you signed up. To get priority onboarding, please mention codingem.com in your mail.
This article is viewer-supported. It contains affiliate links and I may earn a small commission if you choose to join Ezoic via my links. Thanks!
Why Ezoic?
Are you a blogger or content creator who has worked hard to provide value to your readers? Do you have a website that has traffic?
If you answered yes, you deserve to make money for it! As a content creator, you need to be compensated for the hard work and value you provide.
These days, the online advertising landscape has changed drastically. These days there are ads everywhere. It's simply not enough to place a generic banner ad on your site to earn an extra buck. Today's internet surfers have developed banner blindness, which is a term that refers to visitors sub-consciously ignoring advertisements (or elements that look like ads!).
To battle this, you need to make ads look non-traditional, and place them in unconventional yet non-intrusive places. There shouldn't be too many ads but neither too few.
On top of this, you need to remember the disparity of your audience. Showing the same ads to all your visitors is a bad idea. Instead, factors such as content, search behavior, age, sex, location, and marital status should affect the ad selection.
Taking all this into account would be impossible. Luckily, there are ad platforms, such as Ezoic that do the heavy lifting for you.
Ezoic is a publisher platform that website owners can use to monetize their sites. Ezoic uses artificial intelligence to show the right type of ads with appropriate frequency to maximize revenue. Ezoic focuses on both the UX of your site as well as optimizing the ad revenue.
How Much Can I Earn on Ezoic?
An average publisher on Ezoic earns between $12 – $18 per 1,000 visits.
Typically Ezoic outperforms Google AdSense and other ad networks. But unfortunately, there is absolutely no way to tell how much you can earn before you try the platform.
There are so many things going on that affect the potential earnings. These include:
Niche
Content length
Advertisement strategy (UX-focused, revenue-focused, etc.)
Seasonality
Audience location
Global economy
And more.
During the first weeks of using Ezoic, I saw earnings of around $10 per 1,000 visits. This is really great because I have a coding blog, which is a really bad niche when it comes to monetizing with ads.
The honest truth about ad revenue is that it's impossible to predict. Some ad networks and publisher platforms might yield better results than others. Also, a worse ad network might yield better results for your site and vice versa.
The only way to figure it out is by showing ads on your site.
Ezoic has a 30-day free trial where you keep 100% of your ad revenue. The only way to find out if Ezoic works for you is by trying!
Who Is Ezoic Ideal For?
Ezoic is a great ad partner for website owners looking to make money with ads. Although Ezoic is great for a variety of users, here are some examples for whom Ezoic is ideal:
Bloggers. Ezoic is ideal for bloggers and content creators. Ezoic is an official Google advertising partner which is great news for publishers. Not only does Ezoic improve your ad revenue but has proven to increase your rankings.
Major brands. Typically Ezoic gives a nice 50% boost in ad revenue. Besides, the annual traffic growth is also close to that 50% mark. This is great news for major brands that are looking to grow and monetize through ads.
Single-page web apps. Ezoic offers solutions for maximizing ad revenue for single-page web applications.
How Does Ezoic Work?
Ezoic uses artificial intelligence to serve ads on your site. The system is crafted in a way that it collects your audience data and trains the machine learning model behind the scenes to serve the right types of ads.
This means it takes time for Ezoic ad revenue to ramp up. Especially if your site has less traffic, this can take 4-12 weeks.
But this is what makes Ezoic such a great platform. The AI will take its time to learn your audience and how to serve the best ads and user experience to your visitors.
For instance, if someone in your audience doesn't like ads, Ezoic might show fewer ads to them. And if there's someone who really likes ads or clicks on them more often, then Ezoic might show more ads to them. Besides, the ads are relevant. The AI model makes a prediction based on the analysis it has performed on a visitor to show the most relevant possible ads to them.
Ezoic Key Features and Functionality
One of the main problems of advertising today is that ads are everywhere and website visitors have developed a "banner blindness". This means placing a traditional ad banner promoting a random product is not effective anymore.
To make advertising work, it has to be well-optimized. One of the main challenges is that every visitor is different. Some want to see ads, some hate ads, and some don't mind seeing or not seeing ads. To optimize advertising on a blog, there are so many moving parts that it requires a sophisticated system to pull off.
This is what Ezoic does. Ezoic uses the latest advancements in AI to serve ads to your audience. This works such that Ezoic collects visitor data to make better advertisement decisions. With lots of data and tens of thousands of publishers, Ezoic has trained their AI to:
Improve UX
Increase site speed
Boost revenue
Improve the technical SEO aspects
And more.
Let's take a closer look at the main functionality of Ezoic to establish a better understanding of what the platform can do for you.
1. Serve Ads with AI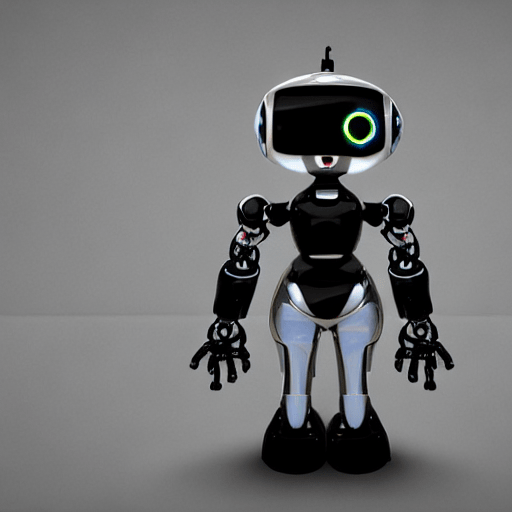 Ezoic uses artificial intelligence to optimize the ads for each visitor to your website. On average, the use of Ezoic's AI-based ad optimization yields a 50% boost in ad revenue.
The fact that Ezoic uses AI isn't something you necessarily need to worry about because all the optimizations take place behind the scenes. Thus, you don't need any technical background to use Ezoic. All you should know is that Ezoic makes AI-based decisions on every visit to your web page.
2. Monetization
Ezoic offers a great platform for increasing ad revenue while keeping the user experience good.
The key to maximizing revenue comes from treating each visitor differently based on their preferences.
A typical blog post or page looks the same for each visitor. But visitors come in all shapes and forms. There are visitors who hate ads, who love ads, and who don't mind ads. Also, visitors are different when it comes to location, age, sex, language, and much more.
To maximize revenue, the advertiser must take into account each of these details. On Ezoic, the number of ads, placement, and overall strategies varies on a visitor-to-visitor basis. This is what makes the platform so great.
3. Ad Tester
Ezoic equips your site with ad testing capabilities that are based on split testing and artificial intelligence.
To be more specific, Ezoic works with all major ad networks and optimizes the value of your ad inventory with machine learning algorithms.
To put the ad testing into use, you can use Ezoic's Chrome extension to drag and drop ad placeholders to testing locations. This way you can test multivariate tests on your best-performing pages.
When using the ad tester, go for maximizing the revenue and the user experience. You can let Ezoic take care of the rest, that is, to optimize each visit based on your goals.
Some of the benefits of the Ad Tester include:
Giving visitors a unique ad experience balanced with a great user experience.
Choosing the best ad type for each visitor's needs.
Optimizing the ad sizes for each location on your pages and posts.
Placing ads based on historical data to maximize performance.
Not crowding less valuable ad space.
4. Header Bidding
Ezoic runs header bidding to auction your website's ad space. In case you're new to the ad game, you might not know what header bidding is, so let me clarify first.
In a nutshell, header bidding means:
A visitor opens up your page.
Ezoic immediately puts together a quick auction. In this auction, companies compete against one another to get their ad shown to your visitor.
The company with the highest bid is a winner. As a reward, their ad is shown to your visitor.
Unlike a real-life auction, a header bidding auction takes place in milliseconds behind the scenes.
This is a great way to maximize ad revenue as you only show ads for companies that paid you the most.
Ezoic offers header bidding for the following ad types:
Native Ads
Banner Ads
Link Ads
Sticky Ads
5. Performance
Ezoic is a technology platform that outperforms your typical ad networks and setups by at least 50%.

Ezoic is not an ad network. It's a versatile publisher platform and an advertising partner that optimizes your site for mutual benefits.
The more traffic you get, the better the earnings might be. This benefits both you and Ezoic. This is why Ezoic does everything to keep your site's UX nice while bringing in that extra ad revenue.
Notice that it usually takes time for a site to reach its full earning potential. This is because the data-gathering process takes time. Also, the AI must get enough data to fully optimize the ads on your site. The performance is great during the first week or two on Ezoic. But it really shines after 6-12 weeks on the platform.
Also, don't forget that the time of the year also matters. Generally, the best advertising months are toward the end of Q3 and peak during Q4. On the other hand, the worst time of the year is in early Q1 and Q2.
6. Big Data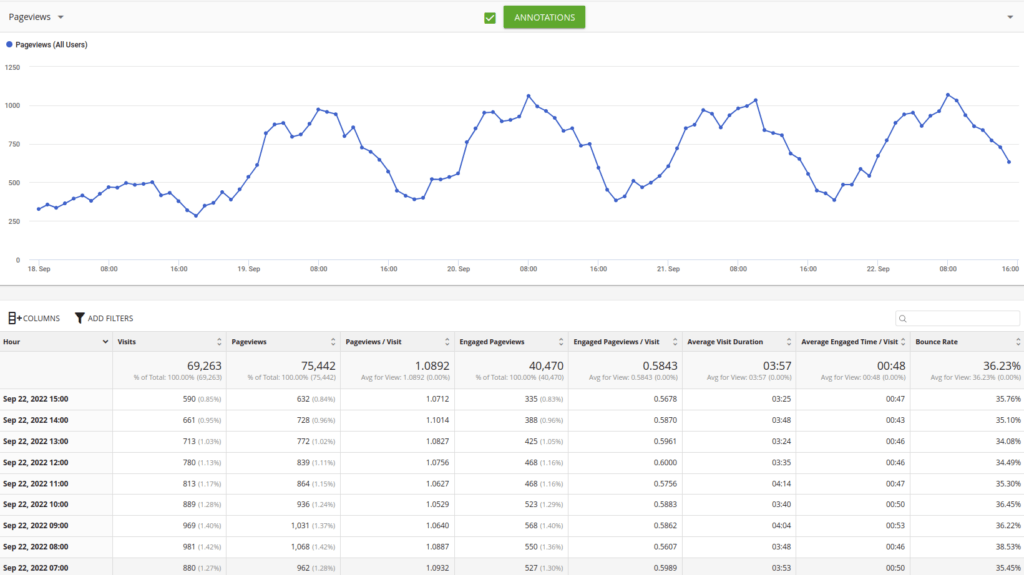 On Ezoic you have access to the Big Data tool that offers you comprehensive reports of your website visitors, SEO, and ad performance. Since I moved to Ezoic, I have started using their Big Data tool more than Google Analytics that I always used before.
With Ezoic Big Data you can:
Find out the value of different categories of your blog or website.
Find relationships between revenue and word count, scroll depth, landing pages, and more.
In case you have multiple writers, you can gain insights as to who creates the most engaging content (and the most revenue).
7. Video Player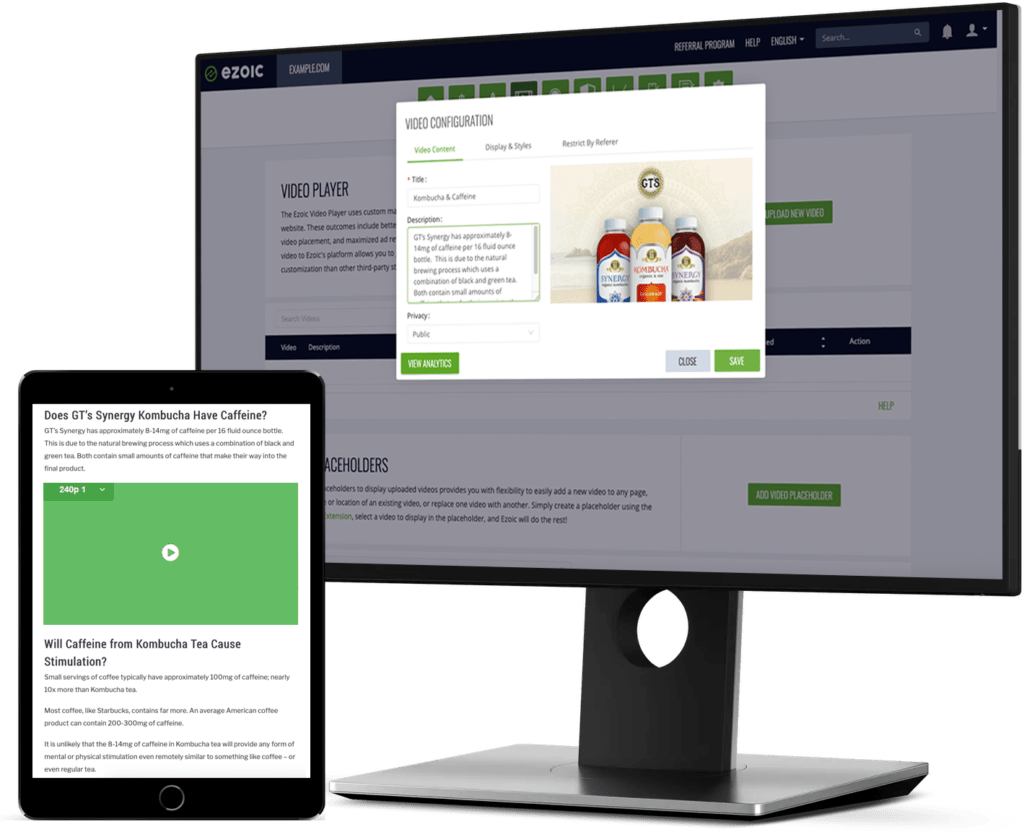 Ezoic Video Player adds ads in the form of video ads to your site. These videos are hosted on your site and they will be indexed in search engines to boost traffic. This way, you will get the maximum benefits from bidders that compete for premium ad space.
The video player features are easy to use. You can add and test video content on your pages to see what looks nice and works well.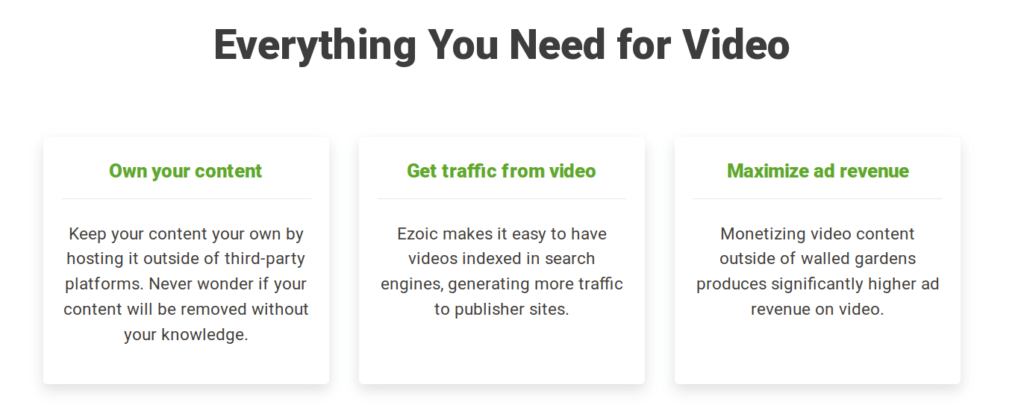 To use the video player:
Upload video content to your website
Drag and drop ad placeholders to your site with Ezoic's Chrome extension.
8. Easy Entrance Requirements
One of the great features of Ezoic is that there are no strict traffic requirements when it comes to joining the platform. This is not the case on many other platforms, such as on Newor, where you need at least 30,000 monthly page views.
You can access Ezoic's monetization features even with less than 10,000 monthly page views. Anyone can apply to the program, although not all publishers are automatically accepted.
The onboarding process is easy. From sending the application to running ads on your site it only takes 1-3 hours of your time. (Although the approval processes can take a week or two.)
The customer service is helpful and always on the line. If you are stuck, you can always jump on a call or send them messages. They will answer promptly.
9. Payments
Ezoic uses a standard NET-30 basis for all payments. In other words, you get paid 30 days after the end of the month when you earned.
For example, if you earned $100 on February 7th, you'll be paid on March 27th-31st.
The payments always take place on time. Besides, there are lots of payment options to match the publisher's needs. These options include:
PayPal
Cheque
Payoneer
Wire transfer through Payoneer
Direct deposit (for the US only)
The minimum payment threshold on Ezoic is only $20 which is much lower than Google AdSense, in which the limit is $100.
10. Affiliate Program
Ezoic has a great affiliate program that you'll be part of as a publisher automatically. As an Ezoic affiliate, you receive a recurring commission of 3% for the lifetime earnings of a referred publisher.
For instance, if you refer someone to Ezoic that earns $1,000 from ads monthly, you get a $30 commission each month as long as they stay on the platform.
Of course, referring someone to an ad platform takes time. Besides, most publishers on Ezoic are small publishers, so you won't make that much with a handful of referrals.
Ezoic Pros and Cons
Every ad network and ad technology platform has its pros and cons. Ezoic is not an exception. There are lots of good but also some bad you need to know about. Let's go through the pros and cons of Ezoic as a publisher platform.
Pros
Higher Earnings
Typically much higher earnings than on AdSense or other ad networks. For instance, if you're running Google AdSense, you can easily see your ad revenue go 50-250% higher.
Ezoic uses AI to show the most relevant ads to your audience. Besides, there are tools that help make your site load faster and to improve the ad UX.
Easy to Set Up
The Ezoic ads setup is relatively easy. It only takes a couple of hours of your time plus some back and forth with the onboarding team. The team is really helpful and answers your emails on very short notice.
You can also set up calls with the team if you have questions or concerns.
Free Trial
One thing I love about Ezoic is that the services are free for the first 30 days. This means you get to keep all your earnings during that time.
And the pricing isn't bad either. You can choose to show an Ezoic ad on your site to cover the costs of the service. Alternatively, you can share 10% of your ad revenue with Ezoic.
Helpful Onboarding Team
The onboarding team is super helpful and active. For me, they answered all my emails in less than 24 hours, usually much less than that!
The two Ezoic members that onboarded me are awesome! I had a couple of calls with them where they taught me everything about Ezoic and answered all my questions and concerns really professionally. I loved it!
No Contracts
There are no contracts to sign. This means you can come and go whenever you want. The feeling of freedom is always great and it shows that the platform trusts their service enough that they don't need to tie you in.
Insightful Analytics
The analytics are super comprehensive. I've been using Google Analytics for a long time now, but as I joined Ezoic, I've moved to use Ezoic analytics thanks to every bell and whistle they've included there.
Good Affiliate Program
There is an affiliate program you are automatically part of. You will get a 3% recurring commission on the earnings of anyone you refer to the platform.
Mobile Optimization
It probably isn't a surprise that the Ezoic ads are optimized for desktops. But one thing you might not have thought of is the mobile side of things. Luckily, Ezoic ads are all optimized for mobile devices.
Cons
You've Got to Wait
This isn't necessarily an Ezoic issue, but the Google approval process might take a long time. Unfortunately, I had to wait 2 weeks from the day I approached Ezoic to when the ads were live on my site.
Besides, you need to wait for Ezoic to review your site and not all sites get approved!
Setup Downtime
During the setup phase, your site might go down for 10-20 minutes. This only happens once, but for me, this was a surprise. Even though the team alerted me, I wasn't too happy with it.
Your UX Won't Be the Same
Let's face it: showing ads will affect your user experience. There is no way around it. Moreover, the Ezoic ads might look intrusive at first.
I was lazy and I asked the Ezoic team to create the ad placeholders for my site (normally you'd do it yourself). As a result, ads started showing everywhere, such as in the middle of a bulleted list. I wasn't too happy with this, but I let the team know and they fixed the issues immediately. Now, I'm more than happy with the UX of my site.
The Initial Hassle
If you're a first-timer with ads, the setup phase might feel overwhelming. You need to send quite a few emails back and forth. Besides, you have to wait for days or even weeks for your site to get approved. Then you might need to do the ad setup yourself, which is confusing if you've never done it.
Pricing

With all things said about Ezoic, it must not come as a surprise you have to pay for Ezoic services. But don't worry, the pricing is affordable. Also, you can try Ezoic for free for 30 days at no cost.
There are two pricing models on Ezoic you can choose from:
Ad-funded. After the 30-day trial, Ezoic places an ad on your site and this ad's revenue covers the costs of the service.
10% revenue share. Alternatively, you can share 10% of your ad earnings with Ezoic.
The first option is the default plan on Ezoic. But you can easily change that if you want to as it's up to you which pricing model suits you the best.
Ezoic Support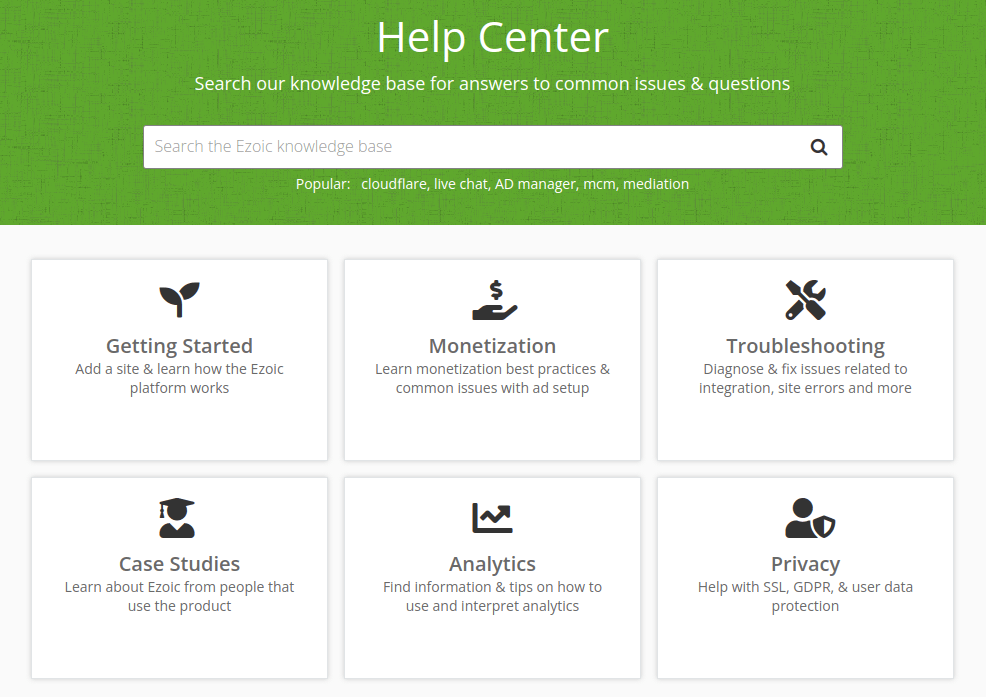 When you sign up for a publisher platform like Ezoic, it's important you have active support available at all times. Especially during the setup phase, you will have lots of questions that need quick answers to streamline the process of getting started.
Ezoic has two support systems:
Help Center
A ticketing system
The helpful support team does a great job of quickly answering your questions. The support team is happy to answer your questions about monetization, SEO, payments, referrals, and much more. Besides, you can always contact your account manager to find answers to publisher-specific questions.
Requirements
Anyone can sign up with Ezoic.
If your site has less than 10,000 page views, you need to use the Access Now program portal to sign up. There are more specific instructions on the sign-up pages.
TO JOIN EZOIC TODAY: Contact Laura at lmcnamara@ezoic.com. She answers all your questions and gets you signed up. To get priority onboarding, please mention codingem.com in your mail.
How About Other Reviews of Ezoic?
Before I joined Ezoic, I had slight concerns based on the reviews I read online. Basically, I could only find reviews that rated Ezoic 5/5 or 1/5. To me, it seemed that a lot of people either loved or hated the platform. It almost seemed like a 50-50 split so I had to dig deeper before considering the platform.
Luckily, the reason for the low ratings became clear after doing some research. Those 1/5's come from people who:
Aren't qualified to join Ezoic because of issues with content.
Didn't listen to the Ezoic sales team.
Didn't have the patience to run the setup and wait for approvals.
Didn't have the right type of content.
Were new to advertising and got overwhelmed easily.
And such.
If you are a regular blogger or site owner like me, there is no reason why you'd have issues with Ezoic. But if your content is very thin and short-form, includes plagiarism or duplication, or otherwise violates best practices, chances are you won't be accepted.
Wrap Up
Ezoic is one of the best publisher platform technologies out there. Ezoic uses state-of-the-art AI algorithms to serve meaningful ads to your audience to maximize revenue and UX.
Ezoic is a great platform because there are no contracts to sign. Also, you can join the platform on a site with less traffic.
Ezoic does wonders in monetizing traffic from third-world countries where ad revenues are generally low. Typically, you see a 50% – 250% increase in ad revenue on Ezoic.
TO JOIN EZOIC TODAY: Contact Laura at lmcnamara@ezoic.com. She answers all your questions and gets you signed up. To get priority onboarding, please mention codingem.com in your mail.
Thanks for reading. Happy advertising!
Read Also