This is a comprehensive review of Predis AI—an AI-powered social media management tool.
What Is Predis AI?
Predis AI is an AI-powered tool to boost social media management.
It's an end-to-end platform that promises to significantly speed up social media activities.
With a foundation in AI, it predicts Instagram post performance before posting, offering suggestions for optimal posting times and image improvements.
Moreover, it eases video creation for brand promotion and analyzes competitors, making social media marketing more efficient and competitive.
Key Features
Text-to-Video Generation: Easily convert text into slideshows.
Reels, Shorts, and Video Ads Creation: Create engaging short video content for social media.
Smart Copy Generation: Generate compelling text for social media posts and ads.
Content Scheduler: Schedule your posts for consistent social media activity.
Competitor Insights: Analyze and learn from competitors' social media strategies.
Branded Content Video Generation: Create videos aligned with your brand's identity.
Publishing & Analysis: Manage publishing and analyze content performance.
AI-Powered Content Generation: Create diverse content tailored to your brand's style.
Campaign Management: Organize and oversee your marketing campaigns.
Analytical Reports: Obtain detailed performance analysis for data-driven decisions.
My Experience with Predis AI
Let's see how this tool actually performs with those social media posts.
This is a review and tutorial at the same time, so I will analyze the tool every step of the way while demonstrating to you how it works.
Sign Up
Getting started is simple. Just click "Generate your First Post".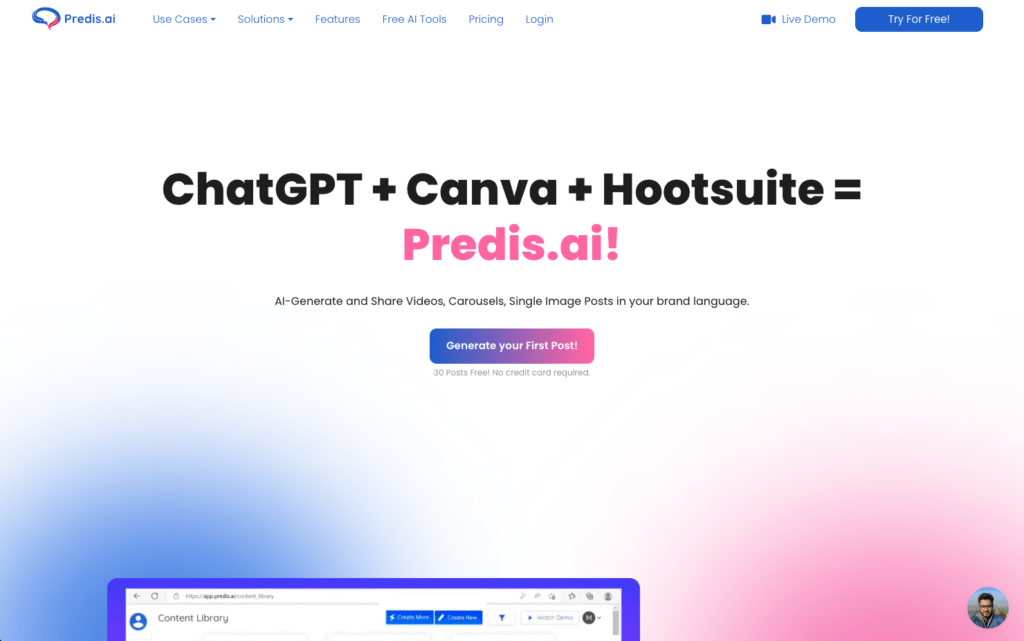 Then you just need to sign up and start creating.
Projects
After signing up, choose the project you want to work with.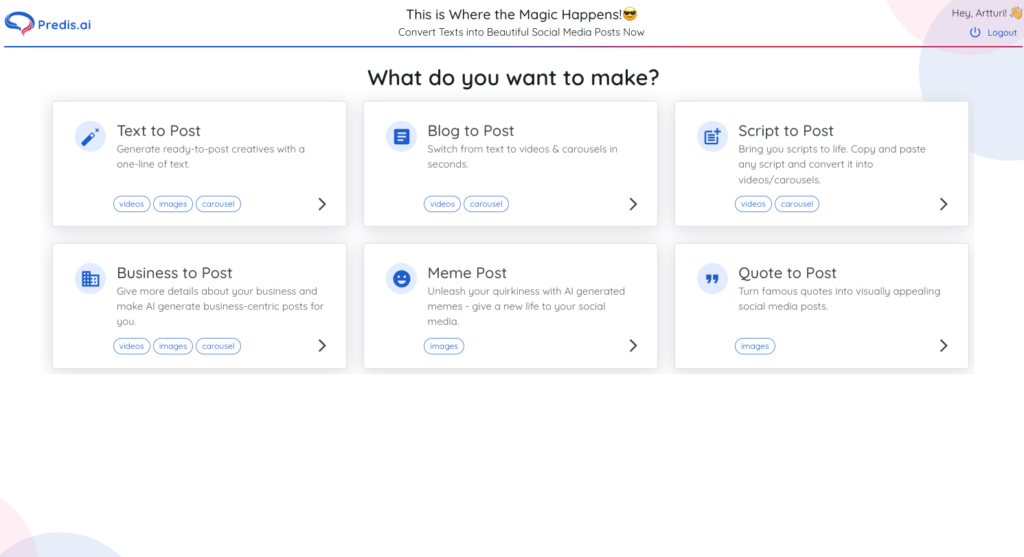 I chose Text to Post as my first experience.
Regular Social Post
I gave it a prompt "5 tips for writing a successful blog post".

Then I chose a template that looked most appealing to me: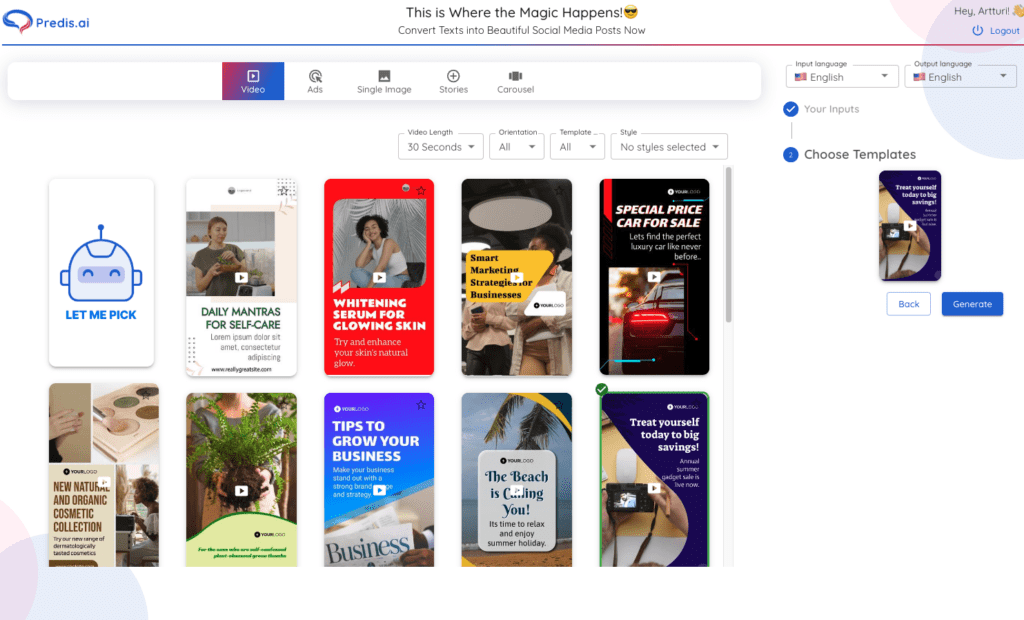 And there you have it: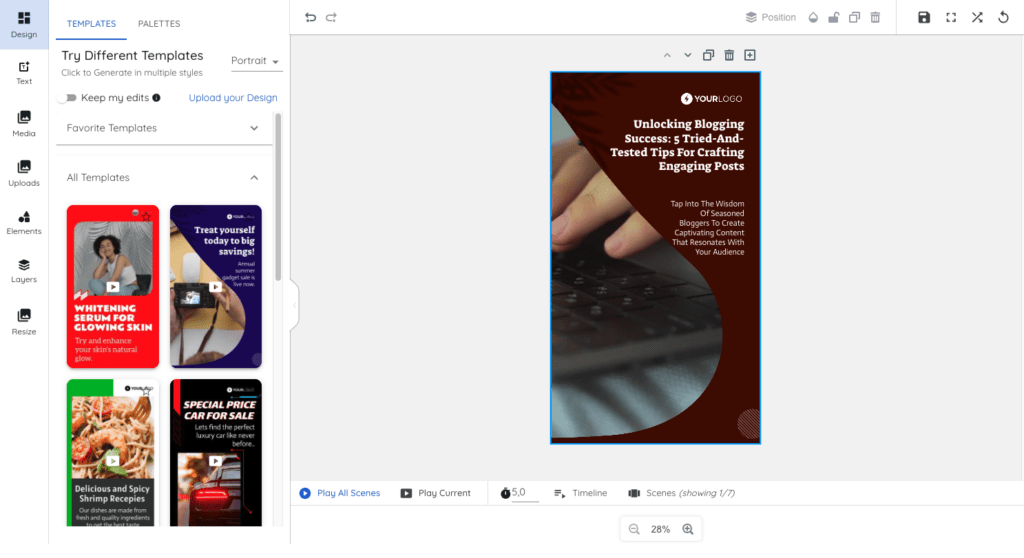 Looks decent.
Not super impressive, though. There's a lot of manual tweaking I have to do before I'd be able to post this.
I'd say 6/10.
I'm pretty sure I could generate something a bit more impressive than this with AI these days.
Nonetheless, the editor allows me to customize the design so it's not that big of an issue.
Meme Generator
Next, I tried creating a meme. This would be funny and would for sure up my game in social media.
So here's what Predis gave me: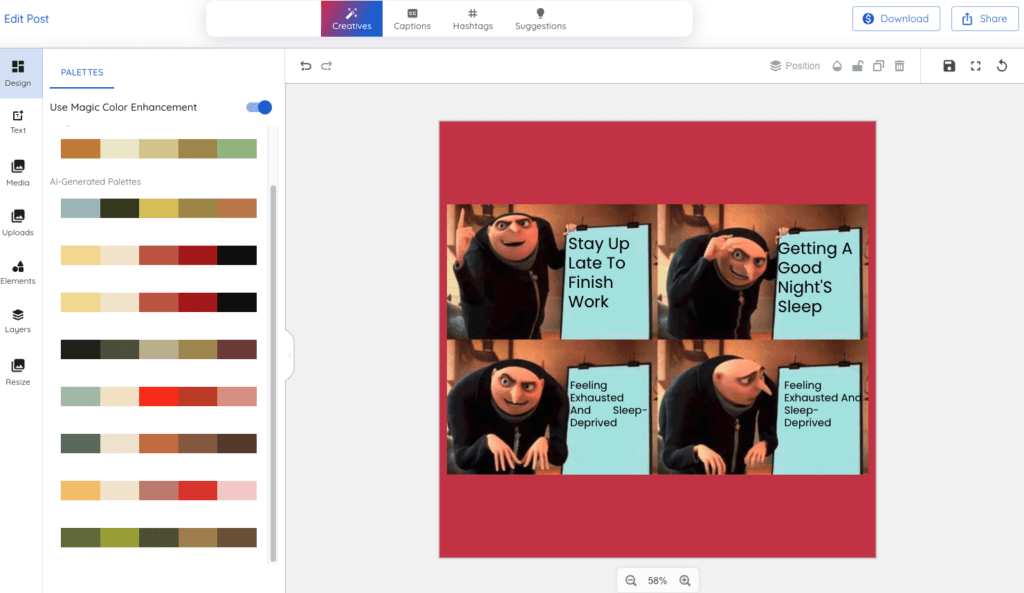 I'm not sure if I'm just stupid and don't get this meme. Anyway, it looks like one of those AI-generated jokes that is kind of there but then it isn't.
At least the layout isn't something I like. But once again, I can choose different themes and such, so not that big of a problem!
Blog Post to Video
Last but not least, I wanted to generate a video with Predis from a blog post.
I linked this post to Predis (topic: How I use ChatGPT to Rank on Google).
Here's what Predis gave me: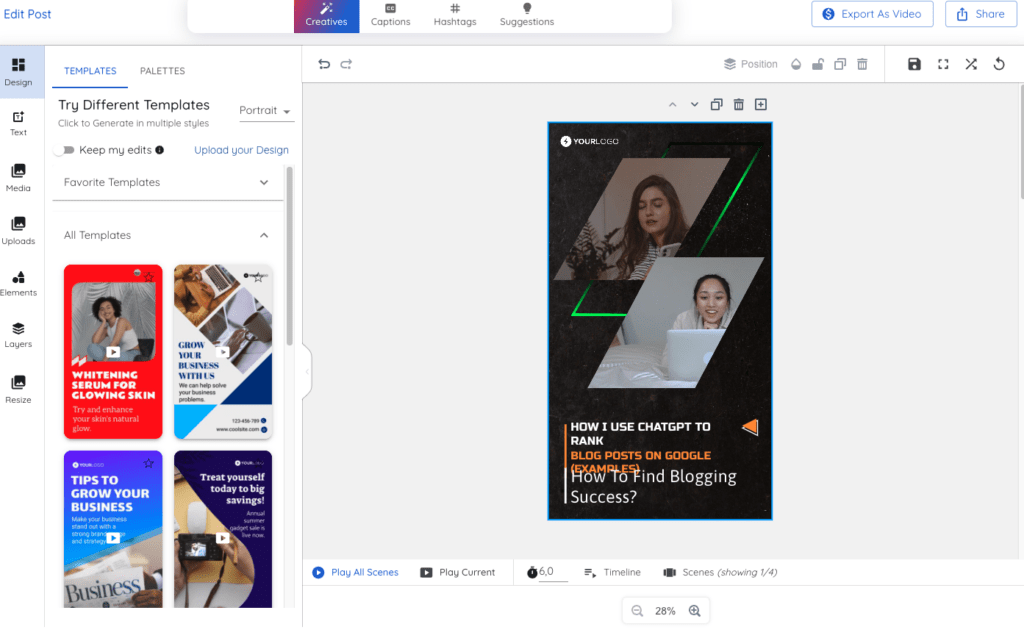 In total, four slides that just mentioned some headlines of that blog post. Definitely not something I could use as is—not even close.
Look at this last slide: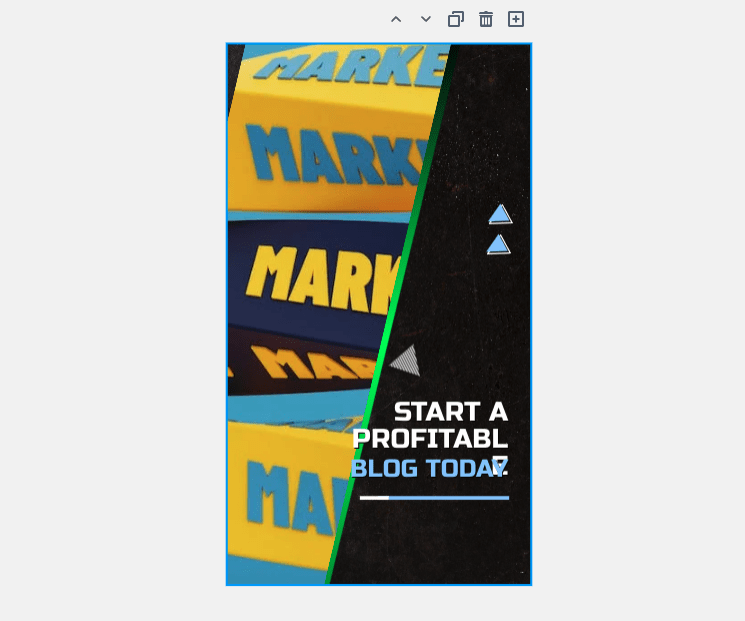 The video was SUPER generic. I've seen that same images in literally thousands of blog posts, videos, and social posts.
Also, the elements were completely misaligned so I'd have to do manual adjustments.
All in all, I think I'd be able to generate something much better in Canva by just spending extra minute or two.
The AI part is just confusing here. It creates a 6/10 design you have to spend revamping.
I was a bit disappointed.
Overview of My Designs
Anyways, here are the five different designs I created: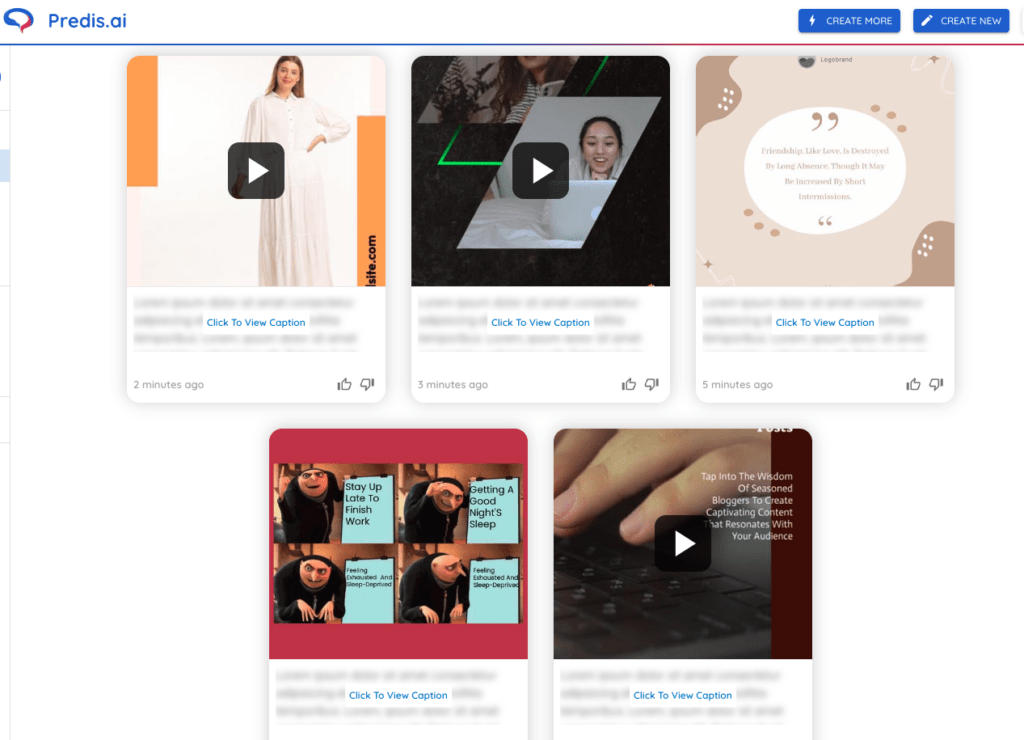 The quality isn't just there. Predis is ok, but not impressive. Today's AI can do it better, for sure.
But for someone who has never used AI tools before, this is super impressive, for sure. 🙂
Pros & Cons
| | |
| --- | --- |
| Free trial | Way too many features |
| Lots of features | Confusing UI (cannot find the "Create" button in every view) |
| Active development team | 6/10 results—would use Canva instead |
| Video guides and support | Most generic stock images |
| Fast | |
Pricing
Bottom Line
The Predis landing page says they're a combination of ChatGPT, Canva, and Hootsuite.
But to be brutally honest, I think Predis showed exactly why ChatGPT, Canva, and Hootsuite are separate products.
There was simply too much going on in the UI. None of the features was super bad. But none were stellar.
I sense a busy team that's trying to bite more than they can chew.
It's hard to beat ChatGPT, Canva, or Hootsuite let alone form a superior combo that would actually work.
I've used ChatGPT and Canva a bunch. I think those tools are excellent as standalone.
But because I'm not a social media expert, perhaps I cannot see the pain of someone who's actually using those tools separately.
Anyway, I loved the fact that you got to play with so many features for free, though!
Overall, it's a nice AI tool to experiment with. The results were 6/10 or even 7/10. Not impressive but not bad either. 🙂
You can surely get some things done quicker. But to stand out, I believe there's a lot of tweaking you have to do.
Thanks for reading. Make sure to read my post about the best AI art generators.