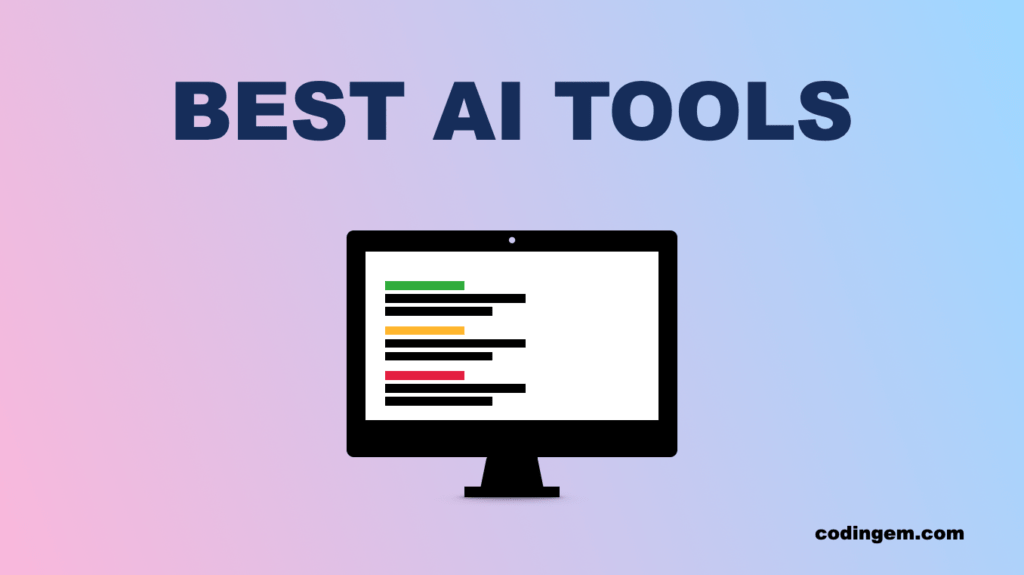 In the past year or so, I've used a ton of different AI-powered productivity tools.
In this comprehensive list, I've put together the best AI tools for different use cases. In this list, you find all sorts of AI tools, such as writer tools, image generators, text-to-speech tools, and AI-powered recruiting software.
The tools on this list help you save time, boost productivity, get more creative, and save money.
I hope you enjoy it!
Disclaimer: This post has affiliate links at no cost to you.
Make sure to read my complete guide on Best AI Writers.
What Are We Looking at in This Guide?
This is a comprehensive list of AI tools to boost productivity, automate business tasks, and more.
Here's a quick overview of the categories of the tools you're going to see today.
Category
Tools
1. AI Writers
– Jasper
– Content at Scale
– WordTune
2. AI Detectors
– Originality AI
– CaS AI Detector
3. AI Chatbots
– ChatGPT
– AIVO
4. AI Image Generators
– NightCafe
– Jasper Art
5. AI Video Generators
– Synthesia
– Flexclip
6. AI Voice Generators
– Murf
– Lovo AI
7. AI Upscalers
– Stockphotos Upscaler
– Gigapixel AI
8. AI Logo Generators
– LogoAI
– Tailor Brands
9. AI Colorizers
– Cutout PRO
10. AI Recruiting Software
– Paradox
1. AI Content Writing Assistants
AI content writing assistants are software programs that use artificial intelligence to assist in the creation of written content. They take simple text inputs and generate original content that is unique and engaging.
These AI content tools are useful for writers who struggle with writer's block or those who are looking to save time when creating content.
The benefits of using AI content writing assistants include being able to produce high-quality content quickly and improving your writing skills. Many of these tools also have features that allow you to proofread your content and ensure that it is grammatically correct.
There are many AI content writing assistants available in the market, each with its own unique features and capabilities. Here are some of the most notable ones.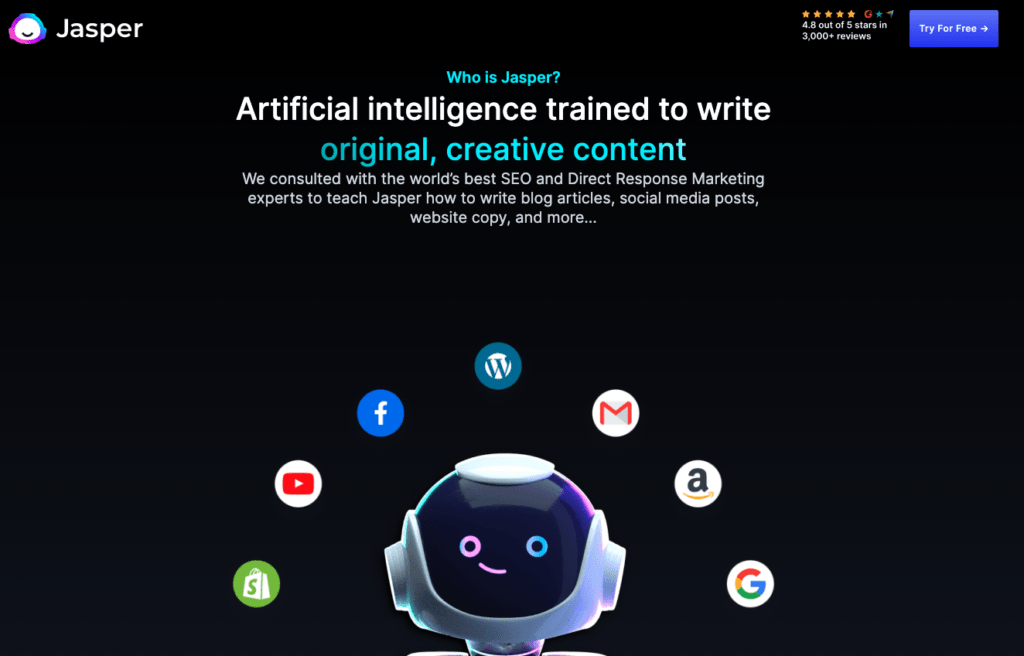 Jasper is the overall best AI writing software on the market. The tool turns simple text inputs into full-blown text chapters.
You can use Jasper to write blog posts, profile bios, emails, and pretty much anything that involves text.
Jasper is easy to use. You don't need to be good at writing or planning your writing. Besides, you don't need technical skills.
Jasper has a free trial of 10,000 words so that you can get a full idea of the power of the tool without wasting money.
Key Features
Powerful text-generating AI
A bunch of tutorials, reviews, and use cases
A big community of Jasper users
Understands multiple languages
Other services (Jasper Chat, Jasper Art)
Free trial of 10,000 words (using this link)
My Take
As someone who has used and reviewed a ton of AI writing tools, I see Jasper becoming the go-to AI writer on the market.
This company is backed by VCs and has a whopping $1.5B valuation already. The tool is impressive, yet it will only become better and better.
Just one thing you need to keep in mind when using tools like Jasper: Don't rely on it too heavily.
It still makes factual mistakes, repeats itself, and overall doesn't understand the text as we humans do. In other words, Jasper cannot think. It can produce text based on information that already exists. Thus, you cannot use it to do original research or solve real problems.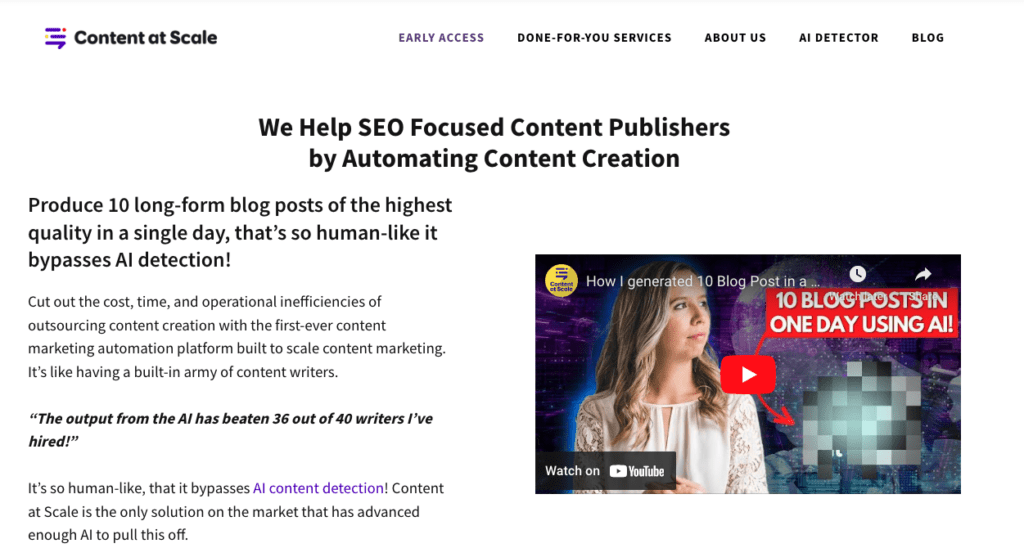 As another cool writing tool comes Content at Scale. Unlike Jasper, this tool does not only write text chapters but full-on blog posts from a single text input.
Based on my use, Content at Scale can write decent blog posts that are comparable to what beginner/intermediate freelancers would do.
Needless to mention, by using a tool like this, you still need to do a lot of polishing and fact-checking. Nonetheless, it can offer a huge time saver if you want to establish a presence in a way of a blog.
Key Features
AI that writes blog posts from start to finish
Blog post editor
AI detector for making sure the posts look human-written
Duplicate checker for ensuring originality
My Take
Content at Scale is an awesome application of AI. I wrote a couple of posts with it and the results were surprisingly good.
Unlike many other AI tools, Content at Scale uses three different AI models to make the text better.
But similar to Jasper, it still requires human intervention.
The worst part is the mistakes. If you're not familiar with the topic, it's really hard to tell if the AI got it right or not. Just keep that in mind if you're using a tool like CaS to write blog posts.
#3 WordTune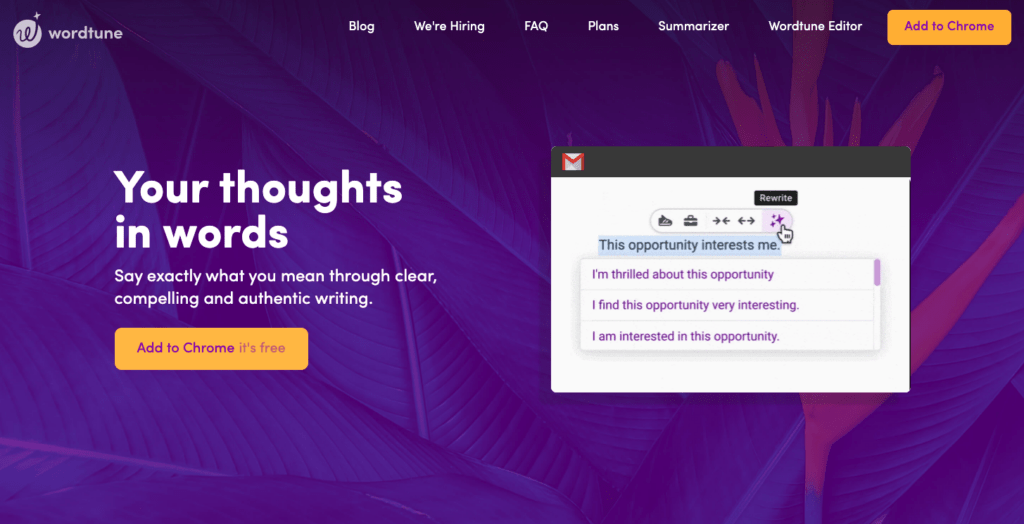 If you're looking for an AI-writing assistant that proofreads your content, WordTune might be your best bet.
Unlike Jasper or Content at Scale, WordTune doesn't write content from scratch. Instead, it's your co-author that takes care of the low-value work, such as checking the grammar.
WordTune points out typos and grammatical errors
The tool offers rewrites that make your writing look better
Unlike traditional proofreading software, WordTune "understands" your writing instead of replacing words with an if-else logic.
You can use the Google Chrome extension to make WordTune work wherever you work. Of course, you can use the web-based blog post editor too!
Key Features
AI-powered proofreader
Chrome extension
Web Editor
Easy to use
Suggestions and fixes with one click
My Take
I've tested WordTune and I'm also an avid user of a similar tool called Grammarly.
With a tool like WordTune, writing becomes a lot easier.
Everyone makes grammar mistakes. I do them very frequently as a non-native writer.
With the help of AI, you can outsource the grammar and writing style almost completely. This lets you focus on getting the information out there rather than having to worry about low-value work.
Just don't blindly accept every suggestion WordTune makes. Sometimes it can get things wrong and you always need to be making the last decision.
Read my complete review of the best AI writers.
2. AI Detectors
The use of AI writing tools is becoming mainstream. With this, there is a growing concern that individuals could use AI to take shortcuts and rely too heavily on AI instead of working hard.
To address this issue, a number of AI content detection tools have emerged.
These tools can predict with a relatively high accuracy whether a piece of content has been generated by AI. While it is impossible to create a completely reliable AI detector, these detection tools can provide direction to ensure that content is created through human effort.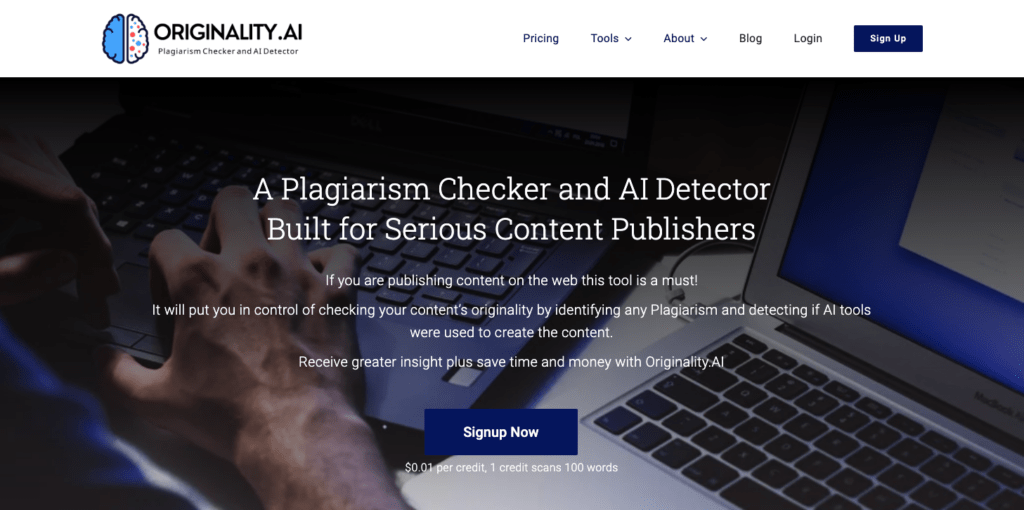 Originality AI is the best AI detector tool on the market.
To use this tool, you need to give it some text input and wait for a couple of seconds to see the AI score. Based on my experiments, this tool detects 80-90% of the AI-written content as AI-written.
Of course, you shouldn't rely on a tool like this too much as it makes a ton of false positives. But this is an interesting application of AI. I believe AI detectors will become better and better.
Key Features
AI writing detector
Duplicate checking features
Easy to use
Fast AI
My Take
I love the creativity and idea behind AI detectors. The best way to use these is to analyze other's text to see if it's written by AI or not. Of course, the tools like Originality flag false positives so you cannot fully rely on them.
One problem I see is that many AI detectors' key selling point is to fool the audience to think that the content is written by a human.
To me, this is nonsense. If a writer does this, they're already doing it wrong.
AI can help write content faster and deliver messages better. It can write content that looks human-written. And that's a good thing! Why change the content if it's clear, concise, and understandable only if the AI detector says it looks AI? As long as the content is original and delivers the message, what's the matter with it?
Another reason why bloggers use AI detectors is to pass Google's AI filter to rank higher. To be honest, this makes even less sense. Google uses completely different strategies to detect AI and rank content.
If a blog post passes a random AI detector, it has no impact on the success of the article whatsoever.
#2 AI Detector by Content at Scale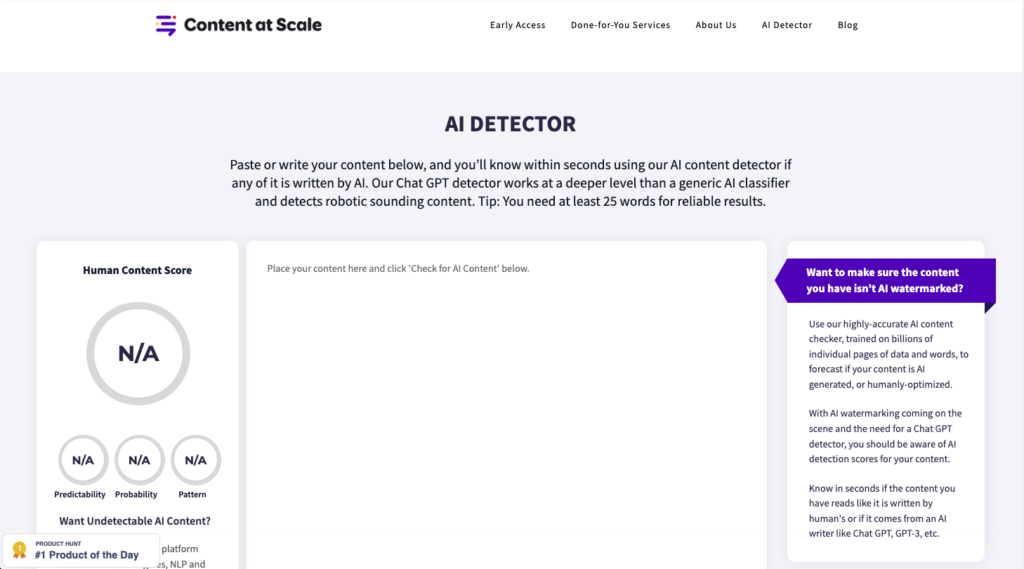 Based on my tests, there is a handful of AI detectors that work more or less the same. They are accurate in detecting AI writing but do a lot of false positives.
To throw another AI detector in a mix, here's one provided by the content platform called Content at Scale.
Unlike Originality AI, this tool is entirely free. You can use the Content at Scale AI detector to detect AI in your writing by entering text into the content detector field. This tool works super fast. It takes under a second to scan through your content.
Don't forget about the cool AI writing features of Content at Scale. Instead of being just an AI detector, the tool can detect duplicate content and write entire blog posts from start to finish.
Key Features
Free AI detector
Duplicate checker
AI content writer tools
My Take
Similar to Originality AI, Content at Scale makes mistakes in detecting AI in writing.
This tool is a cool showcase of the power of AI. Unlike you might believe, it is possible to tell that even human-written text can be successfully flagged as AI-written content.
Just use it with care. Don't try to trick Google with third-party content detectors—they are far ahead of the game 🙂
Read also my full review of the best AI detectors.
3. AI ChatBots
AI chatbots let you automate tasks such as customer support, information search, and other similar tasks. These chatbots utilize AI to interact with users and provide relevant information or assistance.
With the latest advancements in AI technology, chatbots like ChatGPT are becoming increasingly sophisticated and can even answer complex questions.
The best chatbots interact with users in a way that feels natural and seamless, making the conversation feel like it is with a real person.
AI chatbots can be a valuable tool for businesses and organizations looking to automate tasks and provide efficient and effective customer support. Chatbots can save time and money by handling routine tasks and freeing up staff to focus on more complex tasks.
#1 ChatGPT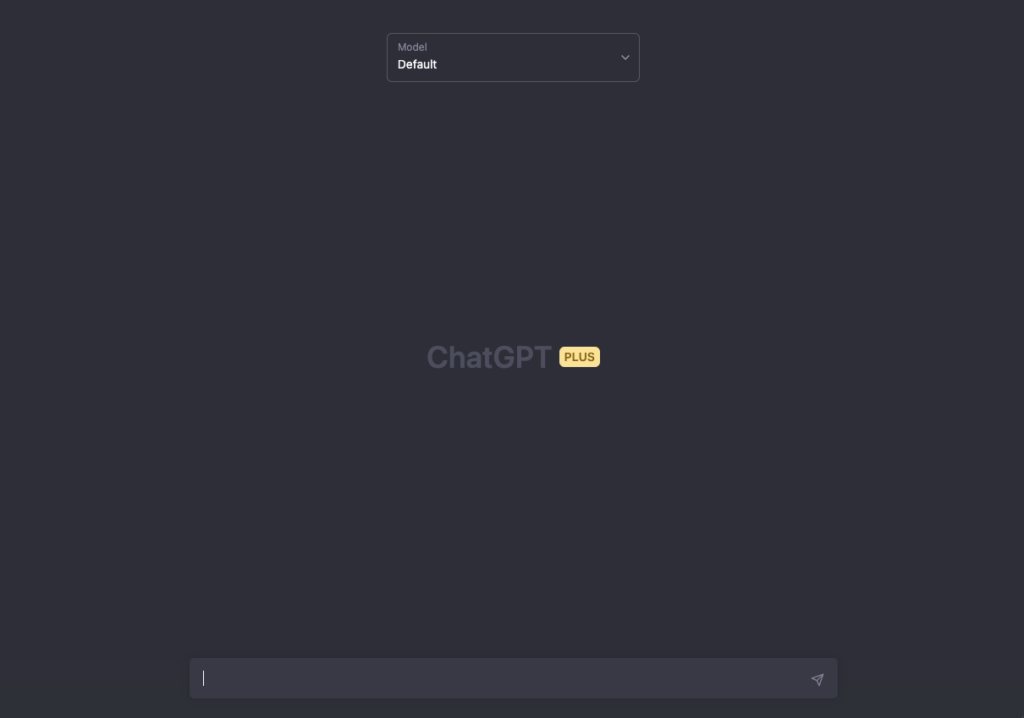 ChatGPT is a name you've probably already heard before. Back in December 2022, OpenAI released an AI-powered chatbot, ChatGPT.
Unlike previous chatbots, this one does amazing things.
ChatGPT knows the answers to almost any question. Unlike search engines, it gives a short and concise answer without you having to search for the information.
Some use cases for ChatGPT include:
Asking it to write a blog post
Writing code
Writing emails
Rephrasing text
Writing song lyrics
Having a good old chat as you'd have with a friend
Of course, a tool like ChatGPT relies on data mined from Google. It cannot think or solve problems by itself. Sometimes, ChatGPT gets facts wrong, so as a user, you should be careful!
Key Features
Free version (at capacity usually, though)
Powerful AI model that produces human-like text
A ton of undiscovered possibilities and opportunities
My Take
ChatGPT is one of the most impressive applications of AI to date. It can answer questions like a professional. It knows practically anything.
However, there are two big problems:
Sometimes ChatGPT plagiarises content. You always need to make sure the content is original before publishing it. This can be hard to do.
ChatGPT doesn't know everything. When you ask something more specific, it makes mistakes.
I've tried ChatGPT in many ways in my online business. I've noticed it writes summaries, emails, and rephrases quite well.
But when it comes to writing blog posts, it only makes things slower. This is because of all the factual mistakes and repetition.
But especially now that this tech is free, you should definitely experiment with it. There are countless use cases that we don't know yet.
#2 AIVO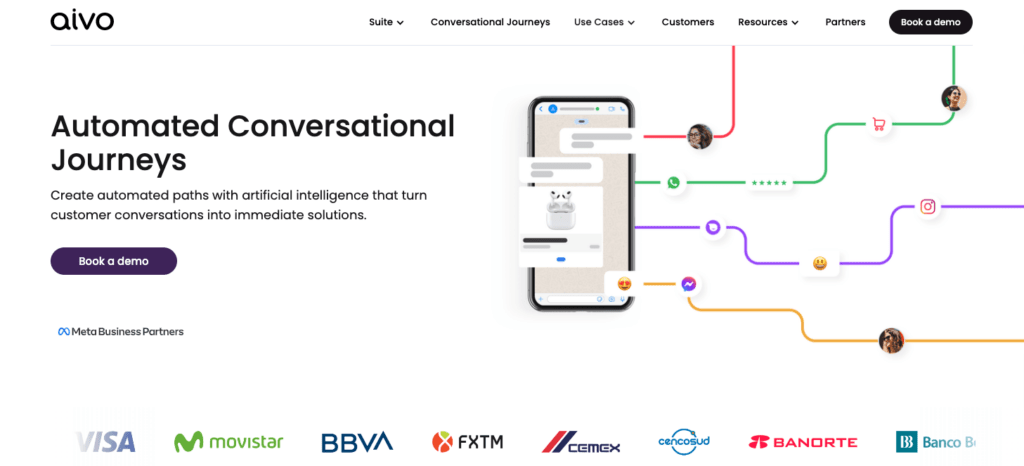 The previous AI tool, ChatGPT, is not capable of doing customer support as-is. You need a third-party provider that uses AI that's designed to handle customer support separately.
AIVO is one of the best AI customer support chatbots. The tool can recognize user intent, and understand emojis, slang, and more. It can also listen to voice messages.
You can give their chatbot a try on their home page. It offers personalized and seamless interaction with AI.
Key Features
50+ languages
Customer alerts (SMS and WhatsApp)
Video-based AI supporter
Realistic voice generation
My Take
Even though the hype of ChatGPT seems to leave no breathing room for other AI chatbots, AIVO is still an impressive supporter chatbot.
This tool can help businesses automate support workflows and save time and money by leaving simple questions in the hands of AI.
The landscape of AI writing and AI chatbots is changing quickly. It doesn't hurt to check what's hot in the industry every now and then. The top tools of today might be obsolete tomorrow.
Read also my review of the best AI chatbots for businesses.
4. AI Image Generators
AI image generators are similar to AI-based text generators—they use artificial intelligence to create images from simple inputs.
You can create an image based on simple text input, such as "A cow driving a Lambo". Doing this, the AI will spit out an output image that it sees given your input.
AI image generator tools can be incredibly useful for generating original and unique images for various purposes, such as blog posts, videos, or even as inspiration for paintings.
You don't need any artistic skills to generate stunning images with AI.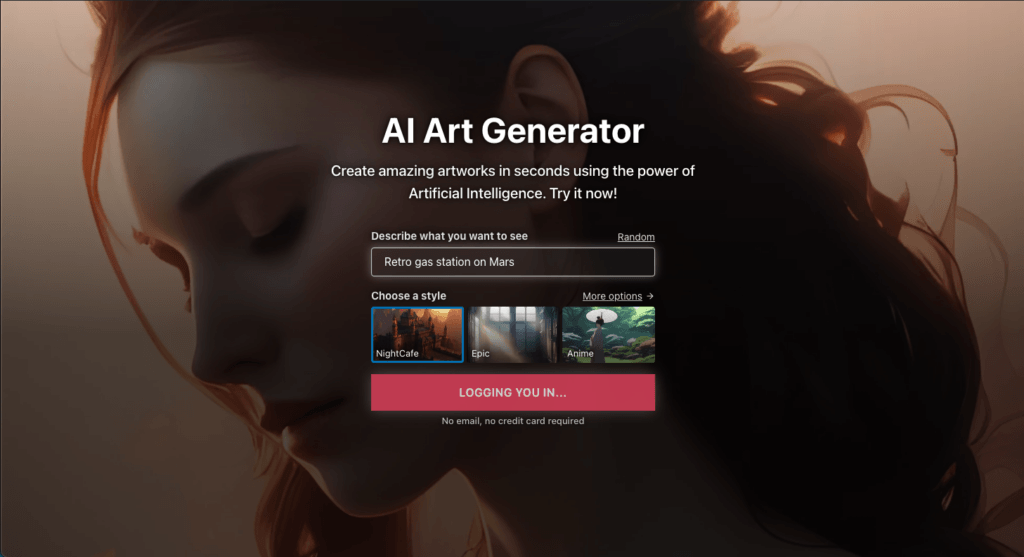 NightCafe is an AI image generator that turns your imagination into reality.
This tool takes a simple text input and turns it into an image. You can ask the tool to create an image, such as "A sunset in a distant galaxy".
The results are original and unique images that the AI generates on the fly.
NightCafe also has social media features for sharing your AI art with other AI artists. You can follow and like other artists' work on NightCafe.
One cool feature of NightCafe is the ability to print on demand. You can order a t-shirt with your AI artwork on it.
Key Features
AI that turns text into images
Many AI image generator models
Lots of guides and tutorials
Big community and social media features
Print on demand
Free trial
My Take
NightCafe is an impressive AI image generator. It allows you to generate images and art with different powerful AI models.
One thing I love about NightCafe is the social media where you can follow other AI artists. In each image, you can find the text prompt that was used to generate the image. This can give you inspiration for future artwork.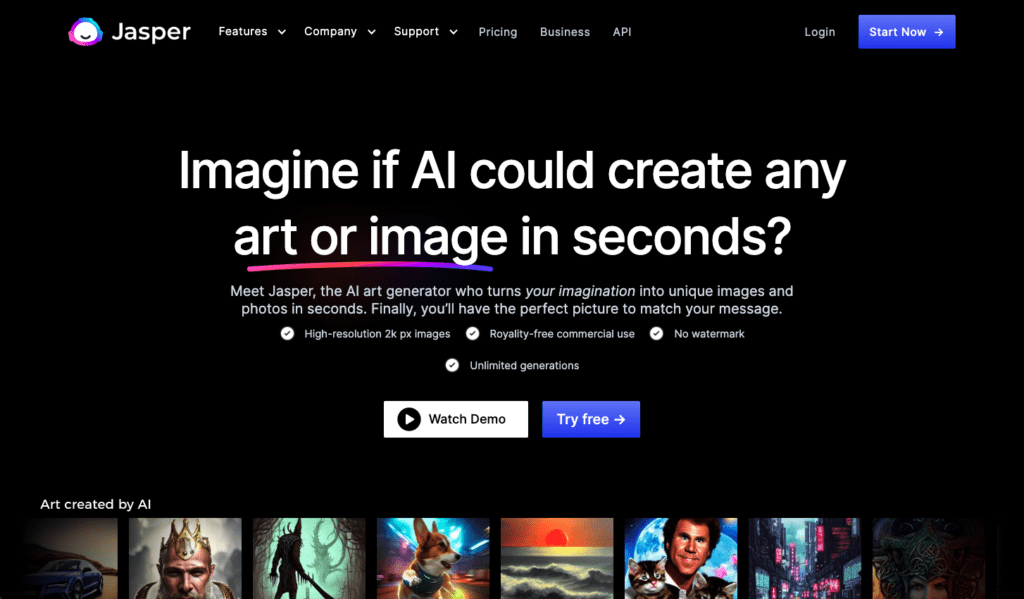 You may remember Jasper already from the AI writing tool section. Not only is Jasper an AI writer, but also supports generating images with AI. This feature is called Jasper Art.
Similar to NightCafe, you can turn simple text inputs into unique art. There are many styles to choose from. Jasper also hosts a community where you can see other people's artwork and the prompts that were used.
Besides AI image-generating capabilities, Jasper offers AI content creation tools I introduced earlier.
So even if you aren't interested in image generation, you can use Jasper's writing features in your work, such as answering emails or writing social media posts.
Key Features
Community Showcase
Powerful AI to turn text into images
Different art styles
Free trial
Content writing platform
My Take
Jasper is becoming the best AI content platform. The AI image-generating features and the writing features make it one of a kind. Jasper is backed by VC investors and is only going to improve.
Who knows if they're among the first to offer video generators as well?
I like the generous free trials that Jasper offers. You can test both image and writing generators quite extensively before making a purchase.
5. AI Video Generators
Similar to AI image generators, AI video generators turn simple text inputs into videos.
This technology is in rapid development and still lags behind AI image generation technology. AI-generated images can look realistic and awesome but the AI video generators still don't work like that.
The state of the art in AI video generation is still relatively basic. There are tools like Synthesia that can convert text into a spoken video with a bunch of actors. But you cannot generate something like movie scenes with video generators (yet).
#1 Synthesia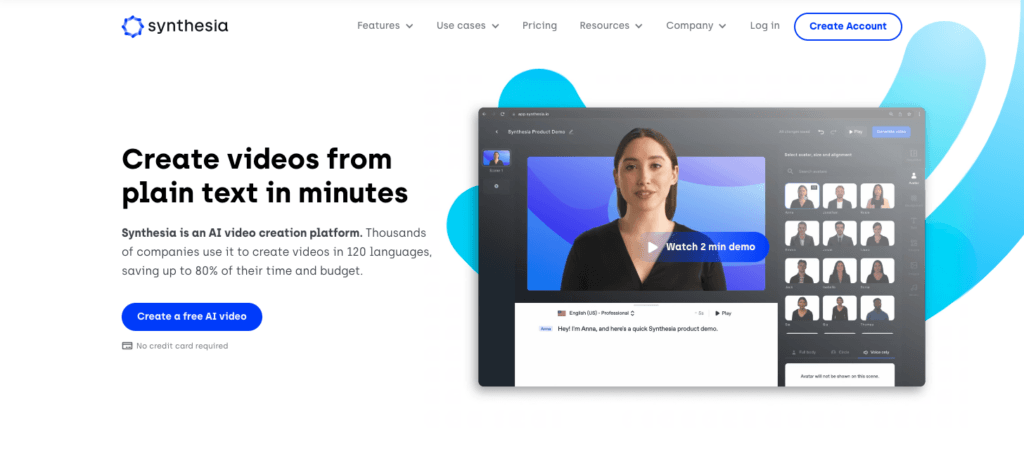 Synthesia is the number one AI video generator I've seen. This tool converts text into video, unlike no other software. Synthesia uses AI to turn text into a video where a person speaks the written text.
You can try the tool for free.
This tool is great for creating videos for marketing, product demos, and greetings.
Synthesia understands different languages too. You're not just limited to English. In total, there are 60+ languages for which you can create videos.
When you test the tool, it takes about 30 seconds to render the video. You get the video in your email.
Key Features
Realistic voice and lip sync
Free trial
Easy to use
Different video styles and voices
Video templates
On-brand video content
My Take
Although the video-generating tools aren't quite as amazing as the image-generator tools, you can still do a lot with them.
Synthesia gives you the tools to create quick on-brand videos for marketing purposes. This is useful for businesses and individuals who want to save time. It's also a great way to send greetings without having to be in front of a camera.
#2 Flexclip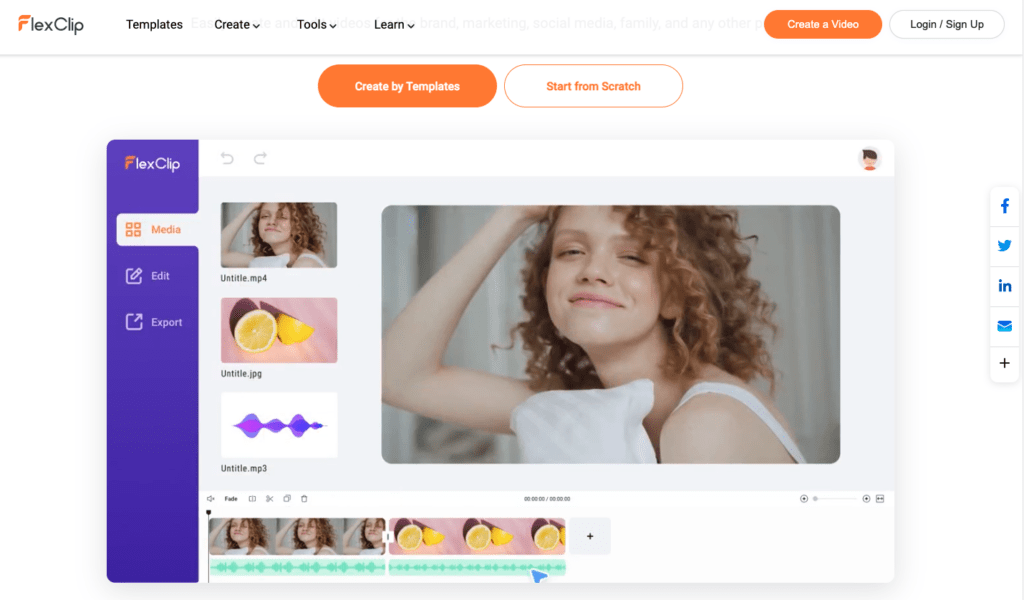 FlexiClip is another great video creation tool that utilizes AI to make video generation simple and accessible.
With a vast library of templates to choose from, you can easily create professional-looking videos in just a few minutes.
Additionally, FlexiClip allows you to upload their brand assets to keep their videos on brand and customize templates to make them your own.
This tool is particularly well-suited for creating marketing and explainer videos, as it includes access to a rich-stock media provider that enables users to further enhance their videos.
Key Features
4 million+ royalty-free stock assets
AI video generator that's simple and easy to use
Beginner-friendly UI that's easy to navigate through
Combine pictures, clips, and music with the editor
Free trial version
My Take
Thanks to the AI-powered Flexiclip, editing short explainer videos couldn't really get easier. The videos end up looking professional, clean, and concise.
Of course, with tools like this, you don't get that really unique touch and personal feeling. But you can surely create videos that get the job done.
Make sure to check my full list of the best AI video generators.
6. AI Voice Generators
AI voice generators have been around for some time now. The concept behind them is quite straightforward: input a written text, and the generator converts it into spoken audio.
10-20 years ago, synthesizers with a similar function were available. However, the resulting voice often sounded robotic and unnatural, with a cheesy quality to it. Although the words were understandable, listening to such audio was unengaging and lacked any real value.
Nowadays, AI voice generators such as Murf or Lovo can produce spoken audio that sounds more realistic and pleasant to listen to.
#1 Murf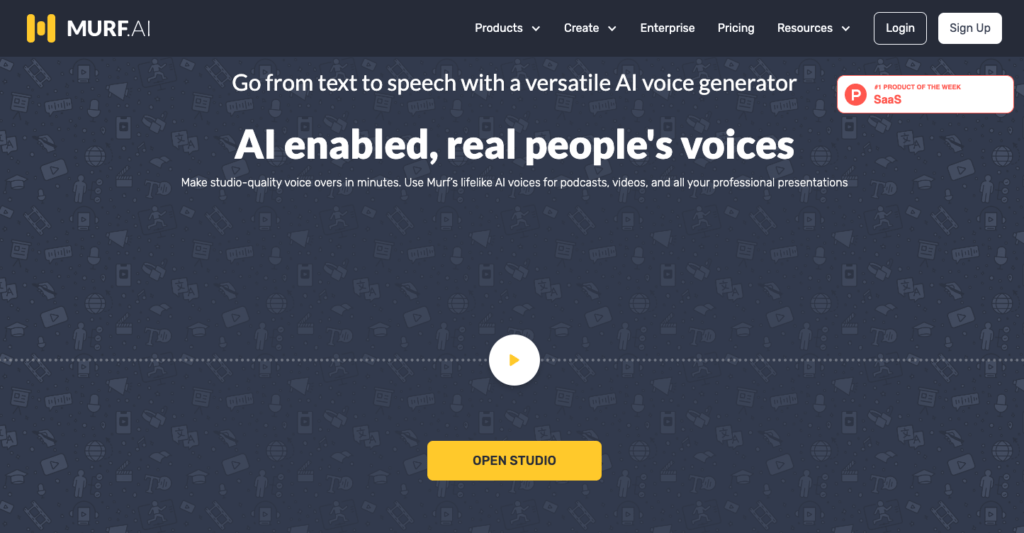 Murf is the best overall text-to-speech voice generator.
It allows you to create studio-quality voiceovers for your videos, podcasts, and presentations.
With over 100 distinct voices and support for 20 languages, Murf's constantly growing list of supported languages and voices makes this tool a versatile option for converting text to speech.
Murf uses AI to generate voices, allowing the tool to produce speech that reflects the appropriate tone and includes proper punctuation such as question marks and exclamation points. The software includes an excellent audio editor that is both easy to use and beginner-friendly.
As a user, you have full control over the pitch, punctuation, and emphasis of your voiceovers, enabling you to customize your message as needed.
Additionally, Murf includes a helpful grammar assistant that helps ensure your scripts are grammatically correct, resulting in an improved voice-over experience for your audience.
Key Features
Text to Speech in different languages
Voice cloning
Voice over video
Voiceover Google slides add-on
Voice changer
My Take
Murf is a great tool for converting text to audio. The tool produces audio unlike other AI tools from the past that sound robotic and boring. With Murf, the audio is realistic and enjoyable to listen to.
One use case I love is the ability to convert blog posts into spoken text. This can be super useful if you'd like to read posts but don't quite have the time. You can use Murf to convert text to audio so that you can listen to posts through your headset.
#2 Lovo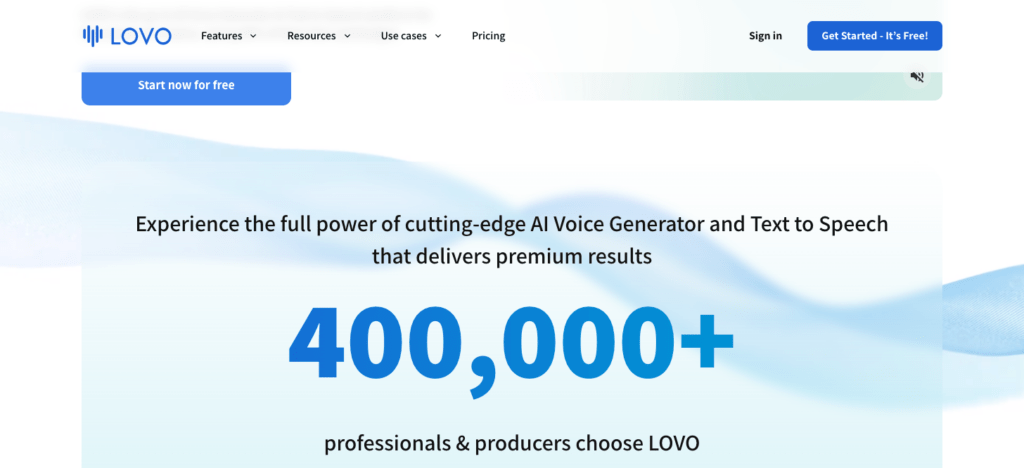 If you're looking for another cool text-to-speech voice generator, you should check out Lovo.ai!
Using the latest advancements in AI technology, Lovo can produce human-like voices from the text. It's a particularly useful tool for audio ads, e-learning, audiobooks, and video games.
If you're someone who doesn't want to record your own voice, Lovo can save you both time and effort. Just type in your text and let AI generate the voice for you!
Want to try Lovo for yourself? You can easily test it out without signing up for the service. Just visit their website and use the free 180-character limit text-to-speech window on their front page.
Plus, there's a whole community of Lovo users from all over the world, and you can find plenty of guides and resources online. Give Lovo a try and see how it can help you create high-quality voiceovers in no time!
Key Features
180 Voices
30+ Languages
Custom voices
Human emotions present in the voices
Voice cloning feature
My Take
Lovo is a great tool for generating human-like voices from the text.
One of the things I appreciate about LovoAI is that they offer a free trial, which makes it easy to test out the service before committing to a paid plan.
Additionally, I found the tool to be very user-friendly and easy to get started with, even for beginners.
Another cool feature of Lovo is that it supports multiple languages. This is particularly useful for those working in a global context. However, I did notice that some of the voice skins for non-English languages can sound robotic and unnatural.
On the downside, I did find that LovoAI can be a bit pricey for irregular users who don't require voiceovers on a regular basis.
However, if you do need to generate voiceovers frequently, LovoAI could be a great investment.
Check my complete list of the best AI voice generators.
7. AI Upscalers
AI upscalers are tools that turn low-res images into high-res ones.
Traditionally, image upscaling happened through interpolation methods that essentially create new pixels in between the existing ones to increase the size of the image. However, these methods often result in blurry or pixelated images, especially when enlarging images by bigger factors.
Nowadays, AI-based upscaling methods have become more popular. These methods use a neural network to learn from a large dataset of high-quality images to generate new pixels and increase the image size in a way that preserves the image details and sharpness.
In a sense, the AI image upscaler sees and understands the image like humans do. This way, the tools can make clever predictions as to how a larger version of that image would look like.
The AI image upscalers work surprisingly well. Of course, there are limitations, as they cannot add real-world information to the images. Nonetheless, the results are usually pretty good!
#1 StockPhotos Upscaler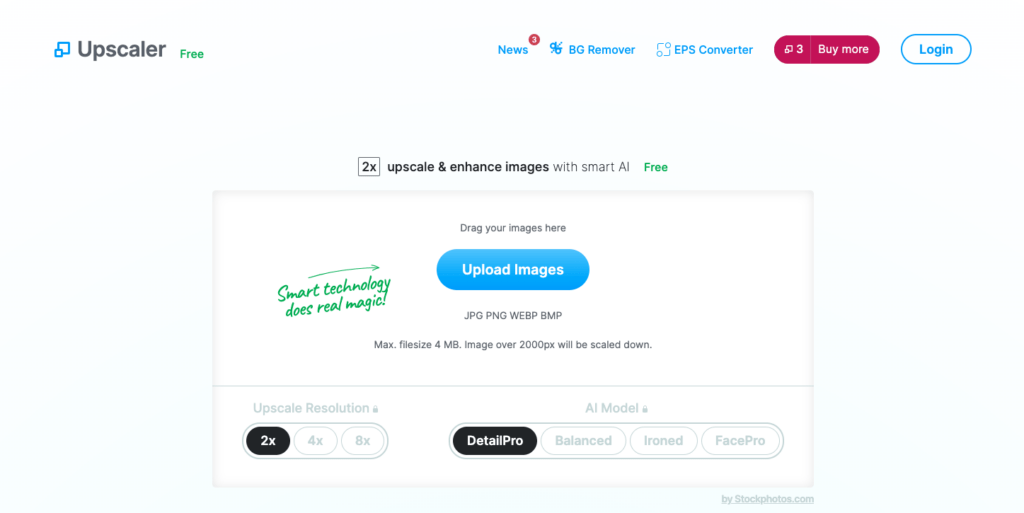 If you're looking for an easy-to-use tool to enhance and upscale your images, you might want to try StockPhotos Upscaler. For only $0.1 per upscale, you can get great results that are worth the investment.
Before you start using the tool, you can try it for free to make sure you're happy with the quality of the results. In my experience, I found that it works better on low-res images than on blurry ones, so keep that in mind.
One of the great features of StockPhotos Upscaler is the ability to choose between 2x, 4x, and 8x scaling. You can also define smoothing elements to optimize the upscaled output, which is helpful.
The AI that powers the upscaler can detect low resolution, noise, and blur, but you might need to adjust the settings to get the best results.
There are three different image-enhancement options to choose from: High-fidelity, Artifact removal, and Ironed out.
Key Features
800% upscaling
Noise and artifact removal
3 smoothing options
Bulk upscaling
Live chat for questions
My Take
StockPhotos Upscaler is a useful tool for enhancing and upscaling images. With a free trial period and straightforward pricing based on batches of upscale, this tool is worth trying if you have low-res images you wish looked better.
Notice that this tool has its limitations when it comes to low-quality or blurry images.
While it can upscale images up to 800% of the original size, it may not be able to remove blur from images or do much to enhance very low-quality images.
But this makes sense—the tool can't magically add information to the image that's 100% correct. It hasn't taken the image in the first place.
Overall, StockPhotos Upscaler is a great option for anyone looking to enhance their images quickly and easily, but it's essential to keep in mind its limitations.
#2 Gigapixel AI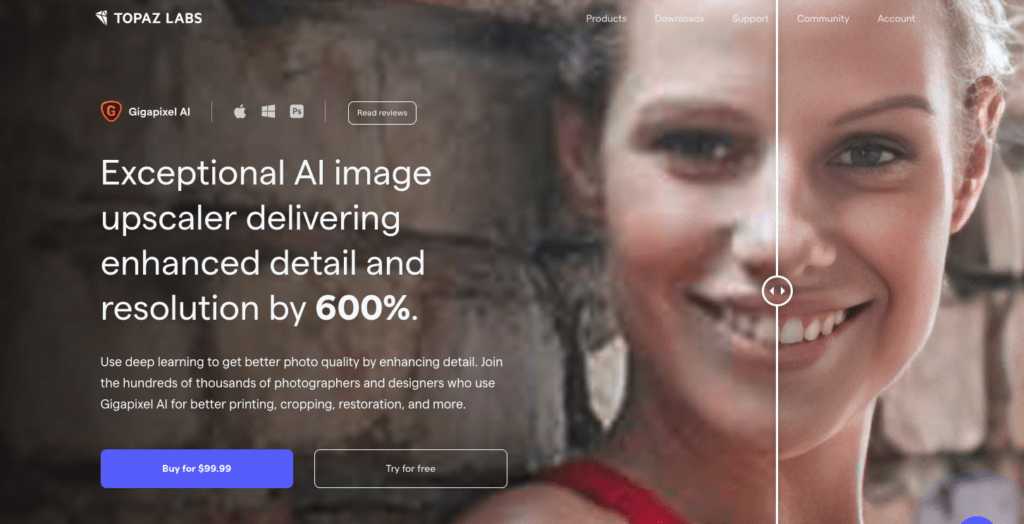 Gigapixel AI is a great option for enhancing your images using AI. It not only upscales your images, but also reduces noise and shake, and resolves blurry images.
The AI image processing behind Gigapixel is pretty advanced, resulting in accurate and impressive results. It has been trained on millions of images and knows how to handle noise and blur artifacts.
Gigapixel can transform your handheld photos into professional-looking images that seem like they were captured on a tripod.
The main feature of Gigapixel is image upscaling. It can intelligently add back the lost details during the image-capturing process using AI.
It's important to note that while the AI can predict what the lost pixel information might look like, it cannot bring it back per se. All in all, if you're looking for an AI-powered image enhancement tool, Topaz Gigapixel AI is a great choice.
Key Features
Shake and noise reduction
600% upscaling
Mac and Windows support
Easy to use
Bulk editing
My Take
Topaz Gigapixel AI has some impressive pros, including its precise enhancing and upscaling capabilities, shake reduction tools, and the ability to upscale images in bulk.
Note that the app is downloadable, not an online editor, and it doesn't work on Linux. Additionally, while there is a free trial available, you need to download the tool and sign up to use it.
Read also my list of the best AI upscalers.
8. AI Logo Generators
Do you lack design skills or don't want to hire a professional designer just yet? No worries! These days you can use AI to generate logos that match your brand values and identity.
An AI logo generator like LogoAI asks a bunch of personal preference questions such as the business name, colors you like, and style you desire. After this, it takes a couple of seconds to render a bunch of ready-made logos to use.
#1 LogoAI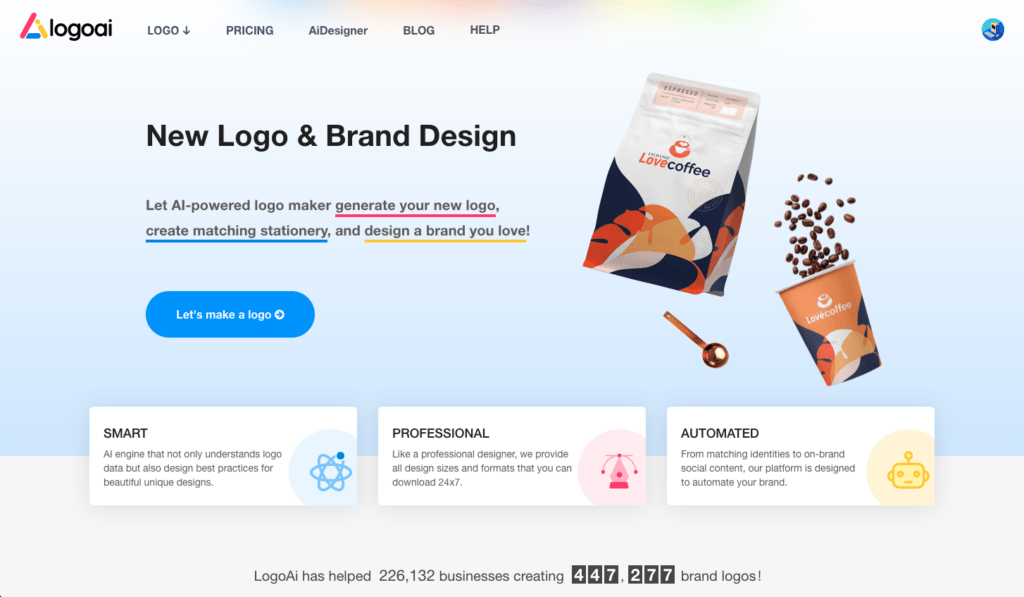 Logo AI is a neat tool for creating logos that take the best design practices into account. What's even better is that this tool uses AI to create logos that are suitable for businesses and individuals.
You can try LogoAI out for free! Also, you can get a nice 30% discount by using my link.
LogoAI's AI algorithms produce professional-looking logos that reflect your brand's values.
It's no wonder that tens of thousands of businesses have already used LogoAI to create their logos. Whether you're a blogger, an online store, or a large enterprise, LogoAI can help you stand out with its designs.
Personally, I find the tool very easy to use, and the results are truly amazing. Some of the logos that LogoAI generates look like they were created by real artists or designers, which is exactly what you want in a logo.
Key Features
AI logo generator
A comprehensive quiz to understand your needs
Brand material storage options
Free trial version
My Take
I think LogoAI offers great logo-generating services for people who don't want to pay a fortune for a professional designer.
For example, if you're just launching a blog or a Youtube channel, it doesn't make sense to spend time/money on the design aspects of the channel (unless you can afford it, of course).
This is where an AI-powered logo generator can be useful. You can use AI to generate professional-looking logos for free and purchase one of them for a very affordable price.
#2 Tailor Brands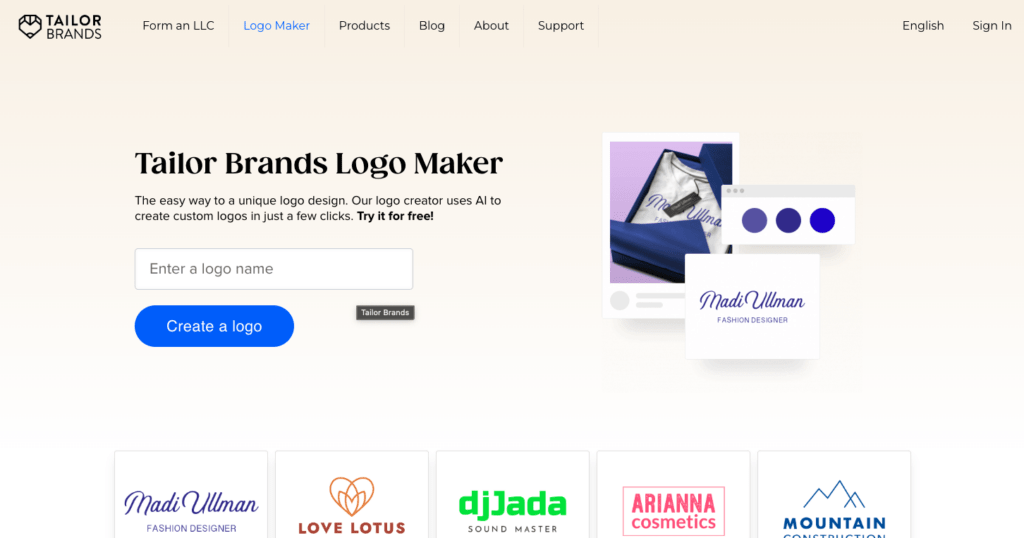 If you're looking to create a logo or design for your company, Tailor Brands has got you covered. It's another great AI tool and a one-stop shop for all your branding needs.
What's great about Tailor Brands is how easy it is to use. You don't need any prior design experience to get started. In fact, you can have a logo in front of you in less than two minutes.
How does it work?
Well, it's all powered by AI algorithms. When you start creating a logo, the tool will ask you for some basic input like your company name and preferred styles or icons. Then, based on your answers, it'll generate a bunch of logos for you to choose from.
Key Features
AI logo generation
Social media adaptation
Colors, icons, styles
Pro plan support
Free trial
Legal & branding services
My Take
Similar to LogoAI, Tailor Brands is another great AI-based design tool for creating logos and other styles for your business.
Instead of paying for expensive design services, you might just want to use AI to get things done quickly, effortlessly, and professionally.
Of course, I think in the long run you need to hire a real designer to build your brand. But when getting started, a tool like LogoAI or Tailor Brands is a great option to use.
Make sure to read my full review of the best AI logo generator tools.
9. AI Colorizers
Do you have black-and-white images you'd like to colorize? Instead of doing it manually, you can use AI tools to get the job done in seconds.
Similar to the AI image upscalers, an AI colorizer "sees" the image like we humans. Thus, it knows how to colorize the objects in it.
The state of the art in AI colorizing technology is taking baby steps, but the results are already surprisingly good!
#1 Cutout PRO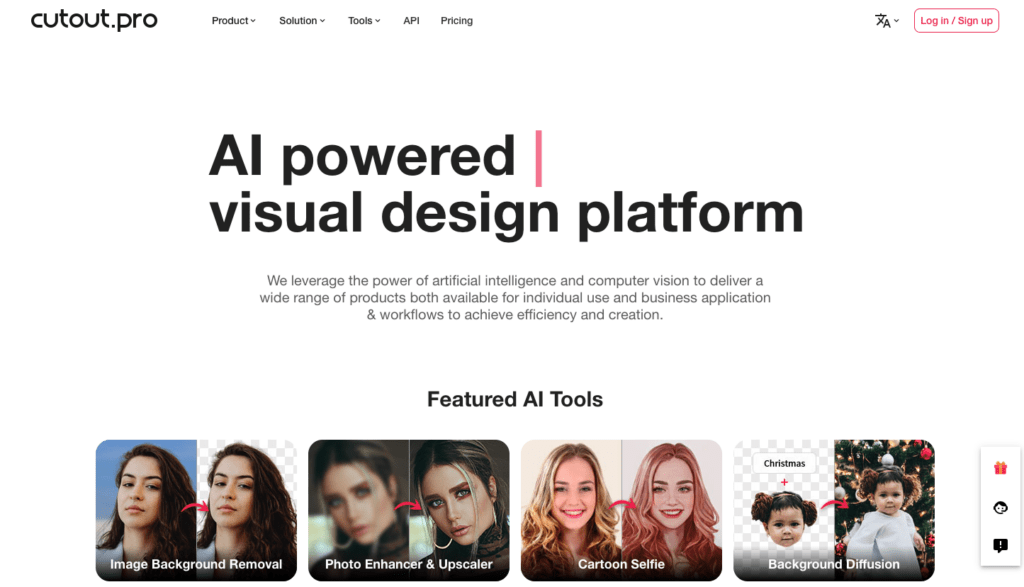 Have you ever wondered what your black-and-white photos would look like in color? Well, I recently came across an amazing tool called Cutout PRO AI Colorizer.
This tool turns your old photos into colorized ones in no time!
Now, whether you prefer the results of Cutout PRO over other tools depends on the specific image you're working with. But if you're just curious about how AI can enhance your old photos, this is a great place to start.
Using Cutout PRO AI Colorizer is a breeze: just head over to their website, upload your image, wait a few seconds, and voila! You can preview and download your newly colorized photo.
One of the things I love most about this tool is how easy it is to use. And if you're not sure whether it's right for you, try it out for free!
Key Features
AI image colorization
Understands and "sees" the images to colorize them correctly
Fast AI—takes just seconds to colorize
Free trial, preview, and download
My Take
Cutout PRO makes it super efficient and fast to convert black-and-white images to colorized ones. Instead of doing it manually, the AI gets the job done in seconds. More importantly, the results look awesome.
Of course, Cutout PRO sometimes makes small mistakes, but these are easy to fix either by re-running, manually editing, or trying another tool.
Read also my review of the best AI image colorizer tools.
10. AI Recruiting Tools
Talen acquisition is a multi-step process that starts with sifting through applications and CVs. This is a lot of manual and repetitive work. Instead of doing every step by hand, you can use AI to your advantage.
The idea of AI recruiting tools is to help you turn a long list of applicants into a shortlist of the candidates with the most potential.
AI recruitment software uses data mining, natural language processing, and logical reasoning to find great candidates in no time. The tool can analyze the values of a company and match them with a huge database of talent.
#1 Paradox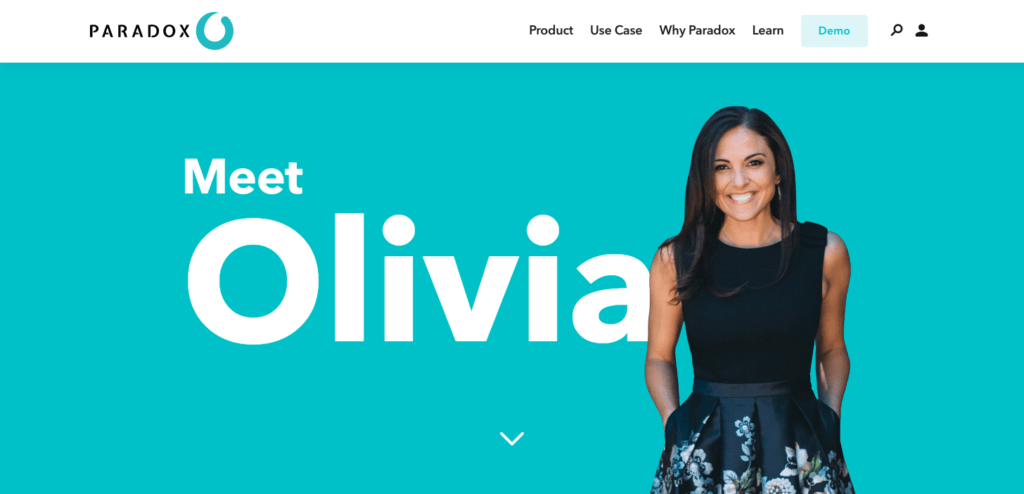 Paradox AI is an amazing AI-based recruitment assistant that you need to check out.
Their virtual assistant, Olivia, is a highly intelligent and personable tool that takes care of low-value, repetitive tasks like interview scheduling.
Once you connect your interview calendar to Olivia, you can sit back and relax while she handles everything from scheduling to reminders and even cancellations. It's a great way to save time and reduce the stress of recruitment.
What's really cool about Paradox is their conversational AI that doesn't feel robotic. Olivia is a virtual person that interacts with you like a human, making the recruitment process feel more personal and less automated.
They also offer virtual events and text message recruiting as part of their feature set, so you have plenty of options to choose from.
Key Features
Interview scheduling
Virtual events
Conversational AI
Text message recruiting
My Take
I have to admit that I haven't used this tool in recruiting (yet). Although I decided to add it to this list. This is because I see it as a potential game changer for people looking to streamline their talent acquisition process.
Read also the best AI recruiting software.
Wrap Up
AI is changing the world. The latest developments in AI assistants have made it possible to streamline and automate many repetitive tasks.
Whether you're a writer, marketer, or designer, there's an AI tool out there that can help you work more efficiently and effectively.
So don't miss out, give these AI tools a try and see how they can improve your workflow!
Thanks for reading. Happy experimenting!