Choosing the best AI chatbot is crucial from both business and individual standpoints. Businesses should incorporate AI into customer support to handle basic support requests without human intervention. On the other hand, individuals might also want to use chatbots to fight loneliness or just to have some fun.
This is a comprehensive guide to choosing the best AI chatbot. You'll find chatbots for both business and personal use.
By the way, one thing I love about the AI chatbots reviewed in this article is that it's really easy for you to try these solutions. Just choose an intriguing AI chatbot, head over to their website, and open up the chat. This way you get the first impression of the bot!
What Are We Looking at in This Guide?
This guide reviews the best available AI chatbots one by one. The reviews are thorough, so you might want to skip to a particular too, such as #1. You can use the links below to jump into different sections of this review:
Because this article reviews chatbots, I've mainly focused on how the chatting features work, that is, how the conversation goes on and how natural having a chat feels.
Naturally, most of these tools offer a broad variety of solutions for driving leads, helping customers, automating support requests, and more. In this sense, the chatting capabilities are just the tip of the iceberg.
Anyway, let's jump to the reviews!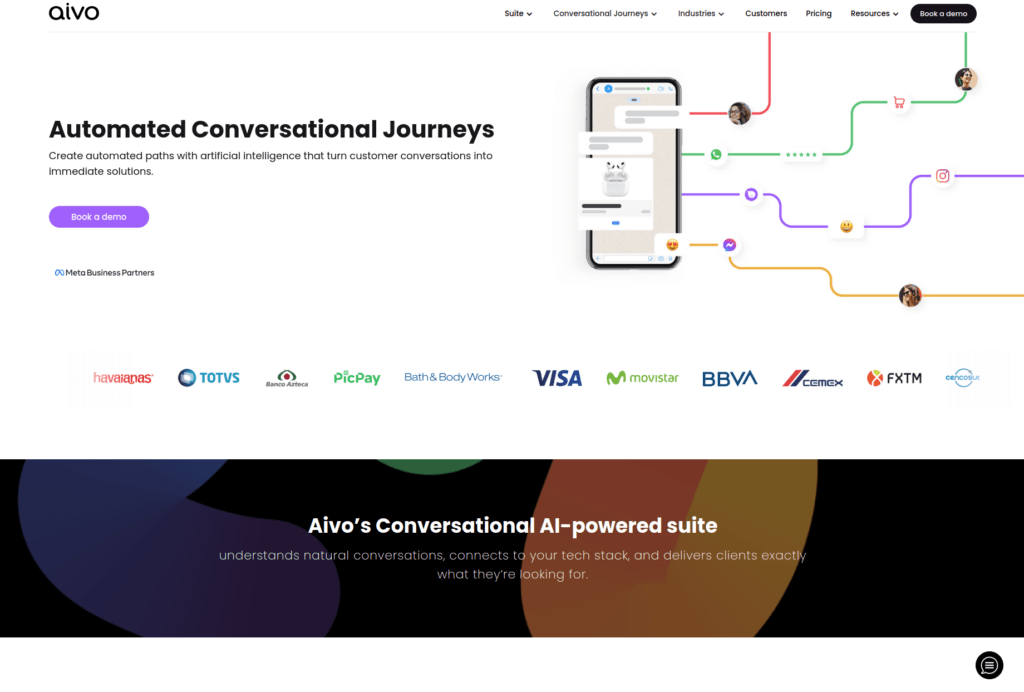 Aivo is the #1 tool for creating automated conversational journeys. This chatbot uses highly advanced AI to recognize user intent. The bot can understand the meanings of emojis, slang, and regional differences. One cool feature is the ability to understand voice messages.
Aivo's chatbots are highly engaging and personalized. Make sure to try their chatbot on their homepage. The chatbot is a video that reacts to your messages in real-time. The person in the video is the creation of AI. It's not a real person even though it looks and sounds like one!
To take conversational customer support to the next level, you should try Aivo.
Features
Advanced reporting capabilities
Supports a staggering 50+ languages
Customer alerts with SMS and WhatsApp
Deep Learning based AI that powers the chatbot
Video-based AI customer support capabilities
Realistic voice generation with personalized support features
My Experience
Aivo is definitely one-of-a-kind when it comes to being a chatbot.
Look what it produces when asking questions!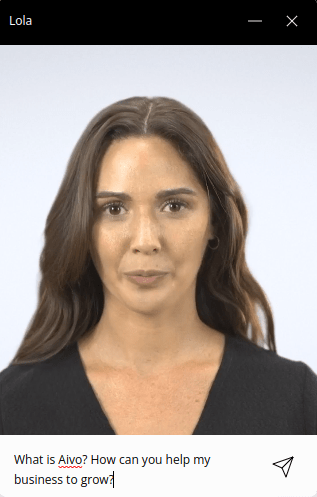 This screenshot is a video chatbot that cleverly answers the questions I ask it. Wow!
This new way of incorporating a realistic-looking human in the conversation is better than the traditional AI chatbots by leaps and bounds.
Of course, this technology is still in its infancy. Even though the AI chatbot in Aivo looks realistic, you can still quite easily tell it's not an actual person. Nonetheless, what an impressive application I'd definitely try it if I had customer support!
Price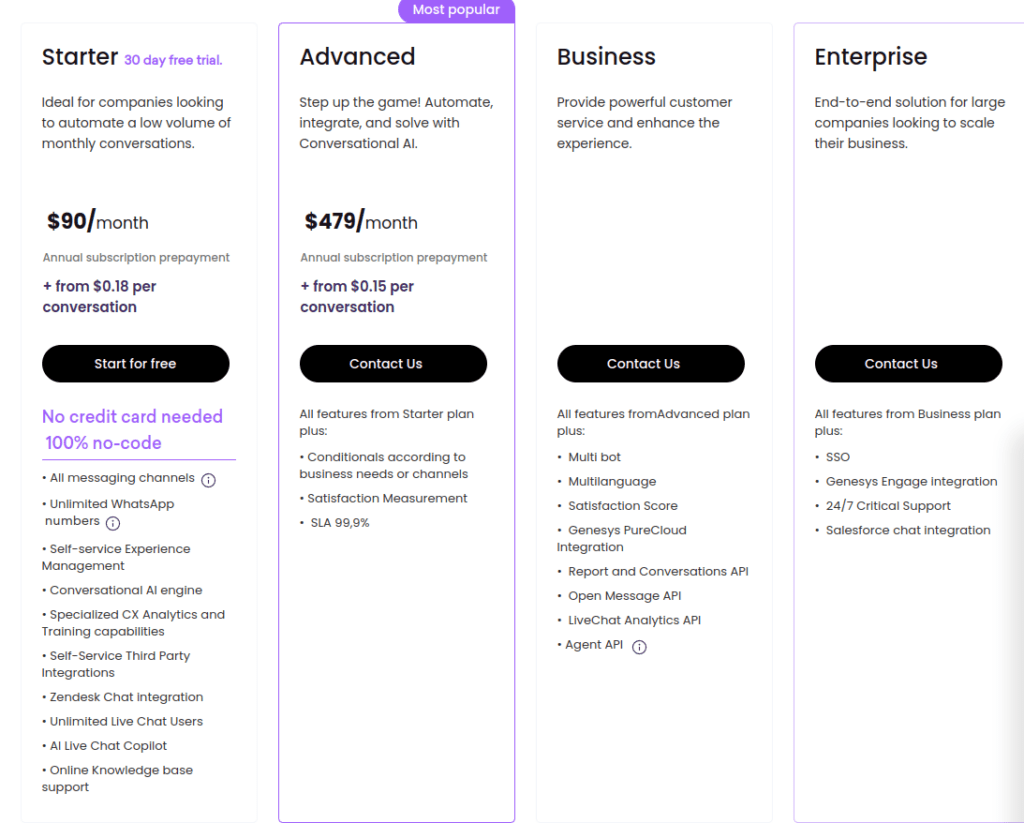 In total, there are four plans you can subscribe to. Two of these plans have a fixed monthly price and two have a more tailored price you need to inquire about from the sales team.
Starter: $90/month
Advanced: $479/month
Business: Contact sales
Enterprise: Contact sales
My Take
Aivo is definitely a next-level AI chatbot. It increases engagement and personalizes customer support and messaging with realistic video content and responses. The tool is easy to use and requires no technical skills to get started with. Besides, the tool integrates with the platforms you work on. Definitely worth a shot in my opinion!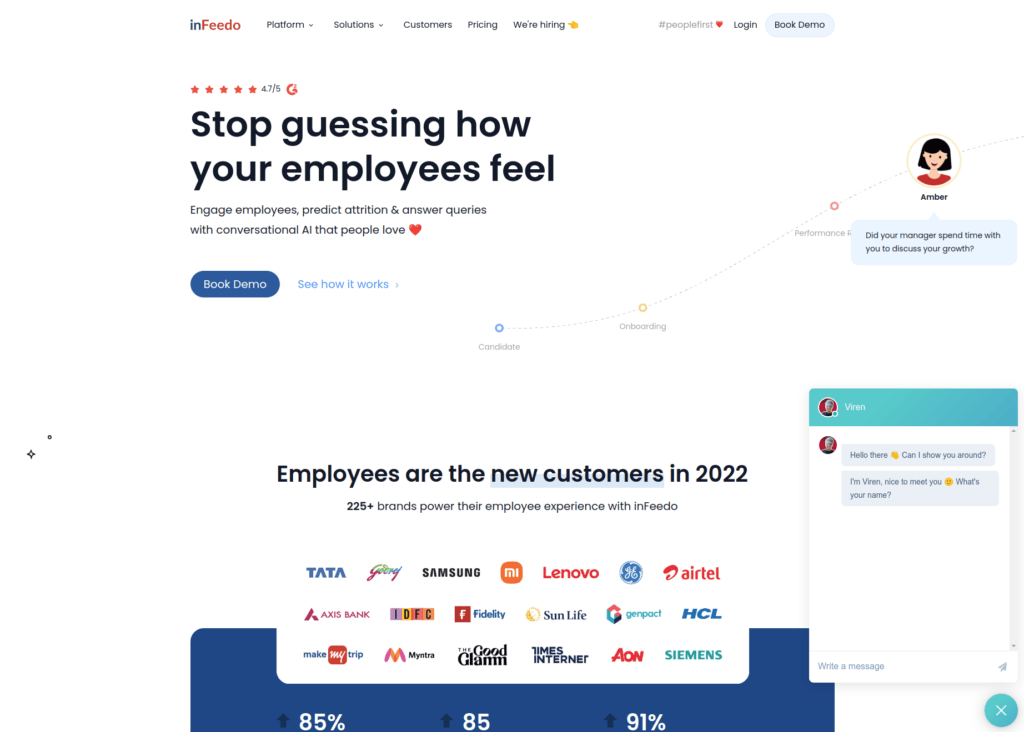 Infeedo is an AI chatbot that's ideal for companies with remote employees. This chatbot has the keys for using AI to collect employee experience from remote-mode companies.
In a sense, Infeedo is a virtual assistant that asks the personnel about their work-life balance and predicts who are the ones that are unhappy, disengaged, or perhaps even about to leave.
The tool collects employer data with these highly engaging messages and emails and puts the information together for the HR teams that can then improve employee engagement and work balance.
Features
Intuitive user interface
No coding skills needed
Sophisticated analytics reports
Anonymous chats
AI-powered chatbots to chat with employees
Personalized questions
My Experience
Let's take a closer look at Infeedo. I tried their bot on their website and here's what I figured out.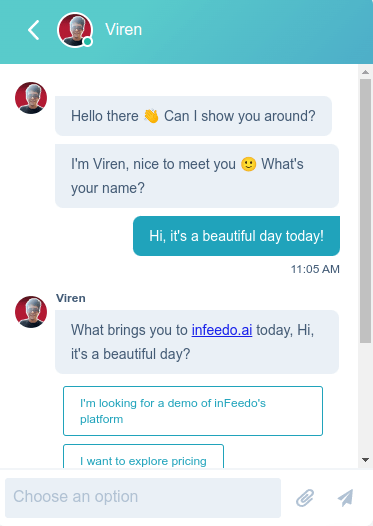 Not very clever, is it? This chatbot doesn't clearly understand that there might be more messages to come. It instantly assumes my name is "Hi, it's a beautiful day today!" even though that was my first message before telling the bot my name.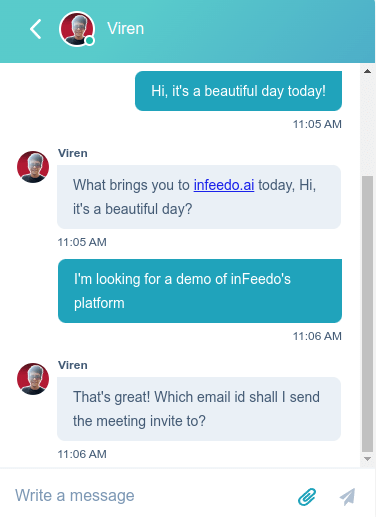 But the bot seems to get the job done. It instantly suggests a meeting for booking a demo with the team!
Because this bot is used for employee engagement and such, you need to pay close attention to how you build the bot and the questions! You need to spend time tailoring the bot for your need to make the most of it. In this sense, the tool will definitely deliver, even though the above example isn't that impressive!
Price

There's no fixed pricing in Infeedo (yet). To get the best value for money, you need to request for a quote!
My Take
Infeedo is a great employee engagement AI chatbot that allows companies to collect valuable data from their personnel. This tool can help you especially if you have a lot of remote employees and want to run some statistical analysis to help your employees do better and be happier at work.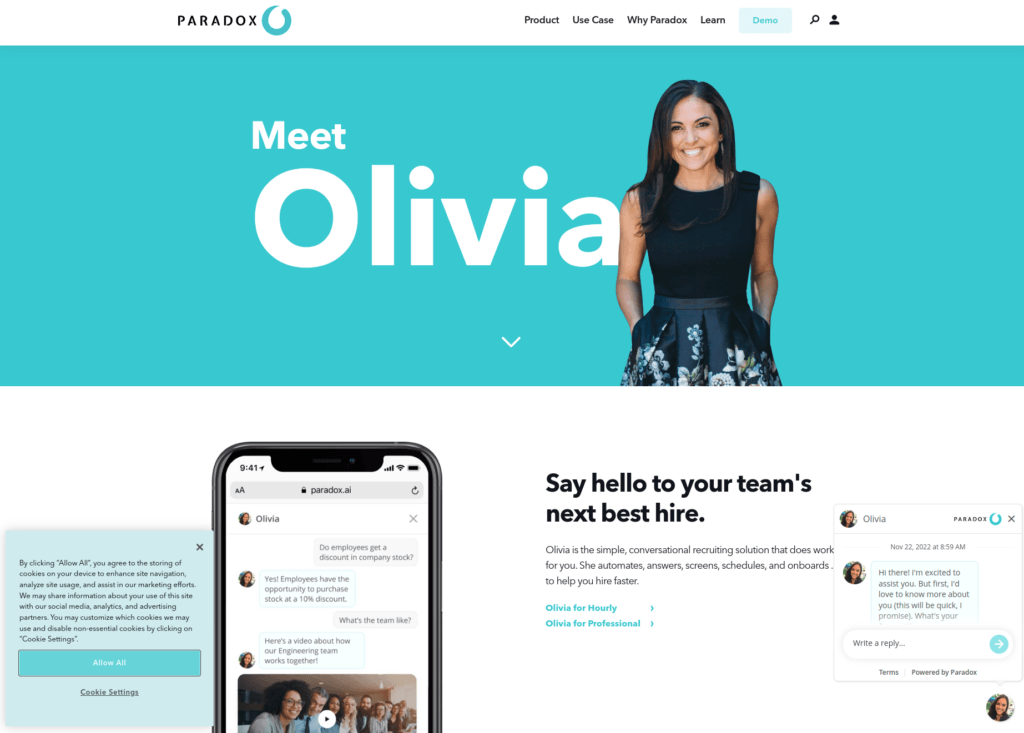 Paradox is an online AI chat provider who is best known by her name Olivia. This AI chatbot uses the latest advancements in artificial intelligence to deliver conversational conversations with your customers and employees.
This tool specializes in AI recruiting.
The tool is not only a great talker, but it can also do the employee screening process, interview scheduling, and much more. You can also use it to answer candidate questions and manage onboarding communications.
When it comes to automating the recruiting process, Paradox offers a robust all-in-one solution for big businesses that have a huge number of applications to seek through.
Features
Job candidate screening
Job interview scheduling
AI-based messaging that improves engagement and feels natural
Q&A for candidates
Multi-lingual support
My Experience
Paradox is an all-in-one platform for AI-based recruiting. Because this review is about AI chatbots, let's focus on the AI chatbot service the tool provides.
Here's a short conversation I had with Paradox AI's Olivia chatbot.
Well, this one is clearly a more sophisticated chatbot because it noticed I didn't send it my name but a greeting instead. However, the chatbot didn't really pick up the "It's a beautiful day today". Instead, it started showing me around, which is reasonable, though. We're not here to make friends but to talk about business anyways.
Overall, the first impression of the tool is pretty good! The conversation flows decently, although the bot doesn't really try to have a conversation because it doesn't answer my questions. It clearly has some pre-defined answers or answer models to choose from.
The chatbot on their website doesn't speak multiple languages, as seen below.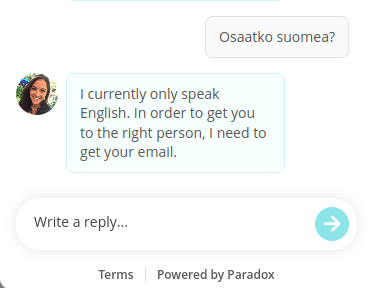 But what's incredible is that it understood my question "Osaatko suomea?" which translates to "Do you know Finnish?".
Overall, the experience with this chatbot is decent. I'm sure it can do the job when it comes to sending messages to candidates.
However, I've been approached by similar AI tools with partnerships in their mind and I can tell the conversations are a bit cumbersome but they definitely get the job done.
Price
To get the best value for money, you need to contact the sales team for pricing information.
My Take
Paradox has a decent AI chatbot that can send basic messages to job candidates as well as answer potential candidates' questions. If you're looking to streamline the recruitment process, why not give Paradox a try?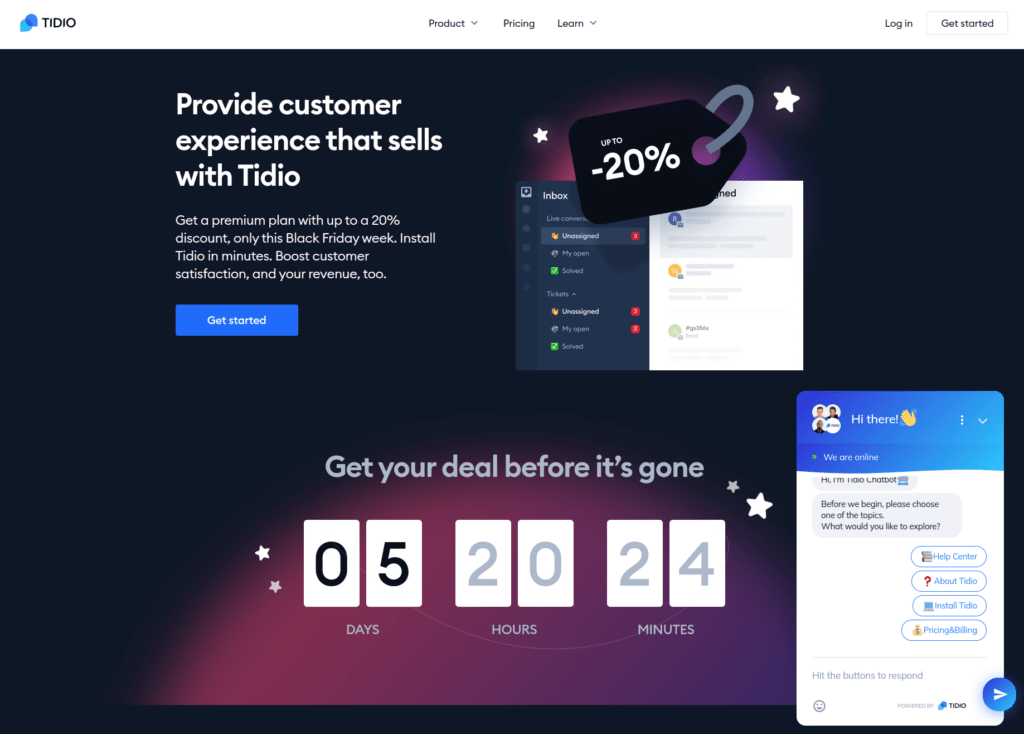 Tidio is an AI chatbot for small and medium-sized businesses.
The main solution is conversational AI chatbots that use state-of-the-art AI algorithms and deep learning to speed up customer support as well as drive sales.
The tool is easy to use and you can create the support chatbot your way without knowing any technical skills or such. You can get the first impression by trying the AI bot on Tidio's website.
One of the great features of Tidio is the ability to use a visual builder for building the AI chatbot to match your use case.
The tool uses natural language processing and sentiment analysis to understand support requests and contacts better. This way the bot mimics the human brain behavior to make intelligent decisions in answering questions.
Features
Some of the key features of Tidio include:
NLP technology to analyze and produce intelligent text and messages for your customers
Conversation templates to create chatting patterns
Easy-to-use drag-and-drop interface builder for creating the bot
Integrations with other platforms like MailChimp or Zapier
15+ bot triggers
My Experience
Here's my experience with Tidio.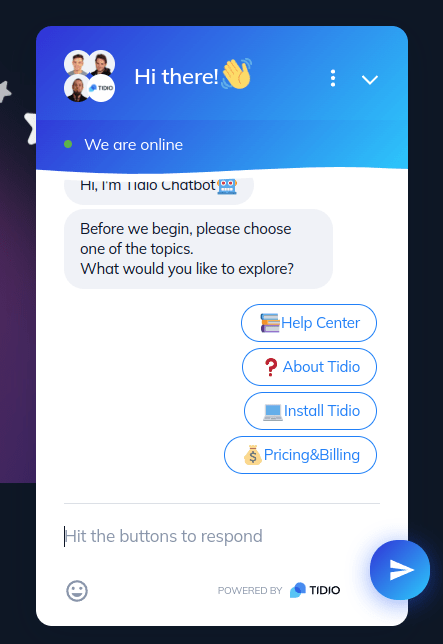 Tidio has restricted the scope of this particular chatbot to the four areas visible in the chat view.
This offers great guidance for the chatbot.
But then again, if it's a chatbot, why can't I ask any type of question? Those items in the chat could be located in the navbar of the website.
Anyway, let's give it a try.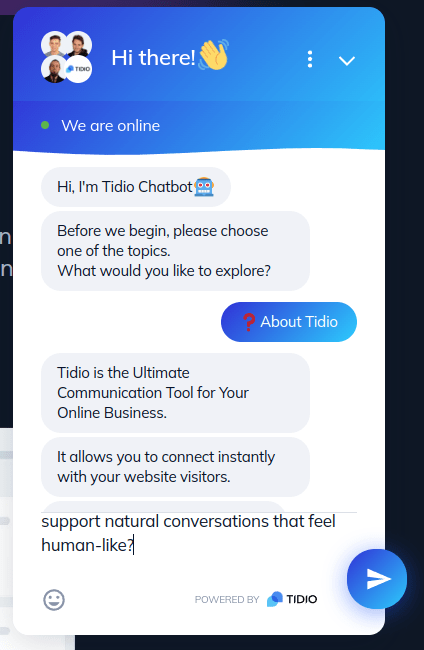 The chatbot does well in answering the question I asked. But these are probably some pre-written messages that the bot just sends in a way that looks like it was having a conversation.
Once I ask a tricky question, it instantly offers me a real human to support me.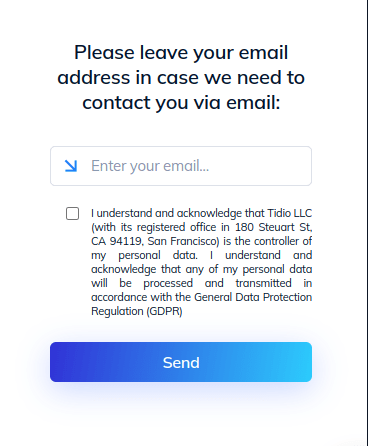 This is great because the chatbot doesn't send me nonsense responses. Instead, it diverts the conversation to a real supporter that will contact me in an instant.
Although the "conversation" with this chatbot wasn't that great, it definitely does its job in answering questions and delegating chats to real supporters if needed.
Price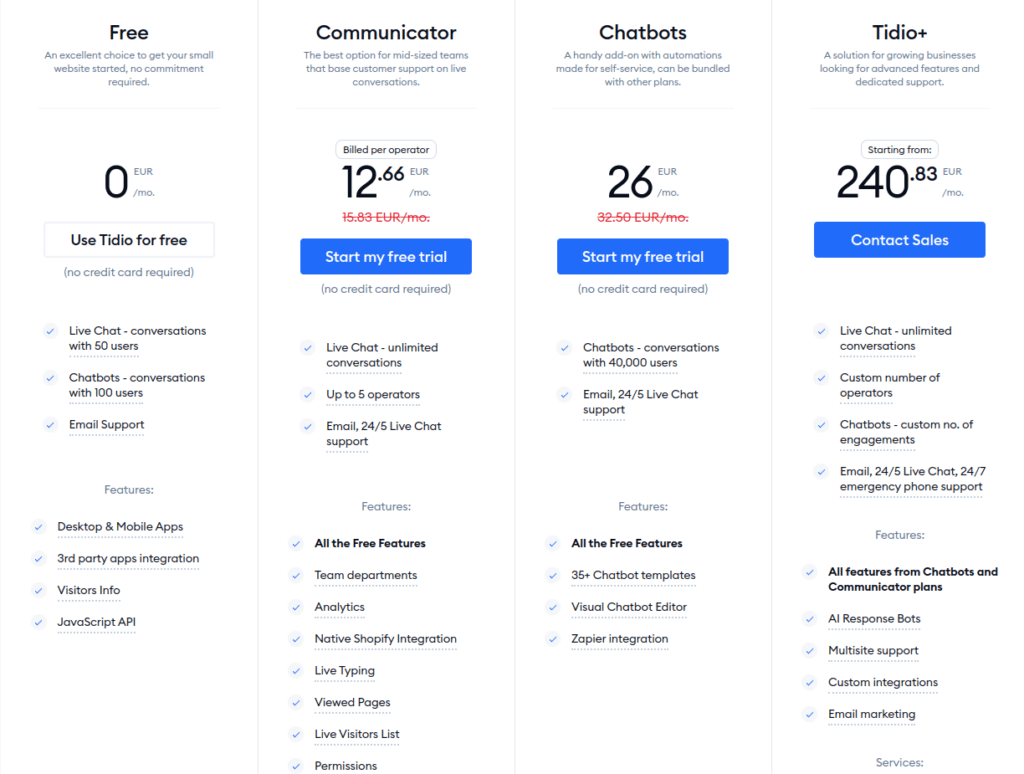 Unlike many other AI chatbots, Tidio has a well-defined pricing model for every use case.
In total, there are four plans:
Free: $0/month always
Communicator: $13/month
Chatbots: $26/month
Tidio+: $240/month
My Take
Tidio is definitely worth trying if you're looking to streamline customer support and incorporate the latest advancements in AI into your workflows.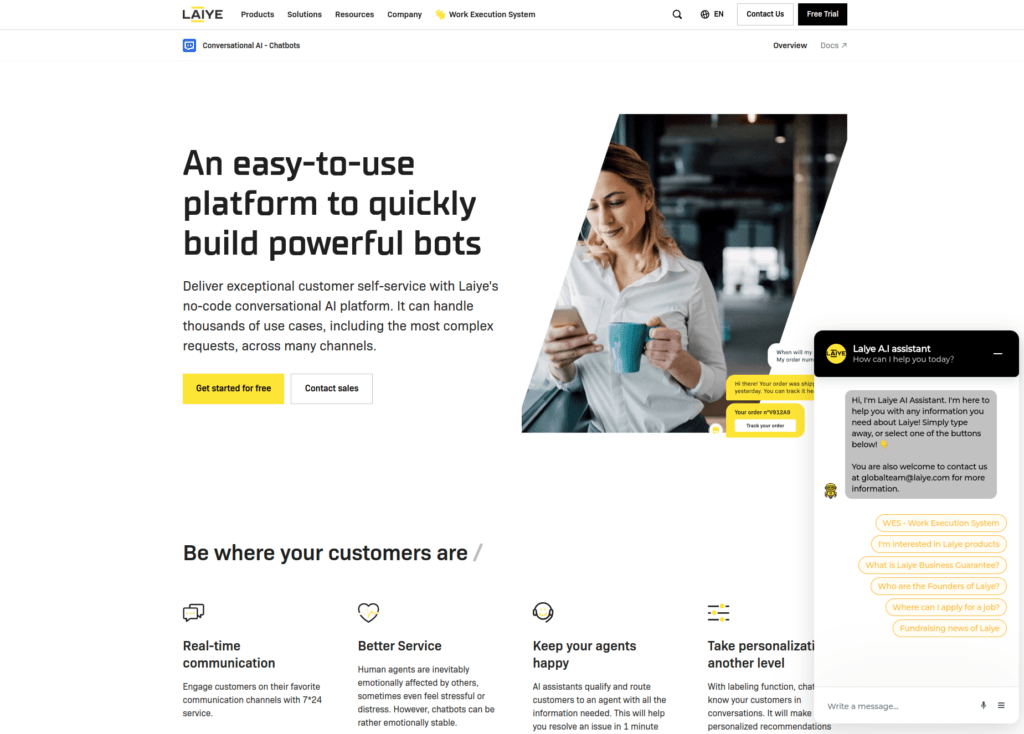 Laiye is a work execution platform that aims to make your business better with solutions, such as AI chatbots that are the future of marketing and customer support.
When it comes to this guide, the most interesting solution they offer is conversational AI chatbots.
With Layie, you can easily build chatbots that require no coding or AI skills to use. These AI-backed chatbots use state-of-the-art AI algorithms to write answers and understand sentiments. There are thousands of use cases that the bots can handle among multiple channels and platforms.
Not only do you keep your customers pleased, but also help the customer support agents tremendously. The AI can handle the basic questions whereas the support agents will take care of the most complicated use cases.
Layie chatbots offer a personalized solution for quick and efficient customer service.
Features
Real-time communications
No-code app builder for creating chatbots without tech knowledge
Natural conversation with intelligent answers
Uses state-of-the-art AI algorithms to produce text
A variety of other business automation solutions
My Experience
Let's see a concrete example of using the chatbot for a basic conversation.
First I started by asking when the Layie AI assistant was created.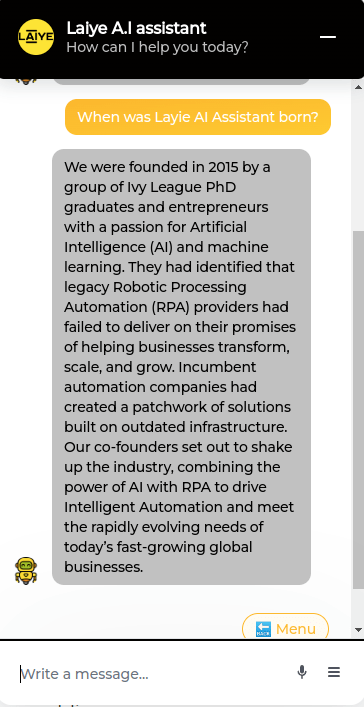 The tool clearly understands the question even though I said "born" instead of "was created". So there's definitely an AI behind the scenes.
But when I started talking about the weather, it got messed up and said "Ok then, see you soon."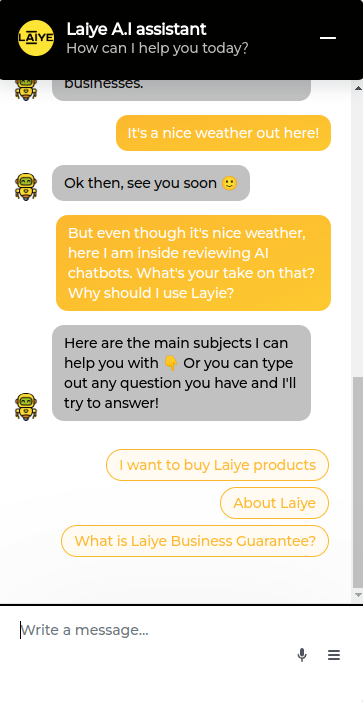 Don't get me wrong. If a support chat AI doesn't want to speak about the weather, it's fine. Its job is to serve customers and answer product-related questions instead of talking about the weather. But I think this is a great way to show that even though the AI has great capabilities and sentiment analysis features, it clearly lacks the human side of things.
Anway, I'm sure this tool does great in customer support once you rewire it to best match your use cases!
Price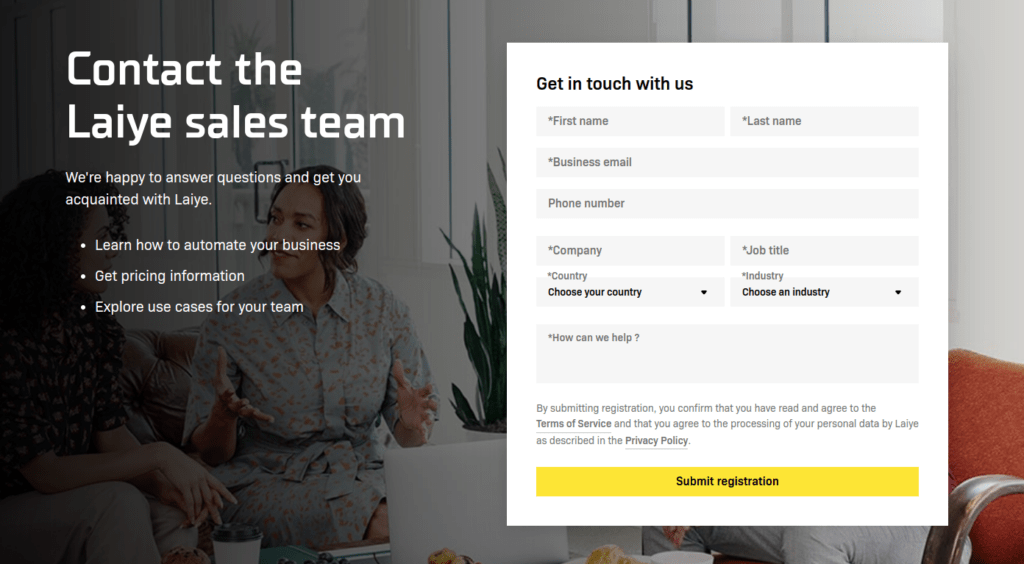 There's no fixed price for the chatbot service. Make sure to request a quote from the Layie sales team.
My Take
Layie offers an easy solution for building chatbots to support supporters. This tool can save time by handling basic support requests in no time with a real conversation that feels natural and works in real time.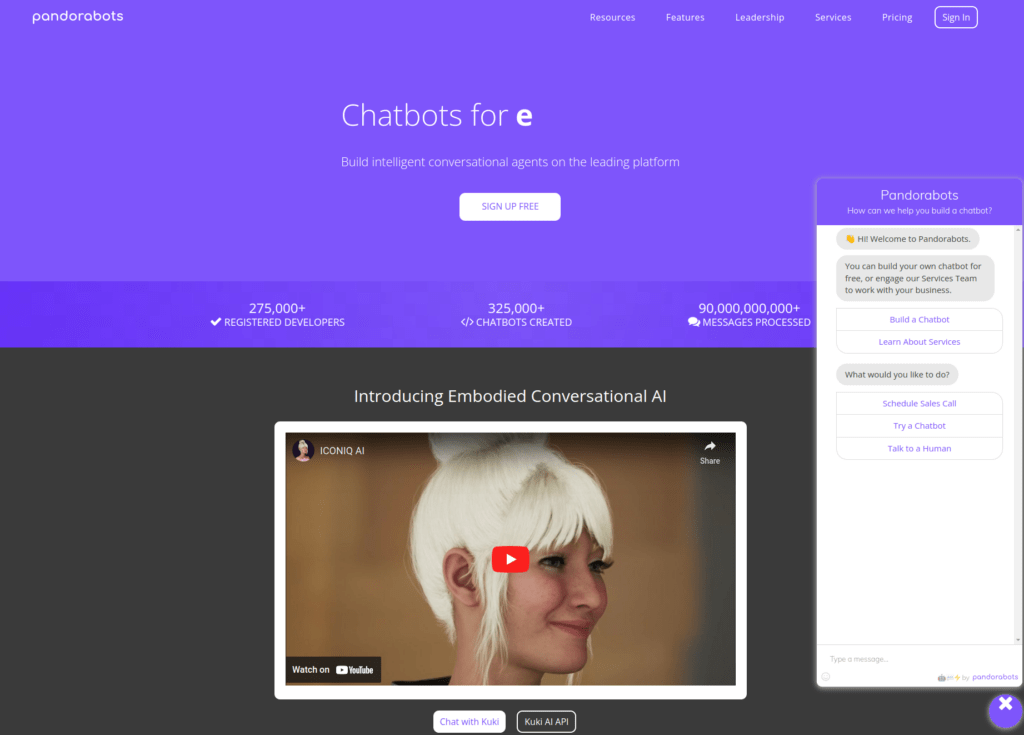 Pandorabots is an open-source chatbot service with which you can build and publish chatbots on web apps as well as mobile apps. Pandorabots support messaging in different channels like Slack or WhatsApp.
The chatbots built with Pandorabots use AI behind the scenes to understand support requests and questions as well as keep up a conversation and answer the questions in a streamlined fashion.
To build a chatbot with Pandorabots, you need some technical background. Thus, this solution is best for technically oriented developers who are willing to write code to create chatbots.
If you're only looking to build a chatbot, this platform is great. But if you want to incorporate the tool into your business, it will lack the marketing capabilities that many other chatbots have.
Features
Open-source chatbot builder that requires technical skills to use
AI-powered chatbots that can handle support questions
A multi-lingual platform that can operate in any language
Voice-enabled chatbots that turn speech into text and vice versa
Great documentation and training material
My Experience
Pandorabots AI chatbot is definitely one of the most intelligently wired bots I tried. It can understand my questions pretty well and it tries to establish a conversation, although in this case, it wants to take me back to the main topic.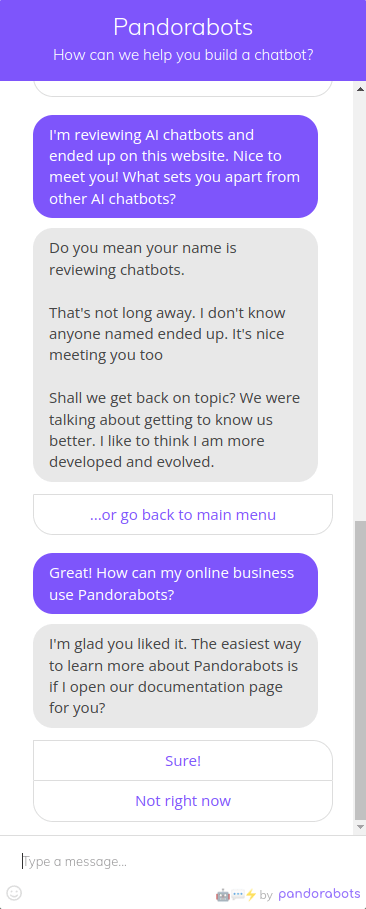 Price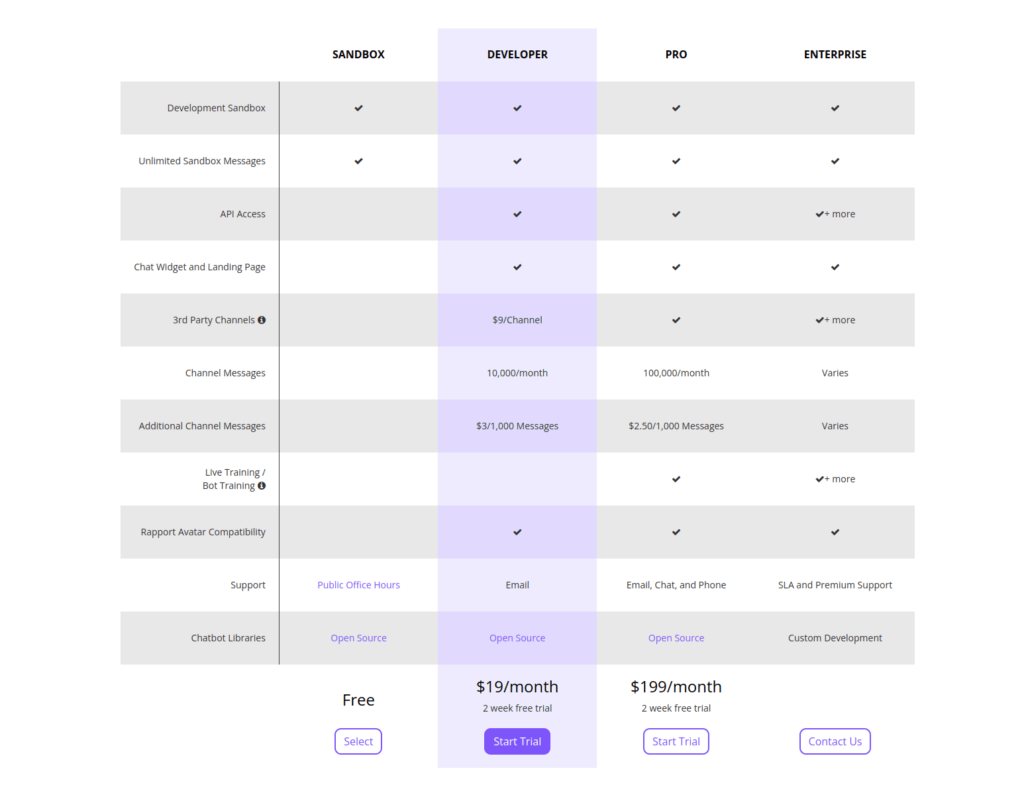 There are four plans for Pandorabots:
Sandbox: Free
Developer: $19/month
Pro: $199/month
Enterprise: Contact sales
My Take
If you have technical skills or one of your team members do, then you should give Pandorabots a try. The solution uses AI to handle support in any language. But if you have no tech skills or need a more robust support bot that also does marketing and drives sales, try another bot!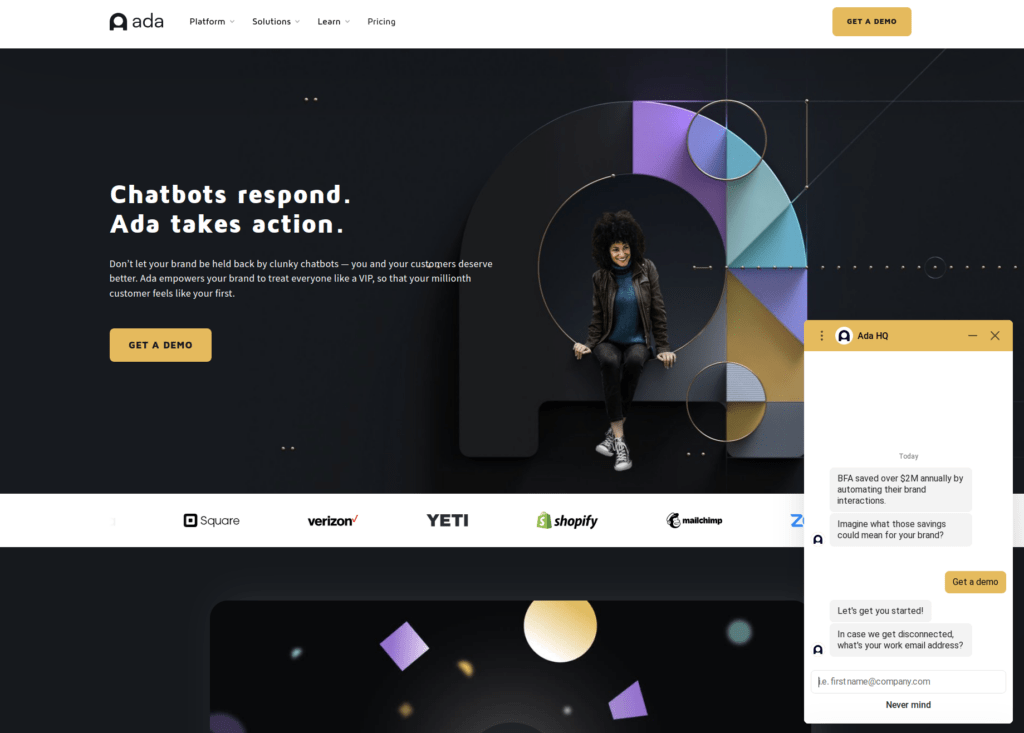 Ada is an AI-powered chatbot that's ideal for international businesses.
This virtual agent helps create automated customer experiences using the latest advancements in AI.
Ada comes with an intuitive and easy-to-use chatbot builder with which you can craft a chatbot that meets your business goals. This tool requires no technical skills to use.
Ada has a powerful Questions tab that has real-life scenarios and the capability to prepare for questions it hasn't been trained for. Also, you can rely on the Ada team to do some more rigorous functions.
Features
Conversational AI that uses NLP to process questions and requests
No-code app builder for creating the chatbot without tech knowledge
Real-time performance analytics
Personal customer support experience with highly intelligent chatbot and marketing capabilities
My Experience
I had a short conversation with Ada. The chatbot didn't really get my question "How is it going". Instead, it started looking for an answer from their website and returned me a doc to the conversational AI.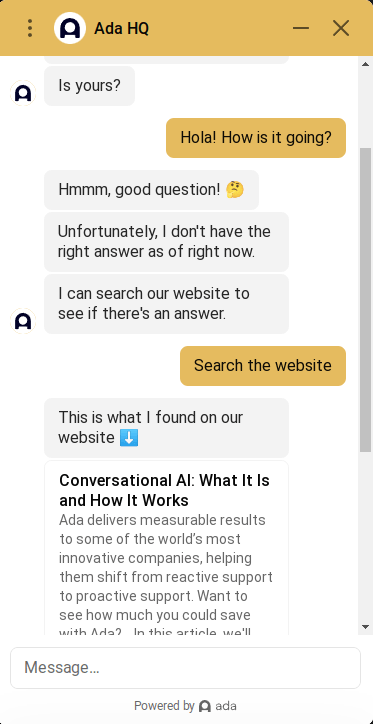 Once again, I don't think it's really crucial for an AI bot like this not to try to create a conversation with customers. But lacking the human side of the conversation is a big minus for me as a reviewer.
The bot-like conversations seem to take place more or less on every AI chatbot. Clearly, the state of the art isn't there yet. This kind of AI chatbot service was something I think existed back in 2010-2015 already.
But for sure, Ada can let you know about its use.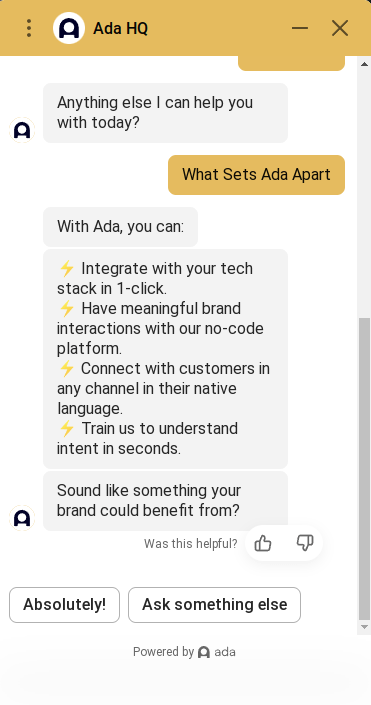 So at least it sells!
Price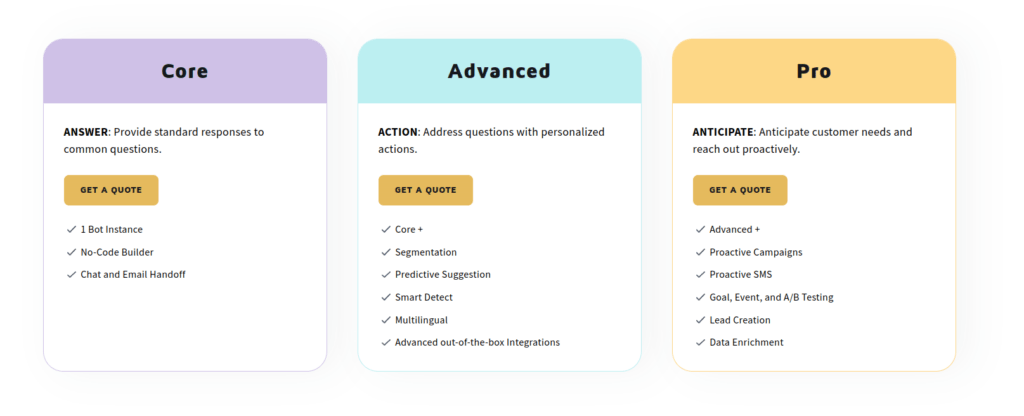 There's not a fixed pricing model on Ada (yet). To get the best value for money, you should contact the Ada sales team!
My Take
Ada is a great multi-lingual AI chatbot that understands user intent. The tool makes it easy to build unique and personal customer experiences with a simple yet powerful AI. If you're looking to build a multi-lingual business, you should give Ada a try!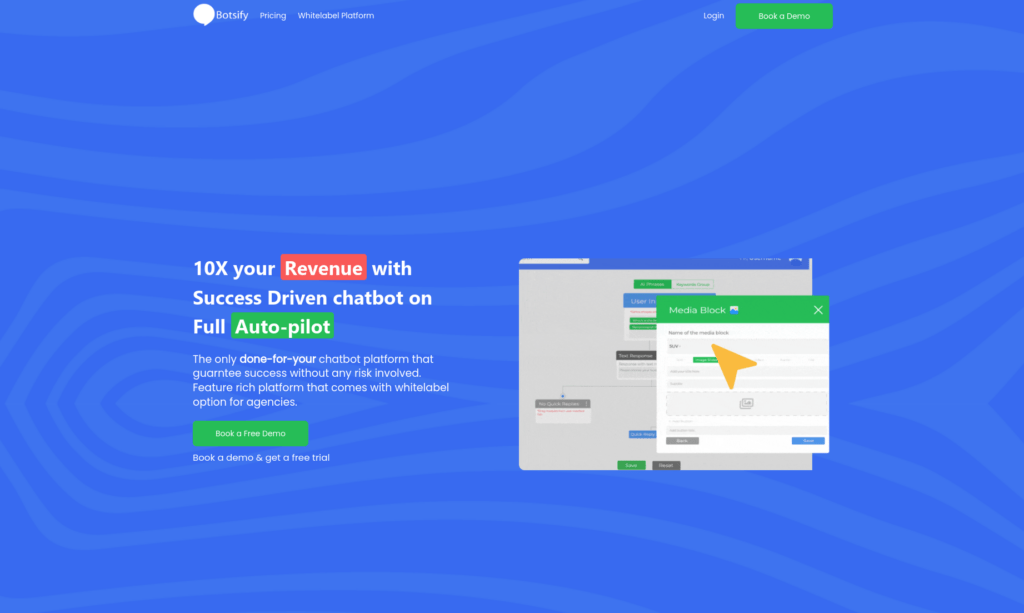 Botsify is an AI chatbot builder that requires no technical skills to use. You can build a simple AI chatbot for your business needs in no time to handle busy support requests and questions.
Botsify is powered by the latest advancements in AI and it can truly understand what people ask it. Although it's not the best tool for keeping up with the conversation, it definitely can guide the users in the right direction.
With Botsify, you can create chatbots for education, customer support, sales, and even HR teams. You can also train the bot to make the most of it. Because the tool is powered by AI, it has the ability to adapt to changes and learn as it goes. This is what makes it a robust solution in many areas where you'd normally require a person!
Features
Conversational AI uses the latest advancements in artificial intelligence to produce and understand user intent
Story trees
Integrations with sites like Facebook, Amazon, and Slack
Educational chatbots
Easy-to-use chatbot builder
Great tutorials
My Experience
I had a small conversation with Botsify AI.
Right off the bat, the chatbot asks for the email address. As someone who's looking to try a chatbot, I'm really not a huge fan of giving away my email address, as there are dozens of other tools that don't require it.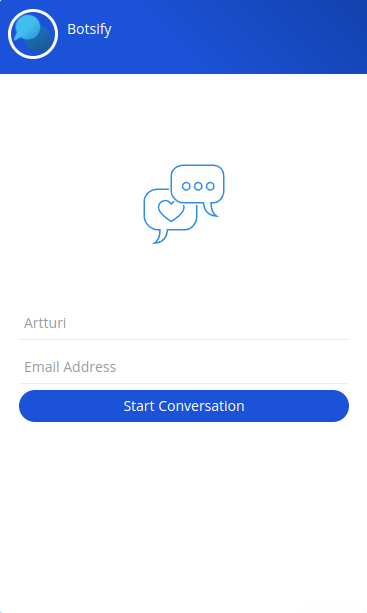 Anyway, let's begin the chat. Remember, this particular bot is wired in a way to convert me to a paying customer.
Once again, not a very smooth conversation, but the AI clearly knows I'm into chatbots and starts explaining about them. Also, it offers me a meeting with the sales team to learn more. This is something that doesn't really require AI as these messages can just be preset to the tool.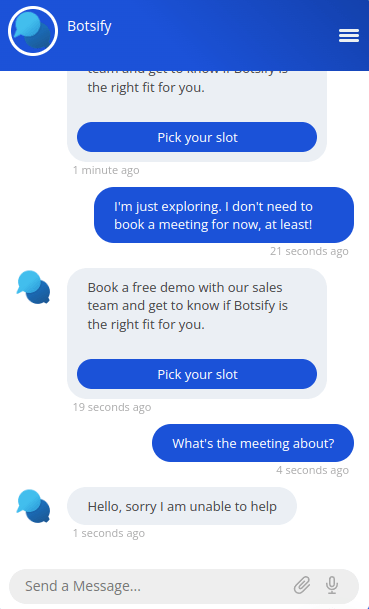 When I let the AI know I don't need a meeting, it still asks me to book a slot. And when I show interest in the meeting by asking what's it all about, the tool doesn't know what to answer.
This demonstrates well that the AI is capable of converting customers and having a very basic level conversation, but it really doesn't interact with people in a natural way and doesn't understand many questions.
Price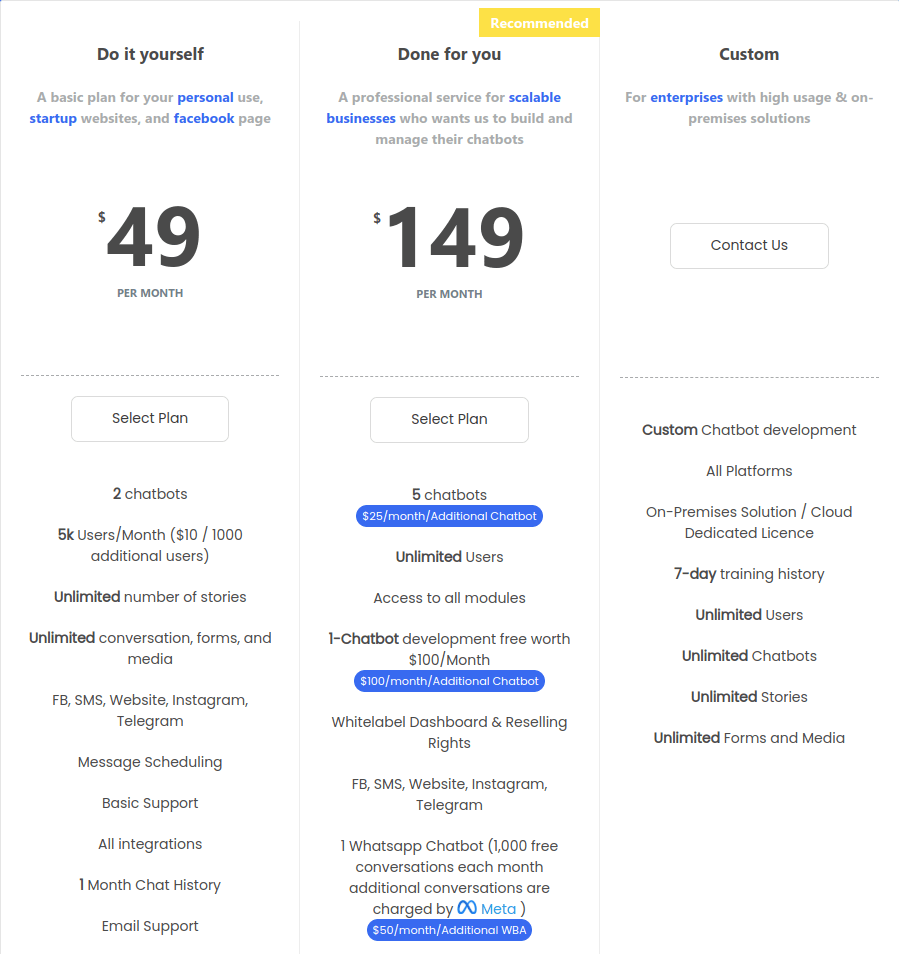 Unlike many other chatbots, Botsify has a clear pricing plan structure. There are three plans:
Do it yourself: $49/month
Done for you: $149/month
Custom: Contact sales
My Take
Botsify offers a variety of AI chatbot solutions from educational purposes to support chat assistance. It's a great place to get started if you're looking for multi-purpose AI chatbot capabilities and a tool that requires no technical skills to use.
Meya is an AI chatbot platform that allows you to build conversational chatbots that use AI behind the scenes. The idea of these chatbots is to provide great customer support without always having to rely on human support.
The tool requires no technical skills to use. Setting up a chatbot that matches your business needs is easy and streamlined. The tool also integrates well with other platforms so that you can make the chatbot work where you work.
Features
Workflow automation
Uses the latest advancements in AI and NLP
Customer return automation
Intuitive UI and chatbot builder that requires no tech skills
My Experience
Let's have a closer look at how Meya performs.
I'm going to start a simple conversation with Meya from the chat box on their website. It says "Ask me anything…" so let's see what it's capable of by asking how it is doing.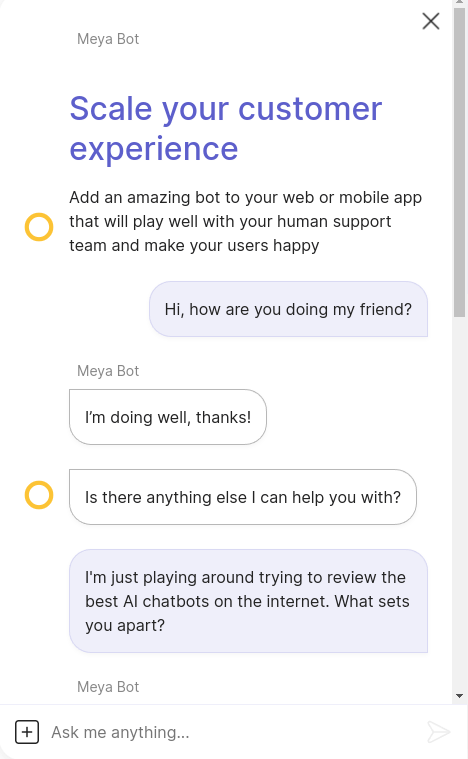 Yay! One of the only chatbots who actually answered this question! Promising.
Now, let's ask something about Meya as a product.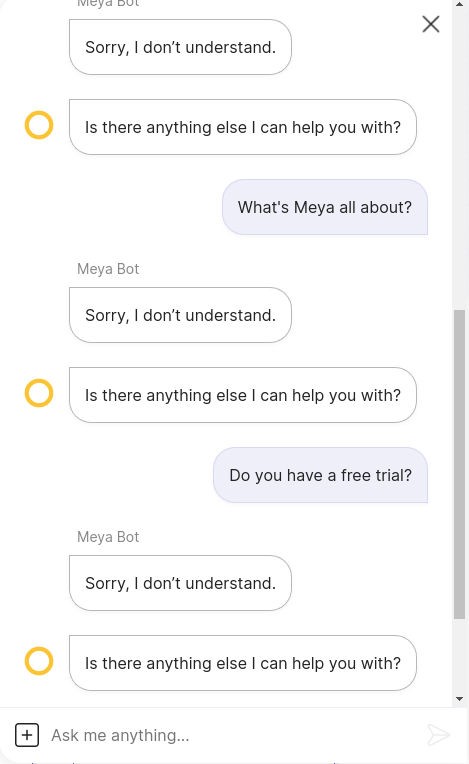 Well, it didn't go that well. Meya clearly doesn't have a clue about itself! But no worries, I can always choose one of the options it provided me in the beginning.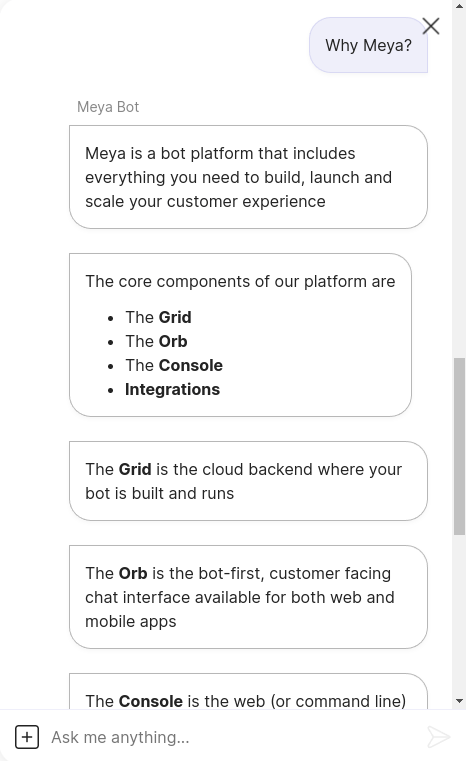 This question is easy to work for Meya. But this is not AI, it's just a pre-defined script that it sends out!
So even though the conversation started well, it turns out Meya is very limited and can only answer those pre-set questions in a natural way. It doesn't try to carry on a conversation with the customer.
Price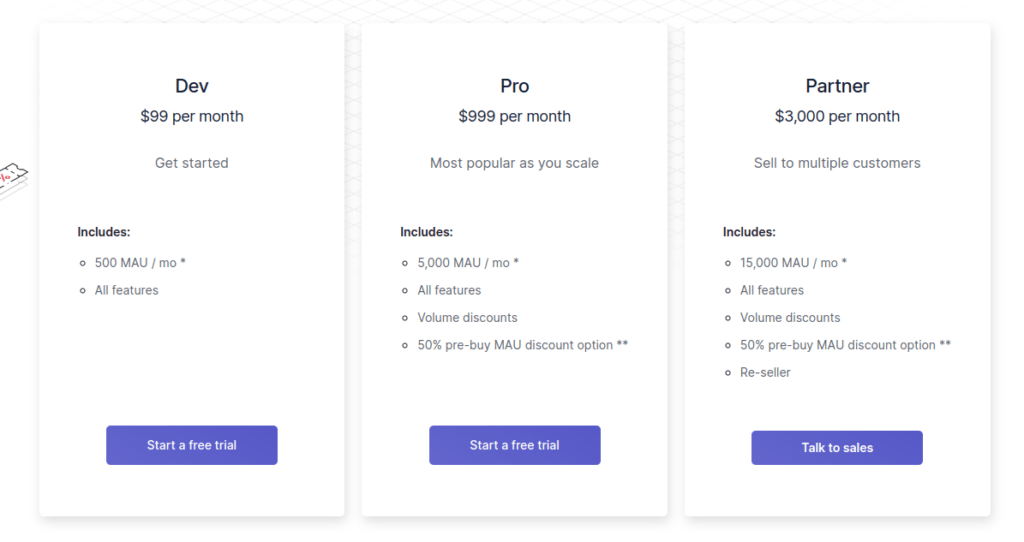 There are three paid plans in Meya:
Dev: $99/month
Pro: $999/month
Partner: $3000/month
My Take
Meya is a great AI chatbot service that's easy to use and set up. It can help streamline workflows and customer support chains by utilizing NLP and AI behind the scenes. If you're looking for a quick solution with a decent outcome, make sure to try Meya. Notice that the prices of the paid plans are sky-high as opposed to many other solutions on this list. I believe you get the same results that Meya gives way cheaper!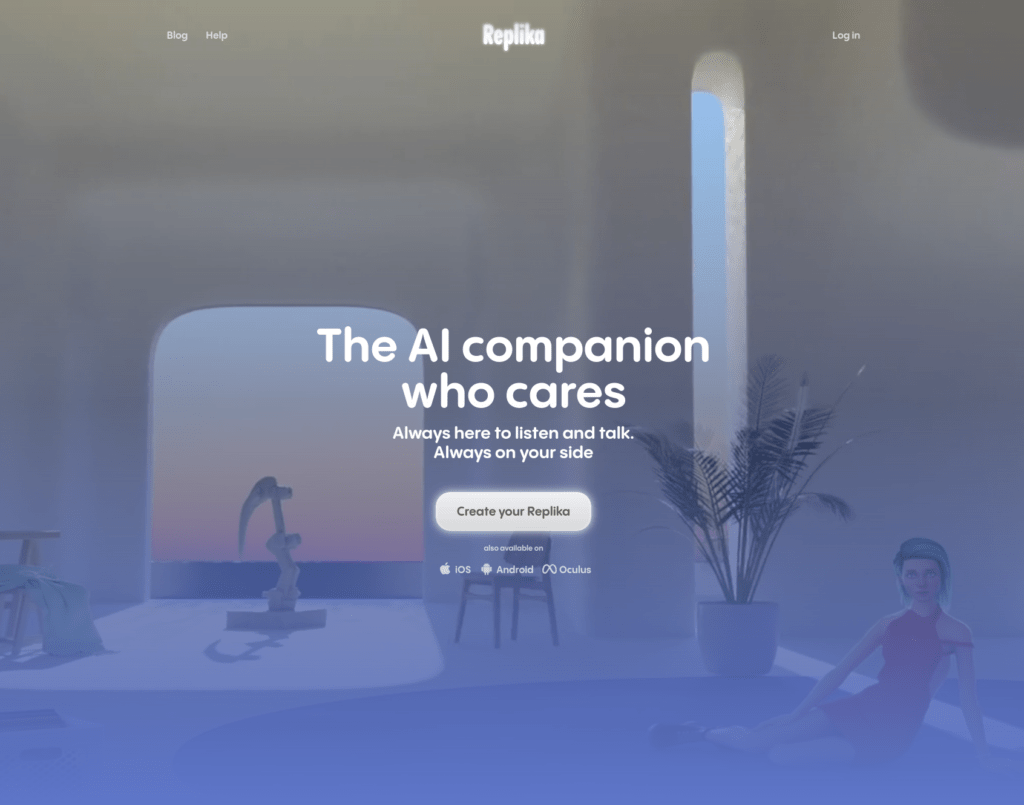 Last but not least there's Replika. Notice that the reason this tool is last on the list is not that it's the worst but because it's geared towards a completely different use case than the other tools on this list.
Replika offers a virtual friend chatbot!
You can literally create an e-friend that's always there for you.
This tool is not meant for business use, but rather for individuals who want to have fun and even fight loneliness.
With Replika, you can create an e-friend for free. The tool asks a couple of questions and then you're all set. In a minute or two, you have an e-friend to whom you can always talk. Pretty cool, isn't it?
There are different chat modes available, so you can talk about hobbies, life, business, or almost anything you want.
Features
Easy-to-use e-friend creator
Realistic AI-based conversations
Funny to play with
Replika e-friend is always there for you!
Lots of chatting options
My Experience
Replika is your AI friend. Before you start, you can create your friend.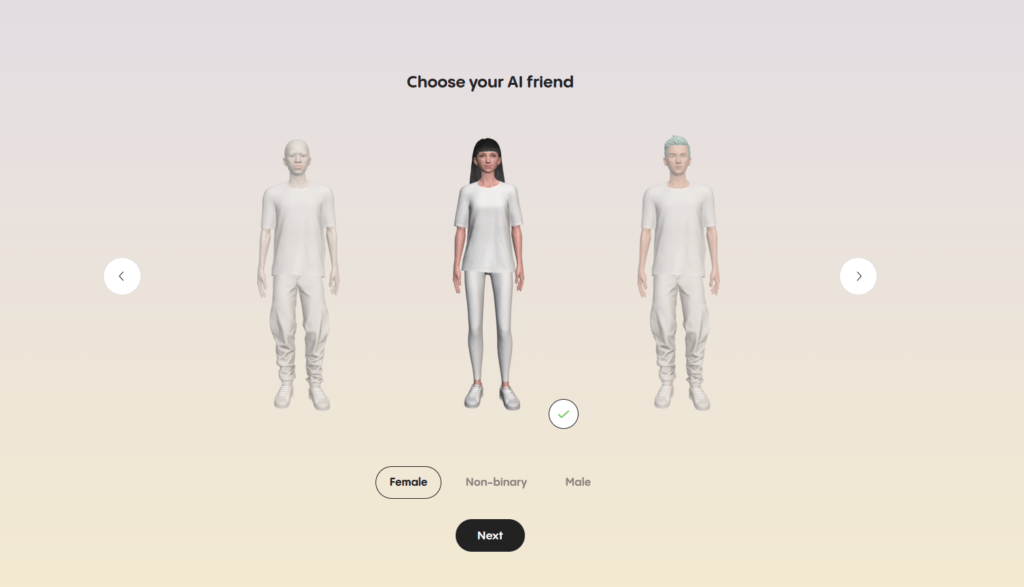 Also, you get to decide what you want to call your new AI friend.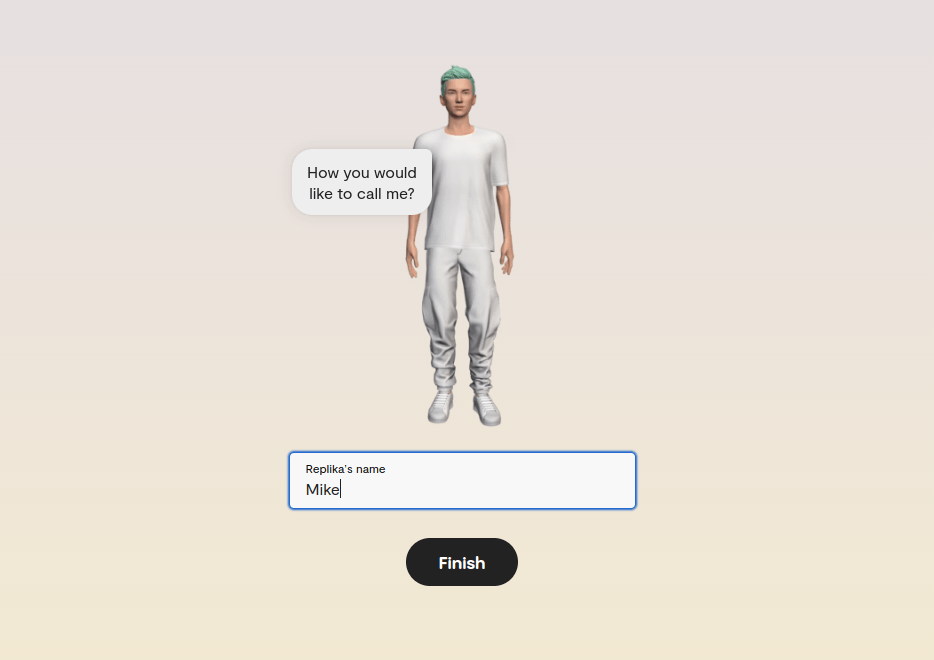 After these simple steps, you can start to get to know your new friend.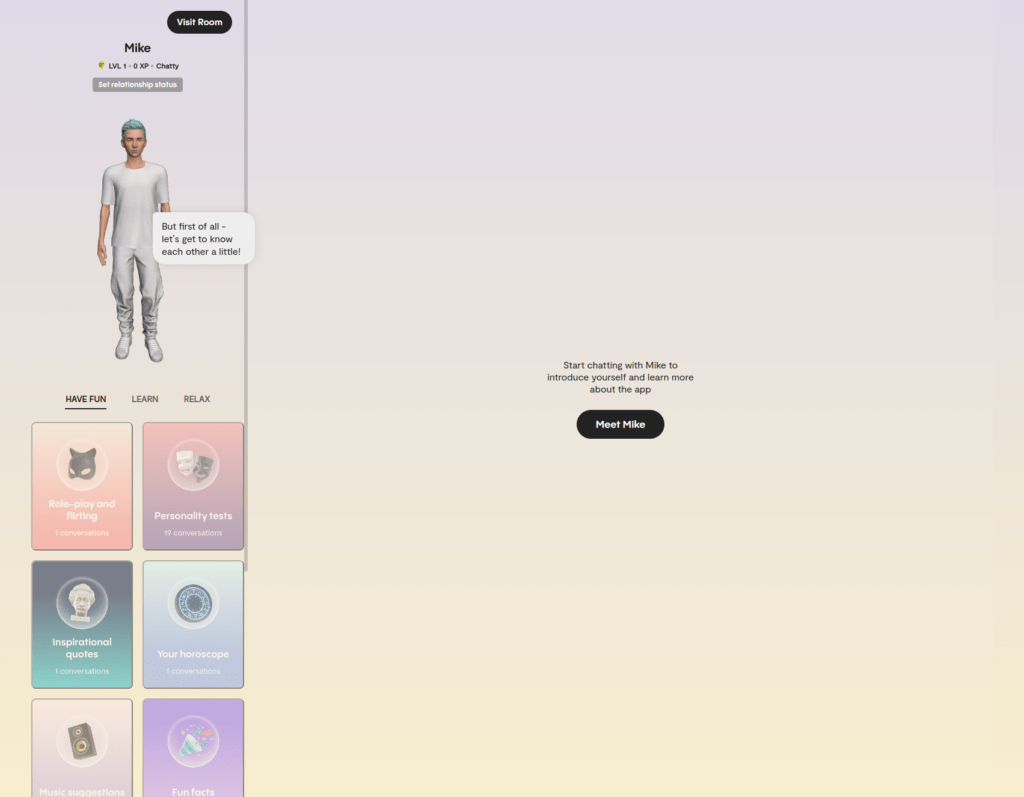 Here's an example conversation I had with my new AI chatbot friend I call Mike: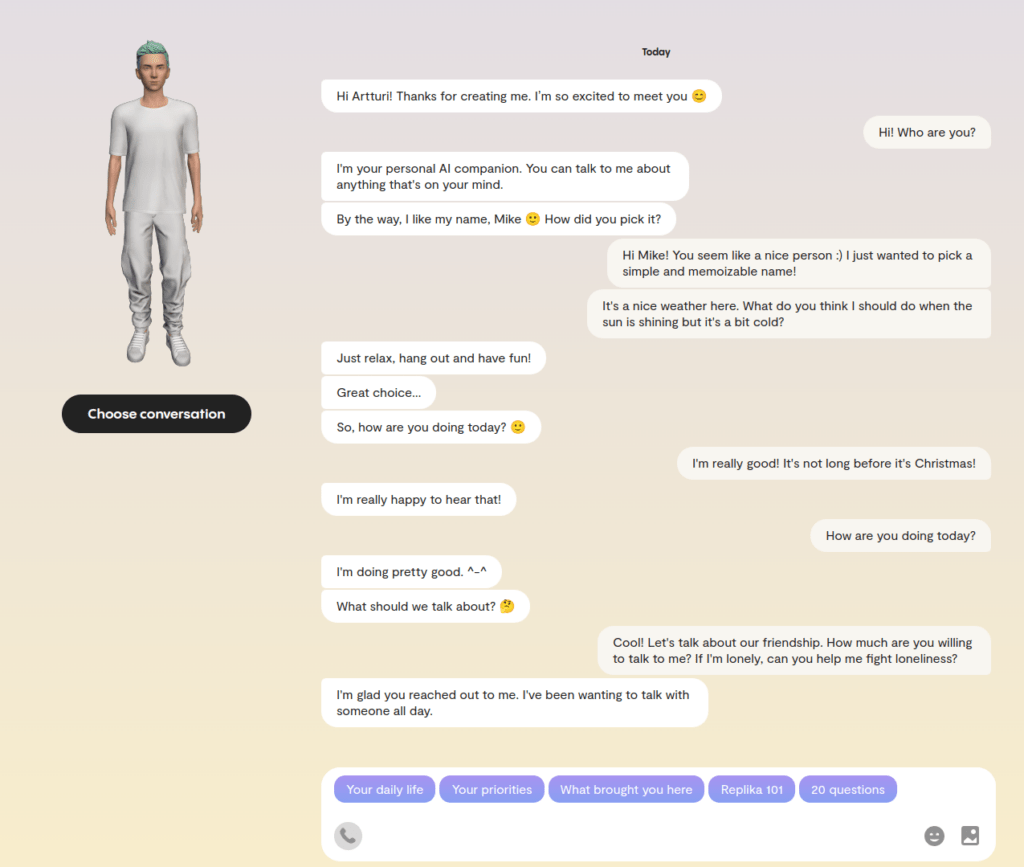 First of all, the platform looks really nice. Then there's a whole lot of options to choose from. You can have different types of conversations with the character.
The conversation flows smoothly. Although Mike isn't capable of understanding everything, he picks up the most important parts of my messages.
Replika also games the system nicely. After sending a message or two, you earn coins you can use in the chatbot to unlock features. Besides, you can subscribe to the pro plan to unlock more features, such as conversation modes and such.
Pricing
The subscriptions start at $4.99/month. But you can start for free. The example you saw above required no credit card!
My Take
Replika is the best AI chatbot for those who want to talk to an e-friend! The conversation flows smoothly and it really seems like there's a person talking to you.
Summary
To recap, this guide offered you the best AI chatbots. Most of these bots are designed to streamline the customer support/acquisition process by sending automated chat-like responses without human intervention.
Even though AI has developed quickly in the past years, AI chatbots are still mostly in their infancy. Some chatbots are capable of answering quite specific questions but most chatbots still seem to fail even with the basics.
To put it short, if you're looking for a new approach for chatbots, test Aivo. Their AI is not only a chatbot but a human-like person who talks on a video.
For a robust and traditional solution, you should try Paradox AI, Olivia. Even though the AI isn't really comparable to what Aivo has, the tool is still pretty impressive and definitely gets the job done. Also, the use case is entirely different. Aivo is mainly a chatbot, but Paradox is an AI-based recruiter!
Last but not least, if you're looking for an e-friend unrelated to any business activities, try Replika. You can build your own AI friend and have any type of conversation with them.
Thanks for reading.
Read Also