Are you looking to create awesome animations for your videos, website, presentations, or other business use? This is a comprehensive list of the best animation software. These animation tools are for beginners and experts in both 2D and 3D animations.
This list has some 2D animation tools as well as complex and photorealistic 3D animation tools. There is also a bunch of motion graphics and stop-motion animation programs.
This post contains affiliate links at no cost to you.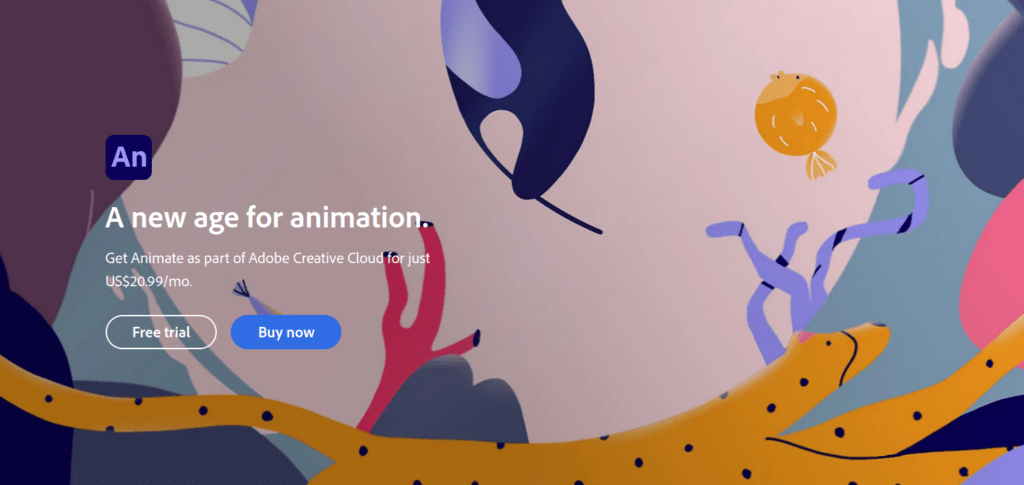 Adobe Animate is an animation software that is a successor to the Adobe Flash Professional software.
With this tool, you can create 2D animations as well as vector animations. You can use Adobe Animate for your games, videos, ads, and more.
This tool makes it possible to animate avatars, characters, and of course any other assets using the advanced timeline control features.
Some great use cases for Adobe Animate include animating for web and mobile apps.
Adobe Animate is professional-level animation software. Learning how to use it takes time. But by putting in the hours, you learn how to use a pro tool to create unique and original animations to represent your personal style.
If you are looking for a shortcut or just want to test creating animations, scroll down further in this list.
Features
Animate vector graphics
Great drag-and-drop features for a smooth content creation process
Create interactive content
Add cool effects to the animations using the Adobe Animate templates. For example, you can use color and tone effects to enrich the animation.
Pricing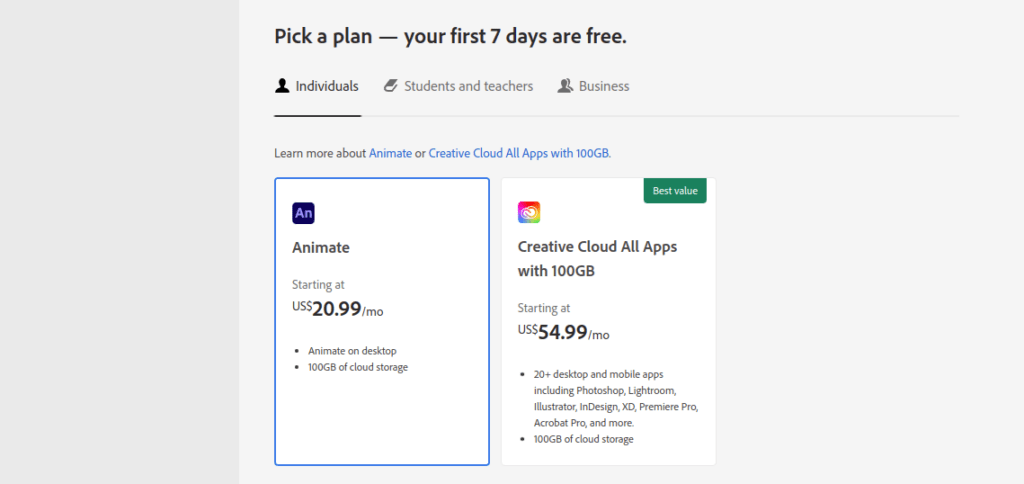 The best part about Adobe Animate is you can give it a shot for free! They include a nice 7-day free trial.
Adobe Animate costs $20.99/mo.
You can also choose to access the full Adobe Suite starting at $54.99/mo.
Pros
Great built-in templates
Cool color and temporal effects to boost your animations
Support for animating vector graphics
Free trial
Lots of great tutorials make it easy to get started with the tool
Cons
No fully free version (except for the 7-day trial)
Steep learning curve
Bottom Line
Adobe Animate is designed for anyone who is looking to animate vector graphics, add outstanding effects, or create interactive and engaging content.
You can use the great pre-built templates to further streamline your animating process.
This tool helps you create liveliness and interaction with mobile apps and web pages.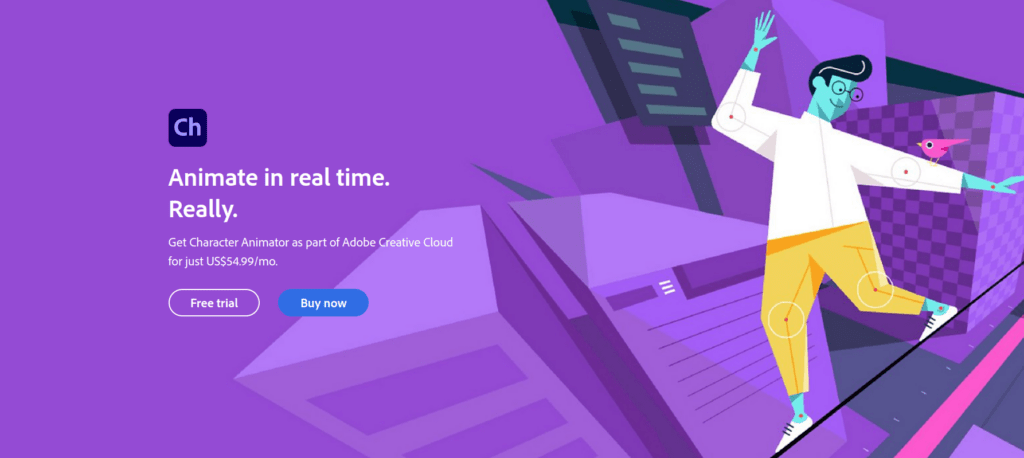 Adobe Character Animator is a professional animation tool for creating outstanding and realistic animations.
One of the greatest features is real-time motion tracking and face tracking. For someone less familiar with these concepts, this means you can animate characters by using your own facial expressions and movements.
If you think about it, this is not only a great feature but a huge time saver.
What's even better is you can use Illustrator or Photoshop in conjunction with Adobe Character Animator. For example, you can:
Design your character in Illustrator
Export the character and import it to Adobe Character Animator
Use your movement to give expressions and some movement to the character
To do this, all you need is a webcam and a microphone, which are usually built into your device already.
One thing you need to notice is this tool cannot be purchased as a standalone tool. It belongs to the Adobe CC kit.
But the Adobe Creative Cloud comes with a bunch of other useful tools, like Illustrator and Photoshop. Thus it's a great choice if you are even a tiny bit more serious about animations. And you can always give it a try for free if you wish to!
Features & Highlights
Usable with Illustrator and Photoshop
Capture motion real-time

Automatic face tracking

Move the limbs of a character with your mouse
Record and edit scenes with a timeline panel
Pricing
The price is $52.99/mo if billed annually.
To give it a try, you can use the 7-day free trial.5+
Pros
Highly efficient and saves your time by a ton
Overall fun to use
Great for producing both live and non-live animations
Cons
Cannot be purchased as a standalone tool
Better for cartoons with dialog rather than actions or physical gags
Bottom Line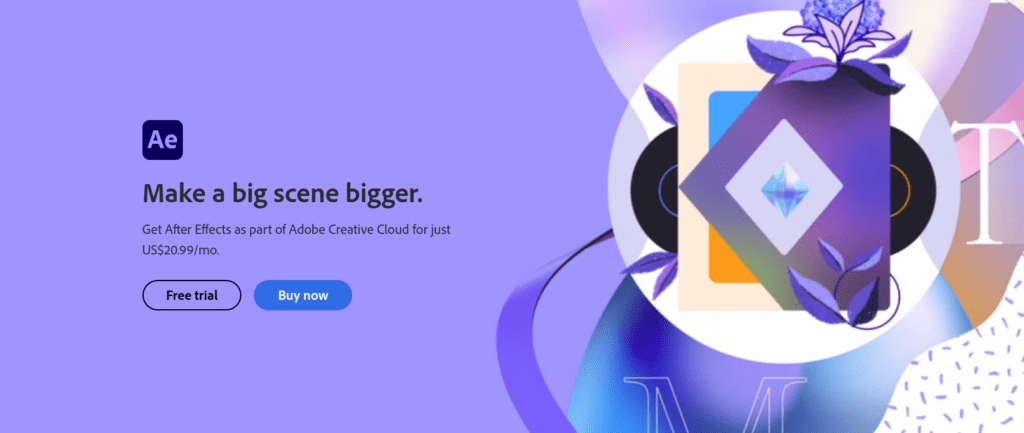 Adobe After Effects is a popular video editing tool that lets you create motion graphics and other visual effects in your videos.
This piece of animation software is mainly used for 2D animations, but it has full support for 3D elements as well.
The main idea is to stack multiple videos or other visual media on top of one another. The tool offers great features for cutting, blending, and merging layers.
One really cool feature of After Effects is its compatibility with third-party extensions. In other words, you can download new features to the tool from the internet if you wish to. This feature makes the tool even more extensive and accessible.
Also, keep in mind that Adobe After Effects integrates with other Adobe tools in the Adobe CC suite. For instance, you can import files from Photoshop or Illustrator directly into the After Effects editor.
Remember that as a beginner, it takes a while to learn how Adobe tools work. But to excel, you have to put in the hours. There is no way out of it. If you are serious about creating professional-looking animations, you should consider purchasing a license to the Adobe CC kit.
Features & Highlights
Content-autofill to remove unnecessary sections of your video

Keyframing for setting start and end points to your animations

The pre-compositions feature makes it possible to turn separate effects into a single clip
External plugin support
Free trial
Pricing
The price of the tool as a standalone is $20.99/mo.
There is a free 7-day trial you can try if you don't want to spend a buck first.
Pros
High flexibility
An easy and intuitive user interface to work with
Supports third-party plugins
Integrates with other Adobe CC software
Lots of resources and tutorials are available
Cons
Takes time to learn how to use
Files are memory-heavy
Some lagging from time to time
No audio editing features. This means you might need to use another software for audio processing
Bottom Line
Adobe After Effects is animation software to create professional visual effects and motion graphics. This is a tool for serious learners. It's definitely not the best alternative for complete beginners due to the steep learning curve.
Although it can take time to learn how to work with the tool, it pays dividends in the end. If you start with Adobe After Effects, please be patient and accept the fact it is going to take time to learn.
Adobe After Effects is mainly animation software, but you can also use it as a video editing tool.
4. Maya
Maya by Autodesk is a complete 3D animation tool.
Although a bit pricy, this is an all-in-one solution for creators like freelancers or small companies. Maya includes all the necessary tools and features you need for a successful and professional 3D animation.
Maya has a full 30-day free trial. This is a great opportunity to get some hands-on experience and an overall feeling of the tool before making an investment.
If you are a student, chances are you get a free license for this professional tool.
Maya is a comprehensive 3D animation tool that contains everything you need for professional animation. It even supports external plugins and your own scripts. In other words, the tool is highly customizable to meet your demand.
There are many use cases for Maya. You can use it in various 3D actions, such as:
3D Modeling
3D Animations
3D Rendering
This is made possible by using rich 3D-essential features, like rigging, shading, dynamics, motion graphics, and much more.
Before getting your hands dirty, it is worth mentioning this is a professional tool. Using this tool requires you to have some background in animations. For example, if the previously mentioned terms ring no bells, perhaps Maya is not your best choice. And even for the experienced, getting used to this tool takes a lot of time! So be patient!
Features & Highlights
Physics Effects
Bifrost Interface
USD Plugin
Pre-built reusable graphs
Pipeline Integration
Motion Graphics
Pricing
The tool is a bit pricy at $225/month.
However, this tool is free for students.
Maya also has a 30-day free trial.
Pros
A bunch of professional features for successful 3D animations
Complete 3D package
Highly customizable
Free trial and free for students
Cons
Expensive
Deep learning curve
Crashes from time to time
Bottom Line
Autodesk Maya is an all-round 3D animation software with all the necessary tools and features you need for professional animations.
However, due to the steep learning curve, this tool is hard to use even for experienced creators.
If you have no background in animations, don't buy this tool!
If you are a serious 3D creator and are a freelancer or small business owner, you can vastly benefit from the tool.
5. RenderForest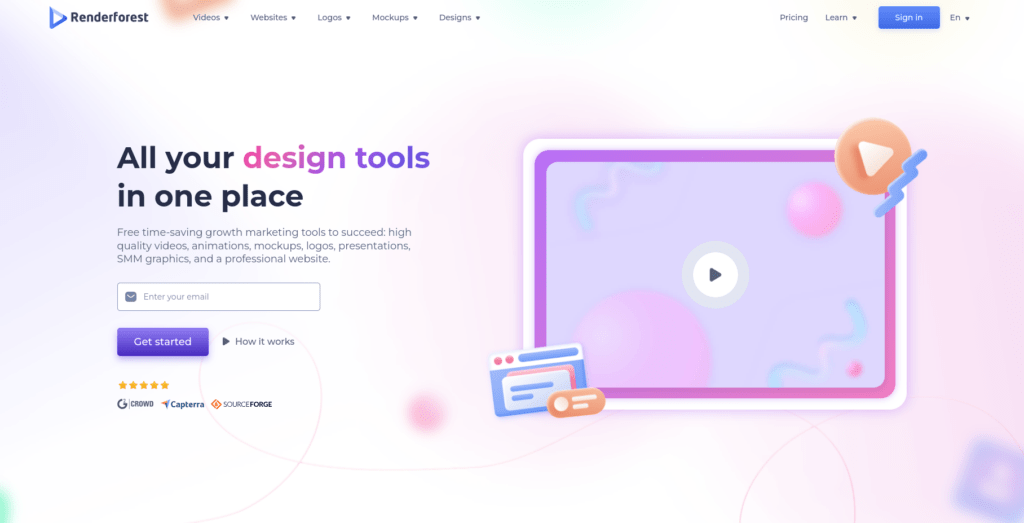 Renderforest is a great design tool for creating animations, videos, logos, and websites.
Renderforest is a great tool for freelancers and business owners that are looking for an all-in-one solution for graphics, videos, and web design.
Because this is a 2D animating software, you won't benefit from using it if you are looking to create 3D animations.
Renderforest is a go-to tool for those looking to create animated videos, audio visualizers, intros, or even company logos.
This tool suits someone who is not willing to pay or hire an actual animator/illustrator. If you are ready to spend a small buck and some spare time, you will get things done with this tool. Renderforest is easy to get started with because there are lots of great tutorials that help you in the beginning.
Features
Machine Learning and AI-based logo generating tools where a professional logo is just a few clicks away
50,000+ pre-built artwork files you can use for free
100+ Website templates (mobile-optimized)
Hundreds of video templates for slideshows, explainers, intros, and other animated information
Animation block prets
One-click web animations
Pricing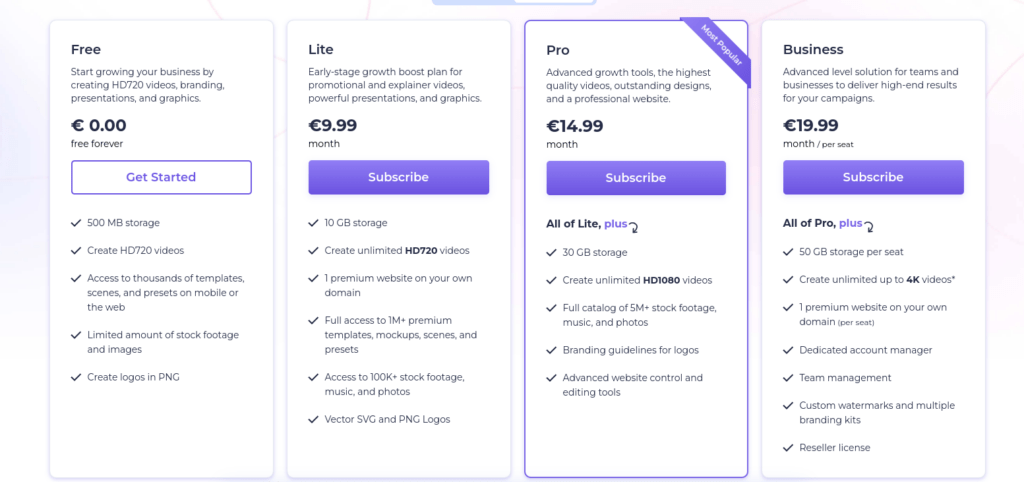 There are four plans:
Free forever: $0.00/month
Lite: $9.99/month
Pro: $14.99
Business: $19.99
Pros
Intuitive and easy-to-learn UI makes it possible to create animations with a couple of clicks
AI-based design generator that creates inspiring and professional-looking designs in no time
Good templates to choose from
Free version
Cons
Limited free version (360p export with a watermark!)
No 3D capabilities
No 720p/1080p preview
Rendering takes longer than expected
Bottom Line
Renderforest is a business-owners dream choice. This tool lets you create great visuals, logos, website designs, and most importantly great interactive animations with relative ease.
With the help of AI and a couple of tutorials, you can generate decent or even great visuals without having to hire a professional.
If you are looking for a free tool or a tool with advanced animation capabilities, such as 3D support, Renderforest is not the tool for you.
6. Blender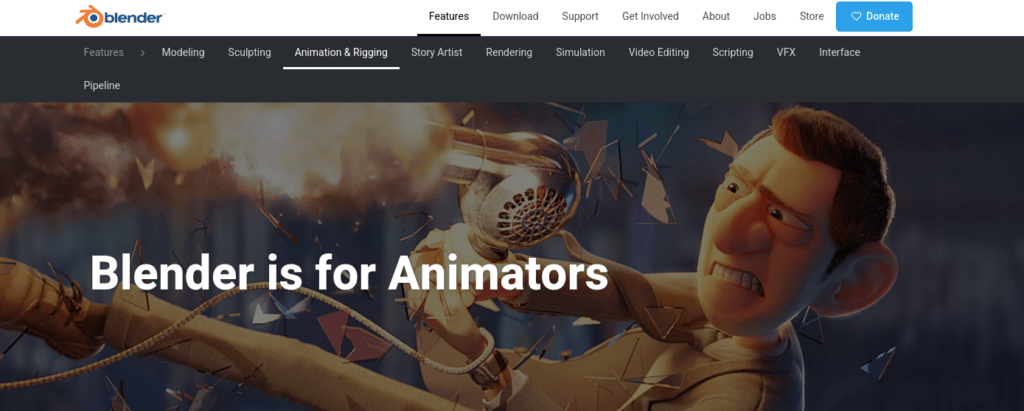 Blender is among the best 3D modeling software that is completely free!
This tool performs particularly well in rigging, texturing, and animations.
Blender is open-source software. This means it is put together by a community of highly skilled developers across the globe.
Blender supports the 3D animation production pipeline from start to finish. The tool is an overall great alternative for creating professional animations at scale.
Notice that it is not easy to learn Blender. This is a professional tool with a steep learning curve. But because it is completely free, you can give it a try at any time.
Remember that Blender is a memory-heavy software! Before installation, make sure your system meets the requirements.
Features
Awesome path tracer
All-round modeling tools like sculpturing and curves
Customizable user interface
Real-time preview with smooth visual effects
Comprehensive animation support
Pricing
This tool is entirely free!
Pros
Great for professional animators
Advanced tools
Supports both CPU and GPU rendering
Auto-tracking
Strong visual effects
Tons of great tutorials
Cons
Learning takes a long time
3D-focused, hard to use for 2D
No smartphone app
Memory-heavy
Bottom Line
Blender is a great choice for someone looking to make 3D animations and 3D modeling on a professional level.
Blender is your best choice as a free 3D animating/modeling tool.
However, due to the steep learning curve, your backpack should be packed with a ton of motivation and patience. And because of the software size, your computer should meet the minimum requirements before installation.
7. Pencil2D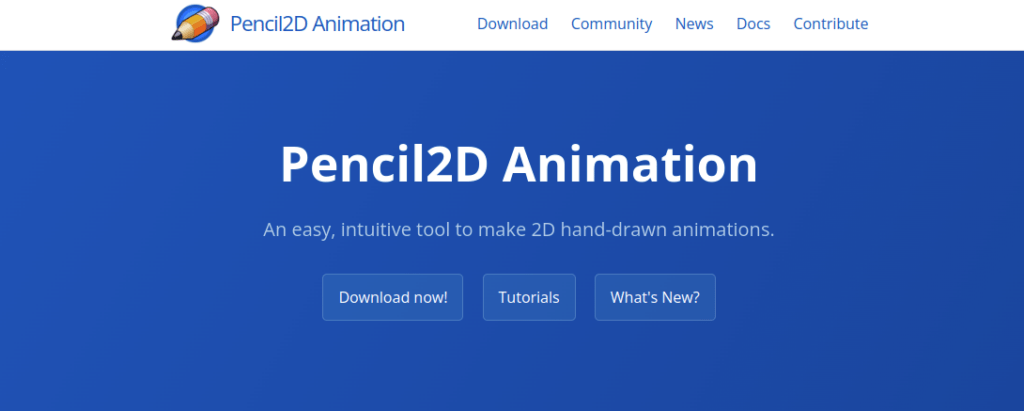 As the name suggests, Pencil2D is a 2D animation tool.
This piece of software lets you create great 2D hand-drawn animations.
Similar to Blender, Pencil2D is a completely cost-free open-source tool.
As the icing on the cake, this tool is really easy to use. This makes a great fit for someone looking to create visually pleasing and great-looking hand-drawn characters and animate them.
Pencil2D is a great software to get started as an animator. The tool requires no previous knowledge of animations. Also, this piece of software is lightweight and eats up way less memory than some of the more memory-heavy tools on this list.
Features
Vector image support
Raster image support
Extensive tools and techniques like:

onion skinning
keyframing
layers
panels

Templates
Image editing capabilities
Pricing
This tool is completely free!
Pros
Intuitive and beginner-friendly user interface
Free
Supports cross-platform FreeBSD
Basic drawing tools and a timeline
Cons
No advanced tools
Incompatible with smartphones
Bottom Line
Pencil2D is an intuitive and easy-to-start tool. It offers you a great introduction to the realm of creating powerful 2D animations.
If you are looking for a lightweight and not-so-brain-heavy solution, try Pencil2D. Better yet, the tool is entirely free.
8. Animaker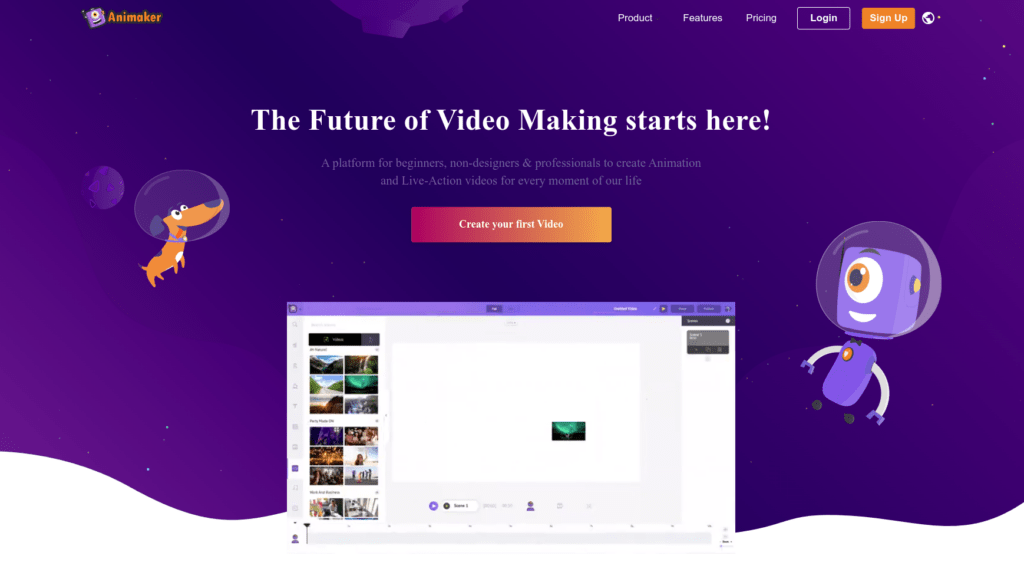 Are you looking to create presentations with engaging animations or educational videos with animations?
Animaker is a great tool for great 2D animations and motion graphics.
With Animaker, businesses and educators can create materials that stand out in being interactive and tempting.
The tool has a large library of reusable templates for some of the most common use cases. In addition, there is a library of pre-animated elements, such as characters, gestures, and illustrations.
Features
Templates and reusable assets
Six original video styles to play with
Professional animation features, such as curve, camera in, and camera out
Great audio library with music and sound effects to enhance your animations
Upload-to-Youtube feature
Supports exporting in formats like MP4 or GIF
Team management features
Pricing
This tool costs $20/month when billed monthly.
Before making a purchase, you can use the free version.
Just keep in mind the free version naturally has some limitations as opposed to the paid version!
Pros
Great for individual animation creators, such as freelancers or startups for powerful presentations
FullHD, horizontal, and vertical layout support
Free version available
Cons
Deep learning curve
The free version lacks pro features
Upgrade to remove the watermark
Bottom Line
If you want to create animated educational materials and videos, Animaker is your tool!
There is a free version you can try before purchasing a license to the paid version.
Notice that the tool has a somewhat steep learning curve, so you need to have patience when working with it as a beginner.
9. PixTeller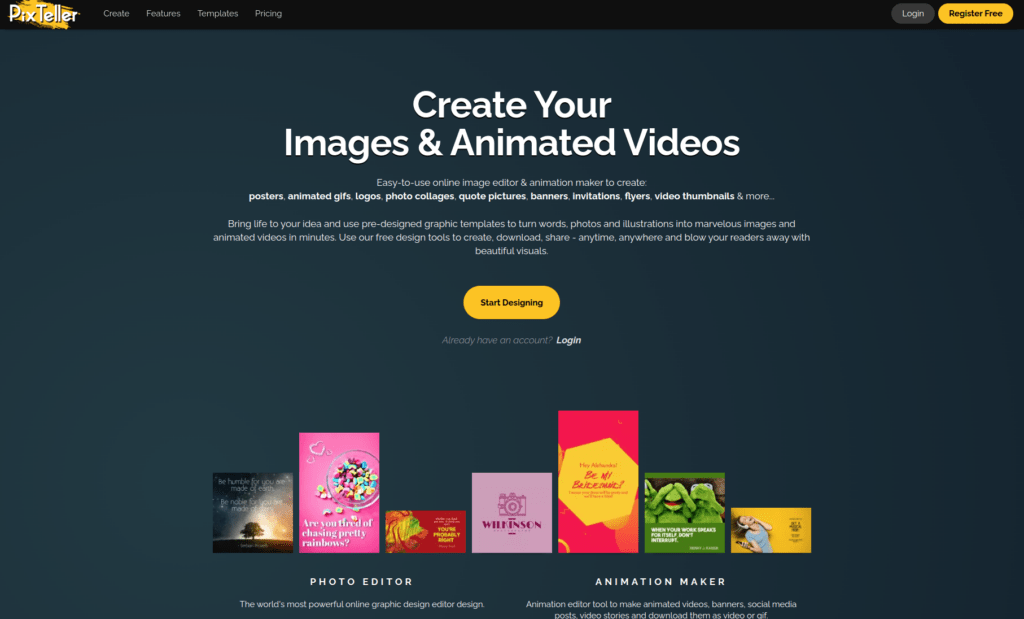 PixTeller is an animation tool that is great for both businesses and individual users.
If you are looking for something that is "more basic", PixTeller is a great alternative. Instead of being a full-featured video and animation tool, it is a beginner-friendly and easy-to-use tool.
This tool is great for creating posters, animated gifs, logos, video thumbnails, and more.
Because this article is about animations, we will focus on the animation features of PixTeller.
With PixTeller, the animation process is a traditional frame-by-frame procedure. To create animations, you need to set the frame of motion by frame. After the motion of the animation is complete, you can edit the frames individually one by one.
Needless to mention, this technique is easy to learn but creating animations takes longer. PixTeller is a great choice for someone looking to create short animations here and there.
However, if you are looking for a more versatile tool with a complete suite of advanced features, you should use another tool.
Features
Loads of pre-animated templates
Frame-by-frame customization
Cool and original text effects to give your animations interaction
A whopping 100,000+ shapes to reuse in your animations
Publish and share an URL to the animation
Exporting in MP4 or GIF
Pricing
The paid plan is $12/month.
But there is a limited free plan at no cost to you!
Pros
Free version
Templates and pre-built assets
Frame-by-frame editing support
Cons
Limitations in the free version (Exporting available in the pro version only)
Lack of advanced animation techniques
Bottom Line
If you are looking for a traditional and basic frame-by-frame animator, PixTeller is the right tool for you. This tool is perfect for creating short and catchy animations for presentations, and ads where tools like Blender might be overkill.
Learning how to use PixTeller is easy and the tool is user-friendly and great for beginners.
To create 3D animations or if you are looking for more advanced animator tools, PixTeller is not the right choice.
10. OpenToonz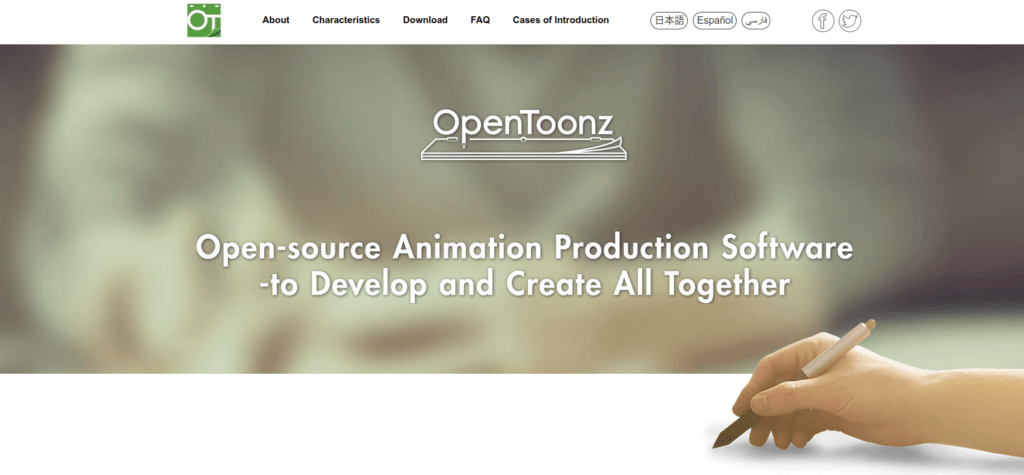 OpenToonz is a free 2D animation software with great features and accessibility.
This tool comes with an API supporting camera ICC profile scanning. You can use this feature to add interactions and make your characters live.
This tool is best for animators with some experience. But it's a possibility to start using this tool as a beginner. The price is $0, so it does not matter.
Features
Customizable animated templates
Free tool
2D drawing
3D video editing
Image scanning
Free-to-use image library
Versatile import/export options
Pricing
This tool is completely free!
OpenToonz, as the name suggests, is open-source software. This means it is voluntarily developed by active members of the community across the globe.
Pros
The tool is completely free
Has a bunch of advanced animation tools
Awesome for experienced animators
Cons
Unintuitive advanced tools
Steep learning curve
Bottom Line
OpenToonz is a complete 2D animation package that is completely free. Whether you are a beginner or an experienced creator, this tool offers you a bunch of great features to work with in creating outstanding animations.
As a beginner, you might still consider some easier alternatives, such as Pencil2D. But this obviously depends on your use case too.
11. Synfig Studio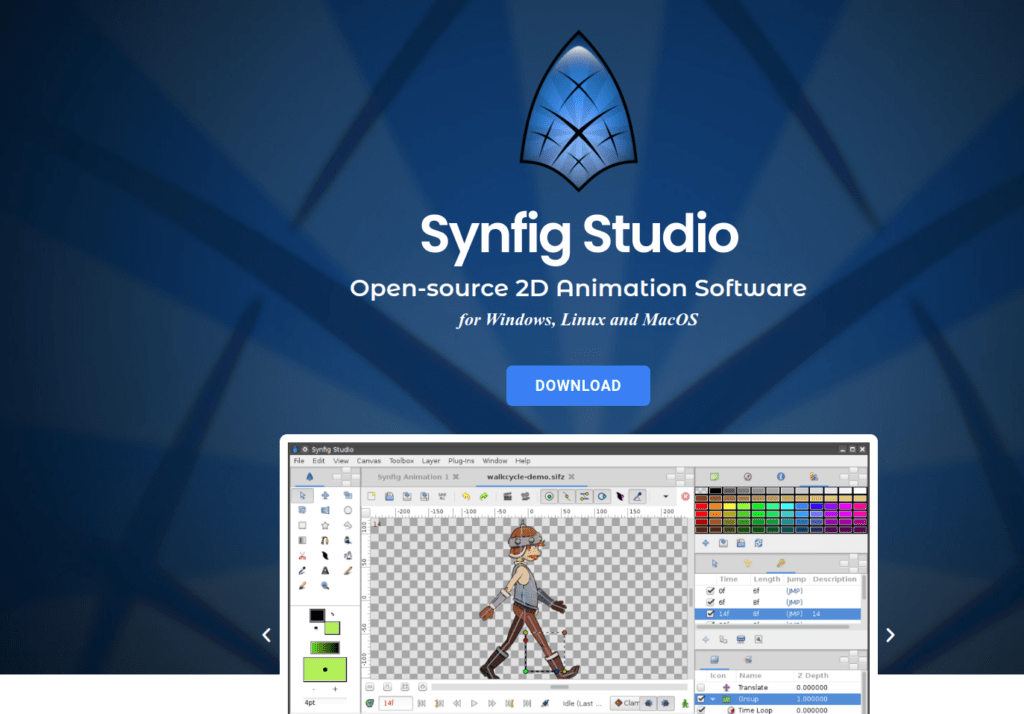 Synfig Studio gives you control to create professional 2D animations in no time.
This tool is better compared to most of the other free open-source alternatives out there. The tool's animation system is purposely designed in a way that streamlines the animation creation process for you. The tool uses sprites and tweeting to its advantage.
This tool is an overall great piece of animation software if you want to get your hands dirty with the newer features. Synfig is also a great alternative to Adobe Animate introduced earlier in this list.
Features
Vector tweening. This means you can transform any vector shape to another leaving out the manual tweening process.
50+ amazing filters that allow you to create complex animations with ease
Additional Skeleton Distortion Layer. This feature lets you deform your game character in a sophisticated and more complex manner
Vector animation and Lottie export
Automatic friction effects
Pricing
Synfig Studio is an open-source free piece of animation software. It is funded by patrons across the globe.
Pros
Free and open-source
Great free tutorials and guides for a better understanding of the tool
Fits both experienced and beginner animators
Great animation features, such as Skeleton Distortion Layer
Cons
Crashes from time to time
Unintuitive UI
Steep learning curve
Bottom Line
Synfig Studio is a great tool for both beginners and experienced creators for building 2D animations for television/Youtube, campaigns, and marketing.
The tool is a bit difficult to get a grasp at first. The tool assumes you spend some time understanding how it works. With a less-intuitive UI, this is not an easy task. However, once you master the tool it can be really great for you and your viewers!
12. Biteable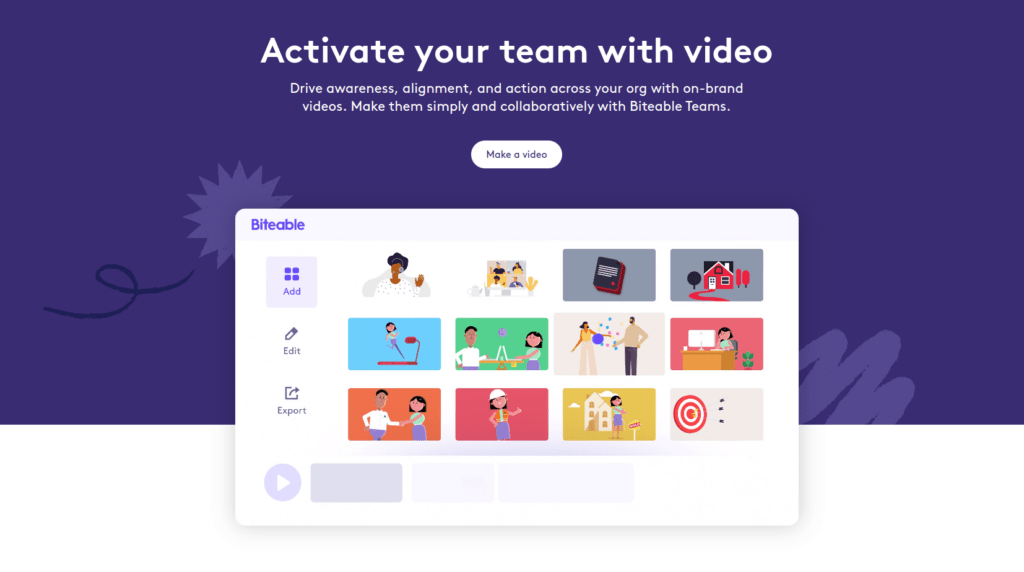 Biteable is another great 2D animation maker. This tool is awesome for creating short animated videos for promos, ads, or social media.
The tool allows you to use their built-in templates to make the animation creation process quicker. You can also share and download animated videos. The collaboration feature is great as it makes working with the animations as a team easier.
In addition, there is a bunch of stock footage clips and scenes you are free to use to create a unique and original animation.
Features
100s of professional video templates
Stock footage clips and animations
Great audio library
Team collaboration features
FullHD MP4 Download
Sharing on social media directly
Pricing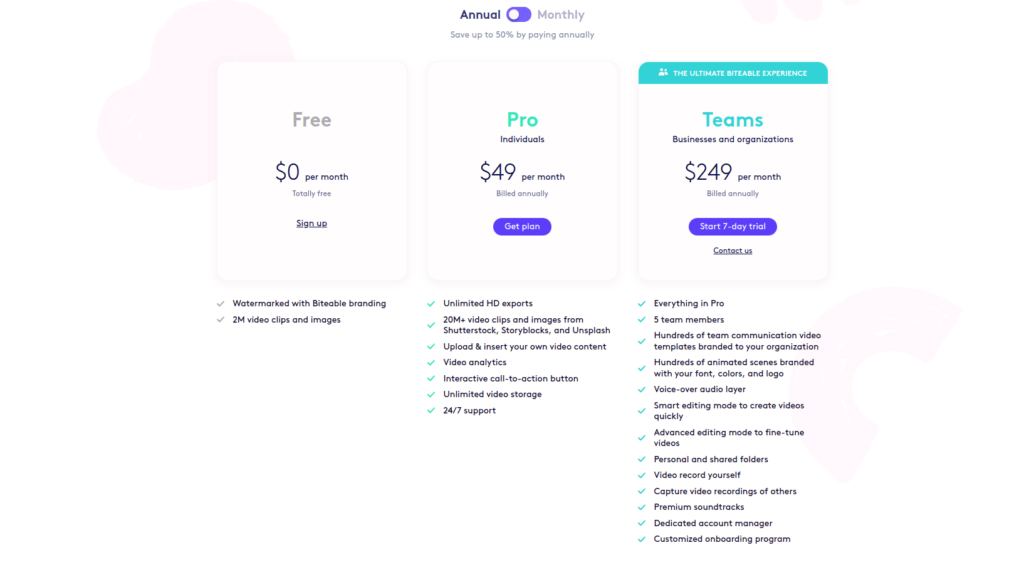 There is a free plan with limited features.
In addition, there is a paid plan with a full set of features for $49/month.
For teams, there is a professional plan of $249/month.
Pros
Free version
Great templates, stock footage, and audio library
Fits well for marketing videos, such as demos and explainers
Cons
Watermarks in the free version
Only MP4 downloads are available
Less customizable fonts and typography
Bottom Line
Whether you are working solo or as a team, Biteable is a cool animation software for creating promotional 2D animations.
Although a bit unintuitive at first, the user interface is rather quick to learn after watching a bunch of tutorials. Also, thanks to pre-built assets and templates, the tool is efficient to use.
You can create outstanding videos in no time after you have adapted to the tool's workflow. This tool suits both beginners and experienced creators.
If you are looking for more control, customizability, or 3D capabilities, this tool is not for you.
13. KeyShot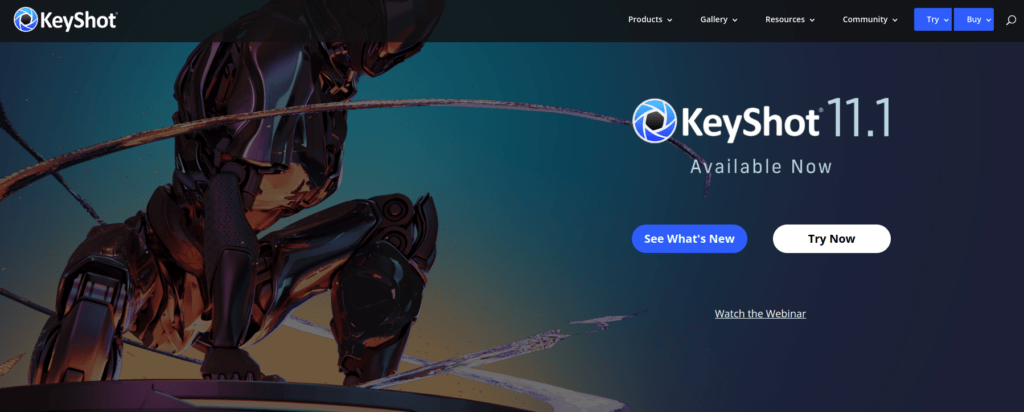 KeyShot is advanced but relatively easy-to-use animation software.
With this tool, creators like you can easily put together animations that are both photorealistic and physically accurate. For example, gravity and friction work the way they do in real life.
KeyShot is meant for both 2D and 3D animations. Better yet, thanks to its lightweight nature, no additional graphics cards are needed to power the tool. The rendering engine is really efficient. You can instantly see results when making changes.
The tool supports over 30 rendering styles. In addition, it has interactive labeling, texture mapping, physical lighting, and many more great advanced features.
Speaking of features, here is a more comprehensive list of all the great features of KeyShot.
Features
750+ templates
Real-time 3D rendering
30+ different 3D file formats and rendering styles
HDRI lighting to light and shade your scenes
Interactive visuals for mobile and web
Still image animations
Pricing

KeyShot has no free plans, although it comes with a 15-day free trial. You can purchase a license to the software for $99.00/month.
Pros
One-of-a-kind photorealism and detail in the animations
Multiple model format exports
Awesome templates and advanced features
Great for both 2D and 3D animations
Free trial
Cons
Not beginner-friendly
Steep learning curve
Window sizing is made complicated
Bottom Line
KeyShot is a professional animation software for experienced animators. It is primarily used for creating environments and concept art.
The tool is actually pretty easy to learn to use. However, if you are new to animating, it can take a while to adapt the workflows and new concepts.
KeyShot is meant for both 2D and 3D animations. You can use it to create outstanding photorealistic animations that match real-world physics.
14. ProCreate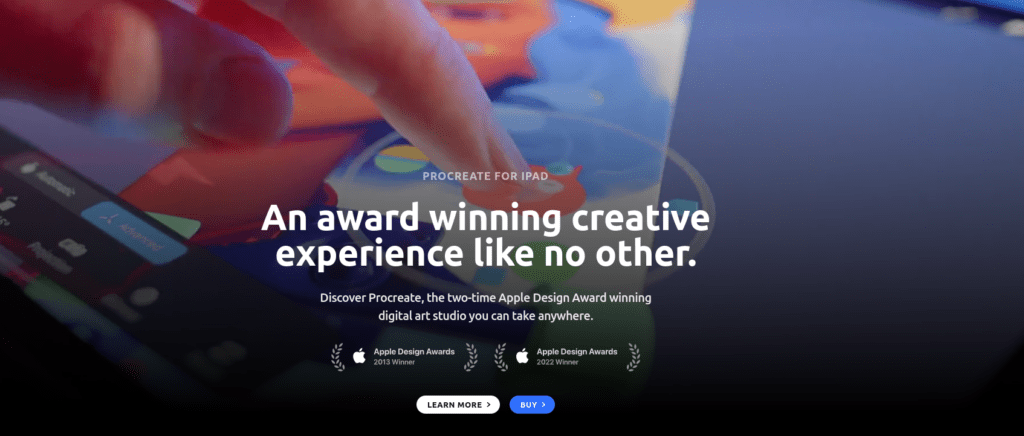 Procreate is an Apple-awarded animation design app for iOS users.
The user interface is intuitive and it uses frame-by-frame animation techniques to create outstanding animations for your audience.
As a user, you get to work in a completely digital environment while having the experience of working with traditional pencils and paint on paper.
Procreate is one of the best options for beginners. This tool allows you to get a quick hold on creating 2D animations without previous knowledge.
A big restriction of this tool is its iOS only and currently works only with iPads using the Apple Pencil.
If you are an iPad user, feel free to download this app from the AppStore and start your journey as an animator.
Features
QuickShape feature for getting the shape correct every time
ColorDrop feature to pick any color easily
Special effects for the final touch
Supports blurs, such as gaussian blur, motion blur, and perspective blur
Awesome font control and typography
Pricing
ProCreate is one of the rare tools that have a one-time price instead of a subscription. You can download it to your iPad for $9.99.
Pros
Easy to use and beginner-friendly
Frame-by-frame editing
Photoshop import
Cheap due to a one-time payment
Cons
Works for iPad + Apple Pencil combos only
No vector support
Complicated adjustment layers
Bottom Line
If you are a beginner with animations and have an iPad with an Apple Pencil, it has never been easier to start animating.
ProCreate is a great and relatively cheap way to create your first 2D animations.
With traditional frame-by-frame editing and the natural feeling of drawing and painting, the tool is both intuitive and fun to use.
If you are looking for a more advanced tool, such as for 3D editing, and vector animations, or if you are not using an iPad, this tool is not for you.
15. PowToon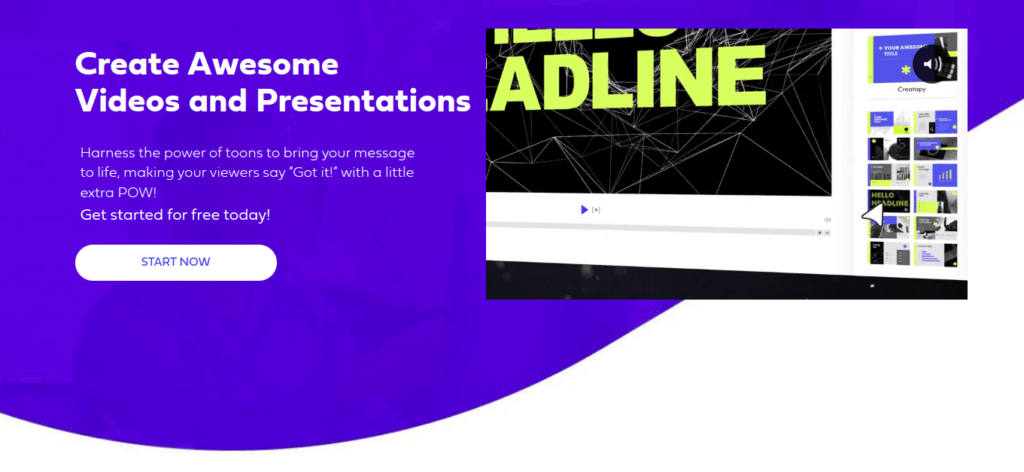 PowToon is an online animation platform for enhanced presentations and educational videos.
This tool lets you create engaging and interactive videos that are made up of animated characters and pre-built graphic assets. Powtoon is a great option for someone making video presentations, explainers, and whiteboard animations.
You can create great motion graphics animations using this tool!
Based on a rough estimation, it only takes 20 minutes to create a Powtoon. This is thanks to the awesome templates and pre-built assets combined with an intuitive and easy-to-use interface.
Features
Pre-built reusable templates
Built-in graphics, characters, and other assets
Advanced controls
Diverse character customization features
Great audio support
Import from Photoshop and continue editing in PowToon
Share directly on social media
Pricing
There is a limited free plan available. The pro version with all the features costs $19/per month.
Pros
Intuitive and user-friendly
Simple UI
A variety of built-in graphics and assets
Advanced character customization features
Online Editor
Cons
Watermarks in the free version
Creating characters is not highly customizable
Limited audio library and background sound
Bottom Line
To make outstanding educational videos that don't make your audience fall asleep, you can use PowToon.
This tool is easy for beginners. The tool has a shallow learning curve because you mainly use the pre-built assets, graphics, and animations.
PowToon is ideal for someone who is looking to create animations for marketing, presentations, and education.
16. Canva

Canva is a popular online design tool you may already have heard of.
But did you know it also added some basic animation features recently?
There are six animation styles available in the app. When you are ready with your animation, you can download it as GIF or a video.
Notice that Canva is mainly a design tool. Thus, the animation features are great but there is no real customizability.
Features
Thousands of editable templates
Literally millions of free (and paid) pictures, icons, and other useful assets
Six main animation styles
Team invitations and collaboration features
Great file management
GIF and MP4 support
Pricing
Paid plans start at the price of $12.99/month. There is a bunch of plans for different use cases and team sizes.
Also, there is a limited free plan that helps you get started!
Pros
Good support for basic 2D animations to images
Free plan
Lots of tutorials and a big community
Great pre-built templates and assets
Cons
No custom animation capabilities.
Limited animation capabilities in the free plan.
Bottom Line
Canva is a great online design platform.
As of recent changes, you can use Canva to create images with basic 2D animations.
The tool is easy to use and you can already do great things with the free version. The idea is to help beginners create stunning designs with the help of templates and other pre-made assets. You can fine-tune your imagery with animations from the animation bank.
If you are looking for control or any advanced animation features, you should choose another tool
17. Toon Boom Harmony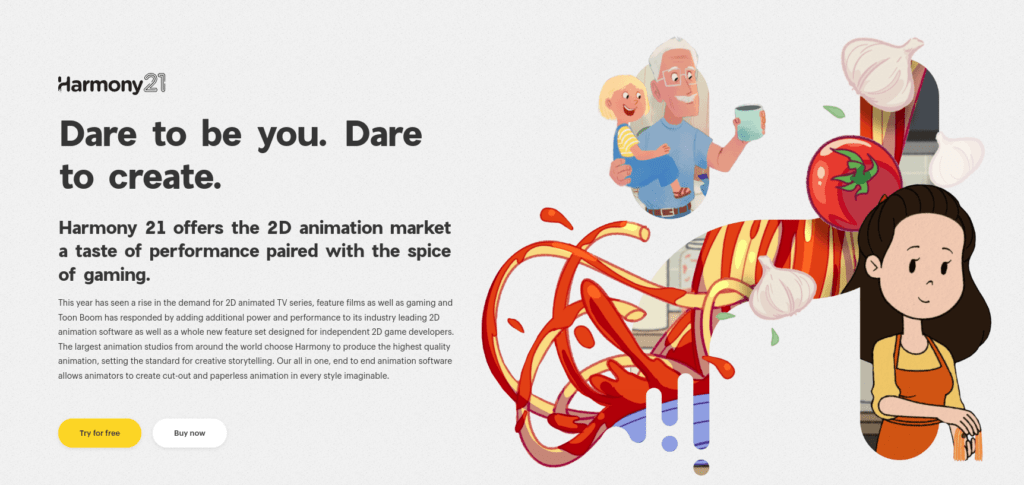 Toon Boom Harmony is a full-on 2D animation software with a variety of great features for professional animators.
If you have no experience with the tool, there are some great tutorials that help you get started.
This tool is unique in the sense it is available in three skill-level based versions:
Essentials. As the name suggests, this is the introductory tier of the tool. This is a great choice if you are a student or a beginner who wants to try 2D animating. Features of this level include drawing, painting, and animation tools.
Advanced. The advanced tier is great for freelancers, illustrator experts, and graphic designers. This version supports traditional, paperless, and cut-out animation styles.
Premium. The premium version suits the best studios, small businesses, and schools. At this level, the tool has everything you need to create professional 2D animations. This version offers everything that is included in the Toon Boom Harmony tool
Features
Vector-based animations
Bitmap drawing
Frame-by-frame animations
Realistic character movements
Unlimited special effects
Skill-level system
Pricing
The tool costs $25/month. There is no free trial available!
Pros
A bunch of unique features and tools
Easy to get started with
Different versions to match your skill level!
Cons
No free trial is available
Sometimes glitchy
Complicated to use from time to time
Bottom Line
Whether you are a beginner or a creator with an animation background, Toon Boom is a great choice for awesome 2D animations.
Even though it takes a while to learn the tool, there are different "levels" to the program. This way you don't use advanced features as a beginner and vice versa. The leveling system makes it easier to learn the tool at different skill levels.
If you are looking for 3D animation software, this tool is not for you. Also, there is no free trial in this one so there is no chance to test the tool in advance.
18. Stop Motion Studio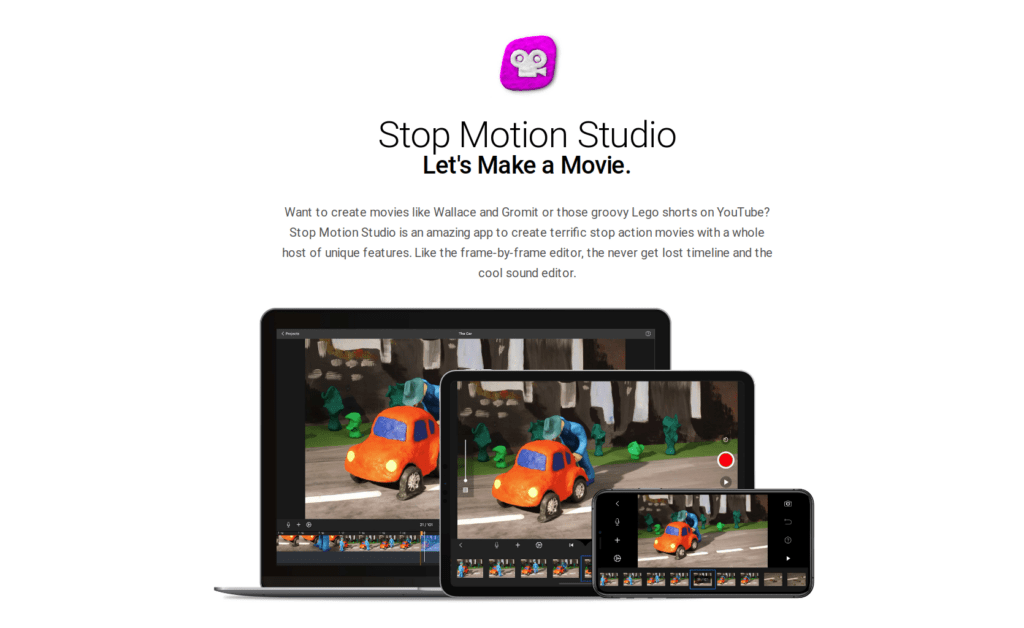 As the name suggests, Stop Motion Studio is a movie-making tool that lets you create awesome stop-motion films.
Remember a movie called Wallace and Gromit? Or have you seen those funky Lego shorts on Youtube? It is all stop motion.
This tool focuses entirely on stop motion and frame-by-frame editing. In addition, there is a great sound editor to add some vibe to your films.
This tool combines catching quality pictures and making a stop-motion movie out of them. This app is an all-in-one solution for stop motion creators.
The best experience of the tool comes when using an iOS or Android device. However, you can use it on Windows or macOS systems as well.
Features
Utilizes the built-in camera
Frame-by-frame editor
Composition guidelines
Sound Editor
Masking tool to erase redundant objects
Chroma key
Facial Expressions to Lego Figures
Pricing
This tool has no free version, but there is a cheap one-time purchase version:
iOS and Android: $4.99
Mac and Windows: $9.99
Also, don't forget there is a free trial of the software.
Pros
Easy to use
Simple user interface
Advanced syncing on different devices
Cons
Sometimes lags or crashes
The free version is flooded with ads
Lack of a proper customer support
Bottom Line
If you are looking for a versatile solution for creating awesome stop-motion animations, this is the best tool for you.
The software is easy to use and solely focuses on stop motions. It is an all-in-one package for all you need as a stop-motion artist.
If you don't want to create stop-motion animations, look for another solution in this list.
19. Animation Desk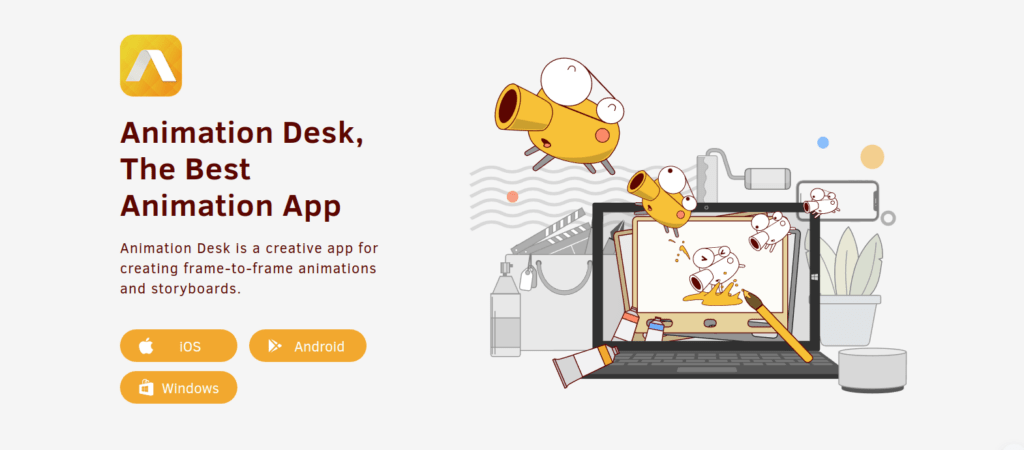 Animation Desk is a mobile app for frame-by-frame animators.
This app offers you the best experience when working with iPad and Apple Pencil. However, this app is available for Android and Windows too.
Animation Desk is software that is easy to learn how to use. It is a great tool for beginners who want to work in a traditional frame-by-frame fashion. You can easily create quick sketches as well as longer cartoon shows.
In addition to the great tool, there is a big community of talented animators. You can get inspired by their work or share your work for them to get inspired.
Features
Frame-by-frame editing
Onion skinning
Bunch of export options (PDF sheets, Photoshop layers, GIFs)
Pricing
This tool is free!
Although it has In-App Purchasing options you can consider.
In addition, there are two paid plans:
Animation Desk Pro: $15.99/year
Creativity 365 Kit: $59.90/year
Pros
Advanced features and tools
Easy to use and intuitive user interface
A bunch of different export options is available
Cons
A limited number of brush tools
Ads can be disabled by upgrading to the pro version
Bottom Line
If you are looking for traditional and easy-to-use 2D animation software, Animation Desk is a great choice.
With an easy-to-use platform and a bunch of great features, you can get your first animation out sooner than you would have thought.
If you are looking for an advanced/modern animation tool or a non-iOS solution, you can consider other tools in this list.
FAQ
Here are a bunch of frequently asked questions with answers related to animation software and animations in general.
What Is 2D Animation?
2D animations are also sometimes called traditional animations or hand-drawing animations.
Back in the day, there was no sophisticated animation software available. Artists had to draw characters, backgrounds, and everything that made up the animations. This happened frame by frame and was really time-consuming.
A human eye's FPS rate is estimated to be between 30-60. This means an animation must show at least 30 images per second for a human to consider it a continuous animation that flows smoothly.
So even a 10-second animation requires at least 300 separate images. Imagine how big of a task it was to create animations longer than a few seconds.
To save time, most of the artists did 12 frames per second. This meant a decent animation that almost looked like a smoothly flowing continuous film.
These days, when animation software is more sophisticated, you don't need to draw repetitively. Depending on the software, you might not even need to draw at all. (Some animation tools have the frame-by-frame option too.)
Instead of the frame-by-frame technique, you can use character rigging (digital puppet). This technique makes it possible for the creator to move the individual body parts of the character instead of redrawing them. As you might imagine, this is a huge timesaver.
What Is 3D Animation?
3D animation is also known as CGI animation (Computer-Generated Imagery).
These days, 3D animations are one of the most actively used animation types.
3D animations are broadly used in video games, feature films, and short films. The working principle of a 3D animation is completely different than 2D animation.
To be a 3D animation master, you don't need any sort of drawing skills. Instead, you need to know how to move a character in a 3D program.
Moving a 3D character is possible by using keyframes. Basically, an animator specifies a starting point and an ending point for a character to move between. Then the computer calculates a path between the points and moves the character in the most natural way possible. The animator can fine-tune the path afterward if needed.
Another key difference between 3D and 2D animating is caused by the 3rd dimension. A 2D character does not have a "backside". Only the visible parts of the character are drawn to the scene, nothing else. In a 3D animation, all the body parts and "sides" of the character are always present, even if they are not visible.
What Is a Stop Motion Animation?
Before 3D animations took place, stop motion animations created a sense of a "special effect".
Notice that even after 3D animations came into the scene, stop-motion animations did not cease to exist!
Stop motion is created by moving physical objects slightly and taking photographs of them after each movement. Then by showing these photographs in a sequence, the artist creates an illusion of the objects moving.
Common stop-motion characters include:
Puppets
Legos and other action figures
Claymation
And much more.
Stopmotion animations are really hard to create. If you mess up a single frame, chances are you have to recreate the whole set all over again.
If you are not the most patient person, trying some other animation type is recommended.
What Is Motion Graphics?
Motion Graphics is the animation technique used for animating logos, text, and images.
This can mean both 2D and 3D animations.
However, the key difference is motion graphics do not follow a story or a character.
Motion graphics is the animation type used in commercials, promos, film opening titles, and so on.
You don't need to know about the advanced mechanics of 2D or 3D animations to be a motion graphics designer. But you still need to understand the core principles of 2D and 3D animations and what is a good composition.
What Is a Vector?
Vector graphics is a piece of digital art that is defined by points, lines, curves, and shapes defined by mathematical formulas.
The main feature of vector graphics is being able to zoom in and out without losing any detail. In addition, vector graphics are lightweight and easily reusable.
Artists use vector graphics when they need graphics that need to be scaled. Also, vector graphics can be animated quite easily.
What Is Rendering?
Rendering is the process where the computer calculates the final image or images.
For example, when an animation is rendered, the computer calculates the final images for each frame that makes up the animation.
Rendering is the stage of computationally heavy tasks that are required to build up the image. For example, the computer calculates colors, shades, surfaces, textures, shadows, and lighting effects and how they all contribute to the final image.
CPU Rendering vs GPU Rendering
The difference between CPU rendering and GPU rendering is that GPU renders images much faster than a CPU.
CPU (Central Processing Unit) and GPU (Graphics Processing Unit) are microprocessors in your computer.
A CPU processes different tasks by performing separate calculations sequentially.
A GPU can focus all the computational power on a specific task.
A CPU is built of multiple cores, at most 24 of them. These are used for sequentially processing tasks one by one.
On the other hand, a GPU has thousands of smaller cores that perform multiple tasks at the same time.
Some programs, such as video games, can eat up a lot of computational resources by overwhelming the CPU with graphics computation.
This is where the GPU saves the day. A modern-day GPU has far superior computing power than CPUs. Also, GPUs are more efficient to process multiple simultaneous tasks by parallelizing the calculations.
This leads to the fact that GPU rendering is 50-100 faster than CPU rendering.
What Is Onion Skinning?
Onion Skinning is a commonly used 2D animation technique.
It means an artist draws on a very thin piece of paper placed on a light source. This way the artist can see through the frames stacked on top of the light source to produce the next frame.
Some of the tools in this list, such as Animation Desk, support onion skinning for frame-by-frame animations.
Wrap Up
That is a lot of animation software!
At this point, you have seen the full spectrum of animation software, that is:
Free and open-source software
Paid software
2D-only animating software
Advanced 3D animating tools
Stop motion tools
Motion graphics tools
Tools for business promo and explainer videos and animations
Animation apps
The tool that you need completely depends on what is your use case.
If you are looking to get much done with little effort, you should try a free tool with a lot of templates and presets.
The easy-to-use tools can help you get animations done in a matter of minutes even as a beginner. However, these tools are usually not customizable so the results look generic and don't represent your unique style and creativity that well.
If you are more serious about animating or want to become an animator for life, you have to put in the work. This means you need to learn how to use some of the more popular tools like Adobe After Effects, Character Animator, or Animate.
Although professional tools take a longer time to learn, it pays dividends in the end. For example, being proficient in Adobe's tools is great merit in the job market or as a freelancer. Also, the more control and customizability you have, the better the animations tend to be.
Thanks for reading. Happy animating!
Read Also