Choosing the right type of UI design tool is crucial for building great user interfaces for software. The outlook of the UI can make or break your software. UI design is a process that is overlooked by many. The truth is you need a professional UI to create successful apps or software. The UI design starts with choosing the right types of tools.
This is a complete guide to choosing the best UI design tool for businesses, teams, or personal projects.
With these tools, you or your designers can design UIs, collaborate with other designers in your team, and communicate the designs to the developers. Most importantly, these tools let you build realistic interfaces with interaction and basic logic to save time and avoid writing code.
Disclaimer: This article has affiliate links at no cost to you.
What Are We Looking at in This Guide?
This is a comprehensive guide to choosing the best UI design tool. Because the reviews and theory are detailed, you can freely jump into a particular tool with the links below.
Without further ado, let's get into it!
What Is UI Design?
UI design (User Interface) refers to the process of building an interface in software. Typically, UI is designed by a professional UI designer that uses professional UI design tools. The UI design process mainly focuses on the looks and style of the applications.
A successfully designed UI reflects the brand values and builds user trust. Besides, the UI is enjoyable and frustration-free.
The UI design process takes place before writing a single line of code. Once the designs are implemented, the designer communicates them to the developer team that starts working on them.
There are many great tools that streamline the UI design process. Some tools focus on the style and looks of the project. Other tools can be used to make communication with the developers easier.
Before we jump into the thorough reviews of the UI design tools, let's take a quick look at how to create a beautiful yet effective UI.
How to Make a Great UI?
To create a successful UI, you must keep in mind users are humans that have needs such as comfort and enjoyability. To create a practical and beautiful UI, keep these guidelines in mind:
Make components, such as buttons behave predictably. Allow the users to use them unconsciously anywhere.
Keep the discoverability high. Label your icons in a clear fashion. Don't forget to add affordances, such as shadows to your buttons.
Keep it simple! Only add elements that help solve users' problems.
Pay attention to hierarchy and readability.

Use a suitable alignment which typically means the edge alignment.
Draw the user's attention to the main features with color, brightness, contrast, font sizes, font weights, italics, capitals, and letter distance

Keep the number of actions to perform a task small. At the same time, focus on one function per page or view. Help users with indications of preferred actions. User progressive disclosure to make complex tasks easier.
Add controls close to the objects that the user wants to control. As an example, a form submission button must reside close to the form.
Don't forget to keep users informed related to actions and system responses using feedback.
Use UI design patterns to reduce the amount of work of a user and to guide them through the software. For example, you can add pre-fill forms.
Keep brand consistency in mind.
Always make sure the next steps are naturally deductible no matter what the context. Don't add unpredictable surprises!
As you can see, there are lots of things to keep in mind when designing UIs. Usually, UI design is done by a professional who has access to the best UI design tools on the market. If not done professionally, UIs end up looking really bad and unintuitive. To build a successful piece of software, the UI design part cannot be overlooked!
With the UI design basics out of the way, let's jump into the reviews of the best UI design tools.
The best overall UI design software.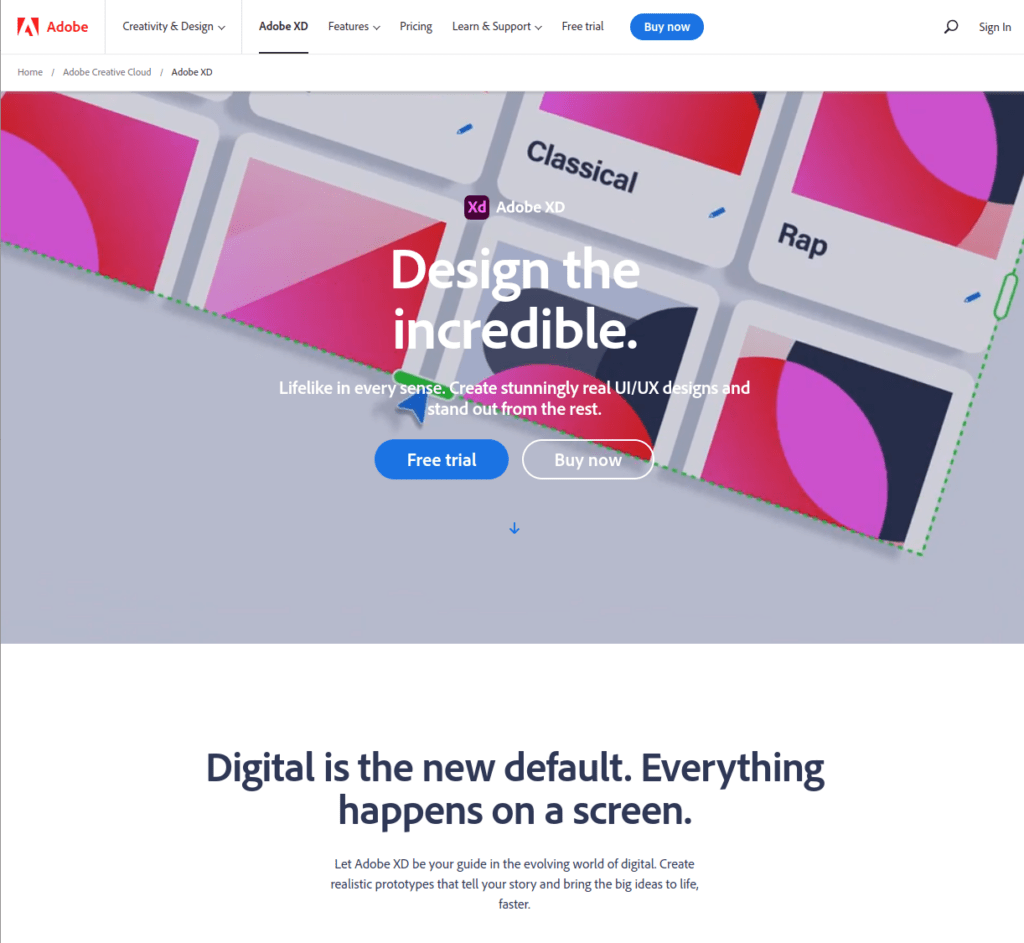 Adobe XD is a well-known UI design software. It's an industry-leading tool that allows you to create professional-looking UIs.
Adobe XD has great prototyping features that work across different device types. Adobe XD is also compatible with both Windows and Mac as well as a mobile app. Thus, the tool works where you work, whether you are on a move or sitting in your office in front of your desktop.
Just like any other Adobe tool, Adobe XD is a professional-grade design tool for creating beautiful UIs. If you are a beginner designer, the tool might be a bit overwhelming at first. Thanks to the ton of features with all the bells and whistles, it can be tricky to get started. Thus, you should spend quite a while learning how to use the tool to make the most of it.
But once you get the hang of Adobe XD, you will unlikely need to change to another UI design tool any time soon.
With Adobe XD, you get to design realistic prototypes of your software, such as apps or websites. Once you've learned how to use the tool, the workflow is really intuitive and efficient. There are lots of single-click elements you can drag and drop into the prototype.
The best part is you can test the prototype in a realistic setting across multiple devices. For example, if you are making a mobile app design prototype, you can test the prototype on your iOS device. This gives you the initial impression as to how your app would feel on a real device.
Besides its great capabilities and customizability, Adobe XD is a great tool for collaboration. If you are building a project with a team of designers, XD makes it easy to work on the same project at the same time.
Adobe XD is part of the Adobe CC package. As you probably expected, Adobe XD integrates well with other tools in the Adobe suite. For example, you can use Adobe XD and Photoshop to form a unique design combination. Then there are 200+ plugins that allow you to further customize the tool.
Pros
Adobe XD is a popular tool and some consider it to be the industry standard for UI design. Thus, there is a big community of active users and great guides and tutorials you can follow. Needless to mention, the tool is awesome and capable of everything you need as a UI designer.
There are lots of plugins and extensions available to Adobe XD. These let you customize the tool even further to meet your demand and fill the use cases.
Collaboration is easy with Adobe XD. This makes it easy to do real-time changes as a design team.
Adobe XD integrates well with other Adobe Creative Cloud tools.
Cons
The tool can be a bit pricey for a beginner.
There is a steep learning curve and it takes a while to get the hang of the tool if you've never done UI design before.
Pricing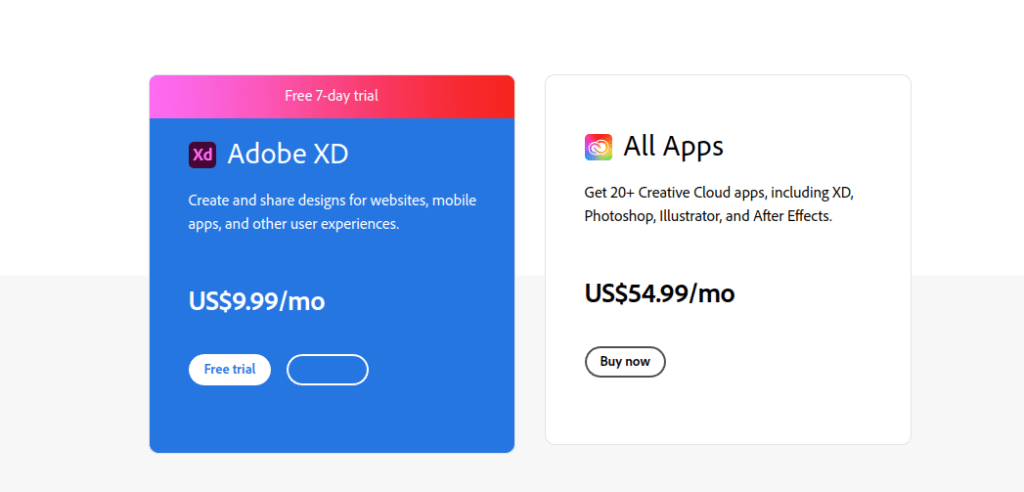 In Adobe XD, there is a 7-day free trial!
Besides, there are two options to choose from:
Best for beginner designers.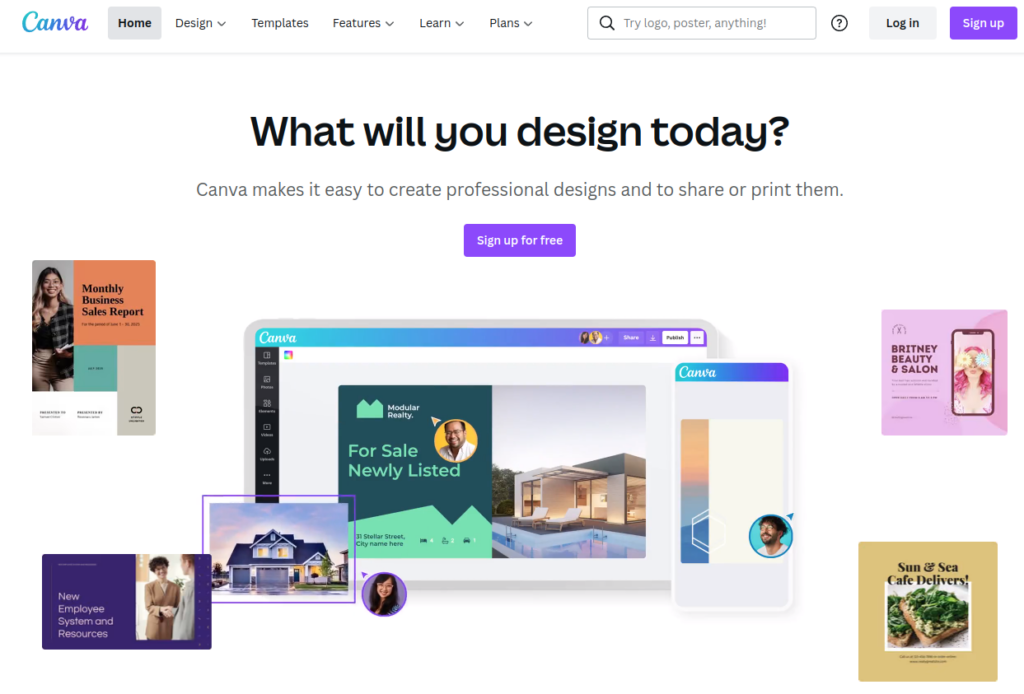 Canva is another popular UI design tool. This is a great choice for beginner designers.
Canva is a UI design tool that lives in the browser. Besides, there are downloadable apps for Mac, Windows, iOS, and Android. The cloud-based version keeps your projects in sync. The projects are accessible anywhere as long as you have an internet connection and remember your credentials.
Of course, you can also use Canva without an internet connection. To do this, you need to download the app for your device. The projects are saved locally to your machine when there is no internet connection used.
Pros
The tool is really easy to use and to get started with. This is thanks to the great variety of templates, images, and other pre-built assets that are waiting to be reused by you.
There is no learning curve because the tool is intuitive and the UX is simple and optimized.
There are great photo editing and enhancing capabilities. Besides, there are awesome libraries with thousands of images.
The whole workflow is based on the drag-and-drop editor that is easy and effortless to use.
You can use canvas to create basic animations for your images. This makes a nice enhancement to your designs.
There is a content planner and publishing scheduler.
Cons
You cannot create unique elements. You can only use the elements that are given to you. This makes the tool easy to use but limited.
The reusable templates and images are generic. This means your design could end up looking like others.
The tool is hard to use with smaller screen sizes.
Pricing
Both the browser version and downloadable app are free to use to some extent.
As a matter of fact, the free tool has great capabilities for beginner UI designers. But to access some extra features, like fonts, elements, saving options, and more, you have to upgrade to the paid plan:
Pro: $12.99/month ($119.99/year).
Also, if you are designing in a team, the pricing varies based on the number of users.
| Seats | Monthly fee | Annual fee |
| --- | --- | --- |
| 5 | $14.99 | $149.90 |
| 10 | $87.49 | $874.90 |
| 20 | $232.49 | $2,324.90 |
| 50 | $642.49 | $6,424.90 |
| 100 | $1,242.49 | $12,424.90 |
3. Figma
Best for interface design and prototypes.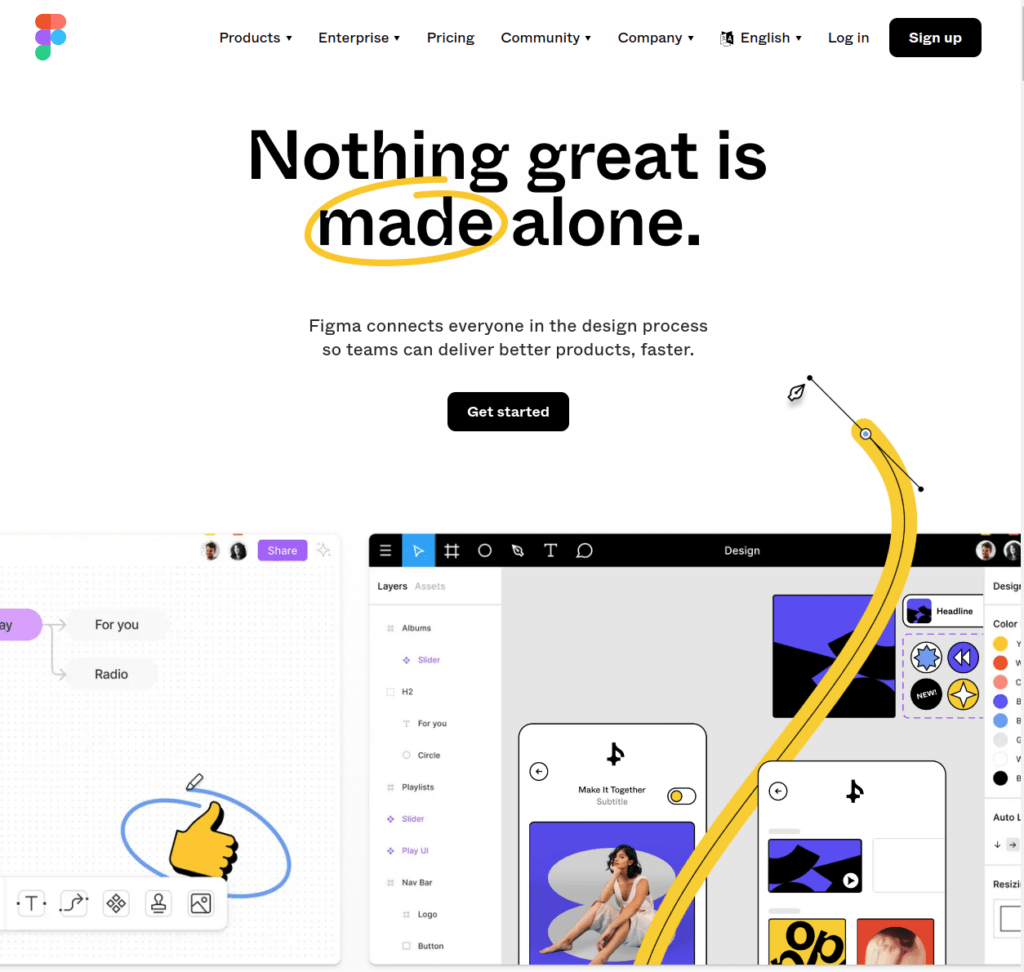 Figma is a new yet popular UI design tool with a huge user base and community. This tool was launched back in 2015 and has since become one of the industry-leading UI design tools out there.
If you are looking for a tool that is easy for a beginner to get started with, then I highly recommend Figma. The tool is free to use for a single person. To add collaborators to the projects, you need to pay for them. (You can only include one collaborator with the free plan.)
But the free features are awesome and you can build impressive designs and prototypes with it. Take a look at a cool mobile app design I made in mere hours when I first touched Figma.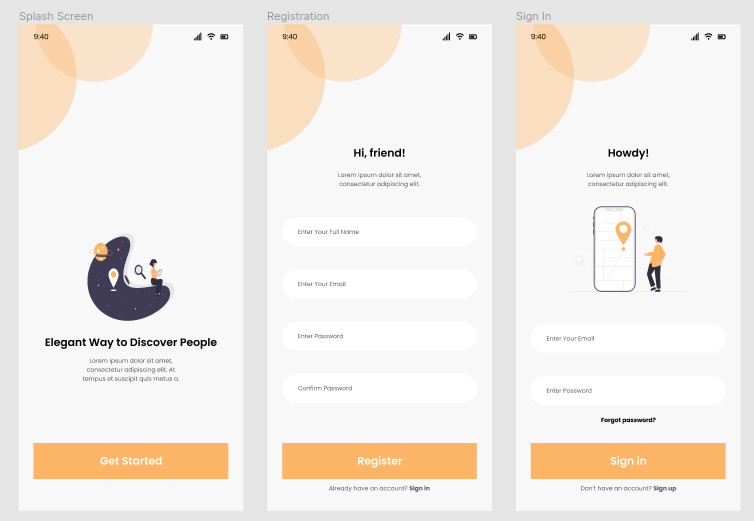 There is an online editor in Figma. All your projects live in the cloud. In case of data loss, your projects are safe behind the Figma servers. Besides being an online editor, there is a desktop and mobile app version too.
Overall, Figma is one of the most popular UI design tools. It's an all-in-one solution for easy prototyping, mockups, and wireframing. Once you have built your mockups, it's easy to test them across different platforms and devices.
One of the main focuses of Figma is to make collaboration easy. The collaborative environment makes it easy for teams to make real-time edits on the same project without breaking it. Also, you can invite developers, testers, and copywriters on board too!
Pros
Figma is a cloud-based web application.
Great collaboration features with real-time editing capabilities.
The free plan is feature-rich and gives a great feel to the tool.
Figma is the go-to design tool for many. Thus, there is a big community with a lot of helpful guides and tutorials available.
The tool is super easy to use. Even if you have never done designs before, you get the hang of it in a breeze.
Cons
The vector tools are limited in Figma. If you are looking to create designs with vectors, then you might want to consider another tool, such as Adobe XD.
Pricing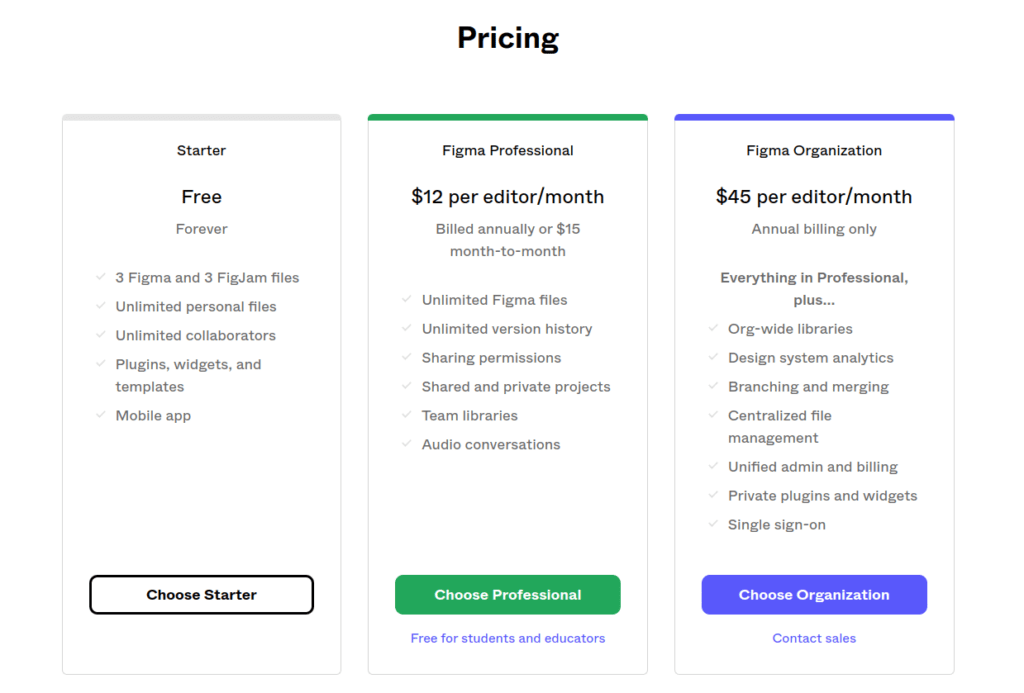 There is a great free version available! It includes the most notable features for free. But to collaborate with multiple creators, you must upgrade to a paid plan.
Figma's paid plans are:
Figma Professional: $12/editor/month
Figma Organization: $45/editor/month
Notice that Figma is free for students and educators!
4. Sketch
Best UI design tool for Mac users.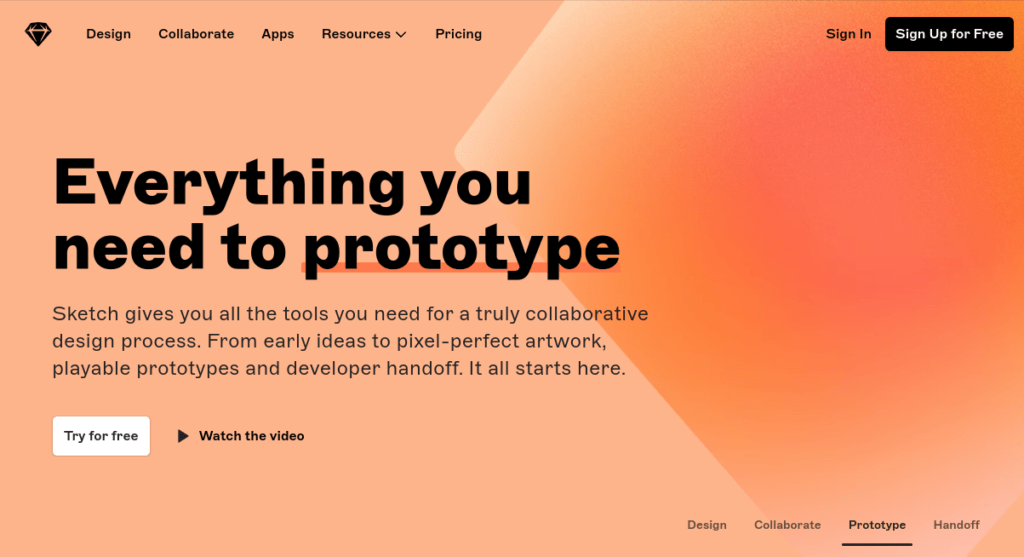 Sketch is one of the most popular UI design tools to ever exist. The reason it's not quite on the top of the list is that this tool is only available for macOS.
Even though this tool is only available for macOS, it's still a go-to choice for most UI designers. If you are running macOS, then Sketch might just be your best choice for creating outstanding UIs and prototypes with interaction. It's rare to have a UI designer that hasn't used or at least heard of Sketch before.
The UX of the tool itself is pleasant and intuitive. It's not too hard to learn how to use this tool after all.
Sketch specializes in creating intuitive and awesome prototypes. In Sketch, you've got all the tools for visualizations, designs, professional artwork, and so on. The final result is easy to hand over to the developers to start coding.
One of the key features of Sketch is the ability to make global-level changes to your project. For example, you can change layers, text styles, or colors. With these features, it's easier for you to reuse elements in other prototypes and thus save time.
There is no steep learning curve to Sketch. Thus, it's a great tool for both beginners and more experienced designers. Besides having great built-in capabilities, you can further customize Sketch by adding 3rd party plugins to it.
Pros
There is a big number of plugins and integrations that improve the already great UI design tool in Sketch.
Sketch is an industry-standard for Mac users. There is a huge community of designers and teams using it. There are lots of great guides and tutorials about Sketch.
The tool is easy to use. It's great for beginners looking to start designing UIs and creating prototypes.
Cons
Unfortunately, the tool is only for macOS. If you're not a Mac user, you should pick another tool in this list.
Pricing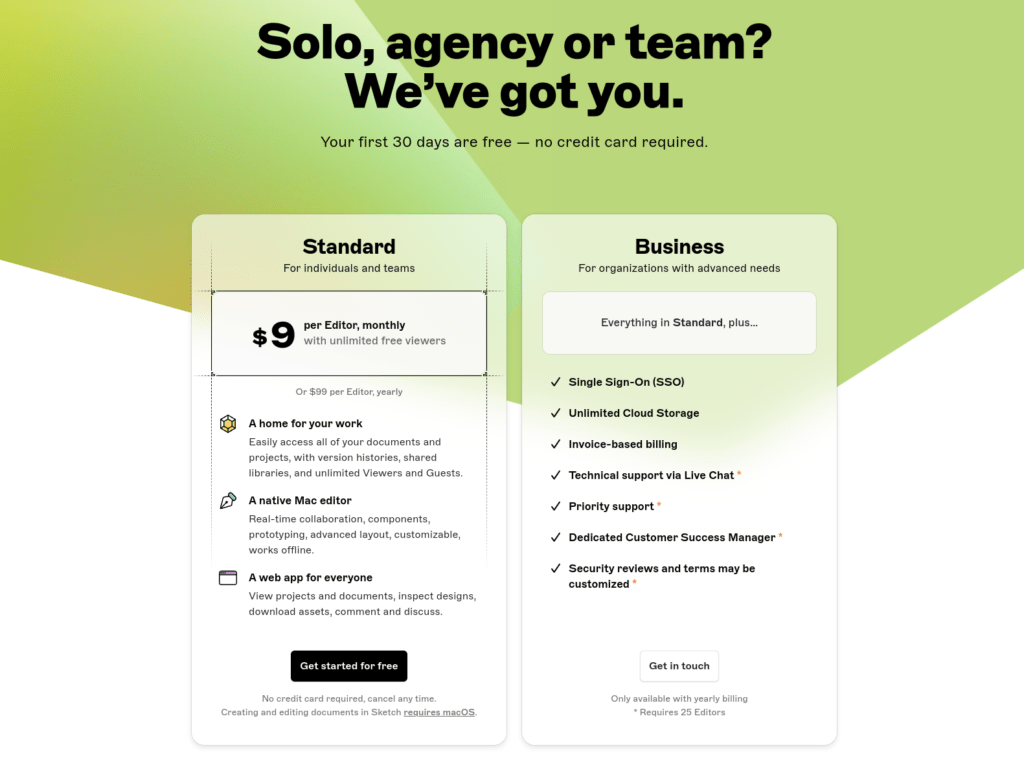 There is a 30-day free trial to Sketch. After using the free trial, you can upgrade to one of the following paid plans:
Standard: $9/month/editor
Business: Contact the sales team
5. InVision Studio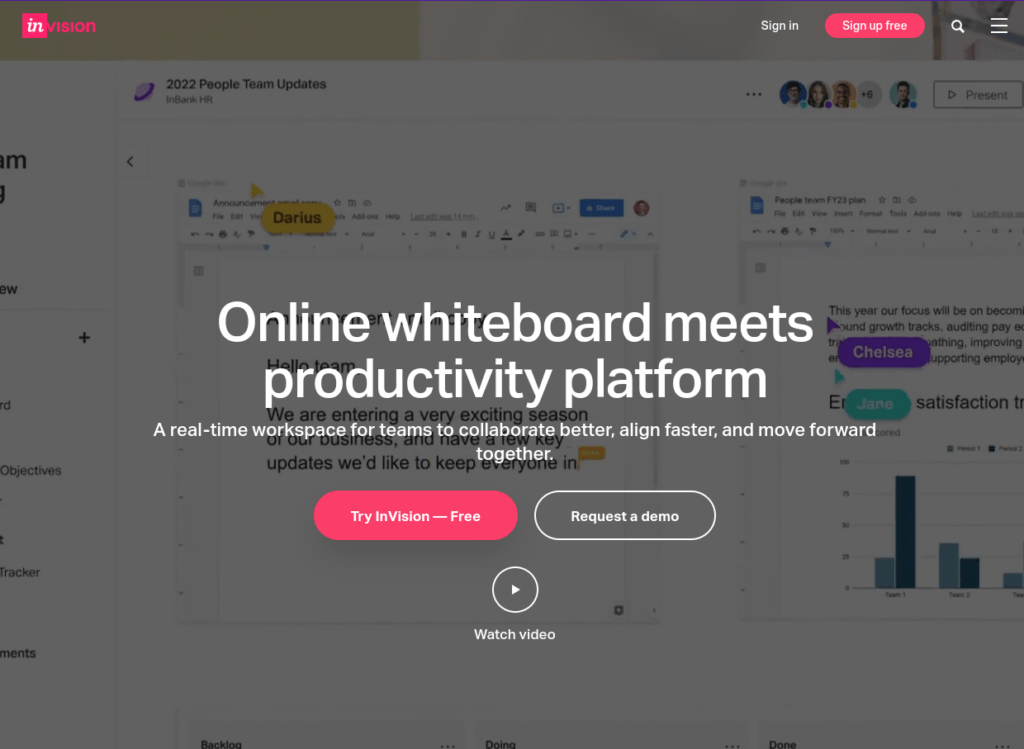 InVision studio is a design tool that comes with a complete package of great UI design features, including:
Vector drawings
Stylesheets
Advanced animation capabilities
Real-time collaborations
Interactive prototyping
Besides, it has an easy-to-learn workflow and affordable pricing.
The tool is available as offline software as well as a browser-based web application. This makes it great for working both with and without the internet on a move.
One of the standout features in InVision is the Freehand feature which resembles a real-life whiteboard. This helps you sketch your mockups and prototypes in as real-life a setting as possible. The freehand sketching and user flow editor are the features that make InVision such a great choice for designing UIs.
As opposed to many of the paid UI design platforms, the key features of InVision are mainly free. You can work with up to three projects simultaneously with a group of at most 10 people without spending a buck! Only more rigorous use than that requires a paid plan.
Pros
InVision has a whole lot of extensions to further customize the design process.
InVision's free plan is exceptionally good. It supports up to 10 people and 3 projects.
InVision is definitely one of the best value-for-money tools on the list.
Cons
Even though the free version is great and comes with key features, it doesn't have it all. To test the premium features of the tool, you must purchase a paid plan. You cannot test the premium features with the free plan.
Pricing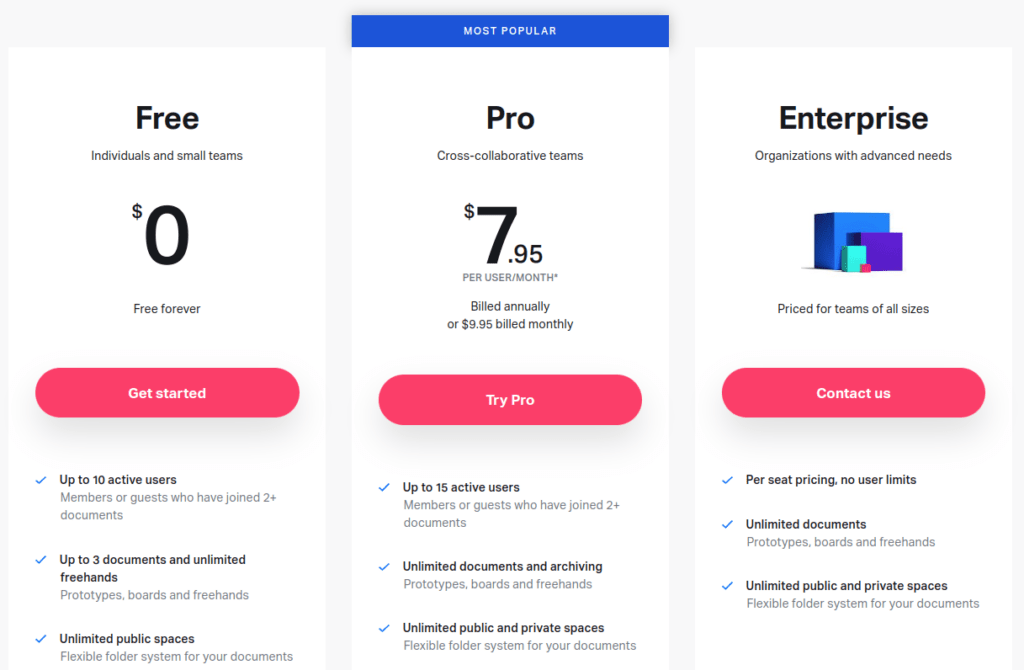 There is a forever-free plan available in InVision. Besides, there are two paid plans:
Pro: $7.95/month
Enterprise: Contact the sales team
6. UXPin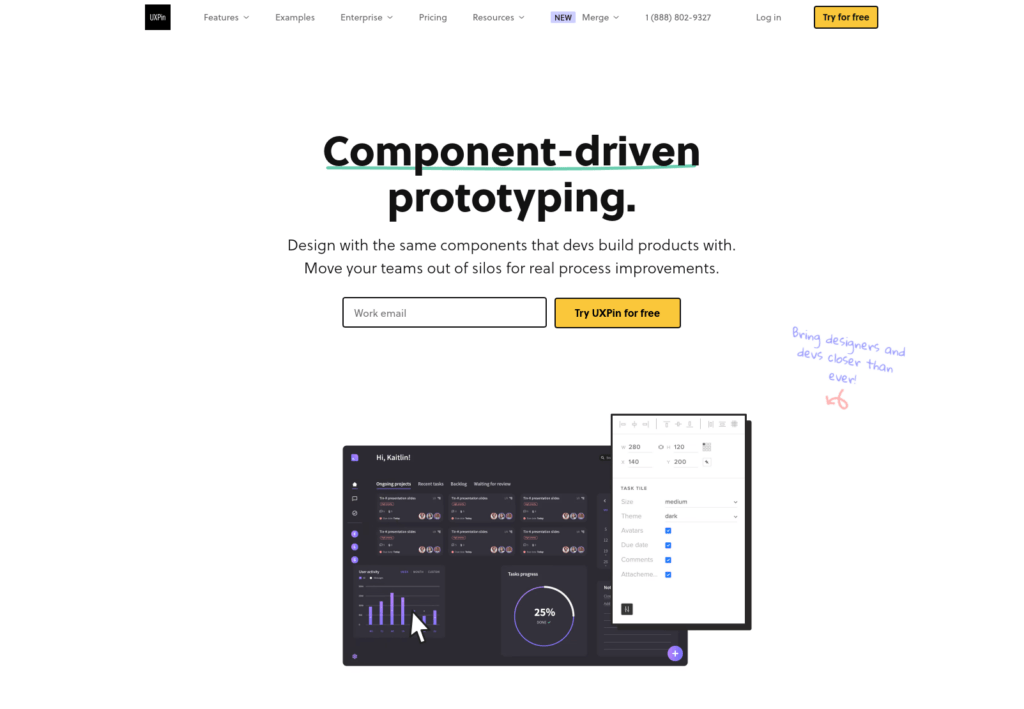 UXPin is a UI and UX design tool for beginners as well as seasoned designers. This tool makes it easy to deliver outstanding UIs without requiring any coding. This is a tremendous time saver as developers don't need to write code only to test a solution. Instead, you can use interactive features to make your apps and projects feel alive, even though they are just prototypes.
If you have some Sketch or Photoshop background, to begin with, you will find it easy to get started with UXPin as the navigation and workflows are pretty similar.
UXPin has a lot of built-in design components that come ready to use. Besides, this tool helps you create and manage design systems.
There is a downloadable version of UXPin available for Mac and Windows. You can also always use the online editor and the cloud-based capabilities to save your work.
Pros
The tool makes it easy to collaborate and get designs accepted thanks to comment tracking, design approval, and project tracking capabilities.
The design consistency is improved in UXPin because of the design libraries and symbols.
You can integrate UXPin with the likes of Google Fonts, Slack, and Sketch.
The Spec Mode allows you to not have a redlining or documentation.
Cons
There is a slight learning curve. If you have never designed, the tool might be a bit overwhelming at first.
No bird-eye view of the prototype screens.
Unfortunately, there is no Adobe Illustrator integration available.
Pricing
There is a free and limited version. With this version, you can create up to 2 prototypes. To create more, you can upgrade to one of the premium plans:
Basic Plan: $19/month
Advanced Plan: $29/month
7. Marvel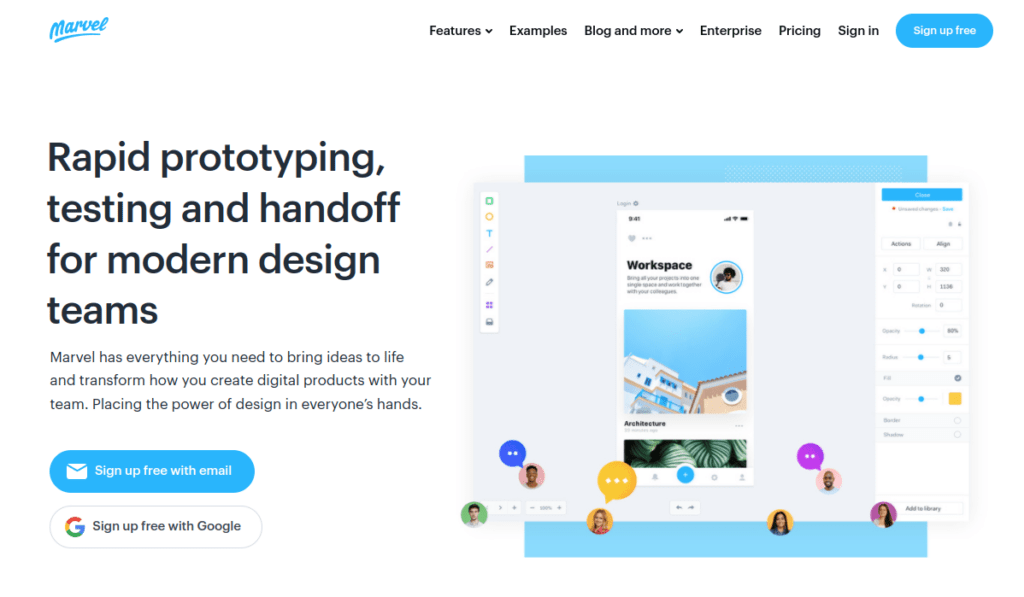 Marvel is one of the best UI design tools when the budget is in question. This affordable solution has a completely free plan. Besides, it has a premium version with more extensible features and a free trial.
Marvel is a modern-day UI design software that works for both beginners and more experienced designers. It doesn't matter if you work individually or for a large enterprise, Marvel helps you turn your ideas into high-fidelity prototypes that are easy to test across different platforms.
Marvel is a one-size-fits-all solution for UI design. With this tool, you can create prototypes, mockups, and wireframes.
Marvel is an online-based tool that works for any modern browser, such as Chrome, Safari, or Firefox. Besides, there is also an iOS and Android app available.
With Marvel, it's easy to keep your projects in Sync. The Handoff feature makes sure to sync all your latest changes.
This tool also offers you a huge time saver. It turns your designs into specs, code, and assets for the developers to work with. This way developers might not need to implement your designs from scratch.
Pros
Marvel is a browser application. Thus, you don't need to download software to use the tool. Also, all your projects live in the cloud. In case of data loss, all your projects are saved and accessible through the internet.
The Handoff feature is great for handing over your project files to the developers. This saves their time by a ton.
Marvel is a budget tool that offers great capabilities for the full-on UI design process.
Cons
Unfortunately, there is no desktop app available. Thus, you need an internet connection to work with Marvel.
Pricing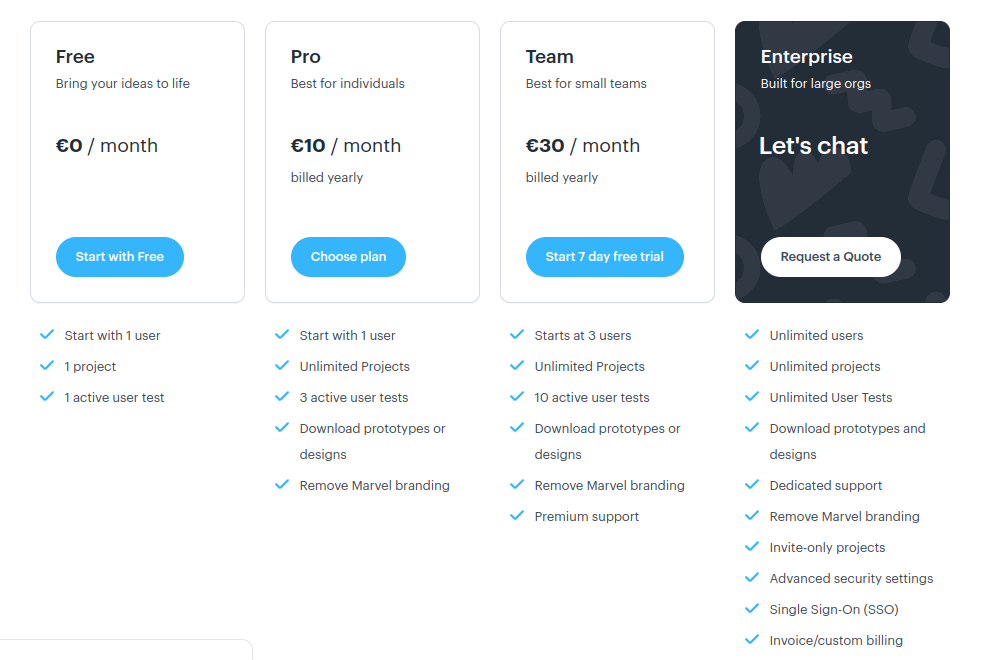 Marvel has a forever-free plan you can use to create basic designs! Besides, there are more flexible paid plans:
Pro: $10/month
Team: $30/month
Enterprise: Contact the sales team
8. Origami Studio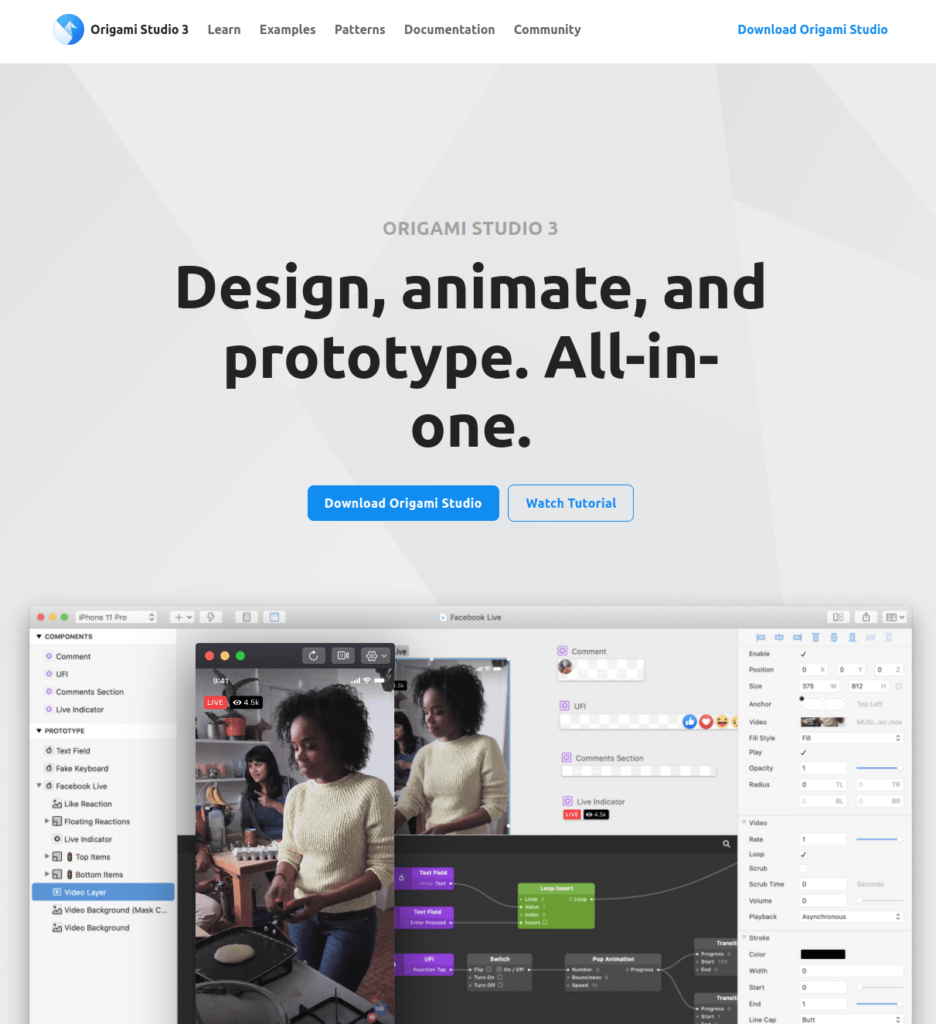 Origami Studio 3 is a UI design tool with design, animation, and prototyping capabilities. In this sense, it is an all-in-one solution for a UI designer.
Besides, it works with other popular design tools. For example, you can import designs from Sketch of Figma simply by copy-pasting the assets to the tool.
Origami Studio is a free UI design software! With this tool, designers can implement and share designs in a breeze.
The key feature of Origami Studio is the canvas where you can easily drag and drop components to your prototypes. You can also edit shapes, layers, images, videos, and other assets that you've imported from Figma or Sketch. Besides, you can easily mask, animate, and change layers in the prototypes.
To streamline your workflow and save time, you can use pre-built components and also create a shareable library of those reusable components.
With Origami Studio, you can easily add interaction to your prototypes to make them realistic. This is made possible by the Patch Editor, which is relatively easy to learn how to use. The whole idea of Origami Studio is to use those patches to create interactions, animations, and other behavior in your prototypes. You can use a patch to store and pass information to another patch. The patches form a chain of actions that make up the prototype.
Pros
Origami Studio is great for creating high-fidelity prototypes that include even some complex logic that would normally require coding.
The workflows are efficient and there are nice shortcut keys for making it even smoother.
The tool interacts well with Sketch and Figma layers and assets.
Cons
The learning curve of this tool is steep. Thus, it takes a lot of time and patience to master using it.
If you are looking to build multi-screen prototypes, this tool is not the best choice.
It can take a while to build some particular interactions in your prototypes.
It can cause some performance issues when inserting big Figma or Sketch files into the project.
Pricing
Origami Studio is a free piece of design software!
9. Zeplin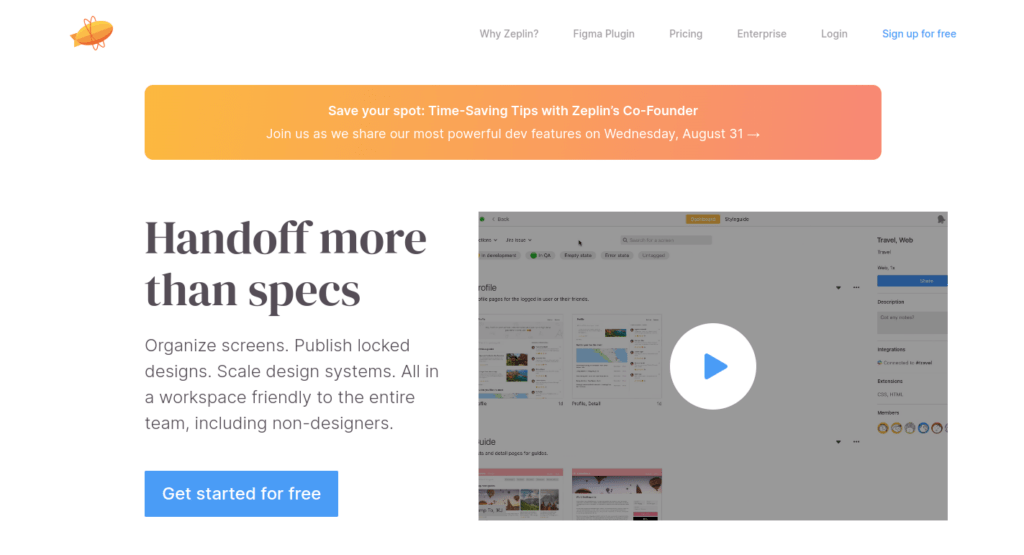 Zeplin is a great UI design tool that takes really great care of the developer handovers.
If you know anything about UI design, you know how important it is to get the designs in front of the developers who then code your designs into an actual piece of software. To make this phase streamlined, you have to communicate your designs to your developers in an efficient manner.
This is where Zeplin shines. With Zeplin, you can:
Organize designs
Publish designs
Scale design systems for non-designers
Handover designs to the devs
The main goal of Zeplin is to connect developers and designers. This tool generates specs and guidelines for your awesome designs. This decreases the number of effort developers needs to put into converting your designs to code.
The handover process is made simple by importing designs from apps like Adobe XD, Photoshop, or Sketch. These assets are then quickly turned into code, assets, and specifications automatically. The developers can start using these right away.
Besides, you can create webhooks and web flows to avoid low-value repetitive tasks and to improve the efficiency of your workflows.
As the icing on the cake, Zeplin integrates with apps like Slack, Teams, Trello, and more. This makes it even easier to keep a smooth line of communication with the developer teams.
Pros
There is a full-featured free plan available. This makes it easy to try the tool and get a realistic feel to it.
The tool makes it easy to hand off designs to developers.
The tool is user-friendly and easy to get started with.
Cons
Even though there are great integration capabilities, those are limited to the most popular apps. If you are using less common communication channels, chances are it doesn't talk to Zeplin.
Pricing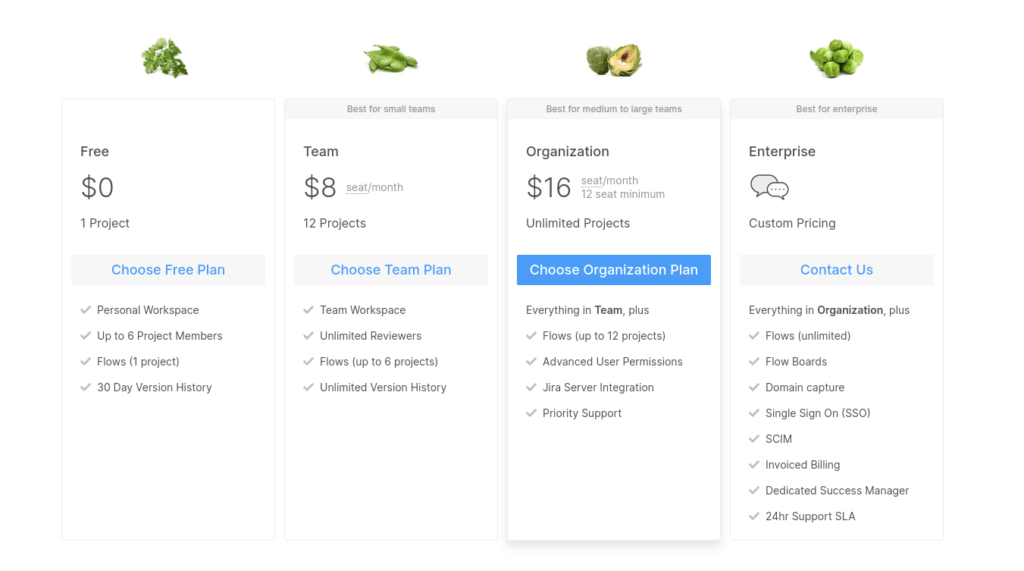 Besides the great free plan including one project and a full feature set, there are four plans for Zeplin:
Free: $0/month
Team: $8/seat/month
Organization: $16/seat/month
Enterprise: Contact the sales team
10. Uizard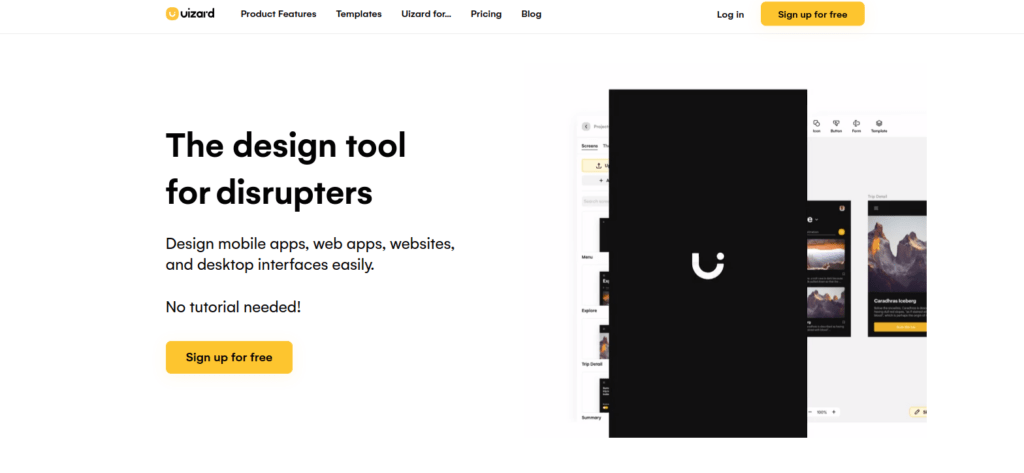 Uizard is a great tool for designing both UIs and UX. From ideation to high-fidelity prototypes, this tool has got your back!
You can use Uizard to design mobile apps, web apps, websites, and desktop interfaces with ease in a breeze. The tool is such intuitive that you don't even need a tutorial to use it. The UX of the tool itself is intuitive enough for a beginner to effortlessly navigate through it to accomplish amazing UI designs.
According to UIZard, the learning curve is really shallow. If you can use Keynote, Google Slides, or PowerPoint, you will surely know how to use Uizard.
In UIZard, you have a nice drag-and-drop editor with which you can easily add components for quick mobile app and web app designs. Besides, the tool has a great wireframing mode that lets you generate great low-fidelity wireframes for the project. This is a great way to take a step back to focus on the user experience of the software without paying attention to colors, images, or another styling yet.
You can easily use Uizard with other design tools. Uizard lets you import files from other popular design tools and reuse them in the Uizard project.
Uizard has a free plan where you can create 3 projects and 10 themes with an unlimited number of users. To add more projects, you need to subscribe to a paid plan of $12/creator/month.
If you are an enterprise, you might want to choose the enterprise plan for $39/creator/month for even more extensibility and enterprise-tier features.
11. Balsamiq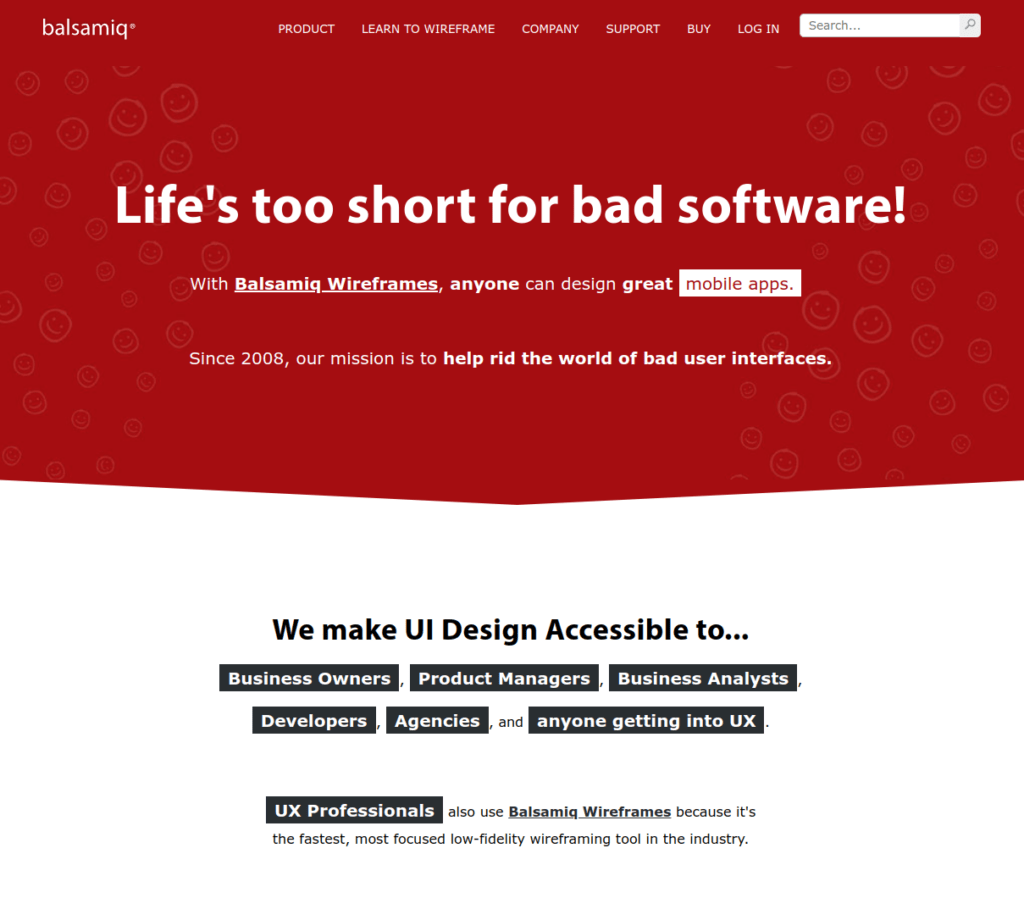 Balsamiq is a UI design tool that focuses on wireframing.
This tool is unique in the way that it mimics the experience of sketching the wireframes on a physical notepad or whiteboard.
Balsamiq is a great tool for communicating the structure of the app or software you are about to build. Before implementing the designs or writing a single line of code, you need to make sure your software's interface is structured well. This is what Balsamiq forces you to do. Instead of focusing on colors, fonts, or images, Balsamiq makes you pay attention to the structure and content of the software.
Balsamiq is a community-driven project. You will find tons of UI controls and icons generated by the group of people using Balsamiq for wireframing. You can also create templates, reusable component libraries, and masters that you can reuse in future projects.
The Balsamiq linking features make it easy for you to generate prototypes for demos and even usability testing.
Balsamiq is a great tool for the ideation phase of your software project. It intentionally looks like sketches to enforce brainstorming instead of focusing on the designs yet. But when you are ready to demonstrate your work, you can easily strim the wireframes from the view too!
12. Axure RP
Axure RP is a professional UI designer tool. This software gives you the power to create functional and realistic prototypes.
In Axure RP, there are combinations of conditions, actions, and event triggers for creating awesome interactions and experiences for your designs. Besides, this tool lets you create wireframes, customer journeys, and other types of UX documentation for your prototypes.
You can use mouse, touch, and keyboard events for triggering interactions in your prototypes. Besides, you can add conditions and variables to the prototypes to introduce logic to them. This takes your interactive UX prototypes to the next level. Without writing a single line of code, your app prototype behaves in a logical and interactive manner. This makes the prototypes realistic and feels like the end product without spending time on actually implementing the software yet.
Axure RP comes with a bunch of widgets. You can use these widgets to:
Create forms
Build sortable grids
Implement dynamic interfaces
As an example, you can drag and drop features like text fields, droplists, and radio buttons to the view effortlessly. Besides, you can make all these features look and feel nice on mobile views. Speaking of different view types, the Axure RP has an adaptive interface that automatically scales the project to match the size of the view it's been viewed through.
Once you have finished the designs, you can easily publish them and ask for feedback with Axure RP integrations. For example, you can integrate Axure RP with Slack. Then, with a single click of a button, you get to notify and share your designs with the team channel in Slack.
Wrap Up
That's a whole lot of UI design software.
To put it short, the best overall solution for building beautiful UIs and prototypes is Adobe XD. This tool is an industry standard for creating outstanding UIs at scale. The tool allows you to create and test the designs across multiple devices.
Is Adobe XD too pricey? Or is the learning curve too steep for your need? No worries, there are other tools that are geared towards beginners. For example, you can use Canva to generate wonderful-looking UIs.
As a Mac user, you definitely want to try Sketch. With Sketch, you can craft cool-looking UIs and prototypes and test them with multiple devices. It is the leading UI design software for Macs. Unfortunately, there is no version for non-macOS devices.
One of the important aspects of the UI design process is communicating the designs to developer teams. This process is surprisingly time-consuming and takes practice to do efficiently. This is where a tool like Zeplin helps. It makes communicating the designs easier. You can share and get feedback easier with integrations to apps like Slack or Teams.
Thanks for reading! I hope you found good UI design software for your projects.
Read Also
About the Author
I'm an entrepreneur and a blogger from Finland. My goal is to make coding and tech easier for you with comprehensive guides and reviews.