Choosing the best green screen software is essential to make your green screen videos the final touch they deserve.
This is a comprehensive guide to choosing the best green screen software. Some of the tools in this list are free basic-level video editing software. Others are full-on video editing tools that have a lot of other features besides the amazing green screen capabilities.
Disclaimer: This article has affiliate links at no cost to you.
What Are We Looking at in This Guide?
This is a comprehensive guide to the best green screen tools. There is quite a bit of information in this article. If you don't want to read it all, feel free to jump directly into a review of a particular tool with the links below
Before jumping into the actual reviews, feel free to familiarize yourself with the green screen technology.
What Is Green Screen?
A green screen is a bright green uniform screen that is commonly used in videography to change the background of a clip. This technology can also be used with images.
The green color is used because:
It's a color that is rarely present in humans and clothing.
The green color is the brightest color which requires less light.
As a matter of fact, sometimes also blue screens are used. This is because the brightness of green can sometimes cause reflective items to appear green, which makes the editing harder.
By the way, I've written a complete article on green screen technology. Feel free to read it here.
How Does Green Screen Work?
The idea of a green screen is that during the post-production process, the green background is removed. This makes the background transparent. Then another background, such as an ocean or another beautiful scenery is added behind the video. This gives an illusion that the object of the video is situated in an appealing view instead of a boring studio.
Removing the green background is not hard thanks to the advanced tools. Green screen features work by using one of two keying techniques:
Chroma key. The green background is removed based on the unique chrominance (chroma) value of green.
Luma key. The green background is removed based on the brightness (luminance, luma) of the green.
Now that you understand how the green screen technology works along the luma and chroma keying, it's time to jump into the list of tools.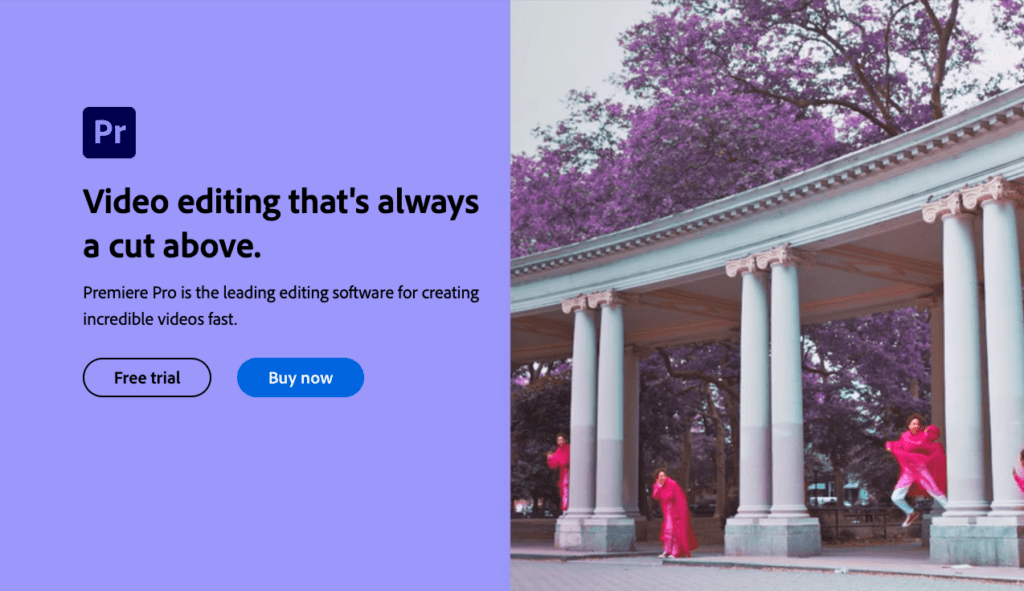 Adobe Premiere Pro CC is complete software for video editing. This tool has all the bells and whistles you need to make your videos stand out.
In Adobe Premiere Pro CC, there is a timeline editor for audio and video clip editing. The basic editing happens from the timeline. There is a razor tool, ripple and slip editing, and other special effects for videos.
The reason why this tool made it to the top of the list is that it has professional green screen capabilities.
You can use Premiere Pro CC to chroma key a green screen video and overlay it with any background you like. You can even adjust the intensity of the effect for masking a broader range of colors.
Key Features
Premiere Pro CC is a full-on video editing tool that has green screen features, supports team collaboration, and has professional transition effects. This tool is a complete solution for editing videos.
Premiere Pro CC is a tool that operates on Mac, Windows, and Linux.
Here are some of the most notable features of Premiere Pro CC.
4k editing options
Multicam editing
Intuitive user interface
Chroma-keying and green screen capabilities
Collaboration options
360-degree video editing
Pricing
Adobe Premiere Pro CC belongs to the Adobe CC subscription. This means you can either:
Subscribe to the all-app plan for $39.90/month
Subscribe to the individual tool for $20.99/month
Of course, if you are unsatisfied, there is a 30-day money-back guarantee.
2. Camtasia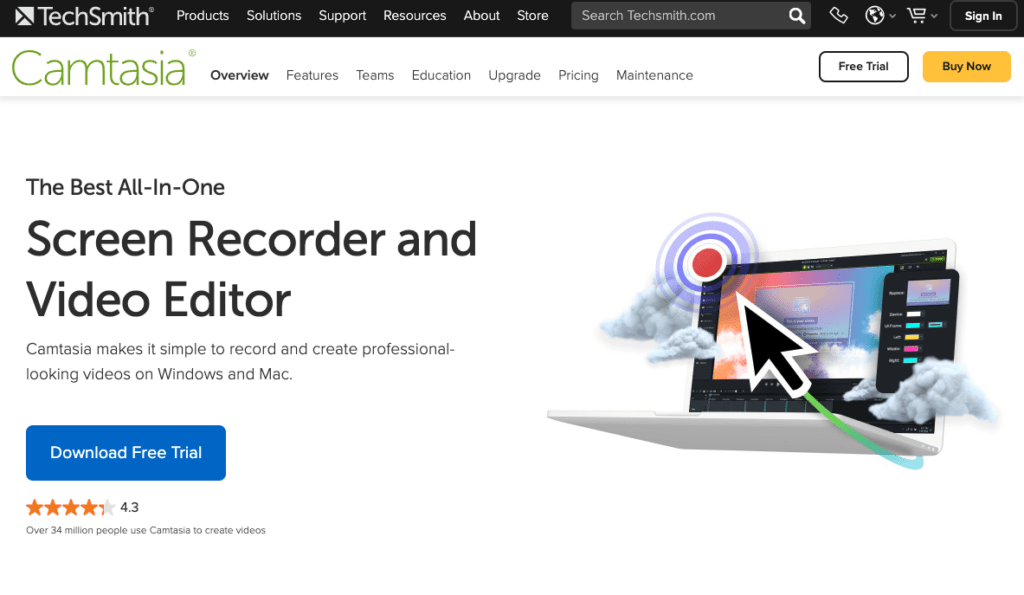 Camtasia is an easy-to-use video editor for green screen editing and chroma keying. If you are a beginner with video editing and want to deal with a piece of green-screened content, Camtasia might be your best bet.
Besides being great with green screening, you can use this tool to create professional videos for businesses, personal use, or anything else.
Key Features
Intuitive UI that is great for beginners
Built-in video editing templates for creating professional video content quicker
Screen recording capabilities for live demos and lectures
Upload videos directly to social platforms, such as Youtube or Dropbox
Pricing
Camtasia is an all-in-one solution for screen recording and editing videos. The built-in green screen capabilities are great for changing the backgrounds of your videos.
The pricing model is really simple. There is a single one-time payment of $299.99 for lifetime access to the tool and its updates. I know the price sounds high, but there is a 30-day free trial you can use before investing.
Camtasia is ideal for beginners that are not familiar with green-screen videos from the past. This is because it can be tricky to use a dedicated green screen editor as a beginner with no video editing background. Camtasia fixes this problem with an intuitive and easy-to-use UI.
3. Movavi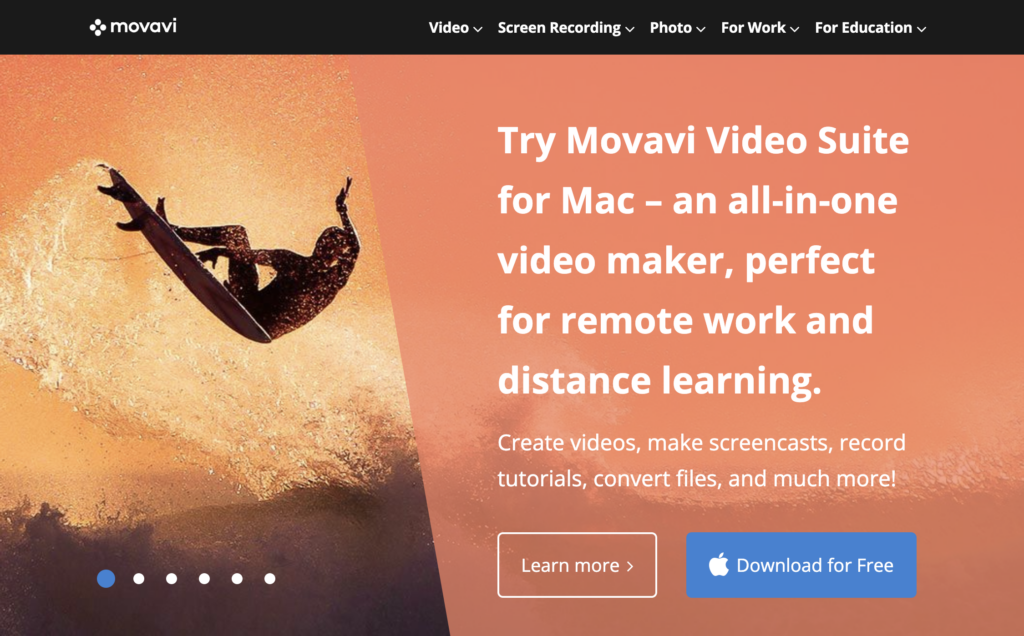 Movavi is a video editor with intuitive and user-friendly video editing capabilities that work really well with green screen clips.
This tool allows you to edit your videos in a streamlined and effective fashion. The quality of the post-processed videos never fails to amaze me.
The reason why this tool made it close to the top of the list is thanks to the green screen/chroma key capabilities. With this feature, you can assign any background to your green screen clips easily.
Let's go through Movavi's best features in more detail.
Key Features
Video stabilizing
Green screen and chroma key tools
Supports all sorts of languages
Add photos to your videos with ease
Quick professional video editing capabilities
Supports Windows and macOS
Pricing
There are two paid plans for Movavi:
Movavi Video Editor: $39.95/PC
Movavi Video Editor Plus: $59.95
4. iMovie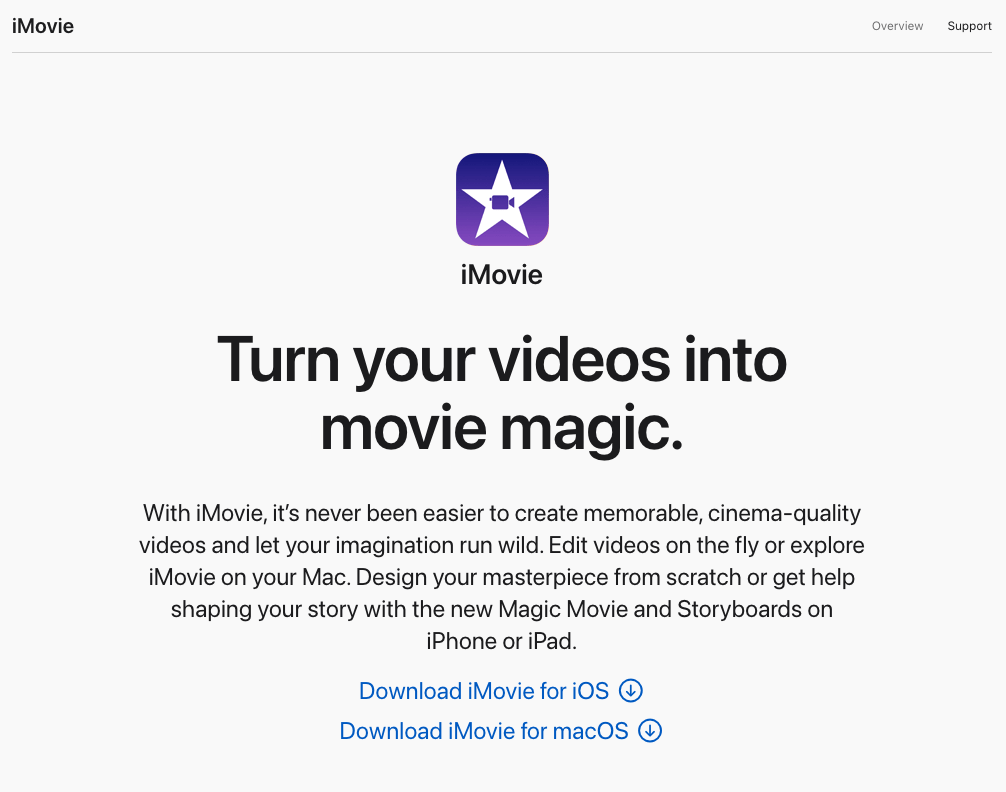 If you are using a Mac, the native movie editor iMovie might be the best choice to deal with green screens. iMovie has a great chroma-keying feature set that makes it easy to use even for someone who has never done green screens before.
The best part is that iMovie is free software. So if you are looking for a decent video editor with great green screen capabilities, iMovie is the way to go.
Besides the green screen technology, iMovie has a whole bunch of other useful features for video editing.
Features
In addition to green screen effects, there are great basic video editing capabilities that come native to iMovie. For instance, you can rotate, crop, and trim the videos. You can even add pre-built animation templates and sounds in your clips.
Here are the key features of iMovie:
Easy to use
4K video support
80 smart soundtracks
Add custom graphics and logos
Easy editing that works across all Apple devices
Great audio and video transitions
13 high-fidelity filters
Pricing
iMovie is completely free!
This tool is available for all the Mac and iOS devices.
5. Wondershare Filmora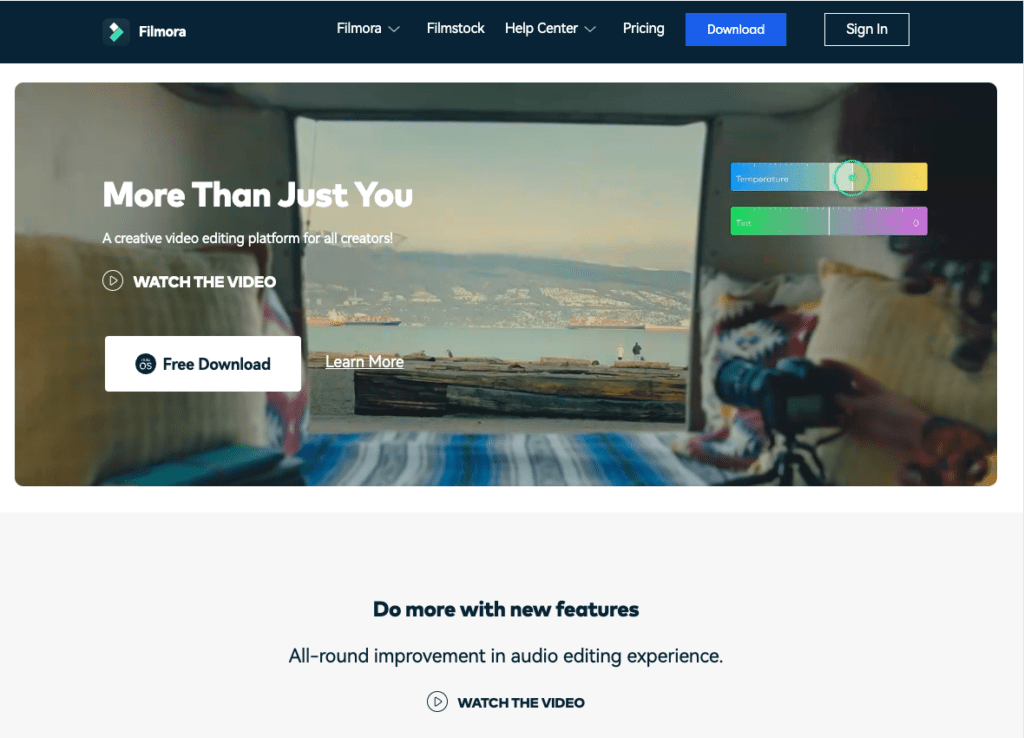 Wondershare Filmora is an intuitive video editing software that has all the tools and features you need to make videos that stand out and look professional.
This tool is a great choice for both professional and personal use. With the well-rounded green screen capabilities, the tool makes it easy to change the background of a video to something more intriguing.
Filmora is powerful too. Even though it has all the advanced features, it's still relatively easy to use. With Filmora, you can turn your scripts into proficient video material quickly.
Let's take a closer look at some of the key features of Filmora:
Key Features
A big library of video effects.
A great audio library to further enhance your masterpieces.
An intuitive and beginner-friendly interface that is easy to use.
A drag-and-drop editor that makes clip rearranging on a fly a breeze.
Supports importing from PCs, Mac devices, or smartphones.
A green screen editor with chroma-keying capabilities.
Pricing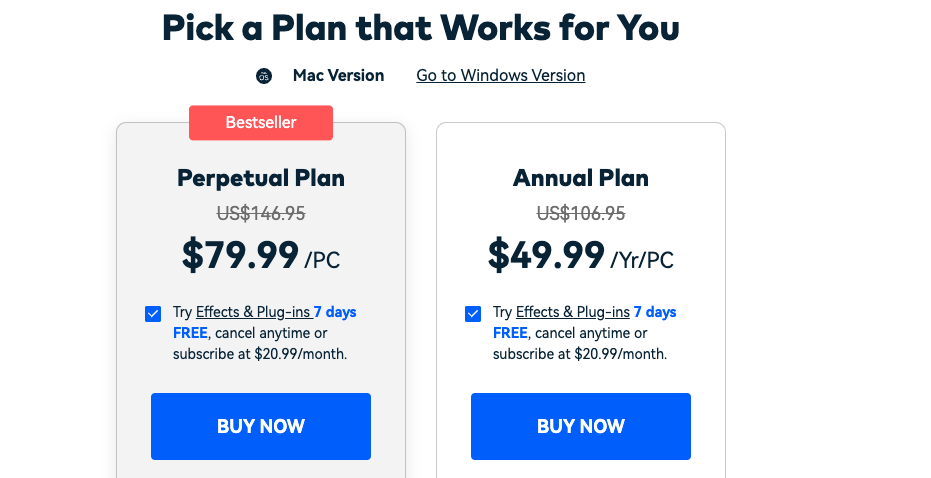 Filmora pricing starts at $44.99/year.
The perpetual plan, which costs $79.90/year, is the complete package for Filmora. This plan lets you use all the great features of Filmora.
The best part is you can test the free 7-day trial before investing money.
6. Lightworks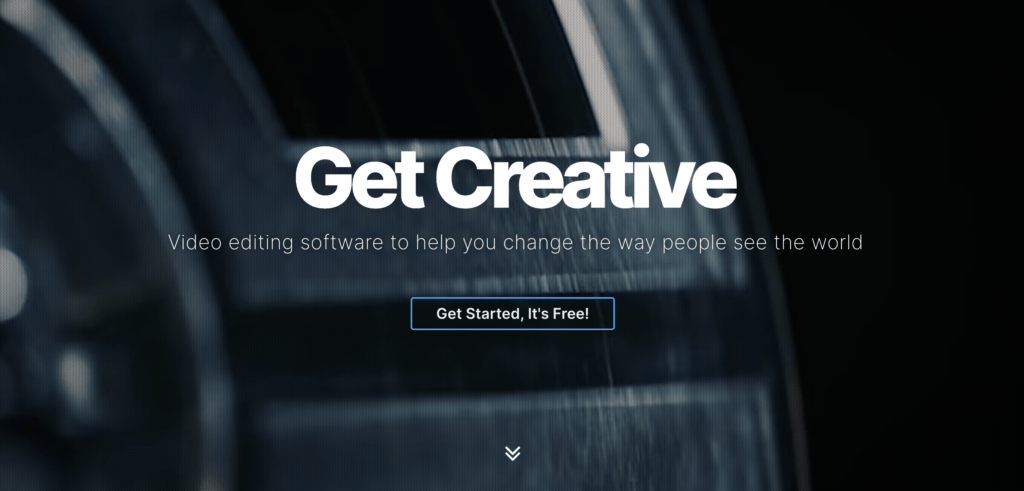 Lightworks is a real-time effect-focused video editing tool that has an awesome built-in green screen and chroma key capabilities.
The basic version of the software is completely free and it supports a bunch of great video editing features. The process of removing and adding a new background to a green or blue screen clip is easy and efficient.
Besides the green screen features, there are great overall features that give you the power to edit videos like professional post producers.
Notice that the tool has a steeper learning curve than some other tools in this list. This means you don't become a pro overnight. Luckily, there are great guides and tutorials that can help you get started more easily.
Lightworks is a real-time editing master tool. You can enhance your video clips in real time with effects such as blurring, masking, and color grading.
7. VSDC Free Video Editor
VSDC is a free video editing tool!
This tool is a great video editing package that operates on systems with lower graphic resources. This tool is definitely one of the best if not the best green screen editing software.
With VDSC, you can swap the green background with the chroma-keying technology with anything you like.
Besides the green screen features, you can use the VDSC video editor to split screen effects, drawing tools, and picture-in-picture manipulations. There are also some pro-tier lighting and color correction tools that might be useful when swapping the background from green to something else.
Unfortunately, there is no version for macOS/Linux. Thus, this is only a great tool if you are a Windows user. Besides, it takes a while to learn how to use the tool.
8. HitFilm Express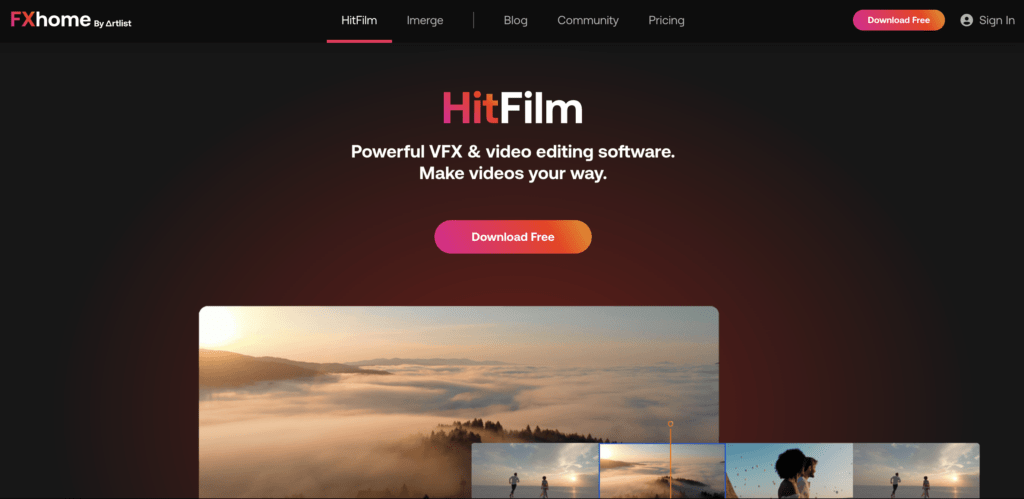 HitFilm Express is a completely free video editing tool with a great green screen and chroma key features.
This tool allows you to create outstanding videos in the post-production phase.
This is one of the best video editing tools that are totally free of charge! If you are a beginner looking to get your hands on a more professional tool, this might be your best bet.
There are as many as 6M+ content creators in the HitFilm Express community. This is such a large and mature community, that you can get assistance with pretty much any task quite easily. So if the tool feels overwhelming or tricky at first, don't worry! The community is on your side.
Of course, there are paid plans for this tool too. But you can accomplish great things with the forever-free version too!
9. Veed.io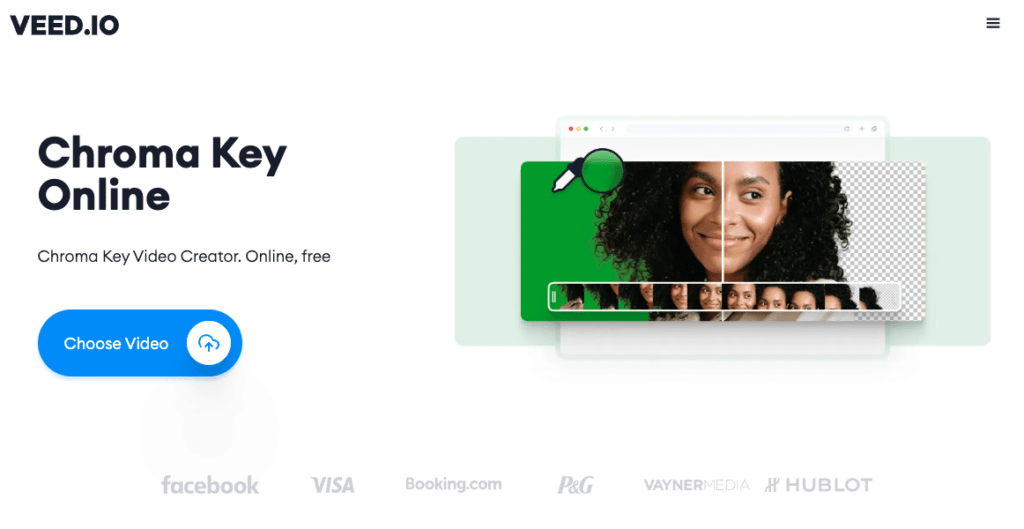 If you are only looking for a tool with green screen/chroma key capabilities, you can use the free veed.io online editor. This online-based green screen chroma key editor makes removing the green background easy.
You can automatically edit out the background of your video in a fast and simple manner:
Upload your video to the veed.io online editor.
Toggle the Chroma Key option.
Click on the green screen. This removes it for you.
Replace the removed green area with a background of your choice.
This tool is the best fit for someone who is only looking to change the background of a video. To do some professional post-processing, you must use a more advanced tool like Adobe Premiere Pro CC or such.
Summary
Today you learned how the best green screen tools work.
Typically, you don't only need a green-screen-only tool. Green screen processing is typically a small part of the whole post-production process of a video. This is why this guide mostly consists of professional video editing tools.
But if you are only looking to chroma key a green-screen video, you should try Veed.io. They have an online choma-keying tool you can use for free. This is a great free tool if you only need to remove a green screen once or twice every so often.
But more often than not, you are looking for a long-term solution for editing videos and green screens. Thus, you should use a professional tool which also means you have to pay for it.
To edit videos like a pro, use a tool like Adobe Premiere Pro CC.
Thanks for reading! Happy green-screening!
Read Also