Selecting the right type of no-code app builder is important when you are looking to accelerate delivery and streamline the development process. This is a comprehensive guide on the best no-code app builders and developer tools.
I ranked and reviewed the best tools in the market.
In this list, you will find no-code solutions to:
Internal apps to promote collaboration and solve business problems (data and project management with reporting and visualizations).
IOS and Android apps with native publishing features.
Game app development tool to build mobile game apps.
Disclaimer: This post contains affiliate links at no cost to you.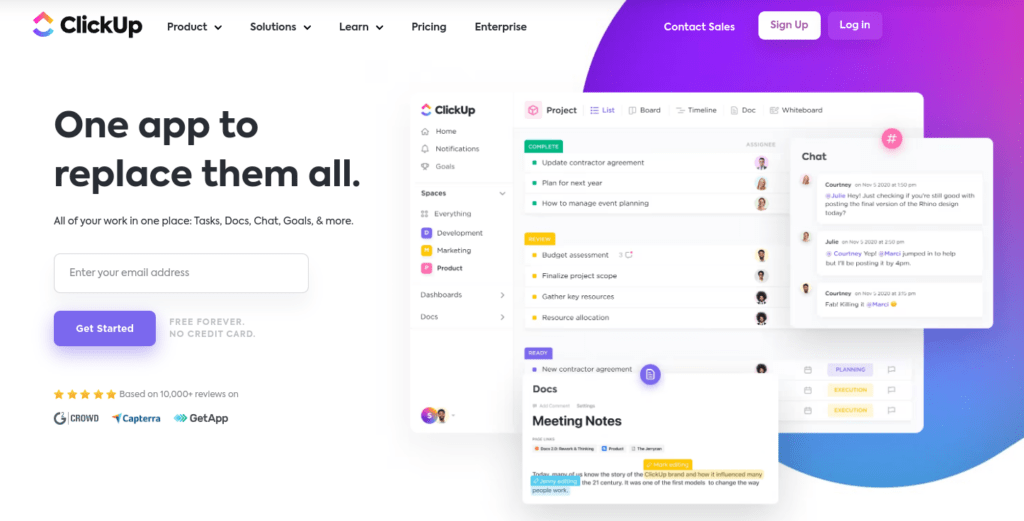 ClickUp is arguably the best all-in-one no-code solution for any business. It's the one app that replaces them all.
ClickUp comes with no-code solutions for project management, documents, timelines, collaborations, remote team management, and much more.
There are 100k+ brands actively using ClickUp. These include Google, Nike, Airbnb, Netflix, and Uber.
ClickUp is a versatile no-code tool that gives you the ability to create friendly dashboards. For example, you can build a project dashboard so that it is easy to follow the progress of the project with a quick look. With such a setup you can for example track tasks in progress, in review, or that are completed.
In addition to its versatility, ClickUp offers a bunch of integrations with other popular tools and platforms.
Key Features
A bunch of templates to be used in your app
Drag and drop features that make it easy and fast to use the software
Contact management features
Team management features, such as goal-tracking and time-tracking capabilities
Import documents from other popular apps
No coding skills required
Pricing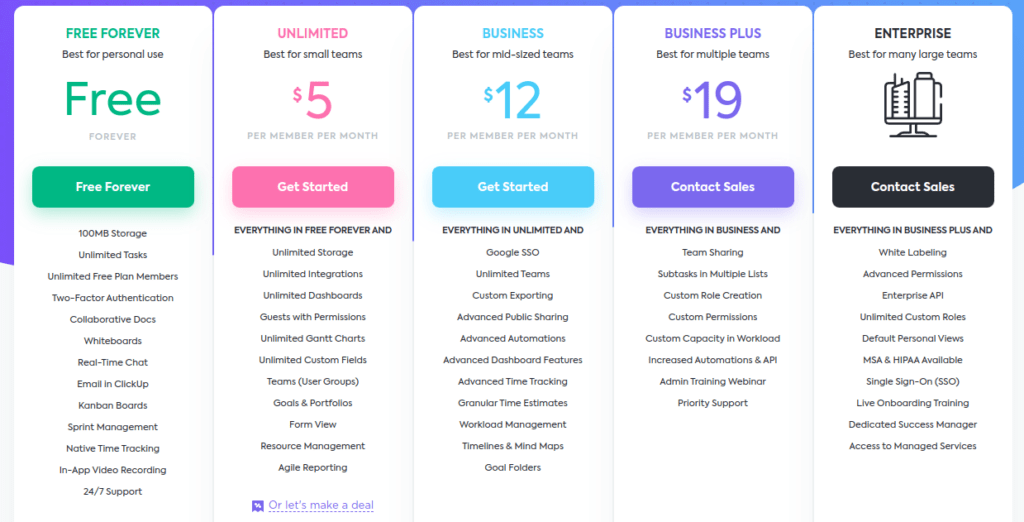 Free: $0
Unlimited: $5 per member per month
Business: $12 per member per month
Business Plus: $19 per member per month
Enterprise: Contact sales
Pros
ClickUp is always up to date and great new features are added all the time.
You can build wonderful team management apps that keep the teams up to date with time and goals.
Cons
Although the team management is made really nice with this tool, there is no overall admin panel from which you could view the team's progress as a whole with one look.
The time tracking features are great but sometimes it is unclear as to how much time one has spent on a specific task.
My Take
ClickUp is a great internal app builder to build apps that promote team management and collaboration. With the time tracking features and versatile reports, you can easily track your team's process on a particular project.
The great part about ClickUp is the free plan that is forever free. Although the free plan is limited, it gives you quite a chance to get familiar with the tool before spending a buck.
If you are looking to build mobile apps or games, this is not the tool for you. ClickUp is an internal application builder that solves team management and business problems.
2. Retool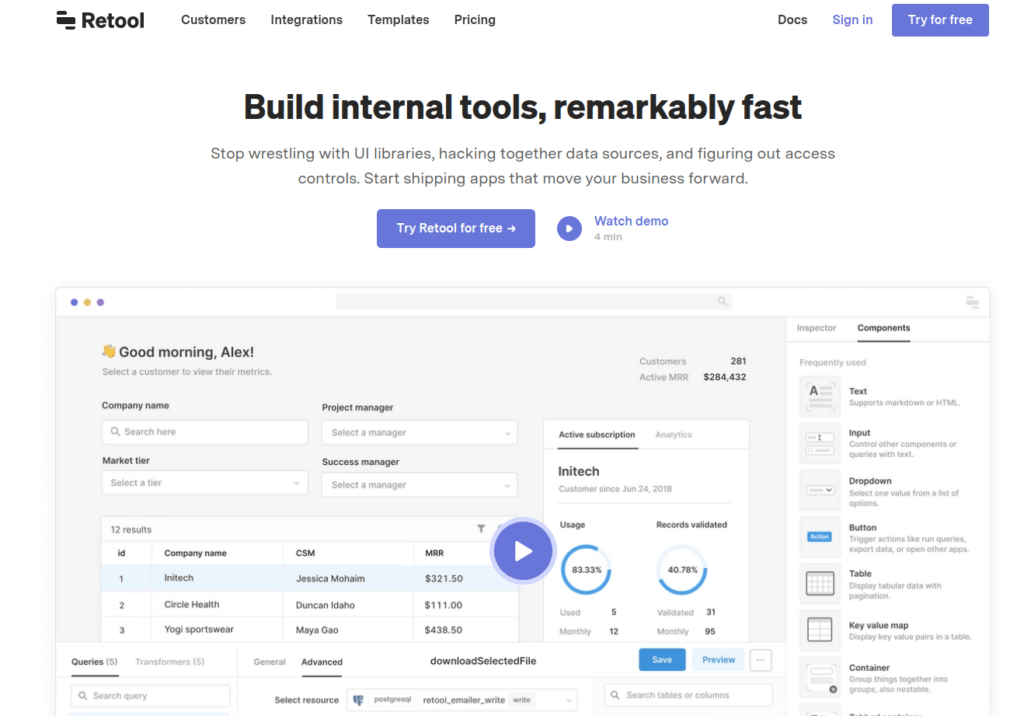 Retool is the go-to software for building internal tools for businesses.
This tool has a bunch of versatile building blocks such as tables, charts, forms, maps, and much more.
What makes Retool stand out is the connectivity with external data sources. This allows for creating complex tools in no time.
This tool can be used as a no-code tool. However, it behaves more like a low-code solution. This is because the developer must write API requests by hand. Although this is not hard to do, it takes a while to practice. Luckily, there is a whole bunch of great tutorials on how to do this.
I've been part of a customer project where we built an internal app for our customers on a budget. They were happy with the result and the small number of hours it took us to build the tool.
With all the forms and visualizations built into Retool, the apps are easy to use.
By the way, if you are a developer looking for a low-code solution, Retool is a good choice. There is an option to write custom JavaScript code for almost any component. This makes the tool even more extensible as you can customize everything.
Retool takes security seriously. In the enterprise plan, you have great SAML, SSO, and 2FA capabilities to protect the app from malicious users.
Retool has nice and active customer support too.
Key Features
A library of building blocks and templates
Build apps on top of databases or APIs
Custom JavaScript support for more technically oriented users
Security measures, such as SAML and 2FA
Pricing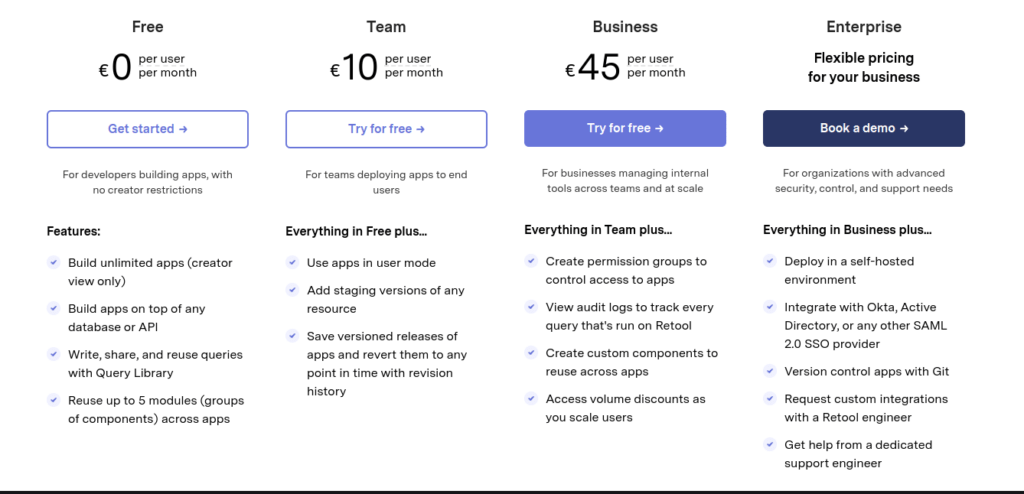 There are four pricing models in Retool:
Free: $0/month
Team: $10 per user per month
Business: $45 per user per month
Enterprise: Contact sales for more information.
Pros
There is a free version you can try before spending a dime on the tool.

Great customer support that is willing to help with problems

.
The tool is overall easy to use and supports beginner learners quite well.
A lot of great built-in features are used in everyday apps and tools.
Cons
Some features are low-code, which means you need to know how to code to effectively work with them.
Role management has some limitations.
The pricing model is a bit complicated.
My Take
Retool is a no-code/low-code solution for businesses and individuals looking to create stellar internal apps and tools.
Due to the partially low-code nature, Retool is not the best choice for someone who has zero coding background. However, you can still work with the tool to some extent.
I'd say Retool is the best choice for developers looking to streamline the development process. But it is still a good choice as a complete no-code solution as well.
Thanks to the free version, you can give it a shot without making an investment.
3. Bubble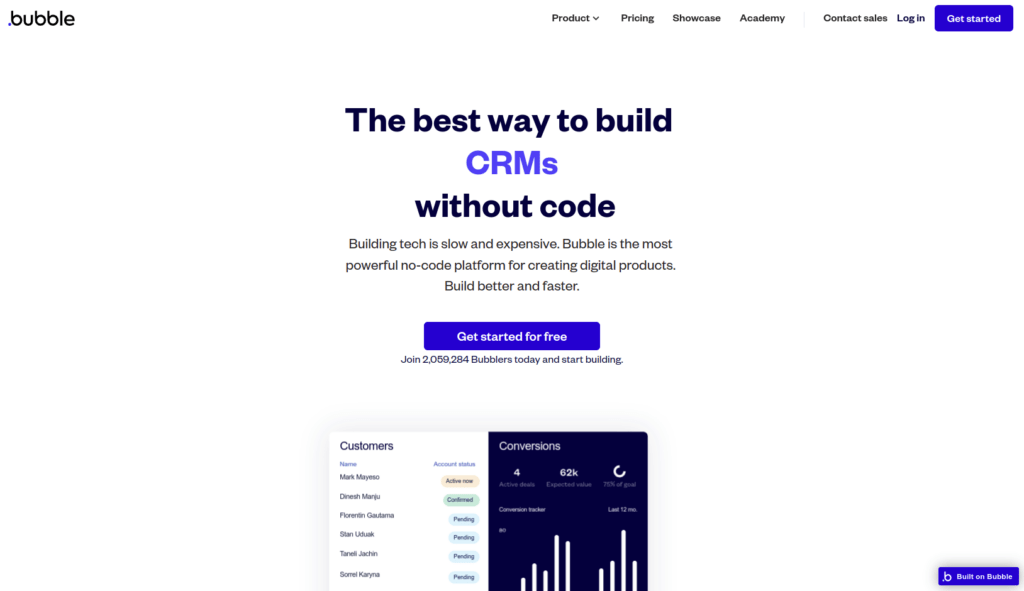 Bubble is a zero-code tool that lets you build all sorts of apps without writing a single line of code.
Bubble allows you to create a prototype for testing your ideas before turning them into reality. This tool makes it really easy to share your idea with your customers. You don't even need a webserver because Bubble hosts the app for you.
You can test Bubble for free. They have a cool trial where you can edit their own homepage!
Bubble is among the best no-code solutions to date. It is a strong company that has raised $100M+ to make building apps easier for all.
Key Features
Customizable UI/UX
Supports integrations with other popular apps
drag-and-drop design features
Dynamic content creation
A big library of pre-built templates and assets to tune your app with
Serverless hosting
Version control and backup capabilities
Advanced security features (SSL, 2FA)
Pricing

Free: $0
Personal: $25/month
Professional: $115/month
Production: $475/month
Pros
Easy and intuitive to use.
Build apps nicely with an easy-to-use drag-and-drop functionality.
This tool comes with great AWS database hosting.
Bubble apps are easy to scale up as the app grows.
Cons
Similar to other no-code tools, Bubble has some customization limitations.

Apps are hosted on a shared server

.
My Take
As a strong no-code app builder tool, Bubble is a wonderful choice for businesses looking to build apps at scale. You can create both internal apps as well as apps for your customers with ease.
With a no-code solution like Bubble, you are able to cut down the time it takes to create and deliver the apps.
But remember, with no-code solutions, extensibility, and customizability always comes at the expense of the easiness of the tool. You can build basic apps, such as reporting, progress tracking, online stores, and such with relative ease. But if you have to do anything complicated, chances are a no-code environment isn't a good fit.
This is not only a Bubble-related thing. Instead, it applies to all the tools out there. You can find more info at the end of the article in the FAQ section.
4. Airtable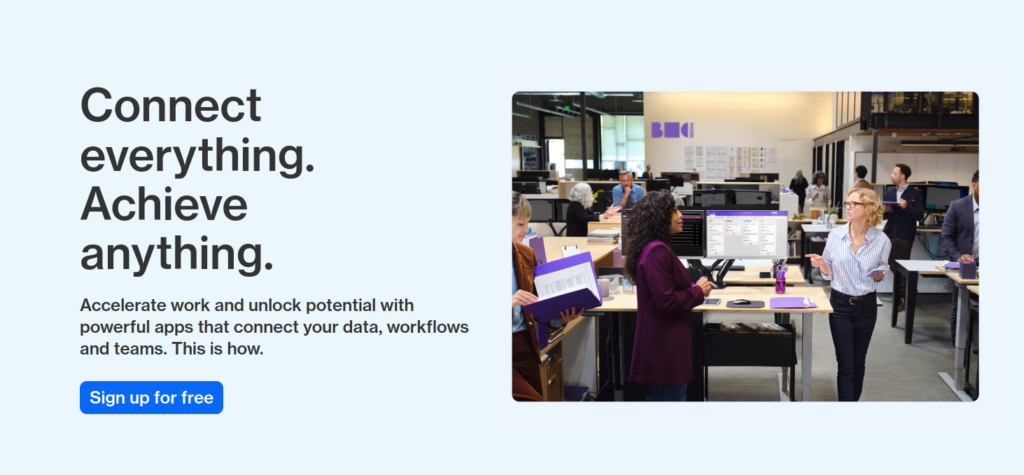 AirTable is a no-code data management app builder.
With this tool, you can create intuitive and easy-to-use spreadsheets and databases. You can for example the data management spreadsheets more lively by adding checkboxes, links, barcodes, and attachments to the.
This tool makes it easy for both individual users and bigger teams to streamline the project workflow. This is possible by using the grouping, filtering, and sorting features. You can even create some highly engaging visuals to further simplify data and projects.
Airtable has over 50 built-in apps you can connect to your projects. This makes it easy for you to avoid manual and mundane tasks.
As the icing on the cake, Airtable allows you to automate some tasks and tailor notifications for the team. This helps you or your team focus on the more important stuff!
Key Features
Great data and content management features
A bunch of integrations with other popular apps
Real-time editing and commenting
Airtable is both desktop and mobile-friendly
Project and content calendars
Built-in API for accessing the content of your app
Pricing

Free: $0
Plus: $10/month
Pro: $20/month
Enterprise: Contact sales
Pros
Airtable is a great tool for teams looking to promote collaboration.
The project management toolkit really stands out.
Cons
No customization. This makes projects look the same. Although with internal tools it probably doesn't matter
My Take
Airtable is great for businesses for creating no-code internal tools and reports. You can easily create nice data visualizations and databases for your internal data.
Airtable is also a great tool for data and team management. Whether you are an individual user or a team, it is easy to create, sort, and filter tasks to track their process and other info.
Airtable apps and reports work for both mobile and desktop devices. No matter where you work, the apps built with this tool will streamline your workflow.
Once again, this is software for internal tools for businesses. If you are looking to build mobile apps for iOS and Android app marketplaces, read on!
5. Adalo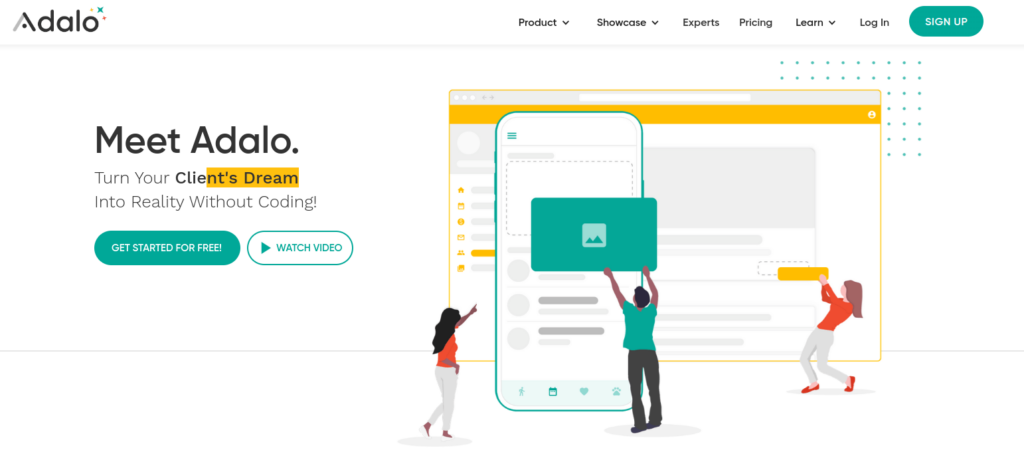 Adalo is a no-code app builder that is geared toward front-end development.
With Adelo, you can create mobile apps as well as web apps.
The tool is intuitive and easy to use. The app builder has drag-and-drop features with which you can easily add features and UI components to your apps.
To perform backend operations, you can use the Adalo Actions feature. The Actions feature allows you to represent the on-page logic that then triggers the backend events.
Adalo has a built-in spreadsheet-like database. This is the backend of your application. You can insert and retrieve data, such as products of an online store, using the database. To be precise, the Adalo backend doesn't allow for the traditional backend logic. However, it integrates with other tools that support true backend functionality.
Sounds a bit technical? Don't worry, you don't need to understand any code or app design whatsoever.
Key Features
Unlimited number of premade apps
Publish to Adalo domain and custom domain for paid plans
Geolocation features
Integrations
Custom templates
Pre-made templates
Pricing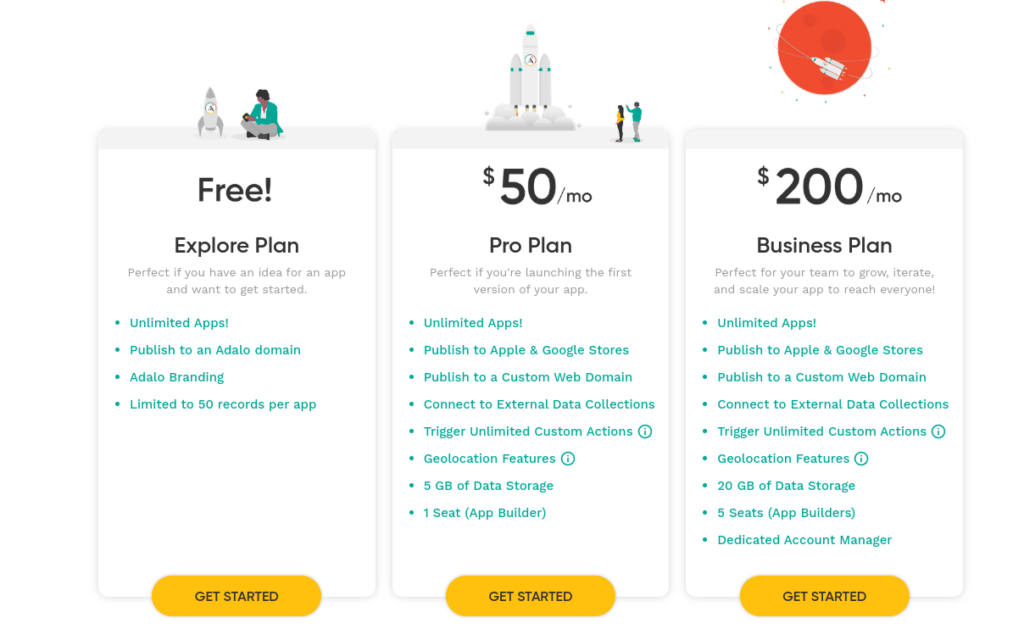 Explore Plan: $0
Pro Plan: $50/month
Business Plan: $200/month
Pros
With Adalo, you can easily create custom templates in addition to using the pre-made ones.
No tech background is needed to use the tool.
Adalo is an overall great responsive desktop and web tool that works where you work.
Cons
The features are limited compared to other tools in this list.
Steep learning curve and is sometimes uneasy to use.
6. QuickBase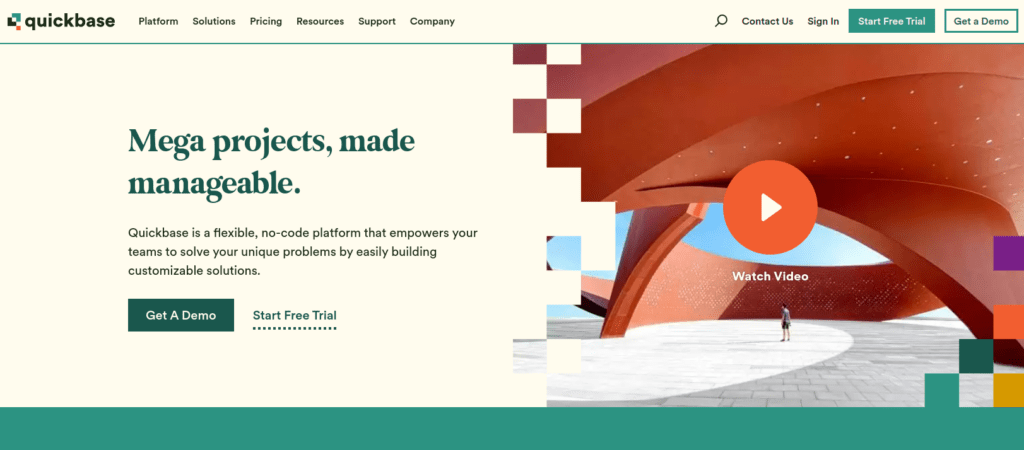 QuickBase is a no-code app builder.
This tool gives power to even the less technically oriented users to develop web apps at scale. QuickBase is a flexible tool that connects people, data, and ideas.
If you are looking to build complex systems at scale, you should try QuickBase.
In QuickBase, there is a bunch of applications you can use and integrate with your project. This is what makes working with the tool easy and developing apps a breeze.
Even if you are someone with no technical background, you can create projects at scale.
In QuickBase, you can use a no-code or low-code solution to convert ideas into real applications.
Key Features
Low-code capabilities that allow you to further customize the features and the app overall
Integration pipeline
Enterprise-tier security features
Dynamic forms
A bunch of great templates
Pricing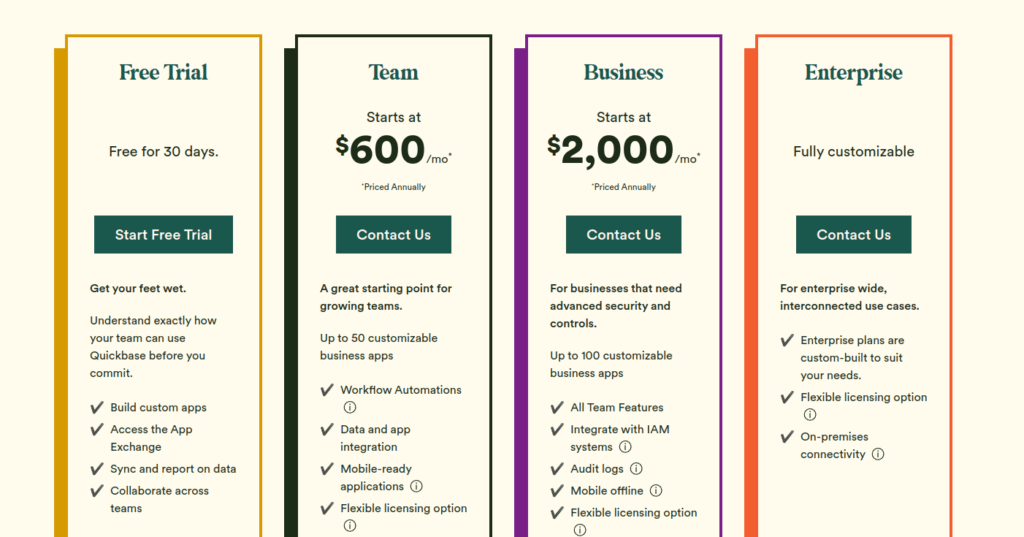 Free Trial: $0 for 30 days
Team: $600/month
Business: $2,000/month
Enterprise: Contact sales
Pros
This tool makes it really easy to create professional apps quickly
The UI is easy to understand
There is a bunch of pre-built apps at your disposal
A bunch of tutorials and a great documentation
Cons
The UI is a bit outdated
This tool doesn't support building native mobile applications
The price is really high
7. Kintone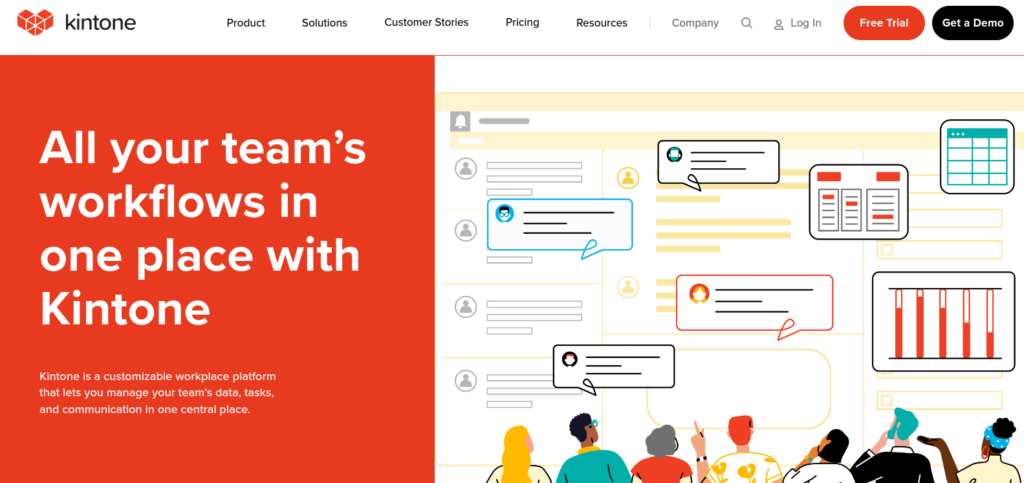 Kintone is a no-code app development tool suitable for teams to collaborate in the app-building process.
This software helps businesses and teams develop powerful tools and databases to streamline their workflows. With Kintone, you can build internal applications to promote collaboration and teamwork.
For instance, you can build a CRM app for the sales team. Create highly engaging and intuitive expense reports for the accounting teams. Or perhaps you want to build a calendar app for the marketers on your team.
Building a centralized dashboard for your company is vital. This way you can easily take a look at the current situation and work in progress.
Instead of having all these reports, metrics, and apps separated, you can use Kintone to build a single dashboard that nails them all!
Kintone is a no-code platform. In other words, you can accomplish the previously mentioned tasks without any technical background.
Basically, using Kintone you have the extensibility of Excel and a powerful database to centralize your spreadsheets. Kintone comes with a bunch of tracking tools that enforce teamwork. For example, you can track team conversations and never run the risk of losing a conversation in the chat abyss.
Key Features
CRM web apps
Tools that improve collaboration among team members
Easy-to-use tools and features
Templates and other pre-built features
Pricing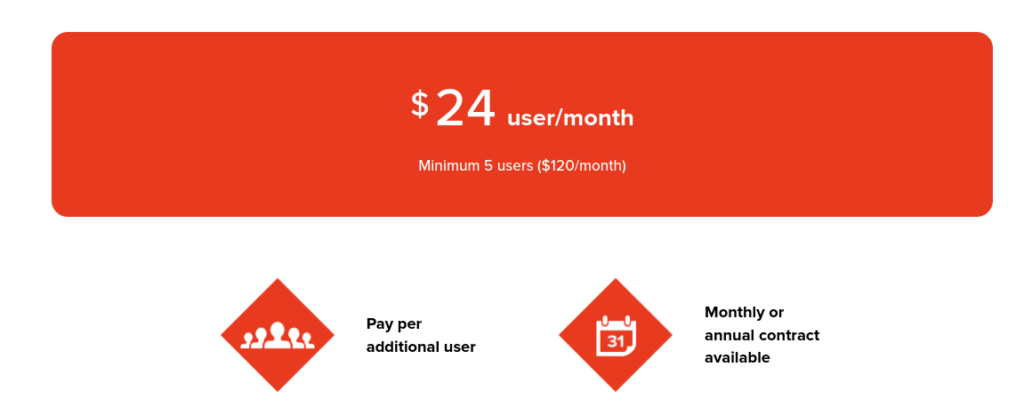 There is a single pay mode available in Kintone:
Pros
You can add an awesome email alert system for your apps. This makes it possible for you to track the app even if you are not using it right now.
Kintone has great support with friendly and patient customer service personnel. No matter what issue you encounter, they'll have your back!
Cons
I think the UI is not the best looking, it could be updated to a more modern one.
Moving from one task to another could be a bit smoother.
8. DraftBit

DraftBit is a no-code mobile app development platform.
DraftBit is an online editor you can access with your web browsers.
When you develop apps with DraftBit, you need no technical skills or coding knowledge. Instead, you can use the pre-built components of DraftBit to develop the software.
DraftBit has two components called Bits and Blocks. The former component type allows for a more precise development while the latter provides you with more high-level and speedy app development.
You can preview your new app on a mobile device any time you like. So DraftBit doesn't just offer an online app builder, but also a way to test the app in a real device. As you might imagine, doing real device testing is in a crucial role when it comes to app development.
Unlike most of the tools listed in this article, DraftBit solely focuses on building mobile apps.
Key Features
Visual no-code app builder
An all-around customization features
Instant screen code that updates whenever you edit the app
Preview the app as you go
Team collaboration features
Custom domains that allow for progressive web apps
Pricing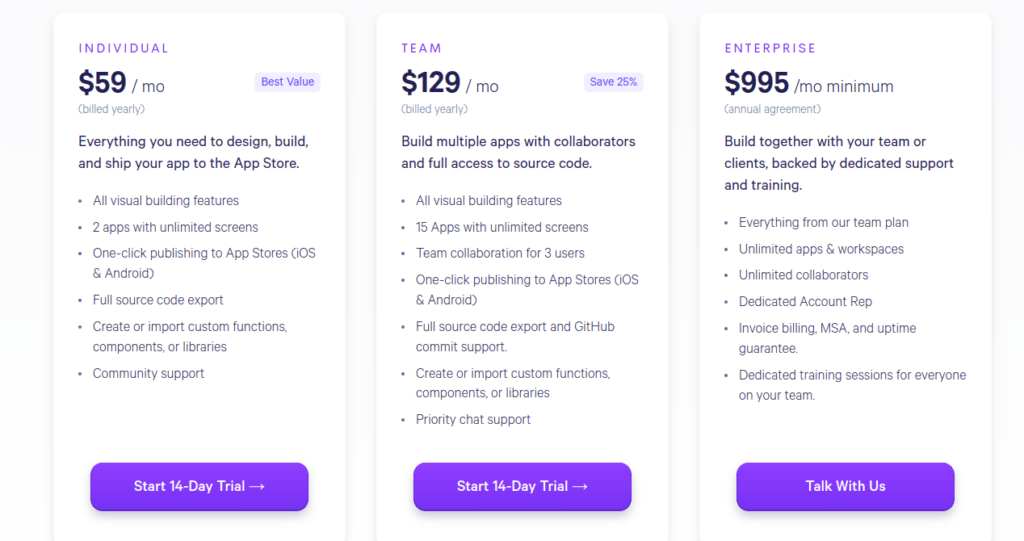 Individual: $59/month
Team: $129/month
Enterprise: $995/month
Pros
Free trial versions allow you to try each plan before spending a dime on the tool.
Great collaboration features make it possible to add contributors to the app creation process.
Great tutorials and guides help you learn how to use the tool.
Cons
The tool is not that easy to use. To get the most out of the tool, you need to understand some technical terminology and concepts.
9. AppSheet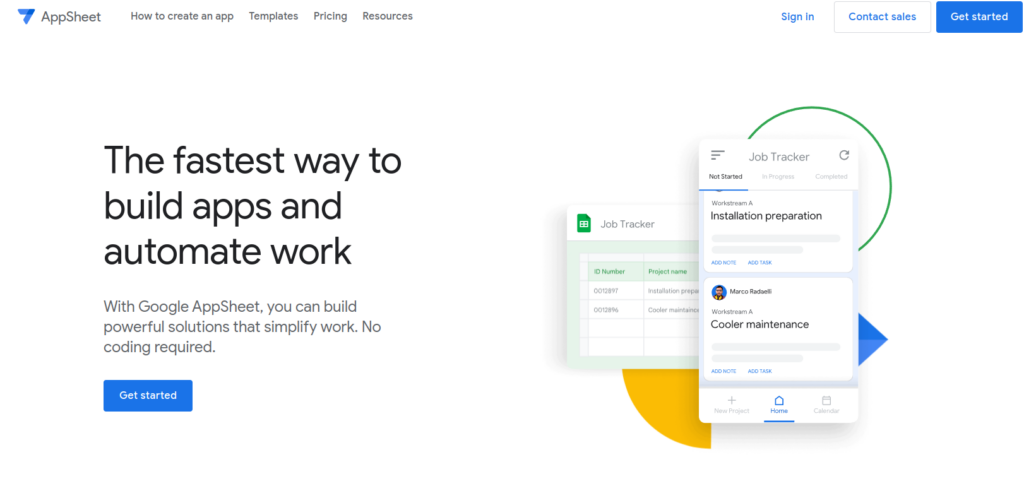 AppSheet is a no-code app builder that allows for easy app creation even for the less technically oriented.
With AppSheet, you can create a full-on application without writing a single line of code.
AppSheet is a popular no-code solution that is used for 3.5M+ apps. There is a ton of great tutorials and guides that help you get started with the tool.
With AppSheet, you can add pre-built features to your app in a breeze. For instance, you can add features like capture location, barcode scanning, or sending emails.
Key Features
Multi-platform support
A whole bunch of great templates to choose from
Data and cloud integration
Great community and a bunch of useful tutorials
Pricing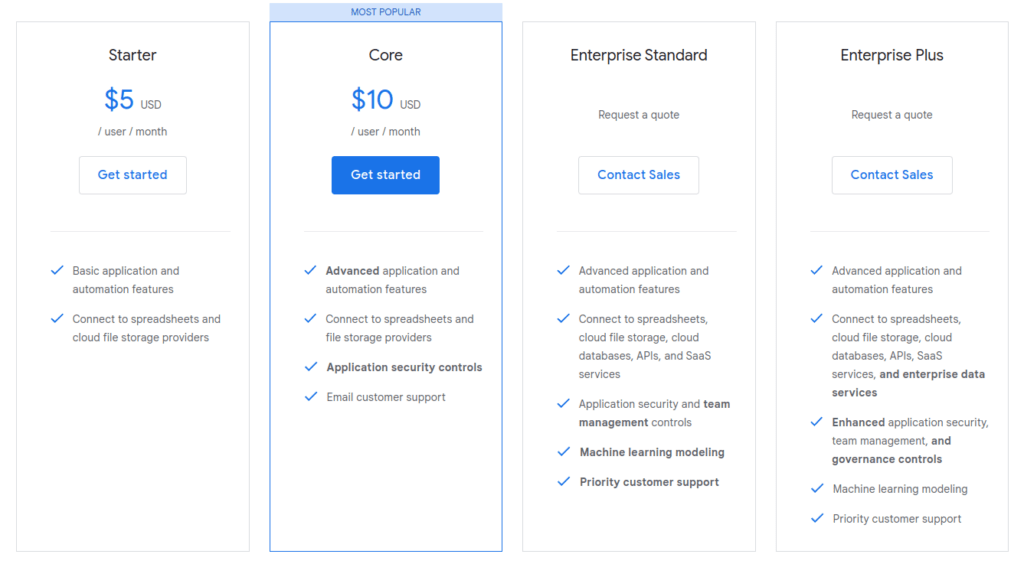 Starter: $5/month
Core: $10/month
Enterprise Standard: Contact sales
Enterprise Plus: Contact sales
Pros
The workflow automation is great.
The UI of the tool is easy to use and the UX is smooth.
The templates and features are great and versatile for building outstanding apps.
Obviously, no coding skills or technical background is needed.
Affordable and free version available.
Cons
The customization of the apps created with AppSheet is somewhat limited.
The free version doesn't include the advanced app editor feature.
10. Ninox

Ninox is a no-code platform for building applications for customers and businesses themselves.
This tool has a great library of pre-built components you can reuse in your application. These components include spreadsheets, charts, and different types of reports. To add one of these tools to your app, all you need is to drag and drop these features into your app editor.
Some of the notable features are online Kanban Boards, Gantt Charts, and Business Cards.
Ninox app builder works for all industries. It is been broadly used by IT, real estate, med-tech, and construction industries.
This tool is not only an online tool. You don't even need an internet connection to make it work.
Key Features
Templates and built-in features
API integrations
Email support
Scripting possibilities for further customization
The enterprise plan has great security features
Pricing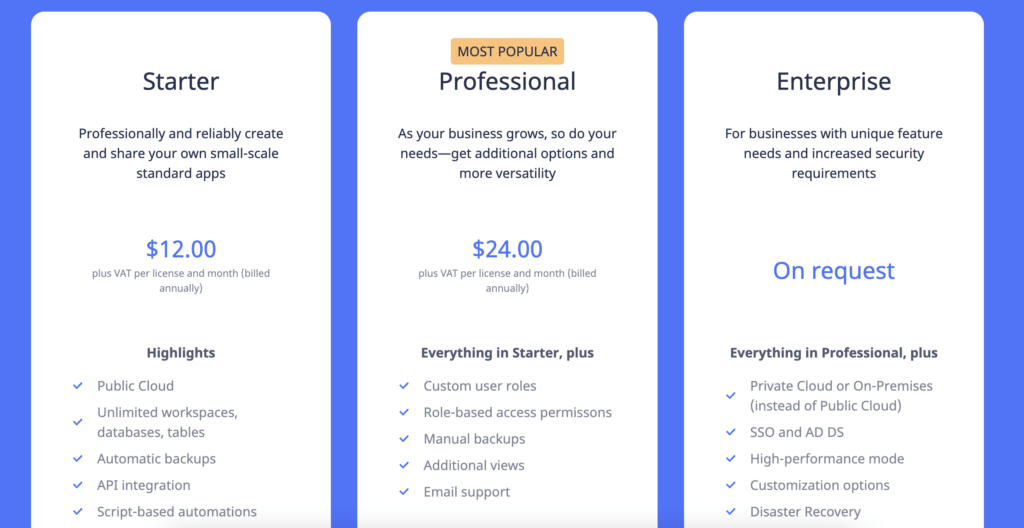 Starter: $12.00/month
Professional: $24.00/month
Enterprise: On request
Pros
Great flexibility is one of the key features of Ninox.
The Ninox database is great for multiple relations and it's also scriptable for more tech-oriented users.
A ton of great tools and features help your app development process.
Cons
This tool has a steep learning curve.
Lacks more complex customization.
11. Quixy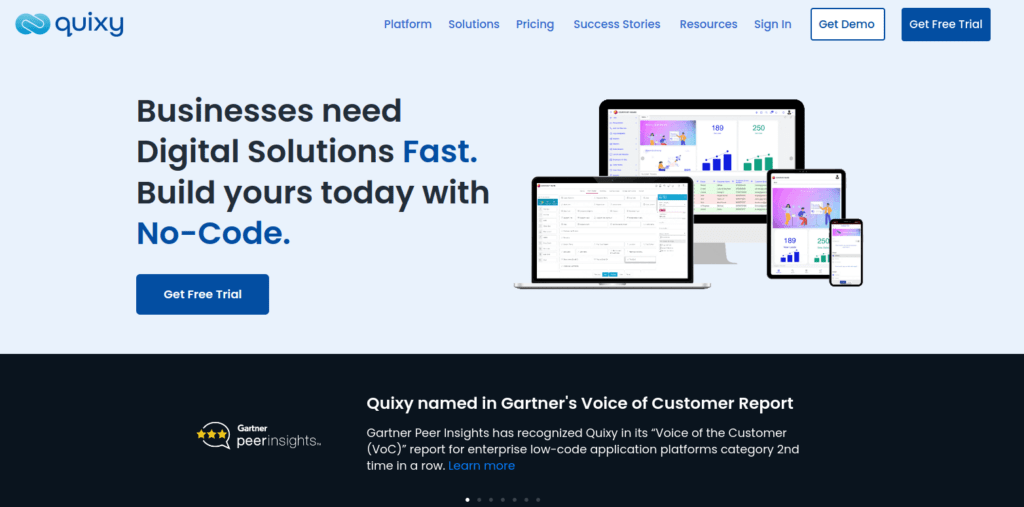 Quixy is an application builder that requires no coding skills or other technical skills involved in software development.
With Quixy, you get to design, build, and publish applications that solve real business problems. You can create solutions like business process management, interactive web apps, or even digital platforms.
All this is possible even without any design or programming skills.
Quixy has a bunch of great features. For example, it has a bunch of pre-built form fields for capturing users' location, audio, video, and more. You can also build apps that support facial recognition and QR code scanning. So even though you are working in a no-code environment, the features are definitely not limited.
Key Features
Easy to get started with
Pre-made apps to choose from
Spreadsheet automation tool
Workflow optimization
Document generation features
Data functions
Data sources
Pricing
Platform: $20/month
Solution: Contact sales
Enterprise: Contact sales
Pros
The tool is more versatile than other internal tool builders. You have features such as data functions or document generators that are not present in your typical no-code app builder.
A no-code solution that requires no technical background.
Cons
The tool has a somewhat steep learning curve and it can be tricky to adopt at first.
Perhaps some improvements to the app library tools and features are needed.
12. Zoho Creator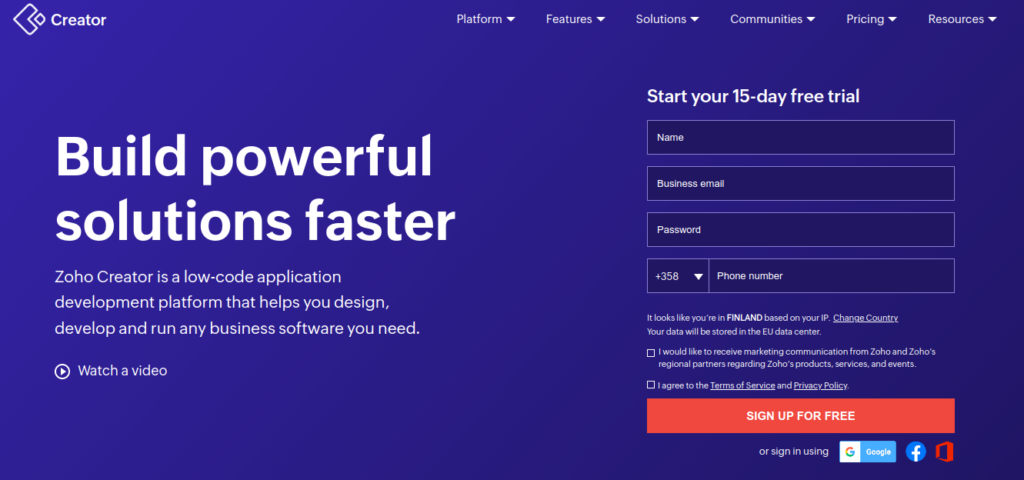 Zoho Creator is an app builder for small to medium size businesses.
This well-rounded app-building platform allows businesses to create applications to solve business problems with ease.
Zoho Creator makes it easy to build reports, forms, and UIs. You don't even need to know what programming is to use this tool. In other words, it is a great choice for technically less-oriented people.
You can further improve your applications by integrating them with other Zoho products. In total, there are 550+ integrations with other popular apps. This means you get to connect your project with the apps you are already using.
If you don't know how to get started, you should watch the great tutorials created by the Zoho team. In addition, there is comprehensive online documentation to get you up and running in a breeze.
Key Features
AI-based application builder
Drag and drop app editor
BI and analytics tools
Integrations and an integration creator
Multi-device app creator
Pricing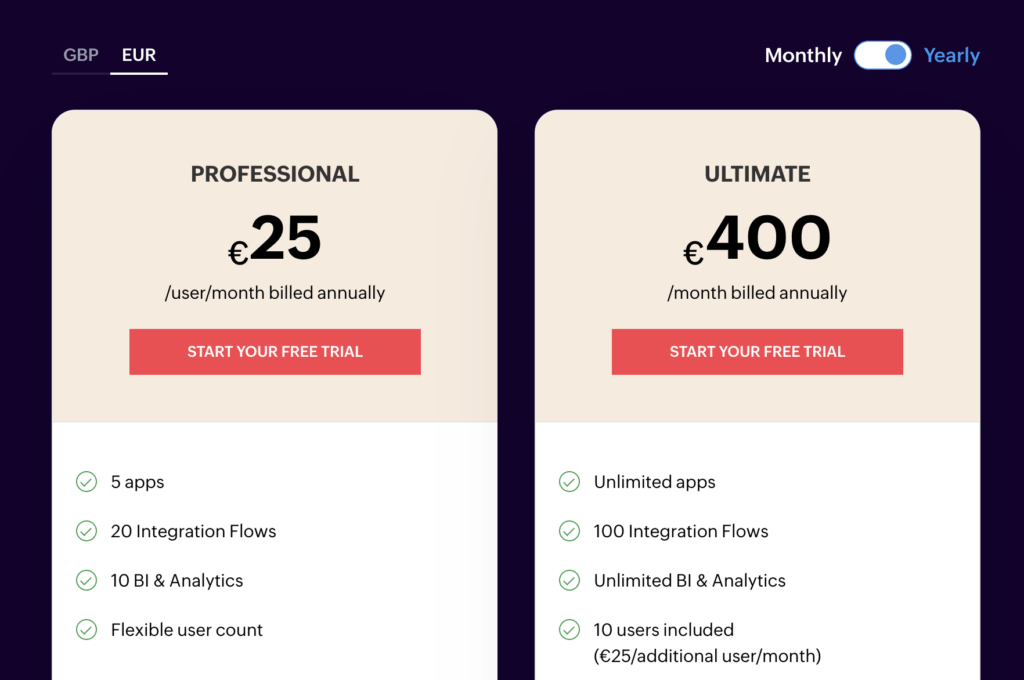 Prices are available in Euros.
Professional: 25€/month
Ultimate: 400€/month
Pros
You get to deploy your apps to an app marketplace (App Store, Google Play).
There are some affordable pricing models with this tool.
It has great built-in templates and assets at your disposal.
The tool is overall easy to learn and adapt.
You can try out the free trial version.
Cons
Sometimes a slow response time
Limitations in the customization
13. Thunkable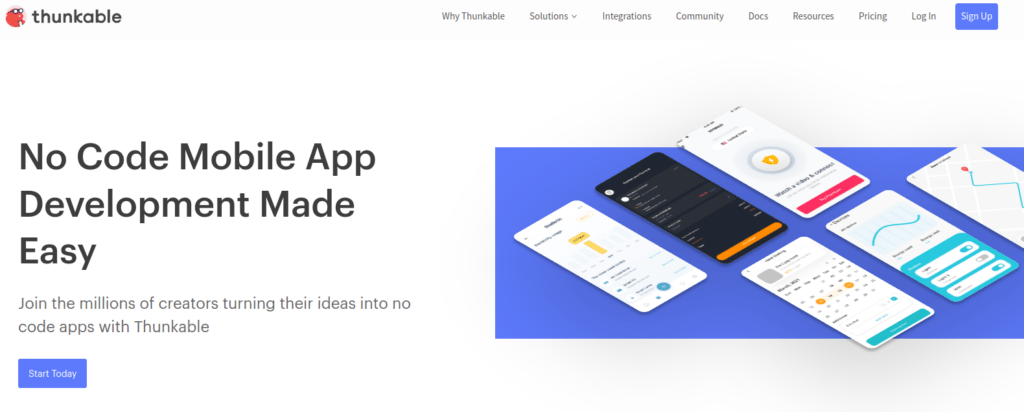 Are you looking to build native iOS or Android apps?
Thunkable is a no-code solution for building mobile apps.
The colorful and intuitive user interface makes it funny use for someone looking to build an app. Thunkable also allows you to create custom designs for the app and include interaction with it.
Similar to other app builders in this list, the Thunkable mobile app builder is made up of a bunch of pre-built components you can use. These include forms, animations, and other common actions present in everyday mobile applications.
Thunkable's app editor works by dragging and dropping features to your apps.
One of the great features of Thunkable is the advanced logic module. This module lets you introduce complex decision-making structures and logic into your apps. For example, you can decide what your app should do when the user inputs a certain value or performs a specific action.
Key Features
Build native apps for multiple devices
Drag and drop editor that is easy to use
Integrations and extensibility
Advanced modules for introducing logic to your app
Pricing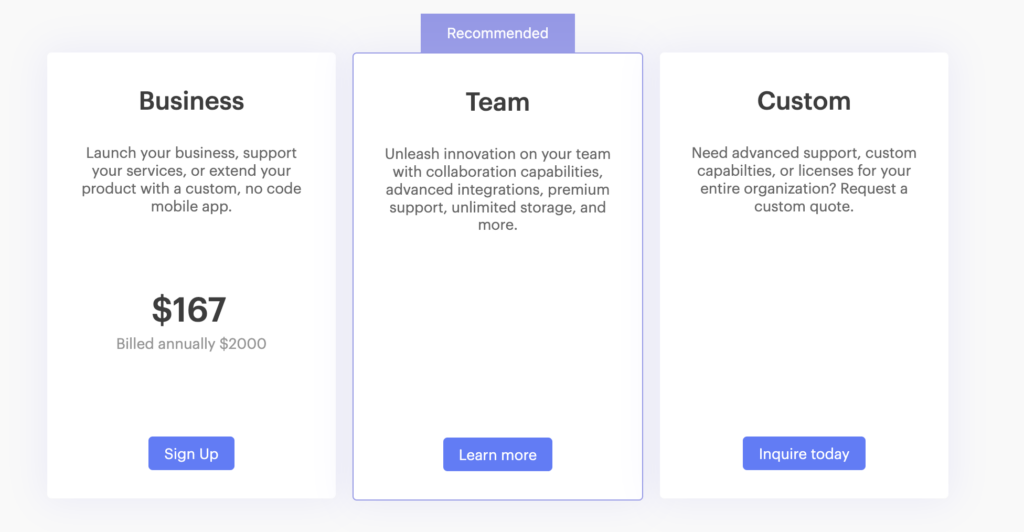 Business: $167/month
Team: Contact sales
Custom: Contact sales
Pros
Native app support is great.
It is easy to learn how to use the Thunkable platform as a beginner.
There is great and responsive support available for you at any time.
The overall experience of developing no-code apps with Thunkable is great thanks to the playful UI and easy-to-use interface.
Cons
There are some limitations in the customizability.
The mathematical functionality is narrow.
14. MobiLoud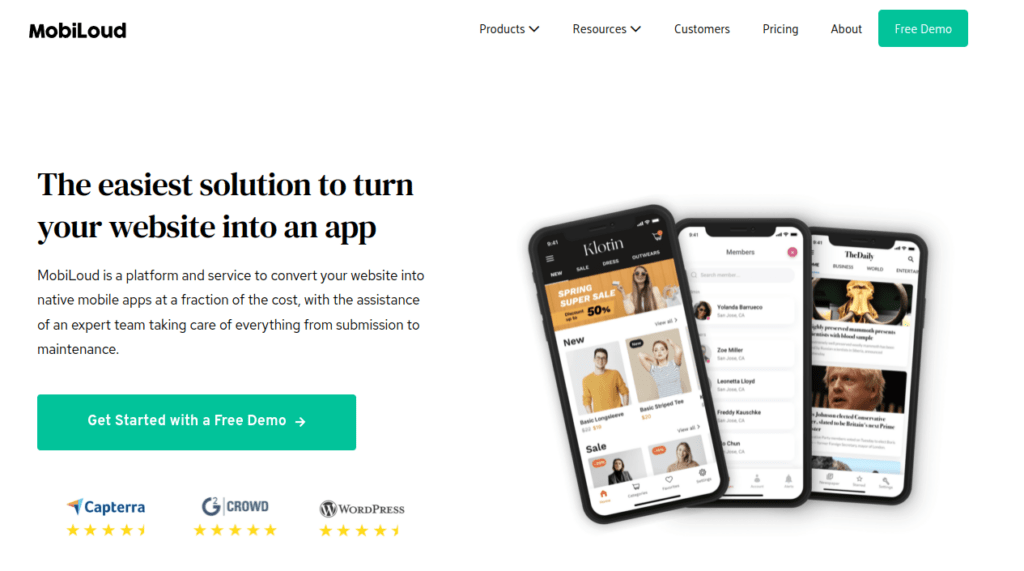 Do you already have a website?
MobiLoud is your go-to tool for converting that site into a fully functional mobile app at scale.
With MobiLoud, you need to have no technical background or coding knowledge to turn a site into an app.
The app you will end up having is going to perform exactly like your website. Your design, theme, plugins, and other crucial features are going to be the same in the mobile app.
Of course, you have the tools to make some app-only customizations and features as well. These include components like tab menus and navigations. Also, you can implement push notifications to the app as well.
But why MobiLoud is such a powerful tool?
A web app that works on a desktop is much different than a mobile app. Due to the vast difference in screen sizes, your web app simply cannot look the same on mobile. This means you need to build the user experience and the design almost from the scratch. This means a lot of thinking and coding.
If you are doing this in a hurry or on a budget, you can end up with a bunch of inconsistencies across the two versions. In addition, you have two codebases to manage.
This is where a tool like MobiLoud helps. Converting the webpage into a full-on mobile app happens in no time. You can also submit the app to Google Play or App Store.
Key Features
Build native apps for iOS and Android
Multi-device support
In-app submission to app marketplaces
Push notifications
Google Analytics integration
Firebase database integration
Pricing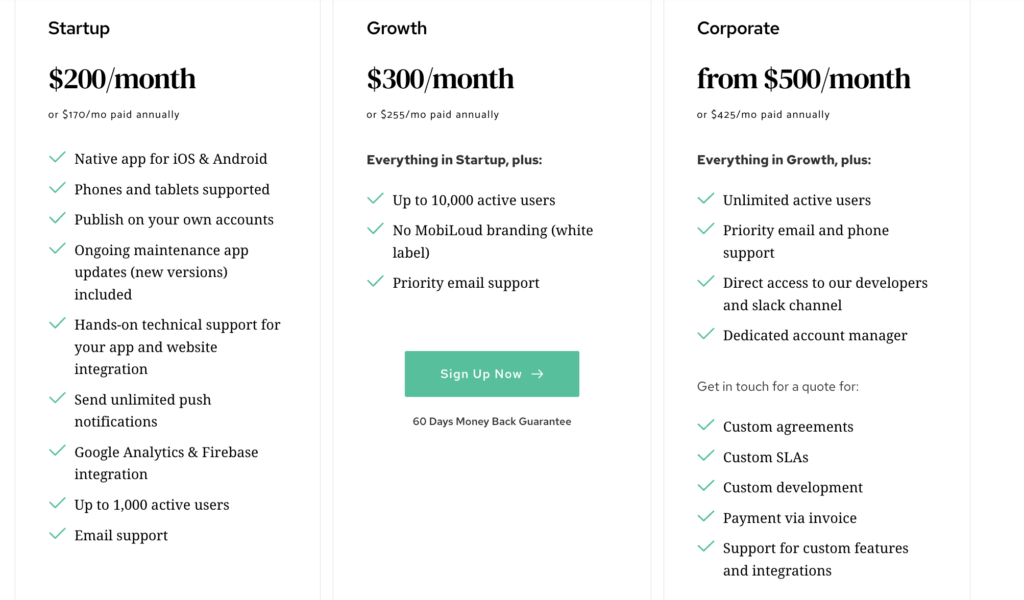 Startup: $200/month
Growth: $300/month
Corporate: $500/month
Pros
Even though Apple and Google make quite frequent updates to their products, Mobiloud is great for keeping up with them.
With Mobiloud, you can easily create outstanding apps that your customers love.
You can integrate your apps with a WordPress site to combine a website and a mobile app.
Cons
Even though the app builder is great, chances are you still get rejected from App Store and Google Play store. Thus you should pay attention to building useful and original apps.
JavaScript support would be great. This would allow for adding interactive content to the web apps.
If you are an individual or a small business owner, the initial cost of the app might be pretty high.
15. Wix App Builder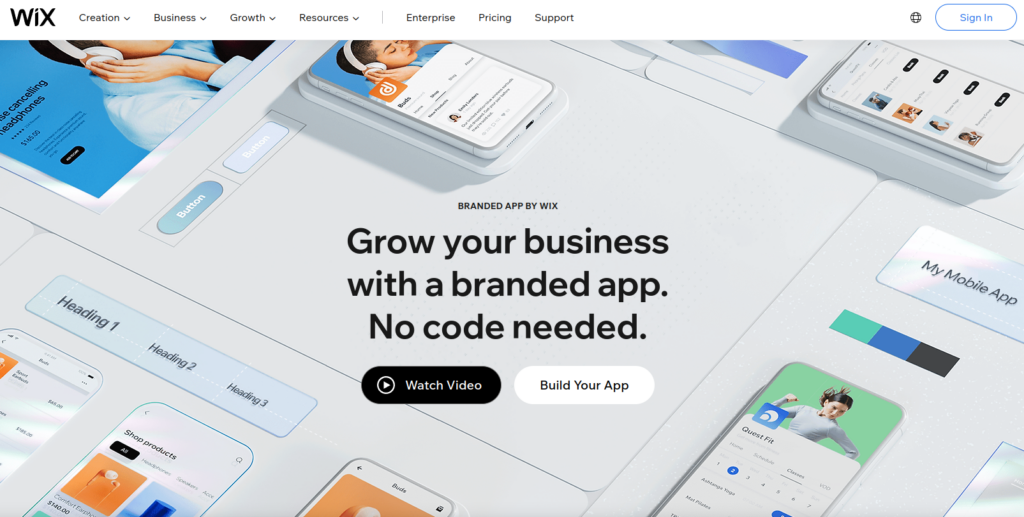 Wix is one of the most popular blogging platforms to date. It lets you create a professional website or portfolio in a matter of minutes. I built a bunch of sites as a beginner using Wix. It literally took 15 minutes to be up and running.
These days, mobile apps are commonly an integral part of a successful online business, such as an online store or booking site. Thus it might not be enough to build a website.
This is where Wix App Builder comes in. This tool is a separate tool from the Wix Website Builder you may have heard of before.
The Wix App Builder allows you to grow your business by developing a full-on mobile app without any knowledge about coding.
Similar to how Wix sites look great, the mobile apps created using the Wix App Builder look professional too!
For example, you can build online stores or booking apps with the tool. Naturally, you have all the necessary app features at your disposal too. You can create signup forms, chats, forums, and much more.
If you have a Wix site and a Wix App, they are synced automatically. This means you can track the app activity as well as the website activity all in the same place.
Key Features
Sync with your Wix website
Easy to use
Professional Outlook
Beginner-friendly
Great tutorials
Pricing
The price of the mobile app built with Wix App Builder is $200.00.
Pros
There is a nice live chat feature that makes communicating easy.
Apps built with Wix have

in-app purchases that are really useful and easy to set up

.
All in all, there are lots of great features and templates ready to be used.
Cons
Building an app is a bit pricey using the Wix App Builder. This is especially true if you just experimenting or a small business with no extra cash for investment.
16. Gamesalad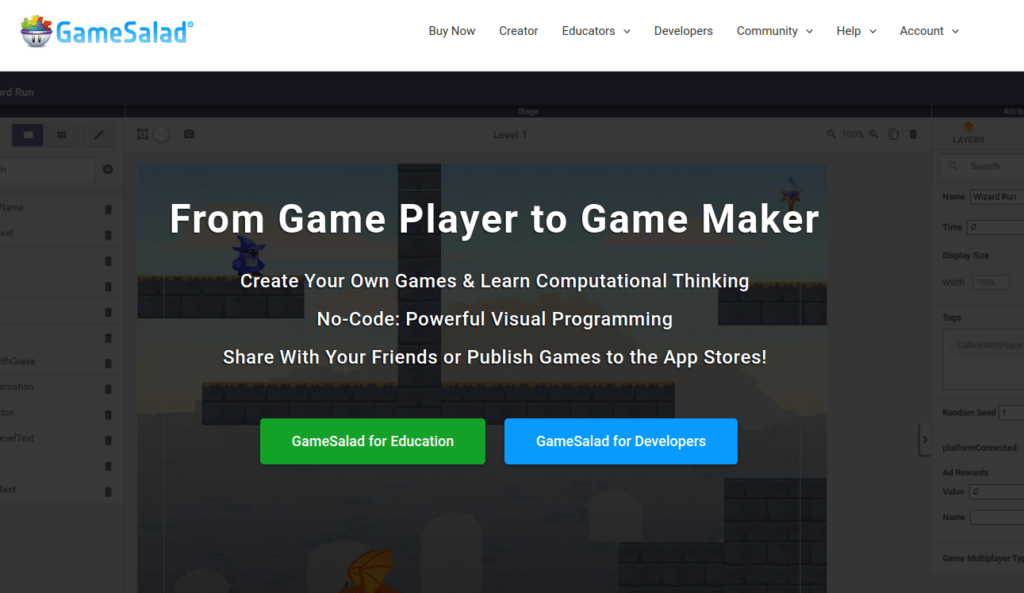 I know there is a bunch of game developers too! This is why I included an awesome game app builder called GameSalad.
With GameSalad, you can build game applications for:
Android Devices
iOS Devices
Web Browsers
With GameSalad, you need to possess no technical skills or game design skills. Instead, you can use GameSalad's no-code tools and components to build a game of your choice.
Furthermore, you have great tools for testing the games on your iOS device before submitting them to the App Store.
Although no-code game app engines are known to be quite limited, with GameSalad you have relatively much room for creativity and unique ideas.
Key Features
Build games for iOS, Android, and Web
HTML5 game app support
Easy preview modes
Native publishing mechanism
Tutorials and curriculum
Great desktop editor
Pricing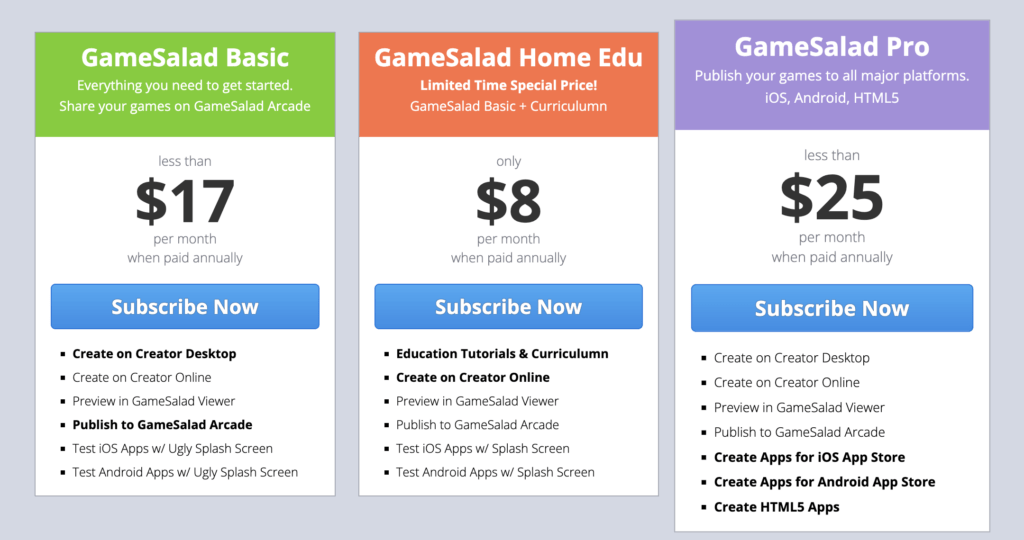 GameSalad Basic: $17/month
GameSalad Home Edu: $8/month
GameSalad Pro: $25/month
Pros
You can always try the software for free before subscribing to a paid plan.
There is a whole bunch of great tutorials on how to use the software.
The tool is relatively easy to use and allows for creating original and unique game apps.
Gamesalad is an overall great solution for non-technical people looking to build games.
Cons
Some limitations in customizations.
The sound effect system would need some improvement.
The software is sometimes buggy and glitchy. Also, it is not updated as frequently as it should.
FAQ
Here is a list of typical questions related to no-code and low-code tools.
No-Code Development: Pros and Cons
Here is a quick look at the most notable pros and cons related to no-code tools.
Pros
Quicker development time
Reduced development costs
Increased productivity
Easy to update or change
Cons
Low customizability
Security issues and a lack of control
What Is a Low-Code Platform?
Low-code tools offer a visual approach to software development.
Similar to no-code tools, low-code tools streamline the development process to accelerate delivery.
Unlike no-code, using low-code tools involves at least some coding skills. This allows you to further customize the pre-built components and features of the tool.
If you have no coding background, using a low-code tool is hard. To unlock the potential of a low-code tool, you need to know how to write code to fully customize the apps you build.
The low-code tools are made for developers to improve their performance. A low-code tool automates the lengthy manual tasks coders have to face.
Wrap Up
That is a whole bunch of no-code tools to digest.
I hope this comprehensive list offered you something useful no matter what projects you are working on.
To recap, this article introduced you to no-code tools for:
Building internal apps to streamline workflows and solve business problems
Creating mobile apps for iOS and Android
Implementing game apps for web, iOS, and Android
Converting a website to a mobile app at scale
And much more.
If you are someone interested in software development but have no time to learn to code, you should consider no-code solutions.
If you are a business owner looking to cut costs, no-code solutions can improve development efficiency and accelerate delivery.
But remember, no-code and low-code solutions have drawbacks.
No-code tools offer rather rigid structures with few options for customizability.
If you build a chat app, online store, or something very basic, you get good results with no-code tools. But if you are looking to build anything less typical with more flexibility, chances are a no-code solution won't get you far!
Thanks for reading. Happy no-coding!
Read Also
Are you interested in programming? Feel free to read my comprehensive guide on What Is Programming.
Looking for more automation? Check out these amazing AI writing tools that automate your content creation process.