Choosing the right type of data migration software is important to ensure safe and complete data integrity. This is a comprehensive list of the best data migration software in the market. I have ranked the best tools for you to choose from in this article.
At the end of the article, you find a thorough list of questions and answers related to data migration. There is also some useful terminology that helps you better understand the data migration process.
Disclaimer: This article contains affiliate links at no cost to you.
About Data Migration Tools
A good data migration tool allows you to transfer data from one PC to another with ease.
Some common reasons to do a data migration are:
Security reasons
Backup purposes
Upgrading operating system
Whether you are a business owner or an individual user, data migration can seem daunting for a beginner. The idea is to move all your files and folders from one place to another. This might seem scary at first. In addition, you might have applications with important or sensitive data. What if all that is lost?
To succeed in data migration, you need to choose the right kind of tools for your needs.
There is a lot of data migration software for specific purposes that work differently. For example, a data migration tool can:
Remove the need to reinstall apps
Shrink your hard drive to the SSD drive
Clone and transfer the whole operating system from one place to another
What features you need depends on the use case. The best way to find out is by checking what the products offer to find one that suits you the best.
Here is a list of the best data migration tools with reviews to help with decision-making.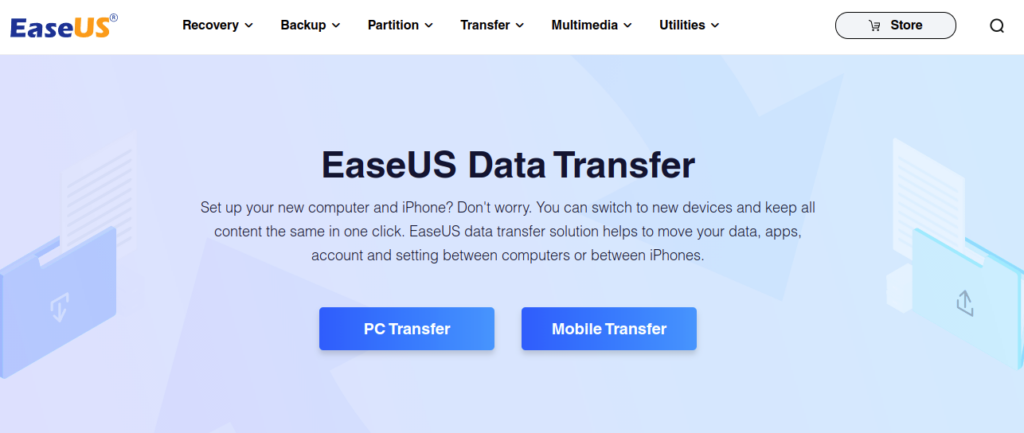 EaseUS Todo PCTrans is a well-rounded migration and backup tool by EaseUS.
This tool comes with a single-click solution for migrating files from one device to another. There is no data loss in between the migrations.
After completing the seamless migration, all your applications, tools, and data are in place. This is handy and you can start using the new device with the exact data of your old device.
There are three ways you can transfer files and data between your devices:
LAN Transfer. Connect the devices on the same local area network (LAN) and migrate through that network.
Local Transfer. Use local disks to transfer the data between the same device.
Image File Transfer. Turn your files into images and auto-export them from the original PC to the target one. (Yes, this sounds funny, but you can convert all your files, programs, and accounts into transferrable images.)
Also, if you have a broken computer, you can recover its data using EaseUS. The Data Rescue-Recover feature allows you to transfer your data from the dead device to a working one.
Pricing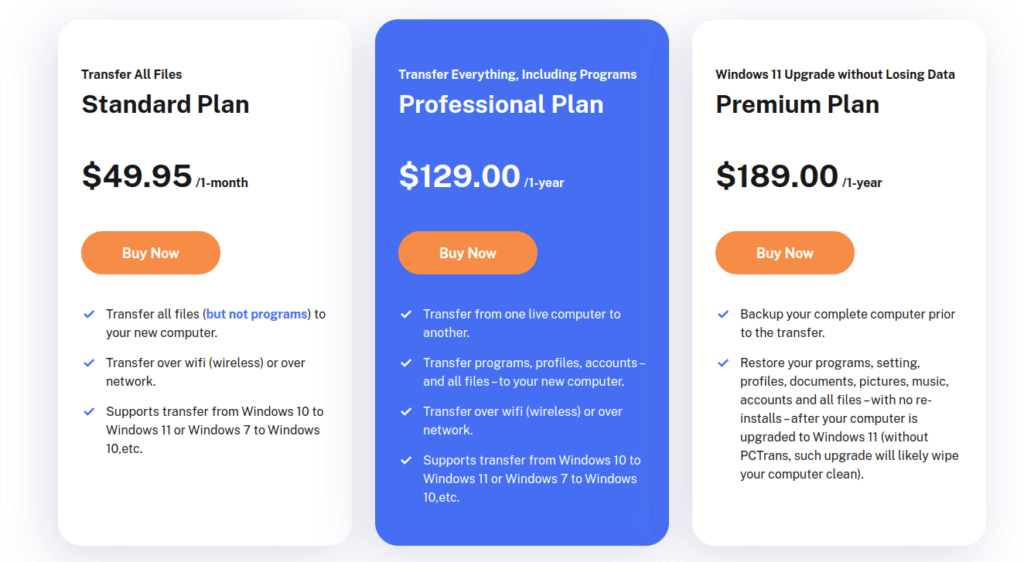 The EaseUS data migration tool has three pricing models. The Standard Plan is $49.95/month. The Professional Plan is for $129.00/year. Last but not least the Premium Plan is for $189.00/year.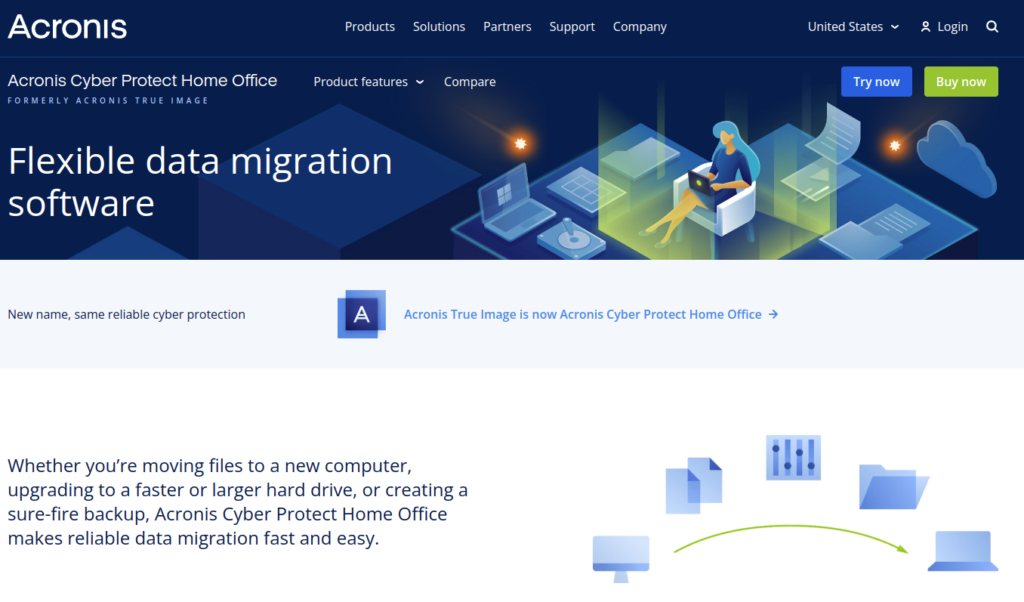 Acronis True Image is a one-of-a-kind data backup tool. It allows for easy data protection, cloning, and migration. With this tool, you have the right tools for backing up all kinds of data and files on your system. You can backup the operating system, boot information, applications, pictures, and more.
Acronis True Image is available for Windows, macOS, iOS, and Android.
This tool securely stores your data in the cloud. This makes the data well protected but gives you easy access to it. With Acron, you get anti-malware features and a full backup tool. Thanks to these great features, you don't need to install or manage additional tools
Acronis makes the data migration and backup seamless and light work.
Here is a list of some of the key features and functionality of Acronis True Image:
HDD to SSD assistance for speeding up your computer
Transfer iOS to Android or the other way around
Replicate your device data into a new disk
Clone disk
End-to-end encrypted data protection
With Acronis True Image, you are protected from common data threats such as disk failure, stolen devices, or cyber-attacks.
One of the great features of Acronis True Image is Active Disk Learning. This feature allows you to replicate your system in its entirety. You can do this even if the device is in use. One of the great benefits of doing this is it lets you avoid stopping and rebooting your system during data migration.
With Acronis, you get a nice restore option for the backup tasks. You can keep up to 20 versions of your system for 6 months. The tool backs up the entire disk image and copy, format, partition, or delete the hard drive image.
As a nice addition, Acronis comes with an Active Protection feature. This tool scans for suspicious activity with your files and data. If you are a crypto miner, there is some great news for you. The Acronis Active Protection protects you from common crypto-mining threats.
Pricing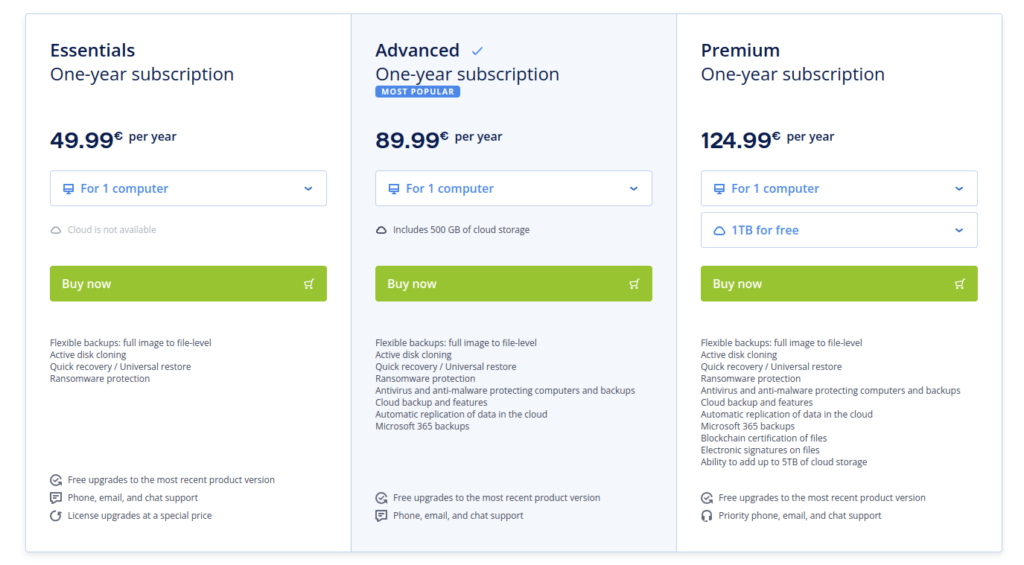 The pricing of Acronis True Image is split into three possible plans for a single computer:
Essentials: $49.99/year
Advanced: $89.99/year
Premium: $124.99/year
To get a plan for more than one device, feel free to go to their website and select the number of devices in the pricing table.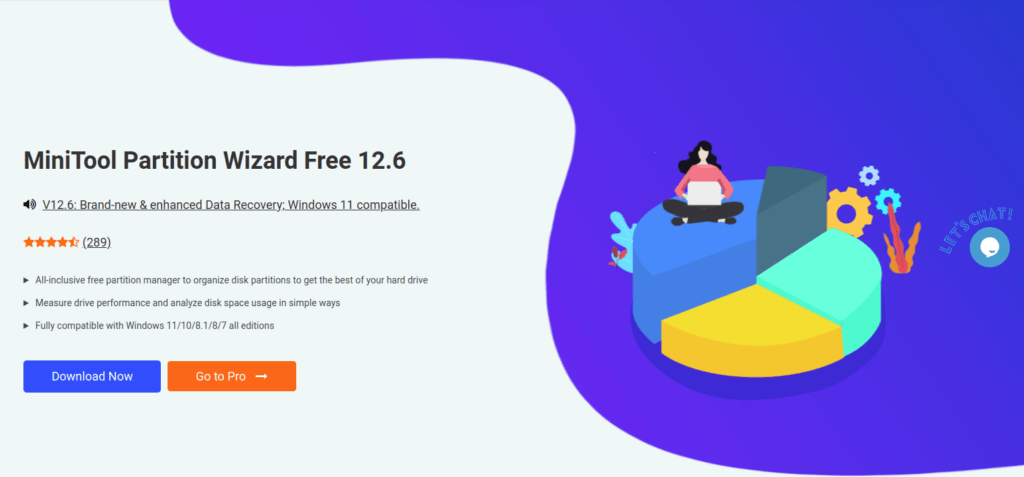 MiniTool Partition Wizard is a well-rounded migration tool for effective data migration and protection.
This tool helps you with disk partitioning. It also migrates your operating system from SSD to HDD and the other way around.
With the disk partitioning features, you get to split your drive into logical groups that make backups and data migration seamless. This also makes it possible to upgrade hard drives without losing other apps and data.
MiniTool supports Windows starting from XP. The compatible file systems are FAT 12/16/32, exFAT, NTFS, and Ext2/3/4.
MiniTool is not only great for disk cloning. The Partition Wizard can do data recovery and diagnosis on the disk too! The software has two built-in recovery features:
Partition Recovery Wizard. This feature is able to recover lost partitions.
Data Recovery. This functionality knows how to recover deleted and lost files from inaccessible folders.
The data migration feature allows you to separately diagnose each part of your disk. For example, you can measure the read or write speed, detect errors, or examine the overall disk usage.
Key Features of MiniTool
Disk cloning
Disk management and partitioning
Data recovery from folders such as Recycle Bin, Desktop, and other folders
Convert between MBR and GPT disks
Dynamic disk to basic disk conversion without data loss
Convert FAT32 and NTFS partitions
Create, delete, resize, or format disks
Pricing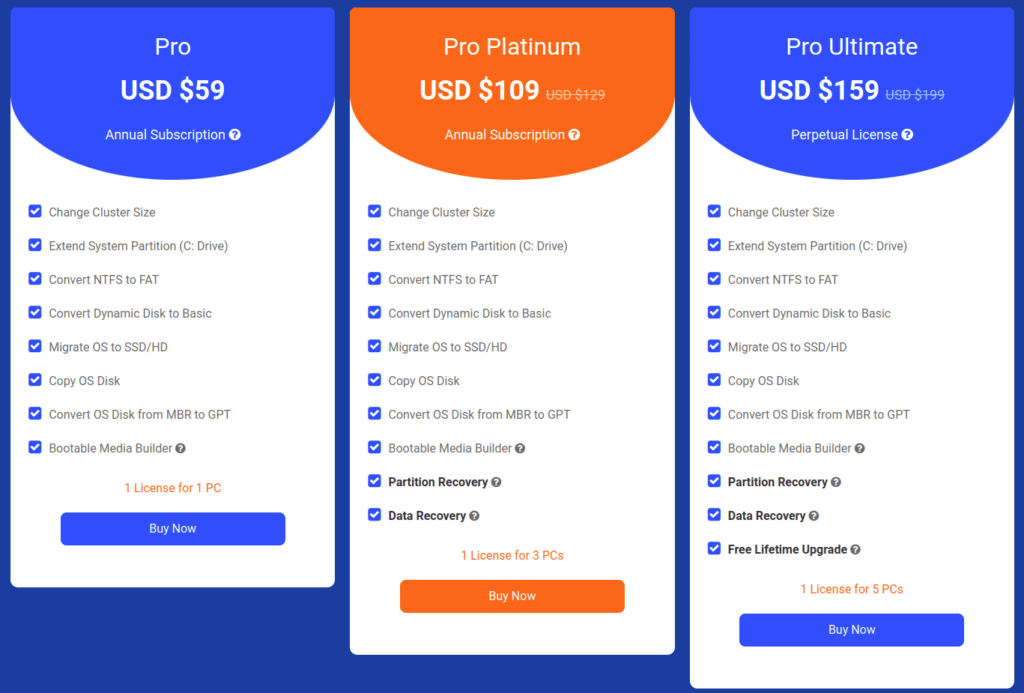 There are three paid plans for MiniTool Partition Wizard:
Pro: $59/month
Pro Platinum: $109/month
Pro Ultimate: $159/month
In addition to the paid plans, there is a free version of the tool. With this feature, you can do some basic partitioning operations, scan the file system, and do some conversions.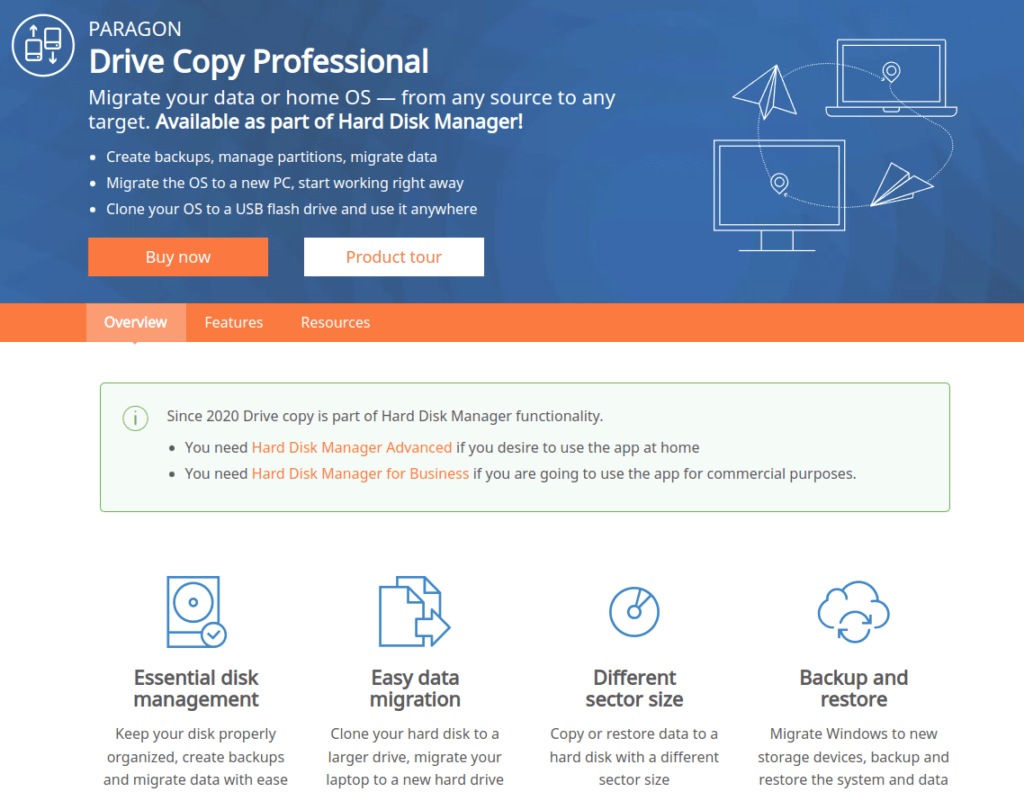 Paragon Drive Copy Professional is a data migration tool that allows for easy data transfer from a source disk to a target disk. In addition, this tool assists you organize your disk for a quicker data migration process.
This software allows you to create easy backups, manage partitions, clone your OS to a USB, and much more.
The tool comes with a great variety of operations for copying data. With these actions, you can easily copy a full hard disk or a partition of it. For example, you can copy or restore a 512-byte hard disk to a 4k one in a breeze. Also, you can use the tool to move from HHD to SSD and vice versa.
The key functionality and highlights of this tool include:
Cloning a hard disk to a bigger drive
Migrating a laptop to a new hard drive
Disk cleaning and arranging with partition operations such as splitting and merging
Redistribute free space on your system
Restore backup images in a blink of an eye
Paragon helps you when your operating system encounters booting issues. If your OS doesn't boot or has errors upon booting, you can use Paragon to resolve it.
There is also a built-in data protection mechanism for Paragon. This allows your data to be safe from hackers and other cyber threats.
All in all, the Paragon Drive Copy Professional is a well-rounded program for disk imaging.
A small drawback to this tool is it doesn't come with data recovery or disk repair. But Paragon has separate solutions for those too. For individual uses, you can use Paragon Hard Disk Manager Advanced. For business purposes, you can use Paragon Hard Disk Manager for Business.
Pricing
The Paragon Drive Copy Professional comes with a simple pricing model. You can cover three PCs with a license to a plan that costs $79.95.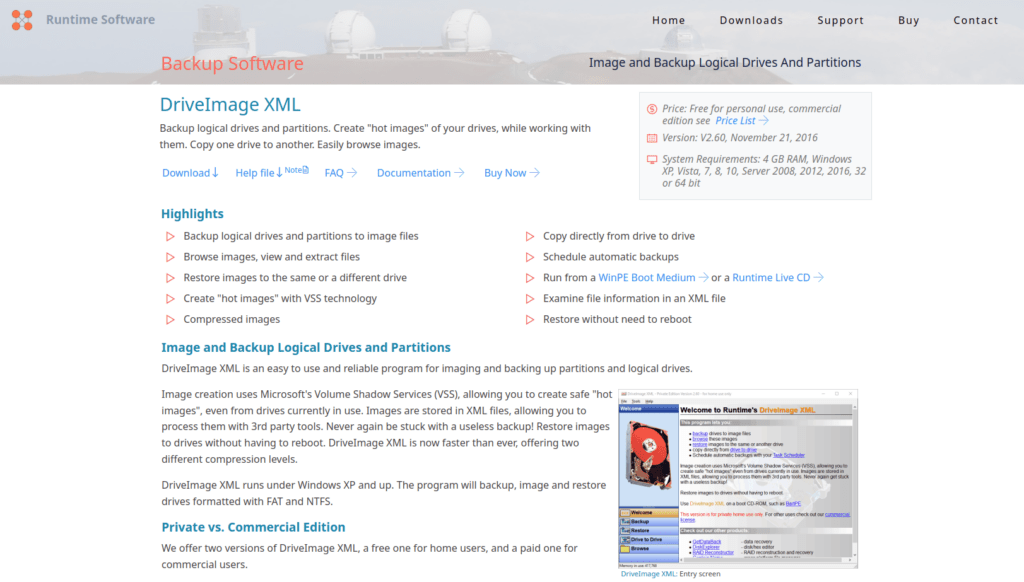 DriveImage XML is a data migration tool for both beginner and professional use.
This software helps you with data imaging and backing up images, partitions, and drives. The tool works with Windows XP and above. It allows for easy backups, clones, restoration, and more importantly data migration. Most importantly, the tool allows for cloning directly from one drive to another.
The underlying mechanism of this tool is to use Microsoft's Volume Shadow Services for the image creation process. This feature allows you to create backups that are secure. The tool also allows you to restore images without rebooting the entire system. The backup files are stored as XML documents.
The XML data format is a commonly used data format. It is broadly used in different contexts, which means many tools support XML. Because the backups are stored in XML, other popular tools can easily work with the data.
Depending on whether you are a solo user or a business user, there are two versions of DriveImage XML:
Private Edition for individual users. You can install this for free on your home system. However, you cannot use this tool for business purposes!
Commercial Edition. This is a paid plan for more broad use of the tool. There are licenses for 5, 10, 20, 50, and 100 users. So you can back up or migrate all the devices of your company with ease using the commercial edition of the software.
Let's take a look at the notable features of DriveImage XML.
Key Features and Functionality
Supports backing up logical drives as well as partitions of image files
View and extract files
Browse images
Schedule an automated backup
Cloning from one drive to another
Image restoration capabilities for both the same drive and a different drive
Backup and restoration for NTFS and FAT 12, 16, and 32 drives
Pricing

The pricing is based on how many PCs you want to migrate or backup:
5-user license: $100.00
10-user license: $150.00
20-user license: $200.00
50-user license: $400.00
100-user license: $500.00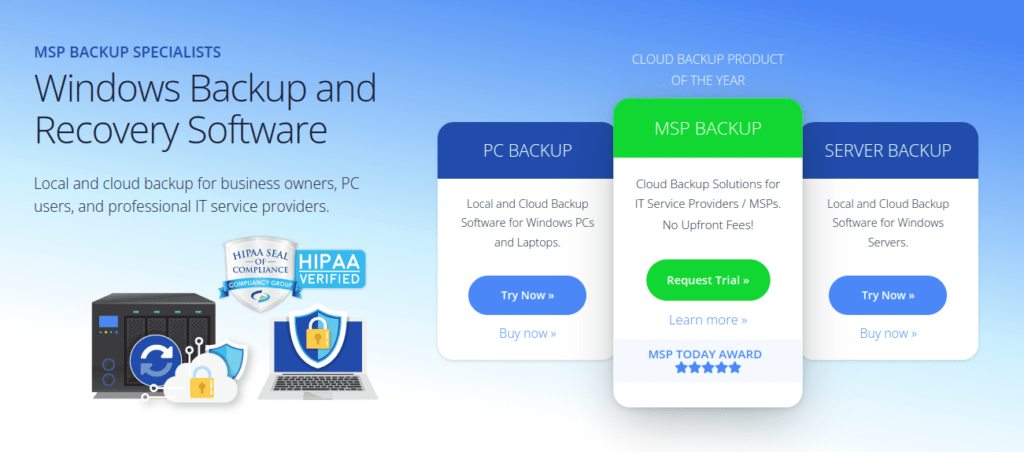 NovaBACKUP PC offers a robust backup solution for a Windows user. This tool lets you migrate the disk and operating system with all of its files and data.
With NovaBACKUP, there are two storage options: local storage and cloud storage. You can choose between these two.
This piece of software is great for small businesses and IT-oriented persons who are looking to protect their data. Using NovaBACKUP, you don't have to worry about backups or data migration as the tool handles it for you.
The Backup and Disaster Recovery Plan is one of the highlight features of NovaBACKUP. This feature protects your PC from data loss. In addition, it supports automatic backups with data recovery and meets the industry-standard data protection measurements.
Key Features and Functionality
Here are some of the most notable features of NovaBACKUP:
An arsenal of backup features. With the file or image backup modes, you can back up files or even the entire hard drive. You can also do the same for your pictures, videos, and files and choose whether the backups are stored locally or in the cloud.
User-friendly also for the visually impaired. NovaBACKUP is a well-rounded tool that suits users of any kind. It supports screen readers that help visually impaired IT specialists to work with the tool.
Disaster recovery mode. The disaster recovery mode takes a complete backup of your PC, including all the applications, files, and so on.
Great data encryption features. NovaBACKUP uses a variety of encryption techniques, such as AES 256-bit to protect your data.
Pricing

NovaBACKUP has three paid plans:
Single PC: $49.95/year
3-User PC: $79.95/year
5-User PC: $99.95/year
Each plan has a 30-day money-back guarantee.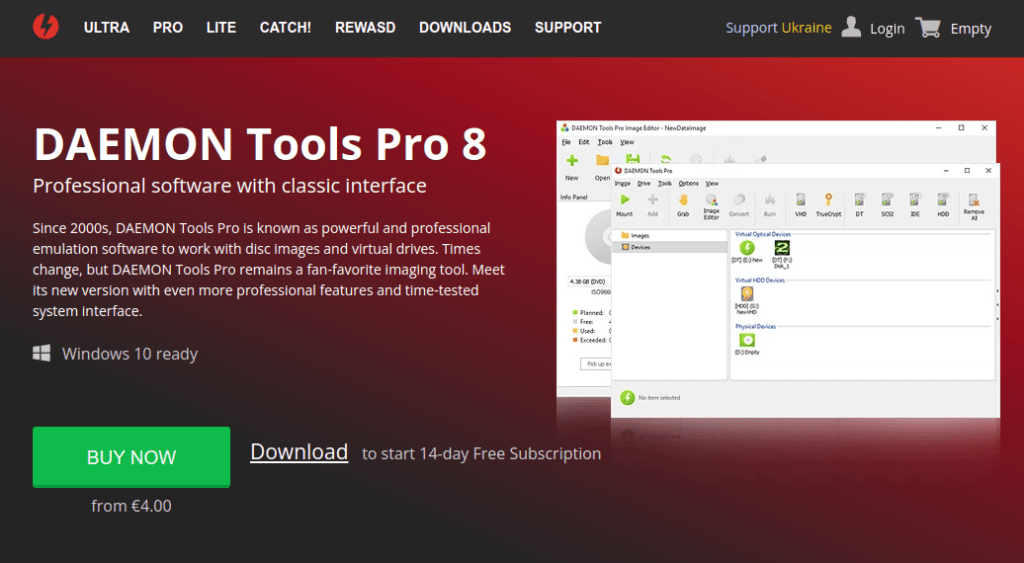 DAEMON Tools Pro 8 is an imaging software to operates on disk images and virtual drives.
When the migration or emulating process is on, the media is kept in proper order for the program to run correctly.
With this tool, you can easily mount popular image types from applications or Explorer. You can take your physical disk images using advanced parameters. The tool also allows for creating dynamic and fixed virtual hard disks.
You can use DAEMON Tools to store your sensitive data in a TrueCrypt container.
The advanced imaging tools let you create and edit Audio CDs and Data images. As a great addition, you can also convert and compress image files and as the icing on the cake, you can password protect the files.
The tool is simple and easy to use. The user interface and user experience are great. You can use Windows Explorer to access all the features of the tool. Furthermore, you can customize the main view and imaging editor to make it look like yours.
Key Features and Functionality
Converting, compressing, and password protecting your data, such as files or pictures
Edit or create Data Images
Burn files with RMPS
Create Audio CDs
Disk burning with Virtual Burner
Restore a USB stick to factory settings
Pricing

The DAEMON Tools Pro 8 has four different subscription plans:
1-Month Plan: $4.00
6-Months Plan: $14.00
12-Months Plan: $18.00
Lifetime Plan: $22.99
Don't forget there is a 14-day free subscription period. You can try the tool first before paying a penny.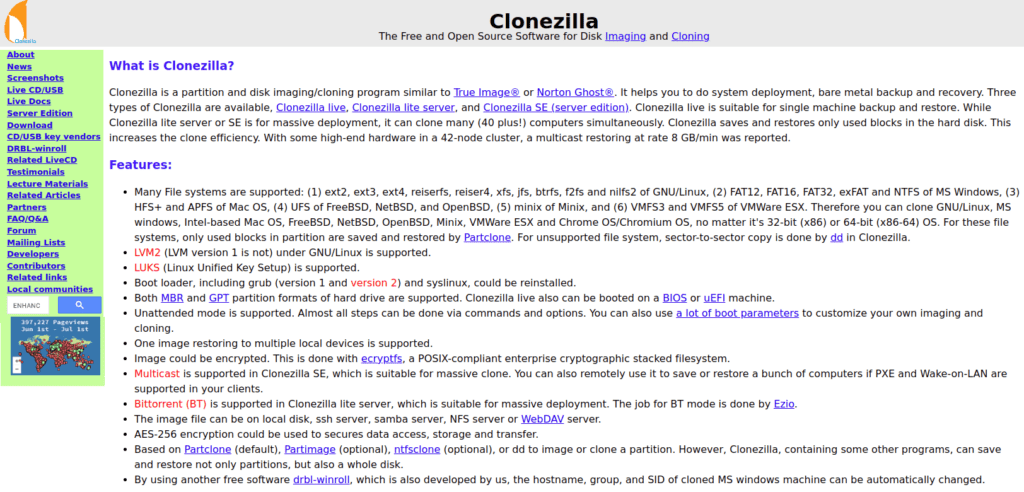 Clonezilla is a completely free and open-source data migration tool.
This tool is capable of data migration, disk imaging, partitioning, and much more.
Clonezilla is mainly designed to help you with data migration and data recovery. But it also helps you if you are performing some system development. The tool can do bare-metal backups.
This well-rounded free tool works on Windows, Linux, and macOS.
Let's take a more thorough look at the Clonezilla tool. This tool has three separate versions:
Clonezilla Live
Clonezilla Lite
Clonezilla SE
The Live version is best for backing up or restoring individual devices. On the other hand, the Lite and SE versions are best for a broader backup process involving multiple devices. The Lite and SE versions are capable of simultaneously cloning 40 systems!
Let's then take a look at the most notable features of the Clonezilla free backup tool.
Key Features and Functionality
Major file system support (such as ext2, f2fs, FAT32, NTFS)
MBR and GPT partition formats
Supports reinstalling Boot loader and syslinux
Multicasting to perform bigger clones
LVM2 version 2 support in Linux system
Limitations
There are some limitations to the Clonezilla tool too. For example, the tool doesn't allow for differential backup, online cloning, or imaging. Also, the partition target has to be greater in size than the origin.
To successfully use Clonezilla, there are some minimum device requirements. You need an X86 or X86-64 processor, 196MB RAM, CD/DVD Drive, Hard Drive, PXE, or USB Port.
Pricing
Clonezilla is a free open-source tool! Thus, there is not a single penny to pay for this amazing service.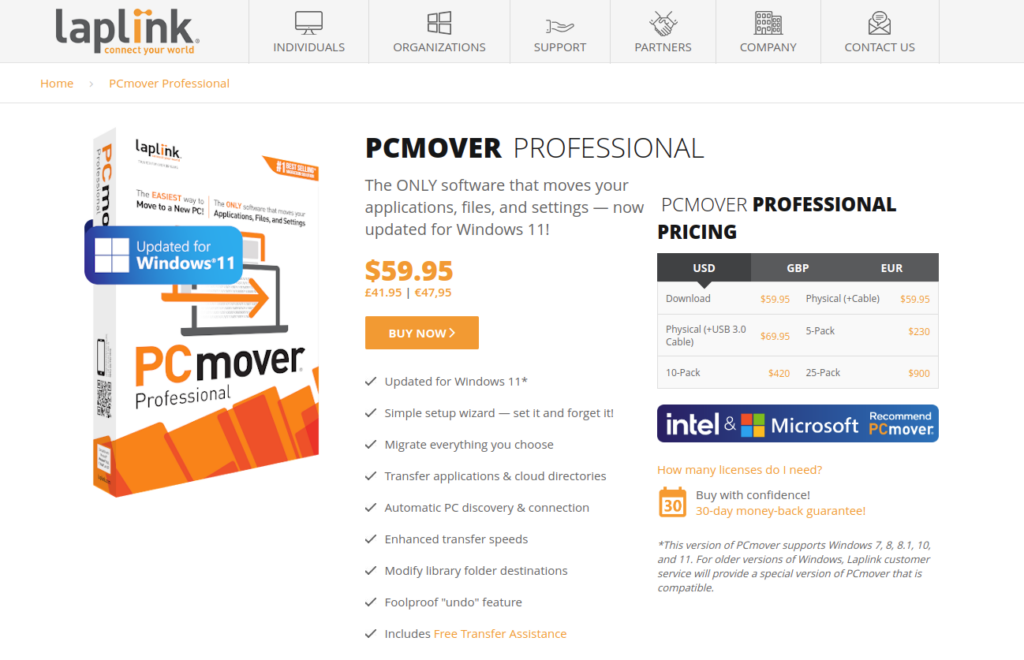 Laplink PCMover is a versatile data migration tool. You can use this tool to move your apps, files, and settings to a target device.
One of the great features is the "undo" feature. In case your backups or data migration fails, you can undo the whole process without loss.
This is the only data migration tool recommended by both Microsoft and Intel.
This software was built with easiness to use in mind. This is why using the tool is super simple. All you need to do is:
Download the software (for both PCs)
Run the setup wizard with a couple of clicks
Let the tool transfer your data
Laplink has a line of experts doing customer support. You can contact them any time of the day to ask for help, in case something goes wrong.
By the way, you can also choose to receive a physical Laplink product for data migration. This includes a high-speed transfer cable and SafeErase software.
Key Features and Functionality
Some of the notable features of Laplink include:
The quick data migration process
USB 3.0 support
24/7 customer support (via phone or chat)
User-friendliness
Undo tool just in case
Pricing
There are three different kits for Laplink PCMover software:
Best-Selling Bundle: $84.95
PC Recycle Kit: $89.95
5-Pack Offer: $230.00
You can purchase a license and enjoy the 30-day money-back guarantee.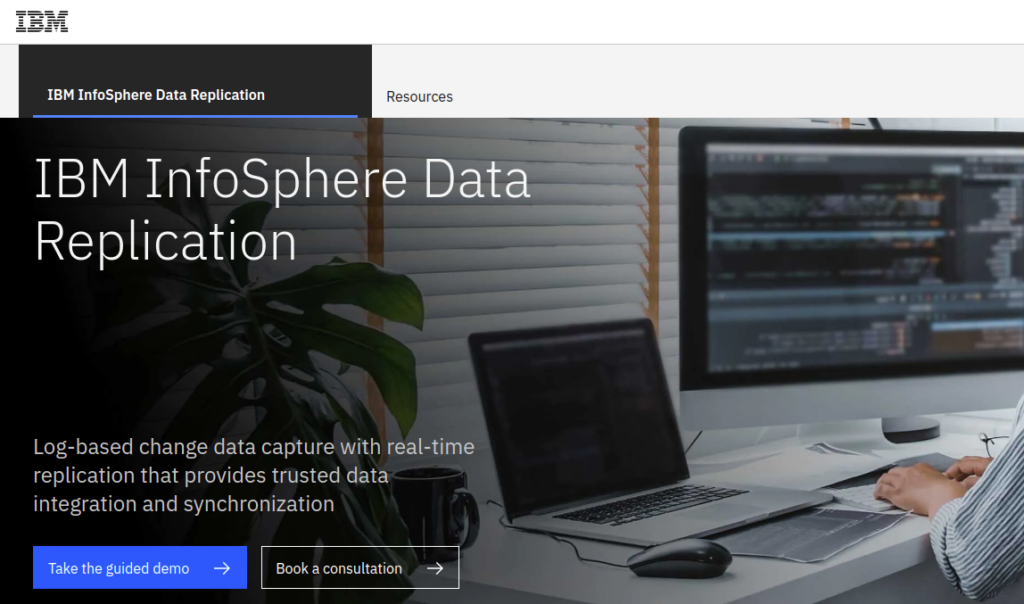 IBM InfoSphere Data Replication is a data replication software that allows for easy integration and synchronization.
The tool has useful features for migrating, transforming, and moderating the data of your system. IBM InfoSphere allows you to integrate data from any platform.
Thanks to the parallel processing capabilities, this tool can handle huge amounts of migrated data.
Besides being a great tool for data replication and migrations, the IBM InfoSphere Data Replication tool allows for:
Data governance
Maintaining data quality
Dynamic warehousing
MDM (Master Data Management)
SOA (Service-Oriented Architecture)
And much more. This tool acts as a data monitoring platform with which you can deploy and integrate data using an easy-to-use user interface.
Here is a list of the most notable features and highlights of the tool.
Key Features and Functionality
Great and uninterrupted availability
Coding-free data integration
UI and APIs for monitoring and management
Supports multi-source, target, and replication topologies
Db2 z/OS data capturing in a log-based manner
Access to older databases that are already obsolete
Creates a well-rounded cloud environment
Maintain database replicas in remote locations
Pricing
Contact IBM support for pricing.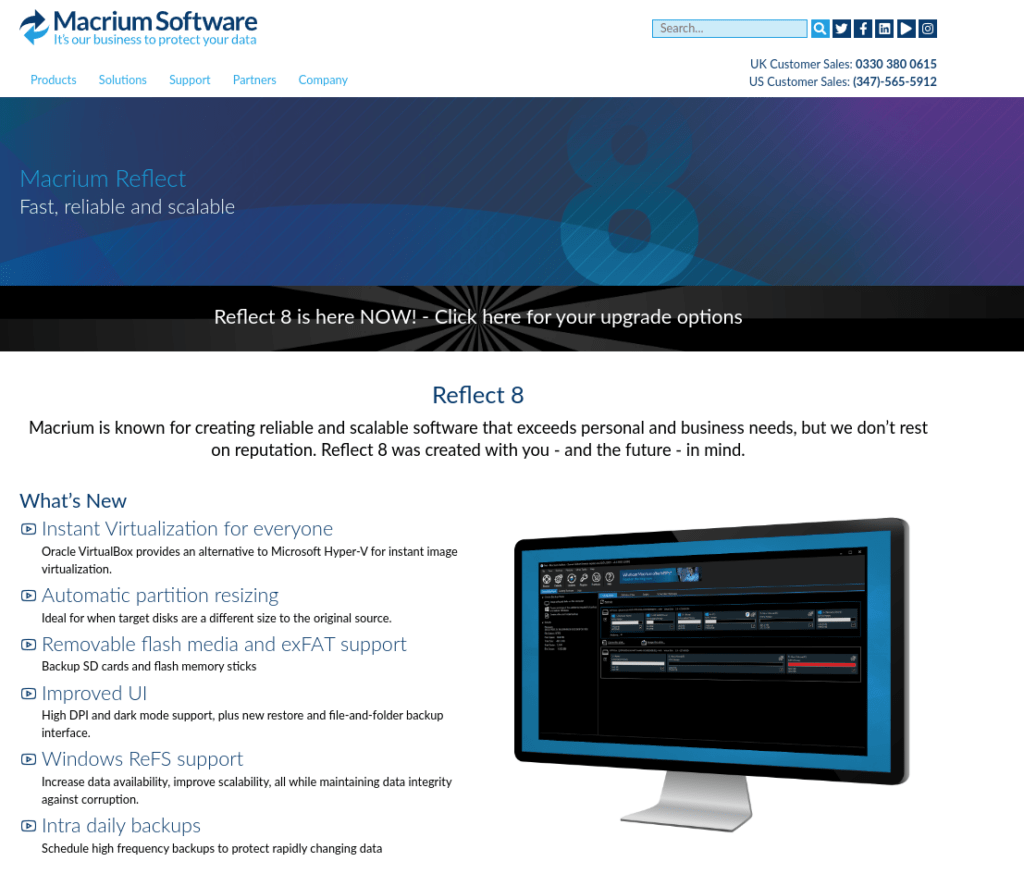 Macrium Reflect 8 is a scalable and trustworthy piece of data migration software. This tool comes with versatile image-based data migration tools for backups, disk imaging, and migrations.
You can use the tool to create an exact clone of a hard disk or its partitions. You can then use these replicas in the disk restoration process easily. In case things go south, there is always a great way to get the files and data back.
The Macrium Reflect 8 supports local drives, network drives, and USB drives. The tool is a good fit for home and business use.
Key Features and Functionality
viBoot 2 for virtualizing Macrium backup images
Versatile image compression options
Macrium Reflect Changed Block Tracker for reducing the time to compress images.
User-friendly interface
Backup scheduling system
Automatic partition resizing for the differently sized origin and target disks
Windows ReFS support for improved data accessibility and scalability
Pricing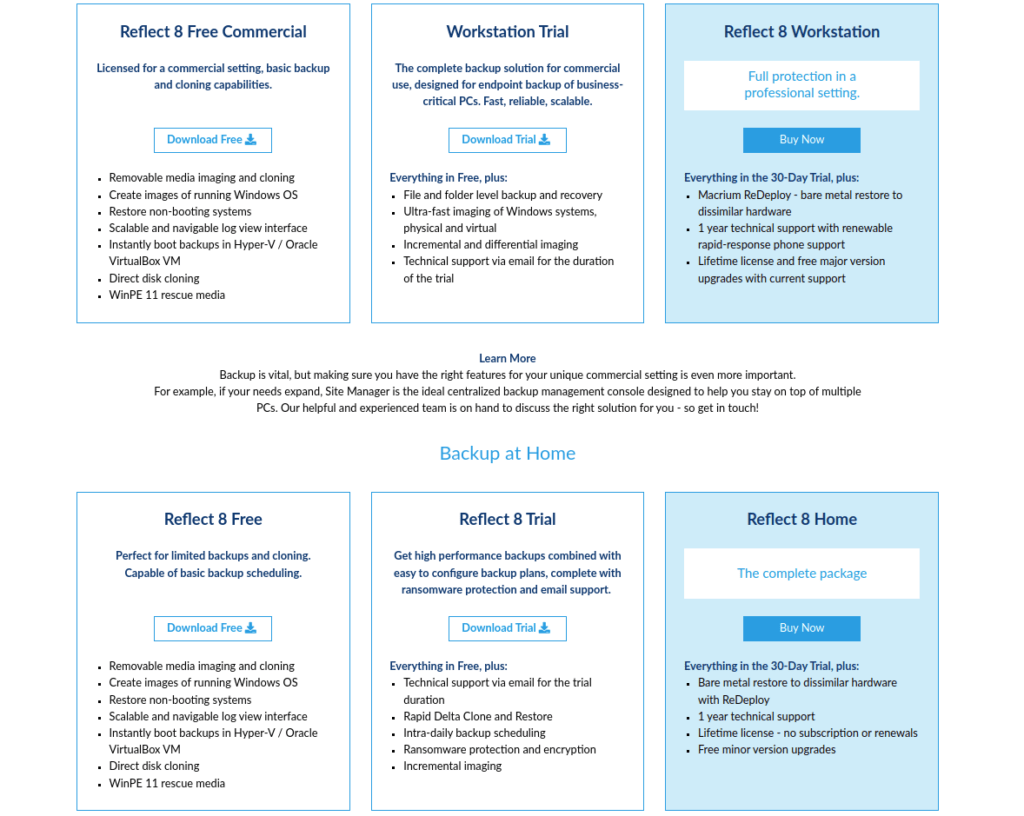 Macrium Reflect 8 is available in a bunch of plans:
Reflect 8 Free Commercial
Workstation Trial
Reflect 8 Workstation
Reflect 8 Free
Reflect 8 Trial
Reflect 8 Home
You can get the tool and a suitable plan from a third-party reseller. Outside of purchasing a license, you can always try the 30-day trial edition of the software.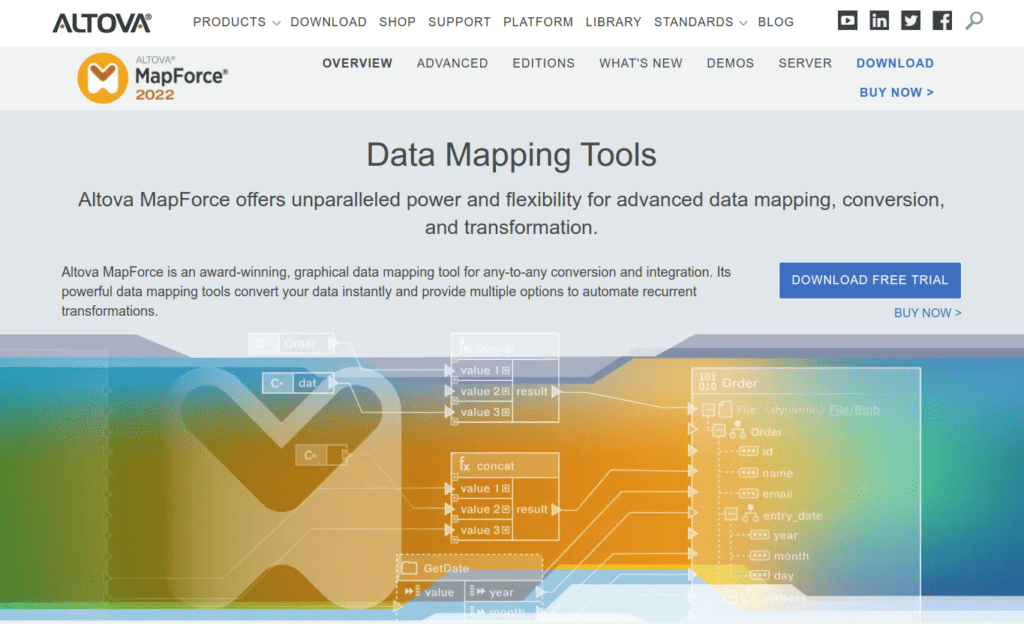 Altova MapForce is professional data conversion, mapping, and integration tool. It lets you transfer data between databases, and visualize databases without having to write code.
This tool lets you convert data from a common format to another. The supported data conversion formats include XML, JSON, EDI, XBRL, Excel, and more.
Altova MapForce can transform data instantly and create source code or executable files for periodic conversions.
Altova MapForce, as the name suggests, is a great tool for data mapping. The powerful conversion and integration features let you automatize data transformations in a number of ways.
With Altova, you have an option to write your own functions, use a database, and debug the mapping process. You can also customize your EDI files or use the standard EDI format that the tool supports natively.
Key Features and Functionality
Data extraction from XML, JSON, or other common file types
Automatize and schedule ETL processes
Visual data mapping
Capability to create data maps without coding
Move data from one database to another
Transform data into multiple different formats
Pricing
There are three paid plans to choose from:
Enterprise Edition: $799.00
Professional Edition: $459.00
Basic Edition: $229.00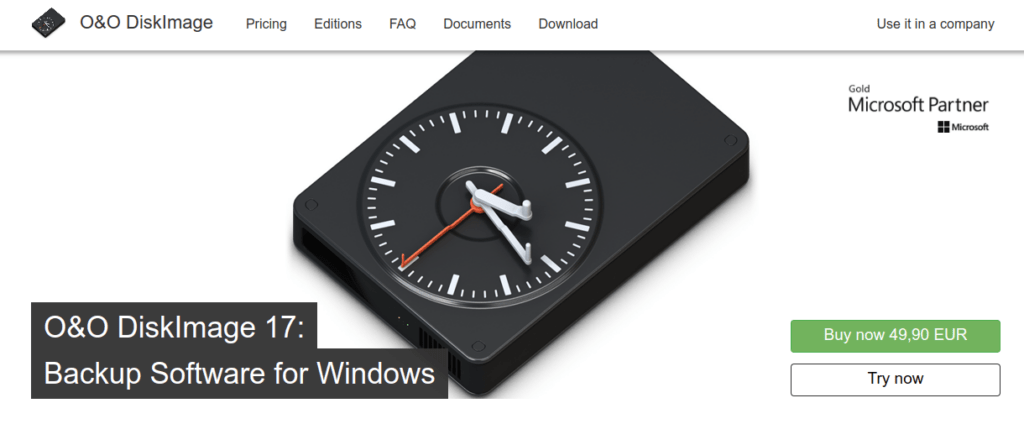 O&O DiskImage is a disc imaging tool. This tool uses state-of-the-art SSD technology to backup your data. If you have a system too corrupted to start or in case you lost data, this tool has got your back.
O&O is not only a professional disk imaging tool. Besides restoring system data, the tool supports cloning a hard drive or even the entire system.
The tool allows for restoring backups on an entirely different system with its own hardware that might be different compared to the original device. This behavior is great for multiple use cases, such as if you want to replace the motherboard of your rig.
The O&O DiskImage program lets you build boot mediums and save data automatically in a location of your choice.
When you connect the external hard drive to your device, the O&O tool starts the automatic backup process. During this process, it backs up all selected folders and files.
O&O Disk Image is for someone looking for great data management software that is secure.
Key Features and Functionality
Capability to backup hard drives and entire operating systems
Drive and disk cloning features
Restore backups to different hardware
Create a Windows Boot system
Schedule automatic backups
Great security and protection system
Security risk monitor
VHD creation features
Pricing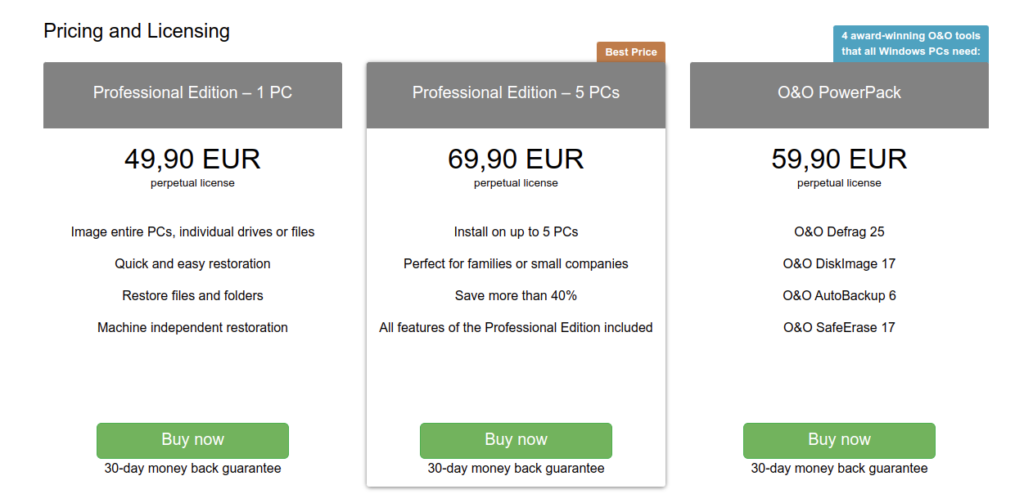 There are three paid plans for the tool:
Professional Edition for 1 PC: $49.90
Professional Edition for 5 PCs: $69.90
O&O PowerPack: $59.90
14. Samsun Data Migration Software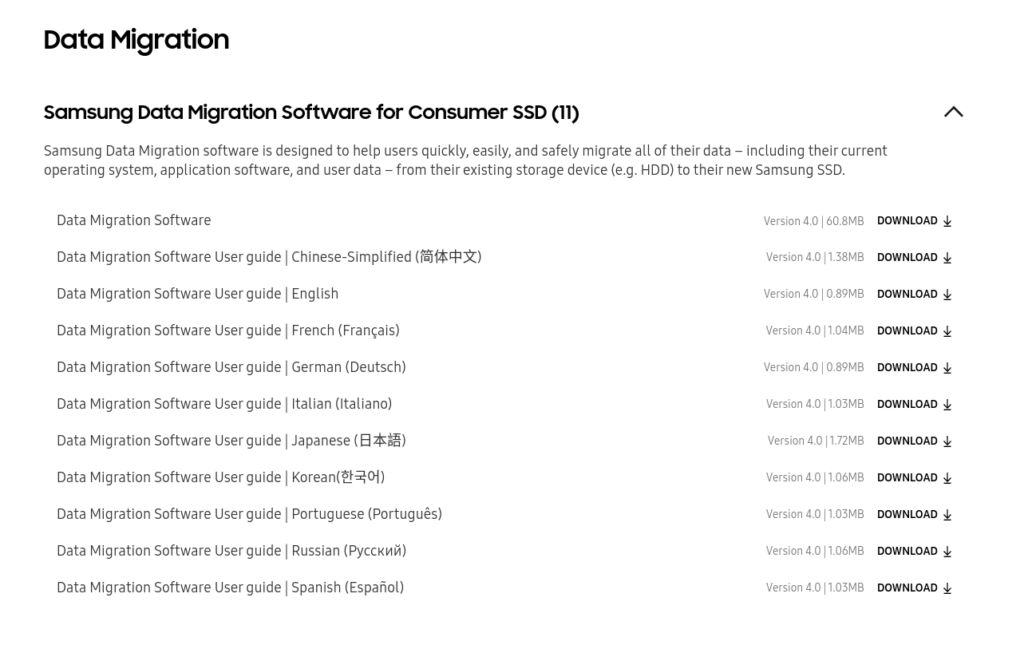 Towards the end of the list, here is a product for Samsung owners.
The Samsung Data Migration Software is a quick solution for a Samsung owner to move an OS from existing storage to the new Samsung SSD.
In addition to the inter-Samsung data migration capabilities, the tool has great disk management and cloning features.
Remember, this software only works for Samsung. This is the best tool for someone who has purchased a new Samsung SSD.
Key Features and Functionality
Wipe out a Samsung drive
Recover deleted partitions
Improve Samsung SSD performance with partition aligning
Track the SSD health
Pricing
To know the pricing, you need to contact Samsung Sales Support. They evaluate your use case and offer the best plan for your needs.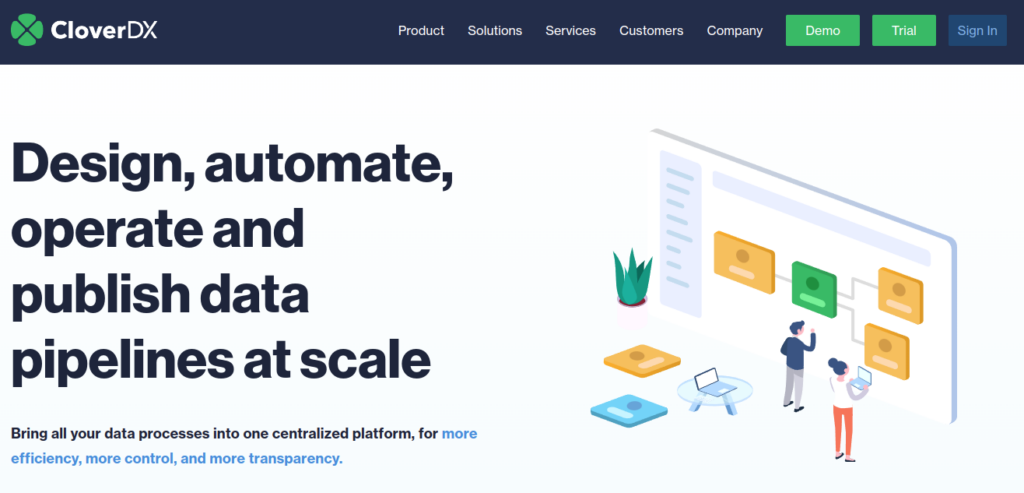 CloverDX is an all-in-one data migration tool. This software has a variety of features that make data migration and management easy.
The tool gives you more control and transparency over your data. It is a centralized data platform that allows you to spread siloed projects into one place.
With CloverDX, you can easily create end-to-end data pipelines giving rise to scalable and transparent workflows to promote easy management and maintenance.
The CloverDX tool allows you to get rid of complex and hard-to-manage code. Instead, you get to enjoy an easy-to-understand data pipeline with a visual appearance. Of course, there is an option to source-dive into the code whenever necessary.
Key Features and Functionality
No code is needed to design or debug data
Monitor the data
Great built-in templates
Mask or reveal data on a user-based premises
Break silos with a single easy-to-use platform
Pricing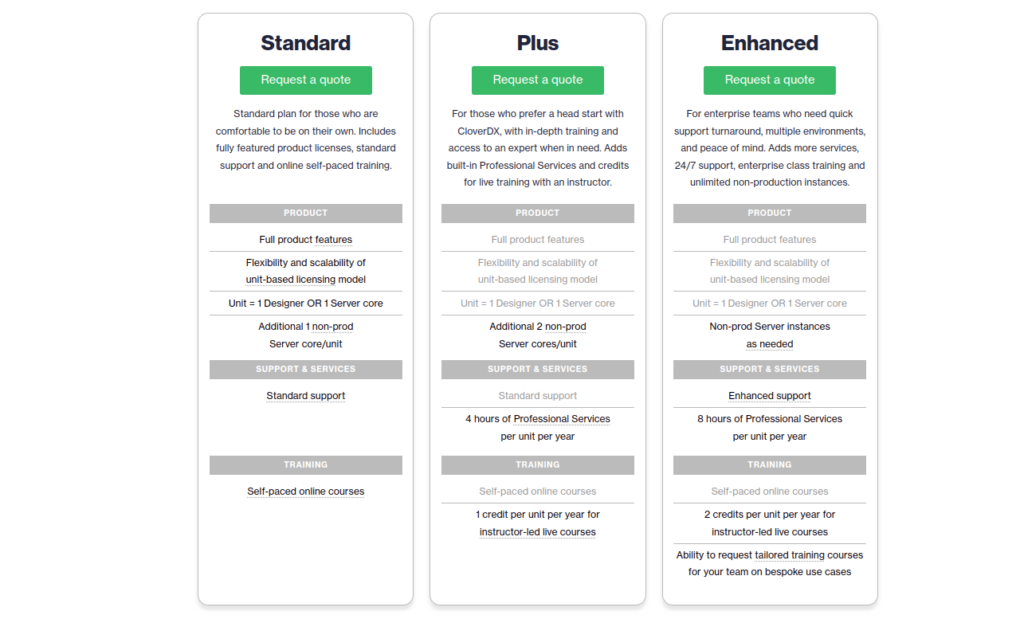 There are three pricing models: Standard, Plus, and Enhanced. The price depends on your use case. To get the best possible plan for you, feel free to contact the sales team.
FAQ
Here is a list of questions about data migration and the tools introduced above. You will also see a guide on how to use a data migration tool.
What Is Data Migration?
Data migration means moving data from one place to another. Data migration can refer to any of the following:
Moving data from one location to another
Converting data from one format to another
Moving data from an application to another
Usually, data migration is needed when there is a system upgrade or a maintenance period. These days data migration is common when a business moves to a cloud-based storage system. When doing this, the on-premise data and applications need to be migrated to the cloud.
Different Types of Data Migration
There are three main types of data migration:
Storage migration. This means transferring data from one storage to another, usually a more modern storage facility.
Cloud migration. This means moving data from on-premise infrastructure into the cloud.
Application migration. This is the process of moving an application from one place to another. For example, this could mean deploying the application from one cloud service to another. It can also mean moving an application to the cloud from an on-premise setup.
What Is HDD?
HDD stands for a hard disk drive. It is a non-volatile device for data storage.
Non-volatile data storage is storage that maintains the data even when the device is turned off. Each and every computer needs a non-volatile storage space to work properly. HDD is one example of such storage. Without such storage, a computer would lose all of its data when turned off. This would make computers quite impractical.
Your typical computer, mobile device, or other types of consumer electronics include an HDD. An HDD can store an operating system, a software program, or other files. The HDD is comprised of magnetic disks.
To be more specific, an HDD controls the reading and writing of the disk that supplies the data storage. The HDD is typically a primary or secondary storage device in your computer.
What Is SSD?
SSD stands for a solid-state drive. An SSD is the new generation storage device found in modern-day computers.
Unlike traditional hard disks, the SSD uses a flash-based memory. An SSD is a collection of electronic circuits that live in silicon semiconductor cells. This is why they are sometimes called semiconductor storage devices.
But the solid-state device is a more commonly used term. It describes the system better because there are no moving parts unlike in HDDs.
When you want to speed up an old computer, upgrading to SSD is one of the best tricks in the book.
What Does HDD to SSD Conversion Mean?
Converting HDD to SSD is a way to speed up your computer.
This means replacing the mechanical hard disk drive (HDD) with a more efficient solid-state drive (SSD).
What Is an Image (in Disk Management)?
In this article, you learned about migrating data as images. For example, with EaseUS you can convert your data into an image and transfer it from point A to point B.
But converting a file or app into an image might sound funny to you.
A disk image is a big file. The disk image reproduces the contents and functionality of a hard disk, optical disk, or any other type of storage device. A disk image file extension is typically .iso, .cue, .bin, .img, or .dmg.
What Is Disk Partition?
The disk partition splits a disk into one or more regions. These regions are called disk partitions.
When a partition is done, a partition table is created. It can be found in the first region of the disk. The partition table stores info about the disk size and the location of the partitions.
The disk partitioning is a process that allows for creating smaller logical drives. These are called volumes.
In the eyes of your operating system, these volumes are completely independent units. In other words, you can perform an operation in one unit without affecting the others.
But why partition a disk?
Most computer users will never need to partition a disk. But it can be useful in some specific situations, such as:
A new hard drive has to be partitioned to save data. Otherwise, it is unusable.
A partition can offer a way to organize data based on the data type. For example, one partition stores documents while the other does all your music.
To reinstall Windows, you can partition data into the system partition. This way the reinstallation doesn't mess with your existing programs and data.
To backup a specific data area, you can backup the specific partition instead of the entire drive.
Partitions streamline the data recovery process and make it more convenient.
What Is NTFS?
NTFS stands for NT file system, sometimes called New Technology File System. It is a Windows NT-specific process that allows storing, organizing, and finding files on a hard disk.
What Is FAT?
FAT stands for File Allocation Table. It is a file system for hard drives.
The FAT system manages files on hard drives and other systems. For example, flash memory, digital cameras, and other portable devices use FAT. The FAT stores information about the files. It also extends the lifetime of a hard drive.
To find a file on a hard drive, a process called seeking takes place. This wears and tears the physical hard drive over time. The FAT system reduces the wear and tear caused by seeking. This is because the FAT allows for easier and more optimized access to the files.
How Long Does a Data Migration Take?
For a typical user, data migration takes place in minutes or hours.
However, there is no general answer as there are too many things that affect the migration speed. These include:
The amount of data
Is the data compressed or not
The type of source device
The type of target device
On some occasions, migration can take days or even weeks.
What to Look for in the Data Migration Software?
To pick the right data migration tool for your use, you need to be careful. Some tools perform tasks better than others.
More importantly, there is a whole bunch of well-rounded tools that can do all sorts of data tricks. But to not pay for anything extra, you should consider your use case. Likewise, if you pay for software that is incapable of your needs, you're going to be frustrated.
Before doing data migration, backups, or any other data management-related tasks, keep these in mind.
1. Functionality
Generally, you should pick a data migration tool with many features and versatile functionality. Even though some of the features might seem like unnecessary or extra, they might help in case something funky happens.
When you are in a search of a data migration tool, pay attention to at least these features:
Data backup and recovery
Orchestration and scheduling
Data profiling and ETL
Anti-malware functionality
Debugging and error fixing
Keep in mind some tools are rather expensive. There are free trials that you should definitely exhaust before paying a dime.
2. Security
No matter what kind of data you deal with, there is always a chance for a cyber-attack.
When choosing a data migration tool, pay attention to the security and protection measures. A good data migration tool should use the latest advancements in information security to protect your own or your customer's valuable data.
3. User Friendliness
Data migration can be a daunting task. It takes a while and there are lots of things to focus on. You should use a data migration tool that makes the data migration process as lightweight as possible.
If all your teammates or employees are supposed to know how to use the tool, you want to make it as easy as possible. No matter how familiar or unfamiliar someone is with the process, it shouldn't cause them extra stress.
5. Support
Last but not least, your data migration tool should have customer support just in case.
The quality data migration and management tools come with great customer support that helps you any time of the week.
Sometimes, you may encounter delays or unexpected behavior. In such a case, you get a night of better sleep once you have contacted the support behind the tool.
How to Use a Typical Data Migration Software?
Using a data migration should not be a problem. The download/install/setup phase depends on the software you are using.
Here is your typical steps to start using a data migration tool. Notice that these are just general guidelines. To find tool-specific instructions, visit the tool's knowledge base on the website.
Step 1: Select a tool and a plan
Before starting a data migration, you need to have the right type of tool at your disposal. Your typical data migration tool has a free trial version, but you should subscribe to a paid plan for more rigorous use.
You can read reviews of the best data migration tools above. You can also familiarize yourself with the pricing and use cases to find the best match for you.
After choosing a tool and a plan, it is time to move on to the next step.
Step 2: Download and install
Now that you have chosen a tool, it is time to download the software to your device.
This process can take a while.
When the download has been completed, you should run through the setup wizard to install it on your system.
Step 3: Enter the details
To actually be able to start using the tool, you need to confirm you are a verified customer that should have an access to use the tool.
To do this, you need to create an account. This typically involves providing the tool with your information as well as your new account information. You must also enter a key to unlock the free/paid plan depending on the tool.
Step 4: Confirm the account
Once you have entered your details and created a new account, you need to verify the account. Usually, you receive an email in a short amount of time.
Make sure to check the spam folder, as sometimes these types of messages end up there automatically!
Step 5: Start data migration
At this point, you should be good to start using the tool.
Find the tool and double-click its icon to launch the data migration program.
The tool usually presents a view that allows you to choose what kind of data task you want to do.
For example, if you want to migrate data from one disk to another, you should have an option such as "Automatic Cloning". To migrate a disk, choose the cloning option from the startup menu of the tool.
Step 6: Choose the source and target disks
The next step is to choose the disk from which you want to clone data. Take a look at the view of the tool. It probably shows you some disk options. First, choose the source disk, confirm it, and then choose the target disk.
Step 7: Restart the device
After you have proceeded from the previous step, you are typically asked to restart your device. To do a successful restart, close all applications, files, and so on.
The data migration process takes place during the restart. The length of the restart may greatly vary based on the data volume, software, and much more. Be patient!
Step 8: Let the computer shut down once more
When the migration completes, your computer restarts once more automatically. At this point, any external data source might be disconnected from your computer.
Step 9: Start a computer
Now start the computer and take a look at the target folder to access the migrated data.
The migration should now be completed!
Wrap Up
That is a whole bunch of data migration software. With these tools, you can easily clone your disk and migrate data between systems.
Choosing the right type of data migration software depends on a bunch of things, including:
Budget
Data size
Reasons for migration, including

Security concerns
Updating business infrastructure
Before choosing the right type of data migration tool, it is wise to read reviews of the best migration tools like this list. In addition, you should think about your use case not to over-or underpay for software.
I'm sure you were able to find something useful on the list.
Thanks for reading.