Choosing the best OCR software is important when you are looking to convert physical documents into digital format.
There are many use cases for OCR or Optical Character Recognition. For instance, you might want to extract text from an image of a text file. Or perhaps you want to turn a PDF or an invoice into an editable document. In these and any similar cases, you can enjoy the benefits of OCR technology. An OCR tool can convert a document or PDF to an editable digital format for you in seconds.
This is a comprehensive guide to choosing the best OCR software. This guide introduces free tools, bulk conversion tools, paid tools, and more.
Disclaimer: This article contains affiliate links at no cost to you.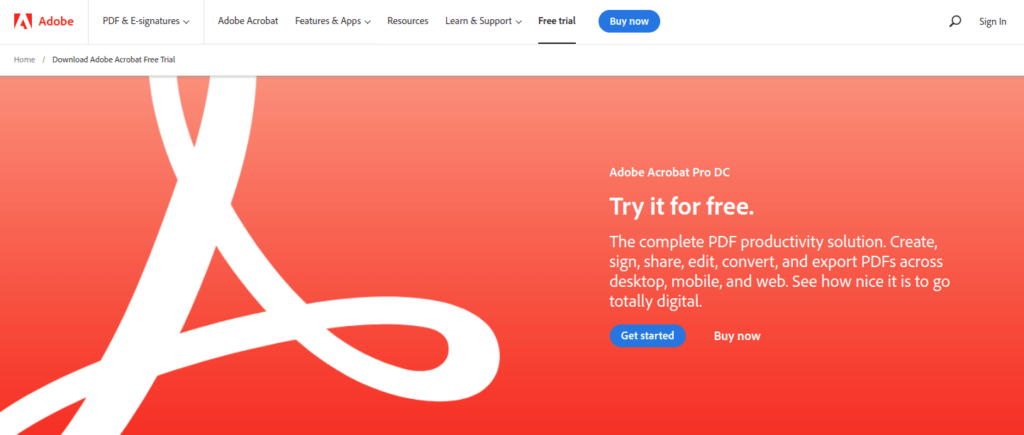 Adobe Acrobat Pro DC is an OCR tool that is specialized in PDF editing.
Adobe Acrobat Pro DC supports creating PDFs, converting documents to PDFs and vice versa, digital signatures, and much more. The tool not only extracts text but also detects the formatting and style of the text. Thus, the end result should look identical to your input.
One of the great features of Adobe Acrobat is the ability to instantly start editing scanned documents.
Adobe Acrobat Pro DC is also a great document management tool. It turns the files into searchable documents where you can find words easily. Also, you can search for the documents from the system.
Besides all the great PDF features, the tool also makes collaboration easy.
Last but not least, you have some basic document editing features at your disposal too. You can reorder pages, and combine files. Plus you can rotate, delete, and crop pages as well.
This tool is not only a desktop application. You can also install the mobile version to read physical documents using your smartphone.
Adobe Acrobat Pro DC makes sharing files secure. The files are shared in an encrypted format. Thus, a malicious middleman cannot do much with intercepting the files. Also, you can password-protect your scanned files.
Key Features and Highlights
Here are some of the key features of Adobe Acrobat Pro DC:
Create PDFs
Convert PDFs
Write and Request signatures for PDFs
Convert a document to PDF by using OCR features
PDF accessibility checker
Free trial
Pricing
Adobe Acrobat Standard DC: $12.99/month
Adobe Acrobat Pro DC: $14.99/month
Trial: 7-day free trial
Pros
Great for working with PDFs.
Great character recognition features make the tool robust and reliable.
The tool is easy to learn and easy to use.
There is a free trial version you can use before spending money on the tool.
Cons
The tool is a bit pricey for basic-level use.
There is no completely free version.
2. Nanonets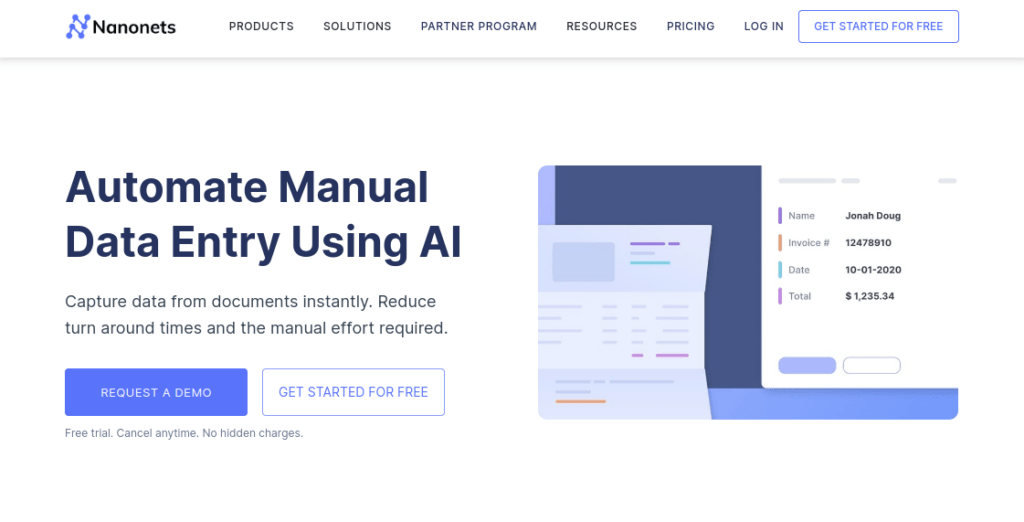 NanoNets is an OCR tool powered by state-of-the-art AI algorithms. You can use the tool to convert physical documents to digital editable formats with ease.
This tool allows for automating the manual data extraction effort. With NanoNets you can get all the necessary data you need from the document. This saves you a bunch of time and also makes errors much less likely. With a tool like NanoNets, your work becomes more meaningful and you manage to improve your productivity.
The NanoNets tool allows you to analyze documents or images and extract textual information into editable format on your computer.
NanoNets works perfectly with common documents, like images of physical paper documents or PDFs. Besides you can convert less standard documents, such as invoices, purchase orders, tax forms, and so on.
Key Features and Highlights
Selective extraction. This feature lets you train the tool to solely extract the data you need. This feature works even with unstructured documents.
Integrations. The tool can be integrated with popular cloud storage services and databases.
Free OCR API. This API is technically oriented. The API allows you to perform network requests to scan documents in your own application. Remember, using an API requires some coding knowledge.
Pricing
The first 100 files you convert are totally free! At this time, you can make a decision whether you want to keep on using the tool or not.
The pro plan of NanoNets is $0.1/scanned page.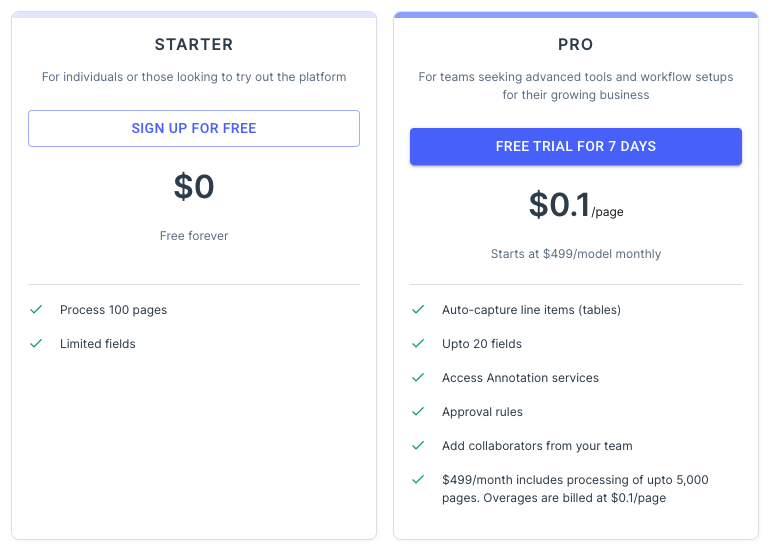 Pros
The tool performs really well in extracting the exact data you need.
Great upload and export features make the scanned files always accessible to you.
The tool learns from its users to perform even better.
GDPR compliance is ensured.
An OCR API for developer use.
Free trial.
Cons
The tool is costly to use especially for individual users.
There are sometimes some small delays in processing and occasional crashes.
3. Google Docs
Google Docs is a popular web application for handling files and, as the name suggests, documents. The tool has basic word processing tools for easy edits and stylizing of the text.
You may have used Google Docs before or might be using it right now. What you may not have realized is that there is a great built-in image-to-text feature as well.
The Google Docs OCR algorithm converts PDF files into editable files with text. Better yet, this is completely free.
If you are a small-scale user, Google Docs might be enough for you to get images into digitally editable files.
To use Google Docs to convert a PDF into an editable format, follow these simple steps:
Upload a PDF into the Google Drive application.
Right-click on the PDF file and select Open With > Google Docs.
This action automatically converts the PDF file to an editable Google Doc file. Notice that tables, columns, footnotes, and other similar properties usually are not selected.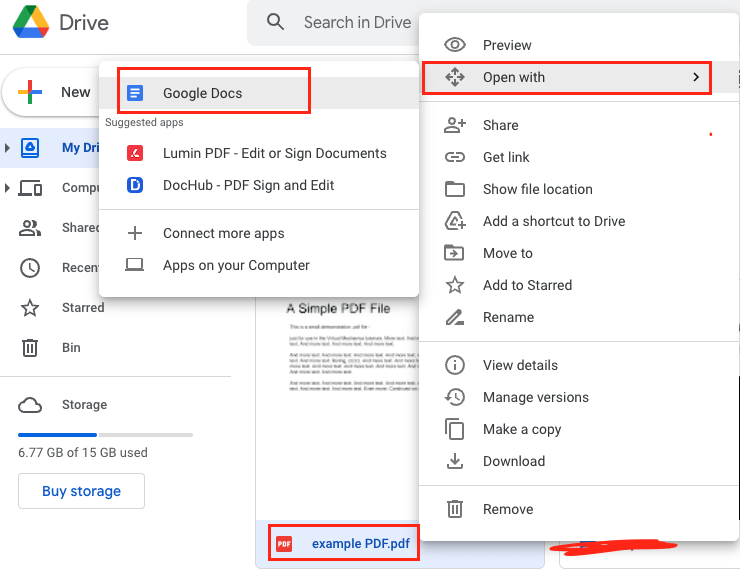 Key Features and Highlights
OCR for converting PDFs to editable files.
Chatting and commenting are possible on the entries of the files.
Real-time editor for great collaboration among teams.
Pricing
Google Docs is completely free to use!
Pros
Google solutions never disappoint. Docs is accessible from anywhere at any time.
Broad file-format support.
Great templates for documents.
Spelling and grammar checkers are built into Google Docs.
Cons
The OCR capabilities are quite limited and work only for very basic use cases. More often than not, non-text elements and less common formatting are left out by the OCR algorithm.
4. OnlineOCR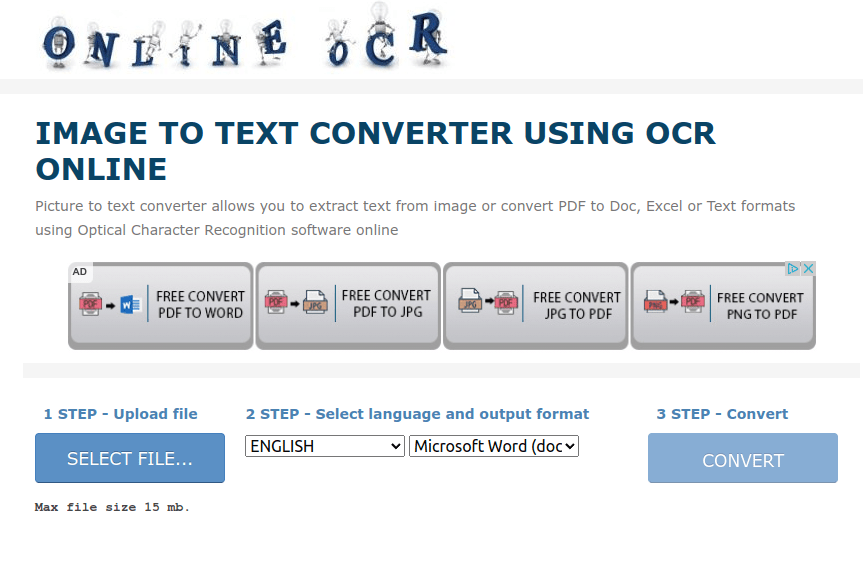 OnlineOCR, as the name suggests, is an online tool for image-to-text conversion. With this tool, you can convert images and PDF files to digital format for free!
The tool is super easy to use. Here are the 4 steps you need to follow:
Open the OnlineOCR website. On the front page, you see the converter tool.
Upload a file of your choice.
Select the output format (and the language).
Convert the document to the desired format.
This is how easy it is to use the tool. Better yet, it is completely free. This tool supports more than 30 languages. It can convert your image to Word, Excel, and Plain text formats.
Key Features and Highlights
OCR for converting non-text image documents to editable text documents
Multi-language support
Overall easy user interface
Pricing
This tool is entirely free!
Pros
The tool is completely free.
There is no learning curve to the tool as it's simple to use. Just choose a file and make a conversion!
Supports a vast array of languages in text extraction
There is a web app you can use to do the conversions. No need to install additional software.
Android and iOS apps are available too!
Cons
Limited to OCR features only. There are no file management or editing capabilities. Instead, you should use another tool after making a conversion.
5. Omnipage Ultimate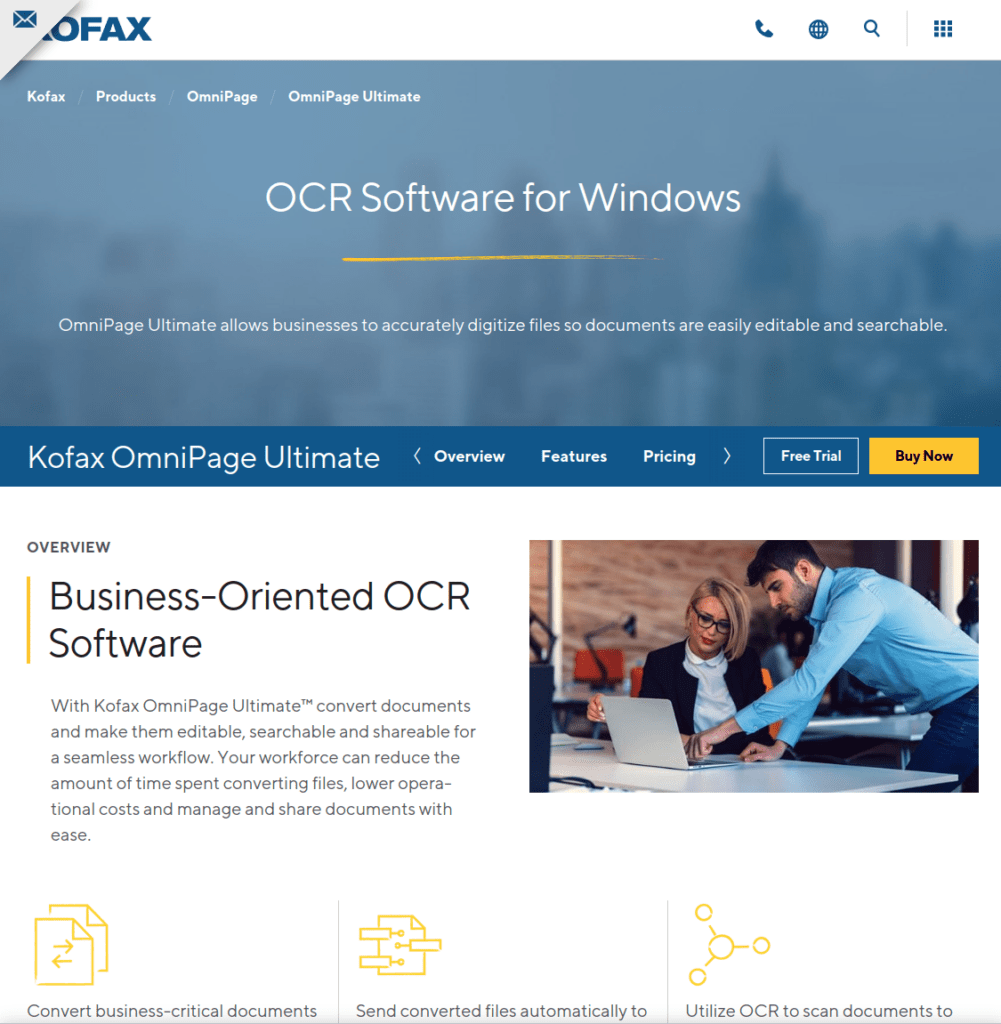 OmniPage Ultimate is an image-to-text scanner for more serious users.
This tool allows you to quickly go through a huge pile of papers and convert them into digital format. The tool comes with a bunch of great features, even some of which you might not expect to encounter in OCR software.
Although the tool is a bit pricey, you can still consider it to be in the affordable range.
OmniPage Ultimate is acknowledged for its great accuracy. The tool is being used by popular companies like Ford, Amazon, and GE.
This tool has a custom workflow builder. This allows you to deliver the digitized documents to the right place in the correct format based on what is needed.
OmniPage Ultimate has pro features not included in the cheaper OmniPage Standard plan (about half the price). However, if you don't want to pay too much for the service, consider the slightly less feature-packed Standard plan. Most of the basic OCR needs are fulfilled by the Standard plan already.
As a bit of a downside, this tool only works on Windows systems. So if you are an avid iOS or Android user, feel free to scroll past this tool!
Key Features and Highlights
The eDiscovery Assistant. This feature lets you convert printed documents in bulk. Thus, you don't have to convert the image files one by one.
Mobile Capturing. This feature creates digitally editable files based on image files with text. All you need to do is feed a picture of the OCR algorithm of this tool and let it do the hard work for you.
Multi-language support. As stated earlier, the tool supports a variety of languages. Thus, have the versatility to work with other languages than English.
Pricing
$499.00 with a one-time payment
15-day free trial
Although a bit pricey, there is a great 15-day free trial you can use before spending any money!
Pros
Supports multiple languages
A versatile input/output format support
Easy to use
Free trial
Great OCR capabilities for converting images to text files.
Cons
The tool only runs on Windows
Pricey for beginners or for very basic-level usage
6. Readiris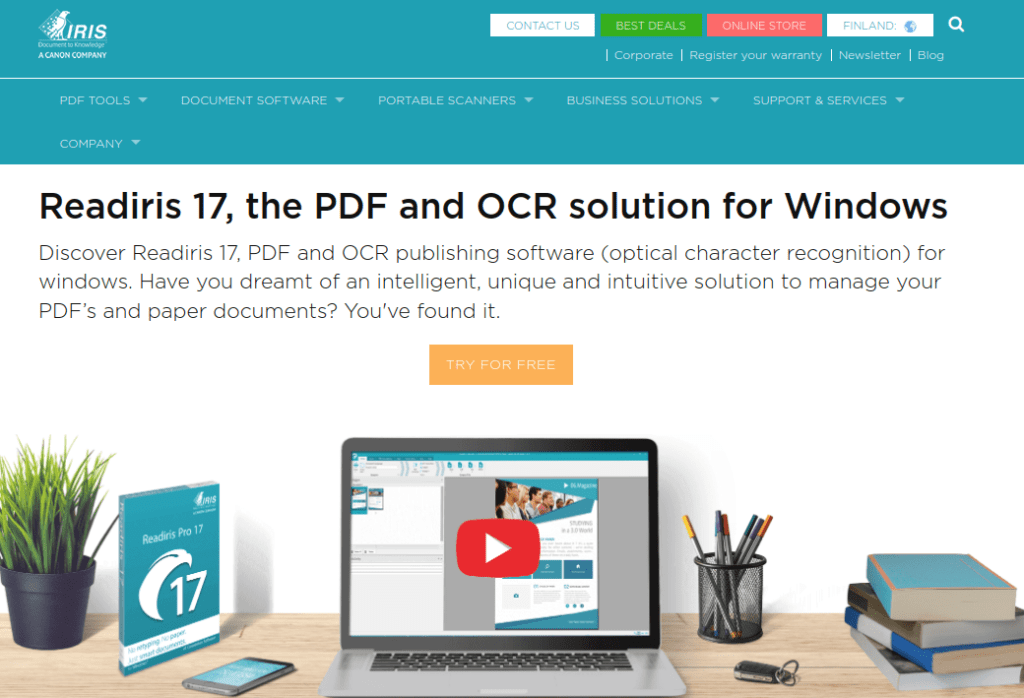 Readiris is one of the best OCR and PDF solutions for Windows devices.
Do you have a business or just otherwise a huge pile of paper you'd like to digitize? This tool has got your back. If you want to get the paperwork sorted out quickly and spend a few bucks to do so, Readiris is perhaps the best tool for you.
The tool supports a variety of file formats, such as MS Office formats. Also, the voice-reading option makes a great addition to the tool. After scanning a document, the tool reads it for you using a realistic text-to-speech conversion feature.
Not only is Readiris a great OCR tool but it's also capable of handling other common PDF-related tasks. For example, you can password-protect your PDFs using the password feature.
How about different languages?
The Readiris algorithms are up to date with more than 138 languages. This makes the tool a great fit for someone working with documents written in less-used languages as well.
All in all, ReadIris is an easy-to-use tool. Its simple yet powerful UI consists of dozens of great features to streamline digital paperwork.
Key Features and Highlights
Image to Text. The tool uses OCR to convert images into editable text files. For example, you can convert a PDF to an editable format.
Text to Audio. When you have converted an image to text, you can use the text-to-speech engine to speak the text out loud.
EPUB support. You can also convert the scanned files to EPUB format for eBook readers.
Pricing
Readiris offers a great 30-day money-back guarantee to its plans. In case you are not happy with the tool, you can get a refund.
There are three paid packages for Readiris:
PDF: $49.00
Pro: $59.00
Corporate: $89.00
Pros
Great text-to-audio capabilities. To speak the scanned text, you don't need to change the software.
Relatively affordable pricing.
Readiris is compatible with the Twain scanners.
Convert physical documents to EPUB format for eBook readers.
Free tech support.
Compress PDFs to save bandwidth and storage space.
The tool lets you edit the text in images.
Cons
Low page number to be captured at once.
Tiered pricing with limited features respectively.
7. SimpleOCR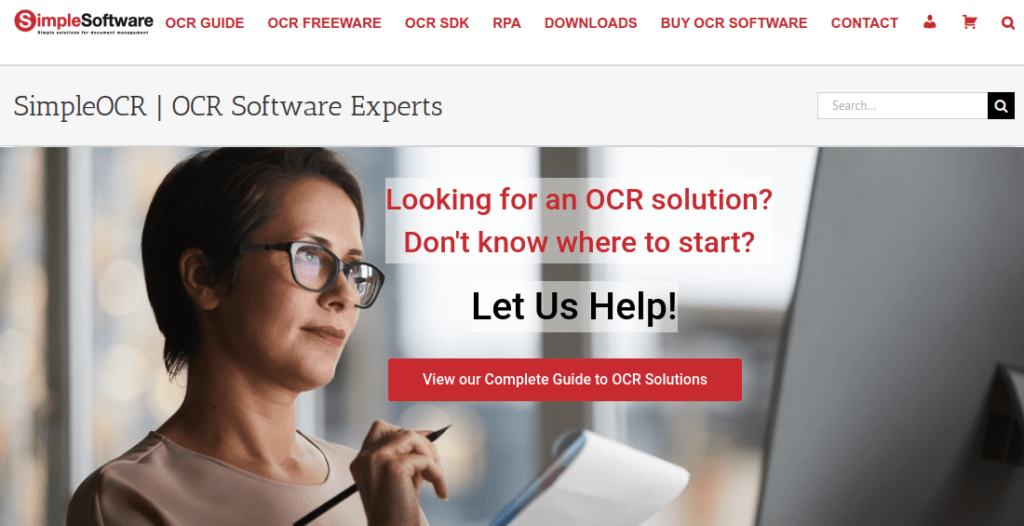 SimpleOCR is a free OCR tool for converting images and non-digital files to editable digital formats.
The tool also comes with an OCR SDK for technically oriented users. This allows programmers to write their own code to perform OCR in their applications.
The SimpleOCR dictionary has the power to recognize 120,000+ words in your document. If that's not enough, add new words to the dictionary to customize the tool to work with less common words in your documents.
SimpleOCR also has great "noisy document" features to pick up text from less clear content. For instance, sometimes the document might be dirty, the ink might have spilled badly, or the text can be small to read. This is where the noisy text recognition feature is really helpful.
Also, if the image has text in bold, underline, or italic, the tool can still easily get the job done. Not only does it convert the image to text, but also retains the original format. So for example, a bolded word will be bolded in the converted document.
As a great extra feature, there is a spell-checking feature in SimpleOCR too. This allows for making the converted document contain correctly spelled text. If there is a grammatical error in the output, the tool points it out for you to fix.
With great features like this, you don't have to worry about having to make any edits to the converted documents. Instead, you can focus on more relevant parts of your work.
Key Features and Highlights
OCR text extraction from images. You can either process a single file or multiple files in a batch. The OCR technology converts your files into editable documents.
Image retention. When processing a file with images, this feature captures the images of the documents. This way, you don't have to separately import them to the output document.
Grammar correction. The grammar correction feature helps you detect potential grammar errors in the output document. This feature simplifies the proofreading phase.
Pricing
This tool has a completely free version!
For more avid users, there are paid plans starting at $25 all the way up to $2500.
Pros
The tool lets you focus the OCR on a particular area in the document and only extract a portion of it.
There is a great plain text extraction.
Works with TWAIN scanners.
A great free tool for personal users.
Cons
Doesn't support that many languages.
Only export to DOC or TXT formats.
No copy-paste support.
The tool sometimes has a hard time recognizing hand-written content.
8. Tesseract
Tesseract is a free and open-source OCR tool for software developers and programmers.
You can use Tesseract to format output text and do some page layout analysis. Tesseract uses the Leptonica image processing library to support multiple image formats for conversion.
The Tesseract library has an Apache License.
Tesseract is a great tool for text recognition using a mobile device. You can even pick up texts from videos. One cool feature is image spam detection on Gmail. This allows for filtering emails with suspicious images.
Tesseract supports 100+ languages. For example, it supports reading languages that read from right to left, such as Arabic or Hebrew.
If you are a more technically oriented person, you can customize the tool with code. There are great tutorials on the internet for developers to work with Tesseract. For instance, you can train the tool to recognize more languages. This can be useful if the tool doesn't work with the language you are working with.
If you are not a programmer, you are not going to make any sense in using this tool.
Key Features and Highlights
Word recognition. The tool identifies words from the documents. It also reduces the inaccuracies in word detection quite efficiently.
Line finding. The line-finding feature helps the tool understand documents that are skewed.
Self-learning. The tool can learn from its user. This way, it becomes even better over time as it adapts to the documents you typically scan.
Pricing
Tesseract is an open-source tool that is 100% free.
Pros
Great text-organizing features.
The main platforms Windows, Linux, and macOS support the tool.
Train the software to be even better.
The OCR algorithm is trained to extract both proportional and non-proportional words in skewed documents.
The natural language processing features make good predictions of the most likely words found based on the characters.
If you are a software developer, you can use the Tesseract API in your software projects.
Cons
Rudimentary image processing incorrectly recognizes characters quite often. To get most of the tools, use a preprocessor or a high-quality image.
Supports only TIFF files. If you are working with JPEGs or other similar image files, you need to convert them into TIFF first.
Suitable for software developers only. Non-programmers should not touch this tool.
9. Amazon Textract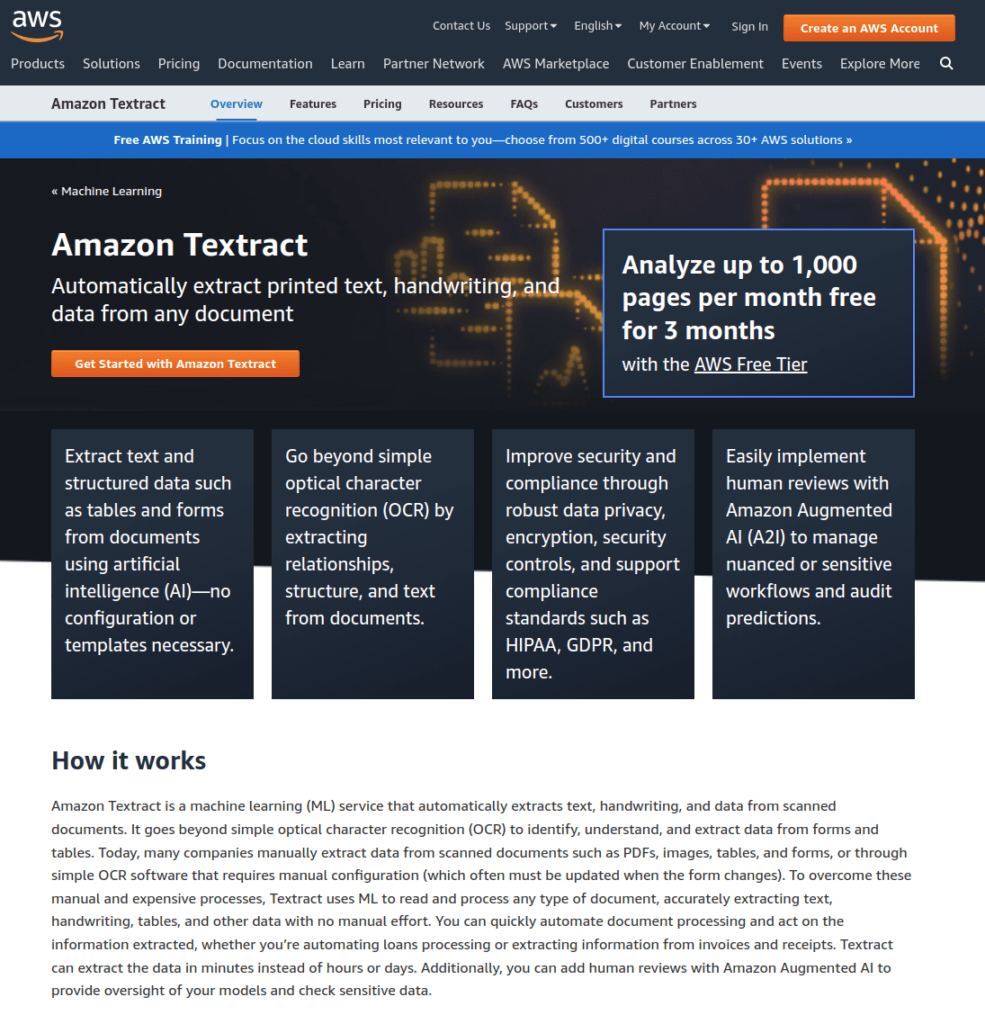 Amazon Textract, as the name suggests, is a text-extraction program by Amazon.
This tool uses the latest advancements in Machine Learning to pick up text from image documents and other non-digital formats.
You can use this tool to scan legal documents, resumes, and other similar documents that have no generic form.
With Textract, you don't need to do any manual work. The tool is capable of scanning and converting millions of documents in an hour. The tool is trained to detect the document layout and elements. You can present the extracted data in a tabular format for quicker access and readability.
For example, if you are working with a medical report, converting it to a tabular format allows you to quickly analyze it.
The Textract is compatible with Amazon A2I for reviewing digitalized documents.
Although this tool is not free, there is a free trial that allows for the scanning of 1000 pages of content. With this big trial, you can easily make a decision as to whether you want to continue using the tool or not.
Key Features and Highlights
OCR for extracting text from images. This allows for converting images to editable text documents.
Pre-defined schema. The tool uses a pre-defined schema for extraction such that the data is represented as rows and columns in the output.
Automated processing. The tool lets you create workflows for automating document processing workflows. This way you don't need any human intervention for converting the received documents.
Pricing
Detect Document Text API: $0.0015/page
Analyze Document API for pages with tables: $0.015/page
Analyze Document API for pages with forms: $0.05/page
Analyze Document API for pages with tables and forms: $0.065/page
Pros
There is both an online tool and a command-line interface for using the software.
A big 1000-page free trial version is available.
Cross-platform support that covers Windows, macOS, and Linux.
Great OCR capabilities to extract data from image documents.
Cons
Pricey for individual users.
The tool is sometimes a bit slow and inaccurate with forms.
10. Rossum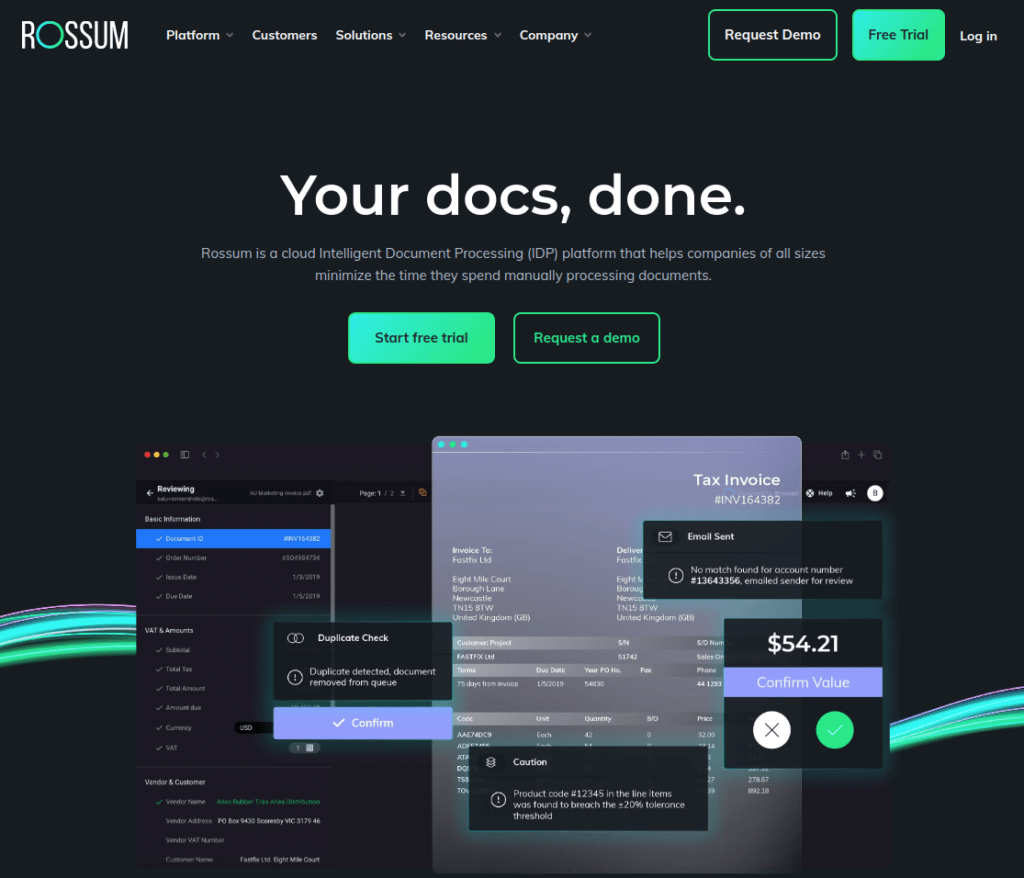 Rossum is an OCR tool powered by AI solutions. The tool suits mainly someone who is looking to extract text and other data from invoices without putting in the manual effort. The tool automates the text extraction process which allows you to focus on more important tasks.
The value proposition is to catch 98% of the data accurately from any sort of document or invoice.
With accuracy like this, chances are the tool makes much fewer errors than you would do when manually scanning the documents.
There are no layout limitations to the documents Rossum can process. No matter what type of invoice template or document format is used, Rossum can do the job for you.
Every once in a while, there are going to be errors in the scanned documents. If this happens, you can use Rossum's document editor to fix the errors. There is a built-in warning mechanism in Rossum. This warns you about conversions it is unsure about. So you don't have to spend time carefully reviewing the scanned documents.
In addition, you can give the tool feedback. The tool can use this feedback in the future in being less likely to repeat the same mistakes. Because the tool uses AI, it learns from each document you scan in real-time.
Key Features and Highlights
Multi-format support. The tool supports all kinds of document types, such as invoices, bills, and purchase orders.
Integration features. The tool integrates well with third-party software such as Netsuite or QuickBooks.
Unlimited access. One account can be accessed an unlimited number of times simultaneously by many users.
Batch processing. You don't have to work on a single document at a time. Instead, you can process files in batch to further streamline the image-to-text conversion process.
Pricing
The pricing is quote-based. So the price depends on the number of conversions you are looking to make.
Pros
Great PDF, JPG, and PNG support.
The tool supports exporting in the most common formats, such as JSON, XLSX, XML, and CSV.
This tool allows for the bulk processing of multiple files at one go. This is a big time saver when working with a bunch of documents.
Cons
Unclarity in pricing.
The OCR cannot adapt to the massive number of different types of documents out there.
There are some inconsistencies in the upload speeds that don't depend on the internet connection.
11. Klippa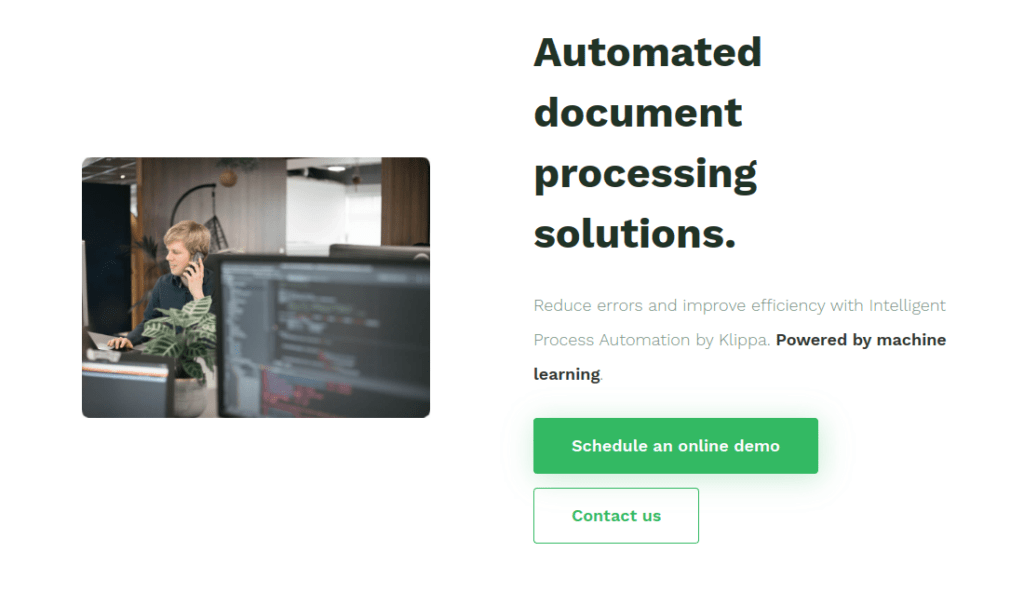 Klippa is a wonderful receipt-scanning tool.
This tool specializes in invoices and receipts.
In addition to the OCR-based scanning features, Klippa has an invoice management system. This allows you to collect, record, and process invoices. The invoices can originate from email, apps, or the web. You can create an approval flow for a streamlined accounting process.
This tool is also great for freelancers. There is expense management for managing expenses and annual tax returns.
Klippa is an application that works on desktop devices, Android devices, and iOS devices as a mobile app. So it works where you work. On mobile, you can easily use the camera feature to take pictures of your receipts and convert them into digital files.
The tool supports formats such as PDF, CSV, XLSX, and UBL.
Key Features and Highlights
OCR for text extraction. The tool lets you avoid manual work as it converts an image-based text document into an editable one.
Invoice management. There are built-in invoice management features. You can use them for collecting, recording, and processing invoices from a bunch of streams (email, apps, web).
Expense management. The tool is an expert in scanning receipts and invoices.
Multi-platform support. The tool works with your desktop as well as Android and iOS devices.
Pricing
There are two pricing models:
Klippa Basic: Free via OCR mobile app
Klippa Pro: $3.99/month (free 30-day trial for all features)
12. PDFpen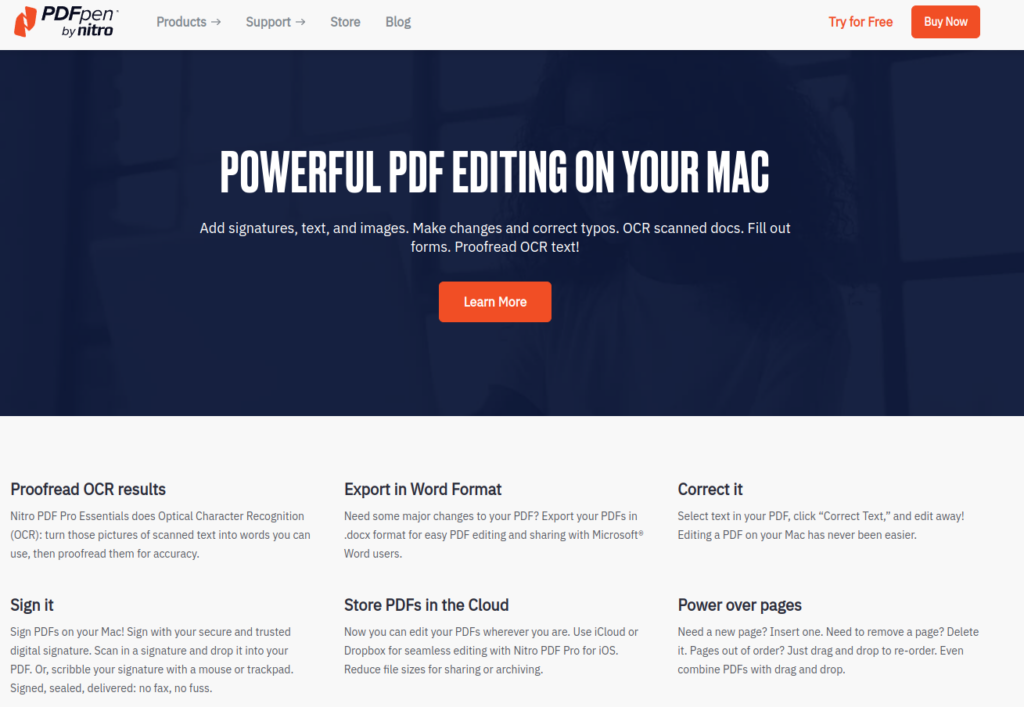 PDFPen is a macOS-only PDF-editing tool.
If you are a Mac user who is working with PDFs frequently, you should try PDFPen.
This tool can be viewed as a macOS alternative to Adobe Acrobat. The tool comes with a bunch of great features, such as OCR, signatures, AI-based text correction, and more. Besides the tool is easy to use and learn for beginners.
As an example use, you can use this tool to convert pictures of text to documents with words. You can even proofread the content using AI to make the necessary fixes to the text being scanned.
The only downside to this tool is it's only for iOS users. If you are looking for a strong PDF tool as a non-iOS user, you should consider Adobe Acrobat, for example.
Key Features and Highlights
Digital signatures
iCloud and Dropbox integration
Redaction tool
Well-rounded document editing functionality
Pricing
For macOS: $79.95
for mobile and iPad: $6.99
13. Devonthink Pro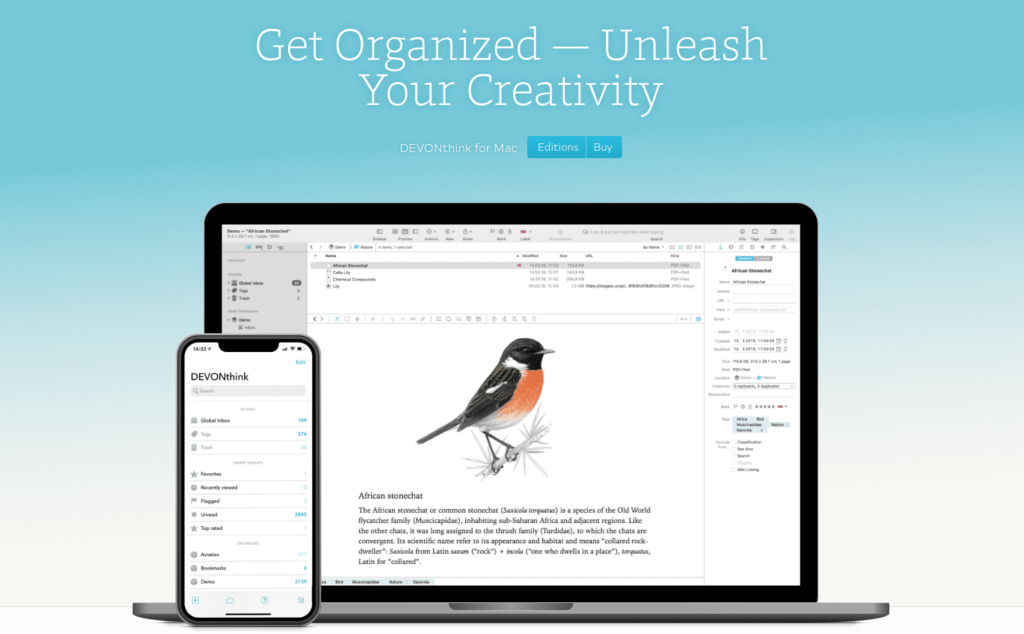 DEVONthink is another macOS-only OCR software for converting and organizing documents.
This tool lets you process and organizes documents with ease. Meanwhile, you work with other projects, you can set up the tool to sync up and analyze data between multiple Apple devices.
One thing that stands out in document organizing is the group-by-keyword feature. It makes it possible to categorize your documents into logical groups for easier and quicker access. Instead of desperately searching through a large group of files, you can perform a keyword search to narrow down the search results.
Needless to mention, the DEVONthink software has great OCR features for digitalizing images of physical documents and PDFs.
With DEVONthink, you get to enjoy full encryption and data protection of your documents.
If you are an avid Apple consumer working with loads of documents, make sure to give DEVONthink a try. You can use the tool as a desktop application on your Macbook. Alternatively, you can use it as a mobile app on an iPad or iPhone.
If you are looking to work with some files here and there, DEVONthink might be a bit pricey. Also, if you don't use Apple devices, you can forget about DEVONthink. But if you are looking for long-term file management and OCR solutions, consider DEVONthink.
Key Features and Highlights
File inboxing tools
Data encryption functionality
SmartGroups categorizing features
Pricing
There are three paid versions of the tool:
Standard: $99
Pro: $199
Server: $499
14. Docparser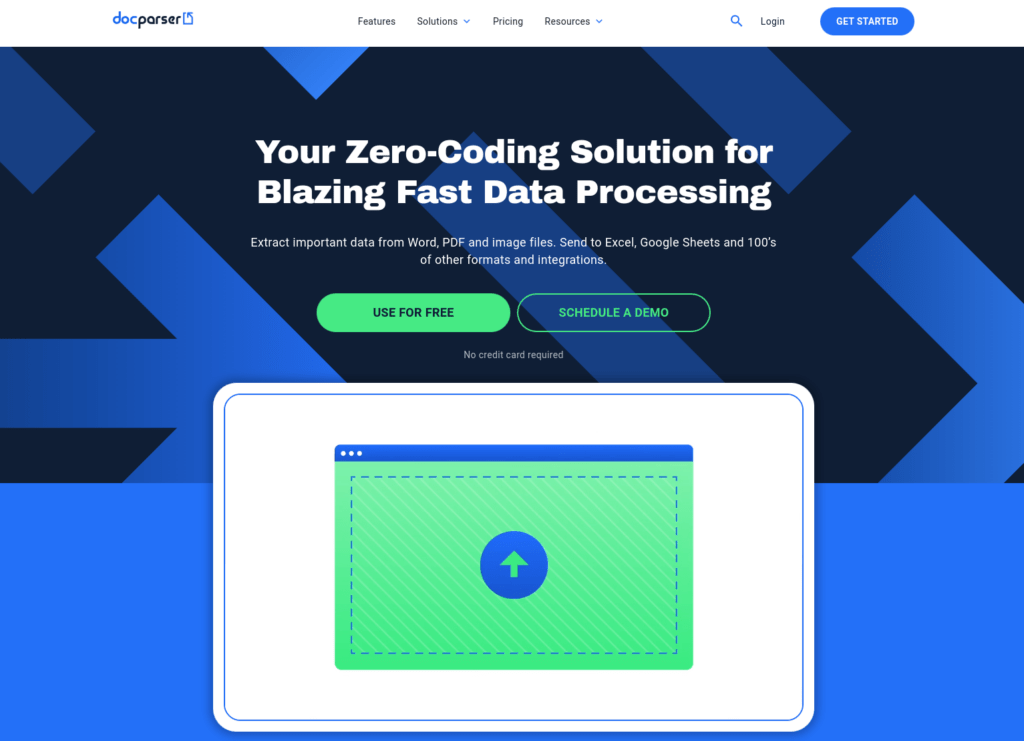 Docparser uses zonal OCR technology to extract textual information from images of physical documents.
The tool spits out nice-looking files that are editable, sorted, and filtered.
This tool also has a QR reader as well as a barcode reader.
The workflow of using this tool is simple. Here are the basic steps to take:
Upload the document into Docparser. You can use a direct upload. Alternatively, you can connect the tool with your favorite cloud storage, such as Dropbox or Google Drive. You can even email the files to the mailing server of Docparser. If you are a bit more tech-savvy, you can use the REST API to send an image-to-text query.
Define a set of rules for the conversion. This step involves no coding! All you need to do is select easy-to-understand rule presets specific to the file you are trying to convert. This way you assist the tool to make better decisions when converting your documents.
Let the tool do the work. The tool analyzes your document with the set of rules you specified. In a matter of seconds, it spits out a digital version of your document.
Export or download the output data. When the document has been completed, you can export or download it in a bunch of formats. FOr example, you can export the data into Excel, CSV, JSON, or XML. Alternatively, you may integrate your Docparser with other cloud apps, such as Zapier or Workato.
The tool uses the latest advancements in AI to process images. The tool allows for scanning different types of commonly encountered documents, such as invoices, purchase orders, or bank statements.
Key Features and Highlights
Numerical extraction capabilities
QR and barcode reading features
Cloud-based tool
Pricing
There is a completely free version of the Docparser software. In addition, there is a paid plan that you can try for free.
The paid plan starts at $39.00 and goes up to $149.00 based on the extent of the use.
15. Veryfi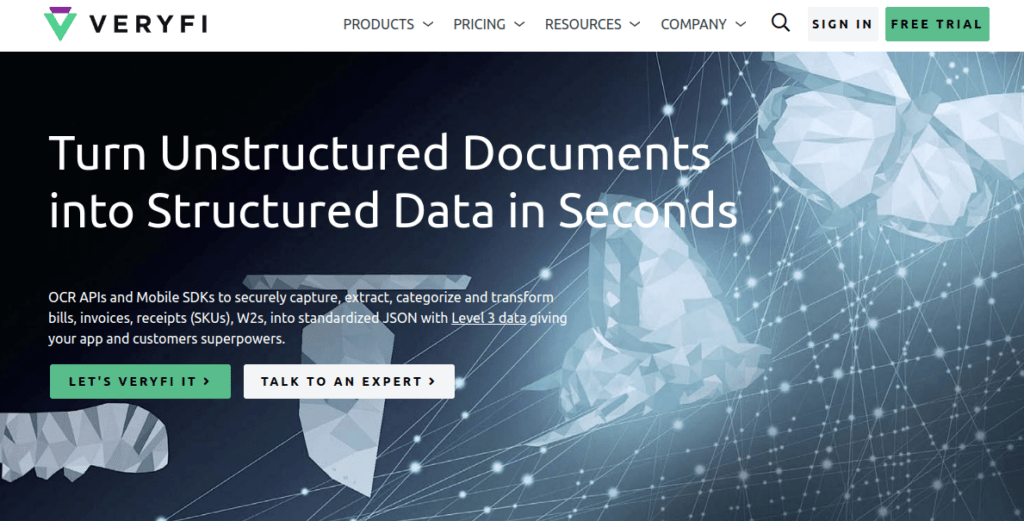 Veryfi is a high-quality data management tool with great OCR capabilities. With Veryfi, you can better arrange your documents by categorizing and grouping them. The OCR features allow you to easily convert bills and invoices to common digital formats, such as JSON.
Besides being a great document arrangement tool for freelancers, this tool also favors programmers.
If you are looking to build a bookkeeping application, you can use Verify's OCR APIs and Mobile SDK for secure image-to-text conversions.
There is a great timesheet manager feature for invoicing clients any time you like. Also, by using Veryfi, you get to enjoy bank-grade security features for keeping expenses private.
Key Features and Highlights
High-level security features for storing documents
Document management features
Clock out system
Mobile SDK for developers looking to add power to their apps
Pricing

You can start using the tool for free.
For more extensive use, there is a paid plan of $0.08/scanned document.
In case you are a company working with 25k+ documents/month, contact the support for a tailored plan!
16. Google Document AI
Google Document AI is a machine-learning-based OCR tool. You can use the tool to process documents using the DocAI console.
You can for example extract data from images of your documents. In addition, the tool allows you to gain insights from the extracted data.
If you are a power user of Google's tools, DocAI makes a great addition to your arsenal. The tool is really easy to set up. Besides, it integrates well with other Google tools.
Key Features and Highlights
Integration with other Google services
Quick OCR algorithm
Easy to get started with
Text classification, extraction, and insight finder
Pricing

Document OCR Processor: $0.0006 – $0.0015/page
Form Parser: $0.05 – $0.065/page
Intelligent Document Quality Processor: $0.25/page
17. ABBYYY FlexiCapture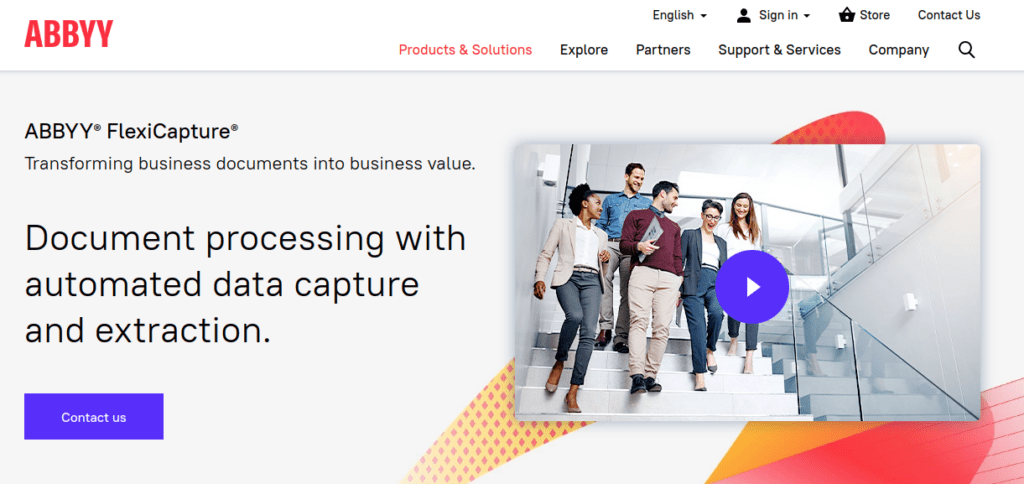 ABBYY Flexicapture is a great OCR document scanning tool for larger enterprises that work with documents in bulk.
With this tool, you have a variety of features for transforming photos and PDF documents into editable digital formats. The tool outputs the scanned documents as editable text, tables, forms, and digital files.
Although this tool works for even simpler document scanning tasks, it's ideal for larger enterprises.
The OCR features are powered by modern-day machine-learning algorithms. The OCR feature is built in such a way that it can easily process documents in batches. This is what makes it a great fit for companies with a bunch of documents.
Let Flexicapture do the manual work for you! This way you can save time to focus on other more relevant parts of the business.
Key Features and Highlights
Natural Language Processing capabilities
Document categorization features
Great scalability and bulk processing
Pricing
You need to contact ABBYY Flexicapture support to learn more about the pricing. The sales team tailors you to the best plan based on how you will use the software.
18. IBM Datacap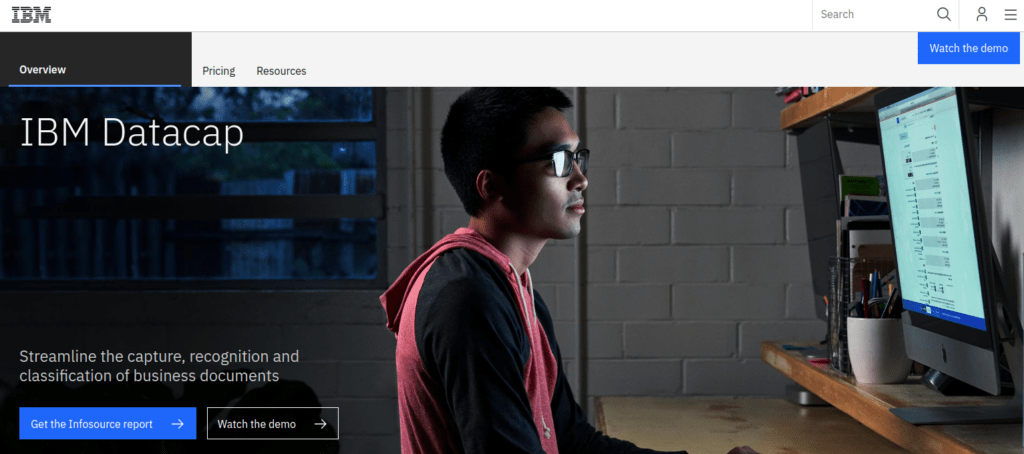 In the IBM Cloud Pack, there is an OCR tool that you can use to scan image-based documents into digital format.
This tool lets you extract unstructured data from PDFs or image-based documents.
This tool is great for businesses looking to automatize the lengthy manual task of digitalizing image-based text documents. The tool has great role-based content management features. This allows personnel to access documents based on their role in the company.
IBM's OCR technology is great at capturing data from complex documents too. The tool can organize the extracted data into fields and tables based on the input.
Key Features and Highlights
Omnichannel input
Content management features
Intelligent image extraction
Pricing
To get a price for the tool, you need to contact IBM support. The IBM team will craft you a deal based on how you are planning to use the tool.
19. Infrrd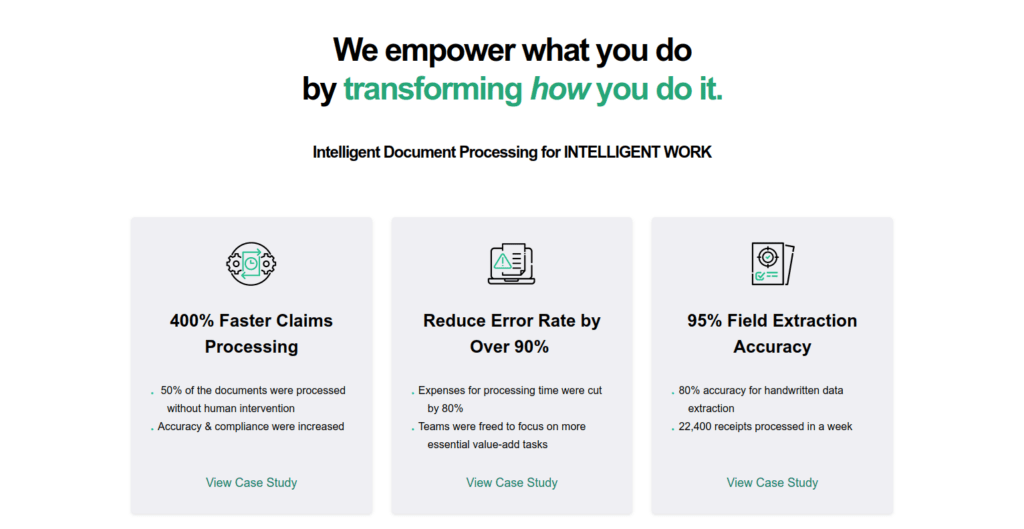 Are you working in the real estate or retail industry? If so, you are likely bombarded with all sorts of physical documents and PDFs. Also, there is probably quite a bit of customer data in your physical documents.
As a real estate or retail expert, you know how important customer data can be for your business.
The only drawback is working with physical documents is a pain.
Let me introduce you to Infrrd. This sophisticated document management tool automatizes the scanning phase of the documents. If you had to do this manually, the task would be infeasible and require days or weeks of your valuable time.
Enter the OCR features and natural language processing algorithms of Infrrd and this task is completed in a breeze. Instead of manually transforming your documents to digitally editable files, you can let the tool do the work for you. All you need to do is enter the document images into the tool and wait for a second.
Infrrd uses clever AI algorithms to extract data and content from your image-based physical documents and PDF files. Besides the useful features, there are also invoice and mortgage processing tools.
All in all, the Infrrd tool lets you do bigger customer analyses based on the documents you have. This way you can get a big picture of your clients. For example, you can easily use the data to make predictions for the future with a couple of clicks.
Key Features and Highlights
Analytic tools for big data
Image data extraction using OCR
Customer mapping
Mortgage and invoice processing features
Pricing
To start using the tool, contact the sales team. They'll tailor you a great plan for the best price based on your use case.
20. LightPDF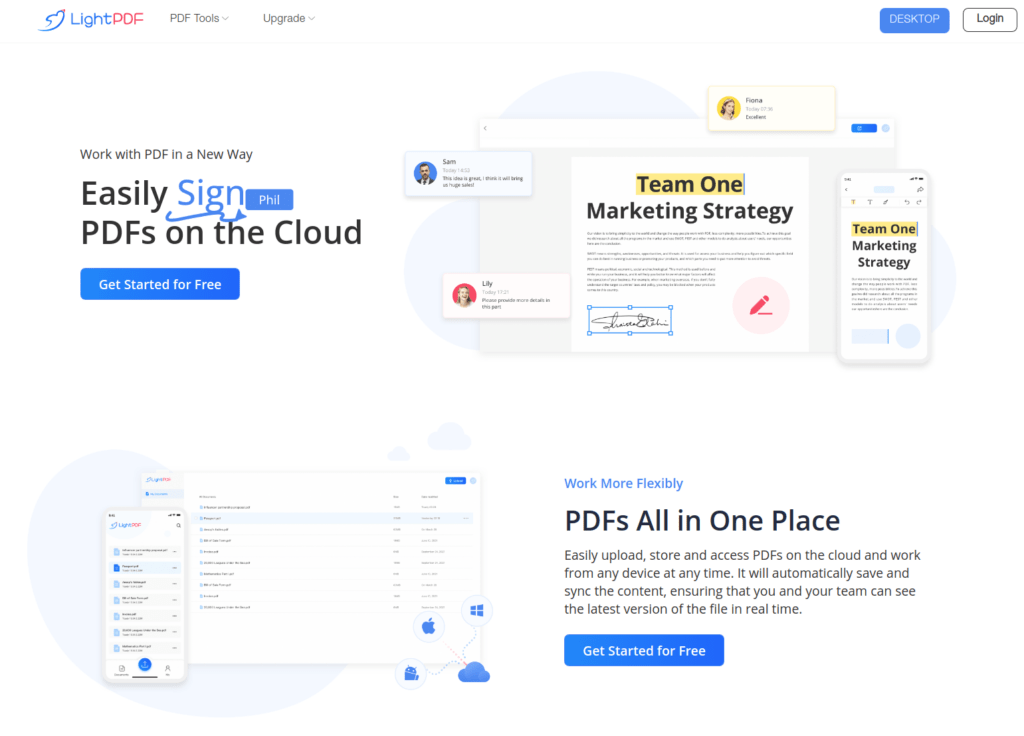 Are you looking for an extremely simple PDF processing tool?
LightPDF is a user-friendly tool for handling PDFs. This tool comes with a strong OCR feature that allows you to scan PDFs and convert them into editable documents.
LightPDF is a web-based application. Thus there is no additional software to install.
In addition to converting PDFs, you can manage multiple PDFs with ease. This web-based tool is free to use. Also, there is a pro plan for the more frequent users.
Scared to upload documents to a random website? No worries, LightPDF does not backup or store any of your info. When you have completed using the tool, your documents are wiped out from the server.
As a great addition, this tool has a nice built-in text-to-speech feature. Besides transforming image-based documents to text, you can thus make the tool speak the text.
Key Features and Highlights
User-friendly tool that is easy to setup
Text extraction from images
Speech to text
PDF manager
Encryption and data removal from the servers
Pricing
There is a completely free version of LightPDF. For a more rigorous user, there is LightPDF VIP OCR Software for $9.99/100 pages.
21. SmallPDF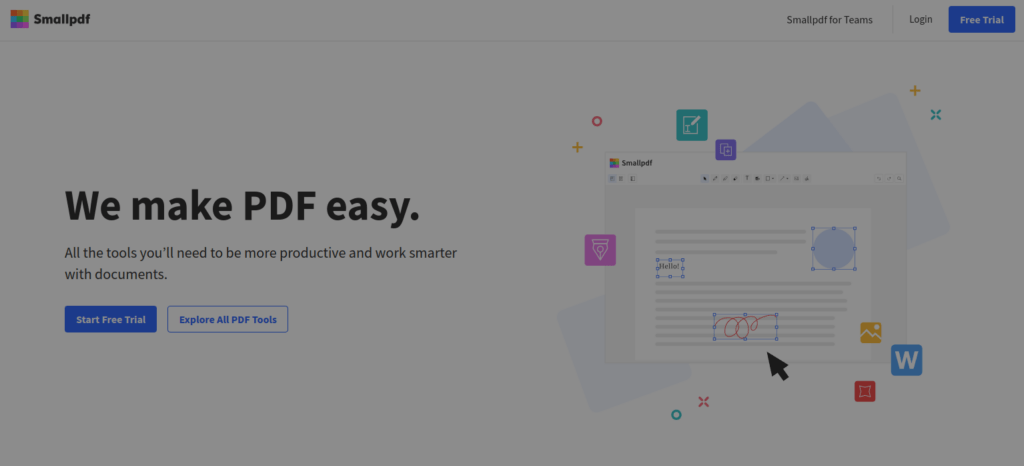 SmallPDF is another really easy-to-use tool for converting images to editable files.
This tool supports converting files to Excel spreadsheets. Besides you can extract data from other common types of file formats, such as JPEG or a PowerPoint presentation.
SmallPDF is a separate piece of software you need to install. It works anywhere without an internet connection. This way you can use it where ever you are, as long as you have your laptop with you.
There is a web editor version of SmallPDF. When you use the web tool, it doesn't save your documents. Regardless, it encrypts your files to inaccessible formats to add an extra layer of security.
SmallPDF is great for managing and handling PDF files besides scanning and extracting data from them. For example, there is a merge, split, and reorder features that work via drag-and-drop functionality. Also, you can easily sign PDF documents.
Key Features and Highlights
Enterprise-level security features
Drag-and-drop PDF editor
Integrations with Google Drive and DropBox
Pricing
There is a completely free version of the tool.
In addition, there is a more professional paid plan for more frequent users for $5/per user.
The pro version has more features and you can test them using the 14-day free trial.
22. Picatext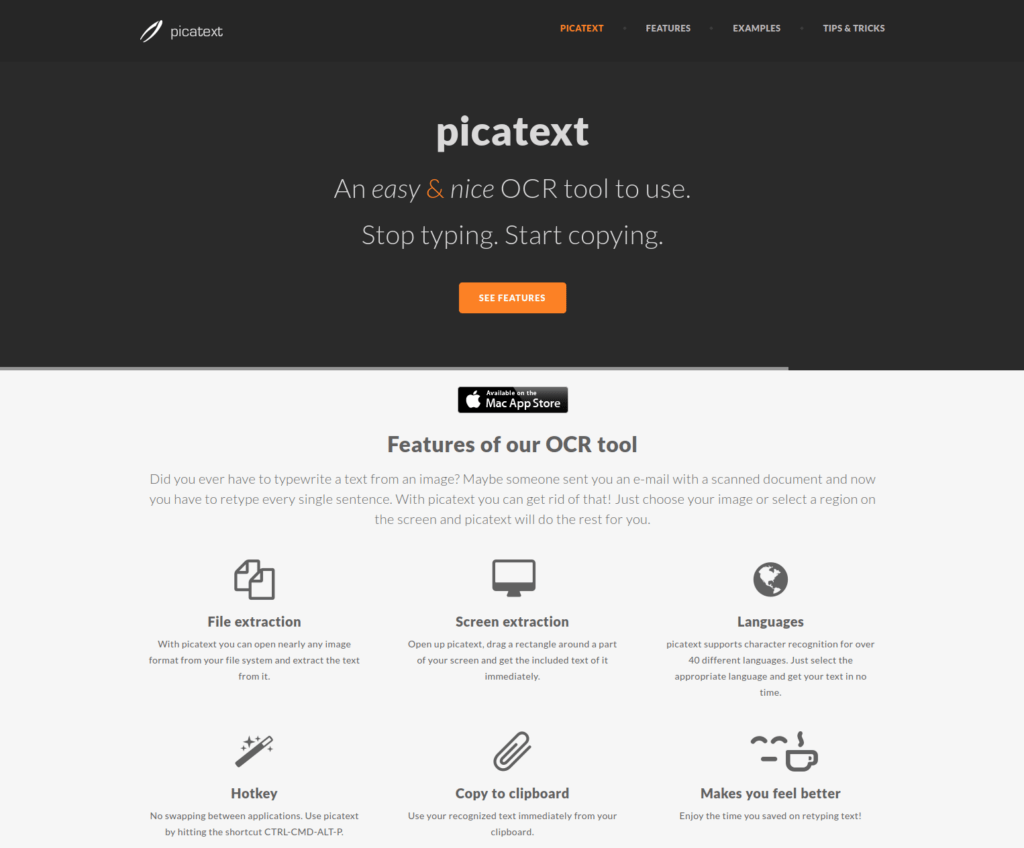 Do you want to convert images to text using a Mac?
Picatext is a great image-to-text converter for macOS users. The main focus of the developers of this tool was on user-friendliness.
The OCR algorithm can extract text from images easily. However, it has (intentional) limitations. For instance, the tool doesn't recognize underlined or otherwise strongly formatted text. Also, the tool doesn't perform well with low-res images.
Picatext is great for instantly copy-pasting text content from images. It has a clipboard feature that allows for clipping text from images and other non-editable documents. Then you can easily paste the content to another document and start editing it.
If you are looking to quickly extract plain text from an image as a macOS user, try Picatext. If you are looking for a more robust cross-platform solution for bulk scanning, this tool is not for you. Also, if you want to work with PDF files, it's good to know this tool doesn't support PDF.
Key Features and Highlights
Image-to-text conversion features for multiple document formats
Snipping tool for capturing everything on your screen
Clipboard for easy copy-paste
Pricing
23. FineReader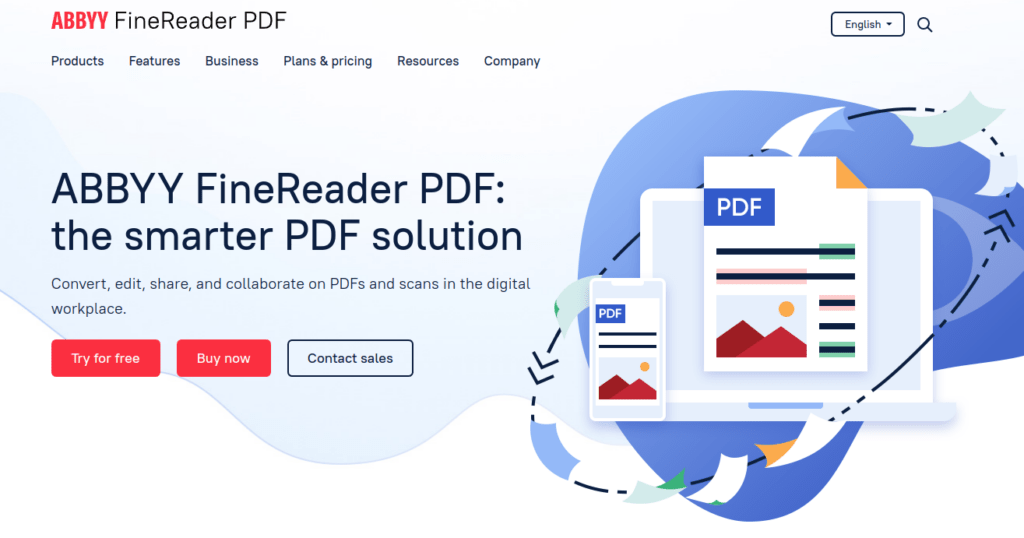 ABBYY FineReader is the second ABBYY tool on this list. This advanced piece of OCR software recognizes characters with state-of-the-art AI algorithms.
So if you have a PDF document you wish to edit, just input it into the FineReader and enjoy the document. The tool works really well for editing and enhancing common files such as PDFs. For example, you can leave notes, signatures, or other types of annotations in the scanned files.
In addition to using OCR to extract data from image files, the tool has great collaboration and sharing features. If you just scanned a document and made some tweaks to it, this tool makes it easy for you to share the result.
Also, sometimes it might be relevant for you to protect your content. There is a great password protection feature in FineReader. You can use it to set a password for your PDF files for example.
I know I talked a lot about PDFs related to FineReader. But the tool can convert other types of paper documents to digitally editable files too. So you are not restricted to using PDFs only!
Key Features and Highlights
OCR features for image-to-text conversion
Markup tools for drawing and commenting on files
Form filler capabilities
Format editor for layout polishment
Pricing
There is a 7-day free trial for the software. After the trial, you can choose:
Basic plan: $199
Pro plan: $299
FAQ
Here are some questions and answers related to OCR and OCR tools.
What Is OCR?
OCR stands for Optical Character Recognition.
It is a technology that saves a lot of time when extracting data. For example, if you have a physical document and you want to convert it to a digital piece, OCR can help you.
The OCR uses machine learning to recognize characters and other features from physical documents. This is why OCR is sometimes called text recognition.
An OCR program extracts data from non-editable text documents, such as PDFs. Your typical OCR tool works by following these steps:
Extract letters of the image
Combine the letters into words
Turn the words into sentences
With an OCR program, you don't need to do any manual work. Instead, you can let the tool do the hard work for you.
Modern-day OCR software can use the latest advancements in artificial intelligence to implement intelligent character recognition (ICR) methods. With ICR, the tools can detect a language or work with different handwriting styles.
OCR is typically used to turn image-only documents into editable ones. For example, a PDF or a handwritten paper can be turned into an editable document with ease
What Features to Look for in an OCR Tool?
When you are looking for OCR tools, you are likely looking to automatize manual work.
Although OCR and text recognition sound like a simple things to do, it's not. The algorithms are improving all the time.
To make the most out of OCR software, pay attention to at least these features:
1. Layout Analysis
The tool should be able to tell what is a column of text, table, image, or any other similar object in the document.
This way the tool should be able to retain the original format of the document, not just copy the content of it as plain text.
For example, your document might be bolded, underlined, or have images. To make the most out of an OCR took, it should be able to handle all these objects and place them into the output document.
2. Word Search
When working with a bunch of files, chances are you are going to lose them in the vast ocean of other files.
This is why a great tagging and searching functionality is necessary for more serious users of OCR tools.
3. Document Splitter
The output documents should be splittable into smaller documents for easier sharing and uploading.
4. Language Detection
Most OCR tools work well in English documents. However, not everyone uses or even understands English.
This is why it is important that the OCR tool you use is multilingual, especially if you plan to extract non-English documents.
5. Support Multiple Formats
In the world of documents, there is a whole bunch of document formats. Unfortunately, supporting a format cannot be taken for granted. This is because each format needs to be coded into the OCR software carefully.
Make sure you use an OCR tool that supports at least the common formats MS Office, PDF, and JPG. Also, if you are working with a more specific format, make sure the tool you are about to try supports that particular format.
7. Digital Signature
More and more documents get signed online every day. Adding a digital signature sounds like a simple task. Yet many tools and editors don't make it easy.
If you are working with forms and documents as a business person, I recommend ensuring the OCR tool has digital signature features. A digital signature request feature wouldn't hurt either. This way, you can use the tool to request someone's signature without moving away from the tool.
8. Collaboration Functionality
Last but not least, collaboration is one of the important features of OCR apps. Chances are you are not the only person working with your business documents.
To make it possible to work on the same files and documents as a team, the OCR tool should support collaboration, such as live editing, comments, and notes.
What Is UBL Data Format?
UBL stands for Universal Business Language. It is a commonly used data format for streamlining business document processing.
You may have seen the UBL format being supported by some of the OCR tools in this list. As a less common data format, you may not know what UBL is. Here is a short explanation.
UBL is an XML-based invoice format. A UBL file uses XML in a structured way such that it stores all the necessary invoice information in a structured manner. UBL format can be used for accounting, legal, and record management. It is a business document language that formats and structures business-related documents into an easily processable format.
The UBL format was created to simplify invoice processing workflows. With UBL format, you extract the information from the documents without re-keying the data. This reduces manual work.
Wrap Up
That is a whole bunch of OCR software for converting documents to text.
I'm sure you found a tool that best suits you.
To recap, you commonly want to use OCR to convert a hand-written or image-only document into a digital format. Doing this is necessary whether you are running a business, studying, or working on some other personal project. These days you can use the OCR tools to digitize non-text-based documents.
Don't pay much for the software if you are looking for a fundamental OCR tool for a simple use case. You can try out a tool like Google Docs, Tesseract, or SimpleOCR.
If you are working with more complex documents, such as business documents, you should use a more advanced tool such as Rossum.
How about the best overall OCR tool? Well, in that case, it has to be Adobe Acrobat Pro DC. Adobe Acrobat Pro DC is arguably the best OCR tool because of its versatile features, such as:
Text extraction
Convert scanned documents into editable PDFs
PDF compression
Convert a PDF to multiple formats
PDF signature support (with signature requests)
If you aren't ready to pay for these tools, make sure to exhaust the free trials. Most of the paid tools in this list come with a nice free trial period so you don't end up paying in vain.
Thanks for reading.
Read Also
Want to streamline your invoice processing? Read the guide on choosing the Best OCR for Invoice Processing.
So you converted an image to text? Now that the text is available, chances are you want someone to read it for you. If this sounds reasonable to you, feel free to check the Best AI Voice Generators.
Do you have images that are low in resolution? Check the Best AI Upscalers to make your images look good!