Choosing the right type of automation software is crucial for your business to save time and cut costs. These days, there are surprisingly many affordable tools for automating tasks, such as CRM, social media, writing, and much more.
This is a comprehensive list of the best business automation software.
Each tool in this list serves a specific purpose. Thus, the tools are not ranked. I recommend reading through the post carefully. You can learn about new optimization strategies you may not have heard of before.
For example, did you know you can use AI in content creation to produce 100% human-like content? Or did you know there are centralized social media platforms for managing all your social media accounts simultaneously?
Without further ado, let's jump into the world of automation.
Disclaimer: Some of the links in this article are affiliate links. I may receive a small commission if you make a purchase at no cost to you.
5 Great Business Automation Software
Best for CRM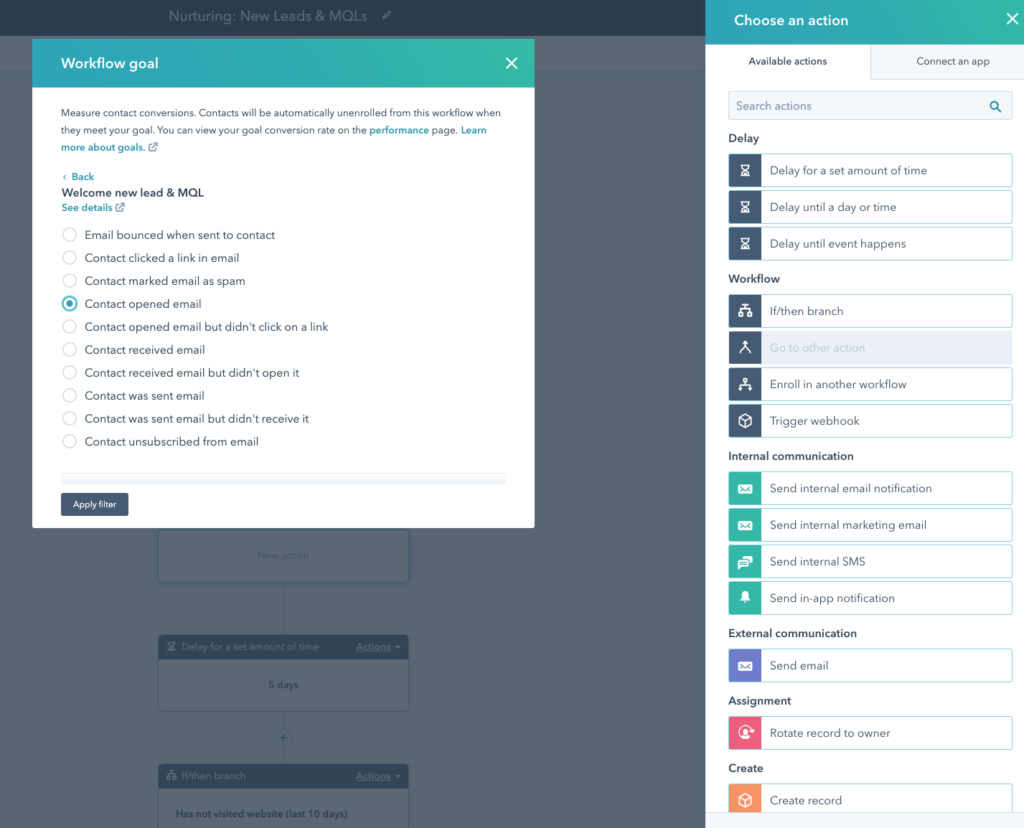 HubSpot is a popular customer relationship management (CRM) software. HubSpot has a separate CRM and marketing automation solution, HubSpot Marketing Hub.
One of the outstanding features of HubSpot Marketing Hub is the visual board for creating and editing campaigns based on conditions. This tool allows for integrating logic into your CRM campaigns without having to write a single line of code.
This tool lets you automate other tasks than email marketing. For example, you can:
Keep track of the number of leads
Drive leads to sales
Set up webhooks
Create notifications when customers take actions
Speaking of email campaigns, I highly suggest checking the best email deliverability tools.
If you are new to CRM, this might seem a bit difficult. To remedy this, there is HubSpot Academy that offers comprehensive guides to start using the tool.
Let's take a look at some of the notable features in HubSpot Marketing Hub.
Key Features
Free CRM. The free CRM allows businesses for gaining access to contact behavior tracking. You get to track contacts, companies, deals, and tickets. When you combine the free CRM feature with the HubSpot Marketing Hub, you can make wiser business decisions on leads, prospects, and customers.
Landing Pages. Any successful marketing strategy is heavily dependent on the landing page. More importantly, it is crucial to be able to change that in a blink of an eye without invoking designers or developers. In the HubSpot Marketing Hub, there is a landing page feature that comes with templates and a drag-and-drop editor. This makes it possible to design and update the landing pages in a breeze.
List Segmentation. The list segmentation feature lets you group contacts based on the criteria of your choice. There are a lot of criteria to choose from, such as page views, lead score, email interactions, form fills, and so on.
Email. An email automation platform is a crucial tool for marketers. HubSpot's email marketing versatility is outstanding. You can send emails in bulk and add personalization tokens, CTAs, and other hypermedia. To design the emails, there is an easy-to-use drag-and-drop editor for designing the emails. The email feature comes with comprehensive reports on things like bounce rate, unsubscribed, open rates, CTR, and more.
Custom Workflows. The HubSpot Workflows feature makes a marketer's life easier. Besides it also improves the customer and prospect experience. The workflow feature lets you automate previously manual tasks at scale. For example, you can set up an ongoing system to:
Nurture leads
Build and segment lists
Gravitate leads toward sales
Assign properties
Send internal notifications
Paid Ad Tracking. The ad integration feature helps analyze the social media ads performance, such as LinkedIn, Facebook, or Google Ads. The tool makes it easy to track performance metrics and attribution in a digestible manner. The tool is also easy for someone not trained to use the Google Ad platform.
Social Media Management. The HubSpot Marketing Hub integrates with the most popular social media, such as LinkedIn, Instagram, and Facebook. This helps you plan social media posts and time them right. The best part is you can create, edit, and schedule all your posts from HubSpot. So there is no need to log in to all these platforms separately.
Comprehensive Dashboards. The versatile dashboards make it easy to review and analyze customer reports. The dashboard gives you easy access to all your necessary customer and prospect data at all times.
Pricing
The basic plan starts at $50/month. With this plan, you can send 2,000 emails per month. You should pay $20 for each additional 1,000 contacts.
The professional plan costs $800/month. In addition to 1,000 contacts, this plan comes with a complete marketing automation suite, customized workflows, and nurturing features.
The enterprise plan costs $3,200/month. This complete plan is for the key players in the field. It gives you access to 10,000 contacts, revenue reporting, event automation triggers, and comprehensive campaign reporting on a company-wide level.
What I Like
There is a great CRM integration.
The marketing automation is well-rounded and super useful.
This tool integrates well with other HubSpot solutions.
There is a big number of social media management features.
What I Dislike
The tool is a bit pricey for small businesses.
It takes a while to get the hang of the tool.
Bottom Line
Digital marketing is important for any online business to drive sales. Usually, full-scale digital marketing involves:
Social media ads
SMS marketing
Search engine marketing
Lead generation
Social media activity
Landing page optimization
And much more.
This also means there are lots of moving parts and a bunch of manual work to be done. To pull off a successful strategy that leads to more conversions, there are simply too many things to do at once.
This is where an automation tool like HubSpot Marketing Hub comes in.
With HubSpot, you can automate tasks such as lead nurturing, social media management, ad reporting, and more. This can streamline the digital marketing process and practices.
The cool thing about HubSpot Marketing Hub is there are relatively cheap starter plans to get started with. Then for the serious players, there are enterprise-grade plans to cover the entire digital marketing suite.
2. Zapier
Best for workflow optimization and saving time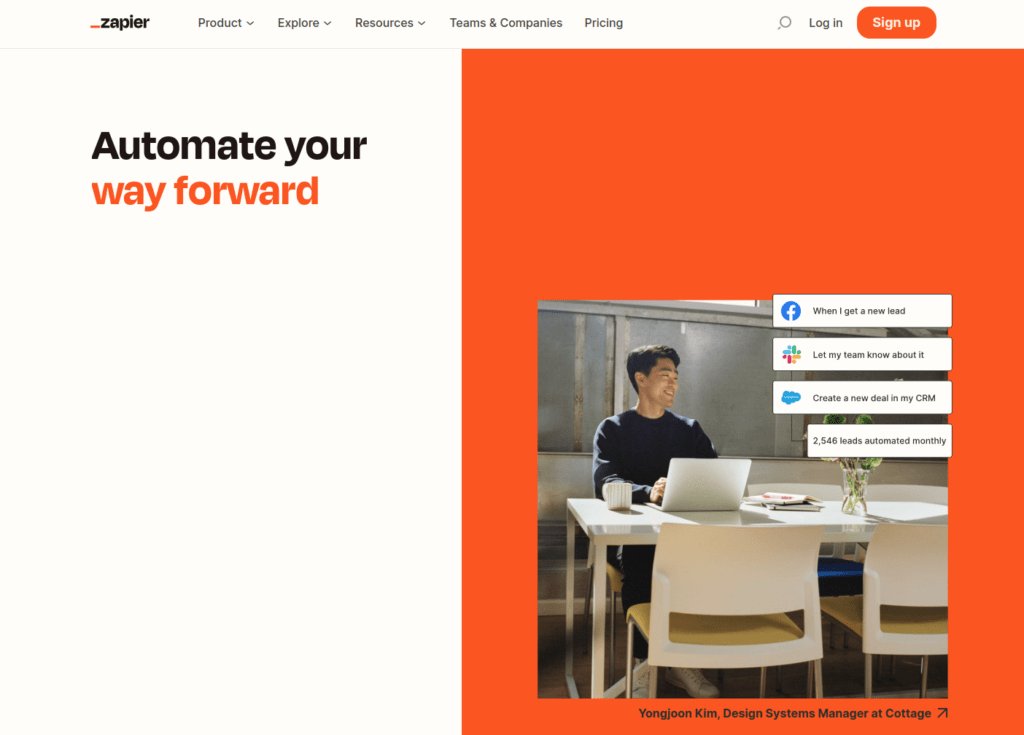 Zapier is a multi-purpose workflow optimization software.
As a business person or solopreneur, your typical day might involve:
Giving updates on a couple of projects you are working on
Process some data
Answer emails
Move information from one place to another
Although these tasks seem simple, they will add up. Instead of focusing on relevant matters, you spend more and more time on low-value tasks. This causes you to rush through the important projects and deadlines.
A whopping 54% of employees think they could save 240 hours annually with the right kind of automation tools. This means more than an hour every working day!
To take a big step towards that level of automation, you can try Zapier.
Zapier uses Zaps to trigger particular actions in your workflow. This way you don't have to interrupt your flow when working on important tasks.
A good place to start using Zapier is by installing the Chrome Extension. Once activated, head on to any website relevant to your business and click on the Extension icon. This shows you a list of automation suggestions depending on the page you are on.
While these suggestions are great, Zapier also has a special feature called Zap. You can use Zaps to implement suggested workflow automation.
To find solutions, open up the Zapier app explorer and choose your role and the tools that belong to your arsenal. With this information, Zapier gives you workflow automation templates. Zapier integrates literally with a ton of applications.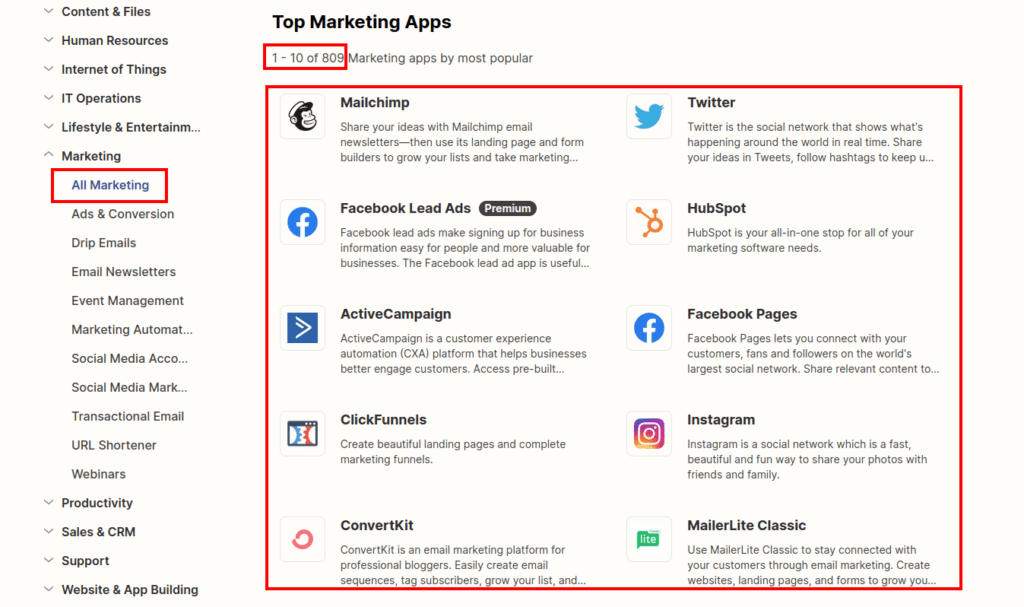 Key Features
The core concept in Zapier is called the Zap. A Zap is an action or group of actions that happen automatically.
One of the core features of Zapier is the ability to automate multitasking by adding multiple actions to Zaps. A single Zap can have more than 100 automation actions that let you work less.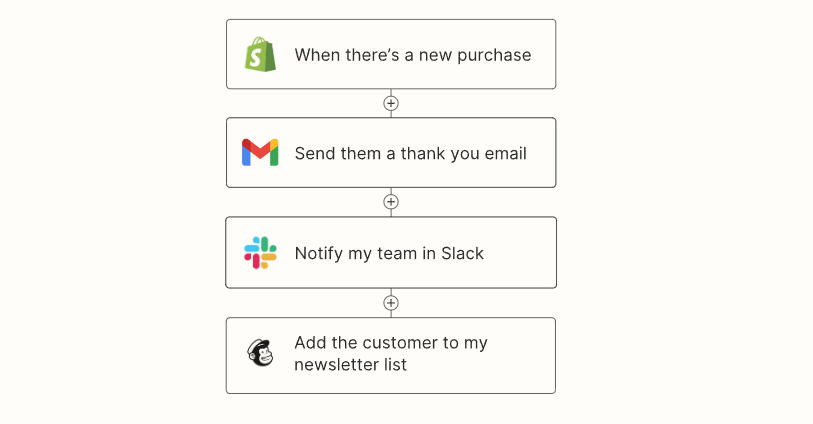 Another important feature is the ability to add logic to your actions. Without writing a single line of code, you can implement if-then-else logic on your automation. For example, you can add a customer to a food-related newsletter if they purchased a food item. If they purchased a book, you can perform another action instead, such as suggesting a course or sending a survey.
If you cannot find apps you are using in the list of 5,000+ apps, you can always build your own Zapier integration.
Pricing
The Free Plan offers a way to get your first impression of Zapier. With the free version, you can make Zapier perform up to 100 tasks every month.
The Starter Plan costs $20/month. This plan includes three Premium Apps. It gives access to automate 750 tasks per month. Besides you can have 20 different Zaps run periodically every 15 minutes.
Professional Plan is $50/month. This plan includes an unlimited number of Premium Apps. The professional plan supports 2,000 tasks each month. You can set up an unlimited number of Zaps to run the tasks periodically. At the professional plan, Zaps run every 2 minutes.
The Team Plan costs $299/month. It has everything that the Professional plan has. Besides, it supports 50,000 monthly tasks and an unlimited number of zaps that run every 1 minute. Also, as the name suggests, this plan makes team collaboration easier. You can add an unlimited number of accounts to this plan.
The Company Plan costs $599/month. With this high level of plan, you can do 100,000 tasks every month. There is an unlimited number of Zaps available that run every 1 minute. Besides, there are great security and account management features.
What I Like
The tool can create actions between web services to automate tasks.
The automation suggestion Chrome Extension is a nice invention.
Zapier supports a surprisingly high number of applications.
You can enjoy the benefits of multi-step automation using Zapier.
The tool is easy to use and to get started with.
What I Dislike
Although the tool is well-rounded and has a ton of useful automation, no mobile app version is available.
Due to the tool's versatility, you would expect it to integrate with smart home devices. Unfortunately, this is not the case.
Bottom Line
You spend a lot of time repeating low-value manual tasks in your everyday workflow. Instead of focusing on these, you should allocate more time to solving real business problems and working on projects.
These days, there is a surprising number of things you can automate. Most of these are something you wouldn't even think of.
With Zapier, you get suggestions for automation on different pages and apps you visit. In addition, you can set up Zaps to do the automation. Zapier is a great tool for small, medium, and enterprise-level users across all industries.
Best for automated writing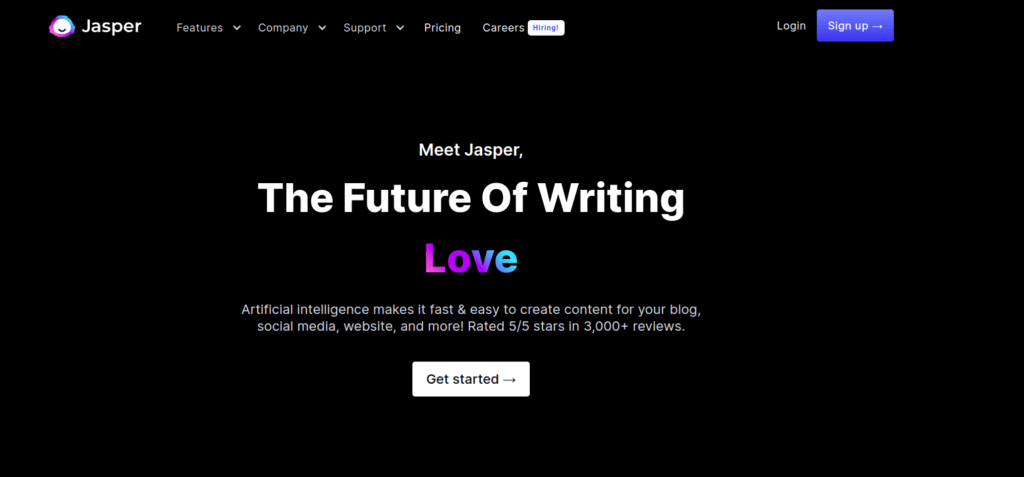 Jasper is an AI writing tool. It uses state-of-the-art AI algorithms to process and generate text.
The capabilities of this tool are mind-boggling. It knows how to write about anything. You can use it to do copywriting, blog posts, advertisements, or social media posts.
The best part is that the content is unique by nature. The AI that powers the tool mimics human language processing skills. It has been trained by reading millions and millions of web pages on the internet. Some say it has read 10% of the entire internet.
So when you ask Jasper to write something, he literally knows about the topic and puts it in his way.
One of the cool features of Jasper is the ability to change the tone of voice. In addition, the tool can learn how to write as you would. This way the text generated does not look robotic or auto-generated.
As a great addition, Jasper has a blog post editor where you can make tweaks to the output if you want to.
The workflow of the tool is easy:
Pick the type of content you want to create (blog post, ad description, social media post description, email, or more)
Give the tool a couple of words or phrases of input.
Let the tool generate the output in a matter of seconds.
Make small tweaks to the output or re-generate the content.
Profit.
There is a free trial of 10,000 words available.
Read also a full Jasper Review.
Key Features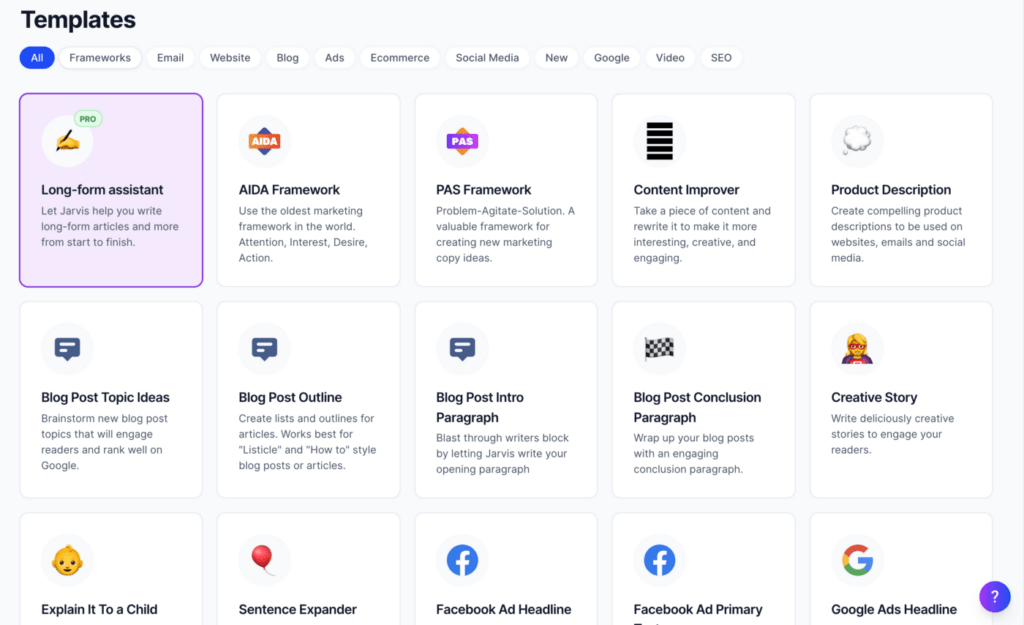 State-of-the-art AI content generator
100% unique and plagiarism-free content
Blog post editor
Grammarly integration
Surfer integration
A ton of templates for overcoming the blank page syndrome
Nice and easy-to-use UI
Beginner-friendly experience
Pricing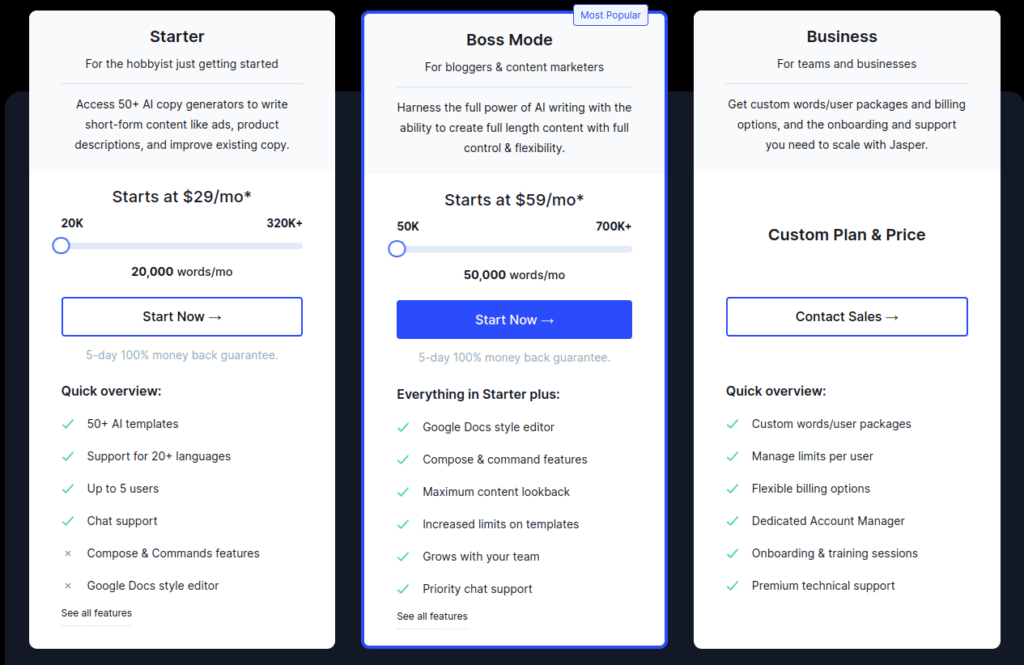 There are three plans besides the free trial:
Starter: Starts at $29/month
Boss Mode: Starts at $59/month
Business: Contact the Sales Team
What I Like
I like how easy it is to write content with Jasper. It does most of the work, meanwhile, I do some basic grammatic correction and fact-checking.
The multi-generation feature allows for creating different versions of the text. This helps you choose the best version.
The tool is easy to use and easy to get started with. All you need to do is choose a template, give some input and click generate.
It's funny how you can change the tone of voice in your writing. You can ask Jasper to be polite, angry, philosophical, and much more.
The blog post editor makes it easy to edit and format the generated content on the fly.
Advanced operators give you control over the content being generated. For example, you can tell Jasper to forget everything after the previous chapter when generating the next one.
What I Dislike
Sometimes the tool makes silly grammatic mistakes it has learned on the internet.
Due to the AI algorithms that power the tool, it doesn't know about events before 2020. For example, it knows little to nothing about Covid-19.
Sometimes the tool repeats itself. If I ask it to complete the text again, it can produce a very similar result.
Bottom Line
Jasper is a great writing assistant for serious writers. No matter what you write, be it blog posts, ads, social media posts, or emails, you can use Jasper to 5X your writing speed.
Although the Jasper is impressive, it has limitations. Sometimes Jasper makes silly mistakes. You need to do fact-checking before publishing the content. Also, because the tool has learned writing on the internet, it can write some grammatical mistakes that it has learned from other blogs.
Because of the limitations, you cannot treat it as an auto-writing too although it is very close to one. Treat Jasper as a writing assistant that speeds up your writing. Jasper's value proposition is to improve your writing speed by 200-500%.
When I use Jasper, I like to combine it with Grammarly to fix some grammatical issues.
In the future, people will use more AI in their writing. Someone who doesn't use AI tools might drop out of the competition. Now is a great time to at least give it a try. Thanks to the free Jasper trial, there is nothing you can lose.
4. Hootsuite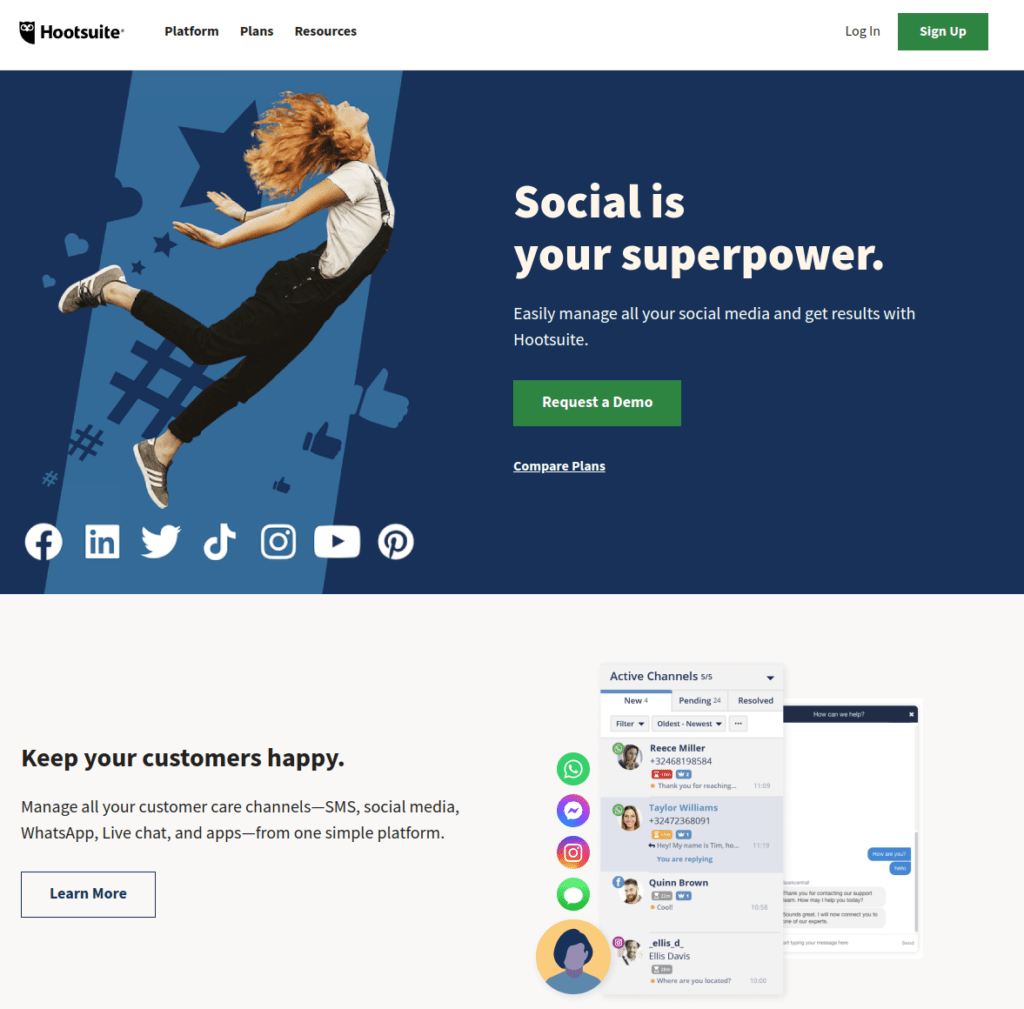 These days, most businesses need a social media presence.
With all the possible social media platforms, such as TikTok, Instagram, Youtube, and Facebook, it's hard to keep up.
To keep your business relevant, you need to actively post content on each platform. But this is not an easy task. Managing all four (or more) marketing channels simultaneously is time-consuming and tough.
This is where a social media management platform Hootsuite helps.
Hootsuite is an all-in-one solution for managing the social media of your business.
The tool lets you schedule posts for each platform with a couple of clicks. It makes handling multiple social media channels a breeze. You can use the tool for planning your posts and timing the publication using the calendar view.
Not only is the tool good for posting content, but it's also good for user engagement. With this tool, you can answer comments, and track brand mentions and trends. Also, the analytics tool allows for an easy overall view of your social media traffic and engagement metrics.
Key Features
Stay signed in to all the social media accounts
Create posts with the social media post editor
Schedule publishing the posts across different social media platforms
Social media post monitoring
Social media engagement features (e.g. see and respond to comments and messages)
Campaign planning features
Comprehensive metrics and analytics of your social media performance
Pricing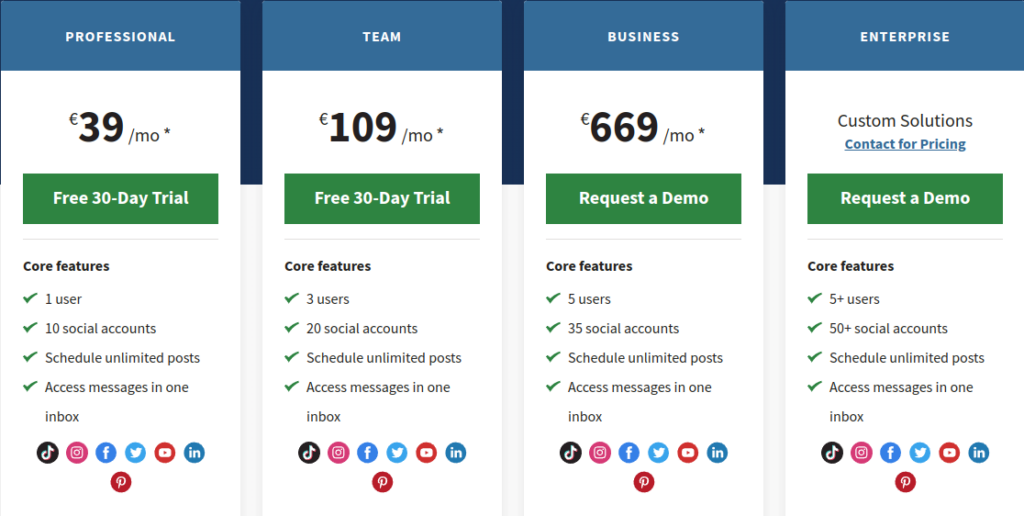 There are four paid plans for Hootsuite:
Professional: $39/month
Team: $109/month
Business: $669/month
Enterprise: Contact the Sales Team
To try the tool first, you can use the 30-day free trials or request a demo from the sales team. This way you can get your first impression without having to spend a buck.
What I Like
Hootsuite is a great social management tool with great automation, analytics, and tracking features.
Scheduling posts for multiple social media channels is made easy. There is a calendar view you can use to time the posts for particular dates.
Hootsuite offers an all-in-one platform for managing multiple social media accounts. Thus, you'll never need to juggle between different platforms. This saves you time and effort. It makes social media management feel fun and easy.
What I Dislike
To customize the tool further, you need to use extensions. There is nothing wrong with extensions, but in Hootsuite, the extensions tend to be expensive.
You can get the most out of the tool by signing up for an enterprise plan. The lower-tiered versions are still good, but it's a shame you need to pay big to get access to the best features.
The analytics and metrics might be too shallow for some users.
Bottom Line
Remaining relevant in social media is crucial for businesses and professionals. The downside to social media is there are many platforms to keep updated.
Hootsuite offers a centralized solution for social media management. You can connect all your social media accounts to this plugin. You can use Hootsuite to post, comment, and comment on each social platform. No need to hop between the apps.
In addition, you gain valuable insights about your audience, campaign performance, and other key metrics.
I think any professional or business should at least try this type of automation. Tools like Hootsuite help you save time and increase productivity. Luckily, there are free trials on Hootsuite.
5. Calendly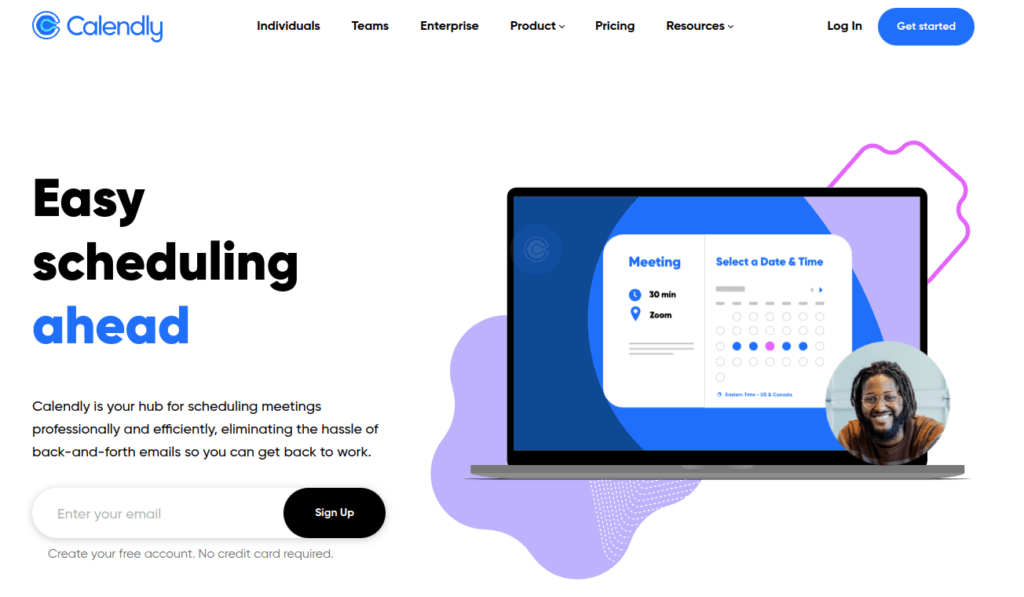 Calendly is a tool that lets you schedule meetings without the email back-and-forth.
The tool is super easy to use:
Specify availability. Let Calendly know about your availability preferences. This way the tool knows which slots will work for you and which ones will not.
Share a link. You can share your Calendly link via email, message, or even embed the calendar on your website.
Get booked. They choose a meeting time and the event is added to your calendar.
Now there is no need to call or email back and forth about a meeting. Instead, you can set it up with a couple of clicks.
There is a great forever-free version with which you can already do nice things.
Key Features
Availability preferences. You can specify availability preferences to Calendly. This way Calendly can suggest the right timeslots. This way someone cannot book a meeting on top of your lunchtime or outside the office hours.
Teams scheduling. Calendly supports scheduling meetings for teams.
Qualifying forms. You can use routing forms to qualify people to book meetings with you.
Workflow automation. You can set up sending emails before and after meetings automatically.
Connect to Multiple Calendars. You can connect a single user to up to six different calendars.
Polls. There is a poll feature for polling availability of a list of attendees.
Website integration. You can embed the Calendly calendar on your website. This way a website visitor can book a meeting with you without reaching out.
Pricing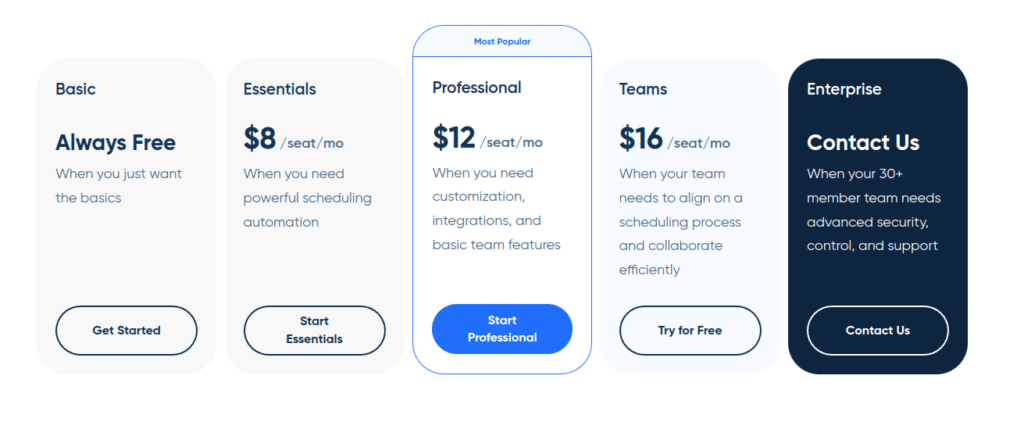 There are five total plans for Calendly:
Basic: Always Free
Essentials: $8/seat/month
Professional: $12/seat/month
Teams: $16/seat/month
Enterprise: Contact the Sales Team
What I Like
This tool is great for avoiding the hassle when setting up meetings.
Organizing a meeting with multiple persons is made easy too. So this is not just a 1-1 meeting software.
Calendly has great cross-platform support. The interface can be used with mobile devices as well as desktop ones.
There is a useful free version available. Most tools give limited trials or free versions. But Calendly's free version can really do things!
There are also many plans to choose from. By choosing from five different plans, you will get the best value for money.
What I Dislike
The customer support is lacking badly. Even for enterprise users, it is really hard to contact anyone. But the nature of this product is not something that requires support often, so this is not a big deal.
For some systems, the user interface might have small lagging or unresponsiveness.
Bottom Line
Arranging a meeting is always such a mess. First, you send a message, then you wait for the response. Then you send another and wait again. This process takes way too much time.
If you are someone who books meetings on a regular, this is a huge waste of time on an annual level.
Thanks to a tool like Calendly, booking a meeting has never been easier. You can share a link with anyone. They can book a meeting with a couple of clicks in a matter of seconds.
Thanks to the free version of Calendly, it is definitely worth giving a try!
FAQ
What Is Business Automation Software?
Business automation software is a tool or set of tools that automate manual low-value tasks.
With the right type of business automation tool, you can improve the workflows and efficiency of your business activities.
These days, there is a lot of business automation software available. Some tools are all-in-one solutions for covering a broad selection of different types of tasks. Other tools focus on automating a more specific task.
You may already be familiar with business automation. For example, you may have set up automatic email responders. Or perhaps you are using an AI chatbot to automatically answer clients.
These are simple examples of business automation.
But thanks to modern-day technology, you can do much more complex automation. With a tool like Hootsuite, you can automatize social media on multiple platforms. Or with a tool like HubSpot Marketing Hub, you can automatize the entire marketing process from landing pages to lead nurturing.
To put it short, you can use state-of-the-art automation tools to automate entire workflows. If a business has any type of manual repetition, there is likely a tool that can solve the problem.
Business automation software offers huge time savings. In addition, automating repetitive tasks can improve employee satisfaction and productivity.
Wrap Up
So there you have it! A bunch of useful business automation tools.
To make your business thrive, you need to optimize workflows and procedures. This means cutting out all the unnecessary low-value work. If there is repetition, there is almost always room for automation. As a business person, your main goal is to spend as little time as possible on tasks that a machine can do.
Automation tools are not only great money-wise, but also increase productivity and overall working experience.
Besides, there is a lot of competition in the market. No matter how good business you have, refusing certain types of automation tools can leave you eating dust. Your most successful competitors have likely found and adapted to the best automation tools already!
Today you learned about a bunch of useful business automation software. These tools help you from CRM to social media management. You can write faster, arrange bookings faster, and much more.
If you don't want to spend money on these tools, make sure to try them for free! This way you can get a better grasp on what these tools can really do to your business.
Also, I'm not trying to make you use each and every tool in this list. Instead, my goal is to familiarize you with what is possible these days. It is then up to you as to what tool you think could benefit you the most.
If there is no social media game, don't use a social media management tool. If you don't have a newsletter, using a CRM tool is probably no good use of your money.
Thanks for reading!
I hope you found at least one thing to automatize to cut costs and reduce unnecessary overhead.
Read Also