Choosing the right type of music production software is important when you are looking to become the next big producer.
This is a comprehensive guide to choosing the best music production tools, also known as DAWs (digital audio workstations). This guide helps you pick the best music production software based on your artistic needs.
Don't forget to read through the FAQ section. There is a lot of useful information and best practices related to making music.
Disclaimer: This article is supported by viewers. If you make a purchase using one of the links below, I might earn a small commission at no cost to you.
Best Music Production Tools: Quick Overview
Before going into the list of full reviews, here is a quick look at the tools reviewed in this list.
Let's jump into the complete reviews!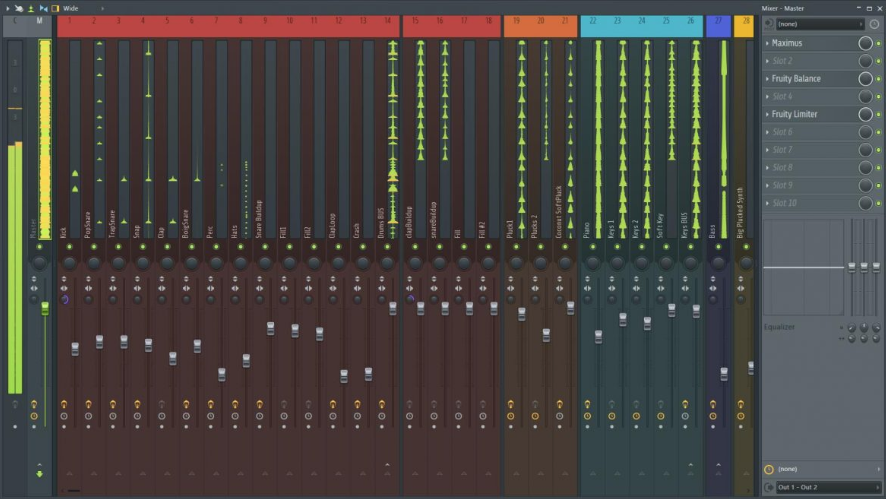 FL Studio or Fruity Loops Studio is Image-Line's digital audio workstation for music production.
This tool is especially popular in the world of hip-hop and EDM artists. It's been popular for 10+ years and there are huge communities of producers using the tool.
For a long time, FL Studio was a Windows-only tool. However, in FL Studio 20, macOS support was added too.
FL Studio is a beginner-friendly tool that takes significantly less time to learn than some other "HC" tools on this list. Even though FL Studio is "easy" to use, it doesn't make it any worse than the other alternatives on this list.
There are hundreds of popular producers that use FL Studio. Some notable names include Martin Garrix, Metro Boomin, Alan Walker, and Avicii.
There is a free trial version of FL Studio. So you can try the tool before making an investment. Remember that there are some limitations to the free trial version! The notable limitation is that you cannot open saved projects before purchasing the license to the software.
Thanks to the popularity of the tool, there are lots of great tutorials on FL Studio. The best way to get started in producing music with FL Studio is by watching a Youtube video and repeating the actions in it.
Remember, using music production software is not an easy task! It requires a lot of practice and repetition.
Also, remember to watch tutorials from different producers. There are many different workflows and ways to accomplish things. By taking a look at what others do, you can find the best workflows and methods that suit you.
Features
Easy music production by clicking on notes instead of using a MIDI controller
Easy to learn
Easy to use
Plugin support and thousands of great plugins available
Big supportive community with great tutorials and guides
Pros
FL Studio is a great tool for beginners to start making music.
Great native tools, such as synths and sound effects. You can create songs without investing in plugins and soundbanks early on.
Loops and step sequencers
Playlist arrange pages
Fun and colorful interface
Supports macOS and Windows
Cons
Basic audio editing capabilities.
Less "HC" than some of the other DAWs.
Pricing
FL Studio has one-time pricing. Once you purchase the license, you have access to all the updated versions in the future.
The pricing plans are:
FL Studio Fruity: $99
FL Studio Producer: $199
FL Studio Signature: $299
2. Ableton Live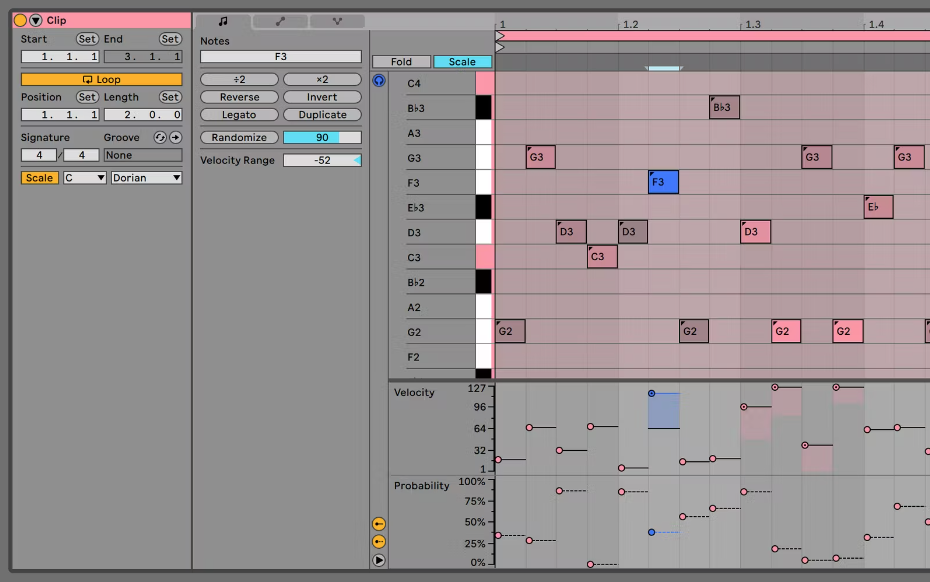 Ableton Live is a hard-core music production tool for both artists and producers.
Don't let the vintage look confuse you. The tool is used by many popular producers and artists, such as Deadmau5.
Ableton is one of the best DAWs for EDM and hip-hop. This is because the tool has great built-in capabilities for sampling, tweaking, and mangling the loops.
Ableton Live was released back in 2001, which means it's already 20+ years old tool. Instead of being just another recording book for composers, Ableton Live established itself as a full-on performance instrument.
With Ableton Live, you can produce music as well as perform it. All this happens in one intuitive and easy-to-use interface. It's easy to keep everything in sync in Ableton Live. The tool works in real-time, so there are no stupid delays to interrupt your creative workflows.
Ableton Live has versatile out-of-box features, such as:
Instruments
Sound Kits
Loops
Effects
Besides being a great tool for producers, Ableton Live is good for DJing. There are awesome beat-matching capabilities as well as cross-fading effects that are commonly used by the turntablists. Ableton Live became one of the first music apps that used auto beat-matching to match songs. As you can imagine, this makes DJs' jobs much easier, if they decide to use the feature.
Features
Automatic beat-matching
Great native tools and sound kits
Intuitive interface that is relatively easy to use
Versatile capabilities in both producing and DJing
Pre-mapped hardware integration with other Ableton products
Easy to tweak and customize
Pros
Ableton Live is a complete package for performing and creating music. It's great for producers and DJs.
The workflows are effective yet simple.
The tool is relatively easy to use, but don't forget that it takes time to master!
Ableton Live has a whole bunch of hardware controllers.
Ableton Live is also a popular tool that has been around for a while. Thus, there are great tutorials and big communities to learn from. Notable DJs and Producers use Ableton Live.
Some consider Ableton Live a more "serious" music creation program. This is thanks to its vintage looks and all the bells and whistles your typical DAW doesn't have.
Cons
The learning curve is much steeper than in FL Studio, for example.
Due to the number of features, things can get complicated at first.
Ableton Live lacks some professional-level audio tools.
Pricing
In Ableton Live, there is a great free trial of 90 days. The trial is not limited, so you can get a full picture of the tool without ever paying for it.
Besides, the paid plans of Ableton Live are:
Live Intro: $99
Live Standard: $449
Live Suite: $749
3. Apple Logic Pro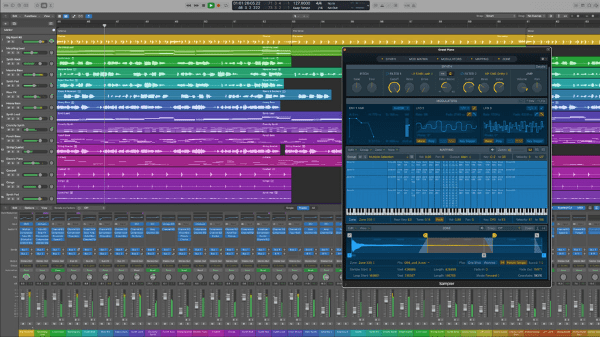 Logic Pro is Apple's DAW that turns your Mac into a full-on record studio and producing environment.
This tool has the ability to handle even the most demanding musical projects. It can also be used to create simple songs and tunes as a hobby.
The tool has a relatively shallow learning curve. The user interface is nice and intuitive and looks really professional, yet playful at the same time.
With Logic Pro, you can arrange music in real-time and create beats and write melodies that stand out.
Similar to other tools in this list, Apple Logic Pro is relatively easy to use. If you are a beginner new to electronic music, you can find Logic Pro a great place to start. Thanks to the professional features and capabilities, you will not need to change the tool in the future.
One of the cool features of Logic Pro is the spatial audio authoring. With this feature, you can create immersive spatial audio mixes.
Naturally, the only limitation to this tool is that it's only for macOS. So if you are a Windows or Linux user, you should select another tool from this list.
Features
Massive sound bank of 7,000+ sounds, loops, instruments, and such
3D sound planner for sound positioning around the listener
Seamless MIDI recording capabilities
Professional tool with a strong user base
Pros
Apple Logic Pro is an overall great value for money.
There are lots of built-in features and tools for making professional music.
Using the tool is intuitive even for someone who has never tried making beats before.
Cons
The tool is only for macOS.
Pricing
To try Logic Pro, there is a great 90-day free trial. The trial version has all the capabilities and features of the software, so you can get a nice realistic overview of the tool. After exhausting the free plan, you can pay a one-time payment to unlock the tool forever.
4. PreSonus Studio One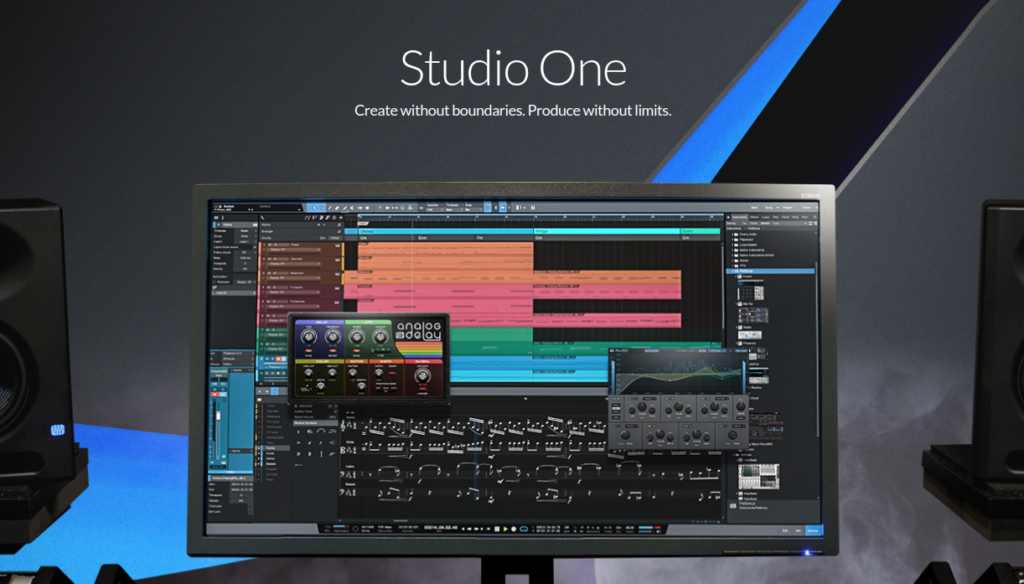 Studio One is a well-rounded and versatile DAW for producing commercial music electronically.
From inspiration to mastered production, this professional-level music creation tool has got your back! This tool is a great all-rounder for end-to-end production.
Studio One has an intuitive and seamless drag-and-drop workflow. As a matter of fact, Studio One was one of the first tools to use this workflow, and it's been actively copied by other industry leaders.
The innovative browsers make it possible to drag and drop audio loops, instruments, plugins, and other effects into your session. All of this happens in one simple window, so no need to hop between the views to make songs.
One of the outstanding features is the harmonic editing for audio and MIDI.
There is a chord track where you can create, record, and change chord progressions with ease. You can also drag chords from the chord track to the instrument track. This allows for easily composing your songs. To take it to the next level, you can also detect chords from audio, and start working with those.
From these features, it's easy to see you don't need any musical background to start making music on a DAW. Studio One is not the only tool that makes this possible, though. As a matter of fact, you can use all the tools in this list to create music without any background in music. We are going to talk about this more at the end of this article.
In Studio One, there is a great free version called Studio One Prime, but it has some limitations to it. The most notable limitation is the lack of 3rd party plugins. Thus, you have to use quite limited native plugins to make music. However, as a beginner, this shouldn't be too big of an issue.
Features
Easy workstation
Drag-and-drop workflow for easy and intuitive music making
Unlimited audio files
Unlimited MIDI tracks
Great audio and MIDI editing capabilities
A great freemium option
Pros
Making music with Studio One is a seamless and enjoyable process thanks to the intuitive and easy-to-use interface and workflows.
The tool is a well-rounded piece of software used by a ton of producers around the world. There are great guides and tutorials you can follow to get started.
It's easy to get started with Studio One even if you don't have any musical background.
Cons
The limited free version makes it easy to get a false impression of the tool.
The user interface is quite busy, and it can be overwhelming for beginners.
There are not too many native instruments. Instead, one has to rely on third-party plugins.
If you are familiar with other DAWs, you might be confused about Studio One terminology. This is because they use different terminology to describe features and functions with industry-standard names.
Pricing
There is a completely free, yet heavily limited version available. By using the limited version, you can get an understanding of the workflows and workings of the tool.
All the plans are:
Prime: Free
Artist: $99.95
Professional: $399.95
The paid plans are one-time payments that grant you lifetime access to the software.
5. Steinberg Cubase Pro
Steinberg Cubase Pro is one of the most popular DAWs for creating music. It has built a loyal userbase ever since its first release back in the day more than 30 years ago.
Initially, this tool was nothing more than a MIDI sequencer. But during the years it has become a full-on music production environment. Cubase was among the first tools that used the block-based arrange screen for composing the beats. These days, this outlook takes place in most of the digital audio workstations you encounter.
During the years, it's been quite a ride for Cubase. They invented versatile virtual studio technology and a world-class audio editor called WaveLab. Besides, the tool survived the tough days of software piracy.
These days there is a whole bunch of competing tools to Cubase. From mobile apps to other versatile DAWs, Cubase is still one of the leading tools for creating music electronically.
Cubase has versatile plugin support of external plugins that allow you to customize the tool to best meet your musical needs. Also, there are great sound libraries with thousands of useful sounds that make your beats stand out.
Cubase allows you to bring your initial ideas to a commercially produced song or beat. It's a beginner-friendly solution for those new to music as well as a professional tool for experienced ones.
The user interface is colorful and playful, which makes it fun to create music and beats. Thanks to the sound libraries, plugins, and virtual instruments, there are lots of genres and styles of music you can create.
Features
Great built-in effects
Bunch of good VST plugins
One of the best MIDI capabilities on the market
Full-on standard features like Comping, Audio Warp, Audio Engine, ARA Support
Pros
Cubase is one of the oldest tools on this list. It's been around for such a long time that it has built a loyal audience and user base. Thus, there are great free tutorials and resources all around the internet. These can be useful for beginners to get started with the tool easier.
In Cubase, there are lots of sounds, instruments, plugins, and effects. These make your music richer and increases your productivity and motivation.
Thanks to the versatility and intuitive user interface, Cubase is fun and relaxing to use. It turns your PC or Mac into a professional virtual studio.
If you are not ready to invest in this software, you can always use the free trial to get a full picture.
Cons
Similar to other tools in this list, Cubase can get a bit crowded when working with bigger projects. This can be a bit overwhelming as a beginner, however, you'll get used to it!
Cubase lacks the innovation some other DAWs have.
Even though it's great to have many features and capabilities, sometimes Cubase can feel a bit bloated.
Pricing
There are three pricing plans for Cubase. But before purchasing a plan, make sure to use the 30-day free trial to get an idea of how the tool works before.
Cubase Elements: $99.99
Cubase Artist: $329.99
Cubase Pro: $579.99
FAQ
Here is a list of some common questions that you might have as a beginner producer. I recommend going through these questions with care, as I'm sure they answer most of your concerns.
What Is a DAW?
DAW stands for Digital Audio Workstation.
A DAW is an environment for music production. When you talk about music-making software, you can use a shorthand DAW.
All the tools presented to you in this list are examples of DAWs.
What Is the Best Music Production Tool for Beginners?
If you are a complete beginner without any background in music production, try something simple.
Fl Studio is commonly considered the most beginner-friendly DAW. But remember, it still takes a while to wrap your head around it.
For me, it took around 2 months to fully learn how to create beats with Fl Studio. I practiced for a couple of hours every day.
But thanks to the popularity of Fl Studio, it has a whole bunch of great free tutorials on the internet.
If you choose to use Fl Studio, my recommendation is to directly head over to Youtube and search for "Fl Studio tutorial + your genre".
How Long Does It Take to Learn Music Production Tools?
Becoming a producer takes time. Learning how to use one of the music creation tools in this list requires a lot of practice and patience.
There are lots of bells and whistles to each tool.
As a beginner, it can be hard to tell what you should focus on and what is not so important.
The fact that you can do the same thing in multiple ways causes only more confusion.
For example, I always used to do sidechaining the hard way. I wired a compressor in a way it would compress the audio based on the exact waveform of the kick drum. Not only did it always spend 1 minute of my time, but it took a while to memorize the process. Later on, I figured doing it this way was dumb. Instead, there is a plugin that got the job done with two mouse clicks.
Although your typical music production software looks like a fighter jet's cockpit, most of the tools are not necessary to you. If I had to estimate, you will only need to handle 20% of the features 90% of the time.
But it takes time to learn what is necessary and what's not. There are so many sound packs, plugins, and workflows you need to try before knowing the answer.
Should You Pay for a Music Production Tool?
If you are looking to become a professional producer, it's almost a must to pay for a professional tool like Fl Studio.
As a matter of fact, you should not only pay for the tool but also for sounds and plugins.
For example, your typical DAW doesn't have that great internal tools, such as sound packs or synths. Instead, you have to purchase these separately.
Unfortunately, producing beats without third-party plugins and sound packs is limited and really tricky.
But luckily, most of the tools have free trials for 30-90 days. Make sure to use these trials before investing in the software. Making electronic music is not everyone's cup of tea. It would be a pity to pay a $200 one-time fee for software you never use.
How Much Does It Cost to Produce Music?
This not only depends on the price of the software you use but all the plugins and sound packs you purchase for it.
Your DAW is like a Christmas tree without the decorations. You paid for it but it's not ready as-is. Instead, you have to spend more money to make it shine.
This is the same with music production tools. A DAW has the functionality to produce music. However, it doesn't have the sounds and instruments you typically need. Of course, DAWs have some built-in plugins and sound packs, but these are never what you are looking for.
Typically, you have to spend much more on plugins and sounds to make customize the tool for your needs. For example, if you want a quality synth, be prepared to pay tens or even hundreds of bucks more.
And when you have spent money on the synth, then you will need to spend more on adding presets to it.
But once you have made the initial investment, and found the right plugins and sounds, you won't need to spend money anymore.
Can I Produce Professional Beats with FL Studio?
Of course, you can.
As a matter of fact, it doesn't matter what DAW you use. These tools are used by professional producers across the globe. Even though the tools look different, they can be used to do more or less the same.
Some tools give you more control over subtleties. Other tools are quicker to use.
It's also up to you as to what you want to do yourself and what you want the tool to automate for you.
Some people produce beats by combining a couple of presets and that's pretty much it. Others spend hours engineering the waveforms and other similar details.
Because music is all about entertainment, it doesn't really matter how you made the songs. To succeed as a producer, you need:
Promote your content through the roof
Build a character for yourself
Have good connections
Produce a ton of music
Have some luck on your side
Best Practices for Music Production
1. Organize your production environment. When you produce music, you need a huge number of resources. These include melodies, drums, sound effects, and much more. To stay creative and save time, you need to be able to ace through your resources quickly. Keep your environment and projects well organized. Create folders and subfolders to structure the DAW. Break the resources down by types.
2. Create a schedule. Even though creativity comes naturally and doesn't consider time, you should still come up with a schedule for producing music. Without a schedule, you'll never put in the hours to learn how to produce music. So make sure to come up with a suitable schedule.
3. Network with other producers. In the music game, connections are important. Make sure to network with like-minded people. You can learn from other people as well as share your learning with them. You also never know what opportunities you'll have if you network with other producers.
4. Train your ears. Listen to a lot of music. Pay attention to the music on your local club, games, radio, or movies. Try to figure out what makes the songs great and why they are popular. See what's working right now and what might be the next trend.
5. Invest in your music creation environment. Start music production with tools that you can work with. But remember, the DAWs are quite bare-bones and have very limited sound packs, plugins, and so on. Thus, over time you will need to invest in customizing your music production environment as much as you need. You need big libraries of sounds, such as melodies, drums, and snares. You will also need professional plugins, such as synths or mastering tools.
Do You Need Musical Background to Use DAWs?
Nope, although it can help!
If you've ever listened to electronic music artists' interviews, you may have noticed some of them are musicians and others aren't.
If you have a musical background, such as piano or guitar, your songs may end up being more melodic. But you absolutely don't have to possess any musical skills to use DAWs.
Music creation software is geared towards anyone willing to make music. Not just some pros who already have a musical background.
Thus, starting to use a DAW can be a great first step in your musical career.
But how do you create chord progressions if you don't know the theory?
This is where the plugins help you. For example, if you want to create Deadmau5-like chord progressions, you can use a plugin called Cthulhu. This tool automates laying the chords for you. All you need to do is validate whether it sounds good or not. Of course, a plugin like this comes with all sorts of customizations, but you get the idea.
Also, you can use pre-built melodies, comps, and other audio in your beats. This way, producing a song can happen in a matter of minutes or hours.
How Long Does It Take to Learn How to Use DAWs?
In my experience, it took around 1-2 months of practicing every day. To be more specific, at this time I was able to produce beats without ever having to watch tutorials or guides.
In a sense, at this level, producing becomes fun and your creativity is at its highest. You also can apply the knowledge you possess. So if there is a musical challenge you don't know how to solve, you don't need to open up a tutorial. Instead, you can use what you've learned in the past to come up with a solution.
Wrap Up
Today you learned about the best music production software on the market.
To put it short, pick a tool that is easy to learn and has a lot of tutorials and information on the internet.
A great option for beginners is to start using Fl Studio. It has a relatively shallow learning curve and a lot of great tutorials and communities. But remember it will still take months of daily practice.
Also, be prepared to spend more than just purchasing the license. This is because you have to customize your music production tool for your own needs. This means you have to purchase sound packs, presets, and plugins.
Luckily, you can try music production tools for free without having to worry about spending a buck.
Thanks for reading. I wish you the best of luck on your musical journey!