Ideogram AI is a completely free AI art generator.
Unlike most such tools, this one is particularly good at adding text to images. For example, this allows you to create awesome logos.
Let me show you how to use Ideogram.
How to Use Ideogram AI
Using Ideogram AI is simple. Here's a quick step-by-step breakdown of how to use it.
#1 Sign Up
You can sign up here with your Google account.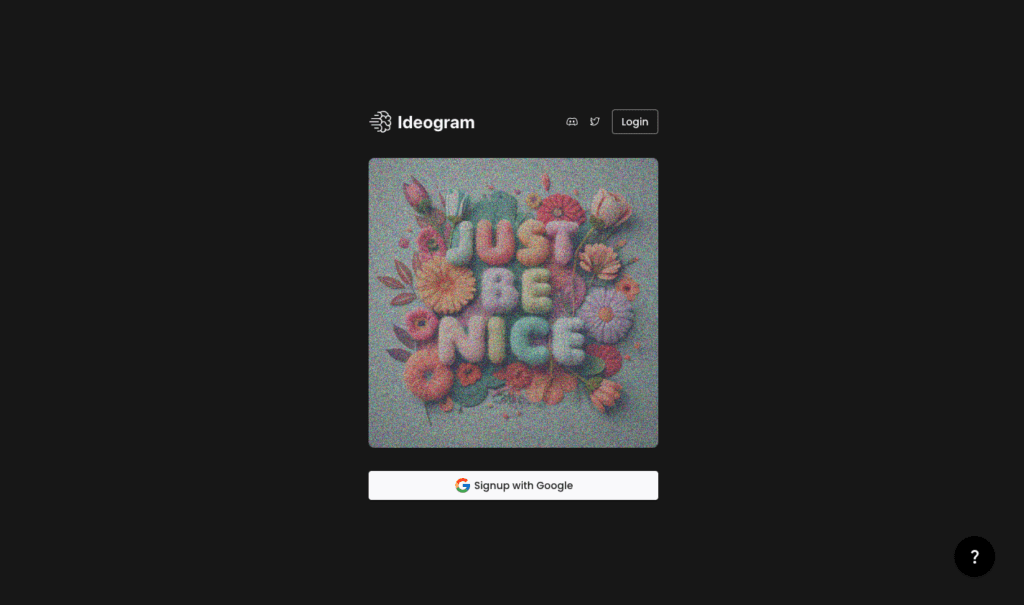 After signing up, you can already start creating.
Because the tool is literally free, there are no plans to activate or no credit card information to enter.
#2 Start creating
After signing up, you're going to see the Ideogram dashboard which is where you can generate unique art by describing what you want to see.
If you're not familiar with AI image generators, the idea is that you describe what you want to see. Then the AI takes your input and generates a unique and original image based on your input.
The more details and artistic techniques you enter as an input, the better the output.
You can start with something simple like "A cat sitting in the middle of a field during the sunset".
Also, you can use other's creations for inspiration. You can see the inputs as the description of the images.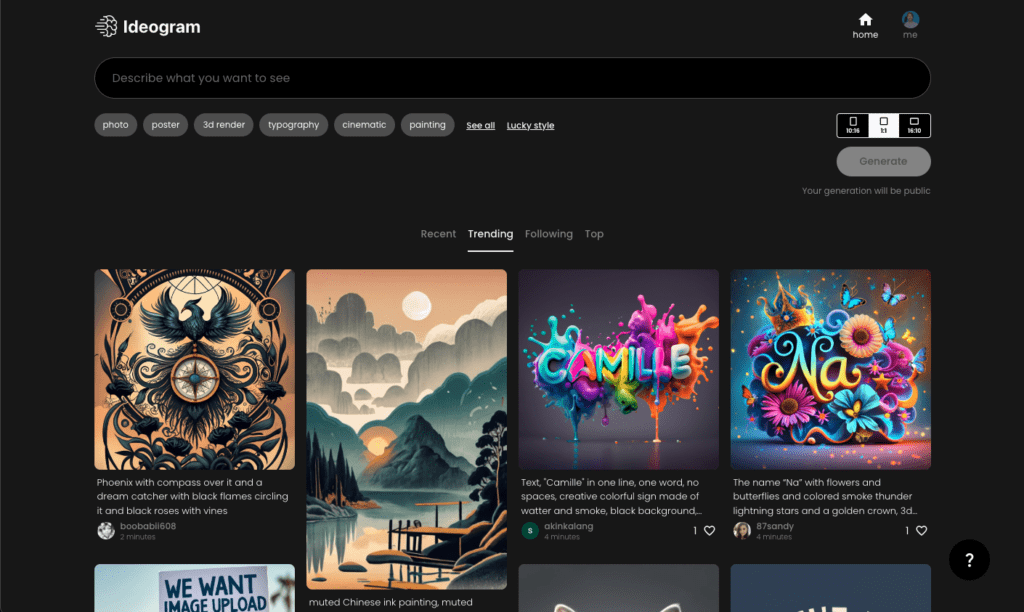 #3 Give an Input
Here's an example input I gave for Ideogram: "A beautiful medieval town, sunset, fog, rainbow, people, happiness".
And before you do that, remember that anything you type is public. Every image is public. So keep that in mind. 🙂
Once I hit enter, it's time to wait for AI to generate the pictures. In Ideogram, this takes about 30 seconds and it generates 4 unique images from your input all at once.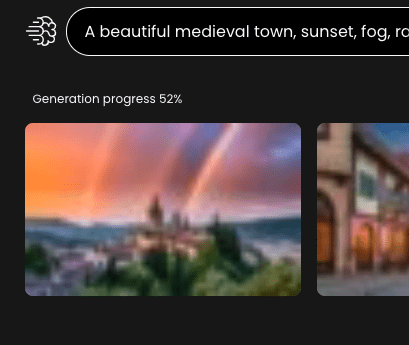 By the way, if the image generator stops all of a sudden or if you don't see your images, just click the Generate button again.
#4 Get the Output Images
Once the image generation is completed, you'll see a bunch of unique images.
These are 100% plagiarism-free AI outputs based on your input.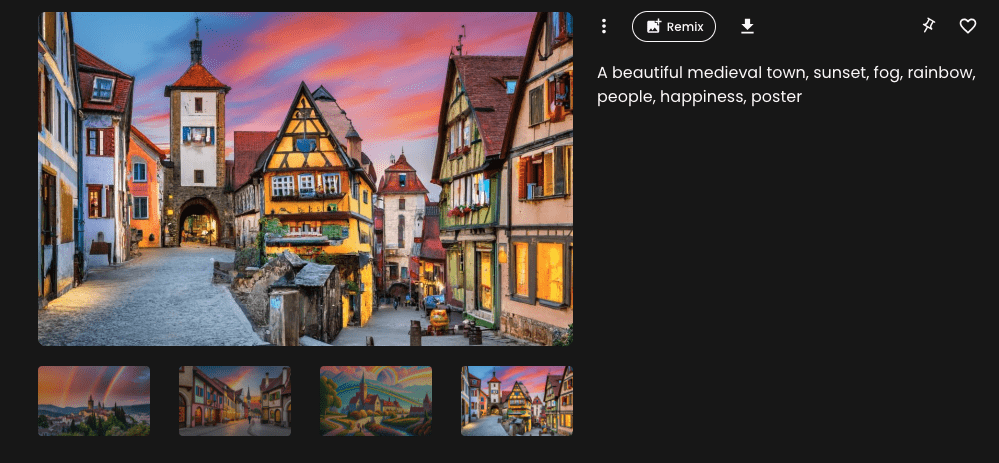 While these images technically are original and unique, there are still some things you need to keep in mind when using them.
Make sure to read the terms of service.
For example, in many AI art generators, you have the right to use your images, but everyone else can use those too! So technically, you won't own those images.
#5 Remix to Generate on Top of an Image
Once you've generated some images, you can choose one that resonates with you the most and evolve it.
This is called "remixing" in Ideogram.

Just click Remix on any of the images you get.
For example, here I'm remixing the image from the above gallery and adding some different artistic styles to it.

Look at the results: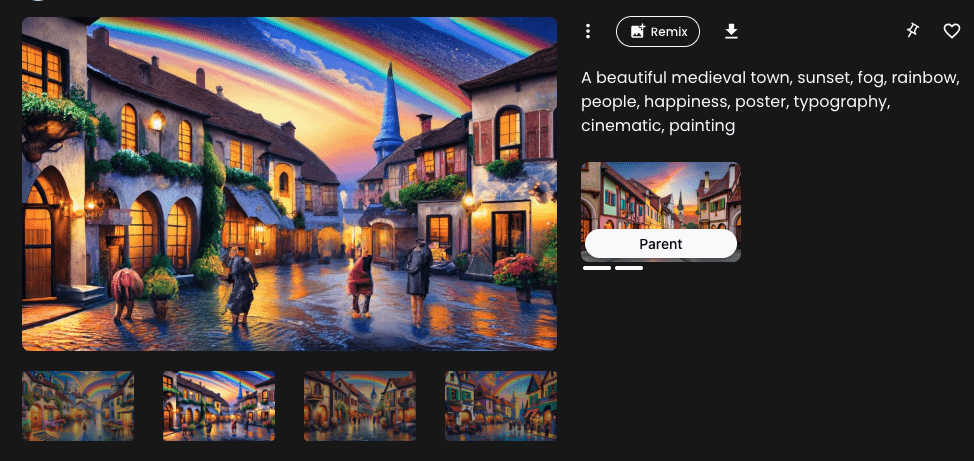 This is amazing.
However, if you take a closer look at the "people" in that image, you will quickly realize that those don't really look that realistic.
But hey, it's still quite impressive, isn't it? 2-3 years ago, this would've not been something one could even imagine of.
#6 Tips for Getting Ideas
Are you not too good with AI image generators?
Well, this is luckily something you can become very good at in just 15-30 minutes.
This is because the AI does most of the work, you just need to give specific types of prompts to it.
I think the best way to learn is by watching what others have done.
In Ideogram, just choose the "Top" results and choose 1 month. Those are the top creations of the past 30 days.

These will show you exactly what types of inputs you need to generate similar art.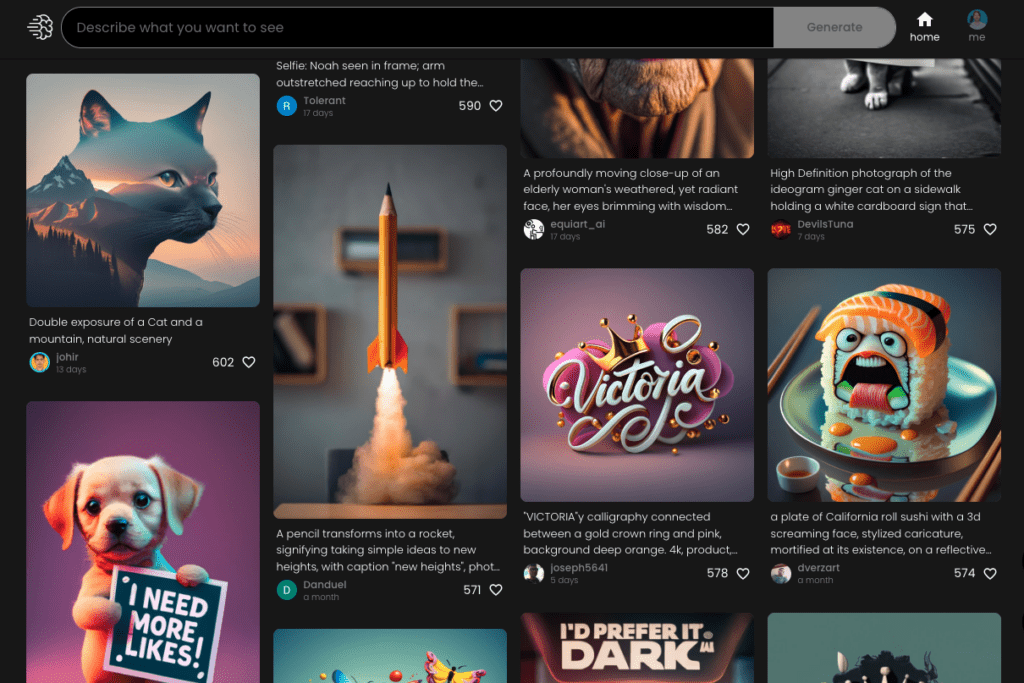 One common mistake is that you shouldn't tell the AI tool what to generate. Instead, what you want to do is just list the things you want to see in the image and in which style.
For example:
A bad prompt: "Generate an image of a cat"
A good prompt: "Cat"
Image to Image in Ideogram?
In many AI image tools, you can use AI to edit existing images.
On Ideogram, you can edit your previous creations.
But unfortunately, there's no image input you could give.
Perhaps they'll add one in the future. 🙂
Is Ideogram Free?
Yes, Ideogram AI is completely free at the moment.
Pros
Impressive outputs
Good at adding text to images
Fast even though massive hype and tons of users
100% free
Cons
Text issues
No image-to-image generators
Alternatives
I highly recommend checking LimeWire AI Studio.
It's an AI generator that allows you not only to generate art but also make money with it automatically.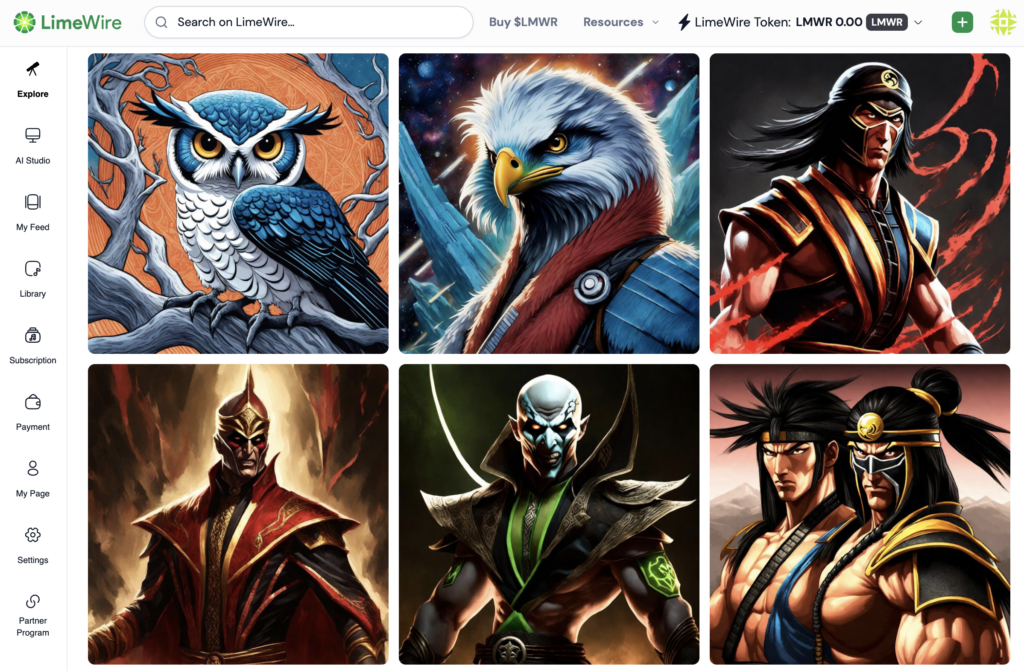 Read my complete review and guide on how to start with LimeWire.
Keep Experimenting!
AI is coming at us at lightning speed.
Those who harness its capabilities are poised to leapfrog ahead in their respective fields, while those who don't might find themselves missing out on game-changing opportunities.
Staying ahead of the curve is a necessity.
Keeping up with the latest AI trends will ensure that you're always equipped with the best tools and tricks currently available.
Different AI tools offer varied experiences and capabilities, and the only way to truly understand their potential is by trying them out firsthand.
So, whether you're an artist looking for new ways to visualize concepts, a business owner seeking innovative solutions, or just a tech enthusiast curious about the power of AI, don't stop experimenting!
Make sure to also check the Best Ideogram Alternatives.
Thanks for reading! Happy experimenting.